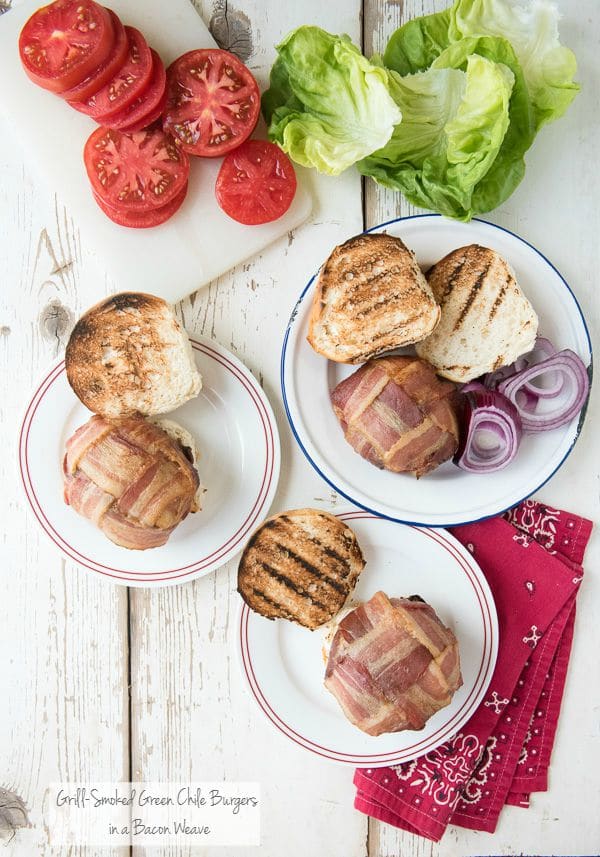 I have tried to practice great restraint regarding sharing bacon recipes over the past few weeks for fear readers will think I'm only grilling food wrapped in bacon this summer! I've been bursting at the seams to share this recipe however: Grill-Smoked Green Chile Burgers in a Bacon Weave.
I've loved working with bacon on the grill and was reminded of that when taking Smoked Blue Cheese Stuffed Bacon-Wrapped Chile Peppers to a party last weekend. With only four ingredients and being easily smoked on a gas or charcoal grill, it is the quintessential summer appetizer to me.
Mesquite-Smoked Jalapeno Cheese Bacon-Wrapped Hot Dogs are pretty darn delicious too!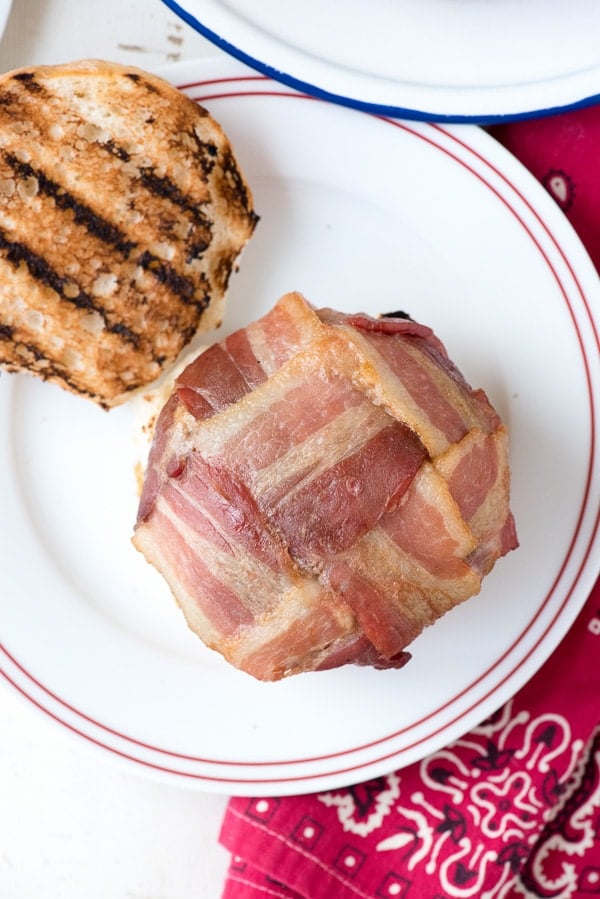 Be sure to use our Ultimate Burger Grill Guide for tips on how to grill the perfect burger!
It was love at first sight for me with the bacon weave. We first met at Steven Raichlen's BBQU in June when one was made to outfit a Toledo Torpedo or a 'fatty'; polska kielbasa sausages wrapped with ground sausage and cheese and finally wrapped with a bacon weave, left to smoke to cook it through. The woven look of the pork lattice both captured my sense of aesthetics and adventuresome creativity with my grilling ideas. I knew it was something I needed to incorporate into my repertoire.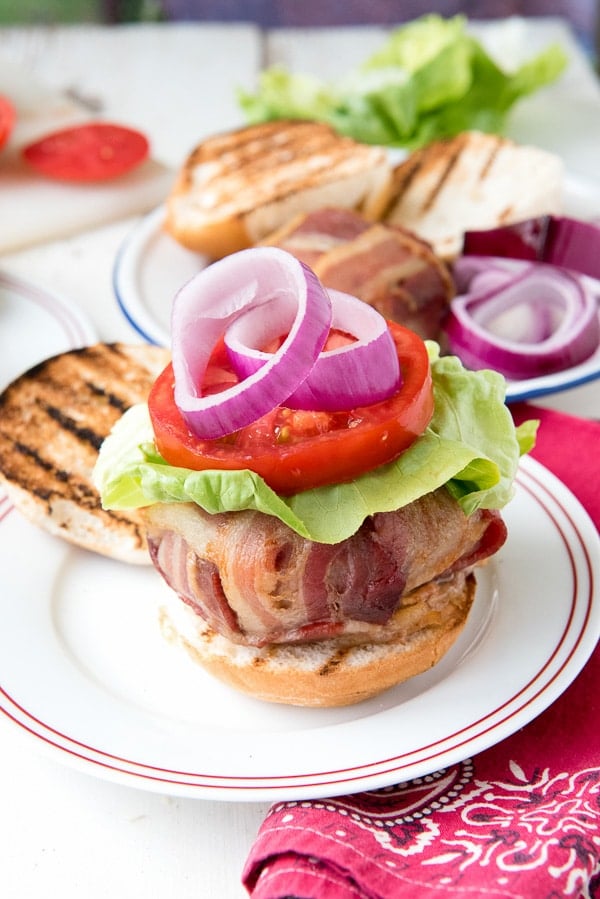 Bacon weaves can be used for many things; covering meat, laying on a turkey in the oven or grill or a small mat to add to a sandwich. They help keep the meat moist when used as a wrap. They are easy to make and I've created a step-by-step photo tutorial for your reference.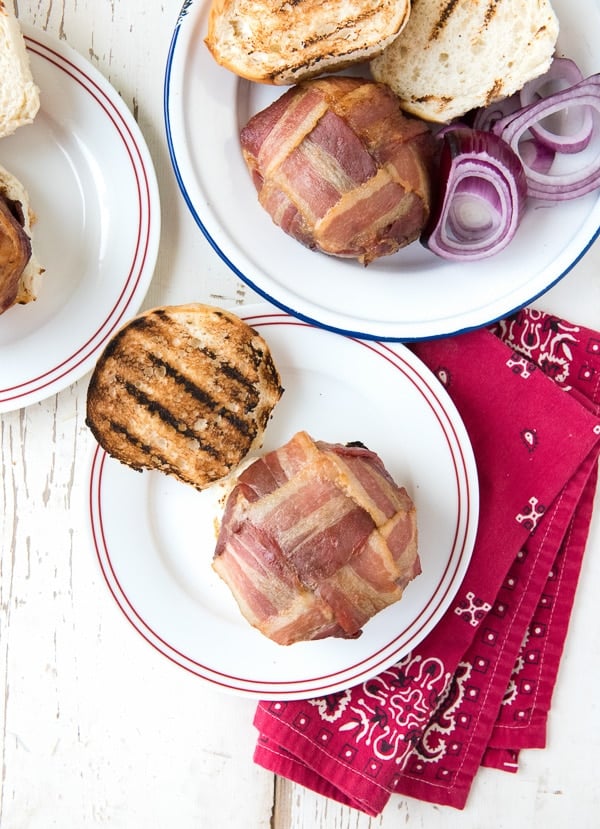 In the case of these Green Chile Burgers the bacon weave adds a depth of flavor that is irresistible. The wrapped burgers are cooked over indirect heat (meaning the grill is not on below them) and allowed to smoke to cook through imparting more flavor from the wood smoke.
I should note that the method of adding smoke in the smoked recipes I've shared this summer does not require an official smoker. A simple piece of heavy foil with some wood chips placed over the lit side of the grill does the trick.
As the wood chips smoke over the heat in the closed grill, the smoke flavor penetrates the food being cooked. Additional chips are added as needed during the grilling process and the result is an earthy, smoky layer of flavor.
Everthing you need to know about a Bacon Weave (including step-by-step photos)!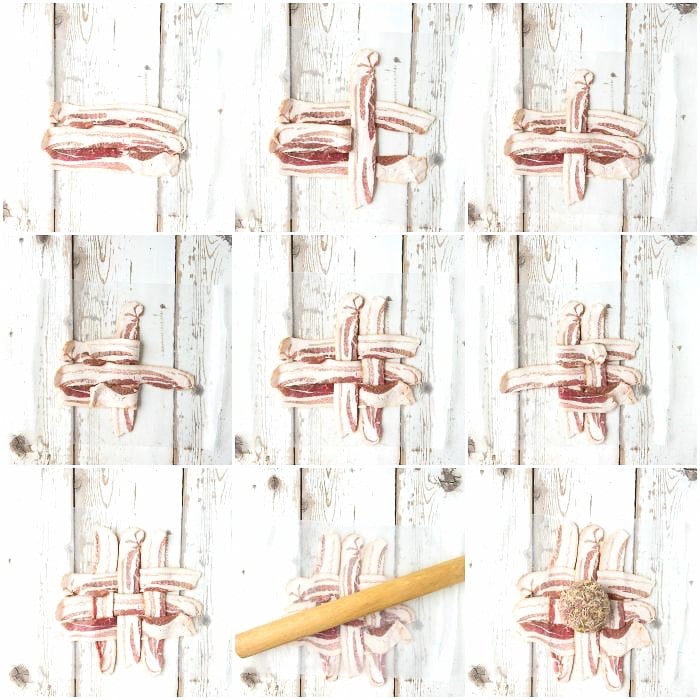 The burgers we are smoking today are a formidable size. Third pound burgers covered with 6 pieces of bacon in the weave. Should you find that's a bit too big, I have a trick for you. After the burgers are fully cooked and rested, slicing through the middle horizontally creates two burgers regular (still burger diameter) perfect for a bun but half the meat. Add some fresh tomato slices and lettuce for a fresh BLT flavor!