Cedar Plank Salmon is an easy, delicious 30-minute grilling recipe. A special technique of charring the cedar plank adds more flavor and saves time from no pre-soaking of the plank!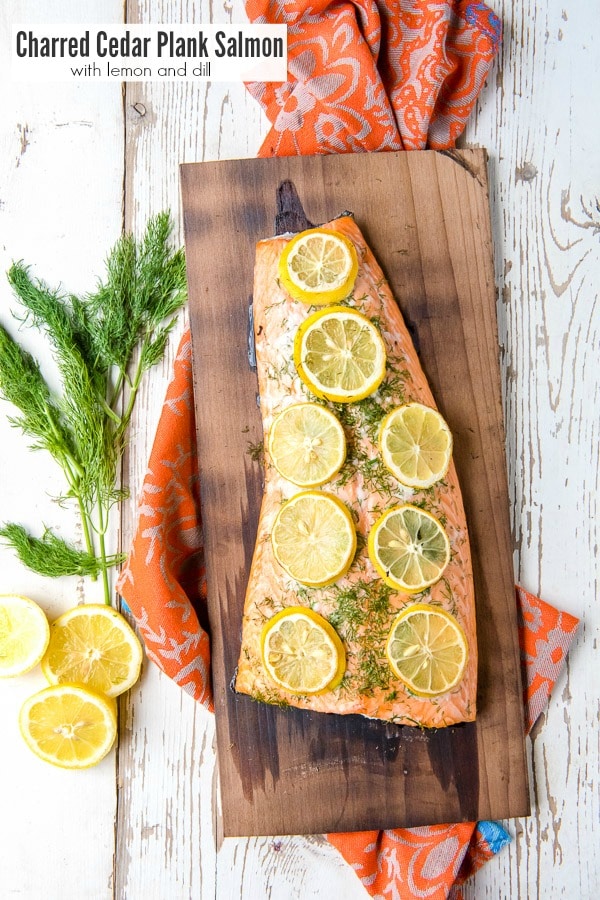 Updated May 31, 2018
There are many smells of summer I love. Freshly cut grass, the pungent aroma of the lilacs blooming in the yard and smelling like a campfire from exciting grilling sessions creating mouthwatering food!
A few years ago I attended 'BBQU'; grilling luminary Steven Raichlen's Barbecue University at the beautiful Broadmoor Hotel, where for 3 straight days we grilled everything imagineable using over 50 types of grills and smokers.
I smelled like smoke for about 2 weeks following, not being able to stay away from my own grill and smoker.
Charred Cedar Plank Salmon with Lemon and Dill is a very easy salmon recipe, which comes out perfectly. So perfectly in fact, I made a side sauce for it but in the end did not want to hide one morsel of the salmon flavor by saucing it.
Why Make Charred Cedar Plank Salmon?
This recipe is fast, easy with great flavor. Charring the cedar planks imparts more flavor to the salmon and is a TIME SAVER with no hours of plank soaking required. Spritzing the plank and salmon while cooking with wine develops steam giving more flavor to the salmon!
Don't Soak Cedar Planks – Char Them Instead!
Some of the best things I walked away with were shortcuts to make grilling easier and more fool proof. This recipe for Charred Cedar Plank Salmon with Lemon and Dill is a perfect example!
Most recipes will instruct to soak the cedar plank  for 2 hours. Steven Raichlen however chars the plank instead, feeling it imparts far more flavor. I no longer soak my bamboo skewers or planks.
Where to Buy Cedar Planks for Grilling:
Cedar planks can be purchased (available online usually where grilling supplies are sold or at grocery and 'big box stores' what sell grills.
How to Char Cedar Planks (and how NOT to)
As I learned (the hard way) the charring process required paying close attention. My first attempt was cranking up my gas grill to high, plopping the plank on the grill, shutting the lid and timing the two suggested minutes per side without checking it.
I opened the grill to find my plank REALLY charred and then when repeating I found it completely on fire and falling apart. Why buying a multiple cedar planks in a package is helpful when getting started!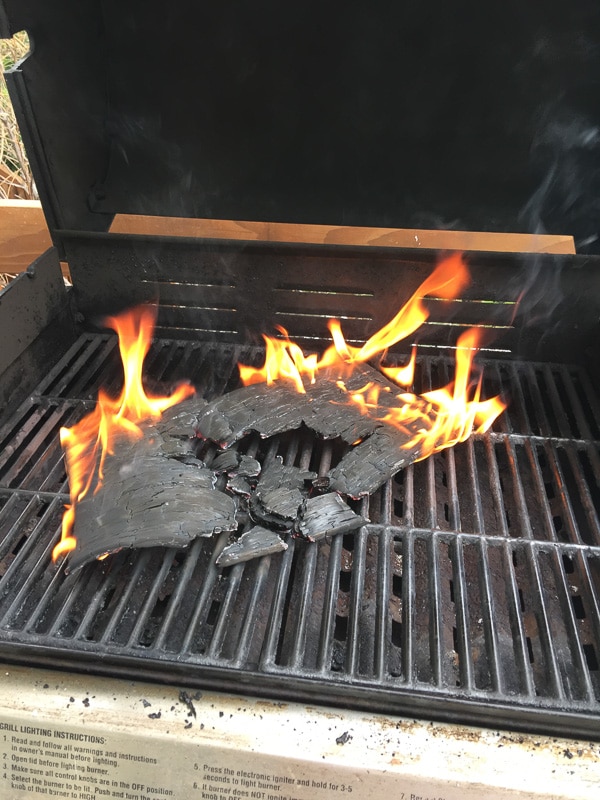 How to char a cedar plank over a gas grill or charcoal:
Allow the plank to sit over medium heat just until the first wisp of smoke appears.
Check the underside of the plank to see if it has begun to develop grill marks and char spots. If it has, flip it over and repeat (about 2 minutes per side). If not replace it on the grill and continue to check it until it has.
Having a food-safe spray bottle of water at the ready for flare ups it good as well.
The smell of the plank is fantastic as it becomes singed!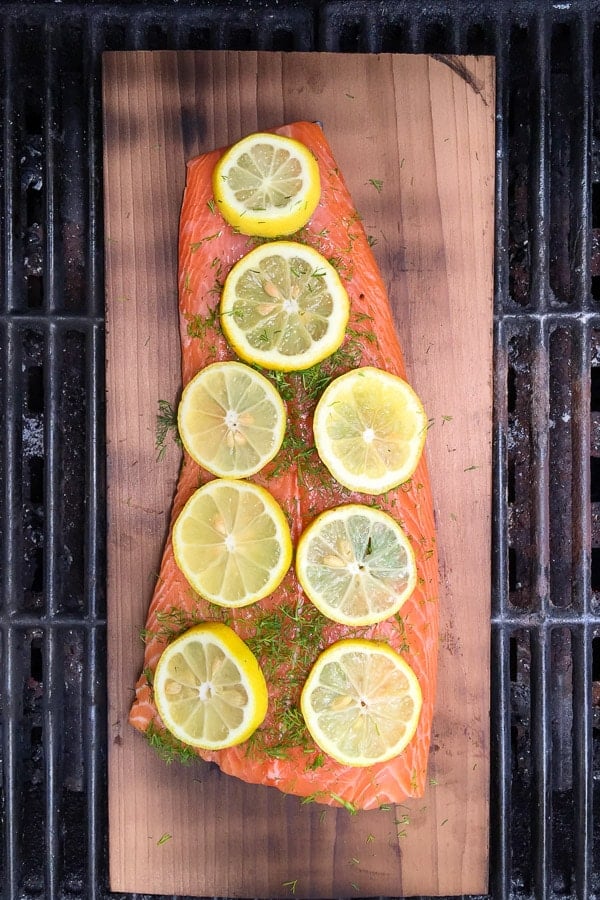 Two Ways to Grill with Charred Planks
There are two ways to use a plank through this method.
The first method: as described above, is to char the plank on both sides and allow it to cool before cooking on it.
The second method: is to char on one side for two minutes, add place the salmon on the charred side and allow the second side to char during cooking. I cooked the salmon through the indirect method, which is when the heat is not direct underneath the plank. This method allows it to smoke during cooking and avoiding further flare ups from heat below it.
There are methods to direct cook on a plank as well however attention must be paid to ensure the plank doesn't catch fire in the process.
Cedar Planks Can Be Reused!
As with normal cedar planks that have been soaked, charred planks may be washed off (water only) and reused unless they become badly charred.
Lightly scrub any remaining fish skin off and rechar them when next using them.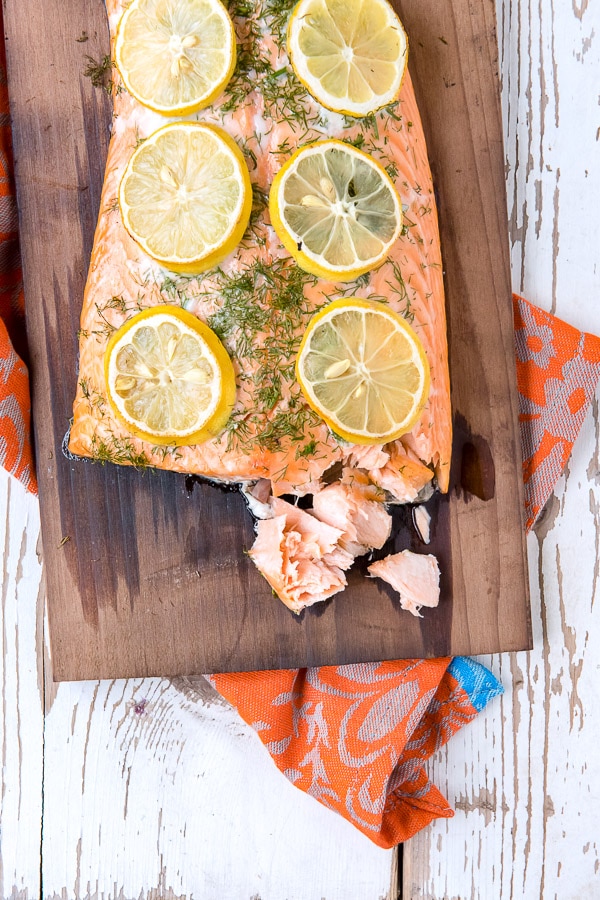 How Long to Grill Salmon
When cooking salmon on a charred cedar plank using the indirect method of grilling, it takes aproximately 30 minutes to grill.
Using a thermometer is key to determine when protein is done on the grill. My Steven Raichlen thermometer showen here differed from my instant read Thermoworks thermometer by about 5 degrees. The salmon is done when it registers 135-140 degrees internal temperature.
I took the salmon off the grill at about 135 degrees and allowed it to rest during which time the temperature went up an additional 5 degrees. Meat and fish continue to 'cook' off the grill.
WHAT THERMOMETER TO USE:
There are multiple styles of thermometers that work well for grilling. The criteria should be fast, accurate temperature readings in a grilling situation. A probe style (I like the larger montior to quickly read the temperature so the grill lid doesn't stay open too long) or a base with a tether and probe both work well.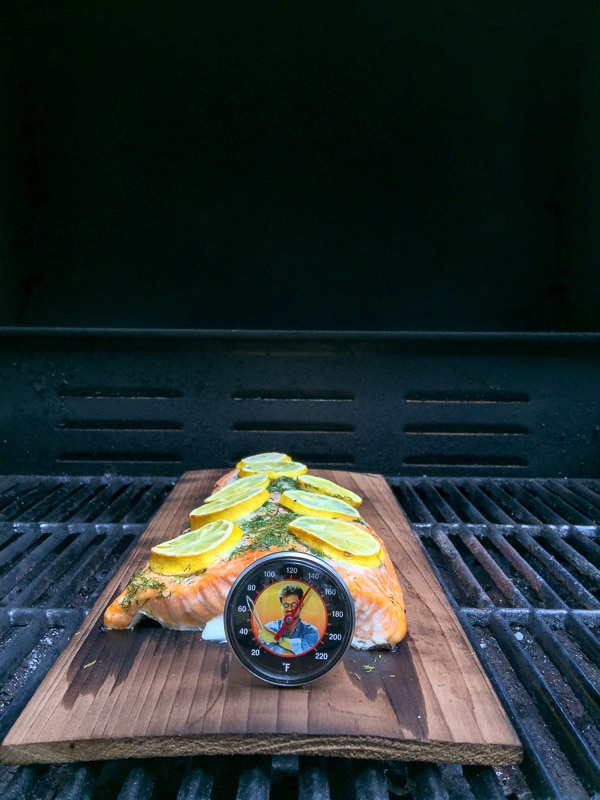 Pro Tip: Have a Food-Safe Spray Bottle on Hand
I have a small BPA-free food-safe spray bottle used for water or wine spritzing on the grill. It's great to spritz meat during grilling and when spritzing the cedar plank encourages a bit of steam fully releasing the flavor of the cedar into the salmon.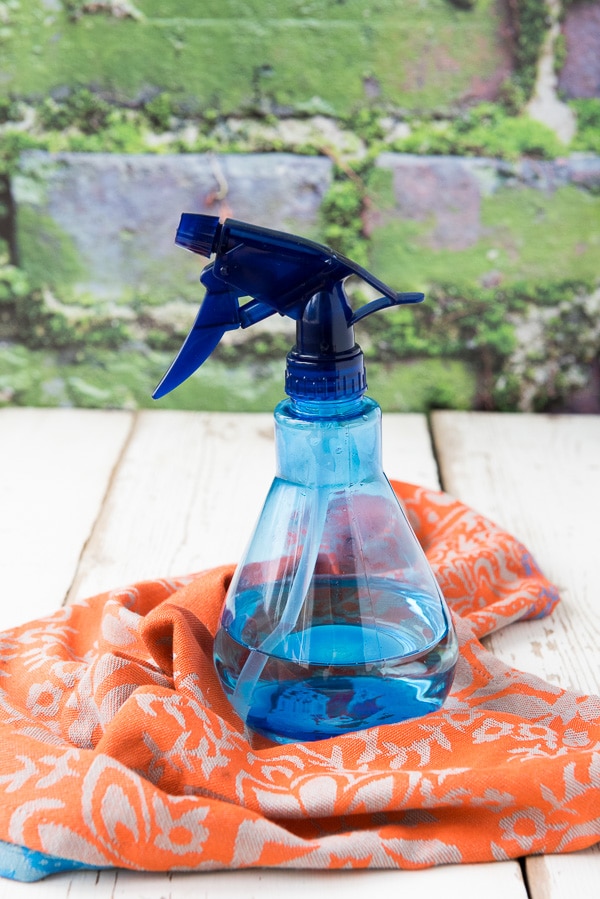 How to Make Charred Cedar Plank Salmon with Lemon and Dill – Step by Step:
It is currently the peak of wild salmon season making salmon readily available and a delicious (easy) option for grilling. Based on the reaction of my taste testers, this recipe will be in frequent rotation this summer!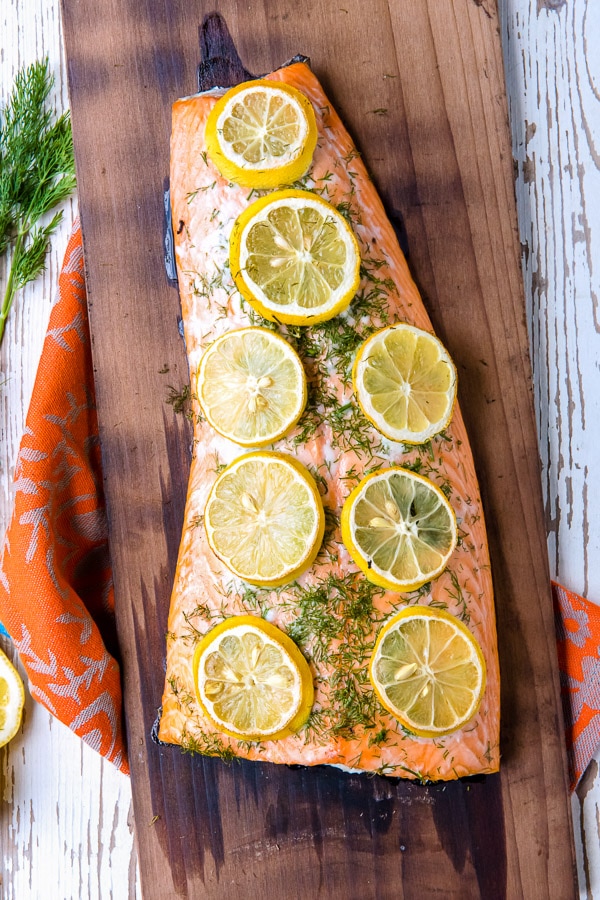 Some Delicious Side Dish Recipes to Serve with Charred Cedar Plank Salmon:
If you've tried this Charred Cedar Plank Salmon recipe or any other recipe on BoulderLocavore.com please don't forget to RATE THE RECIPE and let me know where you found it in the comments below, I love hearing from you!
Please SUBSCRIBE and FOLLOW ME on FACEBOOK , TWITTER , INSTAGRAM and PINTEREST to see more delicious food, travel and what I'm up to!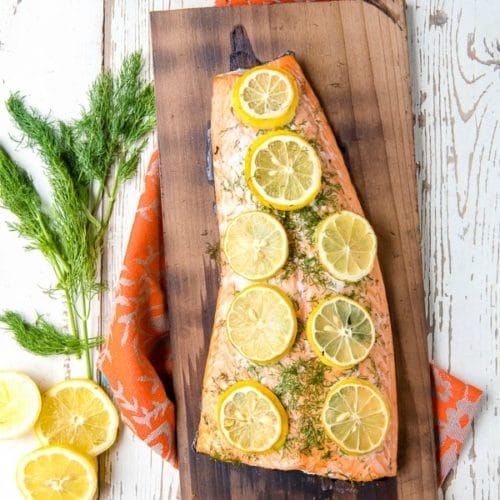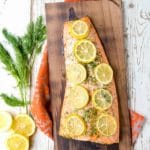 Charred Cedar Plank Salmon with Lemon and Dill
A simple grill recipe for salmon that produces a moist, flavorful salmon fillet thanks to charring a cedar plank before cooking. The need for soaking is eliminated cutting down on the prep time by a few hours.
Charring the plank also lends a unique depth of flavor to the salmon. My secret is spraying the salmon through the grilling process with Pinot Grigio wine to add more flavor and encourage some additional steaming of the plank!
Ingredients
1

large Cedar Plank for grilling

(the will fit your salmon fillet)

1

large Salmon Fillet

(1 ¼ pounds)

2

Lemons

, cut into slices

4

sprigs of fresh Dill

, finely diced

½-3/4

cup

Pinot Grigio wine

An unused spray bottle
Instructions
Charring the cedar plank:
Turn a gas grill to medium heat (250-300 degrees) or over medium heat charcoal, place the unsoaked plank on the grill. Leave the lid open and watch for the first wisps of smoke from the underside of the plank. Check the plank for singeing and char marks. Once they begin to appear (2-3 minutes), flip the plank over to do the same on the second side. Set aside.
Cooking the Salmon:
For a gas grill: heat the gas grill to 300 degrees in an Indirect Method (for a 4 burner grill, leave the outer 2 burners on and turn the inner 2 burners off; or if having fewer burners, leave one side of the grill on and the other side off. For charcoal, build a medium fire and separate the coals on both sides of the grill leaving the middle section free of coals).

Pour the Pinot Grigio wine into the new, unused spray bottle.

Place the salmon fillet skin side down onto the charred plank. Sprinkle the top with the diced dill and cover with lemon slices. Place the plank on the grill over the unheated section of the grill. Spray 3-4 times with the wine (the wine landing on the plank will cause some steaming as well) and close the lid.

Check the internal temperature of the salmon at 20 minutes and every 5 minutes until the internal temperature registers 135-140 degrees. Remove and allow to rest for 5 minutes. Cut into 4 portions by cutting across the fillet.
Nutrition Facts
Charred Cedar Plank Salmon with Lemon and Dill
Amount Per Serving
Calories 100
Calories from Fat 18
% Daily Value*
Total Fat 2g 3%
Cholesterol 23mg 8%
Sodium 20mg 1%
Potassium 282mg 8%
Total Carbohydrates 5g 2%
Protein 9g 18%
* Percent Daily Values are based on a 2000 calorie diet.