Shrimp Skewers are a main dish recipe win for flavor and speed of grilling. Grilled Spicy Salt and Pepper Shrimp Skewers are easy and grill in less than 5 minutes. Perfect for parties.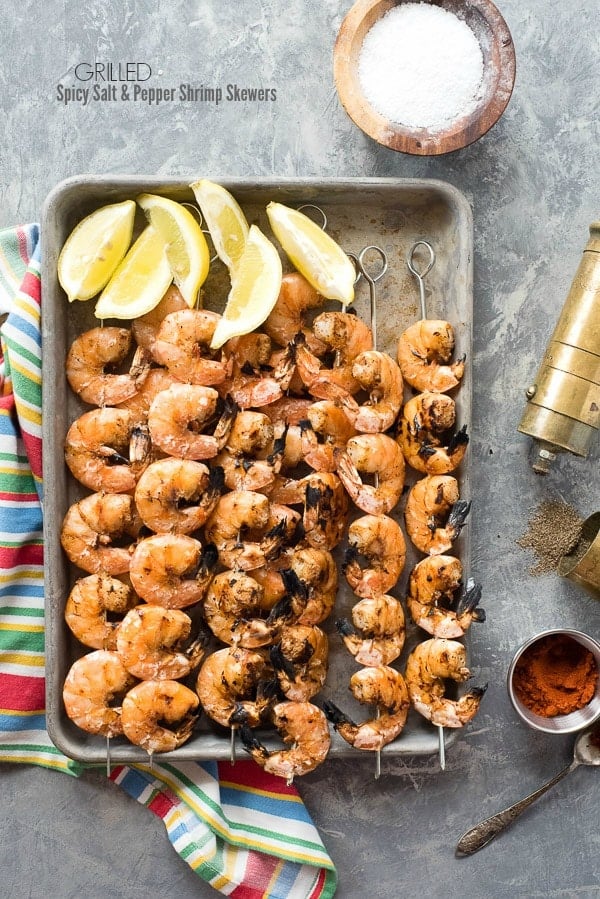 Updated June 17, 2018
We got together with friends for a grill out recently and one of the dishes they made were shrimp skewers.
I love grilling shrimp because it's so darn easy and fast. There are many ways to make shrimp skewers and today's Grilled Spicy Salt and Pepper Shrimp Skewers are a favorite.
Grilled Shrimp Skewers – A 15-minute Main Dish
The shrimp are not marinated before cooking but rather tossed with some seasonings and a bit of olive oil, threaded onto skewers and quickly grilled about 1 ½-2 minutes a side.
Shrimp are easy to read on the grill. They turn from a translucent gray to opaque pinkish-white when cooked. They should not be overcooked to avoid a rubbery texture.
Using jumbo shrimp makes the prep even faster for this recipe. They are easy to peel after being in the grilled shrimp skewers. I enjoy the peeling as part of the dinner experience.
On a hot summer's evening, it's a great way to slow time down, have a chat and enjoy eating the shrimp once peeled. It is a messy endeavor, I won't deny, but it's fun.
What is a Shrimp Skewer?
Shrimp skewers are a type of kabob using shrimp as the protein. They are threaded onto skewers and cooked (this Grilled Spicy Salt and Pepper Shrimp recipe is grilled) over coals or gas.
The shrimp skewers can have additional vegetables and fruits added to the skewers or be shrimp alone, as in this recipe.
How to Pick Ingredients for a Mixed Ingredient Shrimp Skewer
If adding multiple ingredients to a shrimp skewer, as in this kabob recipe, all the ingredients should be equal size and items that take a similar time to cook so all the ingredients cook evenly.
For instance, if green pepper is on a shrimp skewer, the shrimp will cook much more quickly than the green pepper so the shrimp skewers won't be uniformly cooked.
A Trick for Mixed Ingredient Skewers: separate the ingredients onto individual ingredient-specific skewers! Create individual skewers of each of the desired ingredients and pace the cooking based on how long each ingredient requires (probably adding the shrimp skewers last).
The ingredients can be removed from the skewers for serving or each diner can be given a skewer of each ingredients.
And if you are feeling really lazy, you can grill the ingredients in a grill basket adding the shrimp last.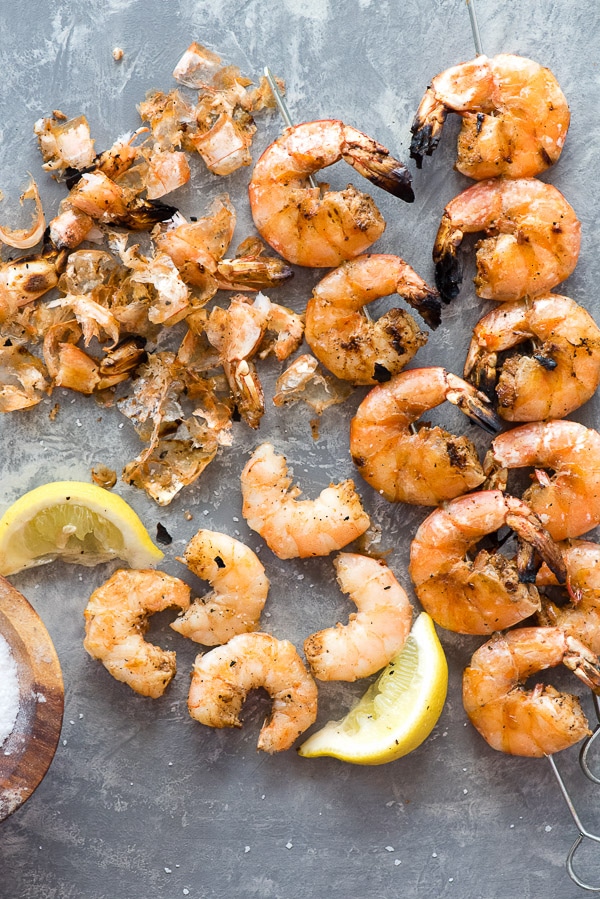 Shrimp Skewers with Peeled Shrimp or Unpeeled Shrimp?
Shrimp skewers may be made with either peeled or unpeeled shrimp. I've done them both ways. This Grilled Spicy Salt and Pepper Shrimp Skewers recipe uses unpeeled shrimp. This Grilled Thai Shrimp-Pineapple Skewers recipe calls for peeled shrimp skewers.
Peeled Shrimp: Pros vs Cons
PRO: The marinade is in contact with the shrimp directly for enhanced flavor. No peeling required after grilling. Less messy for diners.
CON: The shrimp can dry out quickly and need to be closely monitored on the grill.
Unpeeled Shrimp: Pros vs Cons
PRO: An advantage of using unpeeled shrimp is that the peel helps keep the shrimp moist while grilling so they won't dry out as easily.
CON: The marinade doesn't permeate the shrimp meat as much as with peeled shrimp which are directly exposed to the marinade. Unpeeled shrimp skewers require peeling post grilling which can be fun and add to a group dining experience or may not be preferred by some.
What does the Number or Shrimp Count Mean?
When buying shrimp, either fresh or frozen, you'll note there is a count number associated with the shrimp. This indicates how many shrimps there are in a pound!
The larger the number/count the smaller the size of the shrimp and visa versa.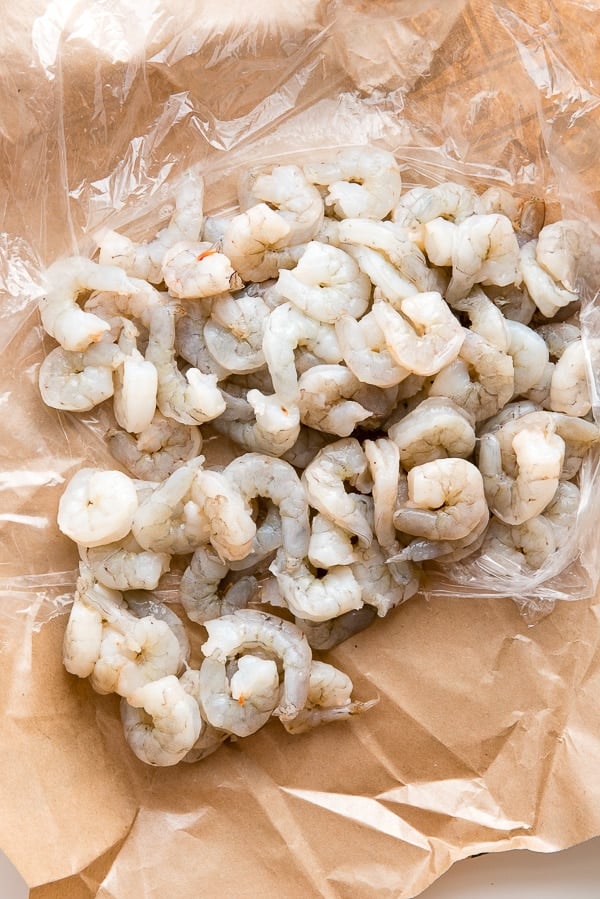 What Size Shrimp to Use in Shrimp Skewers?
If adding other ingredients to the shrimp skewers using 26/30 count gives a good size shrimp but also works well with other ingredients.
When making this recipe for Grilled Spicy Salt and Pepper Shrimp Skewers I used 21/25 count shrimp. They are slightly larger and the only thing on the skewer.
NOTE: the smaller the shrimp the faster they will cook and should be watched so they don't dry out and become chewy.
What Type of Skewers to Use for Shrimp Skewers?
A trick I learned at an intensive grilling school I attended was that flat skewers are the best choice because they prevent ingredients from spinning on a round skewer. Round skewers make it harder to ensure all sides of ingredients are cooked equally.
I have shared some different options in my Amazon Store. Other options include a double pronged skewer with a handle so it's easy to flip the ingredients.
I still use bamboo skewers too BUT I double skewer. This essentially creates a flat skewer situation.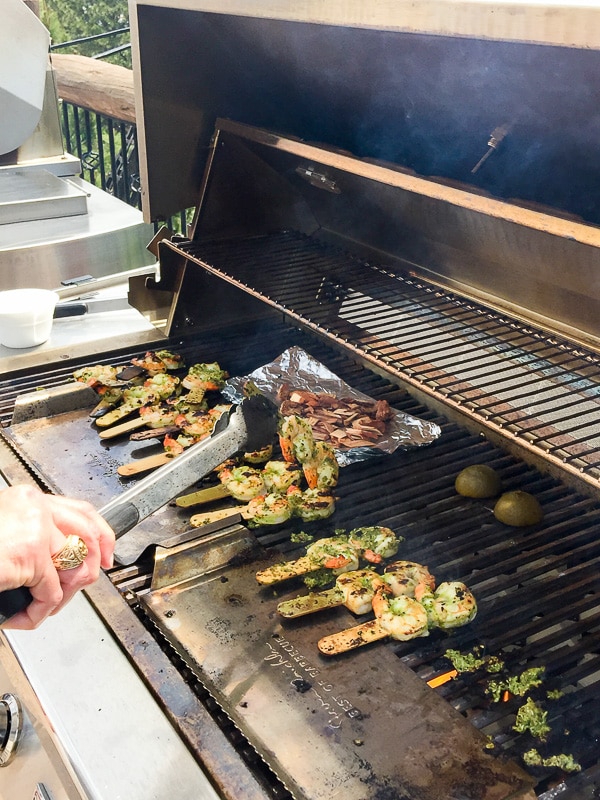 PRO TIP: I do NOT soak my bamboo skewers but I DO use a grill shield. This one was cool I thought. You can buy a grill sheild or I use a piece of heavy foil and lay it on the grill with the exposed ends of the skewers over it so they do not burn.
If the pointed ends are exposed you can also use a second piece of foil to lay under that end of the skewer too.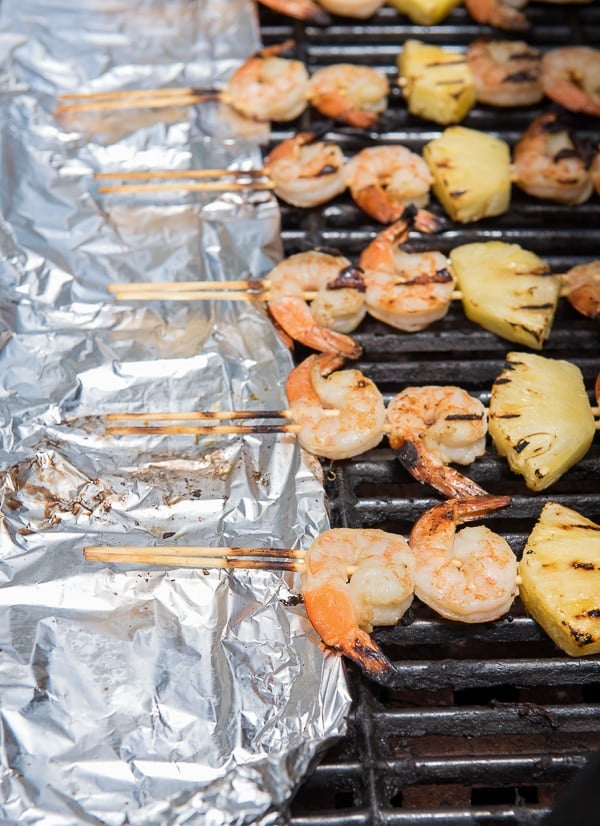 TIP for FLIPPING SHRIMP SKEWERS: It's easiest to turn either type of skewer with heatproof tongs to ensure the shrimp stay in place on the skewer and are cooked evenly.
What Temperature to Use to Grill Shrimp Skewers?
Being a lean protein, shrimp cook quickly and can dry out easily. I grill at 375 degrees and find that produces a great result.
Can Shrimp Skewers be Cooked in the Oven or Broiled?
Yes! Shrimp Skewers are a great candidate for broiling because they cook so quickly.
How to Broil Shrimp Skewers:
Heat the broiler to High, with the top rack about 5-inches below the broiling element. Cook the shrimp for 2 minutes per side (flipping after 2 minutes) and monitoring for doneness.
How Long to Grill Shrimp Skewers?
Shrimp only require grilling for about 2 minutes per side. Unlike meat that requires an instant read thermometer to check doneness, shrimp change color when they are cooked!
They will be gray and slightly translucent when raw and as they cook become white or slightly pinkish and opaque.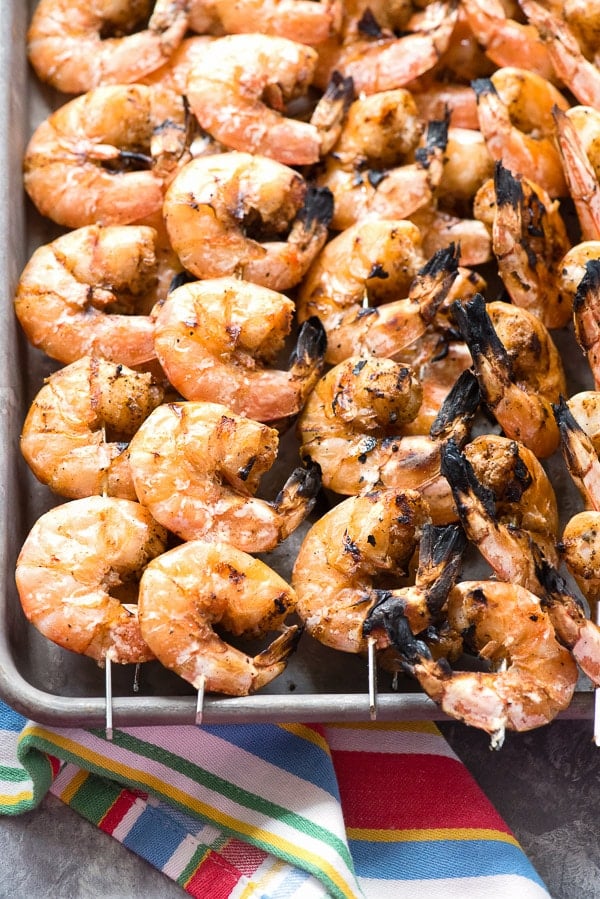 How Many Shrimp per Person?
As a rule of thumb 1 pound of shrimp would serve 4 adults with side dishes. But as with everything, 'size matters' and what else is served.
If shrimp is larger and there are multiple side dishes 6 21/25 count shrimp is perfect. With this Grilled Spicy Salt and Pepper Shrimp Skewers recipe I find one skewer per diner is the right serving (with side dishes).
What Goes with Shrimp Skewers?
Being a lighter protein, in weight and flavor, I like serving lighter side dishes. I try to balance the dishes and serve flavors that will complement each other.
Since the Grilled Spicy Salt and Pepper shrimp are slightly spicy, serving sweet flavors in the side dishes works great!
Rice is a perfect match or even a quinoa salad. A green or fruit salad is always nice. You could have some crusty dinner rolls for the carb lovers in your crew too.
Here are some of my favorite sides to serve with Shrimp Skewers:

How to Eat Shrimp Skewers
Sometimes getting the ingredients off the skewer is as mysterious as how to eat shrimp skewers. I have a trick to help with this.
First, you'll want to remove the shrimp from the grilled shrimp skewer:
The easiest way to do this is to put the pointed end of the skewer against your dining plate.
Take your fork, turn it upside down, so what is normally the top is facing downward toward the plate.
Insert the fork between the bottom two shrimp on the skewer.
Holding the fork stationary, pull the skewer upwards which will pull the shrimp off the shrimp skewer.
Intuitively we want to pull the ingredients off the skewer holding the skewer stationary; this usually is a struggle. Holding the ingredients stationary and pulling the skewer is a much easier and faster way to free the shrimp from the grilled shrimp skewer.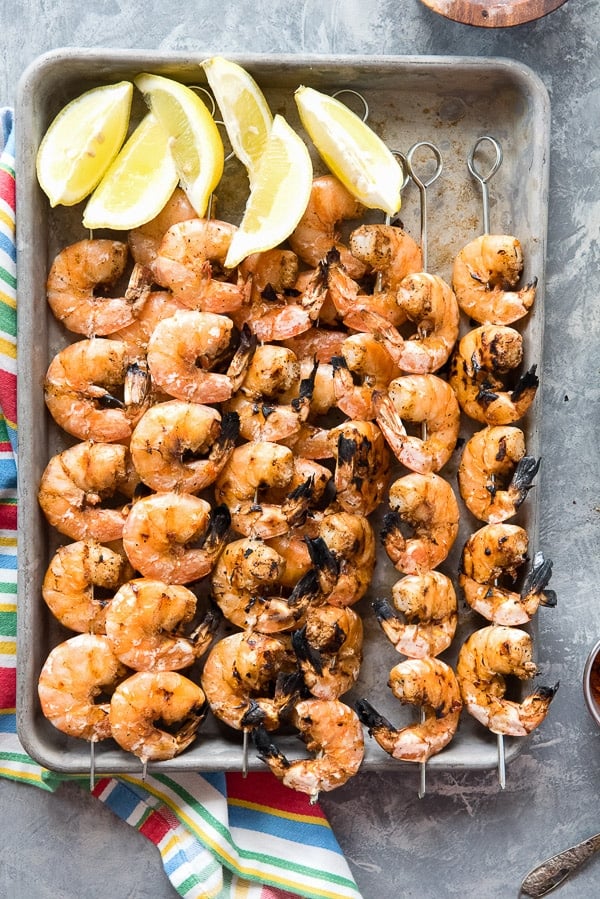 If you've tried this Grilled Spicy Salt and Pepper Shrimp Skewers recipe or any other recipe on BoulderLocavore.com please don't forget to RATE THE RECIPE and let me know where you found it in the comments below, I love hearing from you!
Please SUBSCRIBE and FOLLOW ME on FACEBOOK , TWITTER , INSTAGRAM and PINTEREST to see more delicious food, travel and what I'm up to!
How to Grill Shrimp Skewers – Step by Step:
Recipe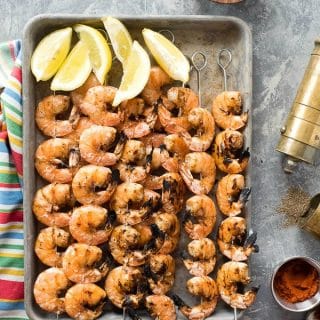 Grilled Spicy Salt and Pepper Shrimp Skewers
This easy recipe for Grilled Spicy Salt and Pepper Shrimp Skewers may be increased to feed a larger crowd by increasing the ingredients proportionally (e.g. doubling, tripling). Servings sizes will depend on diners appetites. With side dishes a skewer of 5 shrimp per diner is perfect.
Print
Save Recipe
Recipe Saved!
Pin
Rate
Servings:
8
aproximately 7-8 skewers and 40 shrimp
Ingredients
2

teaspoons

Sea Salt

(fine granules)

3/4

teaspoon

freshly ground Black Pepper

1/4

teaspoon

Smoked Hot Paprika

1/8

Cayenne Pepper

1

tablespoon

Extra Virgin Olive Oil

1 1/2

pounds

Jumbo

(21/25) Shrimp in shell (trim off the legs); rinsed, drained and patted dry with paper towels
Instructions
Preheat grill to 375 degrees. Brush and oil when at temperature.

While grill is heating, add the seasonings to a gallon zippered plastic bag; seal and shake to combine. Add the olive oil and massage to combine the dry seasonings with the oil.

Add the shrimp, seal the bag; toss and massage the seasoning mixture to coat all of the shrimp.

Remove the shrimp from the bag, bend into a sideways U shape and thread the skewer through both ends of the U (refer to photos), with 5 shrimp per skewer.

Grill for 1 1/2 to 2 minutes per side, just until the shrimp becomes opaque. Remove from grill and serve immediately.
Nutrition
Calories:
101
kcal
|
Carbohydrates:
0
g
|
Protein:
17
g
|
Fat:
2
g
|
Saturated Fat:
0
g
|
Cholesterol:
214
mg
|
Sodium:
1242
mg
|
Potassium:
68
mg
|
Fiber:
0
g
|
Sugar:
0
g
|
Vitamin A:
35
IU
|
Vitamin C:
3.5
mg
|
Calcium:
123
mg
|
Iron:
1.8
mg