Looking for a great grilling recipe that is done in a flash?  Grilled Spicy Salt and Pepper Shrimp Skewers are super simple to make and grill in less than 5 minutes.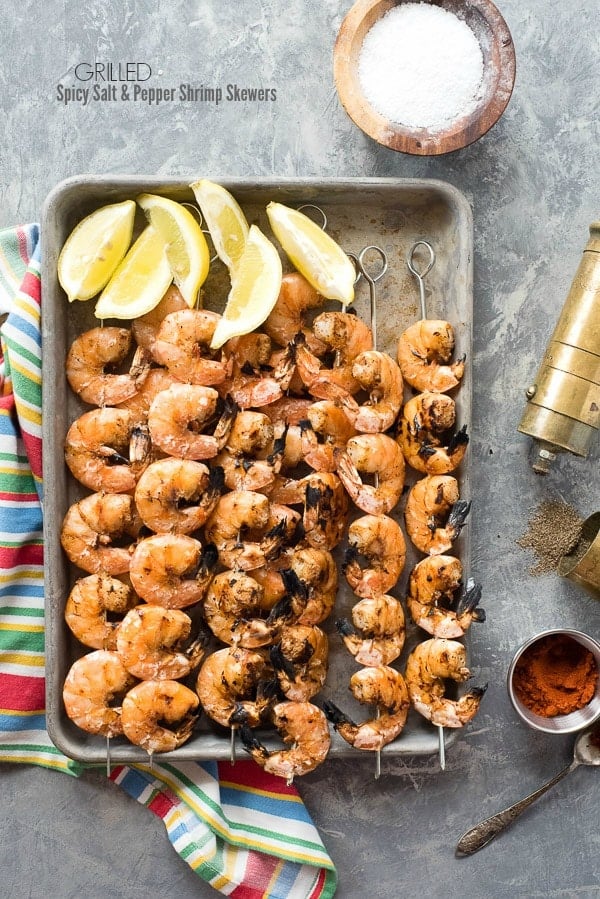 I have been sooooo lazy in the kitchen lately!   We've just wrapped up summer swim league which ends with daily swim meets that last most of the day along with celebratory gatherings.  It's all fun but candidly, draining, leaving me quite content eating popsicles as a mainstay for days on end.
We got together with friends for a grill out recently and one of the dishes they made were shrimp skewers.  I love grilling shrimp because it's so darn easy and fast.  Last summer I shared a favorite recipe for Grilled Thai Shrimp-Pineapple Skewers. They have great flavors and again can be whipped up in minutes.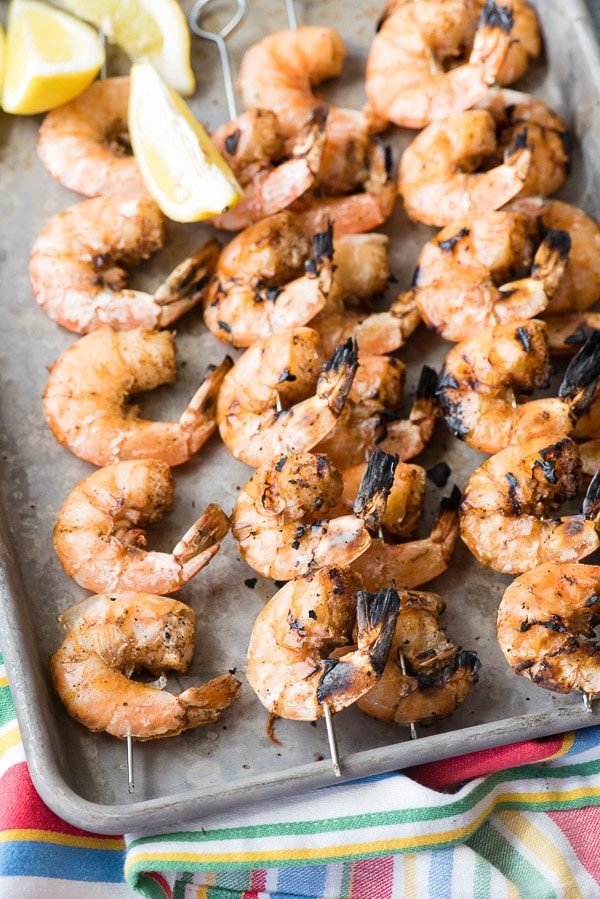 Part of my family has been traveling this week leaving my popsicle diet tendencies in full swing.  Knowing a girl shouldn't live on popsicles alone, let alone leave her child to do the same, I decided to grill up some shrimp which is about a 10-minute operation start to finish.
I've been having a craving recently for Salt and Pepper Shrimp.  I actually don't have a recollection if I've even ever had salt and pepper shrimp or if it just sounded good to me.  Regardless that is what I made and will be sharing today; Grilled Spicy Salt and Pepper Shrimp Skewers to be precise.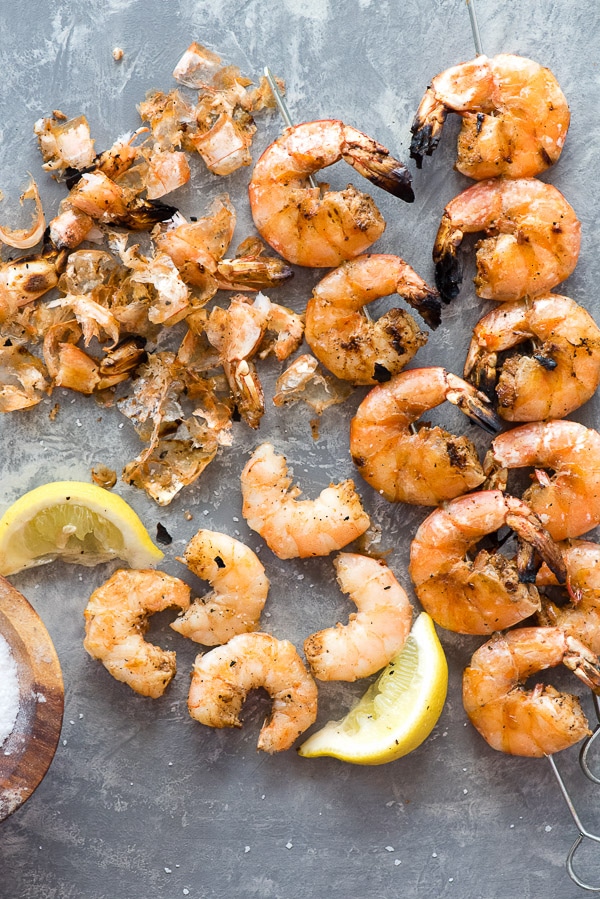 I used jumbo (21/25) shrimp in the shell for this recipe.  The numbers, 21/25, have to do with the size of the shrimp and how many there are per pound.  When at the fishmonger you'll note these numbers changing depending on the size of the shrimp and they are usually noted on the sign. It helps to estimate the number of shrimp you'll get depending on the size and quantity ordered.
Using jumbo shrimp makes the prep even faster for this recipe. They are easy to peel and I enjoy the peeling as part of the dinner experience.  On a hot summer's evening, it's a great way to slow time down, have a chat and enjoy eating the shrimp once peeled.  It is a messy endeavor, I won't deny, but it's fun.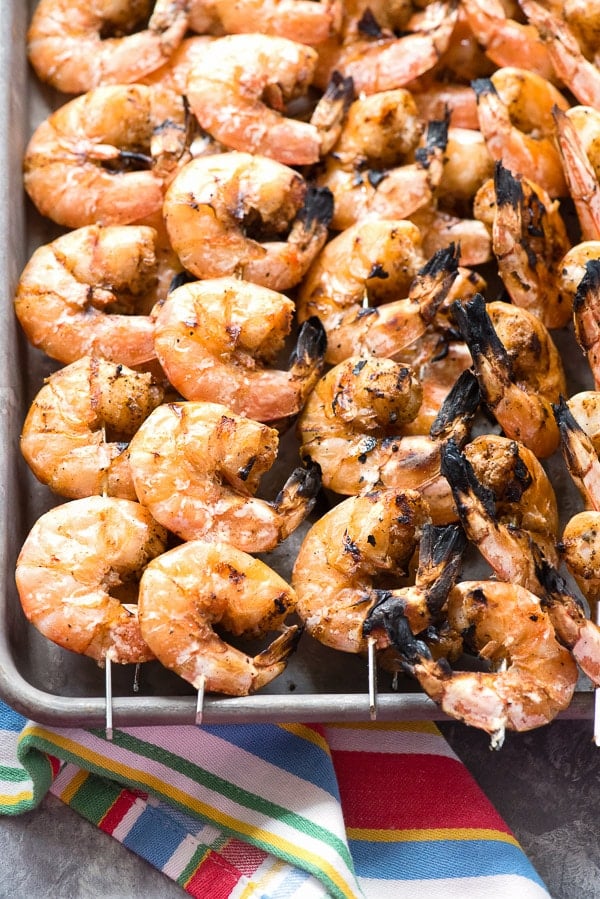 The shrimp are not marinated before cooking but rather tossed with some seasonings and a bit of olive oil, threaded onto skewers and quickly grilled about 1 ½-2 minutes a side.  Shrimp are easy to read on the grill.  They turn from a translucent gray to opaque pinkish-white when cooked.  They should not be overcooked to avoid a rubbery texture.
The shrimp can be threaded onto flat metal skewers or bamboo skewers.  Regular readers will know I do not soak bamboo skewers before grilling.  Instead I add a piece of foil underneath the handle to prevent the exposed bamboo from charring.  It's easiest to turn either type of skewer with heatproof tongs to ensure the shrimp stay in place on the skewer and are cooked evenly.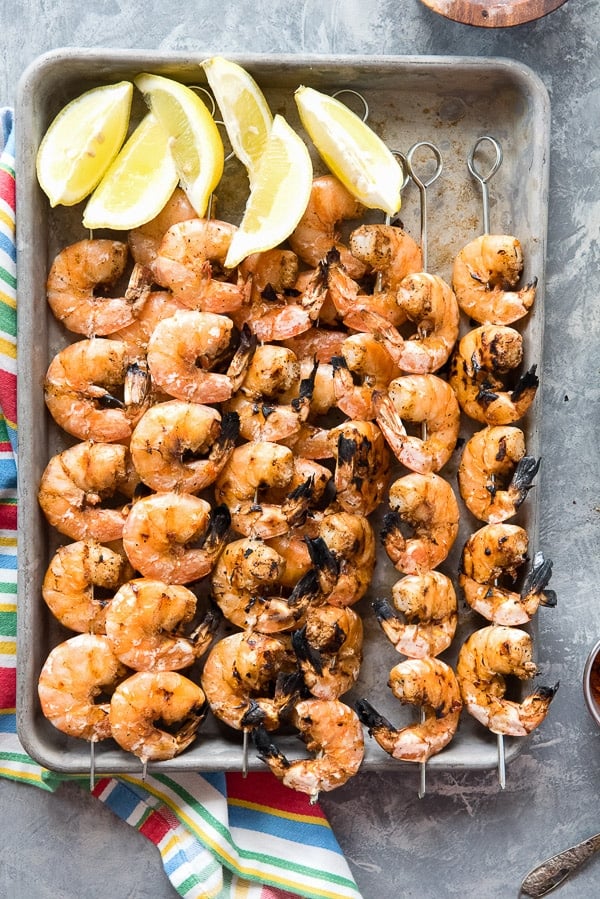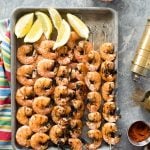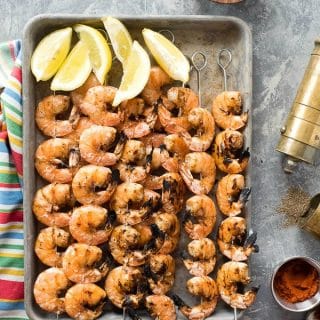 Grilled Spicy Salt and Pepper Shrimp Skewers
This easy recipe for Grilled Spicy Salt and Pepper Shrimp Skewers may be increased to feed a larger crowd by increasing the ingredients proportionally (e.g. doubling, tripling).Servings sizes will depend on diners appetites. With side dishes a skewer of 5 shrimp per diner is perfect.
Ingredients
2

teaspoons

Sea Salt

(fine granules)

3/4

teaspoon

freshly ground Black Pepper

1/4

teaspoon

Smoked Hot Paprika

1/8

Cayenne Pepper

1

tablespoon

Extra Virgin Olive Oil

1 1/2

pounds

Jumbo

(21/25) Shrimp in shell (trim off the legs); rinsed, drained and patted dry with paper towels
Instructions
Preheat grill to 375 degrees. Brush and oil when at temperature.

While grill is heating, add the seasonings to a gallon zippered plastic bag; seal and shake to combine. Add the olive oil and massage to combine the dry seasonings with the oil.

Add the shrimp, seal the bag; toss and massage the seasoning mixture to coat all of the shrimp.

Remove the shrimp from the bag, bend into a sideways U shape and thread the skewer through both ends of the U (refer to photos), with 5 shrimp per skewer.

Grill for 1 1/2 to 2 minutes per side, just until the shrimp becomes opaque. Remove from grill and serve immediately.