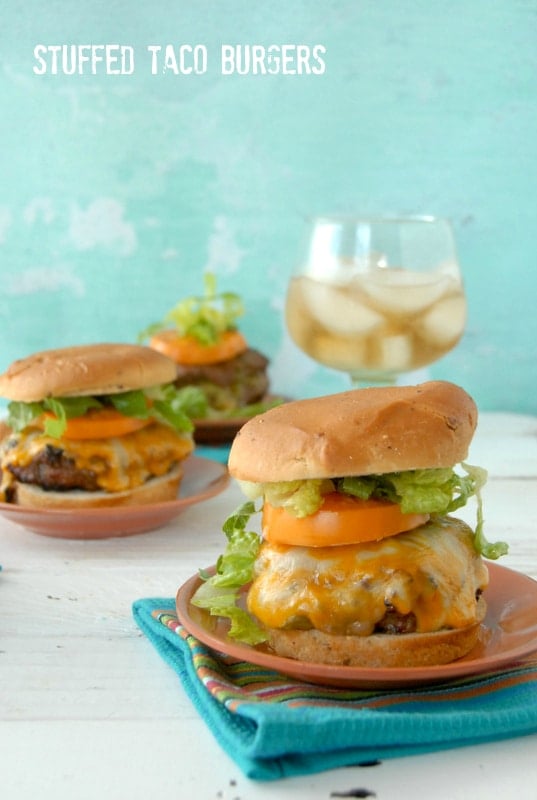 Am I the only one who is in denial that this weekend is the last exhale of summer in its truest form? The end of sunscreen-filled days doing whatever suits one's fancy? The season where the first thought about dinner starts with what one can grill? I may wear white shoes next week in protest.
Though grilling can really be done all year long, picking something to celebrate the end of the season seemed just the ticket. One of my favorite food genres is Mexican food, loving the bold, spicy heat that tells-it-like-it-is. And though I did grill a version of Mexican food in Smoked Chorizo Soft Tacos with Grilled Peach-Corn Salsa, traditional Mexican food does not play exactly to the grill menu.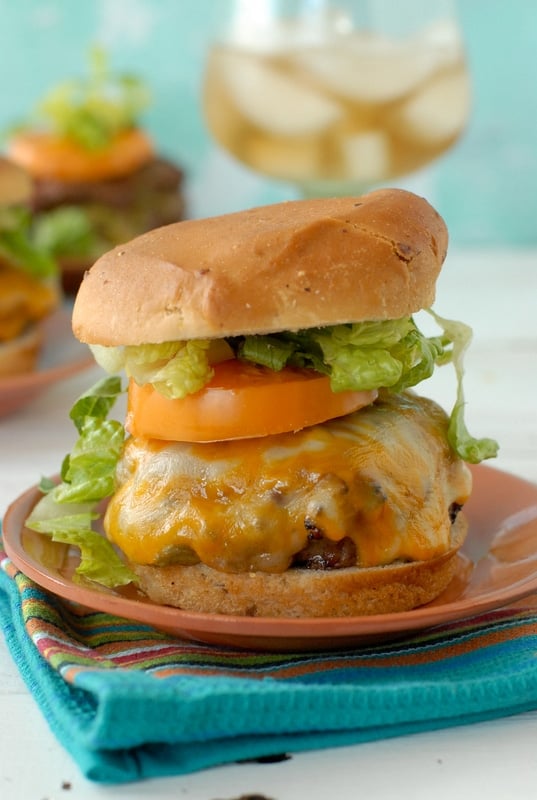 Well, not to most people. As I vacillated between burgers and Mexican food for the weekend menu then I had the idea to combine them (I'm a Gemini; I like diversity and can't bear to pick only one if two are possible). I loved the Bacon Southwestern Burgers (which also includes tips for making perfectly grilled burgers) I made recently loaded with green chilies and guacamole and decided to do a Stuffed Taco Burger. They have everything we love in a taco (minus the corn shell which certainly could be eaten in chip form on the side) packaged in a burger.
Use our Ultimate Burger Grill Guide to grill the perfect burger!
Juicy, perfectly grilled burgers stuffed with refried beans with green chilies, guacamole, cheese and salsa. Dressed on top with the requisite shredded lettuce and fresh, seasonal tomato slices. If you are addicted to cheese like I am, another slice of gooey cheese on top of the burger is perfection. Such a fantastic surprise when biting into the burger to find what awaits in the middle!
These burgers could not be better. The flavor signature of a taco in the package of a burger. A perfect match to send the summer off with a hearty bang!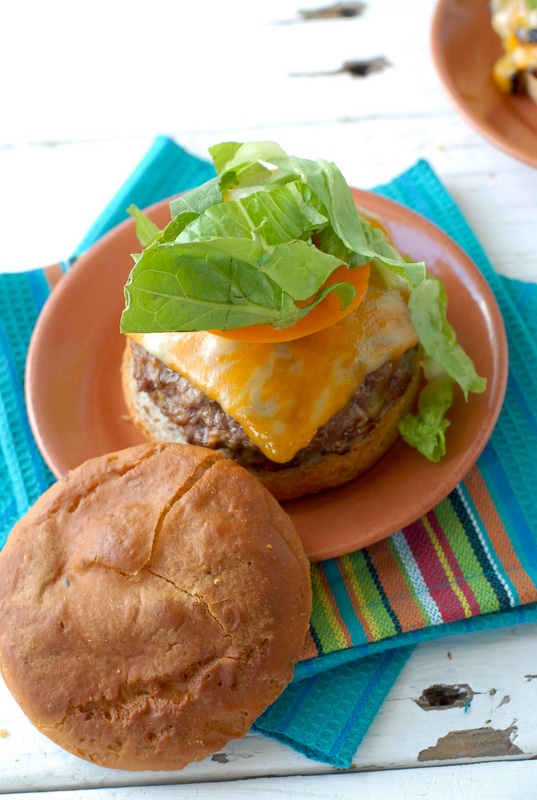 Recipe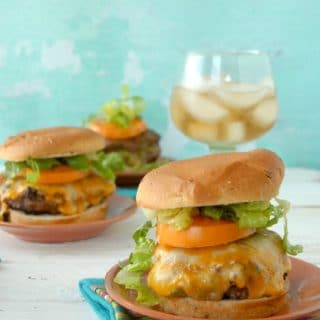 Stuffed Taco Burgers
Stuffed Taco Burgers are not only easy to make but provide the perfect marriage between well-loved grilled Burgers and Tacos. Biting into the burger provides a wonderful surprise of refried beans with green chilies, guacamole, salsa and cheese. No one will see it coming and they'll be back for seconds!
Print
Save Recipe
Recipe Saved!
Pin
Rate
Servings:
4
ample stuffed burgers
Ingredients
1 ½

pounds

85% fat Ground Beef

Heaping 1/3 cup Red Onion

, diced

2

tablespoons

Taco Seasoning Mix

¼

cup

smooth Guacamole

(homemade or store-bought)

¼

cup

Refried Beans with Green Chilies

¼

cup

Salsa

¼

finely grated Mexican blend cheese

(Cheddar, Colby and Monterey Jack; or your choice)

4

hamburger buns

(gluten-free or with gluten based on your preference)

Garnish: Tomato Sliced

, crisp Lettuce (iceberg or Romaine hearts), extra cheese, buns, condiments)
Instructions
In a large bowl, combine the diced onions and taco seasoning to fully combine. Add ground beef and kneed to combine the onions, seasoning and the beef fully.

Divide the ground beef into 4 equal portions.

Divide one portion in half; knead one half into a patty 4 inches in diameter (about ½ inch thick). Place on a working surface and gently press in the middle of the patty to create a slight indentation.

Spoon 1 tablespoon of the refried beans into the indentation. Gently spread with a spoon or your fingers to create a circle, leaving about 3/4" of ground beef around the circle on the outside. This is necessary to marry the bottom and top portions of the burger with room to pinch them together.

Continue layering the guacamole (on top of the refried beans); also spreading it to cover the beans. Follow with the salsa, spreading it to cover the guacamole, topping the guacamole with the grated cheese.

Knead the remaining portion of the ground beef into a patty 4-inches in diameter. Place on top of bottom patty and pinch sides together to seal.

Repeat Steps 3-6 for the remaining ground beef portions. Place stuffed burgers on a plate, cover and refrigerate for an hour.

Heat a gas grill to High. Once fully heated brush the grill clean with a grill brush tool. Divide the hamburger buns to tops and bottoms; place the inside of each half face down on the grill to mark the buns and warm them (30 seconds to a minute; check frequently so they do not burn). Set aside.

Lightly brush each side of the chilled hamburger patties with olive oil. Place them onto the grill allowing space between them. Close the lid of the grill and allow them to cook for 3 minutes and develop a good sear.

With a grill spatula, gently turn the burgers over. Close lid and allow the burgers to cook an additional 6-8 minutes, checking for doneness by the burger color (should be browned and opaque), any juices coming from the burger naturally being clear and lastly checking for an internal temperature of 160 degrees. NOTE: If desired add a slice of cheese on top a minute before the burger is to finish grilling so it can melt. Remove burgers and place them on a clean plate for 5 minutes to rest.

Serve topped with shredded lettuce and sliced tomato on the warmed bun.
Nutrition
Calories:
593
kcal
|
Carbohydrates:
26
g
|
Protein:
34
g
|
Fat:
37
g
|
Saturated Fat:
13
g
|
Cholesterol:
120
mg
|
Sodium:
632
mg
|
Potassium:
635
mg
|
Fiber:
3
g
|
Sugar:
4
g
|
Vitamin A:
220
IU
|
Vitamin C:
3
mg
|
Calcium:
115
mg
|
Iron:
5.1
mg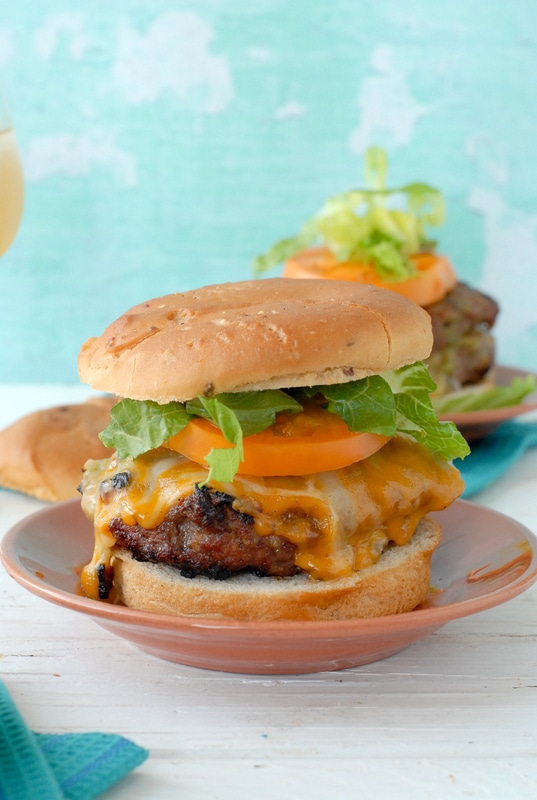 Other burgers you might enjoy:
The Perfect Burger Recipe {Bobby Flay via The Food Network}
Bacon Wrapped Jalapeno Popper Burger {Closet Cooking}
Grilled Asian Pork Burger {Heather Christo}
Quinoa Veggie Burgers with Pickled Red Onion {Love and Olive Oil}
Aloha BBQ Sliders {Tidy Mom}
Blue Cheese Burgers {Pinch My Salt}