Spicy Chorizo Sage Cornbread Dressing takes dressing from ho hum to woo hoo with this easy recipe! It's truly irresistible and too good just to serve on Thanksgiving!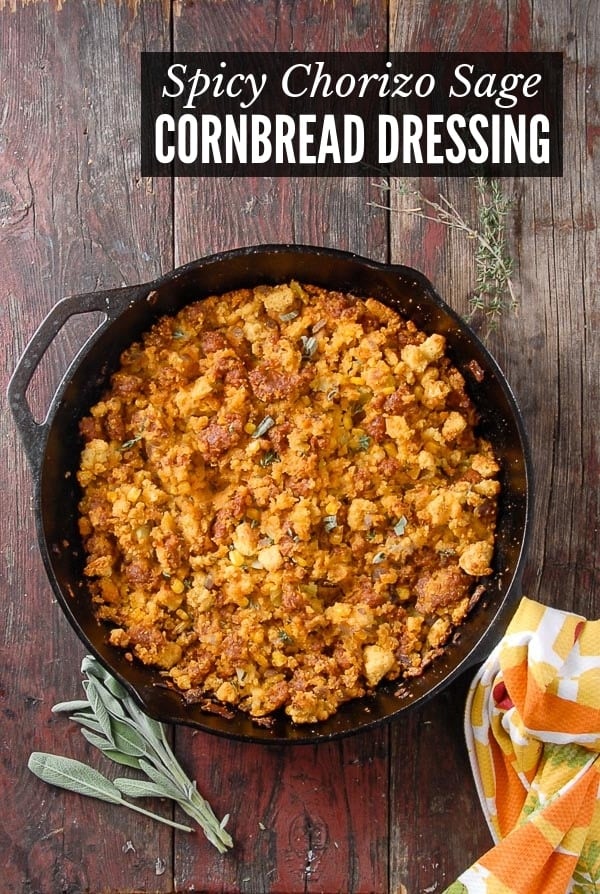 Updated November 2018
Truth be told I always hated stuffing as a child. It was difficult to get excited about, with no flavor and its underwhelming beige-on-beige color. Those days are over, my friends.
Spicy Chorizo Sage Cornbread Dressing is the absolute opposite. Packed with flavor from spicy chorizo, fresh sage and thyme, homey cornbread (gluten-free or regular), garlic, onion and more.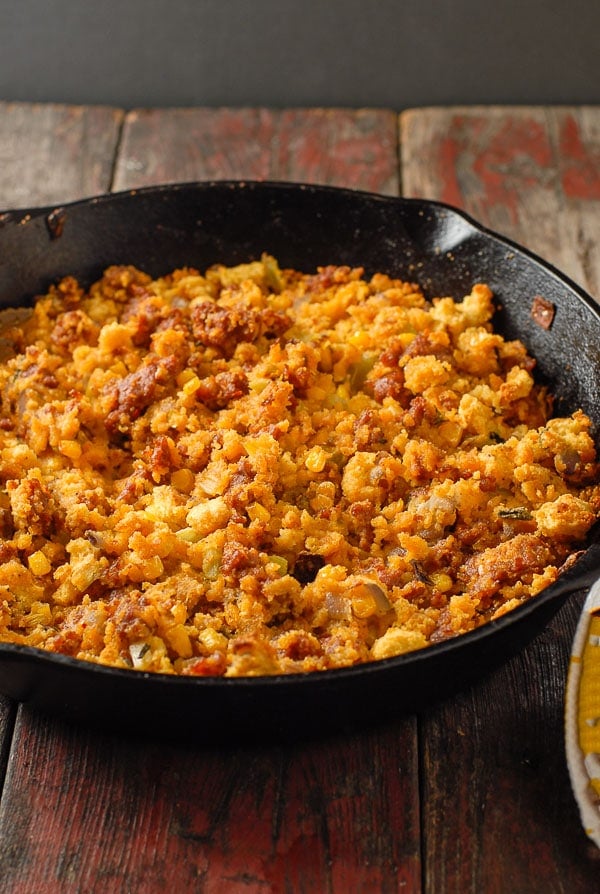 My family wants this all year not just for Thanksgiving! One bite and you'll be hooked on the deep flavors of this moist, exciting dressing!
Definitely serve it for Thanksgiving but pair it up with a roast chicken, pork chops, steak or any other favorite protein. It's good enough you may find yourself just wanting the cornbread dressing!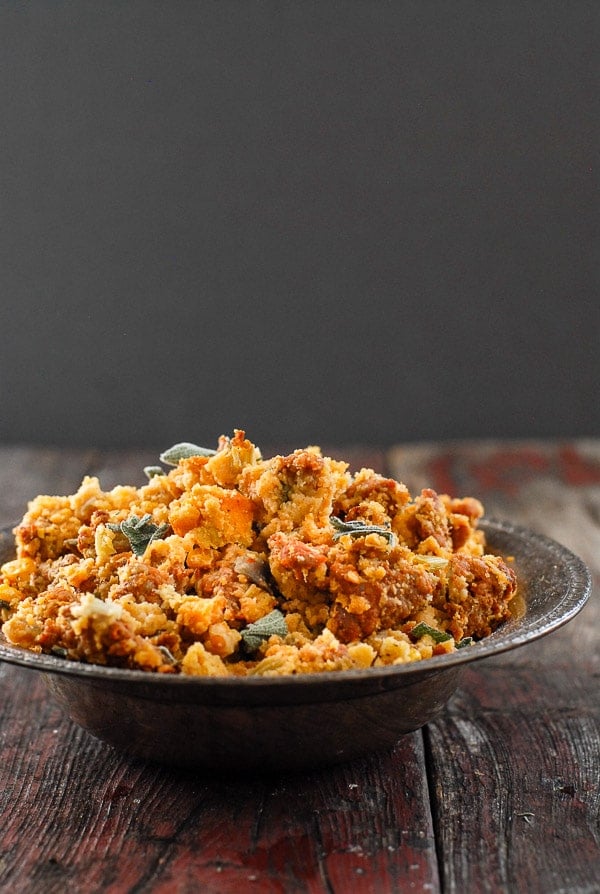 The Difference Between Stuffing and Dressing
The terms are used interchangeably but are different methods to prepare this iconic side dish.
As it sounds, stuffing is prepared and housed inside the turkey to cook. Extra flavor would be added from the bird however in recent years concern over food poisoning from bacteria developing due to cooking temperature control issues have made this a less popular way to cook it.
Dressing is stuffing prepared on its own, cooked safely as with other side dishes, suffering no loss of flavor and leaving the cook to breathe a bit easier over potentially making guests ill.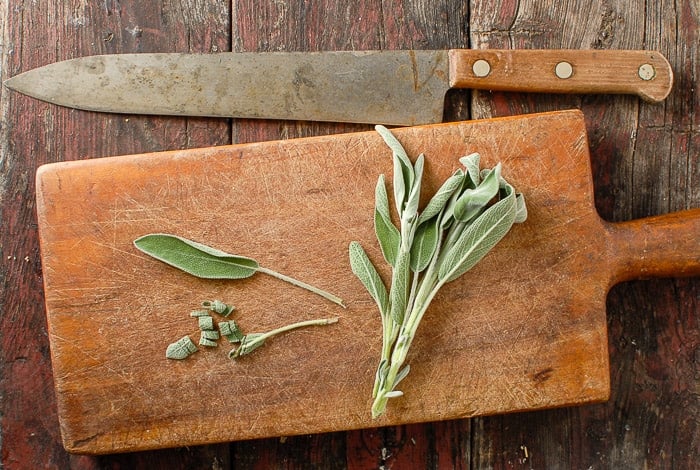 Stuffing or dressing are traditionally a cubed, seasoned bread dish, slightly moistened through most often ending up too dry. Being gluten-free the dressing  often is skipped due to the gluten in the bread used.
Spicy Chorizo Sage Cornbread Dressing
A favorite combination is cornbread and chorizo. Some spiciness, satisfying texture and great flavor; much more than with a white bread based dressing.
The bold flavors of sage and thyme introduce a fantastic level of aromatics to the dish along with the caramelized vegetables, including corn kernels, which contribute the satisfying texture.
This dressing is moist, but not overly so, and is something I wouldn't wait for Thanksgiving annually to enjoy!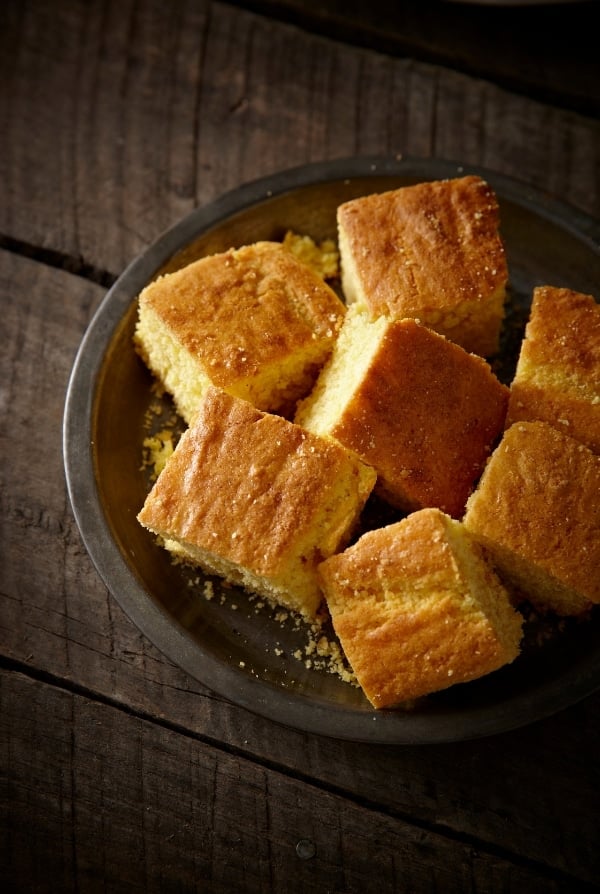 Make it with Traditional Cornbread or Gluten-Free Cornbread!
This cornbread dressing can be prepared with either gluten-free or traditional gluten cornbread, ending up with the same delicious result.
How to Make this Cornbread Dressing – Step by Step:
Preheat the oven to 350 degrees.
In a large, ovenproof skillet, melt the butter.
Add the corn, garlic, onion and celery; saute for 10 minutes until the onions are transluscent or slightly brown.
Add the chorizo to the skillet; brown for 2-3 minutes breaking it into small pieces while it cooks (TIP: a stiff spatula works well for this).
Next, add the sage and thyme; saute for 1-2 minutes until fragrant.
Add the cornbread, salt and pepper, using a large spoon to fully combine with the other ingredients.
Mix in the egg.
Pour the chicken broth evenly over the dressing (no need to mix it again).
Place in the oven, covered, for 30 minutes. Remove the lid and allow to cook for 10-15 additional minutes for the top to brown. Serve hot!
Need MORE delicious Thanksgiving recipes? This Easy Thanksgiving Recipes collection is a great place to start!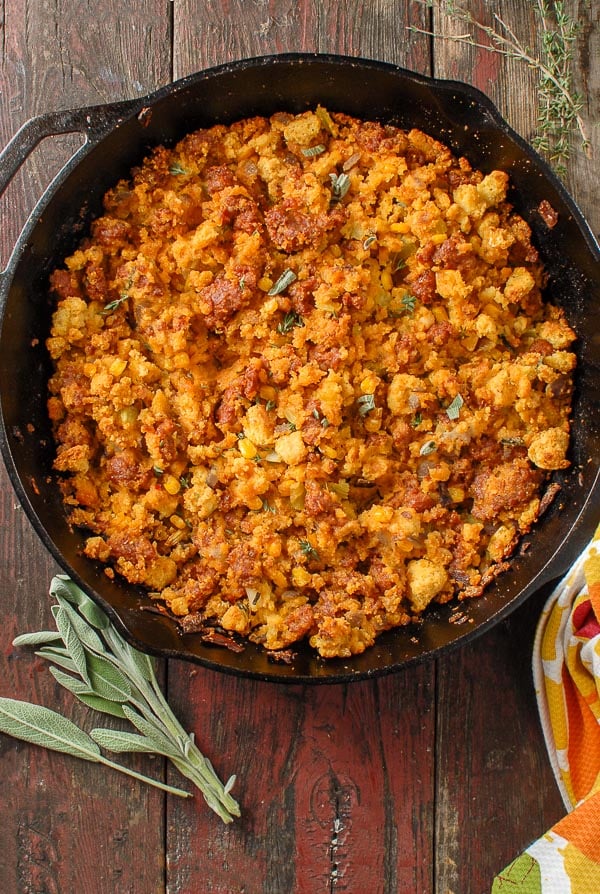 If you've made this Spicy Chorizo Sage Cornbread Dressing recipe please RATE THE RECIPE below!
Please SUBSCRIBE and FOLLOW ME on FACEBOOK , TWITTER , INSTAGRAM and PINTEREST to see more delicious food, travel and what I'm up to!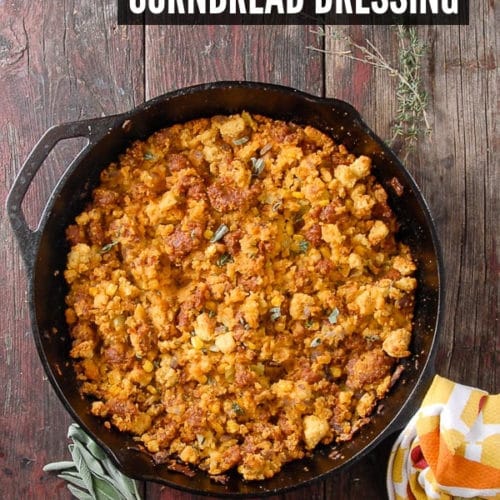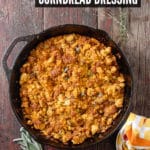 Spicy Chorizo Cornbread Sage Dressing
Whether for Thanksgiving or a side dish any night, this moist, spicy, aromatic dressing is always a favorite.
Total Time
1
hour
15
minutes
Servings
6
-7 cups prepared dressing
Ingredients
3

tablespoons

unsalted Butter

1

cup

Corn Kernels

, fresh or frozen and thawed

1

medium Red Onion

, chopped

2

stalks Celery

, trimmed and chopped

2

cloves

Garlic

, minced

1

pound

loose Chorizo

, roughly chopped*

4

cups

prepared Cornbread

(gluten-free or with gluten), coarsely crumbled (_note: can be stale_)

1 ½

teaspoon

fresh Thyme leaves

(removed from about 8-10 medium sprigs)

1

tablespoon

fresh Sage leaves

, diced (approximately 10-12 medium-large sage leaves)

½

teaspoon

Kosher Salt

½

teaspoon

Black Pepper

1

Egg

, beaten

1

cup

Low-Sodium Chicken Broth/Stock
Instructions
Preheat oven to 350

In a large, ovenproof skillet, melt the butter over medium-high heat.

Add the corn, onion, celery and garlic. Saute for 10 minutes, stirring occasionally. Onions will become translucent and may begin to brown slightly.

Add the chorizo and brown for 2-3 minutes, breaking up the sausage as it cooks.

Add the sage and thyme. Saute for 1-2 minutes allowing the herbs to become fragrant.

Add the cornbread, salt and pepper. Using a cooking spoon, mix well to combine all ingredients evenly.

Add the egg and mix again.

Pour the chicken stock evenly over the cornbread mixture. There is no need to mix again if pouring the broth evenly over the cornbread mixture.

Place in the oven, covered, for 30 minutes. Remove lid and allow to brown on top slightly (10-15 additional minutes). Serve immediately. Additional chopped sage and thyme can be added to garnish the dressing.
Recipe Notes
The recipe can be made gluten-free or with gluten based on the type of cornbread used.
*I used a locally produced Chorizo which is loose as with Mexican Chorizo, however it is a Spanish recipe so deep in flavor. Due to the texture of chorizo it can be difficult to pull apart when cooking so rough chopping it before browning aids in breaking the meat apart when cooking. For this recipe I recommend a loose chorizo vs the traditional hard cured Spanish chorizo.
Nutrition Facts
Spicy Chorizo Cornbread Sage Dressing
Amount Per Serving
Calories 573
Calories from Fat 351
% Daily Value*
Fat 39g60%
Cholesterol 131mg44%
Sodium 1584mg66%
Potassium 494mg14%
Carbohydrates 31g10%
Protein 23g46%
Vitamin A 395IU8%
Vitamin C 6mg7%
Calcium 87mg9%
Iron 2.5mg14%
* Percent Daily Values are based on a 2000 calorie diet.
Originally published: November 10, 2013