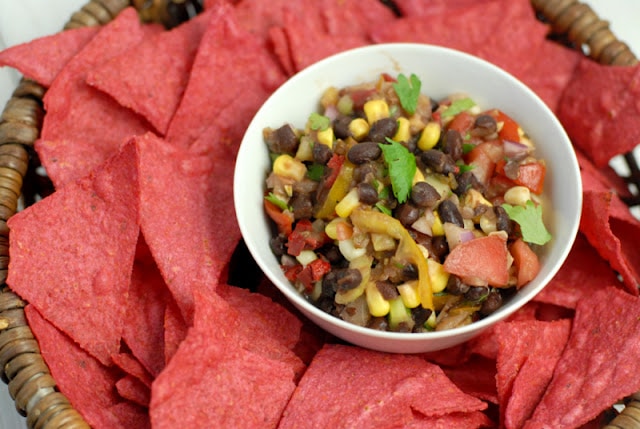 Labor Day weekend was sublime.

 

I awoke Saturday morning and as if on cue the temperature had dropped at least 20 degrees greeting me with a fall like morning.

 

Good bye triple digits of the last beastly weeks; hello sweater weather.

 

This could change in Colorado in a minute but the reprieve lasted all weekend long.

  

It was the kind of weekend I love; time enough to get the things done I need to, and time enough to do what I'd like.

 
On Sunday I picnicked in the mountains with friends.

 

One of my friends pulled out a chunky, salady looking dip that intrigued me.

 

She said it was Cowboy Caviar.

 

I was charmed by the name and was intrigued to learn more after tasting its wonderful ode-to-Texas flavor.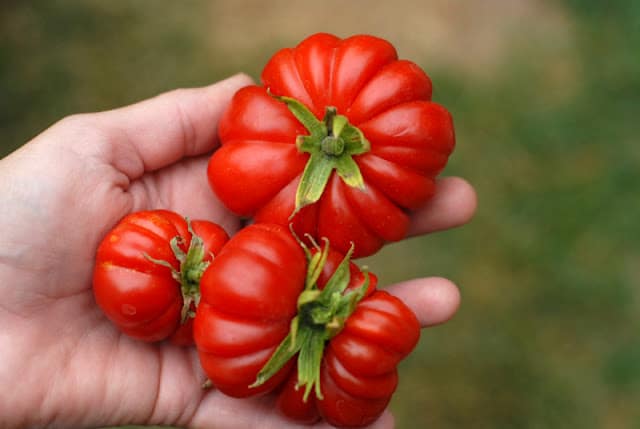 Have you ever seen a more beautiful tomato?!

 

These mild Costoluto Fiorentino heirloom tomatoes are a prize of my garden this season.

 

Wonderful flavor, not overly juicy, perfect to add flavor to this Cowboy Caviar.
Upon returning home I did a bit of poking around to learn the original recipe is believed to trace back to Helen Corbitt who bears a lengthy and notable culinary path as a chef and cookbook author

 

in the early 1900's (pretty respectable for a woman in that era by my book).

 

Her journey landed her in Texas in 1931 where she was said to have been 'courted' by Stanley Marcus (of Neiman Marcus), becoming the store's Director of Food Services.

 

It was apparently during her tenure there when she developed the original recipe (though not bearing the current recipe name) featuring black eyed peas, which she did not care for and therefore pickled them in a marinade for this dish.

 
Since then the recipe has spread and been tweaked in many directions though all featuring a central bean (usually still black eyed peas) and other chunky vegetables to create a delicious Southwestern flavored dish.

 

Is it a scoopable dip or a side salad?

 

That remains for personal preference though my guess would be the initial recipe was targeted as a salad, as I could not see dolled up patrons of the prestige NM scooping dip during a posh lunch at the store.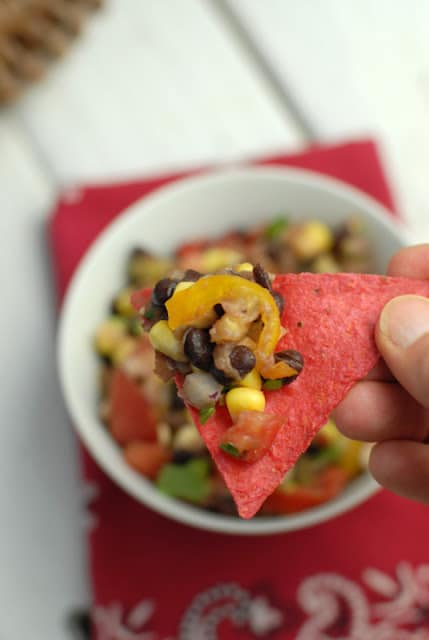 I decided to take a spin at the recipe featuring all the local, seasonal produce both from local farms and my home garden.

 

I've tailored my version accordingly using home cooked dried black beans from my pantry, fresh summer corn now in its prime, gorgeous heirloom tomatoes from my garden and more.

 

The beauty of this dish is you can change it up based on what you have on hand or with whatever is seasonal.

 

You can also use canned beans, corn and tomatoes should you be making this out of season or just prefer the ease of doing so.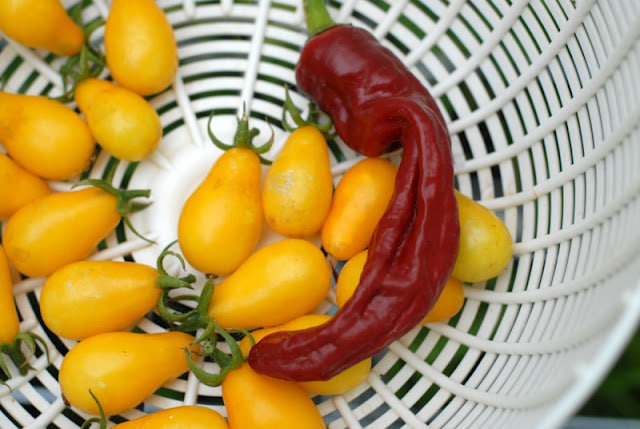 Yellow pear tomatoes and a mild red Anaheim chile pepper are a perfect addition for flavor and color
Please note I've included three levels of 'heat' for this recipe.  Pick the one that suits you and your guest best (but don't use all three unless you want to exfoliate all your taste buds).
Servings:

 

8 (if served as a salad)
·

        
2 ½ cups black beans (or 1-25 ounce can of black beans)
·

        
2 cups fresh or canned corn
·

        
1 ½ cups tomatoes (preferably heirlooms for flavor!), chopped
·

        
½ cup yellow pear tomatoes (about 7-8), sliced
·

        
½ medium red onion, diced
·

        
2 stalks celery, diced
·

        
¼ cup cilantro, chopped
·

        
PICK YOUR HEAT LEVEL (select mild, medium or hot and add the ingredients):
o

  
Mild
: 1 red Anaheim chile (seeded and diced)

plus

2 teaspoons mild pickled peppers, diced
o

  
Medium
:

 

1 jalapeno chile (seeded and diced)

plus

2 teaspoons pickled pepperocinis, diced
o

  
Hot:
2 serrano chiles (seeded and diced)

plus

2 teaspoons pickled jalapenos
·

        
2 ½ tablespoons apple cider vinegar
·

        
2 tablespoons olive oil
·

        
1 teaspoon cayenne pepper
·

        
Juice of ½ a medium lime
·

        
Salt and pepper to taste
Mix all ingredients in a large bowl.

 

Serve with colorful corn chips or on some lettuce leaves if serving it as a side salad.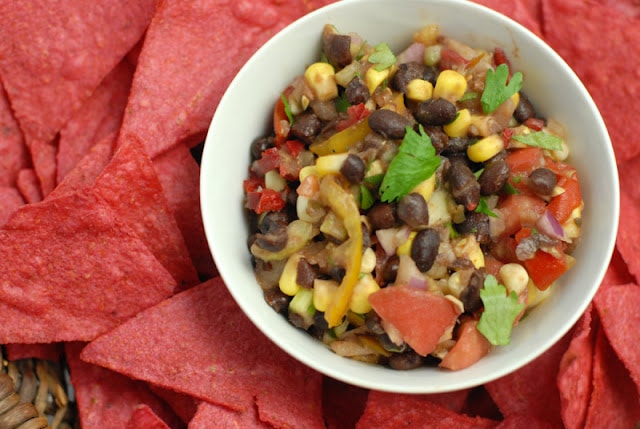 Colorado Front Range locals
:

 

a great find!

 

I've noted this MM Local brand of canned goods in north Boulder's Lucky's Market for some time.

 

I can myself so no need to buy any.

 

I wanted to add pickled peppers to my Cowboy Caviar and decided to give these a try.

 

I love the premise of this company's mission.

 

Using local farmers they've taken the best of the harvest and done the canning for you so you can enjoy the local bounty all year long.

 

These High Desert Mild Peppers were grown at Grant Family Farm in Wellington (there is even a little map of the farm's location on the lid).

 

A great way to 'eat local' throughout the year with little off season food planning effort on your part.