Cowboy Caviar is a chunky, flavor-packed recipe perfect as a scoopable appetizer or side salad. Tangy, spicy and full of wholesome ingredients you'll love.

My first introduction to Cowboy Caviar was at a Labor Day picnic several years ago. A friend brought is as a chunky dip and I was totally intrigued!
Once she told me the name I fell in love with it. The nod to Texas flavors hooked me immediately.
I love the flexibility of Cowboy Caviar. The ingredients can be switched up. And the heat level be tailored to one's preferences.
Is it a Salad or Salsa?
Is it a scoopable dip or a side salad?
That remains for personal preference though my guess would be the initial recipe was targeted as a salad, as I could not see dolled up patrons of the prestige NM scooping dip during a posh lunch at the store.
It's perfect for either a side salad OR as an appetizer dip.
The Invention of Cowboy Caviar
The original recipe is believed to trace back to Helen Corbitt who was as a notable chef and cookbook author in the early 1900's.
Her journey landed her in Texas in 1931 where she was said to have been 'courted' by Stanley Marcus (of Neiman Marcus). She became the store's Director of Food Services.
It was apparently during her tenure there when she developed the original recipe (though not with the 'Cowboy Caviar' name) featuring black eyed peas.
She didn't like black eyed peas and pickled them in a marinade for this dish.
Since then the recipe has spread and been tweaked in many directions though all featuring a central bean (usually still black eyed peas) and other chunky vegetables to create a delicious Southwestern flavored dish.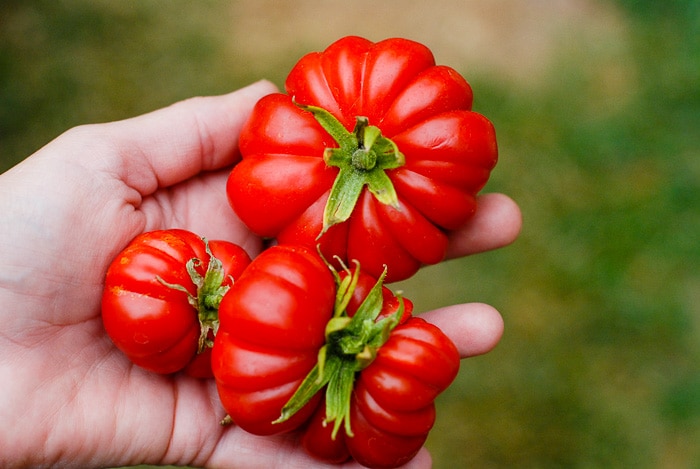 Cowboy Caviar Ingredients
The beauty of this dish, besides it's great spicy flavor, is the flexibility of the ingredients.
My version was originally intended for using up garden produce and can be adapted for your favorite ingredients.
Black Beans
Corn
Tomatoes
Yellow Pear Tomatoes (or grape tomatoes)
Red Onion
Celery
Cilantro
Chile Peppers
The dressing is a tangy, spicy vinaigrette that gives life to the chunky cowboy caviar ingredients.
The amount of dressing is light to keep focus on the cowboy caviar ingredients.
Dressing
Apple Cider Vinegar
Olive Oil
Lime Juice
Chili Powder or Cayenne Pepper if wanting a spicy batch
Sugar
Salt and Pepper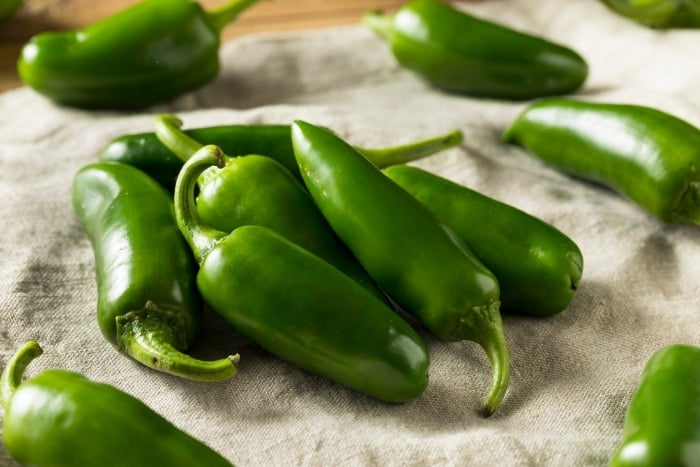 Pick Your Heat
This recipe gives the home chef the choice of three heat levels.
Everyone is different regarding how spicy they like their food. This way the best fit can happen.
A compliment of pickled peppers are added to keeping with the original recipe for Cowboy Caviar.
How to Make Cowboy Caviar – Step by Step
This is an easy recipe and can be whipped up in minutes.
Allowing it to sit after adding the dressing blends the flavors before serving.
Combine the non-dressing ingredients in a large bowl and mix well.
Add the dressing ingredients to a small bowl and whisk to fully combine and dissolve the sugar.
Pour the dressing on the cowboy caviar and mix well.
May be served immediately or chilled for an hour to allow the ingredients to blend together.
Tip Saving Tip for Fresh Corn
Fresh sweet summer corn doesn't need to be cooked before adding to this recipe.
My favorite tool for removing corn from the cob is a Corn Zipper.
It's specially designed for running smoothly down an ear of corn, removing the kernels from the cob.
It's takes a minute to remove all the kernels. It won't squish the corn in the process or remove any of the cob with the kernels.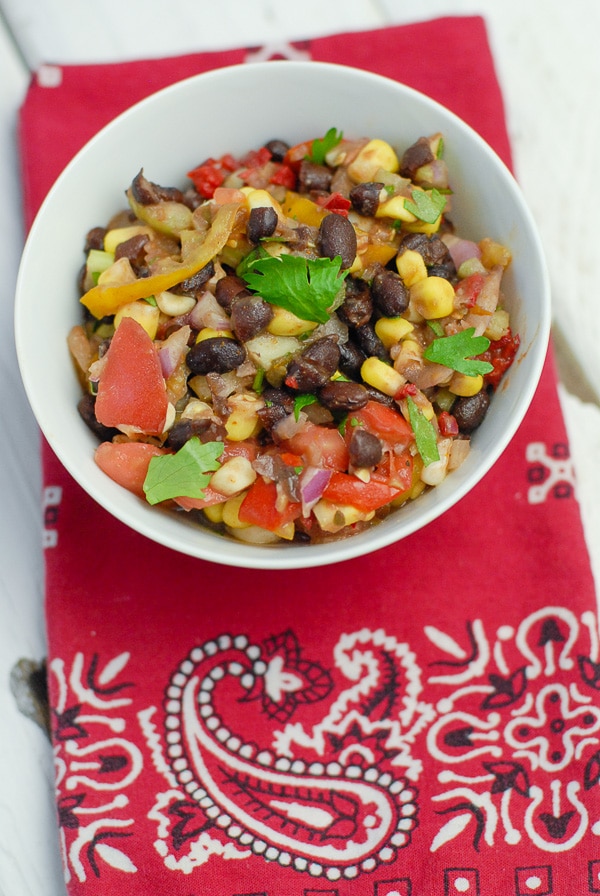 How to Change Up Cowboy Caviar
This is a very flexible recipe. Here are some ways to change it up:
Use Homemade Beans. Cook dried beans in your favorite way to use in this recipe.
Use Half Black Beans and Half Black Eyed Peas. Create a mix of the original recipe and modern day and mix the beans.
Add some Chopped Avocado. For a creamy addition avocado tames the heat and adds wonderful texture and color.
Substitute Sriracha for the Chili Powder. Still keeps it spicy but with a different flavor.
Grill the Corn. Grilled corn caramelizes the sugars for a smoky, sweet flavor. Grill the ears of corn and remove the kernels from the cob.
Use prepared Italian Salad Dressing. This shortcut will save time and add a different flavor with Italian Dressing. The recipe uses approximately ½ cup of dressing. Start with a ¼ cup, stir in, taste and add more if needed/preferred.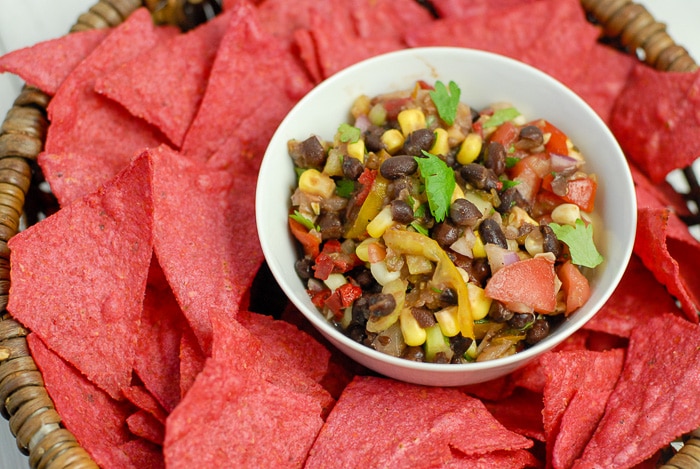 Can Cowboy Caviar be Made Ahead of Time?
Yes, it can!
Cowboy Caviar has the best texture the day it's made. However the flavor blend and improve over time.
Making it the day before serving still retains the great texture and allows the flavors to build too.
How to Store Cowboy Caviar
Place in a sealed container and store in the refrigerator for 3-4 days.
More Delicious Recipes You'll Love
Did you make it? Please RATE THE RECIPE below!
Please SUBSCRIBE and FOLLOW ME on FACEBOOK , TWITTER , INSTAGRAM and PINTEREST to see more delicious food, travel and what I'm up to!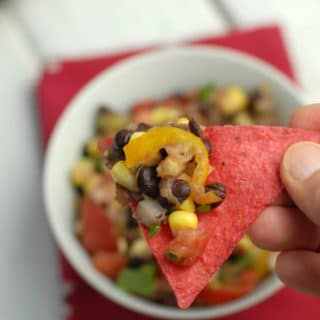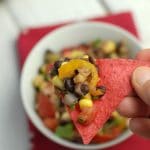 COWBOY CAVIAR
This spicy, chunky salad is full of great flavors, textures and colors. It's a perfect side dish or appetizer. Three levels of 'heat' are included to pick from to make the recipe perfect for your spiciness preference.
Servings
8
as a side salad
Ingredients
1

29-ounce can

black beans

drained and rinsed

2

cups

fresh corn kernels

canned (drained) or frozen/thawed corn may be substituted

1 1/2

cups

ripe tomatoes

chopped

1/2

cup

yellow pear tomatoes

(about 7-8), chopped

1/2

medium

red onion

diced

2

stalks

celery

diced

1/4

cup

cilantro

chopped
Pick ONE of the Following (Mild, Medium or Hot)
MILD: 1 red Anaheim chile (seeded and diced) plus 2 teaspoons mild pickled peppers (diced)
MEDIUM: 1 jalapeno chile (seeded and diced) plus 2 teaspoons pickled pepperocinis (diced)
HOT: 2 serrano chiles (seeded and diced) plus 2 teaspoons pickled jalapenos
Dressing
2 1/2

tablespoons

apple cider vinegar

2

tablespoons

olive oil

1

teaspoon

granulated sugar

1

teaspoon

chili pepper or cayenne pepper (spicier)

Juice of ½ a medium lime

Salt and pepper to taste
Instructions
Mix all ingredients in a large bowl
Originally Published: September 9, 2011