With less than 20 minutes total cooking time, Pan-fried Brined Pork Loin Chops with Cherry-Port Sauce may become your new favorite recipe. Easy to make, the flavorful brine creates moist, tender unforgettable pork chops.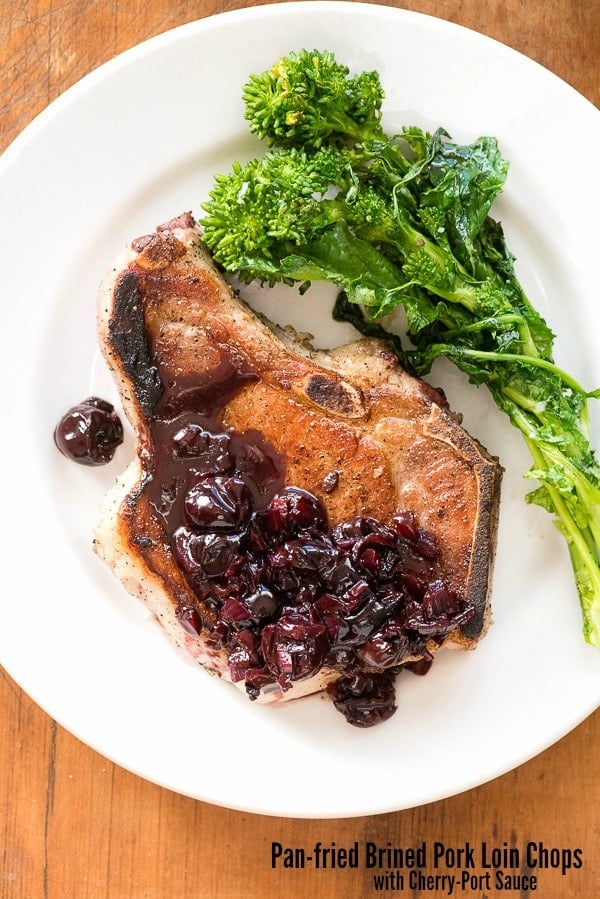 There is a lot of turkey talk at this time of year. How to make the perfect bird. To brine or not to brine. Are you a briner? If you are, have you brined pork chops? It's easy to do (much more so than a 10-20 pound bird, space-wise) and produces fantastically moist pork chops. The Pan-Fried Brined Pork Loin Chops I'm sharing today are simple to make and worth the 2-6 hour waiting time for the brining. The pork chops stand up to high heat pan frying, ending with a mouthwatering sear on the outside and moist, tender meat on the inside.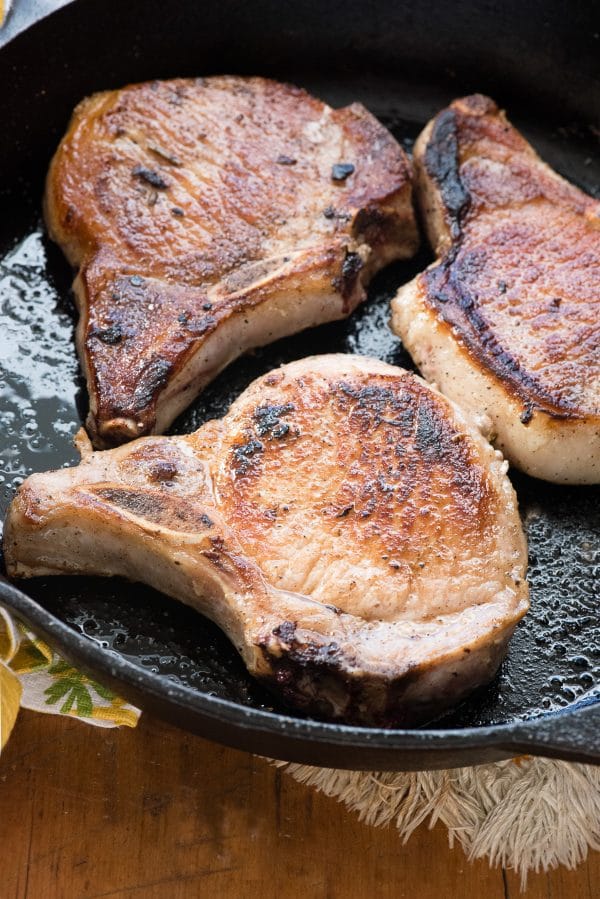 One of the greatest developments for the pork chop was the official reduction in the safe doneness temperature from 160 to 145 degrees in 2011. Prior to that, the higher temperature was recommended to ward off food safety issues. Sadly that often left cuts like pork chops with a consistency of shoe leather. With the lower cooking temperatures, pork can be cooked to medium-rare leaving it moist, tender and flavorful. Since meat continues to cook after being removed from the pan, it can be removed at a lower temperature and allowed to rise to be done while it rests. This retains more moisture especially in a lean cut of meat.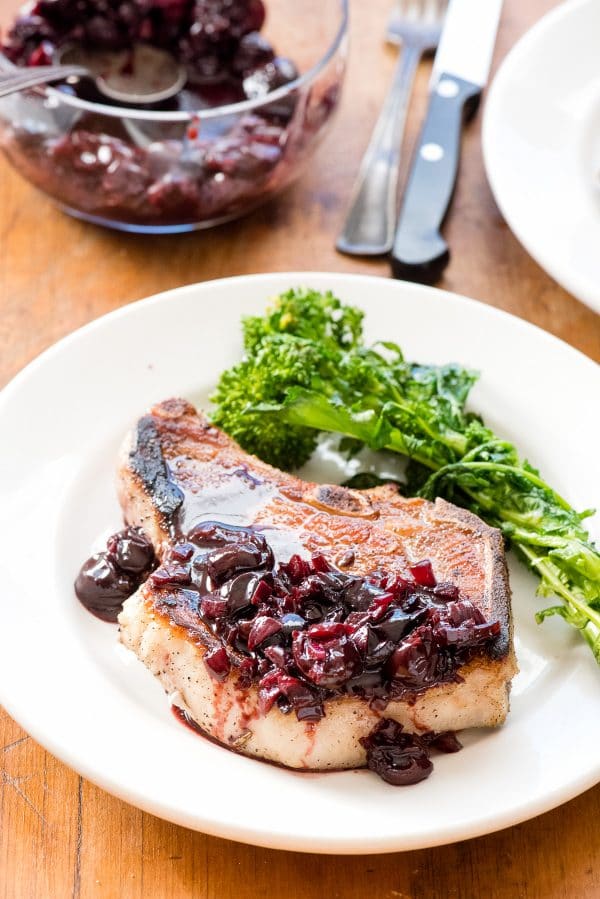 During this time of year especially, life can be a blur of obligations, entertaining and events. Not being able to subsist on Christmas cookies alone, this recipe for Pan-Fried Brined Pork Loin Chops with Cherry Sauce, is easy to prepare as well as comforting, hearty food. The simple cherry sauce is prepared as the pork sits after brining so while the chops are cooking the sauce sets up. It is made with frozen thawed sweet cherries so can be made at any time of the year.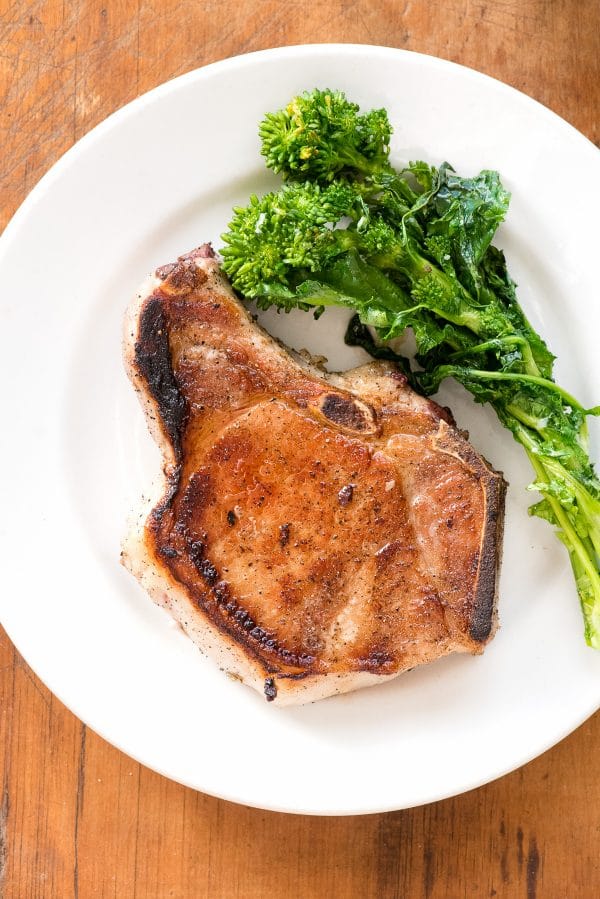 Pork Loin Chops are one of my favorite cuts of meat. They are usually around 1-inch thick and the meat when cooked has an incredible 'mouth feel' or texture. I think you'll love this recipe. The brining takes 2-6 hours (passive time) and the pan-frying about 8 minutes. Can't really beat that, right? They are great by themselves or with the cherry sauce (which is also a cinch to prepare).
Recipe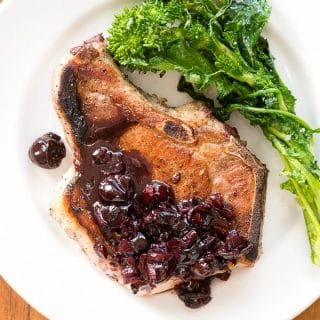 Pan-fried Brined Pork Loin Chops with Cherry Sauce
These brined pork loin chops are moist and tender thanks to a few hours soaking in a flavorful brine. They sear beautifully in a hot cast iron skilled still leaving the meat succulent. Though the recipe spans several hours, the actual cooking time is short; 18 minutes between the sauce and the pork chops.
Print
Save Recipe
Recipe Saved!
Pin
Rate
Ingredients
Ingredients for the Pork Chop brine:
¼

cup

Granulated Sugar

¼

cup

Kosher Salt

4

cups

Water

Zest of 2 Oranges

(remove in strips with a vegetable peeler or paring knife)

15

Black Peppercorns

2

sprigs fresh Rosemary

1

teaspoon

Dijon Mustard

2

large Garlic Cloves

, peeled and halved lengthwise

4

Pork Loin Chops

(2 ½-3 pounds)
Ingredients for the Cherry Sauce:
2

teaspoons

Olive Oil

1

medium Garlic Clove

, peeled and diced

1

large Shallot

, peeled and diced (yield almost ½ cup)

2

cups

frozen Sweet Cherries

, thawed with juice reserved

1/3

cup

Ruby Port

2

teaspoons

Balsamic Vinegar
Ingredients for cooking the Pork Chops:
Kosher Salt and fresh Black Pepper to season the pork chops

2

tablespoons

Vegetable Oil
Instructions
Instructions for Brining the Pork Chops:
In a large saucepan combine all the ingredients EXCEPT the pork chops and bring to a boil over medium-high heat. Remove from heat and allow to cool fully.

Place the pork chops in a gallon size zipper close plastic bag and pour in the brine. Squeeze out as much air as possible. Massage the pork chops from outside the bag to coat with bring and place in the refrigerator from 2-6 hours._Tip: I place the plastic bag in a large mixing bowl to keep it steady as I add the liquid and to protect the bag from opening in the refrigerator._
Instructions for the Cherry Sauce:
In a medium, heavy saucepan, heat the olive oil over medium-high heat. Add the garlic and shallots; sauté until the shallots are translucent (about 2-3 minutes).

Add the cherries with any residual juice from thawing, port and vinegar. Cook over medium heat, stirring periodically, until the liquid is reduced by 2/3's (5-10 minutes). Sprinkle with a light pinch of salt, stir to combine and remove from heat. Allow to sit in the pan while you cook the pork chops.
Cooking the Pork Chops:
Remove the pork chops from the brine and pat dry with paper towels. Discard the brine. Lightly salt and pepper the pork chops. Allow pork chops to sit for 15 minutes.

Heat a heavy cast iron skillet over medium-high heat. Add the vegetable oil and when it is shimmering add the pork chops (note: you may have to do two batches depending on the size of the pork chops and your skillet). Cook for 5 minutes; pork chops should be seared (refer to photos).

Turn the pork chops over and cook until the internal temperature on an instant read thermometer registers 140 degrees (3-4 minutes on the second size). Be sure to measure the temperature in the middle of the chop, avoiding the bone. Remove and allow to rest for 5 minutes.
Notes
The cherry sauce was adapted from Chowhound.
Nutrition
Calories:
421
kcal
|
Carbohydrates:
28
g
|
Protein:
30
g
|
Fat:
18
g
|
Saturated Fat:
9
g
|
Cholesterol:
89
mg
|
Sodium:
7168
mg
|
Potassium:
692
mg
|
Fiber:
1
g
|
Sugar:
23
g
|
Vitamin A:
45
IU
|
Vitamin C:
6
mg
|
Calcium:
33
mg
|
Iron:
1.1
mg