Tender, delicious Asian Meatballs are tossed in a sticky sweet-and-salty sauce that's incredibly good. The meatballs are a perfect size to serve as it for an appetizer recipe or added to other dishes.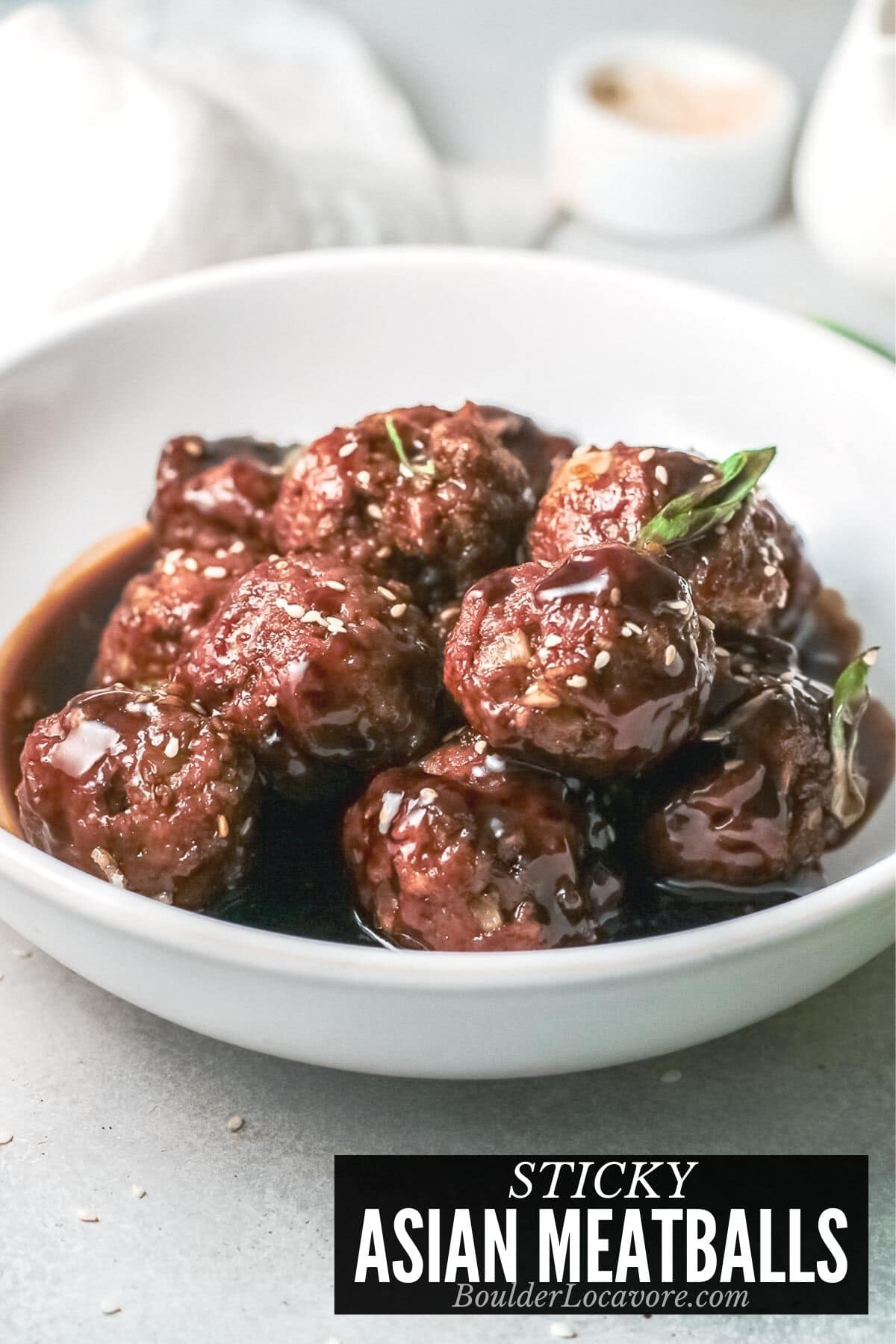 This flavor-packed easy recipe is one a family loves.
There are so many ways to enjoy the meatballs and they are perfect size – about 1 1/2-inches across.
They can be made ahead and frozen to be ready any time too!
Jump to:
Fast and Easy Asian Meatballs
This easy recipe is packed with great flavors. Soy sauce, fish sauce, garlic and brown sugar.
The salty, sweet sauce with the sticky consistency is a taste sensation.
This recipe makes 34 1 1/2-inch diameter meatballs so plenty for an appetizer platter.
Also a nice size to use in noodle dish, sandwiches, wraps and more.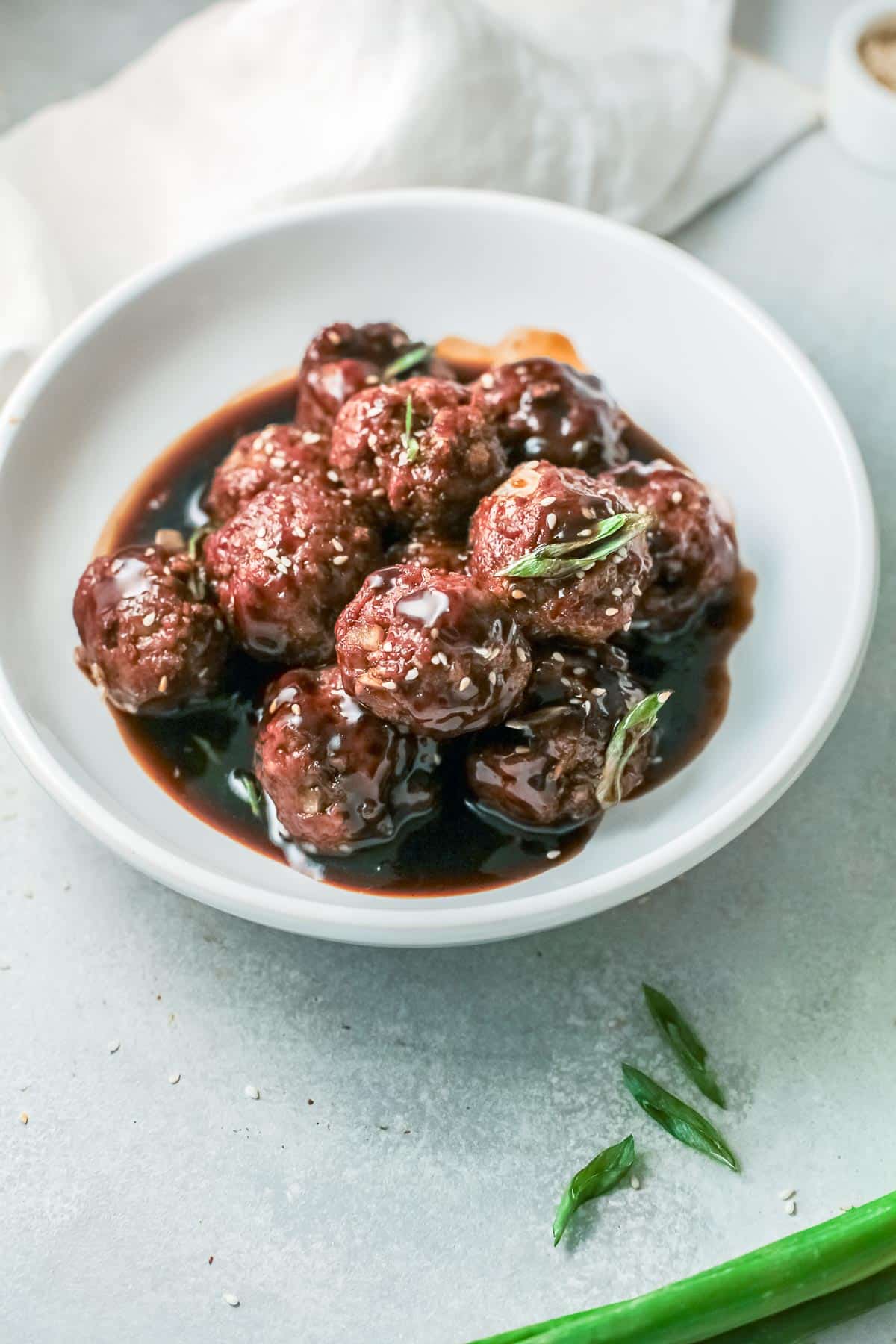 Recipe Ingredients + Notes
Ground Beef. Any fat content ground beef will work. If using a higher fat content, selecting the rack cooking method (detailed below) will allow any excess fat to drain well.
Onion. We used yellow onion but white or red onions also work. Dice it into small pieces to best incorporate into the meatball mixture.
Panko Breadcrumbs. These Japanese-style breadcrumbs are lighter and airier than regular breadcrumbs with a neutral flavor. Use regular panko or a gluten-free verson.
Egg. Helps bind together the meatball mixture.
Garlic powder.
Soy sauce. Regular soy sauce or gluten-free soy sauce (or Tamari) can be used. It's used both in the meatballs and the sauce.
Water. Used in the sauce and combined with the cornstarch.
Cornstarch. Thickens the sauce. Mix with water first as instructed, not directly with the other sauce ingredients (or it won't blend smoothly).
Brown sugar. Adds a carmel-y sweetness to the salty sauce.
Fish sauce. This classic salty, pungent sauce is made from fermented fish. It's a key ingredient in many Asian recipes like Pad Thai or Nuoc Cham, the popular Vietnamese Dipping Sauce.
Most brands are naturally gluten-free but always read the label if you are gluten-free.
Red pepper flakes. This is an optional ingredient to make the meatballs spicy!
Garnish (optional). Sliced green onion (cut on the diagonal) and sesame seeds.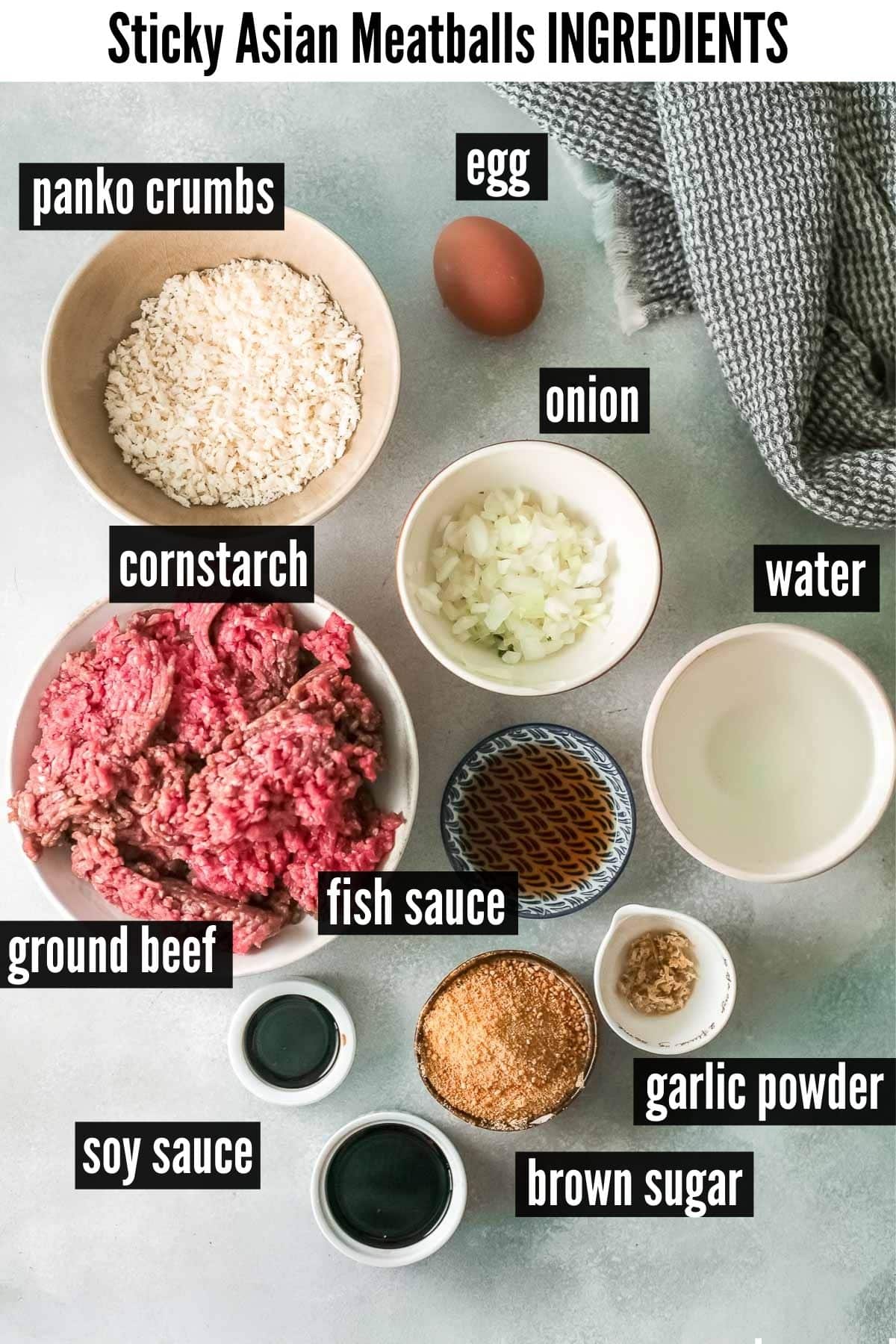 Variations
Mix ground pork with the ground beef. For more flavor mix the two ground meats together! Use the rack cooking method if using ground pork to allow the excess fat to drip into the pan underneath.
Use ground turkey or ground chicken. To lighten up the meatballs use ground turkey instead of ground beef.
Add some spiciness. If you'd like the meatballs a bit spicy add some red pepper flakes into the meat mixture or as garnish.
How to Make them – Step-by-Step
STEP 1. Preparation
Preheat the oven to 400 degrees F.
There are two ways to bake meatballs. Choose a method and prepare a baking sheet accordingly.
Two Ways to Cook Meatballs
Method 1: RECOMMENDED. Fit a rimmed baking sheet with a wire rack sprayed with non-stick spray.
This allows air to circulate all around the meatballs as it cooks. Any rendered fat will drip into the baking sheet below and the meatball will not sit in it.
Lining the baking sheet with foil makes for fast, easy clean-up too!
Method 2: They can be baked on a parchment paper lined rimmed baking sheet. This works well too however the meatballs will bake in any rendered fat.
If using this baking sheet with parchment paper method, meatballs can be placed on 2 layers of paper towels to absorb any excess fat after cooking.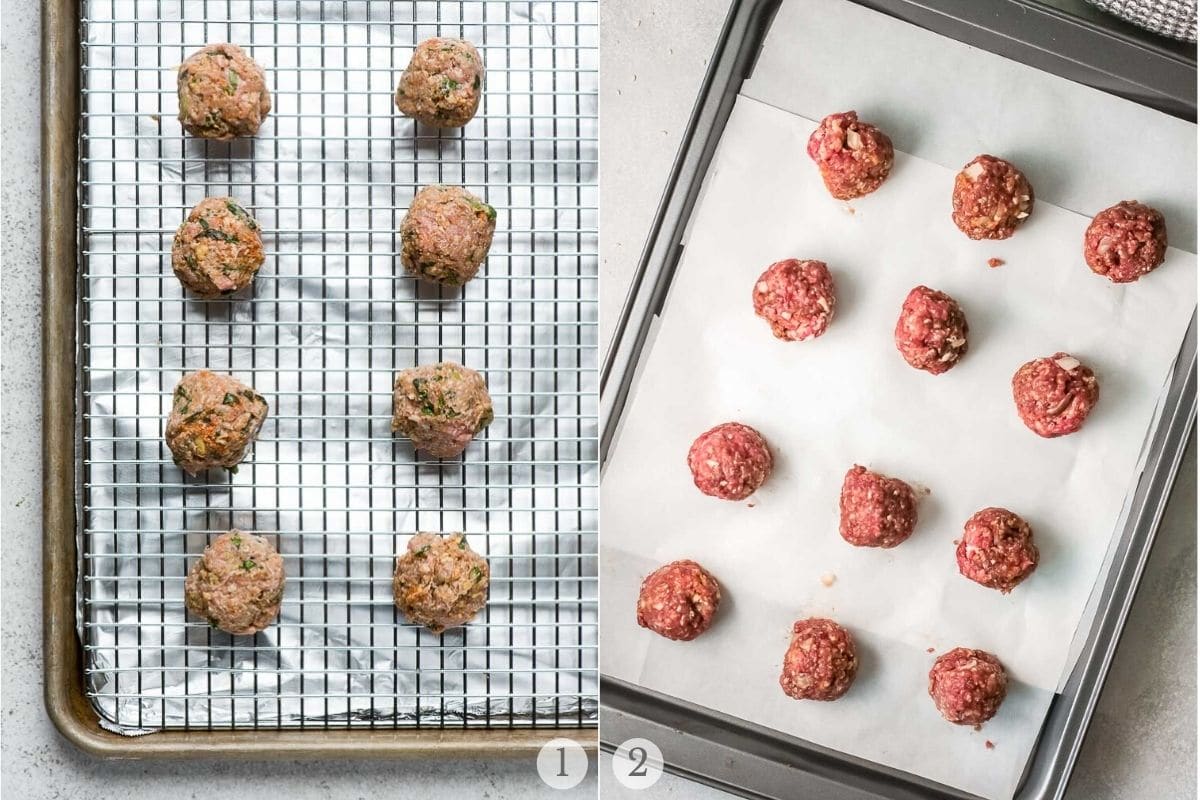 STEP 2. Make the meatballs
In a large bowl combine the meatball ingredients. The ground beef, onion, egg, panko breadcrumbs, garlic powder and soy sauce.
Mix just until combined (do not overwork). Photos 1-2.
Scoop out 1 tablespoon of the meatball mixture, roll into a ball and place on the prepared pan (photo 3).
NOTE: using a 1 tablespoon scoop makes this go very quickly.
Repeat for the rest of the meatball mixture.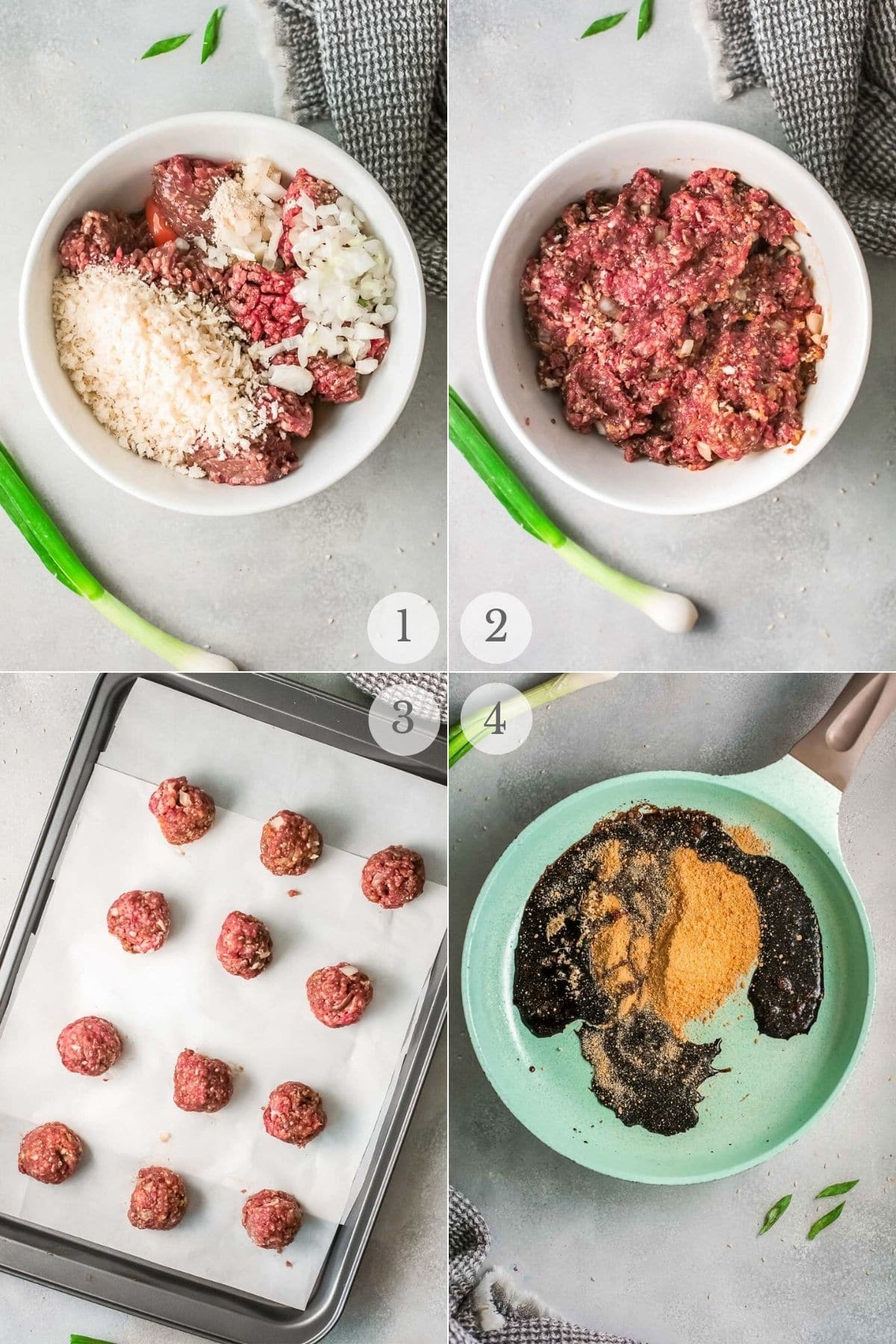 STEP 3. Bake the meatballs
Spray the tops of the Asian meatballs with non-stick cooking spray.
Bake for 15-18 minutes and remove from the oven. The meatballs should reach between 160-165 degrees F internal temperature.
If cooking directly on a pan, place meatballs on two layers of paper towels to absorb any excess fat. This is not necessary if cooking on a rack.
STEP 4. Make the sticky sauce
As the meatballs are cooking….
Whisk the cornstarch into the water to combine.
In a saucepan whisk together the cornstarch mixture, brown sugar, soy sauce, fish sauce and garlic powder (photos 4-6).
Cook over medium heat (photo 8) for 5 minutes, stirring constantly including scraping the bottom of the pan.
Cook until the sauce thickens and becomes glossy in appearance (note: this happens in the last few minutes); about 5 minutes.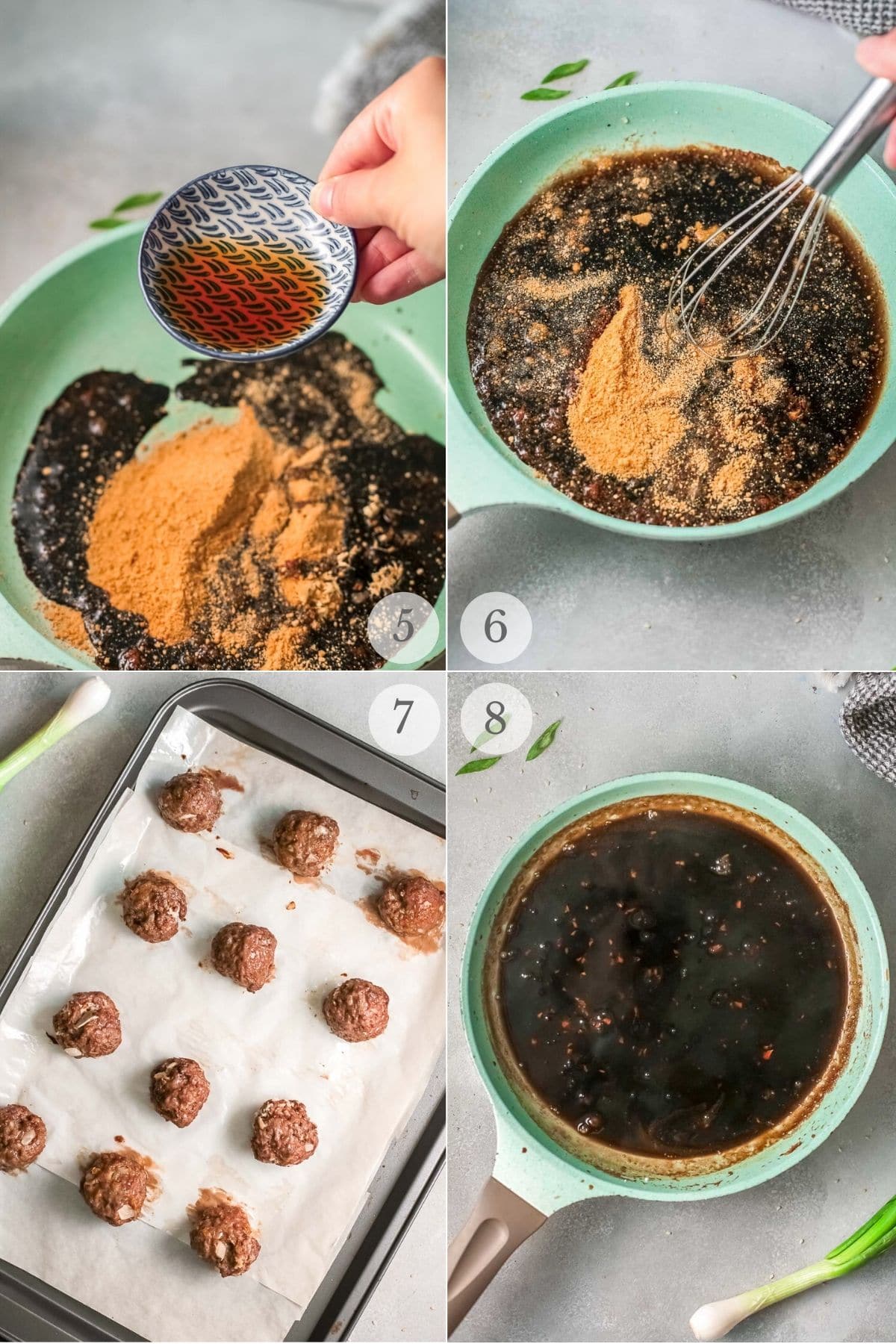 STEP 5. Toss the meatballs in the sauce
Add the cooked meatballs to the sauce and toss to coat. Serve.
What to serve with Asian Meatballs
These meatballs are great on their own or added to other dishes. The sauce is delicious drizzled too.
Rice. Add the meatballs on top of rice with some sauce. White or brown rice are great. Or change it up with some Coconut Rice with Turmeric, Easy Instant Pot Cilantro Lime Rice Recipe or Instant Pot Coconut Lime Jasmine Rice.
Noodles. Serve over any favorite noodles or pasta. Great added to 10-Minute Spicy Ramen Noodles, Korean Noodles or Spicy Sweet Potato Noodles.
Mashed Potatoes. I think everything works over mashed potatoes especially with this sauce! Try it over Instant Pot Mashed Potatoes with Sour Cream and Garlic, Smoky Chipotle Garlic Mashed Potatoes or Creamy Mashed Sweet Potatoes.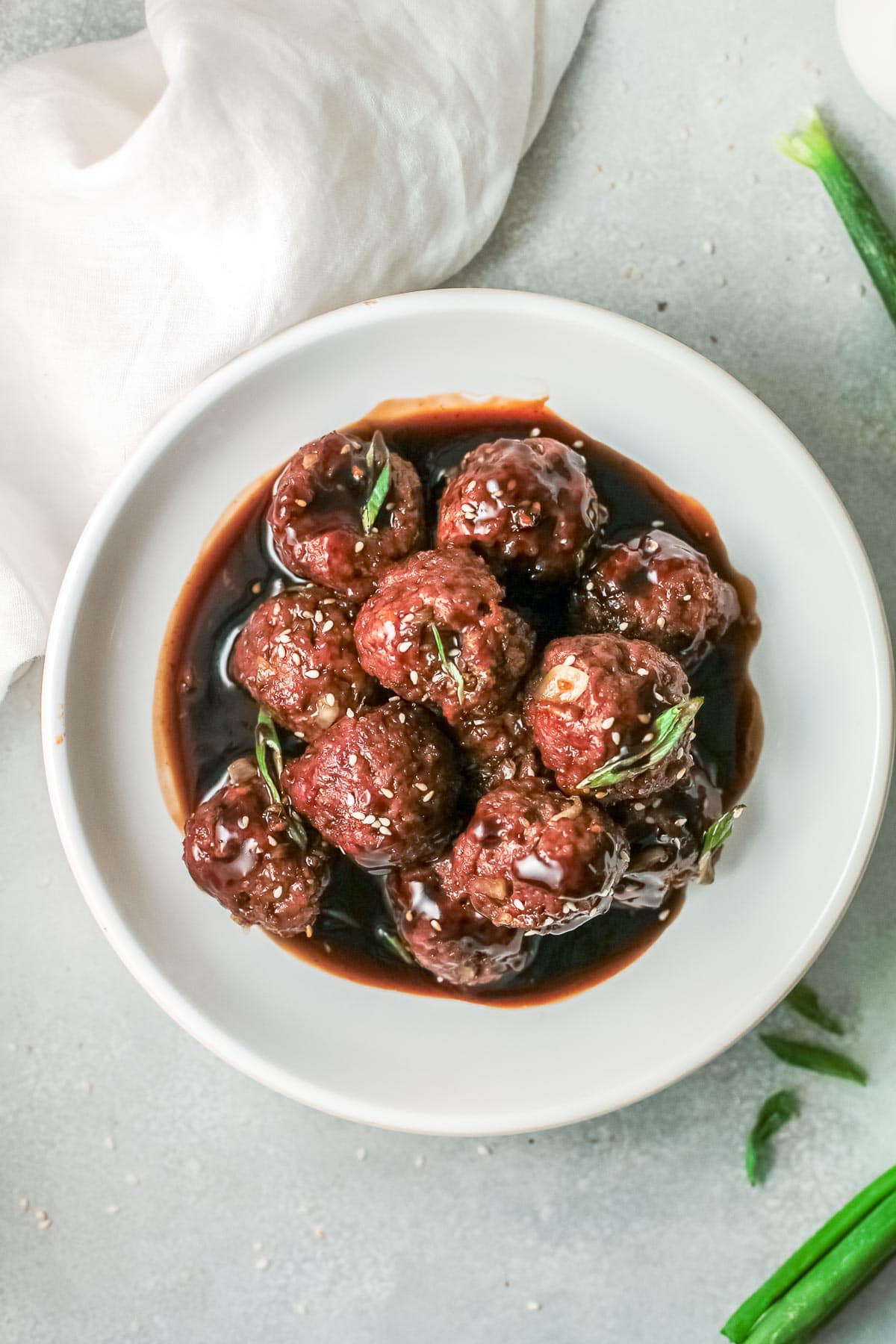 Pro Tips
Use a 1 tablespoon cookie scoop to make the meatballs. Using a scoop really speeds up making the meatballs. It also better assures they'll be the same size so they'll cook in the same amount of time.
Mix the meatball mixture with hands. This might sound unappealing but once most of the ingredients are added it is easiest to combine everything well with clean hands.
FAQs
How to tell meatballs are done cooking?
Internal temperature of the meatballs should register 160 degrees. As they rest after cooking the temperature will continue to rise to reach 165 degrees which is the doneness temperature of beef. An instant read food thermometer works best for this.
Storing Leftovers
Store cooled meatballs in an airtight container in the refrigerator for up to 4 days. Reheat in the microwave before serving.
How to freeze the meatballs
The meatballs freeze well too! We recommend freezing the the cooked meatballs without the sauce, and making the sauce after thawing the meatballs.
Cook the meatballs but not the sauce.
Place the cooled meatballs on a lined rimmed baking sheet with space between. Place in the freezer for 1-2 hours until frozen.
Place the frozen individual meatballs in a freezer bag or freezer safe airtight container.
Freeze for 1-2 months and thaw in the refrigerator.
Reheat in the microwave or stove top.
Make the sauce and toss the meatballs in the sauce.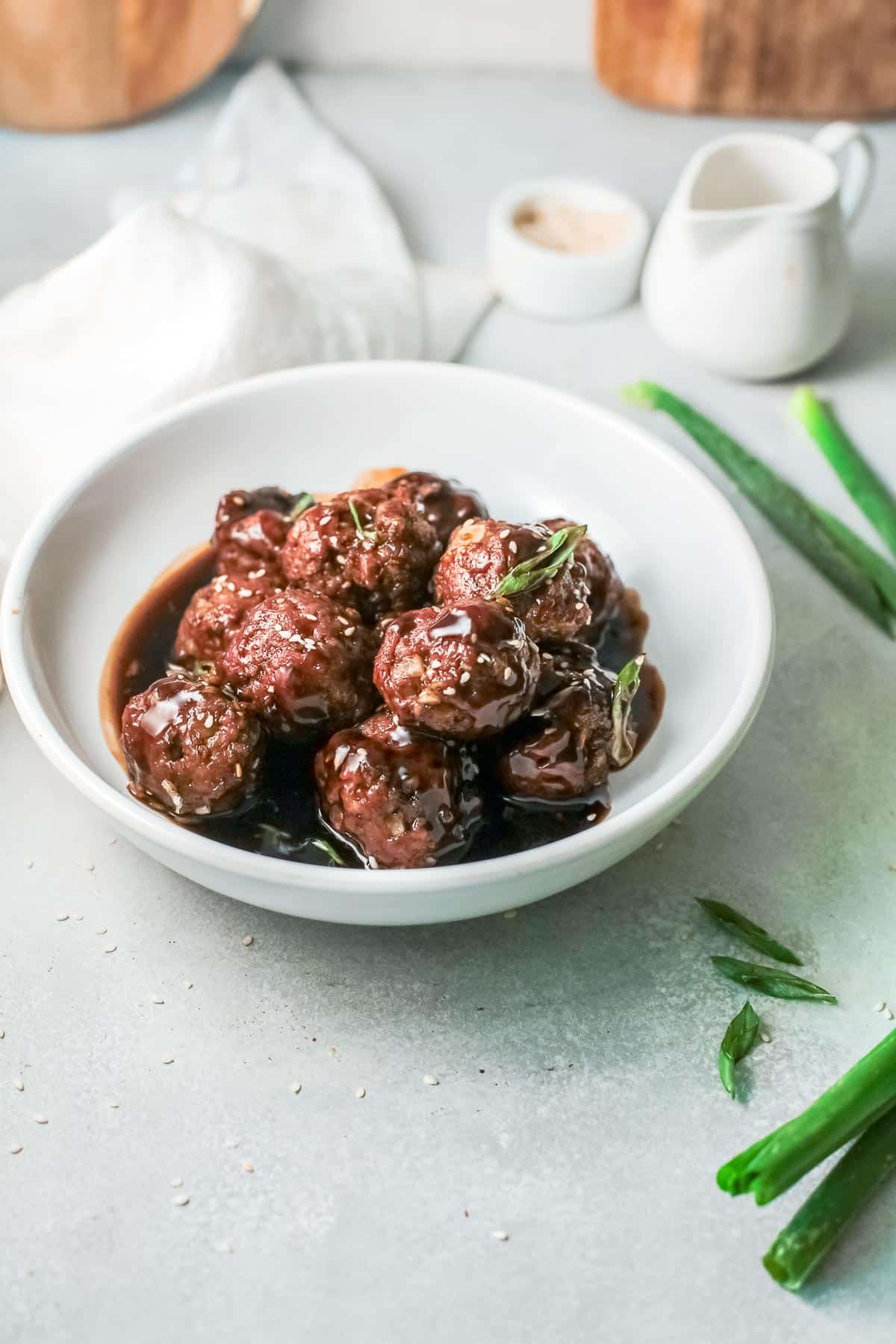 More Recipes You'll Love!
Did you make it? Please RATE THE RECIPE below!
Please
SUBSCRIBE
and
FOLLOW ME
on
FACEBOOK
,
TWITTER
,
INSTAGRAM
and
PINTEREST
!
Recipe