Grilled Watermelon is an unexpected watermelon recipe perfect for grilling season! It's easy to make and transforms into a smoky flavor.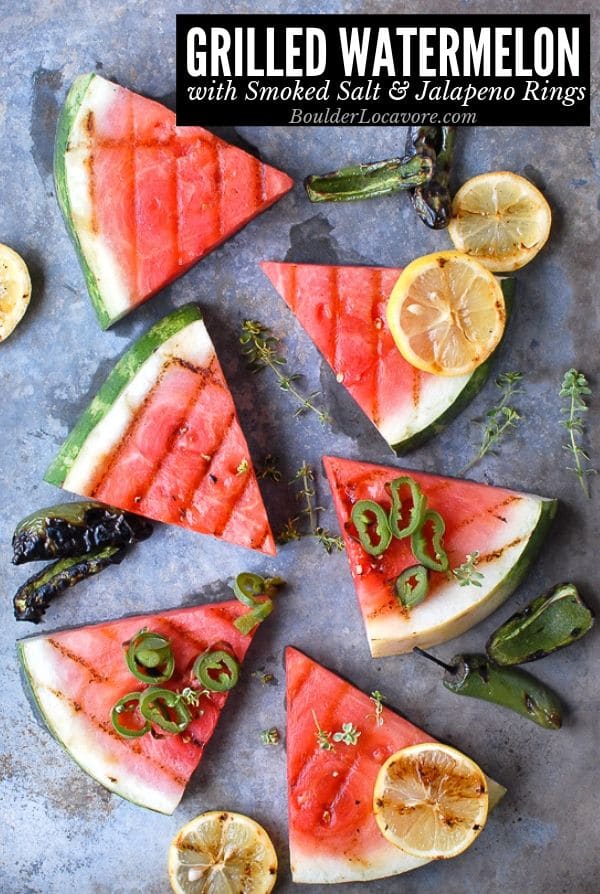 The natural sweetness of this favorite summer fruit becomes a surprise once placed on a hot grill.
Cooked over high heat, grill marks form and the juicy watermelon takes on a savory flavor!
Dressed up with some jalapeno pepper slices and smoked salt, the spicy grilled watermelon deliver the most unique flavors of the summer!
You'll never believe how one ripe watermelon can transform your summer grilling!
Jump to:
Easy Grilled Watermelon
Dusting the sweet watermelon slice with just a smidgeon of smoked salt before grilling further enhances the grilled flavor along with the traditional grill marks.
To spark it up further, grilling some jalapenos to slice up with the watermelon is heaven.
Smoky, lightly sweet, and spicy really perk up any grilled meal.
It's a very easy, quick, healthy, low cal recipe.
It grills in less than 3 minutes and can be made in a grill pan too.
What Does Grilled Watermelon Taste Like?
Perhaps the most unique thing is that during the short grilling the consistency of the watermelon becomes more 'meaty', losing its familiar granularity and some sweetness.
The best way to describe it is that the taste becomes more like a sweet vegetable (think corn) versus the juicy fruit defining summer.
It's hot and smoky on the outside, and cool and refreshing on the inside.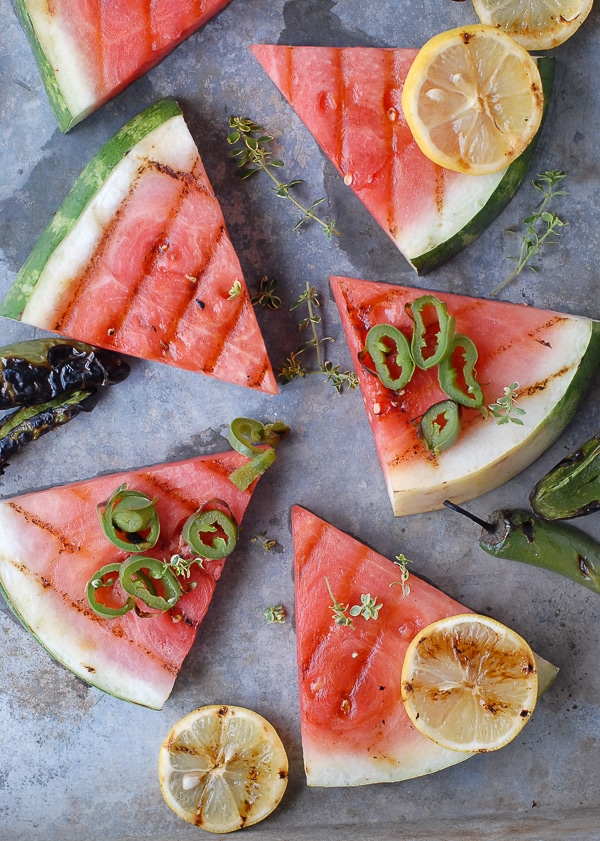 Recipe Ingredients + Notes
Watermelon. Use fresh watermelon that's ripe with a dense texture (not mealy). Regular size or mini watermelon can be used.
The watermelon will cook more quickly if it's at room temperature.
Jalapeno peppers. Fresh jalapenos are grilled and sliced for serving.
If you'd rather not use jalapeno, sprinkle with a bit of chili powder, cayenne pepper or red pepper flakes for spicy flavor.
Alderwood smoked salt. I love to prepare the watermelon with just a hint of smoked salt. Smoked salt tastes the way a campfire smells.
It's fantastic but powerful! A little goes a long, long way.
Some kosher salt and black pepper can also be substituted.
Vegetable Oil for coating the grill (olive oil not recommended due to higher heat of the grill).

Pro Tips about Jalapeno Peppers
Jalapeno peppers can vary incredibly in heat.
I've had some that barely have any heat and others that feel like the cartoons with the steam coming out of the ears to the sound of a train whistle.
Being conservative works best.
Grilling then slicing the jalapeno having removed the seeds (contributes much of the heat), allows more control over how much heat works for you!
Remember when handling hot peppers always to wash hands thoroughly and be careful not to touch your eyes.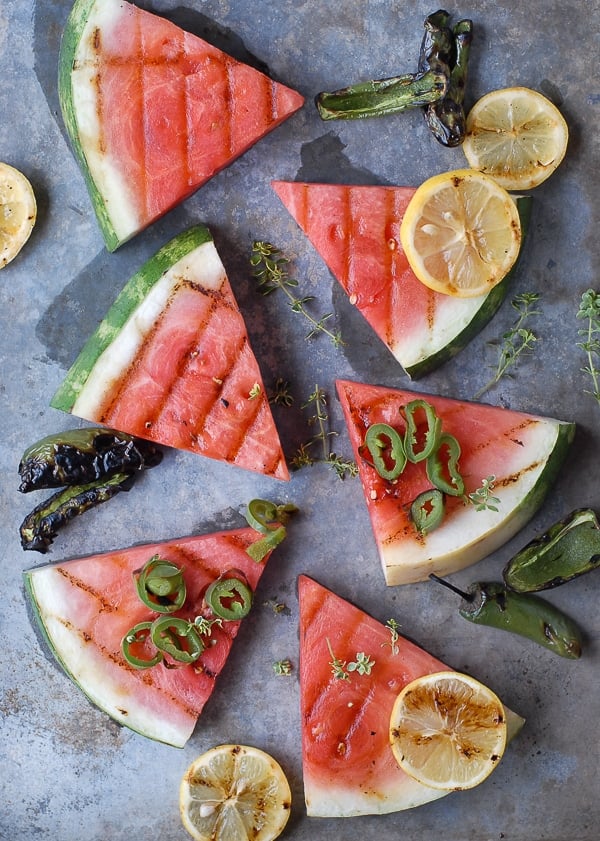 How to Grill Watermelon – Step by Step
Grilling watermelon is fast with only a few minute per side needed! Preparing the grill is an important step to ensure it's clean and oiled before beginning.
STEP 1. Prep the grill (gas grill or charcoal grill)
Heat the grill to medium-high (350 degrees). Use a grill brush to remove any particles from the grill grates.
Fold a paper towels into quarters, add some cooking oil and lubricate the grilling grate.
STEP 2. Grill the jalapenos
Place the jalapeno peppers on the grilling grates and close the lid (cover grill). Allow to cook 3 minutes on each side until blistered.
Remove and allow to cool and slice into thin rings.
STEP 3. Grilling the watermelon
Place watermelon triangles on the grill and sprinkle a very small amount; of smoked salt. NOTE: Only salt one side of the watermelon.
Allow the watermelon to grill for 1 ½ to 2 minutes to form beautiful grill marks (may or may not be black charred). Turn over and allow to grill 1 ½- 2 minutes on the opposite site.
Remove from grill and serve with sliced jalapenos.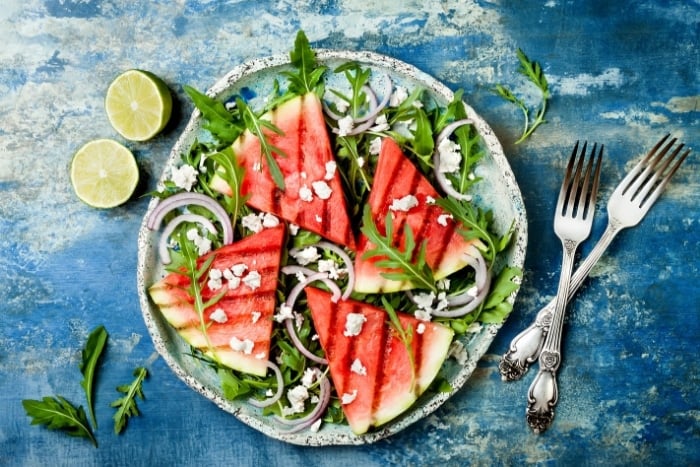 Ways to Eat Grilled Watermelon
Enjoy it on its own as a side dish for grilled meats.
Swap it into a Watermelon Goat Cheese Salad with a balsamic glaze. Feta cheese can be swapped for the goat cheese in this recipe too.
Make Grilled Watermelon Salsa for a new twist on your favorite Mexican recipes.
Serve with a squeeze of fresh lime juice or fresh orange juice.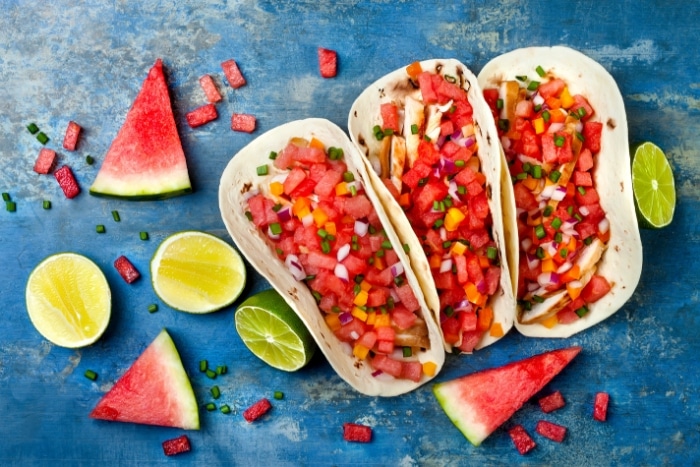 Did you make it? Please RATE THE RECIPE below!
Please
SUBSCRIBE
and
FOLLOW ME
on
FACEBOOK
,
TWITTER
,
INSTAGRAM
and
PINTEREST
!
Recipe
Originally published: May 23, 2014