Light and citrusy Peruvian Pisco Sour cocktail has made a strong comeback since it's debut in 1920! You can't go wrong with a sipper that is the national cocktail of two countries!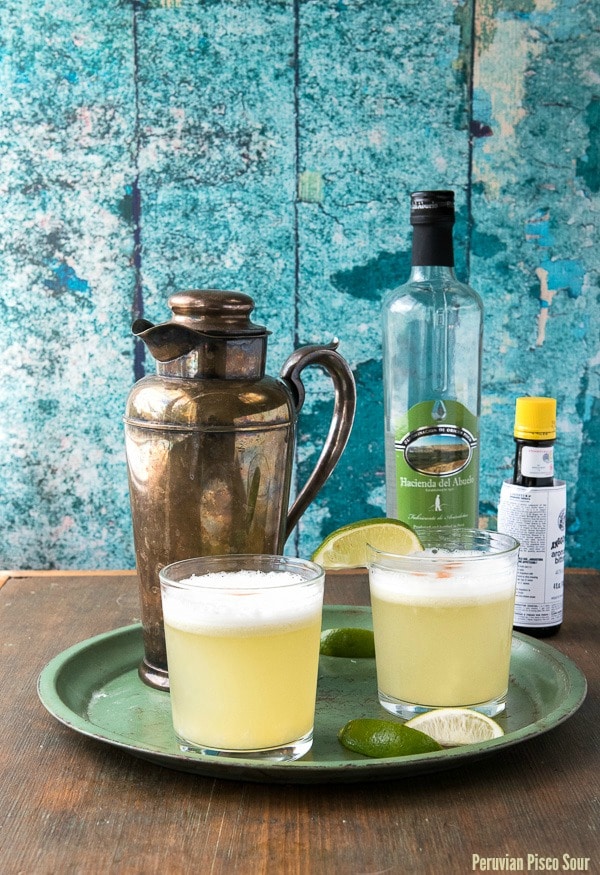 Picture this: a steamy, hot, unhurried summer day, family and friends crowded lazily in your backyard sharing soulful spicy dishes and traditional Latin cocktails you've seen them drink for years.
The blistering day reluctantly gives way to dusk and then to the cool of a deep violet night. Children play tag, their giggles trilling to the heavens. Adults share stories, laughing together, ice clinking in glasses while wiping their beading foreheads; content to last long into the night, feeling the luxuriously long summer hours slow and stretch as though there is all the time in the world.
Welcome to Latin Twist (Hippocrene Books), a book of traditional and modern cocktails spanning 19 Latin countries and 97 cocktails, penned by award-winning blogger-authors Yvette Marquez-Sharpnack and Vianney Rodgriguez.
Both authors set the tone through the lens of their own Mexican heritage, warmly inviting readers to come in and explore as if you've arrived at their own homes. Their delivery is casual and friendly, priming the reader with a quick introduction and letting the cocktails speak mainly for themselves, splashed across glossy pages of this beautiful hardback cook.
The book starts with an easy primer on setting up a bar complete with relaxed options using everyday household items if buying tools isn't your thing. A favorite of mine is using a large Mason jar as a shaker, which I do often despite owning official shakers.
A color-coded map illustrates the countries whose cocktails are featured complete with the countries key liquor, wine or beer and their national cocktail. Didn't know there was such a thing? You will undoubtedly dazzle at your next cocktail party after studying that page along.
After a few simple homemade recipes for cocktail staples of Simple Syrup, Homemade Sweet-and-Sour Margarita mix and Coconut Milk the reader is let out of school to travel the book and the Latin world of libations. Each chapter focuses on a country and begins with a brief introduction to the country and its cocktails.
It's bite-sized and interesting, making the reader want to turn the page and dive right in.
This guide on How to Make Simple Syrup gives lots of great information and easy recipes! The simple syrup for these Peruvian Pisco Sour cocktails is also included in the recipe below.
Beautiful photography fills the pages of the book so even cocktails with which you might find yourself unfamiliar are accompanied by an alluring example of what can expect with a few quick stirs or shakes of the cocktail shaker.
I love this book, the warm, friendly mood it inspires, and the beckoning to travel the Latin world through its cocktails. It will certainly be in frequent rotation in my house this summer to share with friends and family.
Refreshing Peruvian Pisco Sour Cocktail
I loved learning about the different regions, spotting cocktails I know, those I've heard of and those I have not. I'm sharing a recipe today that I've heard of my entire life but have never made:  Peruvian Pisco Sour. It sounds exotic and sophisticated, and like something that was consumed mid-century by daring travelers in smart shift dresses and dinner jackets.
The cocktail was developed in the 1920's by an American bartender in Lima, Peru. Indeed the bar of origin was frequented by the Peruvian upper class and English-speaking travelers.
The drink went through several iterations until the ratio of Pisco, simple syrup, key lime juice reached the agreed upon standard of 3:1:1, landing it as the national cocktail of both Chile and Peru.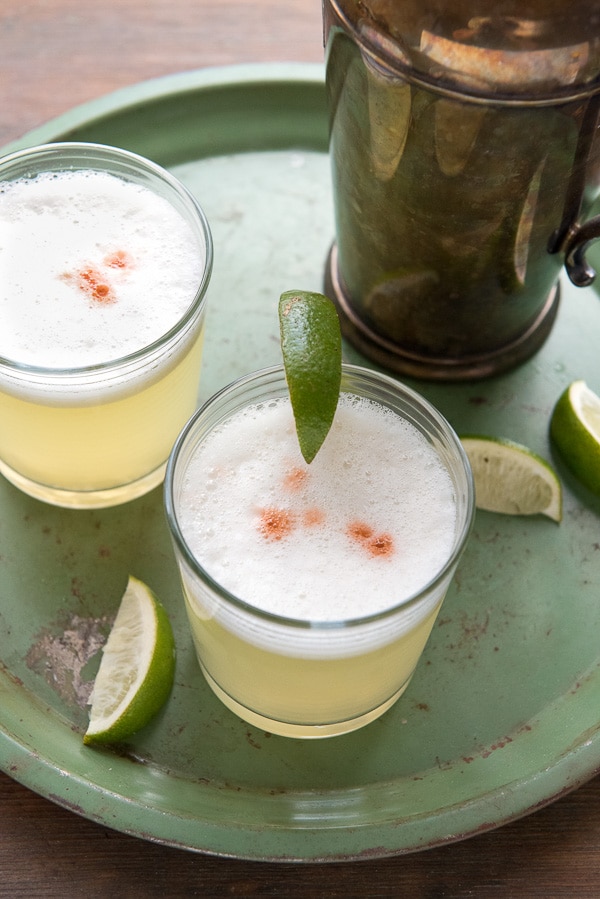 In my quest to make the Peruvian Pisco Sour I snapped up the last bottle of Peruvian Pisco at my local liquor stores. There is debate about whether Pisco from Chile or Peru is better (they are usually made by different methods) and though I cannot answer that I CAN say that Pisco is a lightly citrus flavored liquor that coyly cloaks the punch it delivers.
The alcohol content of Pisco can vary so pour wisely when mixing it up in a cocktail!
How to Make a Peruvian Pisco Sour – Step by Step: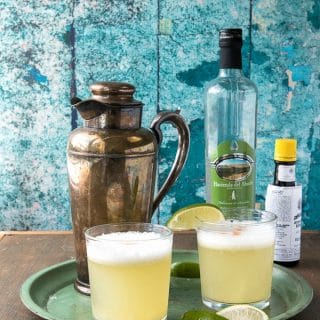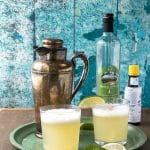 Peruvian Pisco Sour
"This classic cocktail is claimed by both Chile and Peru. The usual combination of 3 parts Pisco to 1 part lime juice to 1 part simple syrup results in a tart, bold Pisco Sour. Cut back a bit on the Pisco to make it a little milder. The egg whites are traditionally used to create a frothy top layer, but you can leave them out if you prefer." –Latin Twist
Total Time
1
hour
15
minutes
Ingredients
Ingredients for Simple Syrup:
½

cup

Granulated Sugar

½

cup

Water
Ingredients for Pisco Sour:
¼

cup

Simple Syrup

½

cup

Key Lime Juice

1 ½

cups

Pisco

1 ½

cups

Ice

3

Egg Whites

Angostura Bitters
Instructions
Instructions for Simple Syrup:
Combine the sugar and water in a small saucepan. Bring to a boil over medium-high heat, stirring, until all the sugar dissolves. Remove from heat; transfer to a bowl and chill. Can be refrigerated for up to 3 weeks.
Instructions for Pisco Sour:
Place simple syrup, key lime juice, Pisco and ice in the blender and blend well

Put the mixture and the egg whites in a cocktail shaker and shake vigorously until frothy.

Serve in 4-6 small tumblers with a dash of bitters in the middle of the foam.
Recipe Notes
Recipe reprinted with permission from Latin Twist by Vianney Rodriguez & Yvette Marquez-Sharpnack (Hippocrene Books © 2015). 
Nutrition Facts
Peruvian Pisco Sour
Amount Per Serving
Calories 189
% Daily Value*
Fat 0g0%
Cholesterol 0mg0%
Sodium 35mg1%
Potassium 56mg2%
Carbohydrates 12g4%
Protein 1g2%
Vitamin A 10IU0%
Vitamin C 6mg7%
Calcium 5mg1%
Iron 0.5mg3%
* Percent Daily Values are based on a 2000 calorie diet.
Disclosure:  I received a copy Latin Twist for the purpose of this review. All opinions are my own.