Light and citrusy Peruvian Pisco Sour cocktail has made a strong comeback since it's debut in 1920! You can't go wrong with a sipper that is the national cocktail of two countries!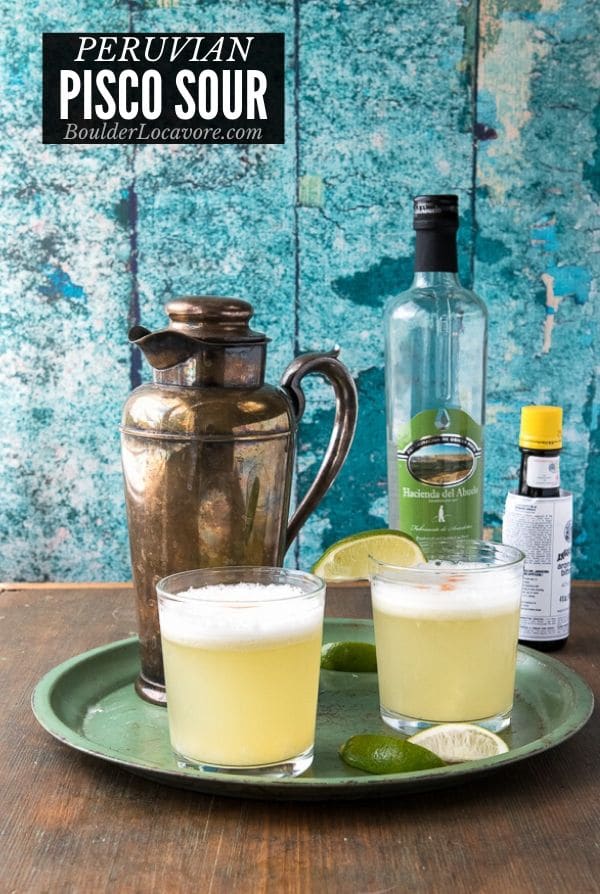 Refreshing Pisco Sour Cocktail
I've heard of this cocktail my entire life but had not started making it until a few years ago.
Peruvian Pisco Sour sounds exotic and sophisticated.
Like something that was consumed mid-century by daring travelers in smart shift dresses and dinner jackets.
This South American cocktail was developed in the 1920's by an American bartender in Lima, Peru.
Indeed the bar of origin was frequented by the Peruvian upper class and English-speaking travelers.
The drink went through several iterations until the ratio of Pisco, simple syrup, key lime juice reached the agreed upon standard proportions of 3:1:1, landing it as the national cocktail of both Chile and Peru.
Ingredients
Simple Syrup
Key Lime Juice
Pisco
Egg Whites
Angostura Bitters
Ingredient Notes
Simple Syrup
Though simple syrup can be purchased at the liquor store, make it at home.
It's fast, easy and tastes best freshly made.
The simple syrup for this cocktail is included in the recipe card at the end of the blog post.
To learn more and additional recipes check out this guide on How to Make Simple Syrup.
Key Lime Juice
Key lime juice can be freshly juiced if key limes are available to you. Also it can be purchased online.
Regular lime juice or lemon juice may also be substituted.
What is Pisco?
Pisco is a brandy made in Peru and Chile.
It's is made by distilling fermented grape juice into a high-proof alcohol.
It can be colorless, or light yellow to an amber color.
It was originally developed by 16th century Spanish settlers to replace a Spanish brandy that we imported to South America.
Chilean Pisco or Peruvian Pisco?
When ingredient shopping, I snapped up the last bottle of Peruvian Pisco at my local liquor stores.
There is debate about whether Pisco from Chile or Peru is better (they are usually made by different methods).
I can't settle that debate but I CAN say that Pisco is a lightly citrus flavored liquor that packs a punch.
The alcohol content of Pisco can vary so pour wisely when mixing it up in a cocktail!
Egg Whites
The addition of egg whites in the last step create a classic frothy top.
If preferred, you can omit the egg whites and enjoy the cocktail without the top layer.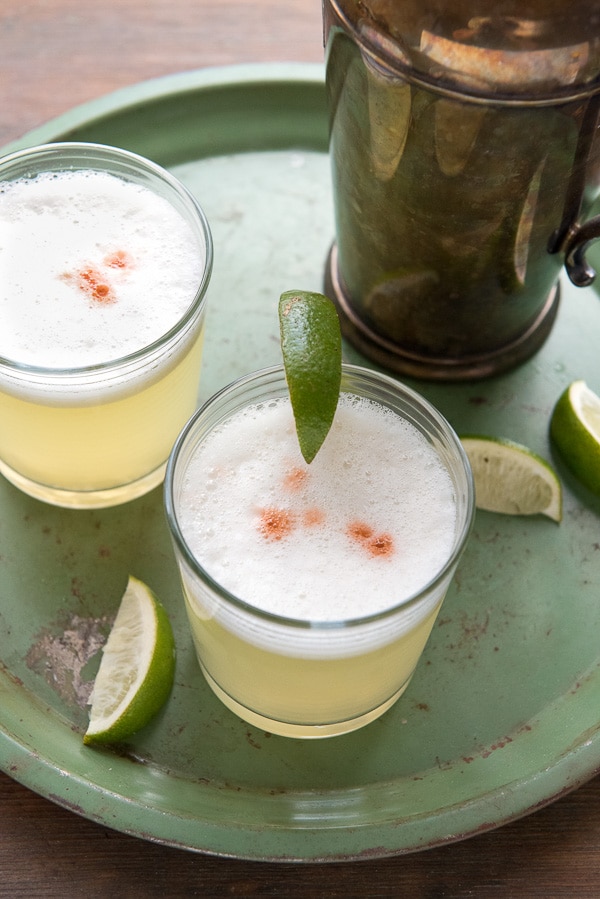 How to Make a Pisco Sour cocktail – Step-by-Step
STEP 1: Prepare the simple syrup
Combine the water and sugar in a small sauce pan over medium-high heat stirring until the sugar dissolves.
Remove from heat, transfer to a metal bowl and chill.
NOTE: it can be made ahead of time. Simple syrup can be chilled in the refrigerator for up to 3 weeks.
STEP 2: Combine the simple syrup, key lime juice, Pisco in a blender and add ice. Blend well.
STEP 3: Combine the blender mixture and egg whites in a cocktail shaker. Shake vigorously until frothy.
STEP 4: Serve in 4-6 tumbler glasses with a dash of Angostura Bitters in the middle of the foamy top.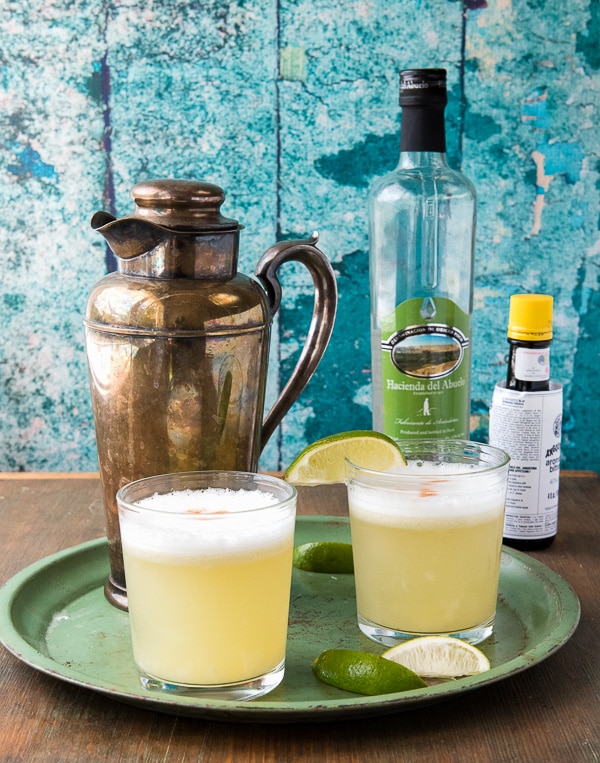 More Delicious Cocktails from Latin Twist
This cocktail recipe is just one from the exciting Latin Twist, a book of traditional and modern cocktails spanning 19 Latin countries and 97 cocktails, penned by award-winning blogger-authors Yvette Marquez-Sharpnack and Vianney Rodgriguez.
Did you make it? Please RATE THE RECIPE below!
Please SUBSCRIBE and FOLLOW ME on FACEBOOK , TWITTER , INSTAGRAM and PINTEREST !
Disclosure: I received a copy Latin Twist for the purpose of this review. All opinions are my own.