Instant Pot Coconut Lime Jasmine Rice is a simple, fast recipe yielding lightly flavored rice perfect to pair with any protein or to use in bowl recipes. One of the fastest cooking rice types in the Instant Pot!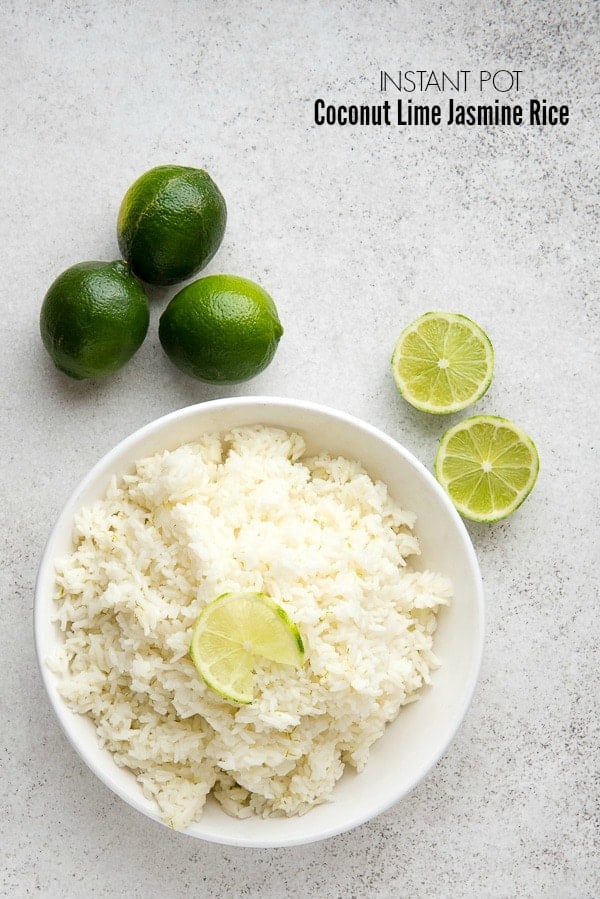 Pairing a dinner recipe with a starch seems to be pretty standard in our household and rice is often on the rotation.
Plain rice however can get boring or take longer to make than desired (brown rice especially).
There are easy ways to change it up and a favorite recipe I've created is Instant Pot Coconut Lime Jasmine Rice!

When I was growing up I think there was only white rice. Not versions of white rice or brown rice, just 'rice'.
Now there are main choices of rice.
When I went to our neighborhood grocery store to pick up some jasmine rice I marveled and the lengthy aisle full of rice choices: Jasmine, Basmati, Long Grain White Rice, Short Grain White Rice, Brown Rice, Wild Rice, and a series of hybrids. I could fill this blog post with all the options.
What goes along with these choices are specifics on cooking times and practices.
For years I've used a rice cooker.
It's been a device I've loved because after adding the rice and water I don't have to think about it until a cheery tune plays at the end signaling it's ready. I select the rice type, doneness preference and that's it!
I've wondered if the Instant Pot would provide an easy option to make equally perfect rice without me having to pay attention (a quality about cooking I love on busy nights). This Instant Pot Coconut Lime Jasmine Rice absolutely turned out beautifully!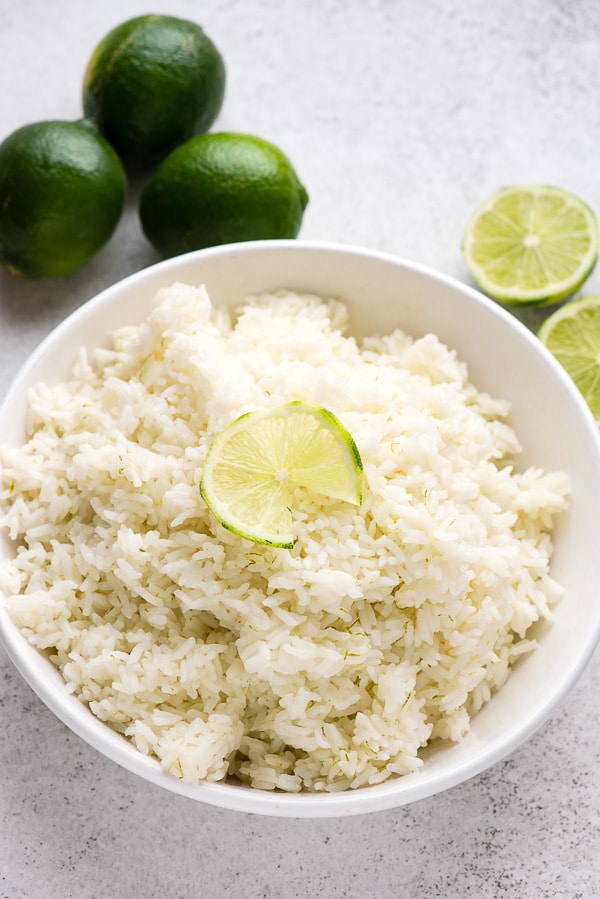 What is Jasmine Rice?
Jasmine rice is a long grain white rice that has a slightly floral scent when cooked, is fluffy and slightly sticky.
It's often paired with Asian recipes and is one of the fastest rice types to cook in the Instant Pot.
Each rice variety requires a different liquid to rice ratio for the Instant Pot.
Jasmine is easy to remember as it cooks with an equal volume of water or liquids.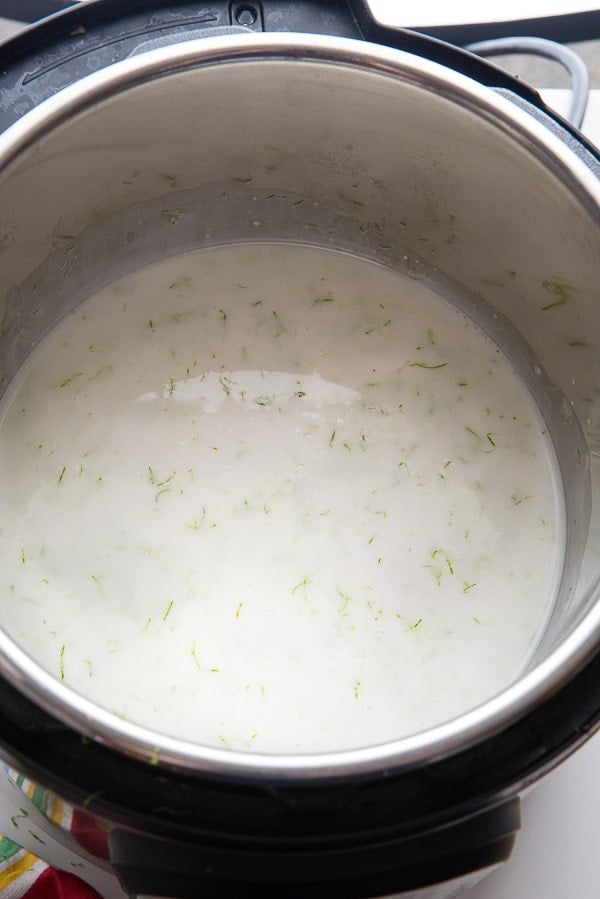 Coconut Lime Jasmine Rice for the Instant Pot
I wanted to change it up a bit and instead of adding water I used:
canned coconut milk
chicken stock
lime zest
It develops a creamier flavor of light coconut and lime without being overpowering and a delicate light green tint.
Jasmine rice only requires 4 minutes cooking time (on high pressure) with a 10 minute slow release.
Once complete it should be fluffed with a spatula or the spoon that comes with the Instant Pot and removed from the Instant Pot.
What to Serve With It
Leftovers
Leftovers chill well in a sealed container to be reheated for additional meals.
5 MIND-BLOWING INSTANT POT TIPS YOU NEED!
I've uncovered some unexpected, useful tips you'll want to know.
Sign-Up below and I'll tell you all my Instant Pot secrets!
No Instant Pot? No worries! Here is a conventional recipe for Coconut Rice!
Did you make it? Please RATE THE RECIPE below!
Please SUBSCRIBE and FOLLOW ME on FACEBOOK , TWITTER , INSTAGRAM and PINTEREST !