Baked French Toast made with croissants is a special breakfast recipe you'll love! It's easy to put together and can be made as an overnight breakfast casserole too. Perfect for weekends, holiday mornings and any other day too!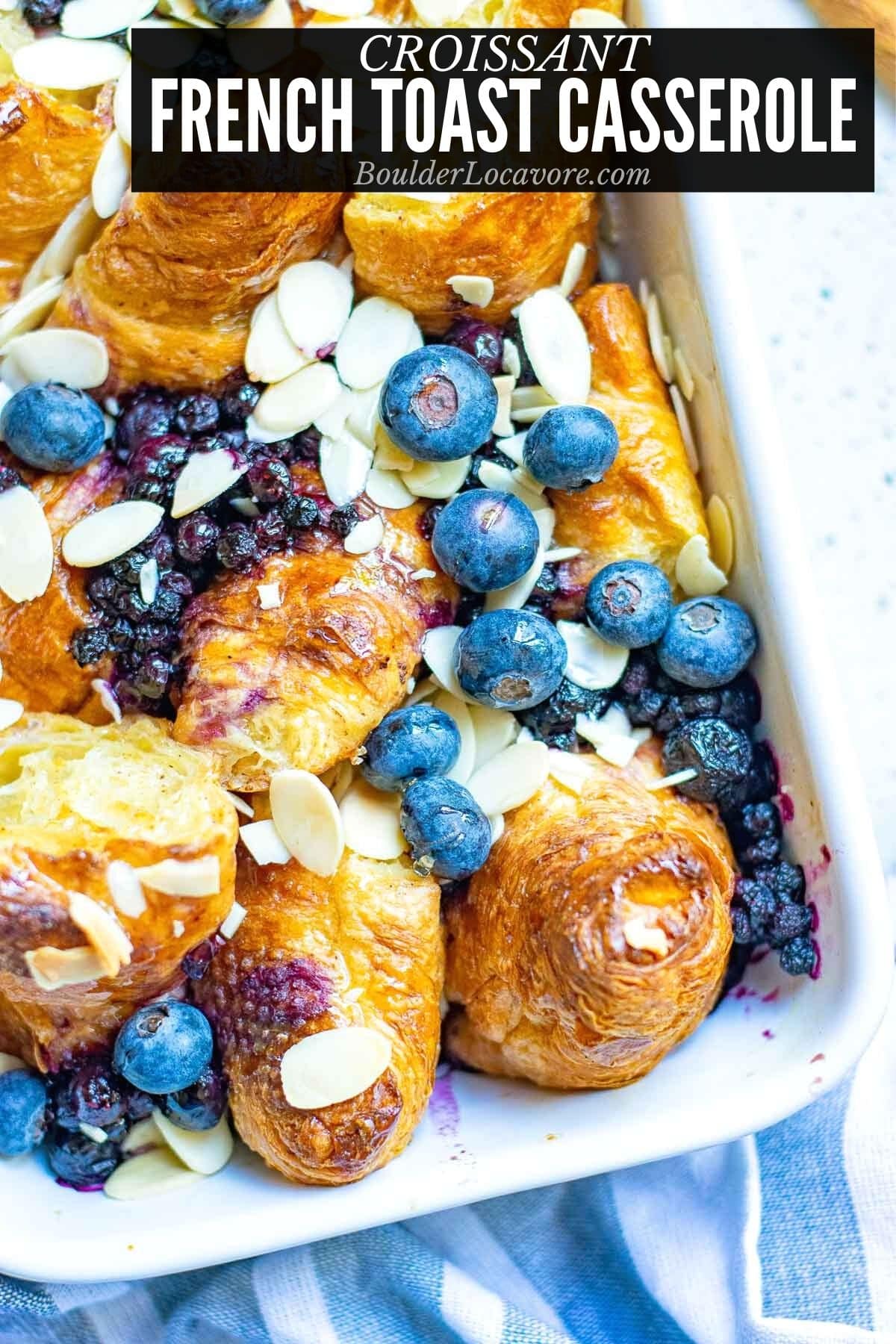 I have been a life long Peanut Butter French Toast devotee until discovering baked French Toast Casserole.
It is a perfect weekend recipe. It's flexible and versatile.
We love Challah French Toast and Eggnog Overnight French Toast Casserole for the holidays.
This version with croissants is a favorite. The buttery flakey croissants are rich and delicious.
Drizzled with an easy Blueberry Sauce, sliced almonds and baked in a delicious sweet cinnamon mixture starts any day off perfectly!
Easy French Toast recipe
If you are a French toast lover, this is definitely the easiest way to enjoy it.
Instead of dipping and frying individual slices of bread, the process is streamlined to bake it all in the oven!
In this case dipped croissants are layered into a baking dish and chilled for an hour or overnight.
Then they bake for 45 minutes for a flakey, crisp, sweet, custardy breakfast recipe!
Make it an Overnight French Toast
Overnight breakfast recipes are lifesavers on busy weekends you want to feel special or during the holidays.
This recipe can be prepared and baked the same morning or assembled and refrigerated overnight.
In the morning remove the French Toast from the refrigerator to sit out at room temperature for 30 minutes before baking.
During this time the oven will be preheated and the blueberry sauce can be made.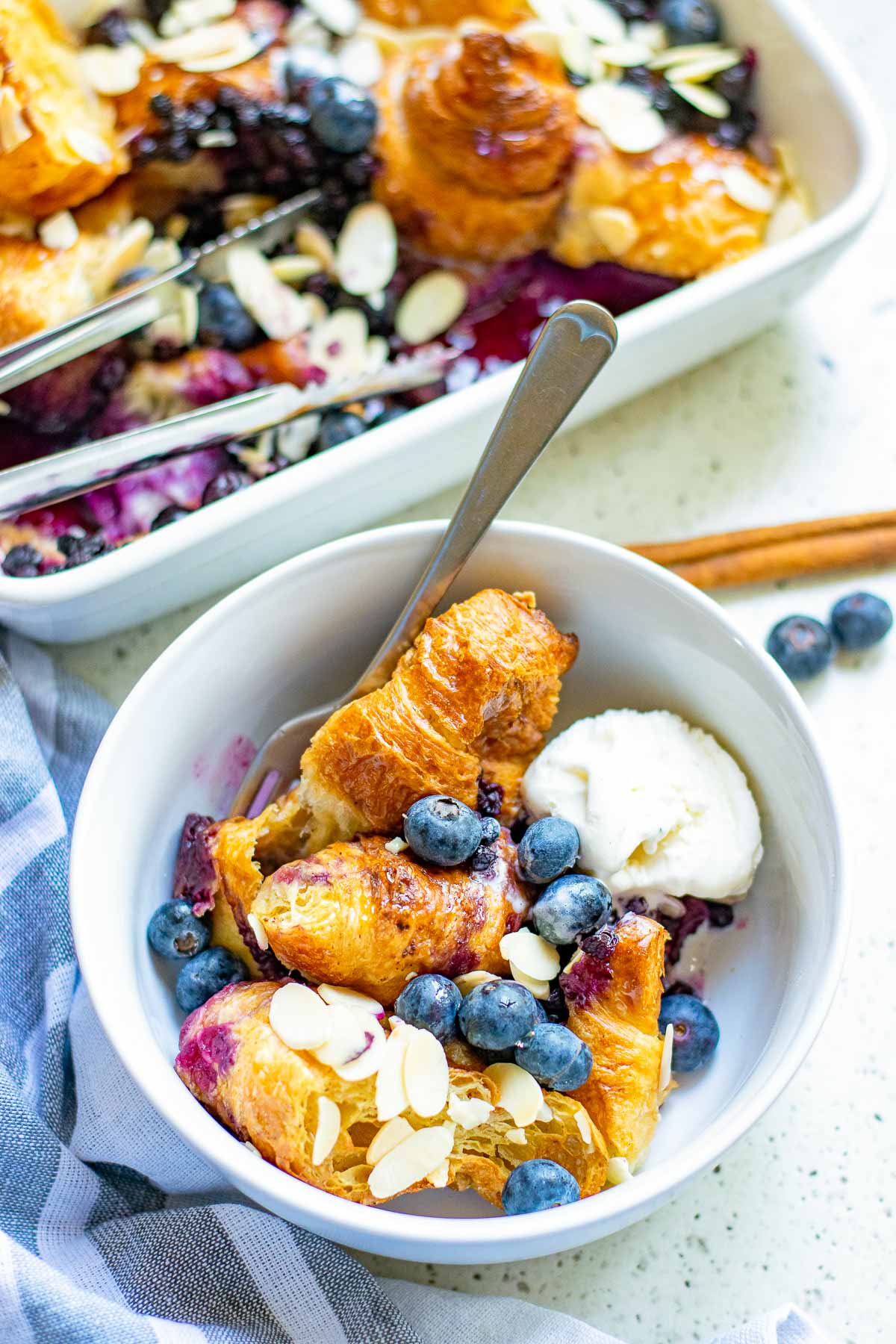 Recipe Ingredients + Notes
Eggs – eggs are a key ingredient in the coating. Mixed with the half and half coat the croissants and create the wonderful custardy base of the recipe.
Half and Half – we love this because it's richer than milk but not as heavy as cream. It gives a creamy texture to the casserole. If you'd like to substitute cream, dairy milk or nut milk, go for it.
Cinnamon – a perfect warming spice that's so homey!
Salt – just a bit of salt pumps up the sweetness in the dish by giving a contrasting flavor. We love kosher salt since it's a less salty tasting salt.
Honey – honey is a great sweetener that doesn't overtake the buttery flavor of the croissants.
Vanilla Extract – adds a warm vanilla flavor.
Croissants – the star ingredient! This recipe uses large (normal) size croissants; not minis. Regular or gluten-free croissants may be used. Notes on finding gluten-free croissants below.
Sliced Almonds – these are added to the top of the casserole before it bakes. They give a nice crunch and nutty flavor.
Blueberries – frozen blueberries are used in the easy blueberry sauce. Fresh blueberries as a garnish (if desired).
Lemon juice – used in the sauce. Fresh lemon juice is recommended!
Unsalted Butter – for greasing the baking dish.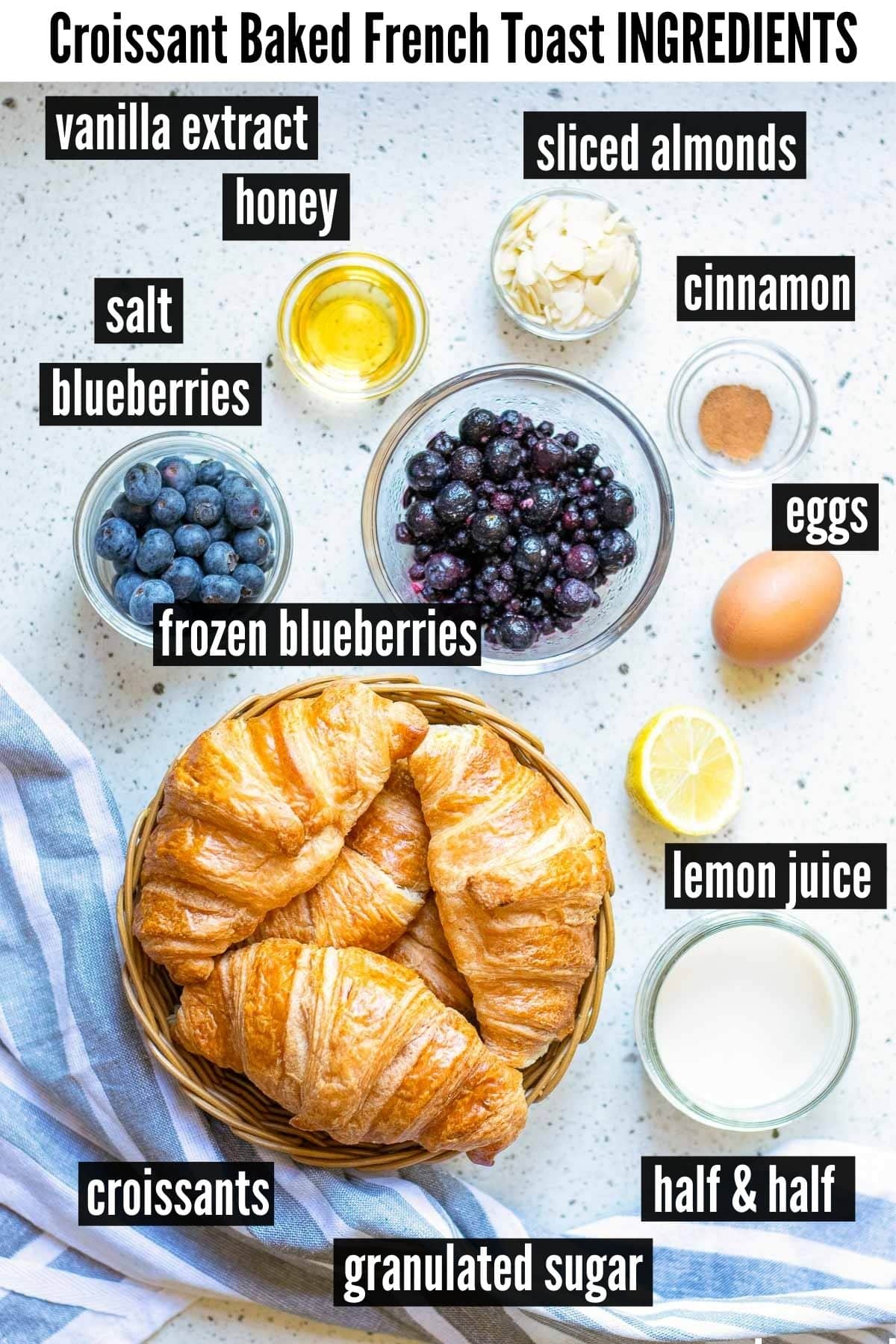 How to Make it – Step-by-Step
STEP 1: Preheat the oven to 375 degrees F. Grease/butter a 13-inch by 9-inch baking pan with unsalted butter.
How to Make the French Toast Casserole
STEP 2: In a large mixing bowl whisk together the eggs, Half and Half, cinnamon, salt, honey and vanilla. Dip the croissant halves into the mixture to fully coat.
Place into the prepared baking dish (photos 1-2).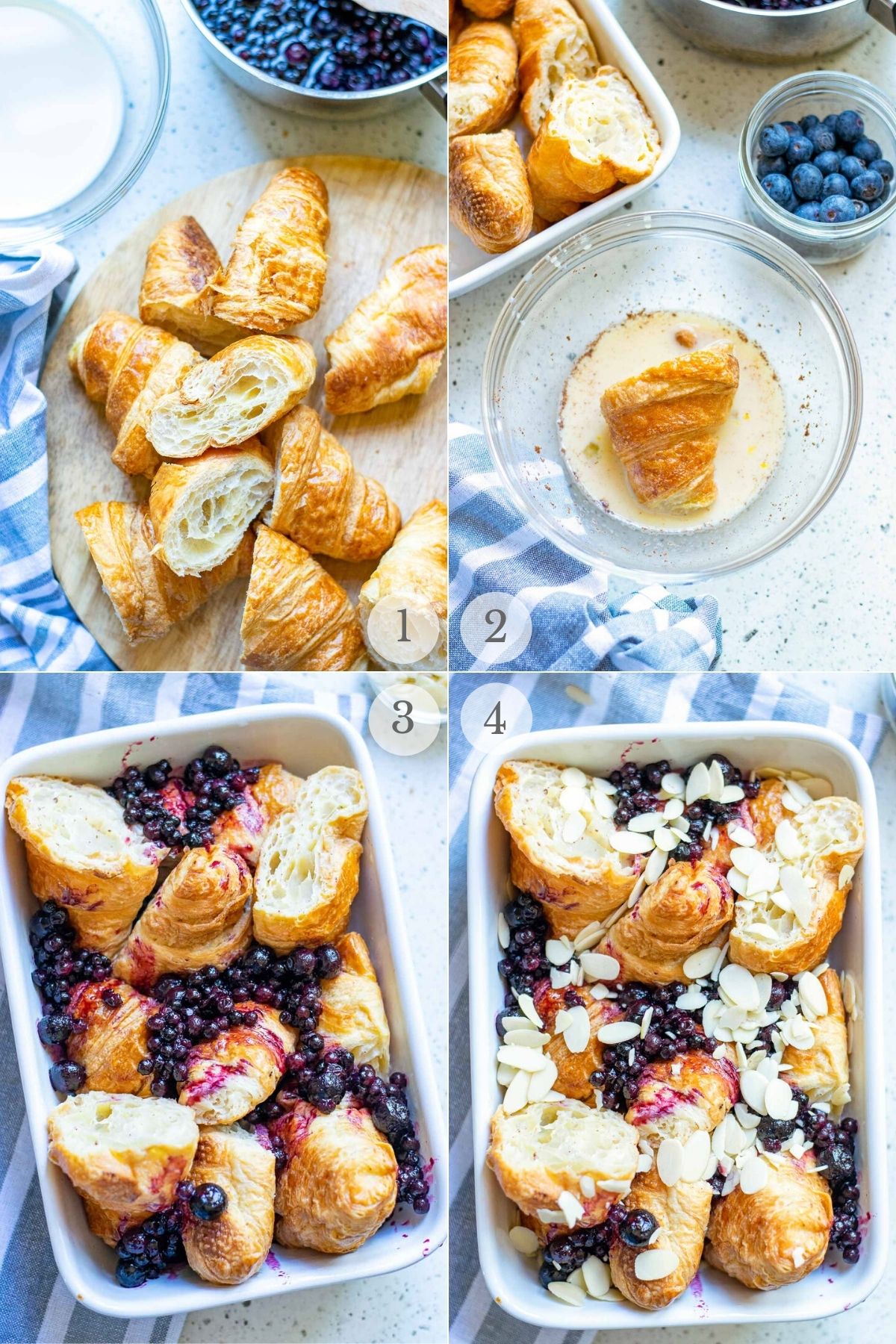 STEP 3: Pour the remaining egg mixture over the croissants in the baking dish. Cover and place in the refrigerator for 1 hour or overnight (instructions for overnight French toast casserole following).
How to Make the Blueberry Sauce
While the casserole chills, make the blueberry syrup.
NOTE: if making this as an overnight breakfast casserole, see instructions in that section below.
STEP 4: In a small saucepan over medium heat combine the frozen blueberries, granulated sugar and lemon juice. Bring to a low boil.
Simmer until the blueberries are soft (aproximately 5 minutes). Remove from heat and set aside.
Cooking the French Toast Bake
STEP 5: Spread the blueberry sauce evenly over the top of the breakfast casserole (photo 3). Sprinkle with the sliced almonds (photo 4).
STEP 6: Cover loosely with foil. Bake for 30 minutes. Remove the foil and bake 15 minutes longer (45 minutes total) until the croissants are golden and crisp.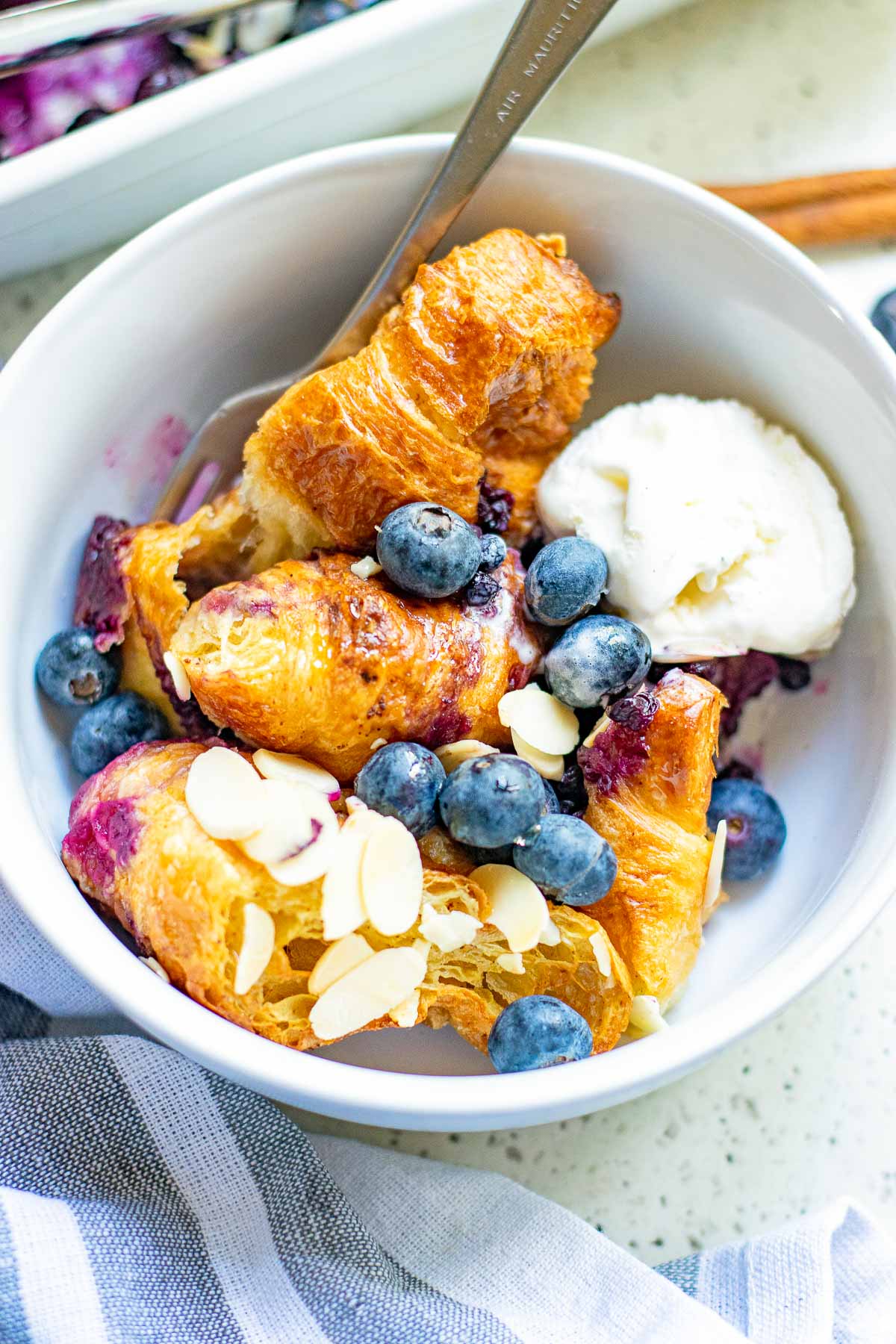 How to Make an Overnight French Toast Casserole
Follow the instructions above through step 3.
Remove the casserole from the refrigerator and allow to sit at room temperature for 30 minutes before baking.
While it's sitting, make the Blueberry Sauce.
It's ready to bake! Follow steps 5 and 6 above.
Arranging the Croissants
There is no 'right way' to put the dipped croissants in the baking dish. They will bake and be delicious anyway you add them.
They can be fit next to each other like a puzzle. Or put some laying flat and some on end with the points sticking up!
How to Serve it
Serve warm with sifted powdered sugar, fresh blueberries, and/or maple syrup.
Or go all out and add a scoop of vanilla ice cream!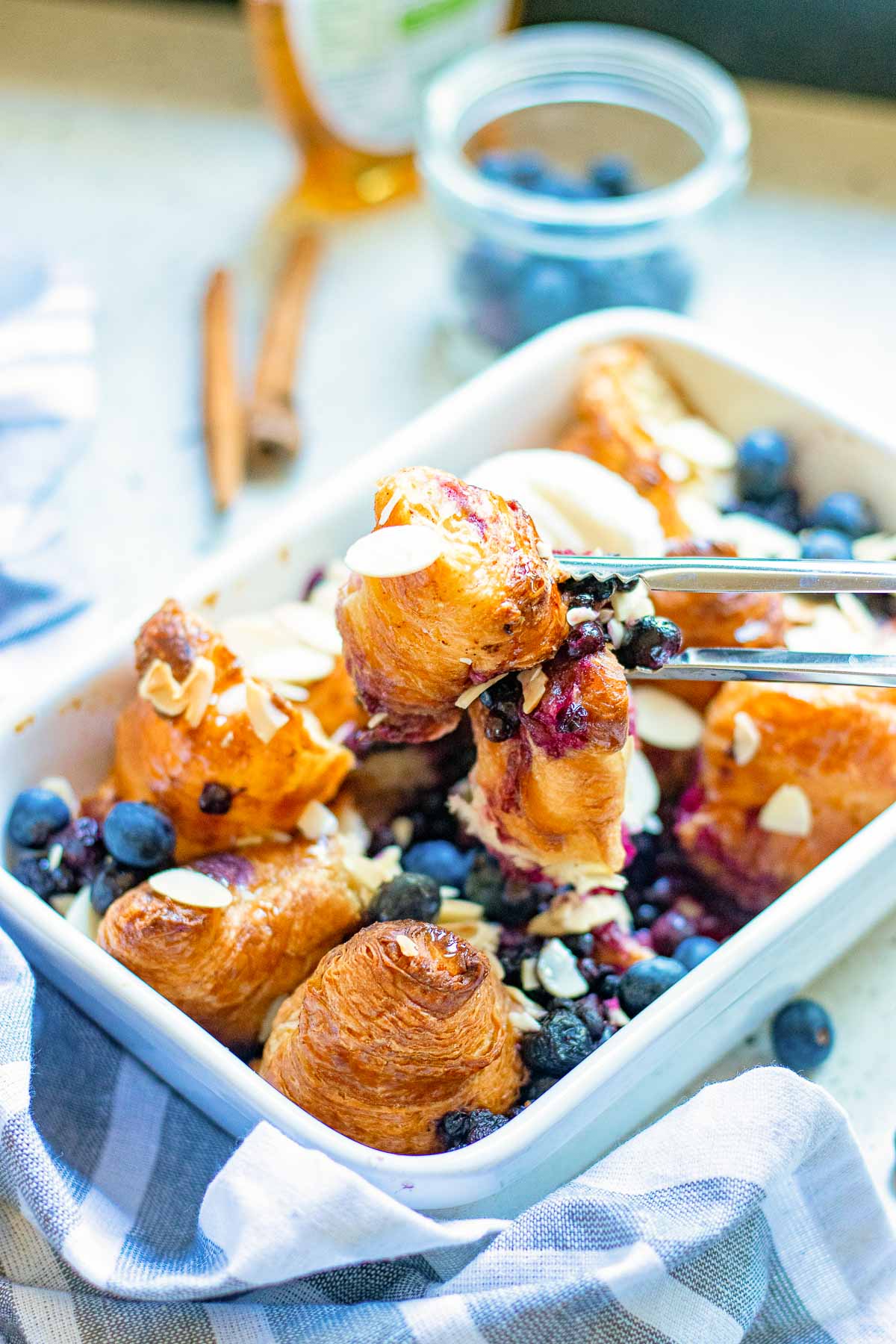 Where to find Gluten-Free Croissants?
Gluten-free croissants can be hard to find. If you have a favorite local gluten-free bakery you can ask them.
Schar brand makes them. You can use their product locator here, scroll down and select 'croissants' and see if they are sold near you.
I buy our gluten-free croissants from Mariposa Bakery in California and have them shipped. They are big, flakey, buttery and delicious.
They also sell other gluten-free baked goods for shipment.
Storing Leftovers
Store any leftovers in an airtight container in the refrigerator for up to 3 days.
It can be sealed in the baking dish with plastic wrap tightly sealed on top.
Do not put the baked casserole in the refrigerator directly. Allow it to fully cool first.
To reheat place individual servings in the microwave for 30-60 seconds.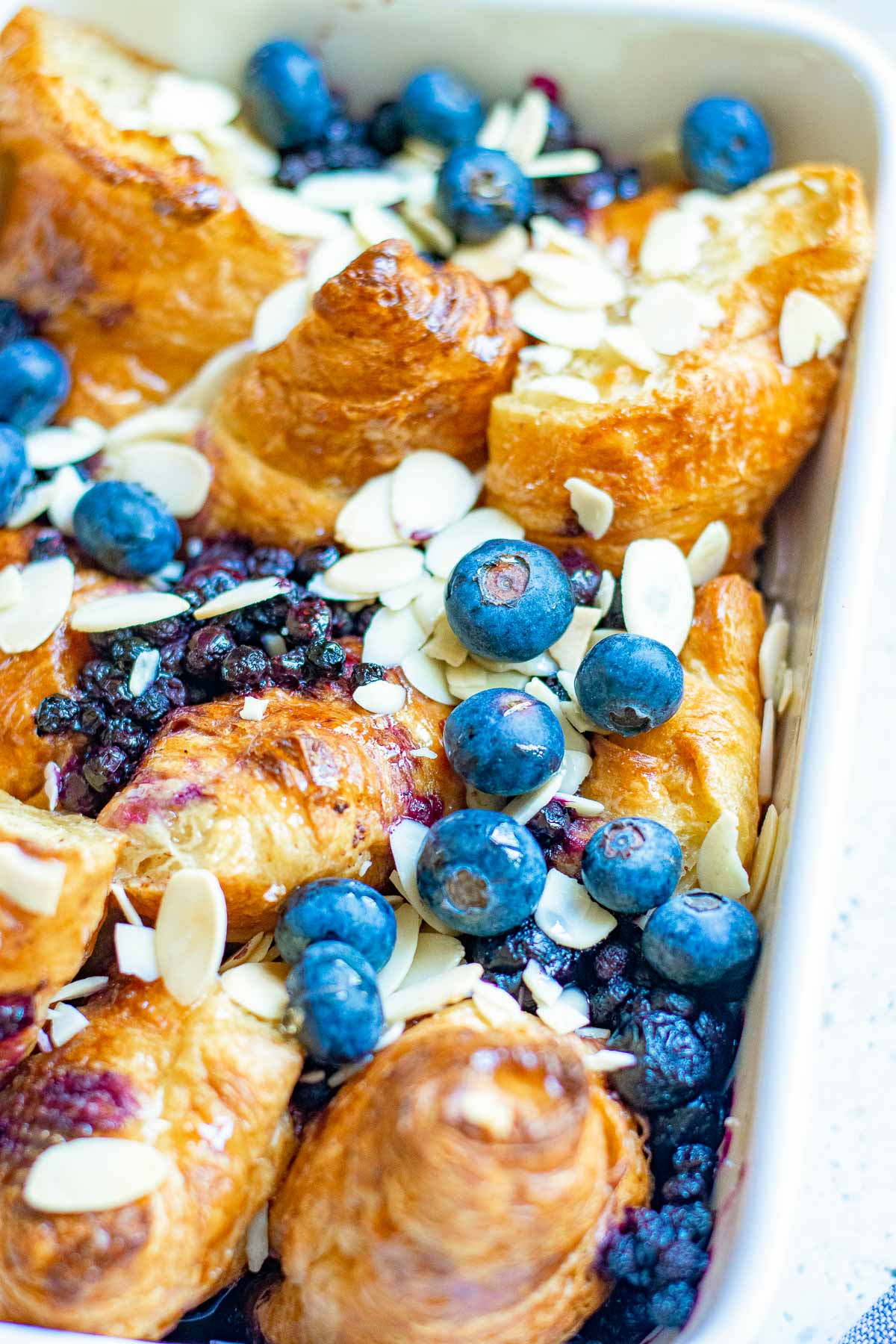 More Recipes You'll Love!
Did you make it? Please RATE THE RECIPE below!
Please SUBSCRIBE and FOLLOW ME on FACEBOOK , TWITTER , INSTAGRAM and PINTEREST !