Baked Apples are delicious and an easy comforting dessert recipe. A cinnamon, pecan, oat topping gives the apples a buttery sweet flavor.

This is an easy dessert idea and perfect for fall.
Fresh apples piled high with a butter brown sugar cinnamon oat topping thanks to a fantastic shortcut!
The preparation takes less than 10 minutes. They come out of the oven piping hot and fill the kitchen with the homey smells of warming spices.
When you think of baked apple desserts chances are apple pie or apple crisp pop to mind.
Simple Baked Apples are a great recipe and comfort food treat! Try our Baked Pears too!
Recipe Ingredients + Notes
Apples. Select fully ripe apples without any bruises or mushy spots. Larger apples are perfect for this recipe. We share our favorite varieties of apples for baking below.
Maple and Brown Sugar Instant Oatmeal. This is our secret ingredient! Perfectly spiced and sweetened, using this instant oatmeal is a delicious based for the topping on baked apples.
This flavor comes in individual packets. Regular, gluten-free and lower sugar (50% less sugar) varieties are available and we've tested them! Delicious, each one.
Cinnamon. The perfect warming spice to go with apples.
Unsalted Butter. Melted butter mixes into the topping to hold it together and give a rich flavor.
Pecans. Chopped pecans or pecan pieces can be used. I prefer pecan pieces which tend to be smaller and mix well with the other topping ingredients.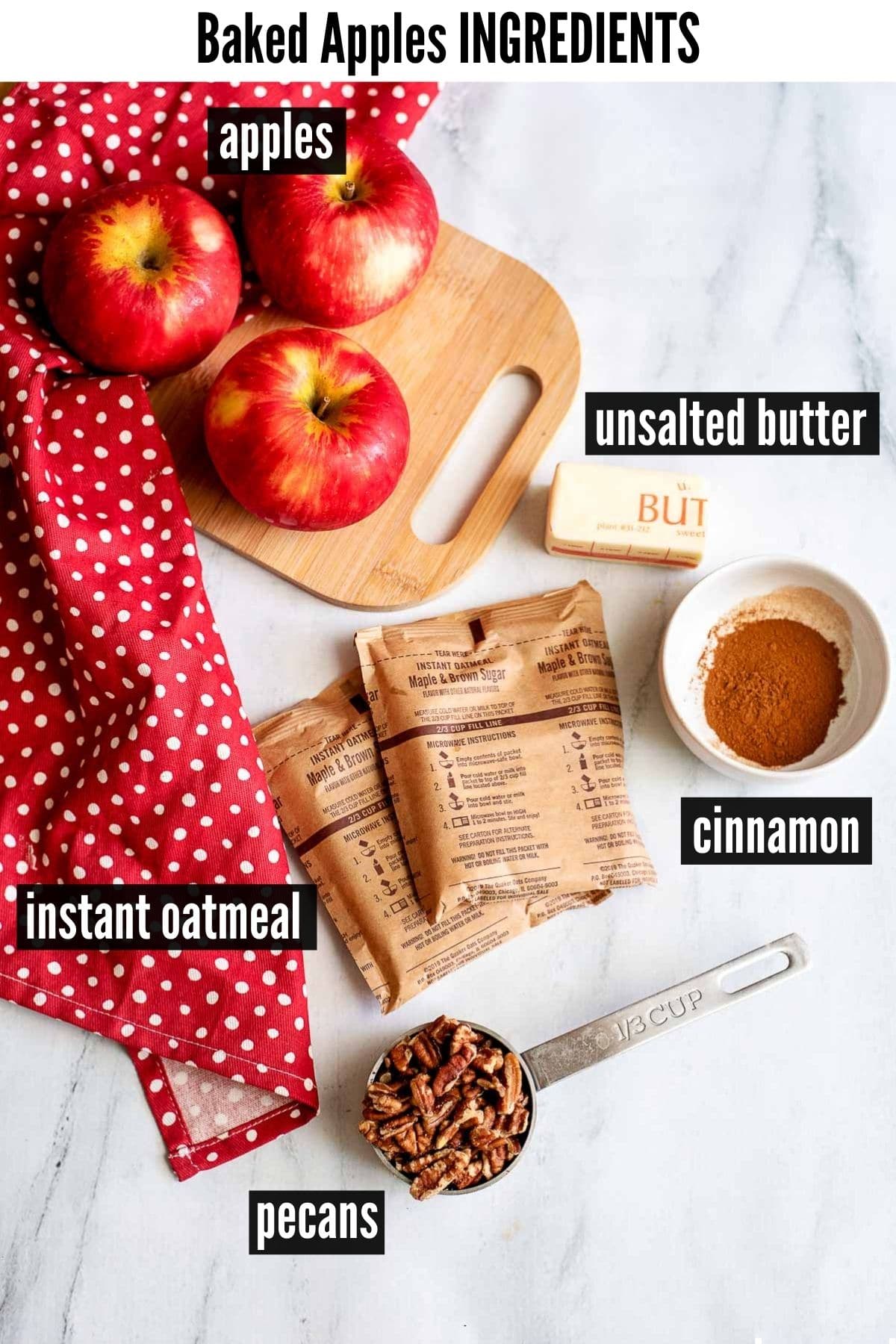 Best Apples for Baking
This is what we are looking for in great baking apples:
Firm, crisp apples that keep their form after baking
They have a firm consistency after baking and aren't mushy
Delicious strong apple flavor
Here are our favorites:
Honeycrisp
This firm, sweet apple retains a wonderful texture when baking. The skin is thin and the flavor delivers a strong, sweet apple taste.
Honeycrisp's are often larger in size which is perfect for this recipe. Delicious in this roasted chicken recipe too.
Granny Smith
This bright green beauty is tart! It's wonderful in apple pie. The contrast of the tart Granny Smith apple flavor is delicious with the sweet topping.
Braeburn
Another crisp apple that bakes beautifully. It's juicy without being mushy and has strong apple flavor. Love these in my Grandmother's Apple Crisp.
Jonagold
Tart with a mix of sweetness. They are a cross between Golden Delicious and Jonathan Gold apples.
Jonagold's smell wonderful when baking. They are the apple to slice and bake when selling your house. No one can resist the homey aroma.
Jonagold's tend to be larger apples making them a great choice for baked apples.
Pink Lady
Also known as a Cripps Pink, this apple is a wonderful mix of sweet and tart.
Winesap
Deeply flavorful and slightly larger apples, Winesap's are another tart variety. They are a great choice to provide contrast to the sweet topping in this recipe.
Winesaps are delicious for homemade apple cider or homemade applesauce. They have a slightly thicker skin.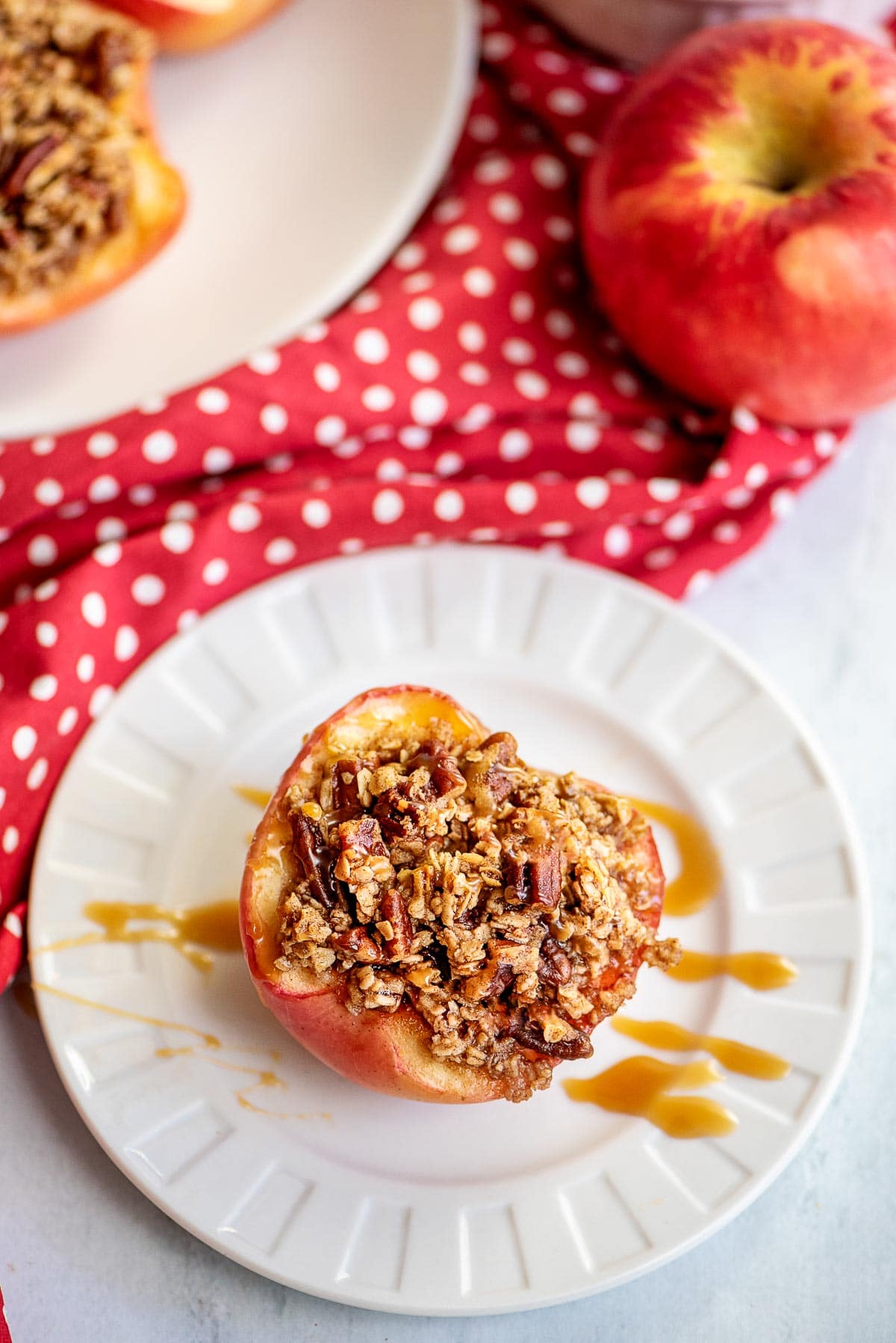 Best way to Core Apples for Baking
An apple corer can be used before halving the apples to take out the stem and seeds. DON'T use a slicer that also cores the apples!
After halving a paring knife works well. If the apples aren't too firm a spoon can work.
My PRO TIP is to use a melon baller! The larger scoop cuts out the seeds and stem below the seeds in one scoop!
It doesn't take out more of the apple flesh than needed too.
How to Bake Apples – Step-by-Step
STEP 1. Preheat the oven to 350 degrees F. Select an 8-inch or 9-inch baking dish for baking the apples.
STEP 2. Scoop out the seeds and any stem from the apple halves using a spoon or melon baller (works great)! Photo 1.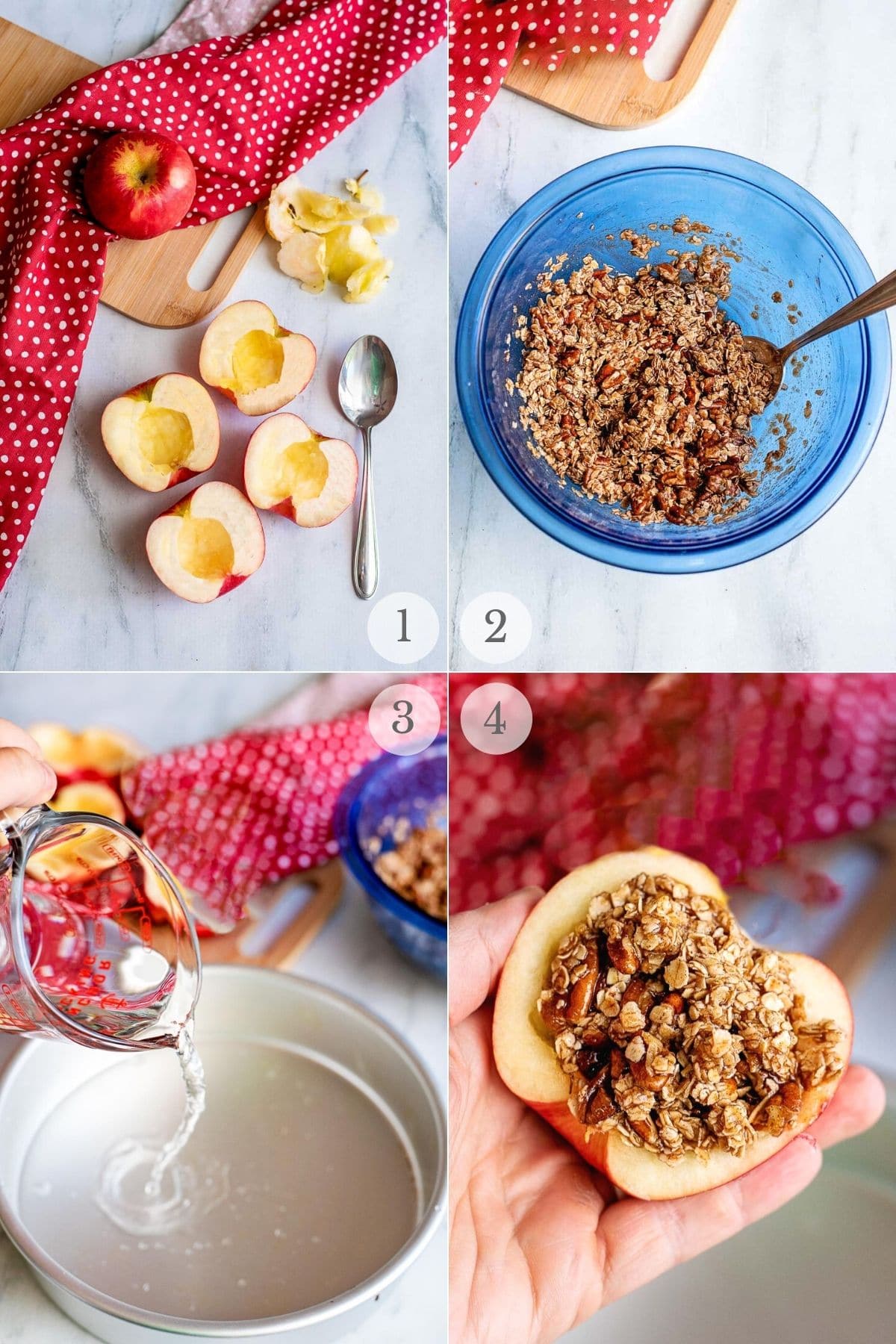 STEP 3. In a medium bowl combine the packets of instant oatmeal, cinnamon, melted butter and pecan pieces. Stir to fully combine (photo 2).
STEP 4. Pour 1/2 cup of hot water in the baking pan (photo 3).
STEP 5. Divide the topping between the apples, filling the cavity on the apple halves and heaping on top (photo 4). Place the topped apples in the pan with water (photo 5).
Place foil on top of the pan and secure around the sides for a good seal (photo 6).
NOTE: the foil may need to be tented over the topped apples. Just be sure to secure it around the sides.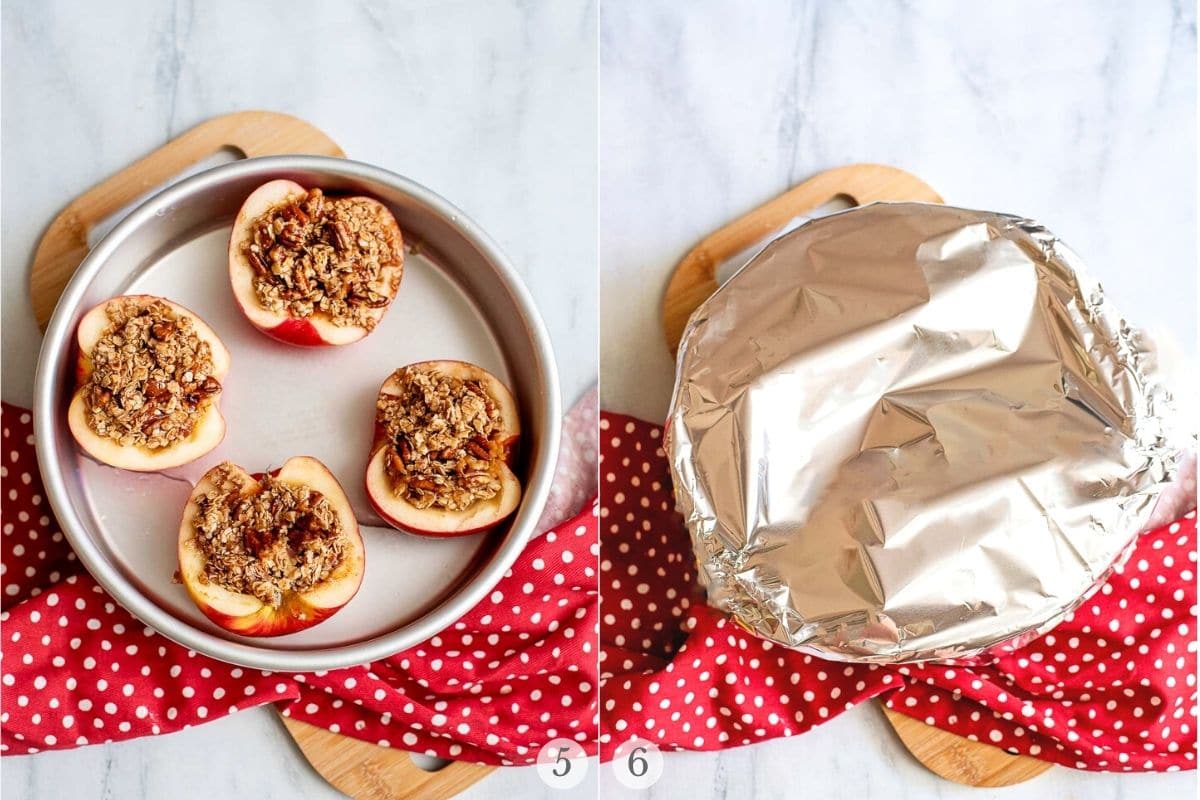 STEP 6. Bake for 20 minutes. Remove the foil and bake an additional 25 minutes. The apples will be fully cooked but still with a good structure (depending on the type of apple used).
Allow to cool slightly before serving.
How to Serve
Serve with a scoop of vanilla ice cream, whipped cream or caramel sauce (if desired). We love homemade salted caramel!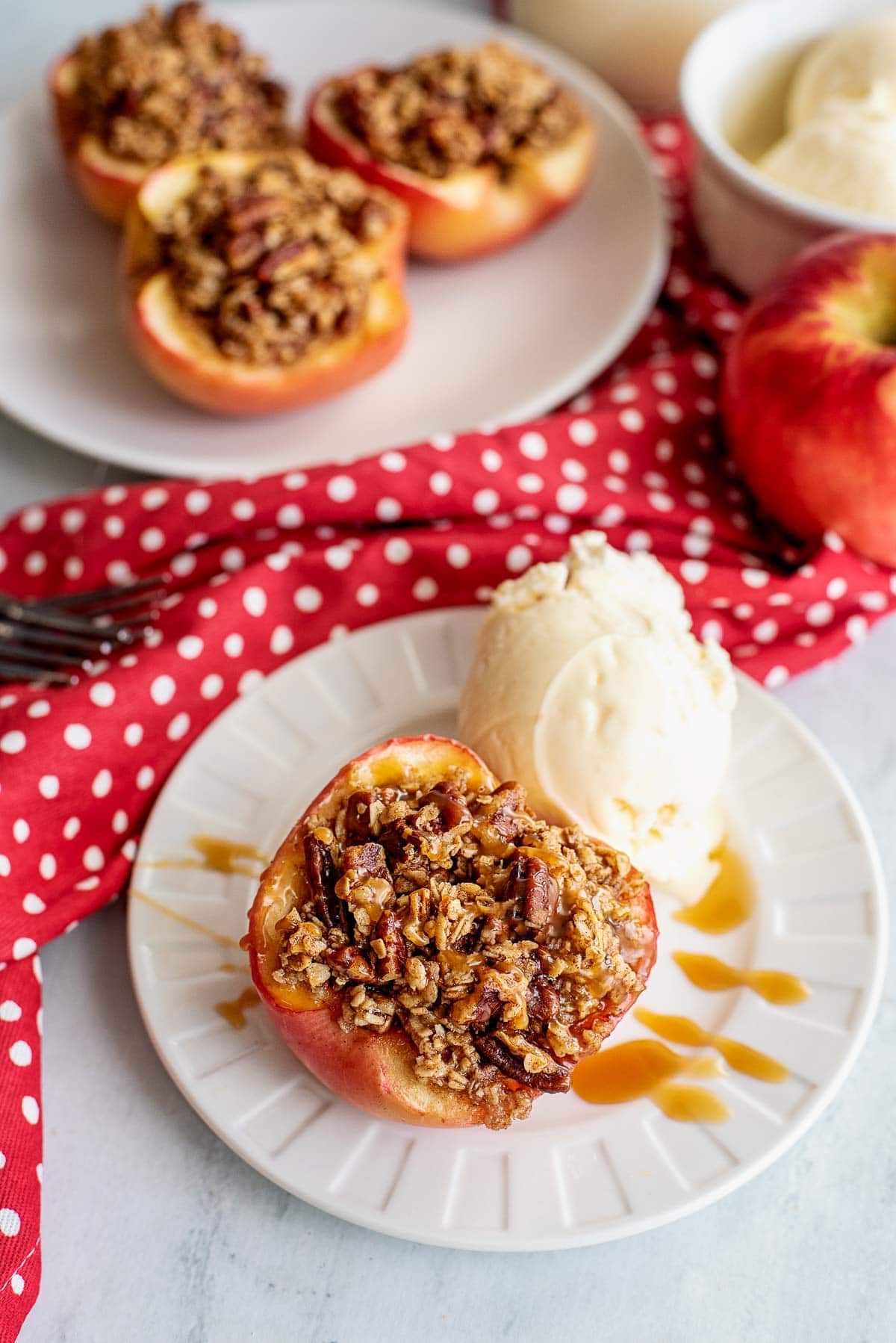 More Recipes You'll Love!
Did you make it? Please RATE THE RECIPE below!
Please SUBSCRIBE and FOLLOW ME on FACEBOOK , TWITTER , INSTAGRAM and PINTEREST !