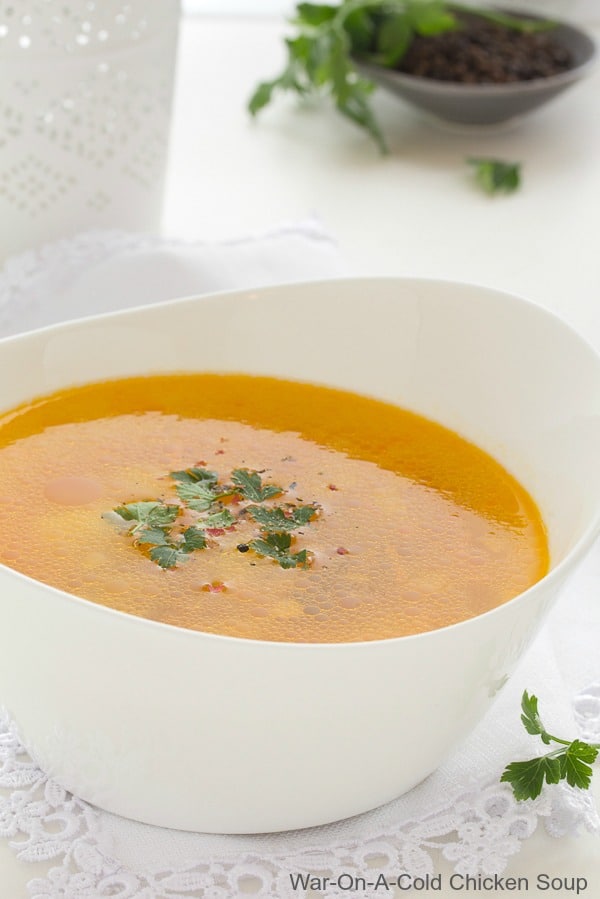 This spring I contracted the worst respiratory virus I think I've ever had. I was relegated to bed except for compulsory errands which I shamelessly did in my leopard print fleece pajamas. Seriously. On one of my trips to the doctor after dispensing a loooooong list of medications, (prescription, over the counter and homeopathic) she announced clearly 'and you need to have someone make you homemade chicken soup'. Really? That's not an old wives' tale?
To be candid I was so under the weather my memory of her lengthy description of its medicinal benefits came across like the voices of the parents in the Peanuts series (Wah-Wah-Wah Wah). No recall of what she said. Her direction however has stuck and it's now my first instinct when I feel the creeping in of a cold.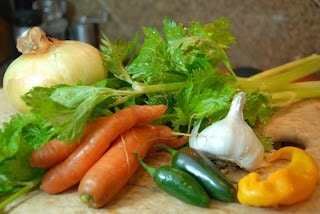 Wanting to double check my foggy memory I did some sleuthing and found the following in an article about remedies that DO help colds on the Mayo Clinic website published October 28, 2010:
"Chicken Soup: Generations of parents have spooned chicken soup into their sick children. Now scientists have put chicken soup to the test, discovering this it does have effects that might help relieve cold and flu symptoms in two ways. First, it acts as an anti-inflammatory by inhibiting the movement of neutrphils – immune system cells that participate in the body's inflammatory response. Second, it temporarily speeds up movement of mucus, possibly helping relieve congestion and limiting the amount of time viruses are in contact with the nose lining."
Smack dab in my busiest of weeks, I began to get that familiar and totally unwelcome feeling last night. Like it was coming to get me. Not surprising. I'm doing a lot this week and have been sleeping horribly. Today, facing several deadlines, all I want to do is go to bed but instead I'm power dosing every homeopathic immune boosting remedy in my personal arsenal. Those that promise to ward off the full setting in of the cold. Those that promise to mount a full assault with your immune system. And one, Kick Ass Immune Booster by Wish Garden, that just sounds and tastes so mean I'm sure it does something productive.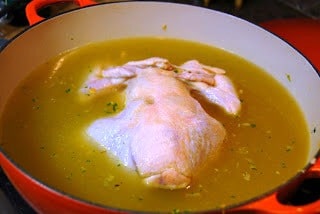 I have a very simple recipe for homemade soup that tastes great (if you can taste) and can be modified for less medicinal purposes.
War-On-A-Cold Homemade Chicken Soup
Chicken soup really does make a difference getting over a cold or flu and this delicious version has a kick of some jalapeno and apple cider vinegar. It's simple to prepare with natural whole ingredients. Great to keep in the freezer for those times you don't feel like making a batch! To deepen the flavor of the broth, the soup may be left to simmer on low temperature for a number of hours. If doing so check the liquid level and add more water as needed.
Cook Time
1
hour
30
minutes
Total Time
1
hour
40
minutes
Ingredients
4

stalks

celery

3

carrots

5

garlic cloves

½

large

onion

1

Jalapeno pepper

, stem and seeds removed, diced

1-2

tablespoons

olive oil

Small chicken fryer

, rinsed and patted dry with paper towels (I use all natural, no antibiotic, no steroid, free range meat but any chicken will do) OR 2 large boneless skinless chicken breasts, chopped (this simplifies the recipe to remove the bones from the process and speed things up)

2

1-quart containers

chicken stock

(I use one regular and one low sodium; you can substitute homemade stock as well)

2

cups

water

1-2

tablespoons

apple cider vinegar
Instructions
Combine the carrots, celery (I include some of the celery leaves too), garlic, and onion into a food processor and chop into small bits.

In a stock pot, warm the olive oil over medium-high heat. Add the vegetables from the food processor and saute 2-3 minutes until they begin to soften.

Add the jalapeno pepper and sauté another 1-2 minutes.

Add the whole chicken, the chicken broth and the water. Bring to a boil then lower heat bringing soup to a simmer.

After about 90 minutes the chicken will be cooked and falling off the bone. Separate the meat (I recommend taking the whole chicken out of the broth, letting it cool sightly so you can handle it then taking off the meat and hand shredding it), discard the bones and skin, add meat back to the soup and taste for seasoning.

Add the apple cider vinegar at the end. Great for your health and brightens the flavor of the soup.
Nutrition Facts
War-On-A-Cold Homemade Chicken Soup
Amount Per Serving
Calories 28
Calories from Fat 9
% Daily Value*
Fat 1g2%
Cholesterol 0mg0%
Sodium 28mg1%
Potassium 117mg3%
Carbohydrates 3g1%
Protein 0g0%
Vitamin A 3145IU63%
Vitamin C 4.3mg5%
Calcium 18mg2%
Iron 0.1mg1%
* Percent Daily Values are based on a 2000 calorie diet.
I actually let the soup simmer for a number of hours. It greatly reduces the broth to a rich taste. In doing this there is some evaporation so I added 2 additional cups of water toward the end to dilute the broth a bit. A few notes. First on the garlic. Garlic is great for your immune system which is my mission today. Though my kitchen smelled of the amount of garlic in the soup it does not taste strongly of garlic. Feel free to modify the amount of garlic to your own liking.
Secondly, the chile peppers.  I think getting a good sweat on is great for moving a cold along. I like the heat of the chile pepper in this soup for that very purpose.
Lastly, seasoning. I look to the sauteed vegetables to give the flavor to the soup so I keep other seasoning to a minimum (salt and pepper really) for this soup. I find frankly when getting a cold I cannot taste much but if you are making it under more normal circumstances, add whatever seasonings you like in soup (thyme, oregano, bay leaf would all be nice).
Here's to a healthy cold weather season to us all!