This family recipe for Homemade Chicken Soup is what I always make when someone has a cold. Wholesome, nutritious ingredients and a few 'secrets' make a homey, comforting soup that's delicious anytime.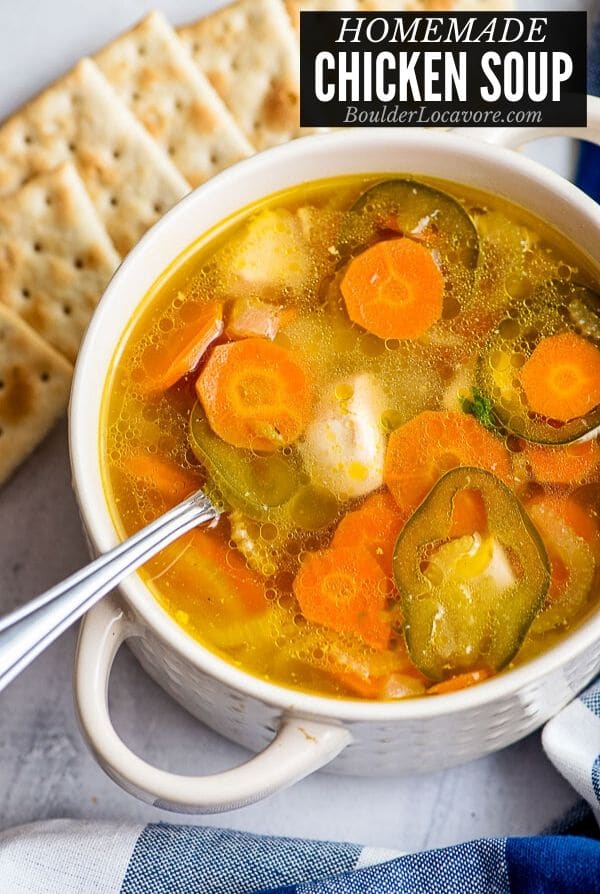 There is nothing more comforting than homemade chicken soup.
As easy is soup from a can is, making chicken soup from scratch is not difficult and the results are so much tastier!
The ingredients are simple, wholesome and easy to find.
Simmering together they create a delicious soup you'll love anytime.
Chicken Soup for a Cold
I originally created this recipe a decade ago after having a long standing respiratory virus I couldn't shake.
After my physician tried multiple medications to shake the illness from prescription to homeopathic remedies she announced clearly 'and you need to have someone make you homemade chicken soup'.
To be candid I was so under the weather my memory of her lengthy description of its medicinal benefits came across like the voices of the parents in the Peanuts series (Wah-Wah-Wah Wah).
No recall of what she said.
Her direction however has stuck and it's now my first instinct when I feel the creeping in of a cold.
My kids request it and I keep some in the freezer at all times.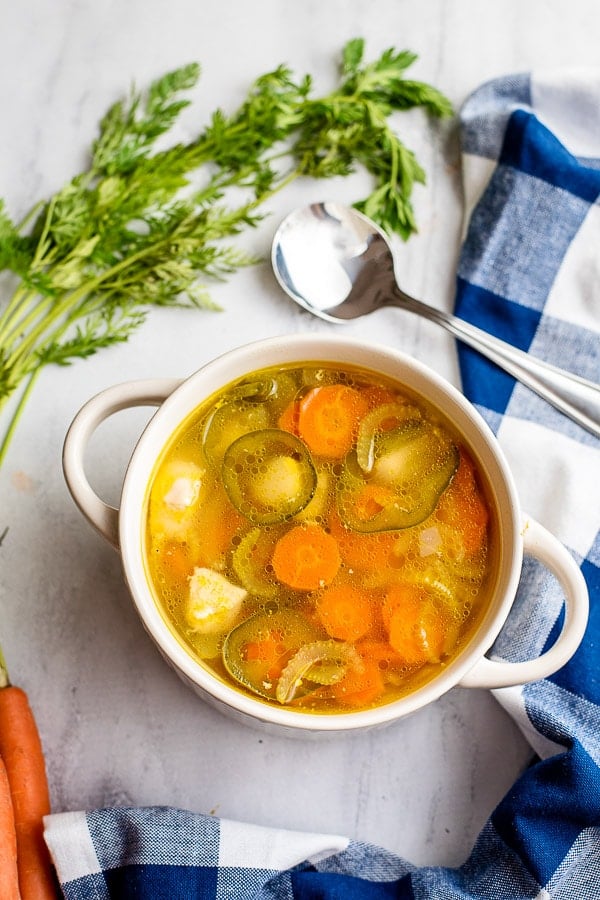 I found the following in an article about remedies that DO help colds on the Mayo Clinic website published October 28, 2010:
"Chicken Soup: Generations of parents have spooned chicken soup into their sick children. Now scientists have put chicken soup to the test, discovering this it does have effects that might help relieve cold and flu symptoms in two ways. First, it acts as an anti-inflammatory by inhibiting the movement of neutrphils – immune system cells that participate in the body's inflammatory response. Second, it temporarily speeds up movement of mucus, possibly helping relieve congestion and limiting the amount of time viruses are in contact with the nose lining."
I'm not a medical practitioner and cannot claim this soup helps with a cold.
I can say it's soothing and easy to eat. At a minimum it helps keep liquids coming.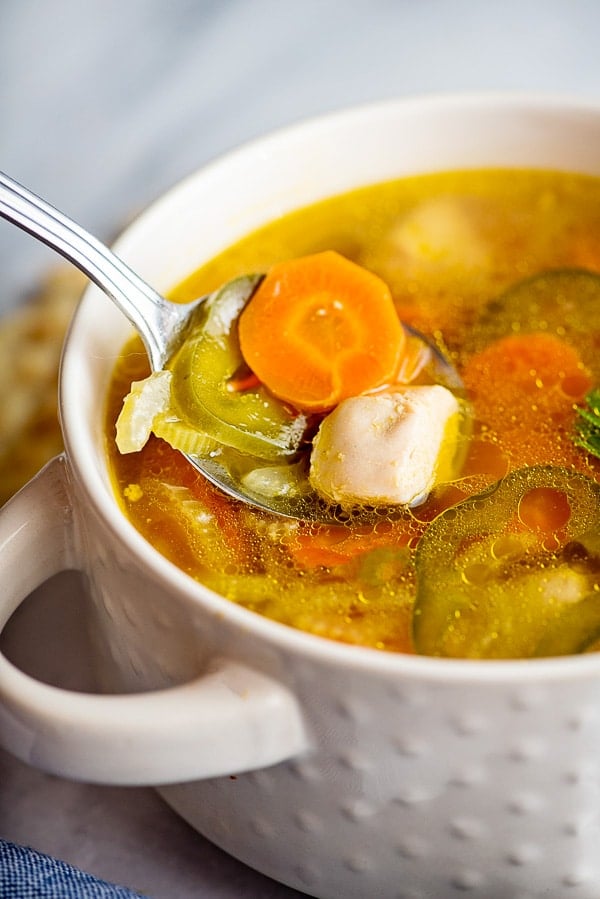 Ingredients
Carrots
Celery
Garlic cloves
Onion
Olive oil
Jalapeno pepper
Small chicken fryer OR boneless skinless Chicken Breasts
Chicken stock
Water
Apple cider vinegar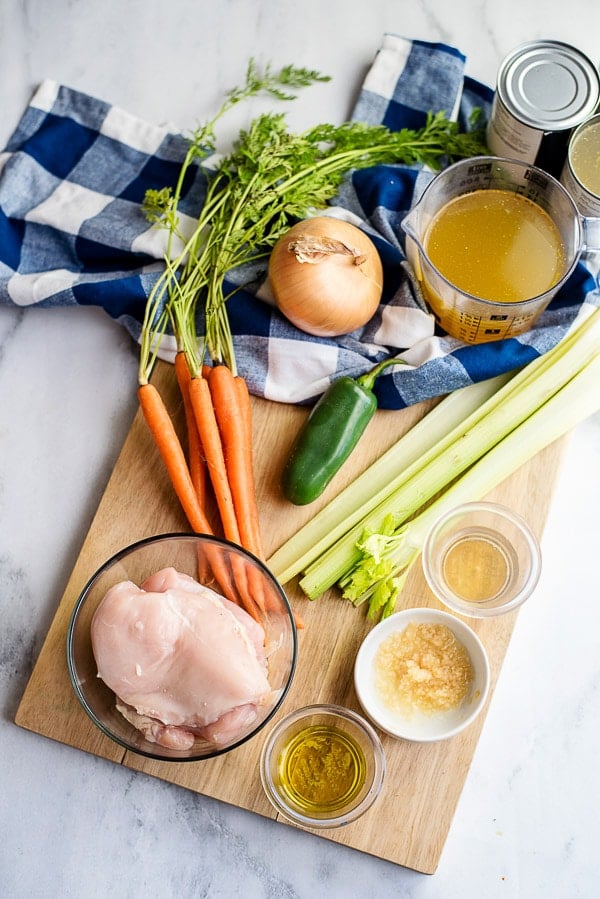 Ingredient Notes
Preparing the Vegetables – Time Saving Tips
The most time consuming preparation of this recipe is the vegetables. Here are a couple of short cuts that speed things up and still create a delicious soup.
Put all the vegetables in the Food Processor. If you don't mind not having sliced and chopped vegetables (e.g. the soup won't be as visually pretty) this is a perfect way to make the soup quickly. I usually do it this way because I'm in a hurry when I make it.
Buy prepared vegetables. Many grocery stores now offer prepared produce for recipes. This is an even faster way to get what you need with no effort.
Handling Jalapeno Chile Peppers
Jalapenos can vary greatly in their spiciness. When cutting them do not touch your eyes, nose or mouth before washing your hands first.
The seeds create most of the spiciness so removing those before adding the pepper into the soup is key.
What Type of Chicken to Use
Small Whole Fryer Chicken
Originally I would make this recipe with a small whole fryer chicken. It adds more flavor due to the skin and bones.
However it also takes three times longer to fully cook and requires straining out the bones and shredding the chicken.
If you have the time, it's delicious.
Boneless Skinless Chicken Breasts
I began making it with boneless skinless chicken breasts due to often making the soup with little notice and those being on hand.
The soup cooks faster and the chicken only needs to be cubed so it's an easier method overall.
Chicken Stock
I typically use one quart of regular Chicken Stock and one quart of Low Sodium Chicken Stock.
There is some information suggesting the salt in chicken soup is partially what makes people feel better.
I think the balance of the two types of stock taste good.
You can use EITHER regular or low sodium chicken stock.
Apple Cider Vinegar
A touch of apple cider vinegar brightens the flavor of the soup.
Some people believe it has home remedy properties for a cold but those claims have not been medically substantiated.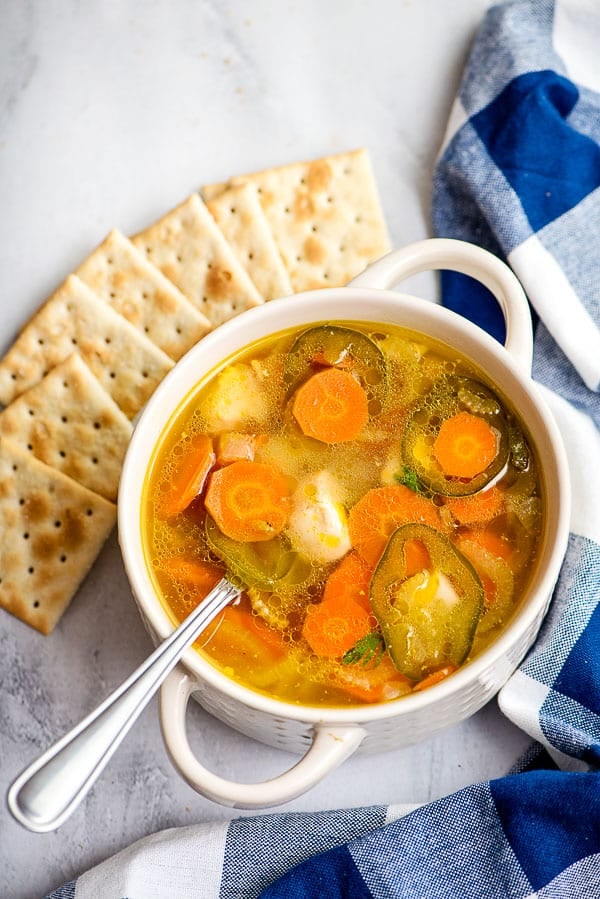 Chef's Notes
Simmering the Soup. If I have the time I let the soup simmer for a number of hours (or prepare it in my Instant Pot). It greatly reduces the broth to a rich taste.
Doing this causes some evaporation so I add 2 additional cups of water toward the end to dilute the broth a bit.
Garlic is great for your immune system and gives the soup great flavor. Though the kitchen will smell of the amount of garlic, in the soup it does not taste strongly of garlic. Feel free to modify the amount of garlic to your own liking.
Chile peppers. I think getting a good sweat on is great for moving a cold along (personal opinion only). I like the heat of the chile pepper in this soup for that very purpose.
Seasoning. The sauteed vegetables are all that is needed to flavor to the soup. I keep other seasoning to a minimum (salt and pepper only) for this soup. I find frankly when getting a cold I cannot taste much anyway. If you are making this homemade chicken soup under more normal circumstances, add whatever seasonings you like in soup (thyme, oregano, bay leaf would all be nice).
How to Make Homemade Chicken Soup – Step-by-Step
STEP 1: Prepare the vegetables by slicing and chopping (photos 1-3). TIME SAVING TIP: all of the vegetables can also be processed together in a food processor.
If using boneless chicken breasts cut them into bite-size cubes (photo 4).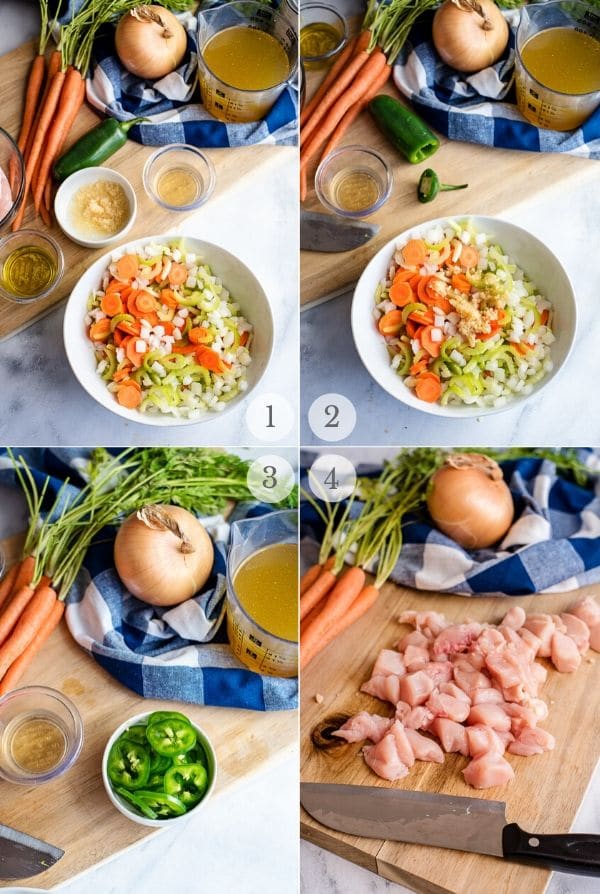 STEP 2: In a stock pot heat the olive oil over medium-high heat (photo 5). Add the vegetables (except the jalapenos) and saute until they begin to soften; 2-3 minutes (photo 6).
STEP 3: Add the jalapeno peppers (photo 7). Saute an additional 1-2 minutes (photo 8).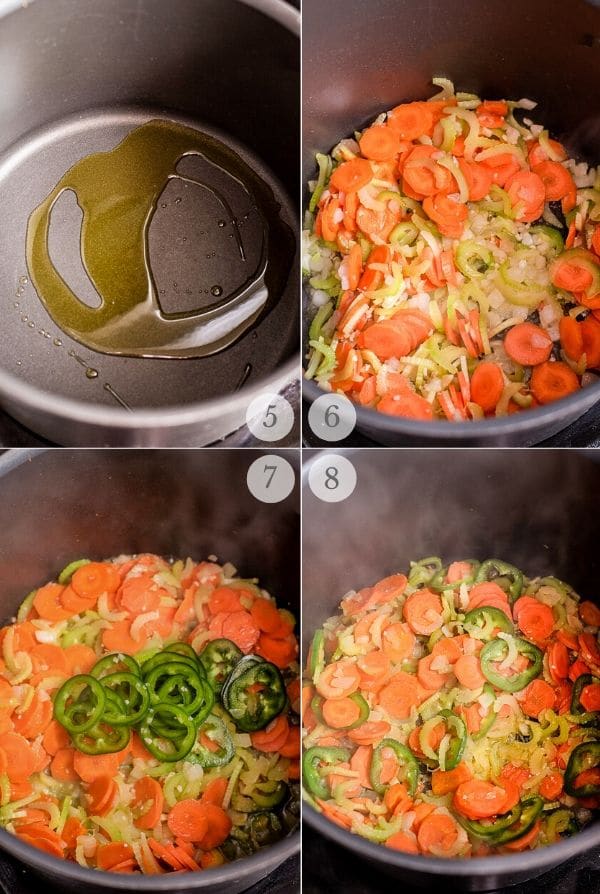 STEP 4: Add the chicken, chicken broth and water (photos 9-11). Bring to a boil then lower heat to simmer. Follow the cooking time in the recipe card below for the type of chicken you are using.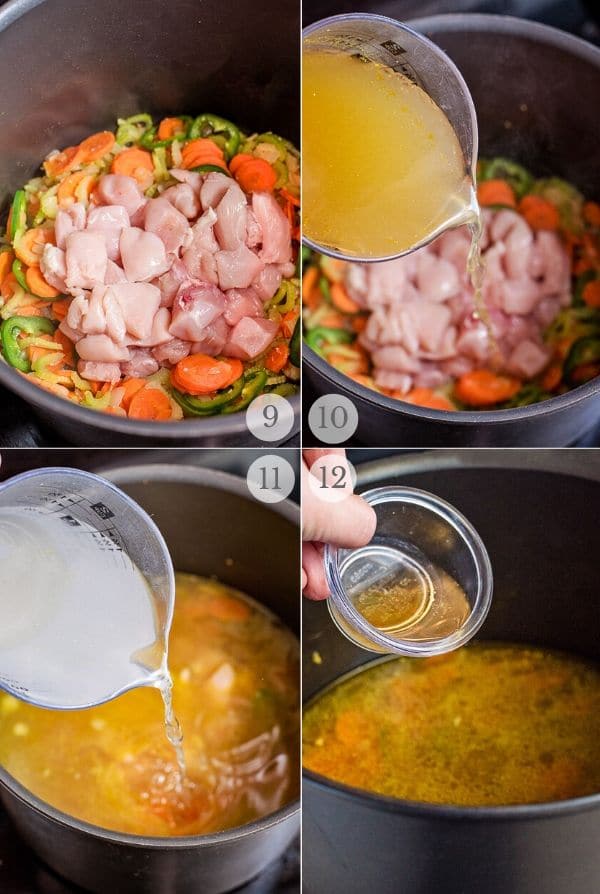 STEP 5: Add the apple cider vinegar a few minutes before cooking is complete (photo 12).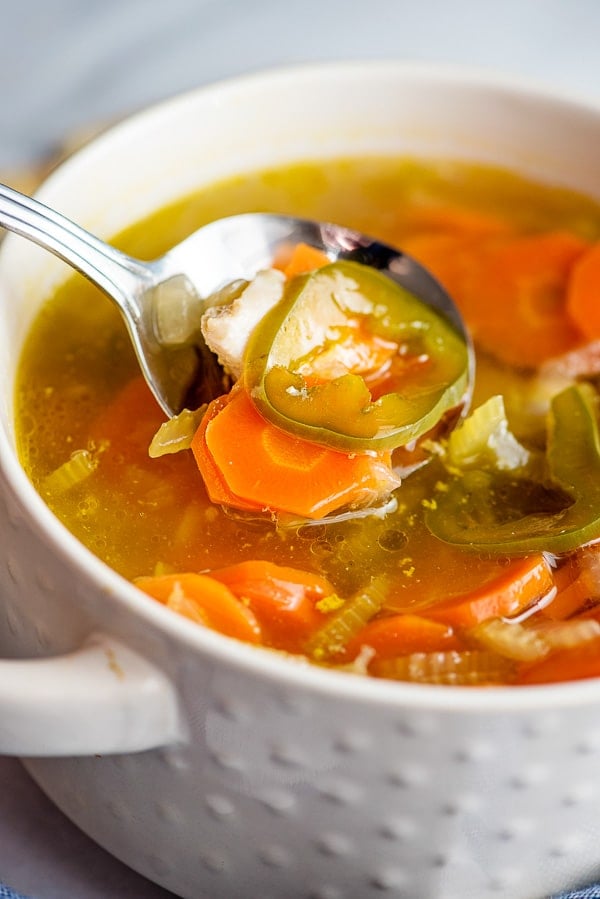 How to Store
In the Refrigerator
Store in a sealed container for up to 3-4 days.
In the Freezer
Allow the soup to cool. Pour into a freezer-safe container leaving 1-inch between the top of the soup and the top of the container.
This allows room for the expansion when freezing.
Store for up to 4 to 6 months.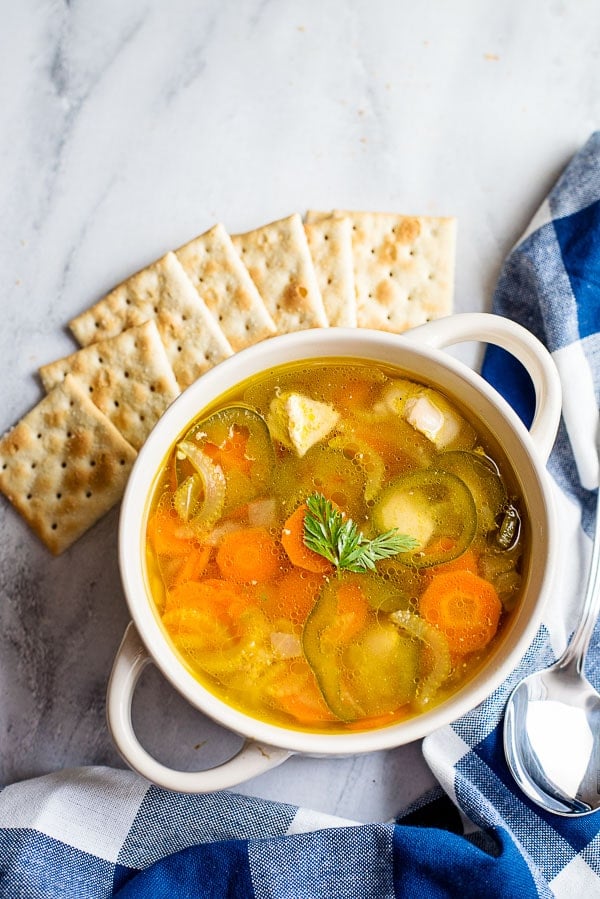 Try these Recipes too!
Did you make it? Please RATE THE RECIPE below!
Please SUBSCRIBE and FOLLOW ME on FACEBOOK , TWITTER , INSTAGRAM and PINTEREST !
Recipe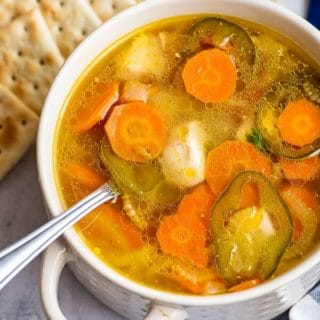 Homemade Chicken Soup
Homemade Chicken Soup is simple to prepare with natural whole ingredients. Great to keep in the freezer for those times you don't feel like making a batch!
Print
Save Recipe
Recipe Saved!
Pin
Rate
Ingredients
3

carrots

4

stalks

celery

5

garlic cloves

½

large

onion

1-2

tablespoons

olive oil

1

Jalapeno pepper

, stem and seeds removed, diced (or sliced if preferred)

1

Small chicken fryer OR 2 large boneless skinless Chicken Breasts

, rinsed and patted dry with paper towels OR 2 large boneless skinless chicken breasts, cubed(this simplifies the recipe to remove the bones from the process and speed things up)

2

1-quart containers

chicken stock

(I use one regular and one low sodium; you can substitute homemade stock as well)

2

cups

water

1-2

tablespoons

apple cider vinegar
Instructions
Combine the carrots, celery (I include some of the celery leaves too), garlic, and onion into a food processor and chop into small bits. NOTE: if you prefer larger pieces of vegetables slice the carrots and celery, dice the garlic and chop the onion.

In a stock pot, warm the olive oil over medium-high heat. Add the vegetables from the food processor and saute 2-3 minutes until they begin to soften.

Add the jalapeno pepper and sauté another 1-2 minutes.

Add the whole chicken OR chicken breasts, the chicken broth and the water. Bring to a boil then lower heat bringing soup to a simmer.

If using a Whole Chicken: After about 90 minutes the chicken will be cooked and falling off the bone. Separate the meat, discard the bones and skin, add meat back to the soup and taste for seasoning.(I recommend taking the whole chicken out of the broth, letting it cool sightly so you can handle it then taking off the meat and hand shredding it)If using boneless Chicken Breasts: simmer for 30 minutes or until chicken is fully cooked.

Add the apple cider vinegar at the end. Great for your health and brightens the flavor of the soup.
Notes
Ingredient Notes
Whole Fryer Chicken:

I use all natural, no antibiotic, no steroid, free range meat but any chicken will do.
Boneless Skinless Chicken Breasts: using them

simplifies the recipe with no need to remove the bones and speed things up.
Simmering Time
To deepen the flavor of the broth, the soup may be left to simmer on low temperature for a number of hours. If doing so check the liquid level and add more water as needed.
How to Store
In the Refrigerator
Store in a sealed container for up to 3-4 days.
In the Freezer
Allow the soup to cool. Pour into a freezer-safe container leaving 1-inch between the top of the soup and the top of the container.
This allows room for the expansion when freezing.
Store for up to 4 to 6 months.
Nutrition
Calories:
28
kcal
|
Carbohydrates:
3
g
|
Protein:
0
g
|
Fat:
1
g
|
Saturated Fat:
0
g
|
Cholesterol:
0
mg
|
Sodium:
28
mg
|
Potassium:
117
mg
|
Fiber:
0
g
|
Sugar:
1
g
|
Vitamin A:
3145
IU
|
Vitamin C:
4.3
mg
|
Calcium:
18
mg
|
Iron:
0.1
mg
Originally published: October 29, 2010