Lasagna can take soooo long to prepare and cook but no more with this Fast and Easy Gluten-Free Meat Lasagna. An easy recipe with some tips to cut down on the prep time making it a great mid-week dinner option.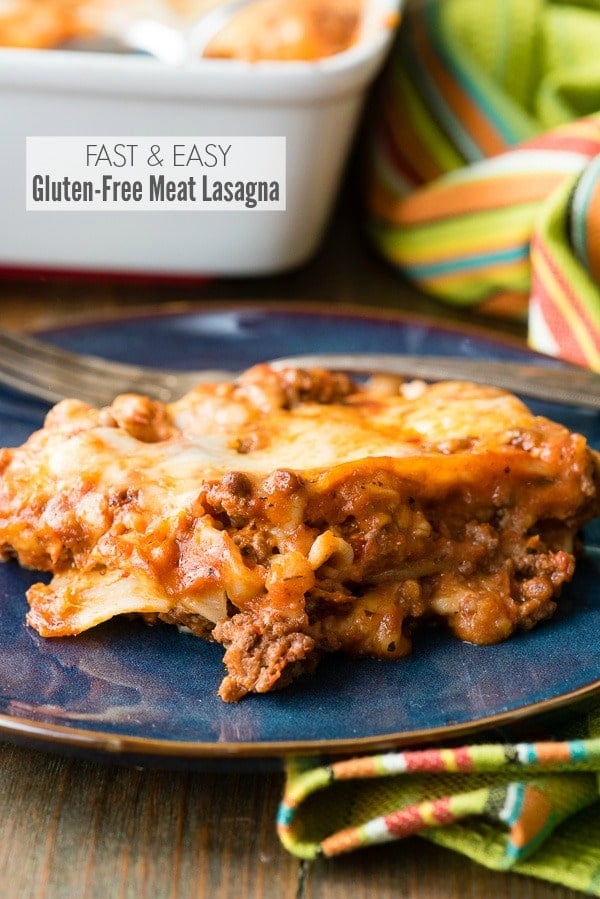 Lasagna has been a favorite comfort food in our house for as long as I can remember. I will confess I really avoided making it however because it took to darn long.
Between building the sauce from scratch, boiling the noodles and the cooking time, it felt more like making a Thanksgiving dinner than something possible for a weeknight.

I have two hungry, busy kids, a hard-working husband and I'm busy too.
My kids love lasagna so much that I became determined to find a way to make it more approachable and easy to make on a regular basis.
I had a few break throughs a few years ago that have made it so simple that I really look forward to making it now.
NOTE FOR GLUTEN-EATERS: the only difference between making this gluten-free or with gluten is the lasagna noodles. If you aren't gluten-free swap the noodles for regular lasagna noodles and make as directed!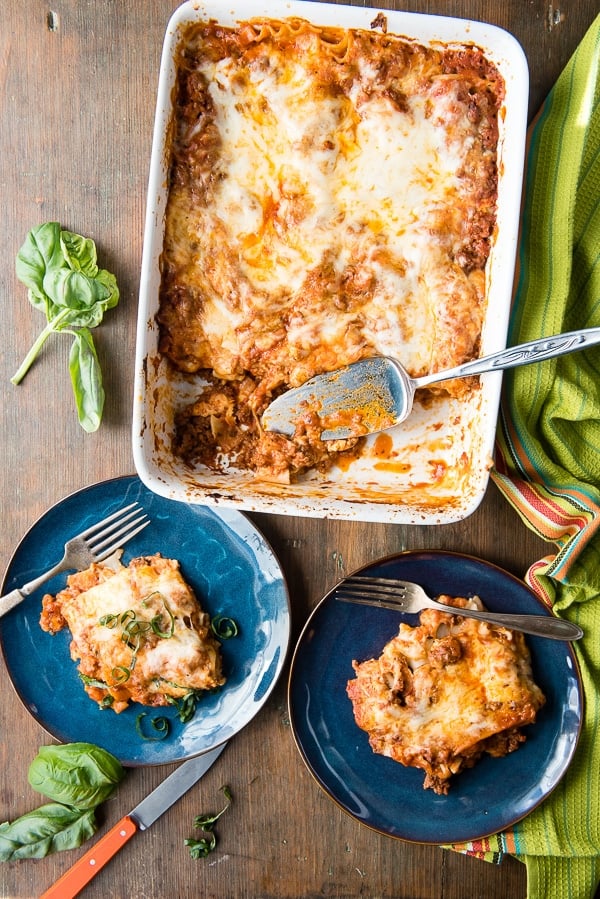 Tip #1: Everything does not need to be from scratch.
There are great prepared sauces that can be used as a base. No matter what your preference, whether it be to use mainstream brands, gourmet options, simple flavors or more seasoned, organic or not, you can find something to fit your preferences.
Also with an eye to making things quick, the sauces are already seasoned so it removes that step of the preparation.
Buy the cheese already grated. That saves time and clean up too.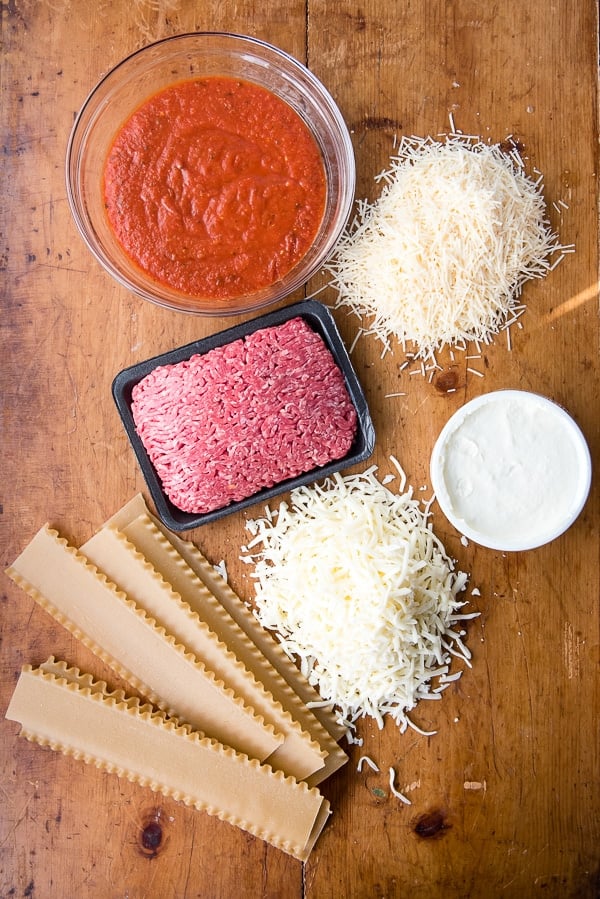 Tip #2: You don't need to boil your noodles.
I don't know about you but either I am the least coordinated person in the kitchen or handling boiled lasagna noodles is like trying to catch an eel barehanded. It's crazy.
Instead of preboiling the noodles, once the lasagna is assembled, pour ¼-1/3 cup (depending on how thick the lasagna is) of boiling water just around the very edge of the lasagna by the baking dish.
I do this with a liquid measuring cup to control the placement.
Seal the lasagna with 2 pieces of heavy foil and it will turn out as beautifully as if you'd pre-boiled the noodles.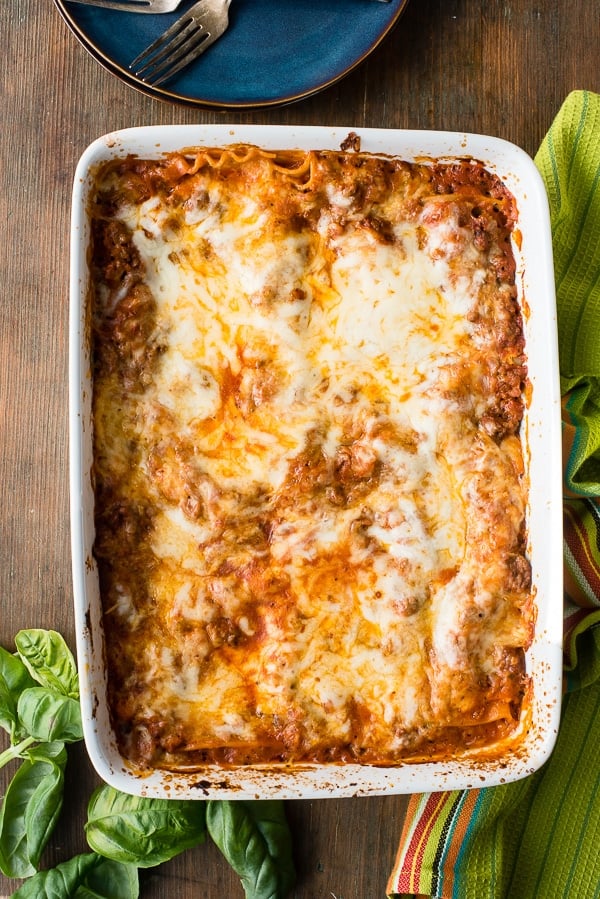 Tip #3: Use this as a base recipe and change it up to fit your mood.
This recipe is comforting and delicious but is also a great jumping off point to mix things up.
Sauté some onion and garlic before adding in the ground beef to bump up the flavor of the sauce.
Add in some Italian herbs (I'm loving the herbs in a tube you can buy in the produce section; perfect for fast cooking and no chopping).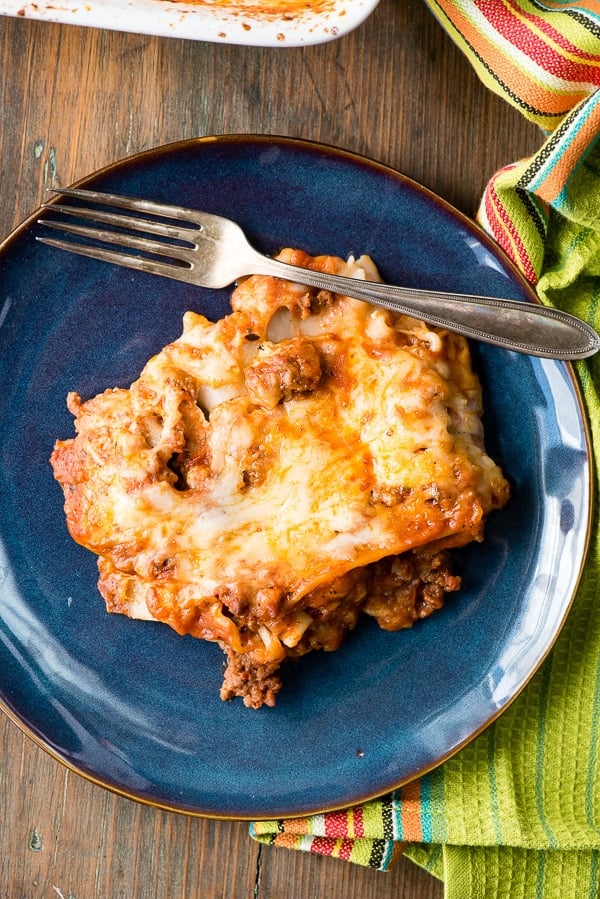 I love to throw in some spinach to get some greens in the lasagna. I'll add a few large handfuls of fresh spinach to the browned ground beef, sauté it down in volume and add the sauce. Or frozen, thawed spinach works too.
We love sausage and there are so many flavor options. I'll buy a package of hot or sweet Italian sausage (pre-cooked), slice it and add it into the ground beef before adding the sauce.
It adds more flavor, texture and volume to the lasagna for only a few minutes more.
You can also replace the 4 cups of cheese with a pre-grated Italian blend available in the dairy department of your grocery store. Are you getting the idea?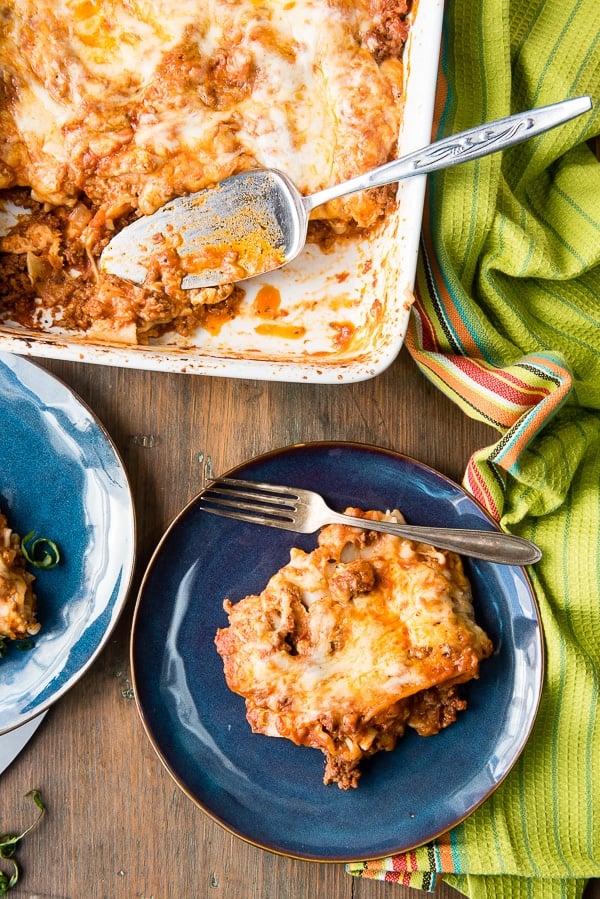 I now can put this lasagna together in 10 minutes. The longest lead-time is the cooking of the beef and sauce. The hardest part for me?
Remembering the order of the layers! This can also be done with regular gluten lasagna noodles too.
This fast and easy Gluten-Free Meat Lasagna recipe employs some simple tips and tricks to make it easy to cook lasagna even when you don't have time to toil over it in the kitchen. Fantastic comfort food as is, or great to build on with different additional ingredients!