Beef Tips with gravy is the best kind of cold weather comfort food. The slow cooked beef is so tender and full of flavor. Served with from-scratch creamy mushroom gravy over rice, mashed potatoes or egg noodles for a soul warming dinner recipe.

This is a family loved meal. Hearty and full of deeply satisfying flavor.
It takes a few hours to simmer but that time is worth the end result of the tender beef.
Not much work is required after the beef tips begin to simmer; just patience!
You'll love this recipe and how it makes your house smell.
What are Beef Tips?
This dish popular in the U.S. Northeast is made from pieces of beef that can be braised or used for a stew.
Several types of beef can be used. Tri tip, boneless short ribs or a sirloin cap are some of the options.
Since this recipe is being braised we chose Chuck Roast. It's a flavorful piece of meat that becomes incredibly tender after cooking for a few hours.
Chuck roast is a more affordable cut of beef especially since it will be slow cooked rather than prepared on its own.
It's a cut of beef found in Beef Stew, Beef Barbacoa and Pot Roast. All dishes in which the beef becomes tender with longer cooking.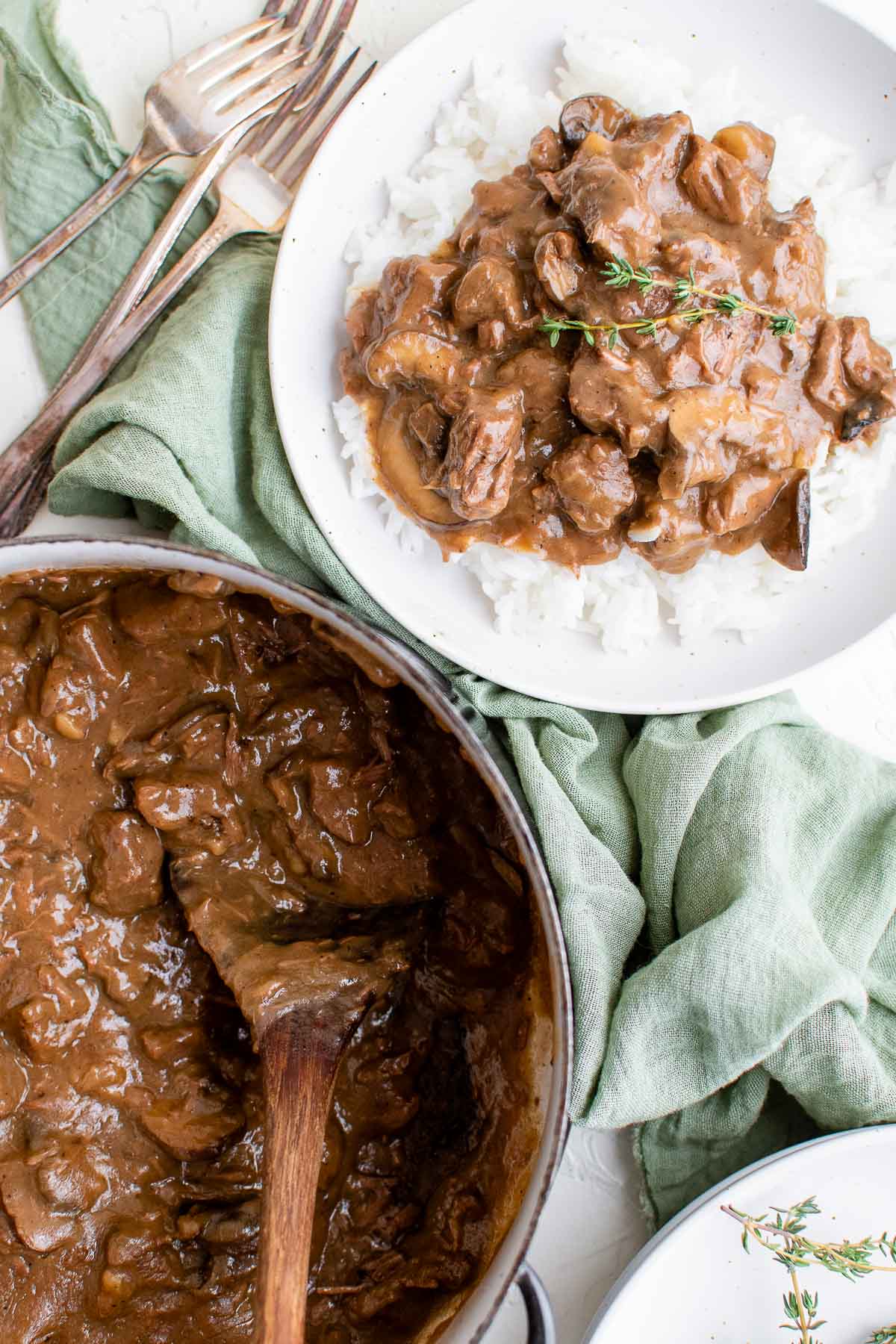 Recipe Ingredients + Notes
Chuck Roast. This cut is rich with beefy flavor especially is it's slow cooked or braised. It will have marbling (fat veins) which give more flavor.
Large pieces of exterior fat can be removed before cooking.
It will be cut into bite size cubes or purchase it from the butcher already cubed. Be sure to get chuck roast not stew meat (unless the stew meat IS chuck).
Olive oil. Used to brown the beef.
White Onion. Chopped and cooked with the beef after it browns.
Garlic paste. Either garlic paste or finely minced garlic can be used. We recommend this over garlic powder for best flavor.
Seasonings. Bay leaves, black pepper, Worcestershire sauce, salt.
Beef Stock. Stock or beef broth can be used. Choose low sodium.
Baby Portabella Mushrooms. Portabella mushrooms have a beefy meaty flavor. They are very large however so we use baby portabellas sold in stores as 'baby bella mushrooms'.
Cornstarch. Used to thicken the sauce into a gravy at the end of cooking. This recipe does not use a gravy mix packet.
Are Stew Meat and Chuck Roast the same?
It CAN be but isn't necessarily. Stew meat can be from a number of cuts of beef OR a mix.
Chuck Roast is a specific cut of beef from the shoulder area of the cow.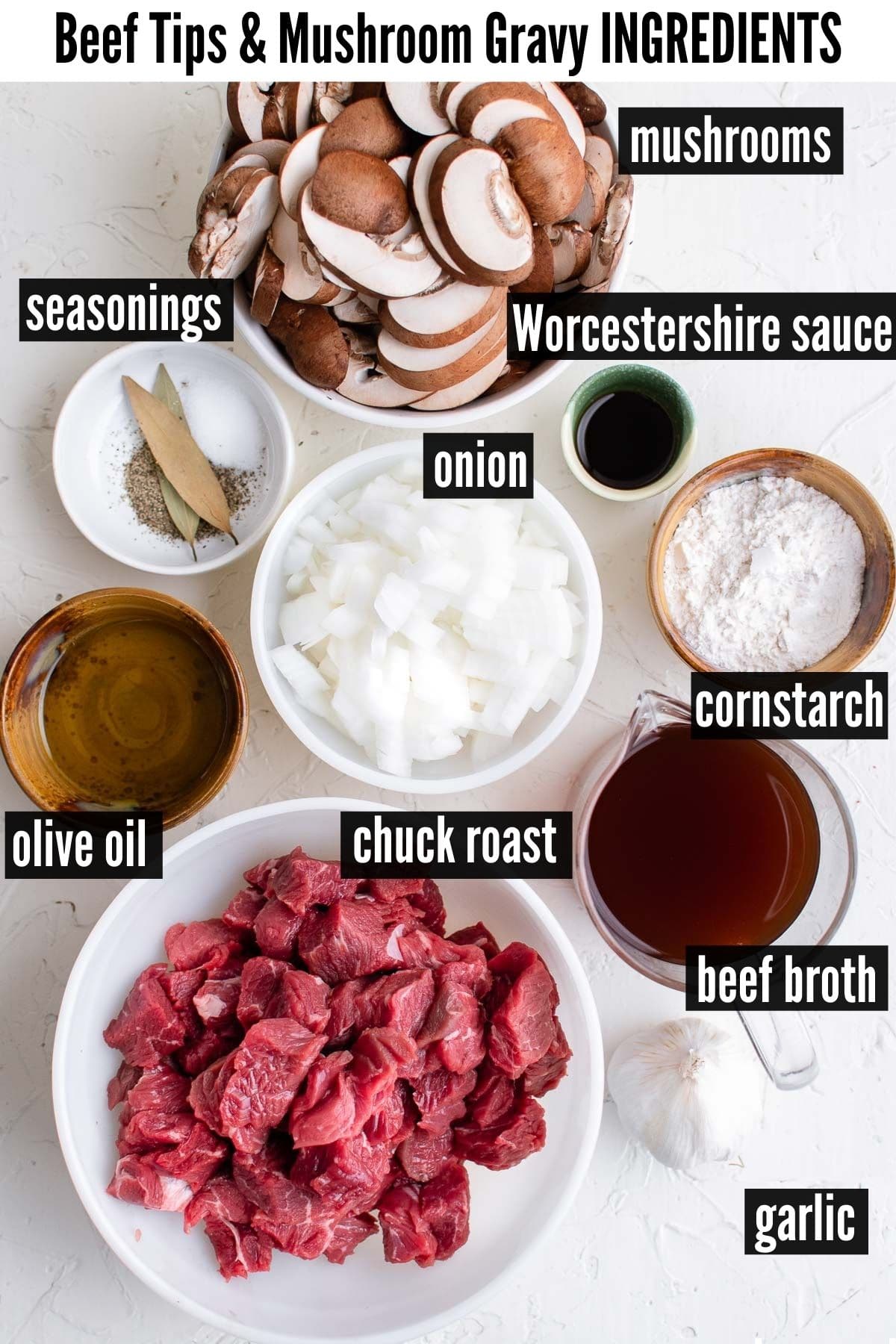 Variations
Substitute 1/2 cup of dry red wine for 1/2 of the beef stock. If you like the flavors of Beef Bourguinon adding some red wine will elevate the flavors to be similar.
How to Make it – Step-by-Step
STEP 1. Brown the Beef and Onions.
Heat the olive oil in a medium Dutch oven or stock pot over medium high heat.
Add the beef and brown on all sides (photo 1). Add the onions (photo 2) and cook until they begin to soften; 2-4 minutes.
Browning the meat seals in the moisture and gives it great flavor!
STEP 2. Add the rest of the ingredients.
Add the bay leaves, garlic, black pepper, Worcestershire sauce and salt (photo 3). Stir and cook until garlic becomes fragrant (a few minutes).
Add 1 1/2 cups of the beef stock and the mushrooms (photos 4 and 5).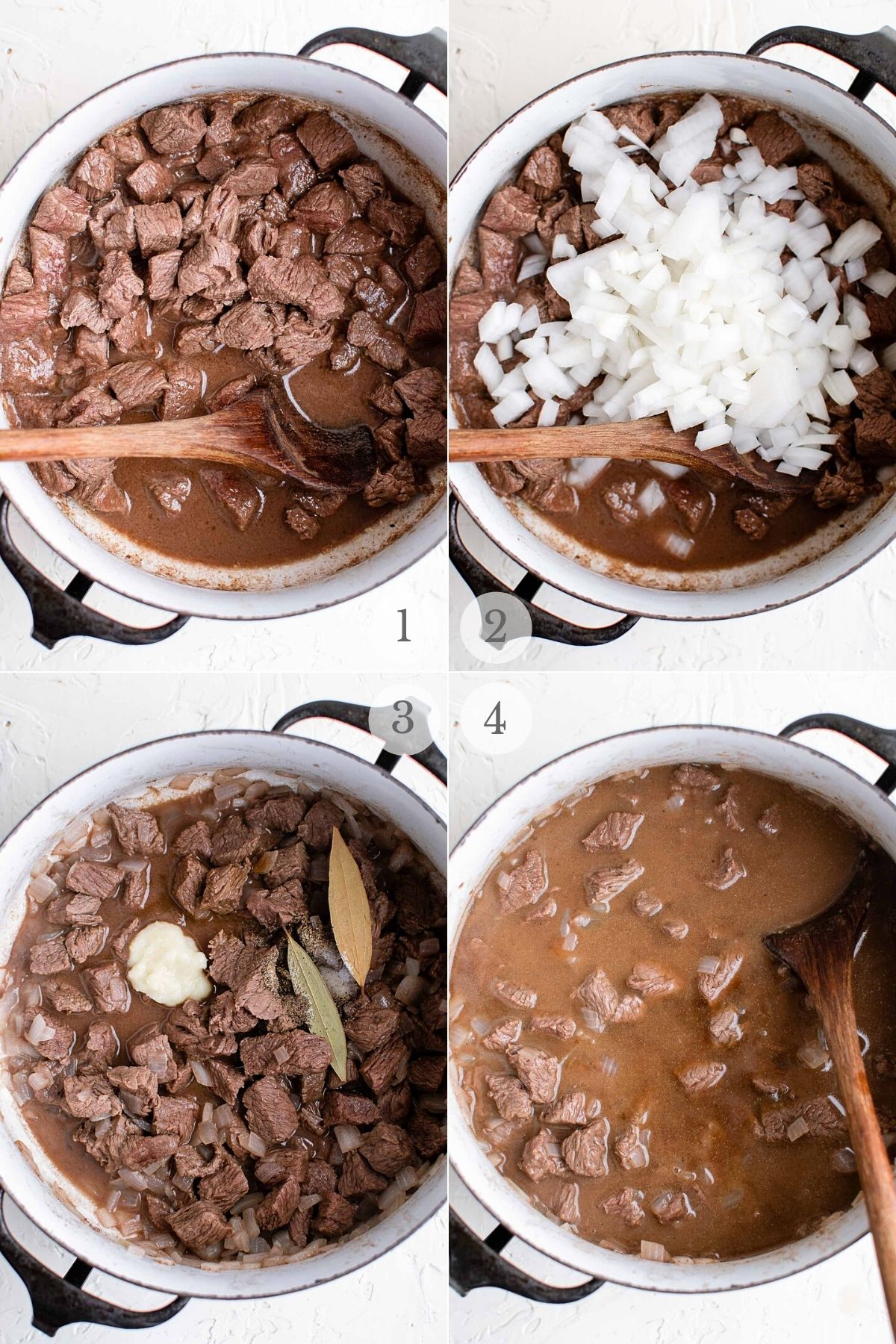 STEP 3. Cook the Beef Tips.
Bring to a boil over high heat, reduce heat to medium-low, cover and simmer for 1 1/2 to 2 hours until the beef is very tender (photo 6).
STEP 4. Make the gravy.
Mix the remaining 1/2 cup of beef stock with the cornstarch and pour over the beef (photo 7).
Stir in and allow to simmer uncovered while the gravy thickens (aproximately 5-10 minutes). Stir often. (photo 8).
Remove from heat and allow to sit for a few minutes before serving (the gravy will continue to thicken as it cools).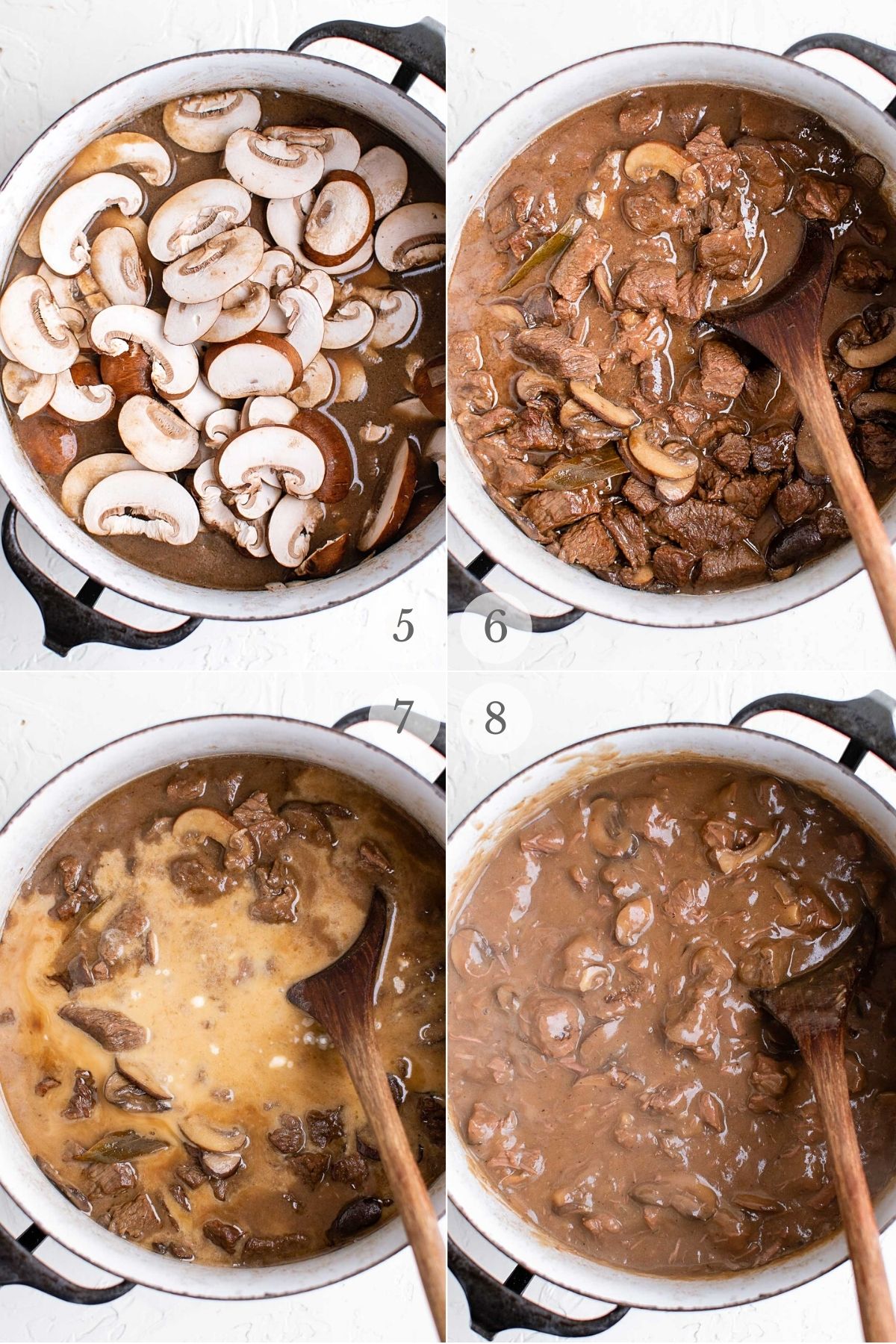 Recipe FAQ's + Pro Tips
How to Save some time!
Purchase the chuck roast cubed from the grocery store.
Use garlic paste (no preparation needed from you).
Buy already sliced Baby Bella mushrooms. Buy an 8-ounce container available at the grocery store which is exactly the amount you need!
How to clean mushrooms. Do not wash or rinse mushrooms! It will make them soggy. Instead use a dampened paper towel to gently brush the top of the mushroom removing any dirt.
A mushroom brush can also be used. NOTE: a mushroom brush is a specific type of brush with very soft bristles so it will remove particle but not damage the soft mushroom. Do not use a regular vegetable brush which has stiffer bristles.
Storing Leftovers
Store any leftover beef tips and gravy in an airtight container in the refrigerator for up to 4 days.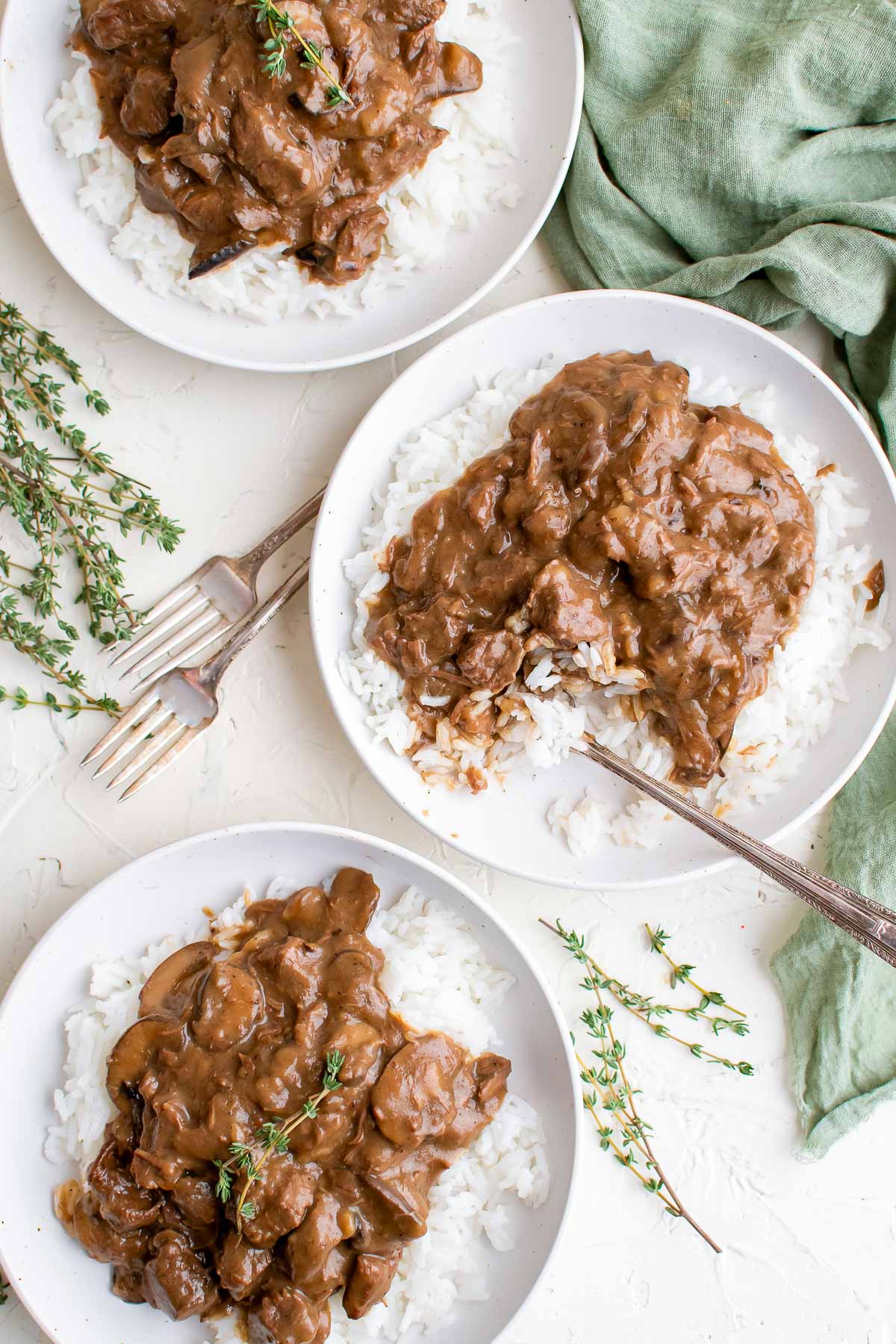 More Recipes You'll Love!
Did you make it? Please RATE THE RECIPE below!
Please SUBSCRIBE and FOLLOW ME on FACEBOOK , TWITTER , INSTAGRAM and PINTEREST !
Recipe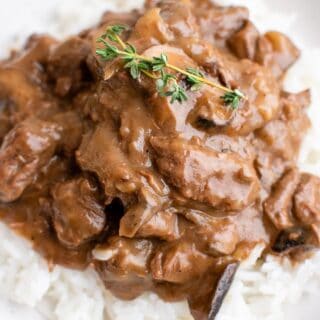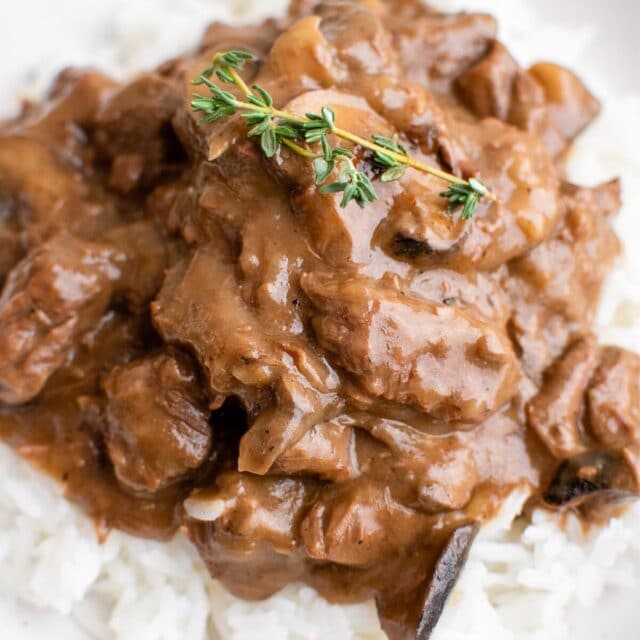 Ingredients
2

tablespoons

olive oil

2

pounds

chuck roast

cut into bite size pieces

1

white onion

chopped

2

teaspoons

garlic paste or finely minced garlic

2

bay leaves

1

teaspoon

black pepper

1

teaspoon

Worcestershire sauce

½

teaspoon

salt

2

cups

low sodium beef broth

8

ounces

sliced baby portabella mushrooms

3

tablespoons

cornstarch

Optional: white rice for serving and fresh thyme for garnishing
Instructions
Heat the olive oil over medium heat in a medium size Dutch oven or stock pot. Add the beef. Brown the beef on all sides.

Add the onion and cook for 2-4 minutes, or until the onions becomes soft.

Add the garlic, bay leaves, black pepper, Worcestershire sauce and salt and stir and cook until the garlic becomes fragrant (a few minutes).

Pour in 1 ½ cups of the beef stock and mushrooms. Stir to combine.

Bring the mixture to a boil over high heat. Reduce the heat to medium-low, cover and let it simmer for 1 ½-2 hours, stirring occasionally, until the beef is very tender.

Whisk the remaining ½ cup beef stock and cornstarch together. Pour it over the beef. Stir to mix in.

Cook uncovered over low heat, stirring often until the gravy has thickened approximately 5 minutes.

Remove the pan from the heat and let it cool for 5 minutes to thicken more before serving over white rice, mashed potatoes or egg noodles. Garnish with fresh thyme.
Notes
Storage options:
- Store in an airtight container for up to 5 days in the fridge.
Short cuts: purchased beef already cubed. Purchase sliced baby bella mushrooms.
Nutrition
Calories:
530
kcal
|
Carbohydrates:
12
g
|
Protein:
47
g
|
Fat:
33
g
|
Saturated Fat:
12
g
|
Cholesterol:
156
mg
|
Sodium:
717
mg
|
Potassium:
1262
mg
|
Fiber:
1
g
|
Sugar:
3
g
|
Vitamin A:
29
IU
|
Vitamin C:
3
mg
|
Calcium:
49
mg
|
Iron:
5
mg