Christmas Breakfast Christmas Breakfast Enchilada Casserole is an irresistible cheesy easy breakfast casserole perfect for any meal! Packed with mouthwatering ingredients bringing flavors of the Southwest to the breakfast table.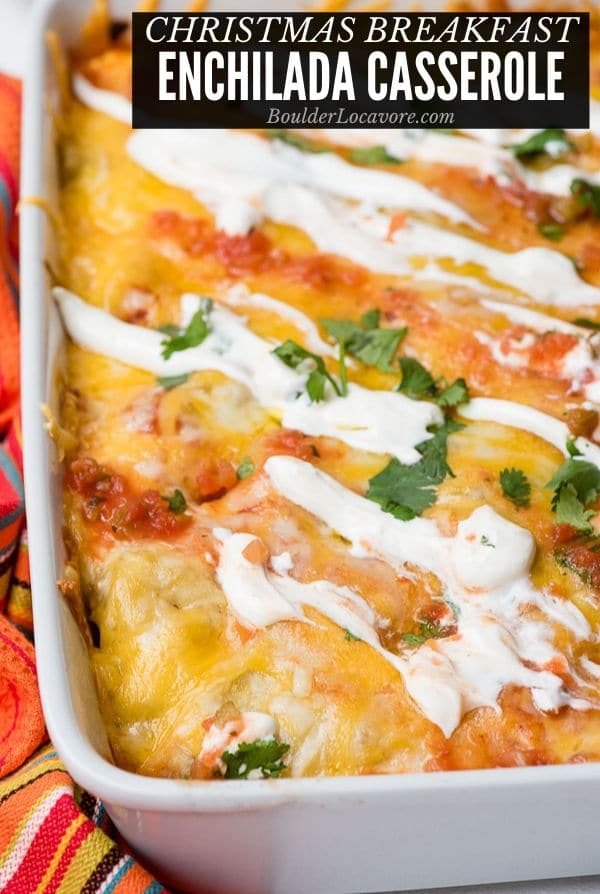 This is that one recipe you'll never get enough of. Friends and family will beg you to make it.
It's a perfect easy way to feed a crowd.
It will become a Christmas morning tradition and something you'll want for every meal of the day.
Christmas Breakfast Enchilada Casserole is full of everything you love about breakfast and Mexican food.
All rolled into an easy breakfast casserole recipe!
Loved this reader comment: "It was a big hit on Christmas morning. Everyone from 8-80 loved it."
If you love enchiladas this breakfast recipe is for you!
This Christmas Breakfast casserole is perfect for the holiday morning.
Especially with tips on how to make it ahead of time!
But the true meaning of 'Christmas' in the name is a reference to a style of serving chile in New Mexico.
If you ever eat in Santa Fe restaurants, you'll love having this insider tip!
An Easy Breakfast Casserole Recipe
Ordering chile, green or red chile, in New Mexico is serious business.
If you are local you most likely will order 'Christmas-style'. This means you want both red AND green chile (it's totally the way to go).
This Christmas Breakfast Enchilada Casserole is the best of southwestern flavors delivered in a piping hot easy breakfast casserole recipe. It's perfect for ANY day of the year.
It's not just for breakfast either, friends. My family enjoys it for every meal of the day whenever I make it!
This easy breakfast casserole would be perfect for Christmas morning or any other holiday for that matter.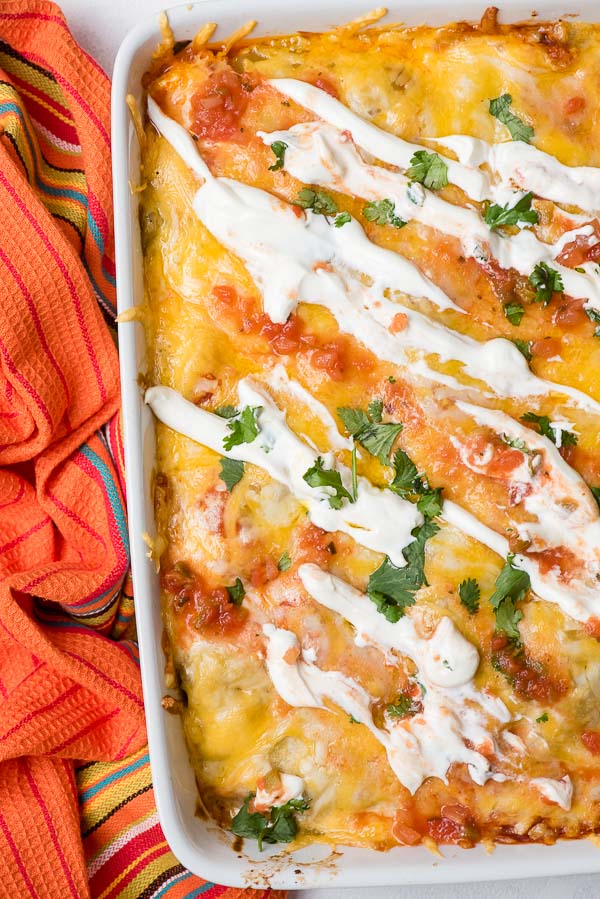 Easy Breakfast Casserole Ingredients
Bulk (loose) Breakfast Sausage
Onion
Red or Green Bell Pepper
canned Green Chilies
Eggs
Unsalted Butter
Kosher Salt
Black Pepper
Granulated Garlic or Garlic Powder
Red or Green Enchilada Sauce (or some of each for Christmas-style)
Flour or Corn tortillas
Shredded Cheddar cheese, Monterey Jack or Pepper Jack cheese
Make It Gluten-Free
To make this breakfast enchiladas casserole recipe:
Use corn tortillas. Verify they are gluten-free! Gluten-free flour tortillas also can be used.
Use gluten-free enchilada sauce. Not all enchilada sauce is gluten-free so always read the ingredients on the container.
Christmas Breakfast Casserole Preparation SHORT CUTS!
Use a mini chopper for the onion and bell pepper.
Shred cheese with a food processor using the grating disk OR even faster, purchase pre-shredded Mexican cheese blend!
How to Make Christmas Breakfast Enchilada Casserole – Step by Step:
Don't let the length of the recipe scare you.
It's a very easy breakfast casserole with basically four steps:
cooking the breakfast sausage mixture
cooking the eggs
layering the casserole
baking it!
Because this is a deconstructed enchilada there is no fussing with the seam side!
For a detailed printable recipe refer to the recipe card at the end of the blog post.
STEP 1: Preheat the oven to 350 degrees.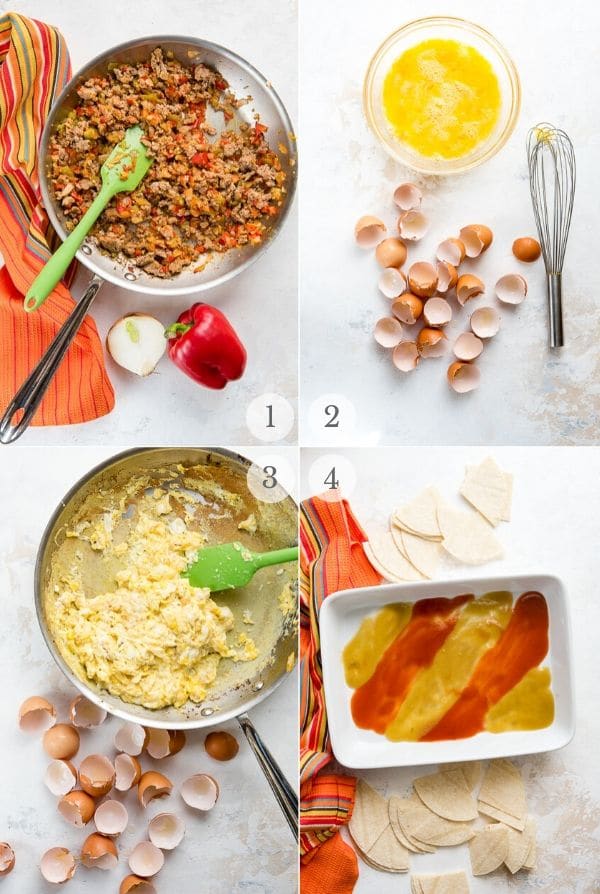 STEP 2: In a large skillet brown the sausage.
STEP 3: Add the onions and peppers. Cook until soft (5 minutes). Add the green chilies and stir (photo 1). Remove the mixture from the skillet and set aside.
STEP 4: Lightly beat the eggs (photo 2). Cook the eggs in the skillet until soft curds have formed (photo 3).
STEP 5: Add the sausage mixture into the skillet with the scrambled eggs. Mix together.
STEP 6: Pour 1/2 cup of red OR green enchilada sauce in the bottom of a 9-inch by 13-inch baking dish.
How to Make it 'Christmas-Style'
Make this easy breakfast casserole 'Christmas-style'! Make half the pan with red sauce and the other half with green sauce.
The recipe calls for a layer of sauce on the bottom of the baking dish.
A second layer of sauce is added on top of the layered casserole.
Make one layer red enchilada sauce and the other green enchilada sauce. Then every portion will be Christmas-style!
Or stripe it as I did in the photo 4.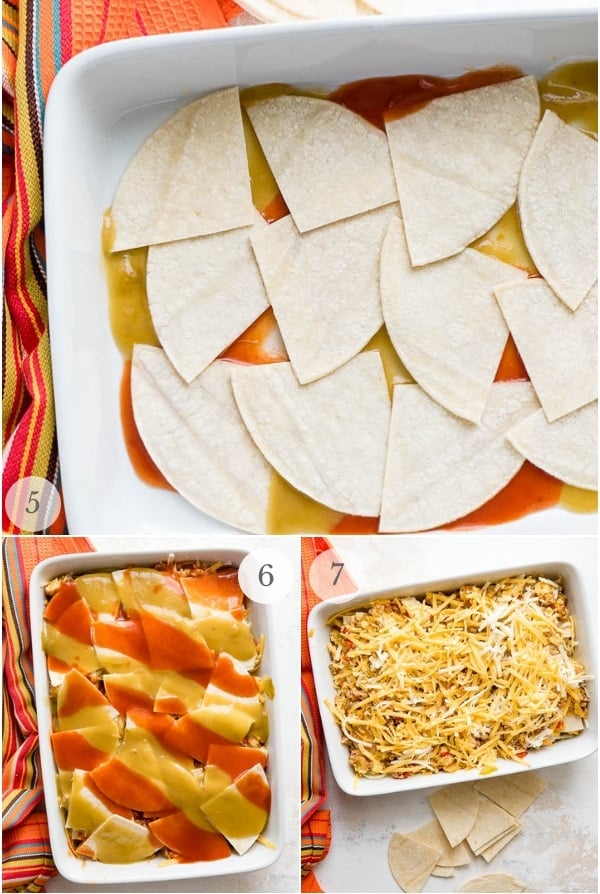 STEP 7: Arrange 1/3 of the quartered tortillas on top of the sauce (photo 5). Top with 1/2 the sausage-egg mixture and 1 1/2 cups of grated cheese.
STEP 8: Repeat Step 7.
STEP 9: Layer the remaining 1/3 of the quartered tortillas on the top of the casserole. Top with the remaining red OR green enchilada sauce (photo 6).
STEP 10: Sprinkle on the remaining cheese (photo 7). Bake for 20-22 minutes until the cheese has melted and browned slightly.
Sprinkle with chopped fresh cilantro, sliced green onions, sour cream and hot sauce, if desired.
Serve some hash browns on the side!
Christmas Breakfast Casserole Make Ahead Instructions
MAKING AHEAD WITHOUT COOKING
The casserole can be prepared the night before without baking and then popped in the oven in the morning.
When baking cold from the refrigerator, plan an additional 10 to 15 minutes cooking time.
PRE-BAKING & REHEATING THE COOKED CASSEROLE
Prepare and cook the casserole.
Store in an airtight container in the refrigerator for up to 3 days.
Reheat in the microwave or covered in the oven.
This casserole can be stored in one large container or portioned into individual servings for storage and reheating.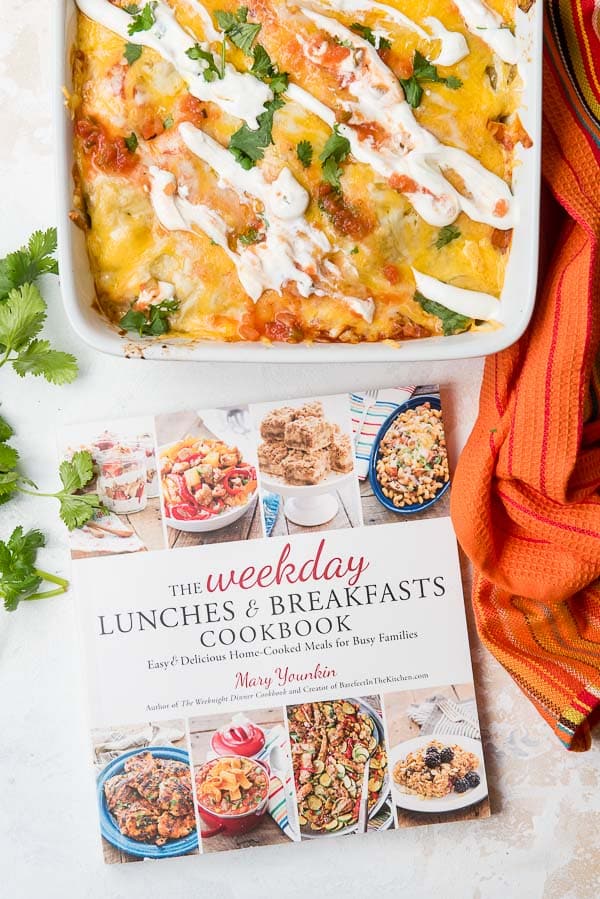 The Weekday Lunches & Breakfasts Cookbook by Mary Younkin will spark your meals.
With mouthwatering recipes to get you out of any lapse of creative meal inspiration.
All the recipes in the cookbook have something in common; they are approachable, flavor-packed and easy to make.
Regardless of where your tastes lie, I'm sure you will find some new favorites.
Another theme running through the recipes for lunch and breakfast are the flavors of the Southwes. This, a nod to Mary's New Mexican background.
"This cookbook is filled with recipes that can be made in very little time. Or ahead of time for quick meals whenever you need them." – Mary Younkin
The cookbook has everything from Nacho Taco Salad to Green Chile Pork Street Tacos. And the delicious recipe I'm sharing today: Christmas Breakfast Enchilada Casserole.
After one bite of this Christmas Breakfast Casserole you'll want to make the rest of the recipes in this cookbook!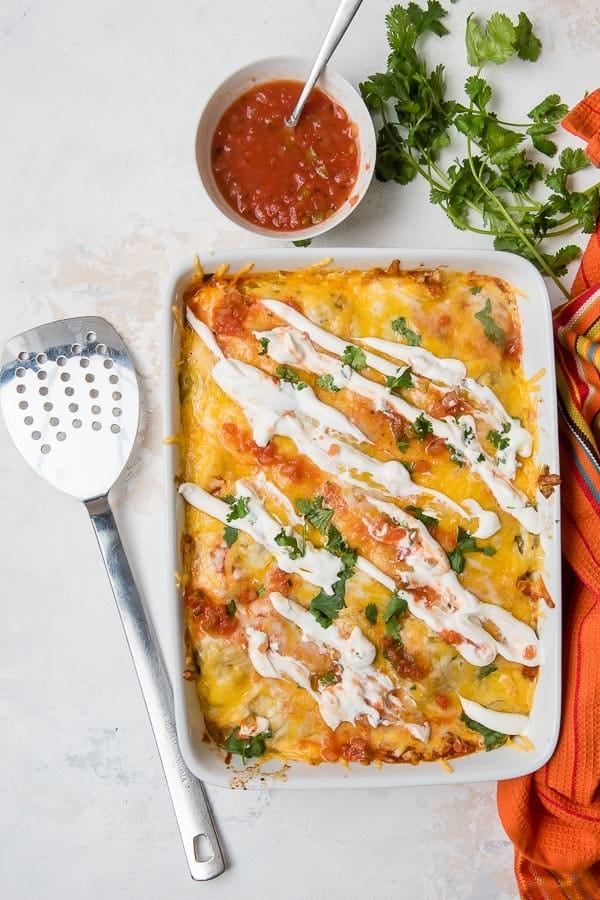 More Recipes You'll Love
Did you make it? Please RATE THE RECIPE below!
Please SUBSCRIBE and FOLLOW ME on FACEBOOK , TWITTER , INSTAGRAM and PINTEREST!
Originally published: April 8, 2018
Disclosure: I was provided a copy of The Weekday Lunches & Breakfasts Cookbook for the purposes of this review. All opinions are my own.
Whether for Christmas Breakfast or a special breakfast enchiladas, this breakfast casserole is always a family favorite!