Fun, green Fast Easy Popcorn Balls with gummy worms celebrate Halloween with a soft, chewy consistency. This is the last popcorn ball recipe you'll ever need, trust me!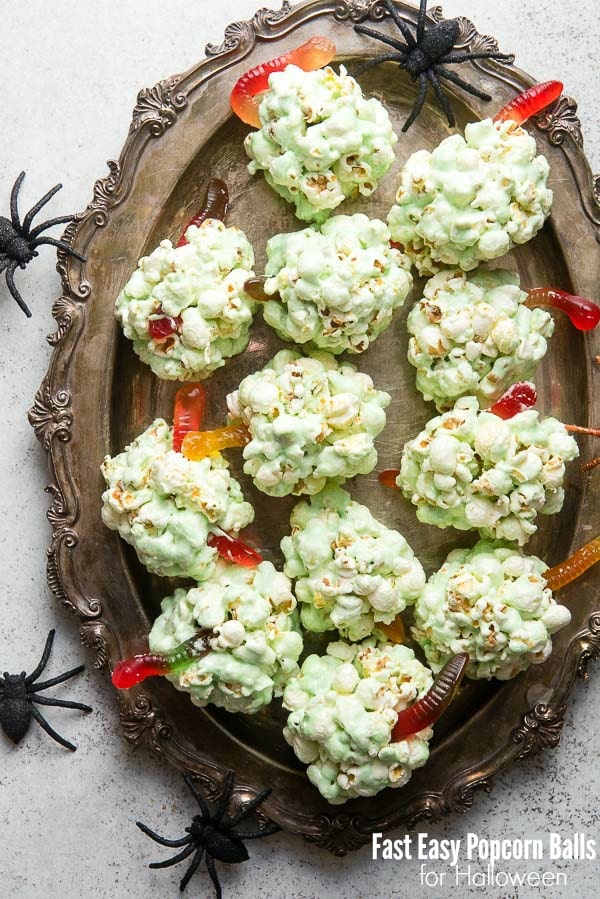 With Friday the 13th this week and Halloween in a few weeks, it's time to whip up more Halloween treats. I'm excited about today's Fast Easy Popcorn Balls for Halloween. These are the easiest popcorn balls you'll ever make. They are fast and simple. No boiling sugar, no candy thermometer needed. I also have a trick to make rolling them less sticky.
If you follow my Instagram Stories or read the Colorado Bulldog cocktail post last week you know I have a 9-week-old English Bulldog puppy. It has been over ten years since there has been a puppy in the house and it's like having a newborn human baby. As I am feverishly typing this up she's finally passed out for a nap. All that to say fast, guaranteed-first-time recipes are what is happening in my kitchen right now. Fast Easy Popcorn Balls are definitely that.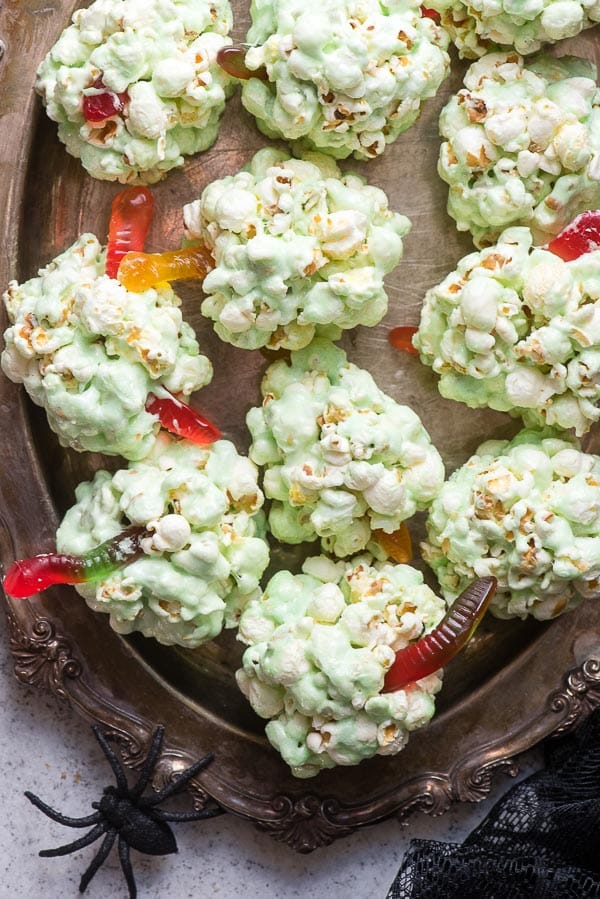 These fast easy popcorn balls for Halloween were inspired by a song that haunts me from my Halloween youth; the Hearse song. You probably don't know it from the title but you would from the lyrics: 'the worms crawl in, the worms crawl out'….and that's all I'll share because it's too gruesome. It has a catchy rhythm which sadly stays with little minds on scary Hallow's Eve.
With the inspiration in mind these fast easy popcorn balls are green, like rotting things. The gummy worm is rolled up in the ball to have part of it sticking out. They are a perfect pair really as they are both soft and chewy.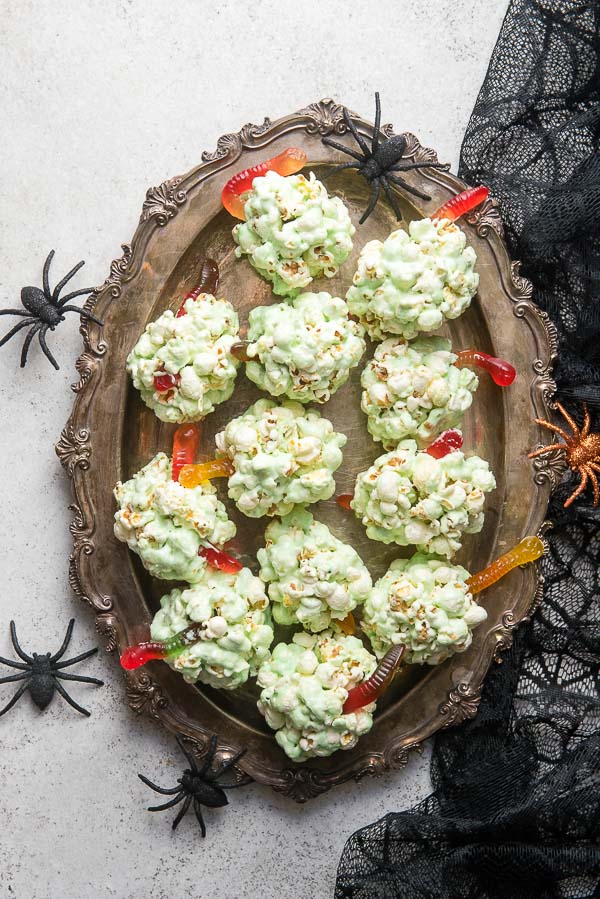 This recipe has five ingredients. Mini marshmallows and butter are microwaved together and jello is stirred in to give the color and flavor. That is folded into freshly popped popcorn and then popcorn balls are rolled with a gummy worm. That's it! They soft and chewy like a rice crispy treat. Any color/flavor jello may be used.
When making these I was once again reminded how much I love my stovetop popcorn maker. It's a very simple, inexpensive device called a Whirly Pop that has an ingenious arm that sweeps the bottom of the pan when cooking. All the popcorn pops (no 'old maids') and the popcorn is big and fluffy. As I was making the popcorn for fast easy popcorn balls I thought it reminded me of making Jiffy Pop popcorn as a kid….but of course this popper is reusable.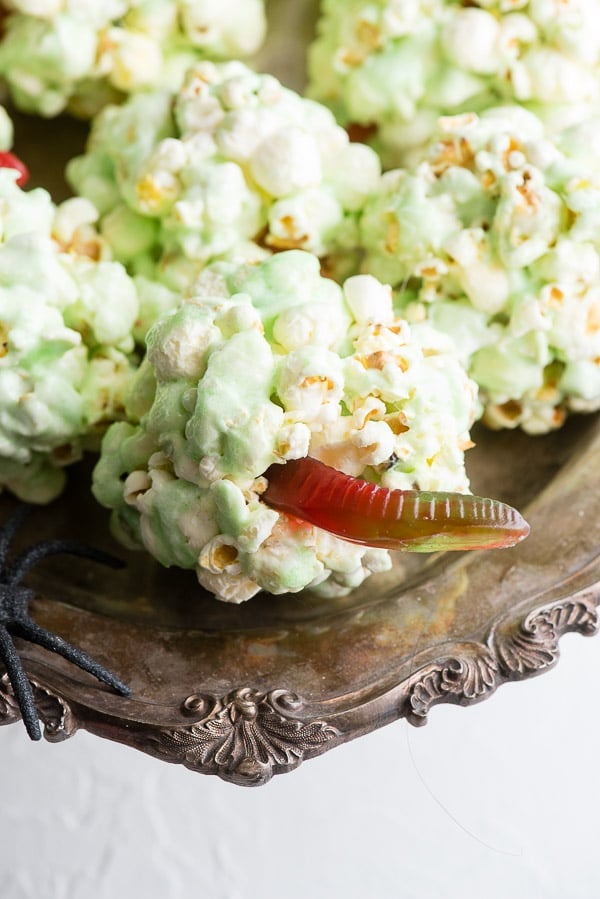 Secret Tip for Making Popcorn Balls:
Probably the most challenging part of making popcorn balls is rolling them and not having the mixture stick to your hands. My secret? I spray my hands with non-stick cooking spray; usually a few times while rolling. Oil or butter would do the trick too but I find the spray easier to manage when in the middle of the task for a refresh.
How to make Fast Easy Popcorn Balls: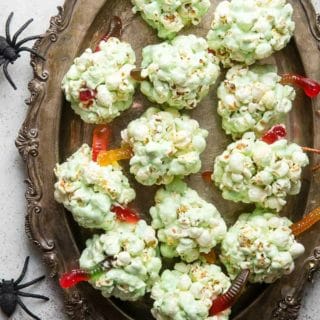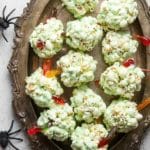 Fast Easy Popcorn Balls for Halloween
These fast easy popcorn balls are the most simple recipe you'll ever need. Being marshmallow-based they do not require heating sugar or using a candy thermometer. They are soft and chewy. Colored and flavored with jello mix with a gummy worm rolled in makes they a great addition to Halloween treats.
Ingredients
12

cups

prepared Popcorn

4

tablespoons

(1/2 stick) Unsalted Butter

1

10-ounce package

Mini Marshmallows

1

3-ounce package

Green Jello

(not prepared)

15

Gummy Worms
Instructions
Line a large baking sheet (or two) with wax or parchment paper. Put the prepared popcorn in a very large mixing bowl.

Place the butter and mini marshmallows in a large non-metal bowl and microwave on high until the marshmallows are puffy (1 ½-2 minutes). Spray a silicon spoon or spatula with non-stick spray and stir the jello mix in to fully combine.

Spoon the marshmallow mixture into the popcorn and stir to fully coat the popcorn. Spray hands with non-stick cooking spray and roll the popcorn mixture into balls approximately 3-inches in diameter. Roll a gummy worm into each ball so it sticks out.

Place the balls on the prepared pan(s) to set. Once fully set wrap with plastic wrap and store at room temperature. NOTE: if the balls begin to separate before setting due to the position of the gummy worm, squeeze the ball together and allow to set.
Recipe Notes
Adapted from Allrecipes.com.
Nutrition Facts
Fast Easy Popcorn Balls for Halloween
Amount Per Serving
Calories 64
Calories from Fat 27
% Daily Value*
Fat 3g5%
Cholesterol 8mg3%
Sodium 1mg0%
Potassium 28mg1%
Carbohydrates 7g2%
Protein 1g2%
Vitamin A 110IU2%
Calcium 1mg0%
Iron 0.3mg2%
* Percent Daily Values are based on a 2000 calorie diet.