Popcorn Balls that are green, soft, chewy with worms crawling out. Perfect for Halloween AND so easy you'll make it your ONLY Popcorn Ball recipe anytime of the year.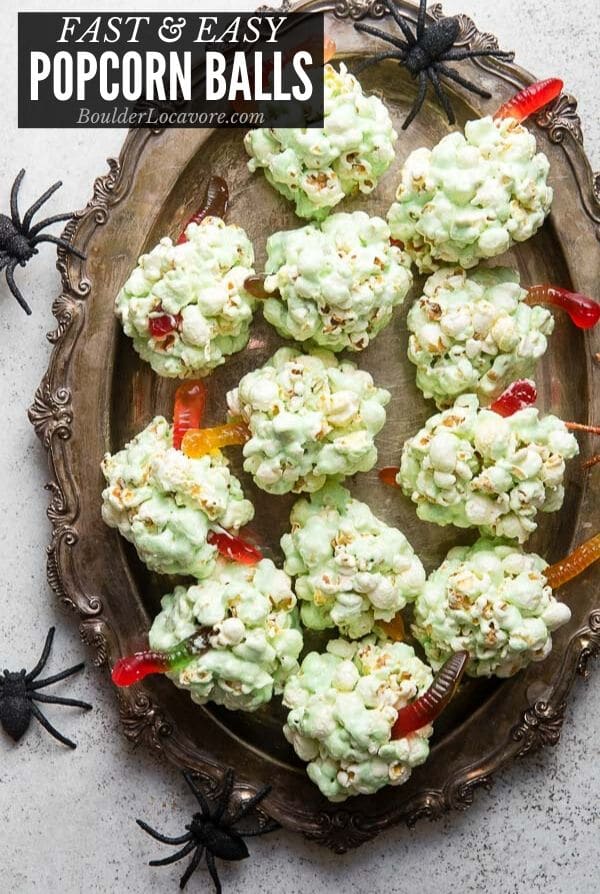 Ever wish you could make a treat that knocks it out of the park but feel you don't have enough time?
Can't imagine a recipe that thrills with a unique twist that you don't have to slave over?
Popcorn Balls are one of those magical foods that everyone at any age loves! They are a perfect surprise for a party or holiday treat.
This popcorn ball recipe has only 5 ingredients and doesn't use a candy thermometer.
It's the easiest popcorn ball recipe ever! Pair them with these EASY Mummy Halloween Cookies!
We've dressed this version up for Halloween but the recipe is so soft, delicious and easy you'll want to make them all year long.
What is a Popcorn Ball?
In case you've missed enjoying a popcorn ball until now it is a fist-size mixture of popcorn and sweet ingredients that forms a ball.
It sticks together for a chewy treat sensation.
The BEST Popcorn Ball Recipe
I truly believe this is the best popcorn ball recipe. Why?
It's Easy
Normally popcorn balls are made with melted sugar and careful monitoring of the temperature.
We don't have time for all that so have made the recipe much easier!
Soft and Chewy
Unlike some, this popcorn ball recipe does not get hard. Because it uses melted marshmallows they stay soft and chewy.
No Stove Top Cooking
This recipe uses the microwave only.
No slaving over a saucepan worried about getting the temperature just right.
It's Fast
It takes 2 minutes for melting butter and marshmallows only.
Making the balls is fast too especially with a special trick!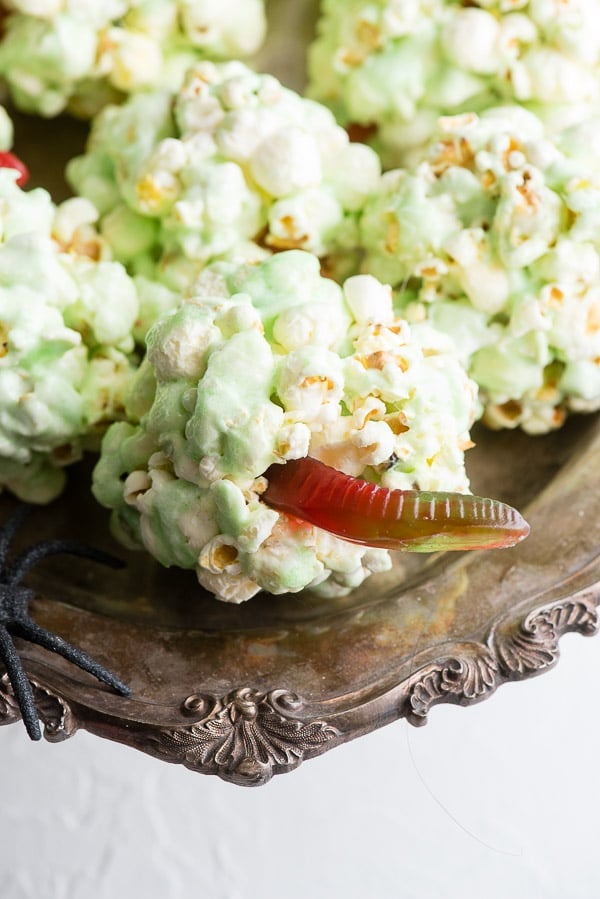 Popcorn Balls Colored with Jello!
Instead of using liquid coloring, these are colored with Jello mix (unprepared)!
It gives them a green color perfect for Halloween!
The Jello adds a nice flavor too.
PRO TIP: the color/flavor of jello can be changed for other holidays or occasions.
Remove the gummy worm and serve them for….
Christmas – use red jello and green jello to make red and green for Christmas.
Fourth of July – use red jello and blue jello to make a batches of red, white (no jello) and blue.
Popcorn Balls for Halloween
For Halloween these treats were inspired by a song that haunts me from my Halloween youth; the Hearse song.
You've heard it before: 'the worms crawl in, the worms crawl out'.
It has a catchy rhythm which sadly stays with little minds on scary Hallow's Eve.
Adding a gummy worm when forming the balls gives them a creepy touch everyone loves!
They are colored green for effect too.
Popcorn Ball Ingredients
There are only 5 ingredients in this easy popcorn ball recipe! The ingredients are very easy to find at any grocery store.
Popcorn
Unsalted Butter
Mini Marshmallows
Green Jello mix
Gummy Worms
My Favorite Way to Make Popcorn
When making these I was once again reminded how much I love my stovetop popcorn maker.
It's a very simple, inexpensive device called a Whirly Pop that has an ingenious arm that sweeps the bottom of the pan when cooking.
All the popcorn pops (no 'old maids') and the popcorn is big and fluffy.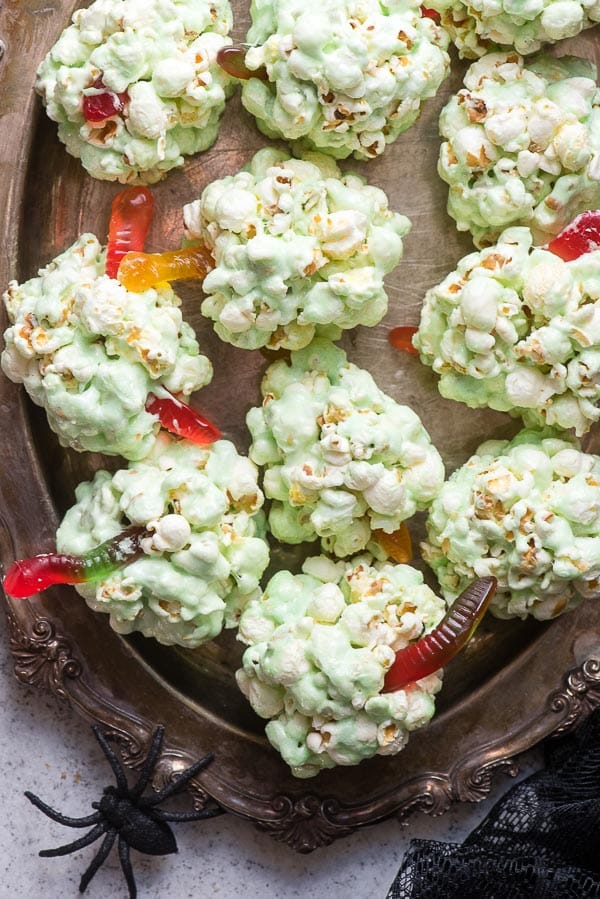 How to Make Popcorn Balls – Step-by-Step
For a detailed printable recipe refer tot he recipe card at the end of the blog post.
STEP 1: Line 1-2 rimmed baking sheets with parchment or wax paper.
STEP 2: Place popped popcorn in a large mixing bowl.
STEP 3: Add the butter and marshmallows to a mixing bowl (non-metallic). Microwave on HIGH until marshmallows are puffy (1 1/2-2 minutes).
STEP 4: Spray a silicon spatula with non-stick spray; use it to stir jello mix into the marshmallow mixture.
STEP 5: Spoon mixture into the popcorn stirring to coat.
STEP 6: Roll into balls including a gummy worm sticking out. TIP: spray hands with non-stick spray to keep the mixture from sticking to hands.
STEP 7: Place formed balls on prepared pan(s) to set.
PRO Tips for Making Popcorn Balls
Keep the Popcorn Ball Recipe from Sticking to Your Hands
The most challenging part of this easy popcorn ball recipe is rolling them and not having the mixture stick to your hands.
My secret? Spray your hands with non-stick cooking spray; usually a few times while rolling.
Oil or butter would do the trick too but I find the spray easier to manage when in the middle of the task for a refresh.
Forming the Balls
Once the balls of popcorn are formed with the gummy worms, they may begin to pull apart before they set.
Just squeeze the balls back in place until they set.
How to Store Popcorn Balls
Once the balls have set, cover with plastic wrap. Store at room temperature.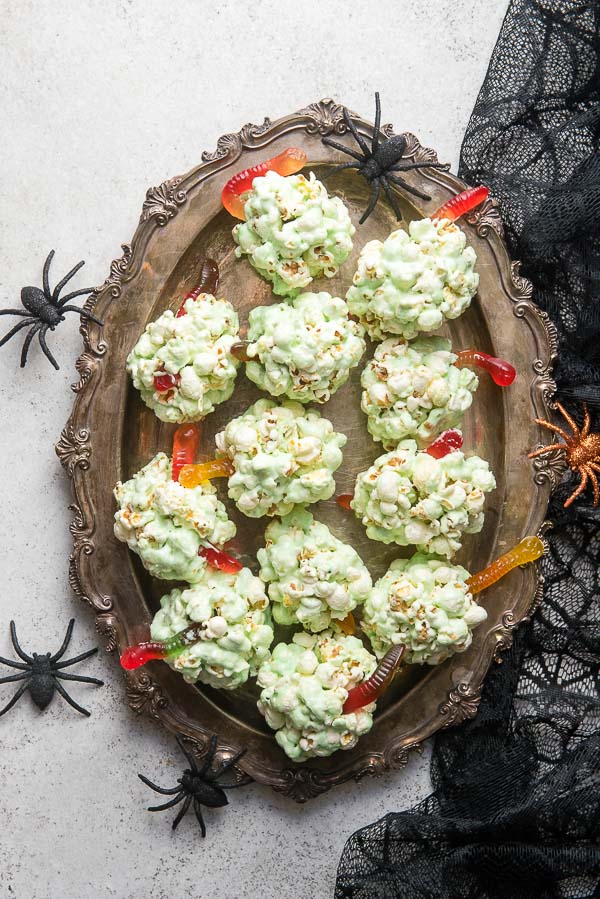 Halloween Recipes to Serve with this Popcorn Ball Recipe
Did you make it? Please RATE THE RECIPE below!
Please SUBSCRIBE and FOLLOW ME on FACEBOOK , TWITTER , INSTAGRAM and PINTEREST!
Recipe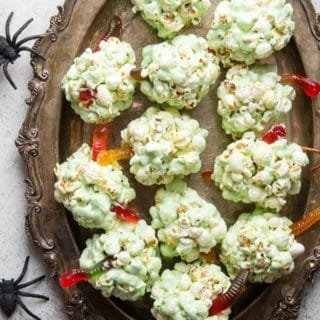 Fast Easy Popcorn Balls for Halloween
These fast easy popcorn balls are the most simple recipe you'll ever need. They are soft and chewy. Colored and flavored with jello mix with a gummy worm rolled in makes they a great addition to Halloween treats.
Print
Save Recipe
Recipe Saved!
Pin
Rate
Ingredients
12

cups

prepared Popcorn

4

tablespoons

(1/2 stick) Unsalted Butter

1

10-ounce package

Mini Marshmallows

1

3-ounce package

Green Jello

(not prepared)

15

Gummy Worms
Instructions
Line a large baking sheet (or two) with wax or parchment paper.

Put the prepared popcorn in a very large mixing bowl.

Place the butter and mini marshmallows in a large non-metal bowl and microwave on high until the marshmallows are puffy (1 ½-2 minutes).

Spray a silicon spoon or spatula with non-stick spray and stir the jello mix into the marshmallow mixture to fully combine.

Spoon the marshmallow mixture into the popcorn and stir to fully coat the popcorn.

Spray hands with non-stick cooking spray and roll the popcorn mixture into balls approximately 3-inches in diameter. Roll a gummy worm into each ball so it sticks out.

Place the balls on the prepared pan(s) to set. NOTE: if the balls begin to separate before setting due to the position of the gummy worm, squeeze the ball together and allow to set.

Once fully set wrap with plastic wrap and store at room temperature.
Notes
Adapted from Allrecipes.com.
Nutrition
Calories:
64
kcal
|
Carbohydrates:
7
g
|
Protein:
1
g
|
Fat:
3
g
|
Saturated Fat:
1
g
|
Cholesterol:
8
mg
|
Sodium:
1
mg
|
Potassium:
28
mg
|
Fiber:
1
g
|
Vitamin A:
110
IU
|
Calcium:
1
mg
|
Iron:
0.3
mg
Originally published: October 12, 2017
Popcorn balls are easy and fast to make!