Coffee Cake Muffins with fresh Orange Glaze are rippled in the middle with brown sugar and nuts (as well as on top) of a lightly sweet muffin. Fresh Orange glaze makes them a single portion coffee cake option any time!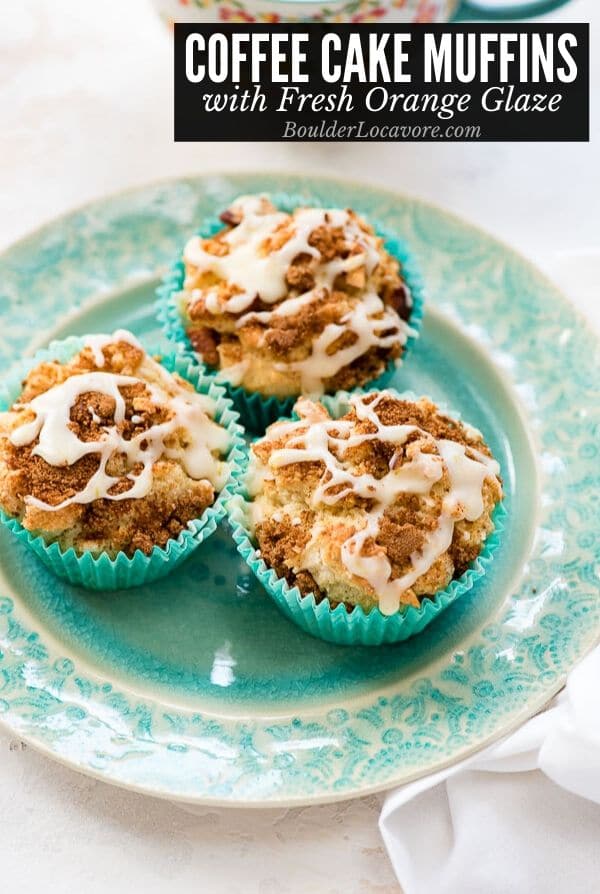 Freshly baked coffee cake is hard to resist! The smell of brown sugar fills the air and it makes every occasion feel special.
In fact it's almost always ONLY served FOR a special occasion.
Coffee Cake Muffins change all of that.
Easy to make, with all the same favorite ingredients as classic coffee cake.
The fresh Orange Glaze perks up any morning!
They make a single serving treat perfect in the morning or for a delicious, special treat!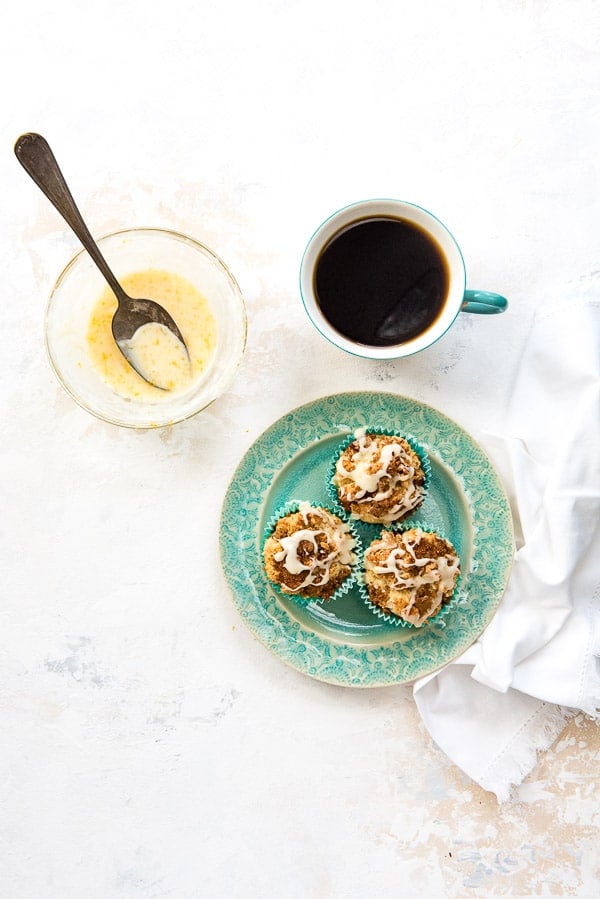 Coffee Cake Muffins have the classic ripple of brown sugar and nuts and are topped with an orange glaze.
These coffee cake muffins can be made with either gluten all purpose flour OR a measure-for-measure type gluten-free flour.
These are a perfect sugary nibble with some coffee or to grab-and-go.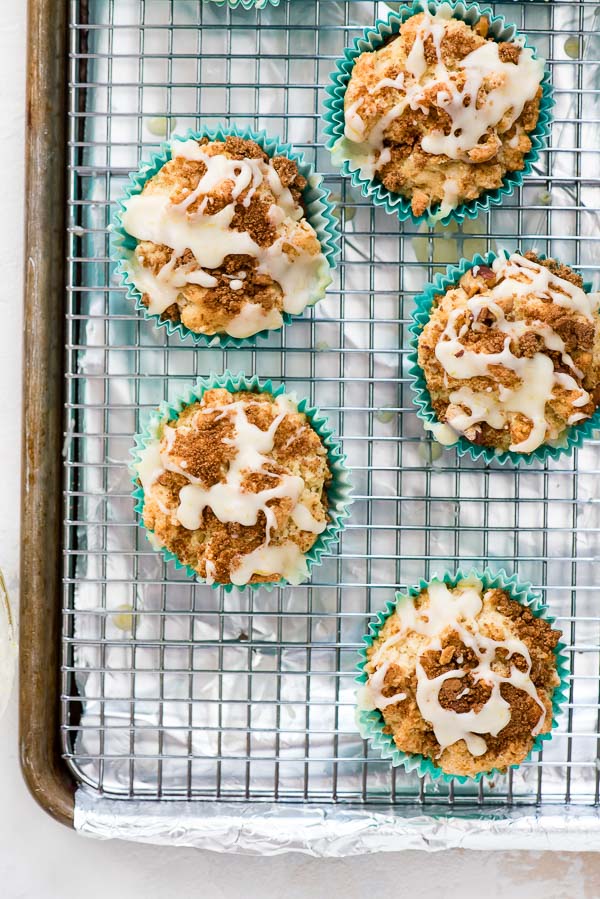 Gluten-Free Version: Why Use Measure-for-Measure Type Flour
Measure-for-measure gluten-free flours are engineered to be directly swapped out for the same measure of gluten flour in a recipe.
So there is no thinking or crossing fingers that they'll work.
It's never been easier to recreate favorite gluten baking recipes!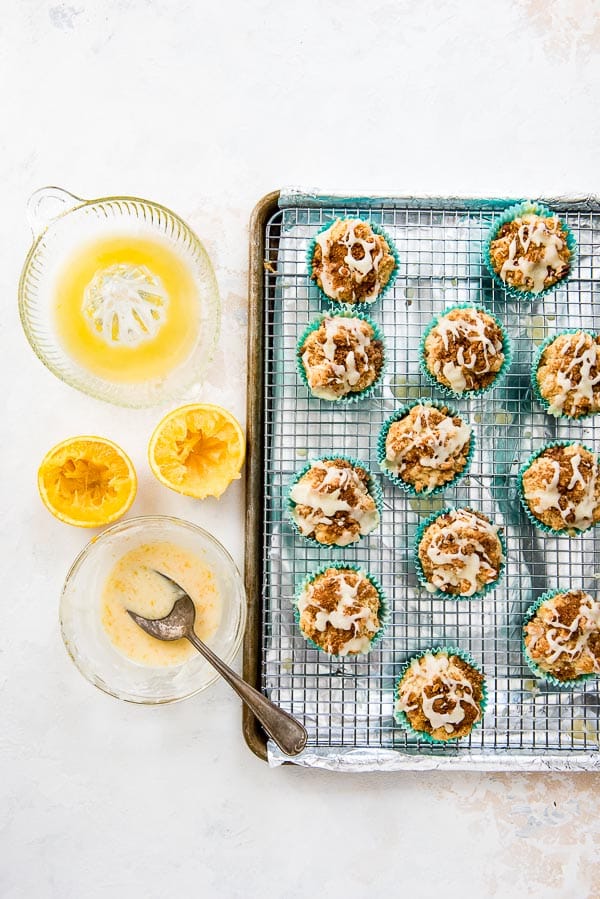 How to make Coffee Cake Muffins – Step by Step:
The recipe is comprised of three mixtures; the filling/topping, the dry ingredients and the wet ingredient. All are easy to make!
STEP 1: Line a 12 cavity muffin pan with wrappers.
PRO TIP: I double line each muffin pan cavity so any oil that bakes through the paper won't show on the outer wrapper.
STEP 2: Combine each of the recipe mixtures in separate bowls:
Mixture 1: brown sugar, nuts and cinnamon
Mixture 2: the dry ingredients
Mixture 3: the wet ingredients
STEP 3: Stir the wet ingredients into the dry ingredients. Do not overmix.
STEP 4: Assemble the muffins:
Place one tablespoon of the mixture in placed in each muffin cavity. PRO TIP: I use a cookie scoop for this.
Sprinkle one teaspoon of the nut mixture on top of the batter in each cavity.
Follow with two tablespoons of batter in each cavity.
Evenly distribute the remaining nut mixture on the top of all the muffins.
STEP 5: Bake for 22-25 minutes or until a toothpick inserted into the muffins comes out clean. Allow to fully cool on a rack.
STEP 6: Follow instructions to glaze the muffins.
Time Saving Preparation Tip for Morning Baking
There is nothing like the smell of baking and freshly made muffins for breakfast.
It's not always possible due to time constraints getting ready for work or getting kids off to school.
Here is a shortcut to do some preparation the night before baking so it's possible to serve freshly baked muffins for breakfast!
Prepare each (separately) the brown sugar-nut filling/topping and the dry ingredients.
Cover each tightly or seal in a container and leave at room temperature.
You can also add the muffin liners the night before.
In the morning, while preheating the oven, complete the recipe by prepping the muffin pan.
Assemble the wet ingredients and follow the recipe as written.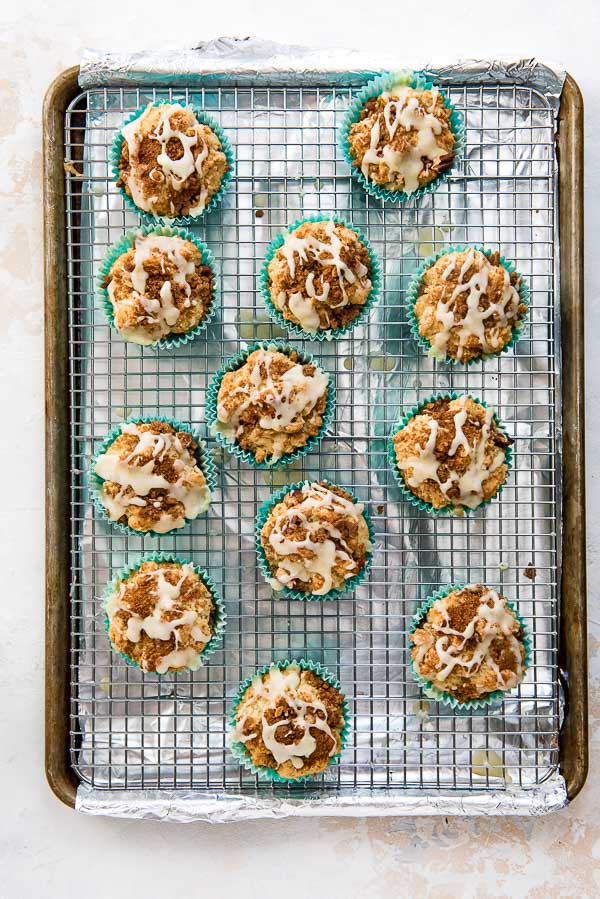 PRO TIP: The Best Way to Glaze Muffins
I have a handy way to glaze muffins that doesn't leave the muffin wrapper bottoms soggy from sitting in the glaze.
It also makes clean up a breeze!
Line a rimmed baking sheet with foil
Place a cooling rack in the baking sheet.
Place the muffins on the rack with space in between them.
Take a dining spoon of the glaze and shake the spoon over the top of the muffin allowing the glaze to fall across the muffin.
Any excess glaze will pool in the baking sheet below the cooling rack (no sticky muffin liners). When the glaze hardens, discard the foil.
Freezing Coffee Cake Muffins
Coffee Cake muffins freeze well.
Bake and fully cool the muffins.
Place them in a freezer bag
Store in the freezer up to 3 months
They will stay 'good' longer but to enjoy the best flavor thaw them and enjoy before 3 months.
Recommendation: if freezing the muffins glaze them when they thaw for best results.
PRO TIP: Making Freezer Bags Air Tight
To remove air from a freezer bag to make it as air tight as possible:
Insert a drinking straw at the edge of the bag.
Seal the bag up to the straw.
Suck air OUT of the bag with the straw.
Remove the straw and fully seal.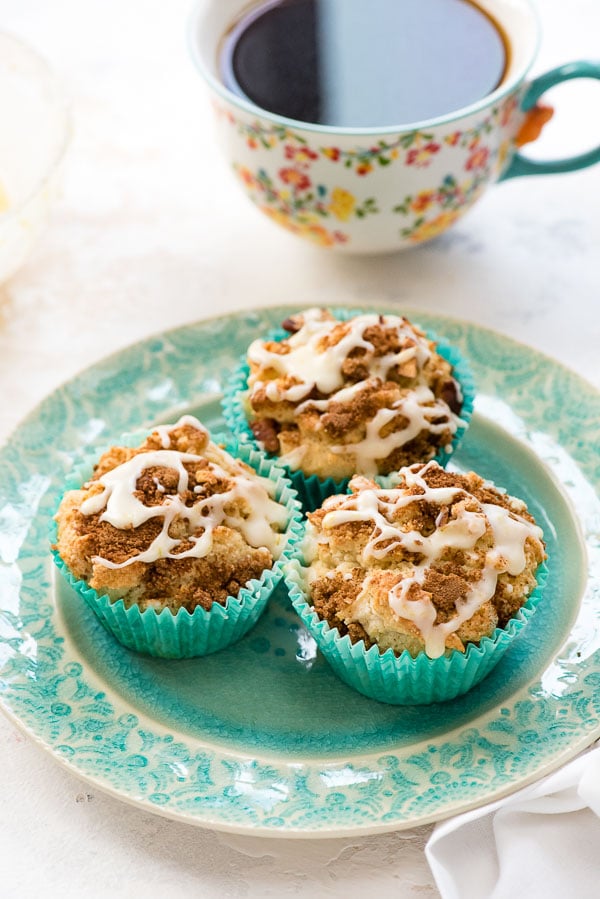 More Easy Coffee Cake and Muffin Recipes You'll Love
Did you make it? Please RATE THE RECIPE below!
Please SUBSCRIBE and FOLLOW ME on FACEBOOK , TWITTER , INSTAGRAM and PINTEREST !
Recipe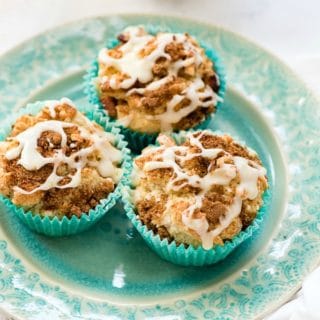 Coffee Cake Muffins with fresh Orange Glaze
Coffee Cake Muffins as a perfect mix of coffee cake and muffins. They make a 'just right' portion for a special breakfast or brunch.
Print
Save Recipe
Recipe Saved!
Pin
Rate
Ingredients
1/4

cup

Light Brown Sugar

1

teaspoon

ground Cinnamon

1/4

cup

diced Pecans or Walnuts

1 1/2

cups

All Purpose Flour or Gluten-free measure-for-measure flour

(I used Bob's Red Mill Gluten-Free 1-to1 Baking Flour)

1/2

cup

Granulated Sugar

2

teaspoons

Baking Powder

1/2

teaspoon

Baking Soda

1/4

teaspoon

Kosher Salt

1

Egg

3/4

cup

Milk

1/3

cup

Vegetable or Canola Oil
For the fresh Orange Glaze:
1/2

cup

Confectioner's Sugar

1

tablespoon

freshly squeezed Orange Juice

Zest of one half Orange

1

teaspoon

Vanilla Extract
Instructions
Preheat the oven to 350 degrees and line a 12-cavity muffin tin pan with liners.
Making the Coffee Cake Muffins:
(1) In a small mixing bowl combine the brown sugar, cinnamon and nuts. (2) In a large mixing bowl combine the dry ingredients: flour, sugar, baking powder, baking soda and salt. (3) In another medium/large mixing bowl combine the wet ingredients: egg, milk and oil. Whisk to fully combine.

Stir the wet ingredient into the dry ingredients, whisking together just until combined (do not over mix).

Spoon/scoop 1 tablespoon of batter into each muffin liner. Sprinkle 1 teaspoon of the sugar-nut mixture on top followed by 2 more tablespoons of batter. TIP: add the batter to each muffin cavity, followed by the sugar-nut mixture and the remaining batter to ensure equal distribution. Finish with a teaspoon of sugar-nut mixture on top.

Bake for 22-25 minutes until a toothpick inserted in the center of muffins comes out clean. Allow to cool in the muffin pan while you make the glaze.
To glaze the Coffee Cake Muffins:
Line a rimmed baking sheet with foil and place a cooling rack on top.

In a small bowl mix together all the glaze ingredients.

Place the muffins on the cooling rack allowing space between them. Take a dining spoon of glaze and holding the spoon over a muffin, shake it back and forth while moving it around allowing the glaze to drizzle onto the top of the muffin.

Repeat for all the muffins and allow the glaze to harden for 5-10 minutes before eating.
Notes
Adapted from Taste of Home.
Nutrition
Calories:
188
kcal
|
Carbohydrates:
30
g
|
Protein:
2
g
|
Fat:
7
g
|
Saturated Fat:
5
g
|
Cholesterol:
15
mg
|
Sodium:
107
mg
|
Potassium:
98
mg
|
Fiber:
1
g
|
Sugar:
19
g
|
Vitamin A:
45
IU
|
Vitamin C:
0.7
mg
|
Calcium:
64
mg
|
Iron:
0.7
mg
Originally published: January 25, 2018
Coffee cake muffins with fresh Orange Glaze make any morning feel like a special occasion!