There's nothing better than summer grilled meat and fresh Mexican food, right? This Grilled Pork Street Taco with Pickled Broccoli Stem Slaw and Blistered Tomatoes hits all the seasonal marks with lively fresh flavors and great texture. Each component of the recipe may be used on its own in for different meals as well!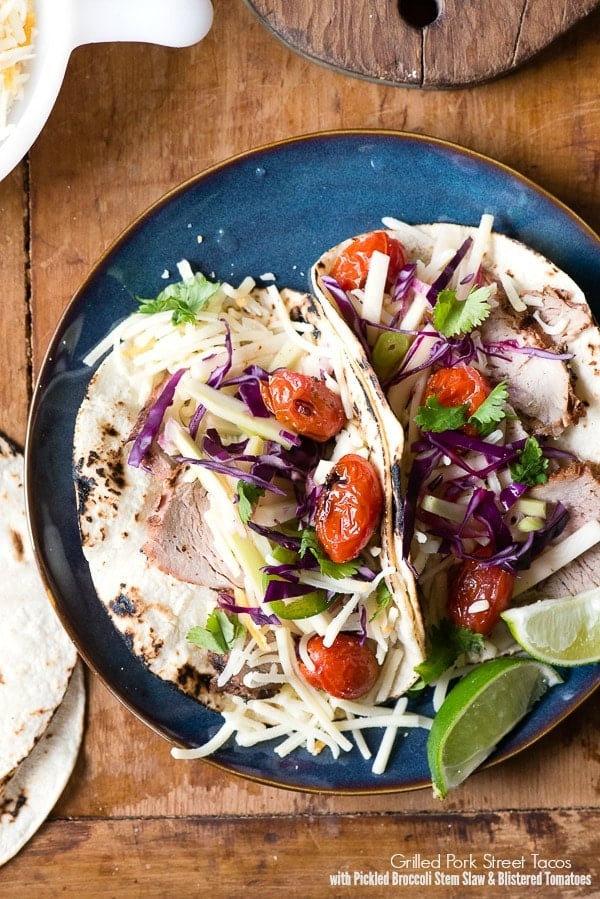 Today's fresh grilled recipe is brought to you by Sargento®, sponsor of the Chopped At Home Challenge! Al opinions are my own.
Any cooking TV show fans out there? Do you love the high tension of a surprise challenge and wondering how the contestants are going to fare? Do you find yourself watching and having your own ideas about what you'd do or what the contestants should have done? Well you are going to love this blog post!
I was recently asked to create a recipe that would qualify for the Chopped At Home challenge sponsored by Sargento Cheese. Have you watched Chopped on TV? It's the show where four contestants are each given a basket of 'secret ingredients' with which they have to make a recipe using all of the secret ingredients (and other ingredients available from the show's pantry).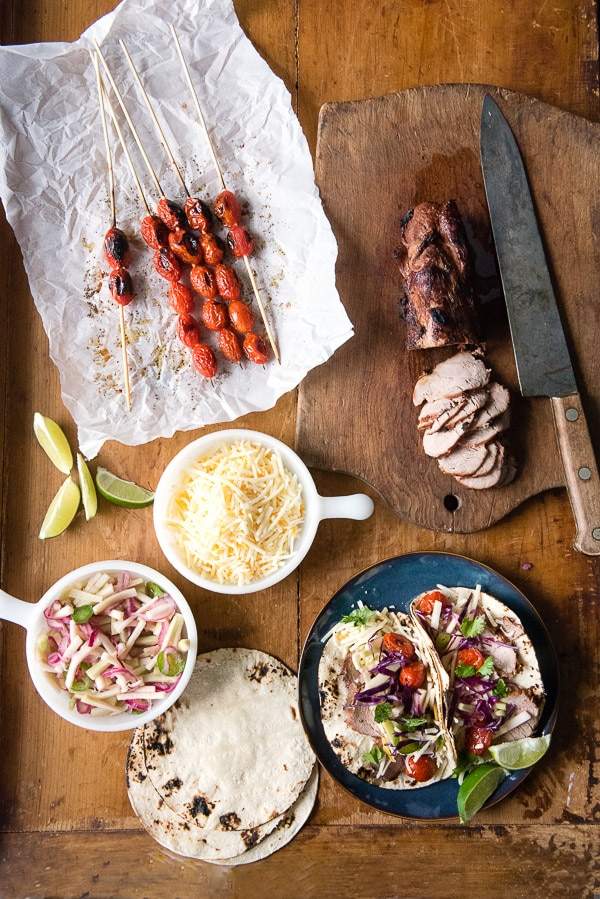 I was given a list of 'basket ingredients' which I had to weave into a grilling themed recipe. As with the show, my ingredients felt a bit like Sesame Street's 'one of these things is not like the others' making a cohesive idea tricky. My ingredients were: pork tenderloin, cherry or grape tomatoes, broccoli and Sargento's Chef's Blend 4 State Cheddar Cheese.
I'm admittedly a cheese-a-holic so fitting cheese into the dish was no problem for me. Meshing all the others together however took some thinking to come up with something I really loved, maximizing the grill. The dish I created is Grilled Pork Street Tacos with Pickled Broccoli Stem Slaw and Blistered Tomatoes.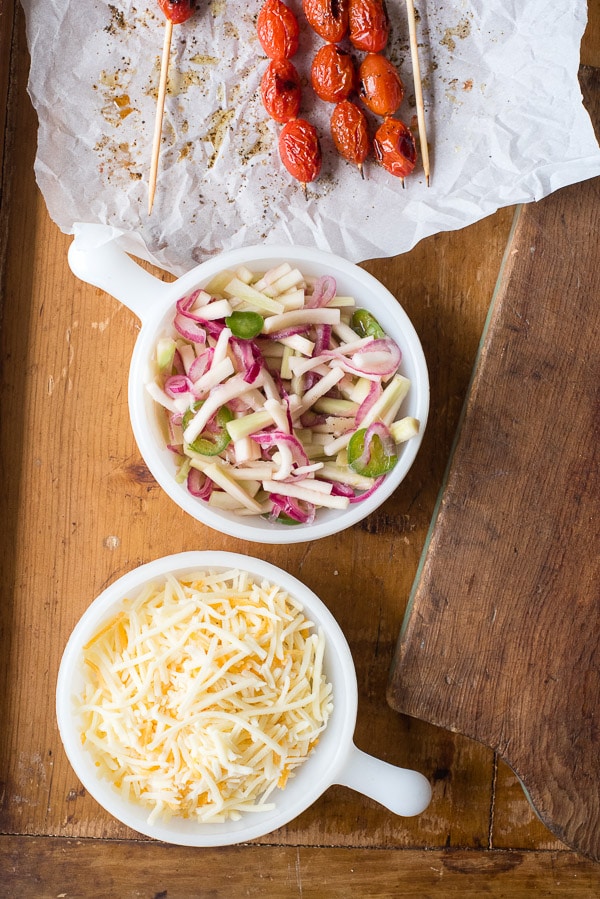 I absolutely love street tacos and they seemed a natural fit for all these ingredients. What I love about this recipe is when making it at home the components can be separated and used in different ways as well. The pork tenderloin is marinated and I always make two for leftovers. The grilled pork tenderloin can be a main dish by itself if not making the taco recipe.
Instead of using broccoli florets I chose to use the stems cut into matchsticks, quick pickled in a simple slaw for a crunchy bite in the taco and another layer of flavor. Broccoli stems are sweet and too often discarded. Combined with some red onion and jalapeno, the slaw has a bite from the heat and irresistible flavor.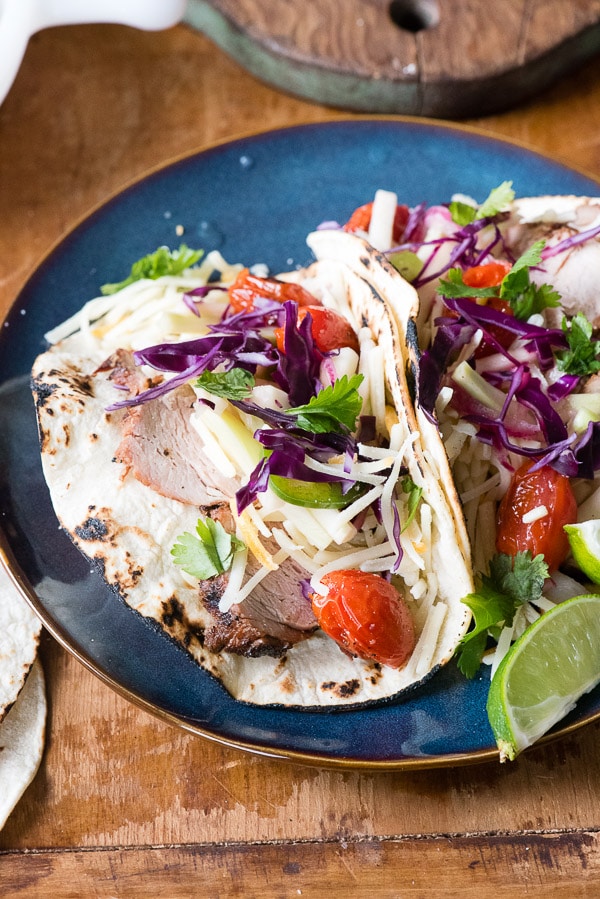 Grape tomatoes are naturally sweet and available in abundance at this time of year. I skewered them, brushed them lightly with olive oil and a sprinkle of kosher salt and freshly ground black pepper. They grill quickly over medium-high heat. My tip for this is not to bother soaking the bamboo skewers; use a piece of foil placed on the grill underneath the exposed part of the skewer. It prevents burning.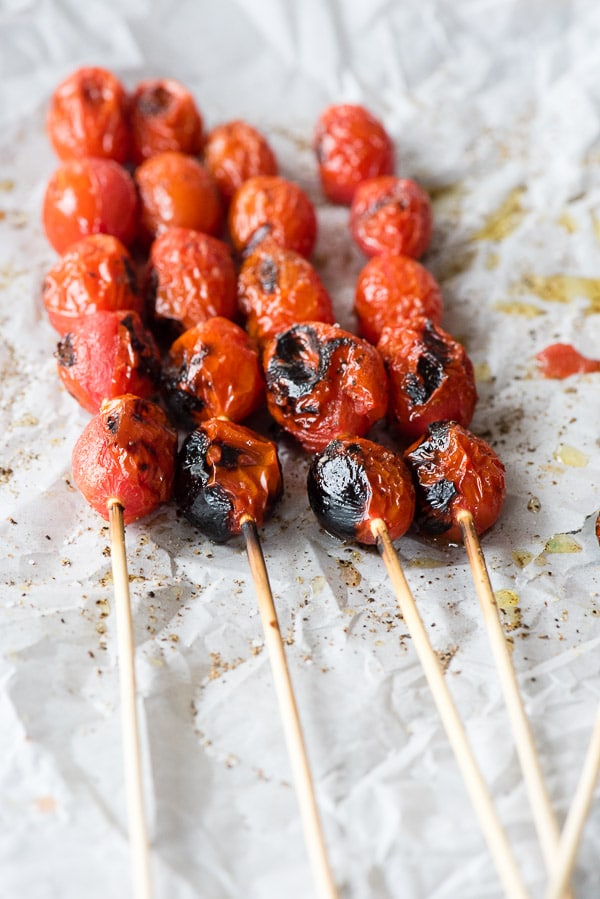 Lastly the glorious cheese is sprinkled on directly. I love the flavor of fresh cheese on tacos and the blend of flavors from the Chef's Blend 4 State Cheddar is the perfect touch! Sargento cheese is available in 30 varieties, unique blends and distinct cuts. Their shredded cheese is always cut from blocks of 100% real, natural cheese too.
Love pickled red onions? Make your own with this Quick Pickled Red Onions recipe to add too!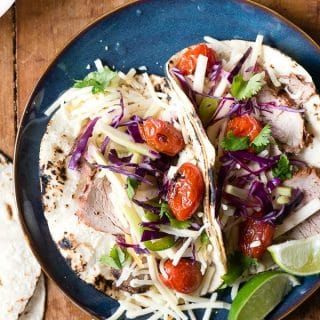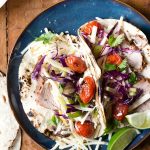 Pork Street Tacos with Pickled Broccoli Stem Slaw and Blistered Tomatoes
These simple street tacos are bursting with great flavor and texture. The components of the recipe can be made on their own for separate meals as well. When grilling pork tenderloin I always do two; it takes no more effort and leaves leftovers or is perfect for a big taco party.
Tacos are a celebration of flexibility in my book so the measurements to make an individual taco are a suggestion rather than specific. Slicing the pork thinly yields enough meat for 10-12 tacos per tenderloin. If serving a big group I would suggest doubling the slaw recipe. This easily makes 8 tacos with tenderloin leftover.I added 3 hours for marinating the pork in the total cooking time however I'd suggest allowing it to soak in the marinade overnight for the optimum flavor.
Total Time
3
hours
35
minutes
Servings
8
(see Summary notes)
Ingredients
1

package Corn Tortillas

1 7.5-

ounce

package Sargento Chef's Blend 4 State Cheddar Cheese

Instant read thermometer
Ingredients for Marinade (for the pork tenderloin):
½

cup

Tamari or Soy Sauce

(if gluten-free use Tamari)

½

cup

Vegetable Oil

4

cloves

Garlic

, peeled and chopped

2

teaspoon

fresh Ginger

, sliced (does not need to be peeled)

2

Pork Tenderloins

(2 ½ pounds)
Ingredients for the Quick Pickled Broccoli Stem Slaw:
2

cups

Broccoli Stems peeled and cut into matchsticks

(approximately 2 large broccoli stalks)

1/3

cup

thinly sliced

(peeled) Red Onion

½

large Jalapeno Pepper thinly sliced

(tip: if slicing from the bottom up, you won't need to remove seeds)

3

tablespoons

Apple Cider Vinegar

2

teaspoons

Granulated Sugar

1

teaspoon

Kosher Salt
Ingredients for Blistered Grape Tomatoes:
25

Grape Tomatoes

, rinsed and patted dry

1-2

teaspoons

Olive Oil

Kosher Salt and freshly ground Black Pepper to season

Garnish

(optional) finely grated red cabbage, torn cilantro leaves.
Instructions
Pork Tenderloins: the night before preparing the tacos: Add all ingredients except the pork tenderloins to a gallon size zipper close plastic bag. Seal bag and shake to fully combine marinade ingredients. Add the pork tenderloins and seal squeezing out as much air as possible. Massage the marinade to cover the pork tenderloins (from the outside of the bag) and refrigerate overnight.

Preparing the slaw (minimum 1 hour prior to serving tacos however may be done earlier): Combine the broccoli stem matchsticks, red onion and jalapeno in a quart Mason jar or other sealable jar. In a small saucepan over medium heat, combine the vinegar, sugar and salt and heat just until the sugar and salt have dissolved. Pour into the jar and seal. Shake to coat the vegetables. Place in the refrigerator for an hour (or more).

Day of grilling: Remove the pork tenderloins from the marinade (allowing excess marinate to drain into the bag) and allow them to sit at room temperature for 30 minutes prior to grilling. Discard the marinade.

Thread 5 grape tomatoes per bamboo skewer and lightly brush with olive oil, and sprinkle with salt and pepper.

Heat the grill to medium-high (375 degrees) (note: only half of a four burner gas grill will be needed). Brush and oil the grill. Place the pork tenderloins on the grill and turn every 3-5 minutes to allow each side to develop a crust and not burn. The tenderloins should be removed when the internal temperature reaches 145-150 degrees (it will continue to cook while resting off the grill). This should take 12-15 minutes. Remove and allow to rest until the tomatoes are done.

Brush and oil the grill again if needed. Place the tomato skewers with a piece of foil on the grill underneath the exposed ends of the skewers. Rotate the skewers as soon as the tomatoes begin to blister to cook on all sides. Total cooking time is only 2-3 minutes. Remove from grill.

To assemble the tacos: Slice the pork tenderloin thinly (1/8-1/4-inch thickness). Place 3-4 slices on a warmed corn tortilla. Sprinkle with an ounce of cheese, followed by 1-2 tablespoons of pickled slaw, 3-4 blistered tomatoes and any garnish (if desired).
Nutrition Facts
Pork Street Tacos with Pickled Broccoli Stem Slaw and Blistered Tomatoes
Amount Per Serving
Calories 831
Calories from Fat 360
% Daily Value*
Total Fat 40g 62%
Cholesterol 326mg 109%
Sodium 1536mg 64%
Potassium 2062mg 59%
Total Carbohydrates 8g 3%
Protein 104g 208%
* Percent Daily Values are based on a 2000 calorie diet.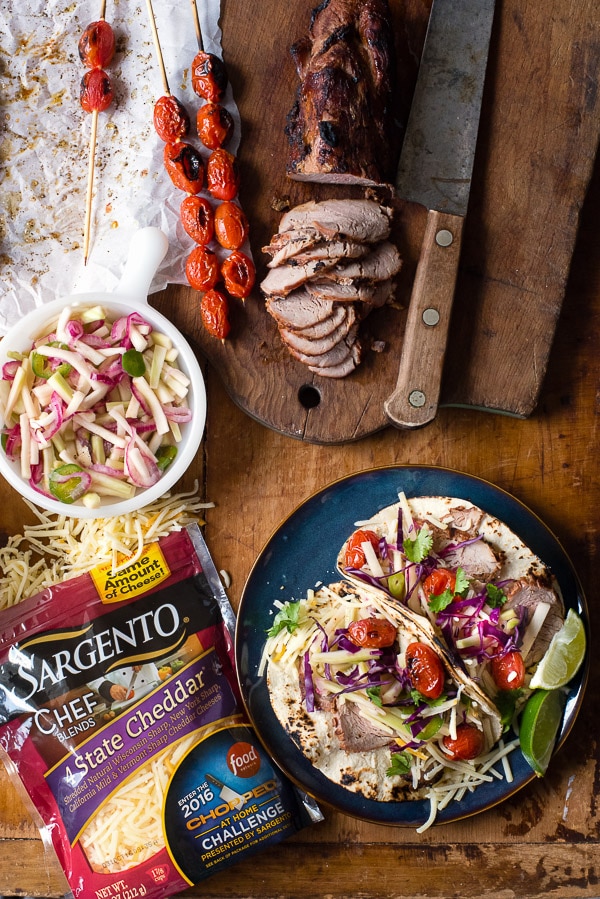 Guess what? You can and should enter the Chopped At Home Challenge! Here's the scoop:
Submit your recipe to FoodNetwork.com/ChoppedChallenge for the chance to win $5,000 and a trip to New York City to compete in a televised Chopped cooking challenge for a $10,000 grand prize!
Round 3: Round Theme: Grilling
Required Sargento Product: Chef Blends 4 State Cheddar
Required Ingredients: Pork tenderloin, cherry or grape tomatoes, broccoli
Chopped At Home Challenge Details:
Phase 3 Entry 7/5/16 at 9am – 8/1/16 at 5pm
Phase 3 Vote 8/1/16 at 5:01pm – 8/22/16 at 5pm
This is a sponsored conversation written by me on behalf of Sargento. The opinions and text are all mine.