How to Cook Hot Dogs is not limited to boiling them. These 10 ways to cook Hot Dogs will help you serve up the perfect hot dog every time.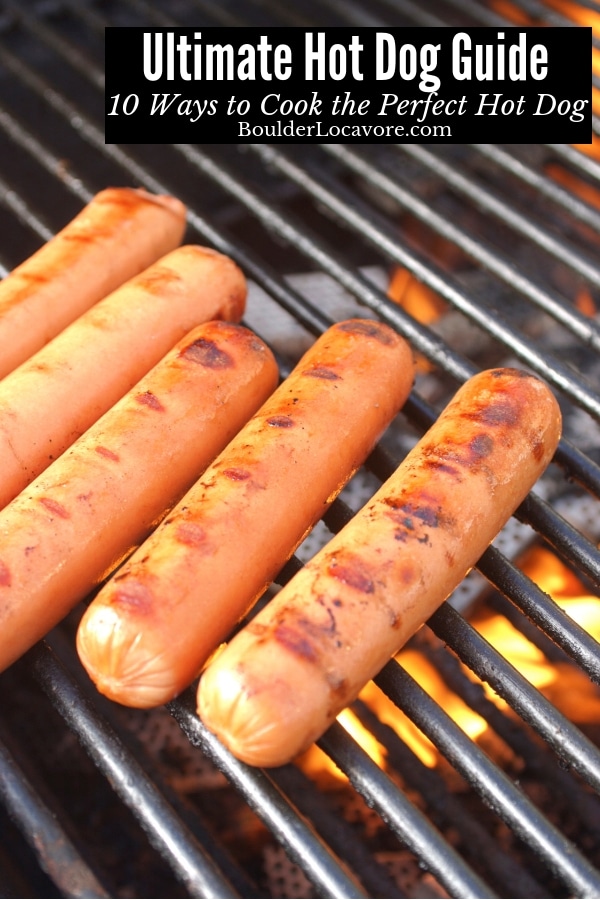 I would argue a good quality, well cooked hot dog is just as appetizing as any other main dish.
Hot dogs are no longer a one note food. With all the different types available it makes sense to have just as many ways to cook the perfect hot dog!
These 10 ways to cook hot dogs will give plenty of options and tips.
Also included is a delicious Firecracker Hot Dog recipe. It takes hot dogs to a whole new level!
Jump to: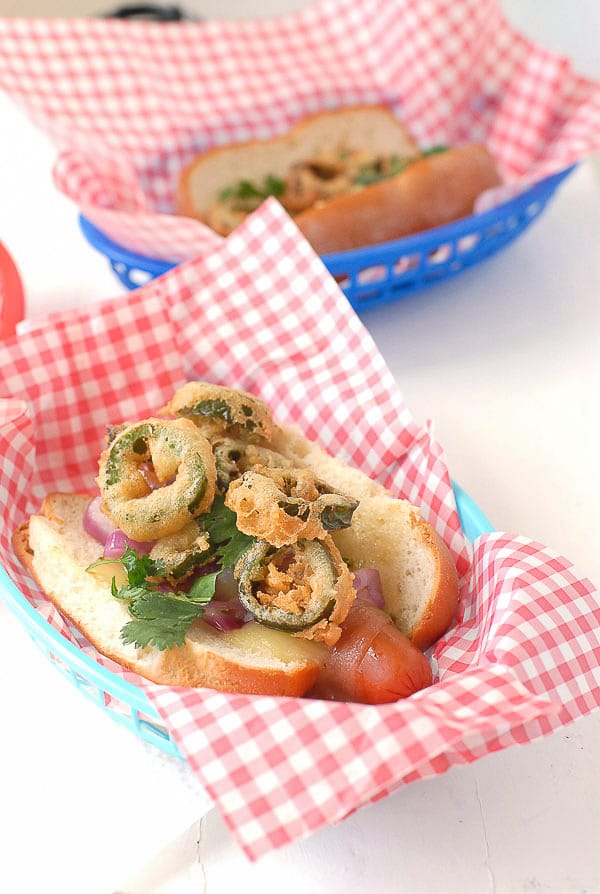 Types of Hot Dogs
Hot Dogs are traditionally made of beef and pork however can also be made with chicken or turkey. Some hot dogs are a mix of meats.
The hot dog package should state what type of meat is in the hot dogs. However, reading the ingredient label tells the full story!
My personal preference are all-beef hot dogs for the flavor.
Read the Ingredients Label
I also prefer a hot dog with ingredients I can understand. The fewer and better ingredients generally lead to better flavor and quality (my opinion).
One might wonder if hot dogs really can differ all that much in flavor and quality.
The answer is a resounding YES, they can.
Like any other cut of meat, you usually get what you pay for.
Reading the ingredients is always crucial to ensure you are buying something which will star with flavor.
The label will also state the additional ingredients, whether they are gluten-free, etc.
Cured VS Uncured Hot Dogs
Cured hot dogs are preserved with nitrites and nitrates. These chemicals help preserve meat so it doesn't spoil (it may also affect the color of the hot dogs).
Uncured hot dogs have no preservatives so it's especially important to keep them refrigerated until cooking/reheating them.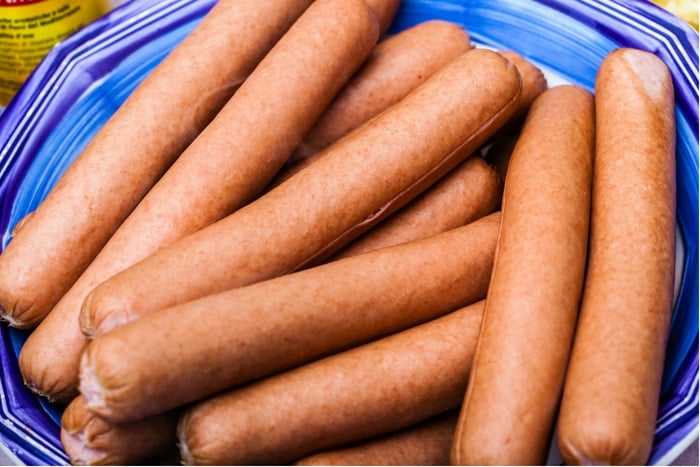 Are Hot Dogs Precooked? Do I HAVE to Reheat Hot Dogs?
Though hot dogs are precooked before packaging the FDA recommends always reheating them until they 'are steaming'.
After being processed and packaged, hot dogs can become contaminated with Listeria germs.
Use one of the following methods for how to cook hot dogs to reheat hot dogs before eating them!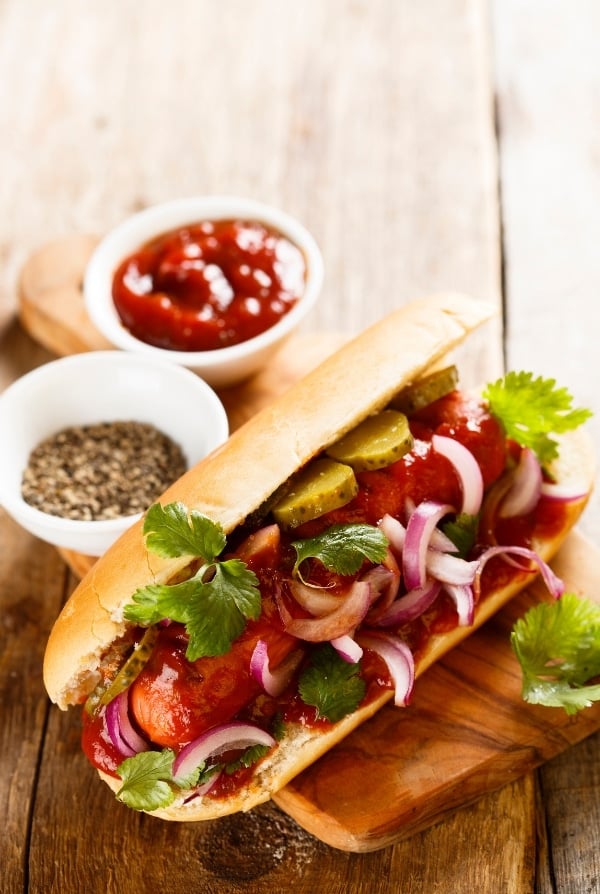 Best Ways to Cook Hot Dogs
Myth Busting: Don't Pierce Hot Dogs with a Fork Before Cooking!
Especially for grilling and steaming there is a school of thought to pierce the hot dogs with a fork before cooking.
This allows venting of any steam from the juices heating up.
The goal is to prevent the hot dog case from bursting when cooked over high heat. Mainly on the grill or in a microwave.
DON'T PIERCE HOT DOGS! This allows the juices to come out and the hot dog to become dry and less flavorful.
The cooking methods I'm sharing here are successful WITHOUT piercing the hot dog.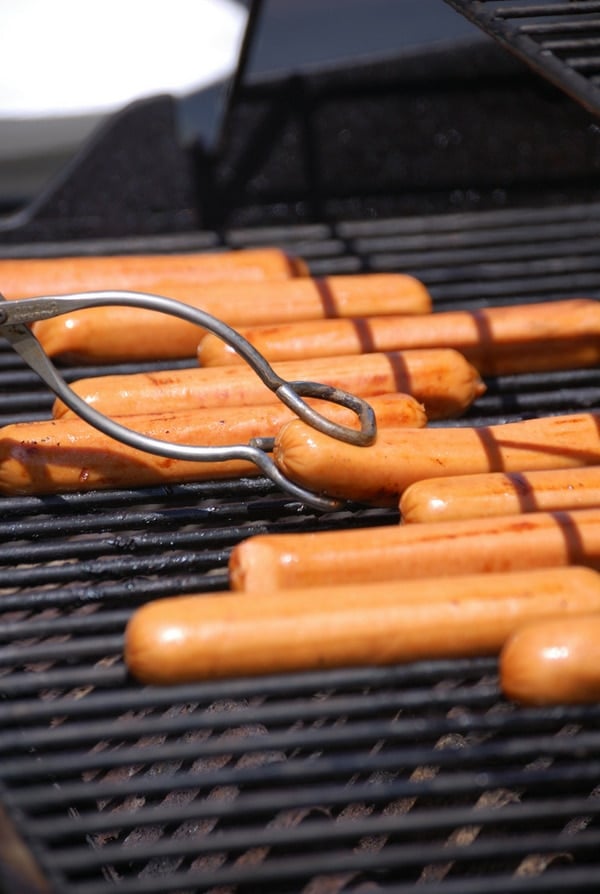 How to Grill Hot Dogs
Grilling hot dogs adds great flavor and those grill marks we love! Exploding hot dogs can be avoided by cooking on the grill in the Indirect Method.
Only half the grill has heat for the Indirect Method. The hot dogs are placed over the area of the grill that is NOT heated directly underneath.
For a gas grill. Heat an outside burner but grill the hot dogs on the area just next to it with no direct heat underneath.
For a charcoal grill. Move the heated charcoal to one side of the grill. This can be done manually or using an insert for your grill. Grill the hot dogs on the opposite side without the coals.
Place the hot dogs on the prepared grill grate NOT ABOVE the heat source.
Want some grill marks? Place them on an angle to the grates to get gorgeous grill marks!
Grill the hot dogs about 1 minute per side to fully heat through. Turn using heatproof tongs.
Want to crisp up the outer casing of the hot dogs? Put them on the direct heat side of the grill for a few seconds. Watch carefully to ensure no burning or case bursting.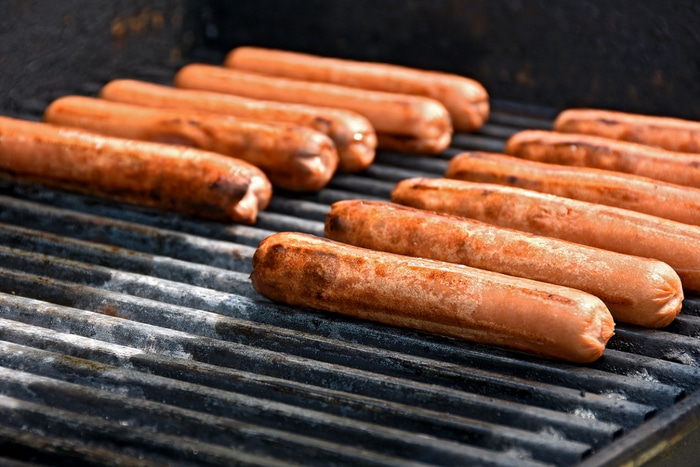 How to Microwave Hot Dogs
This is probably the fastest way to reheat a hot dog. This method allows the hot dogs to steam under a paper towel for quick heating all the way through.
For a Single Hot Dog. Wrap the hot dog in a paper towel and cook on high (100%) for 45 seconds. Check and if additional heating is desired, cook in 15 second increments until done.
For Multiple Hot Dogs. Place the desired number of hot dogs on a microwave-safe plate and cover with a paper towel. Cook on 100% or High for:
40 seconds for the first hot dog, and
20 seconds for each additional hot dog being cooked.
Example: for 4 hot dogs the time would be 40+20+20+20 seconds= 1 minute and 40 seconds. Since microwaves vary always check the hot dogs for doneness.
Hot to Steam Hot Dogs
Steaming hot dogs is an alternative to boiling. It reheats them fully though does not add more flavor as with grilling or pan frying.
In a pot with a steamer insert, or using a steamer basket inserted into a pot, add a couple inches of water. Keep the steamer insert/basket above the surface of the water. Bring to a boil.
Add the hotdogs to the steamer. Cook until the internal temperature reaches at least 140 degrees (approximately 5 minutes cooking time). They can be measured easily with an instant read thermometer).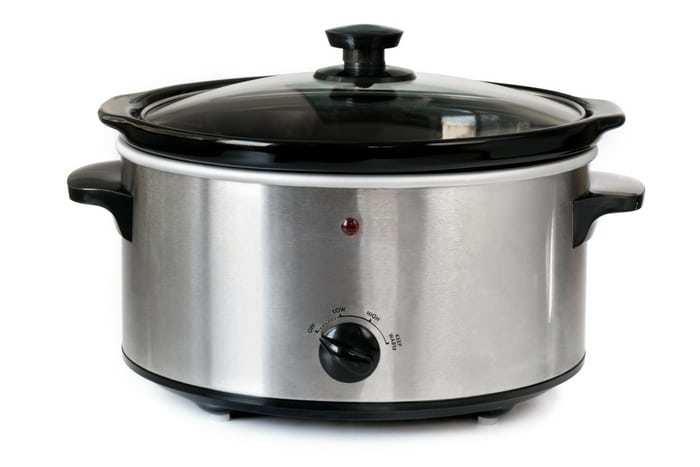 How to Cook Hot Dogs in a Slow Cooker/Crock Pot (method for a crowd or party)
This method of how to cook hot dogs is practical for a crowd. It's great for:
a gathering when you need loads of hot dogs
for a serve yourself buffet allowing guests to help themselves over a period of time (think a football game viewing)
or for tailgating if you have power to plug in the slow cooker
A large quantity of hot dogs may be heated. Up to 48 for a 4-quart slow cooker and 60 for a larger 6 quart slow cooker.
There is a key to success for this method: DO NOT ADD WATER.
The hot dogs will steam in the heat and release moisture as they warm.
Adding water may cause the casings to split releasing the flavorful juices.
Add the desired number of hot dogs for your slow cooker. Stand them upright if possible for even heating . NOTE: 'extra long' hot dogs will not be able to stand upright. If laying them horizontally rotate them once or twice during cooking for even heating.
Heat on High for 2 hours or Low for 4 hours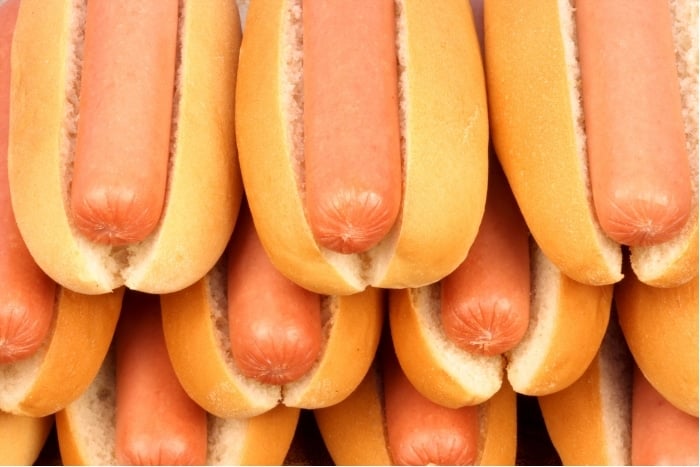 How to Pan Fry Hot Dogs in a Skillet (Pan Steaming)
This method is a combination. The hot dogs are steamed then browned in the pan when the water evaporates.
Very similar to how Pot Stickers are cooked. The benefit is the hot dog heats though but also gets a nice crisping of the outside.
In a large skillet add 1-inch of water and heat to medium-high.
As the water comes to a boil add a few hot dogs leaving plenty of room in the skillet.
Using heatproof tongs roll the hot dogs allowing them to brown on all sides.
Alternatively, butter can be melted in the skillet and the hot dogs may be browned until steamy hot.
How to Cook Hot Dogs in the Oven (Oven Roasting)
Roasting hot dogs in the oven is a wonderful way to develop great flavor similar to grilling them.
Preheat the oven to 400 degrees.
Line a rimmed baking sheet or baking pan with foil.
Add the hot dogs to the prepared pan. Bake for 10-15 minutes until the hot dogs begin to make a sizzling noise.
To crisp up the outside put the hot dogs under the broiler for a few seconds after baking.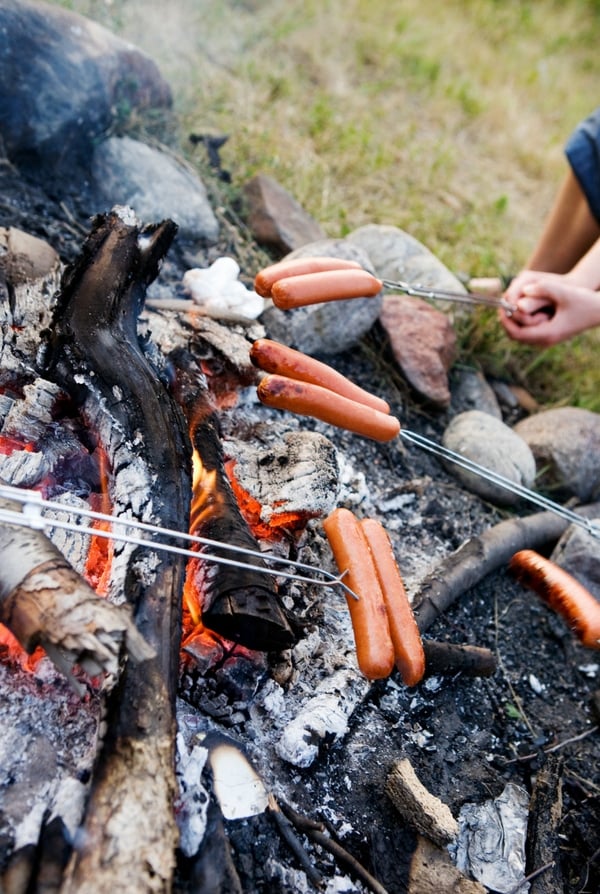 How to Roast Hot Dogs over a Campfire (Fire Roasting)
Cooking food outdoors when picnicking or camping is a big part of the fun. How to cook hot dogs over a campfire is one of the simplest methods ever.
I recommend using a telescoping roasting fork. They are designed for over fire cooking of marshmallows or hot dogs and are sturdy.
The telescoping feature ensures you can get the hot dogs over the fire but keep yourself a safe distance away. They usually can roast 2 hot dogs at a time.
The other option for a larger number of hot dogs is using a grilling basket designed for hot dogs and sausages. Multiple hot dogs can be grilled at once.
NOTE: grilling baskets generally do NOT have telescoping handles. If using over an open fire grilling gloves are recommended as the handle heats up.
Build a fire and allow the coals to become orange
Insert the hot dog lengthwise onto the cooking fork (or 3-4 foot long green sharpened stick if you are backpacking)
Turn the hot dog constantly over the fire until it's fully heated through; approximately 2-4 minutes.
How to Boil Hot Dogs
Boiling works well to heat the hot dog through. However it can drain some of the flavor away and leaves a soggy consistency.
Having said that, hot dogs can be boiled in other liquids besides water for additional flavor. Boiling in beer, or with herbs in the water (like garlic), can enhance the flavor offsetting the flavor dilution from boiling.
Select a sauce pan larger enough to accommodate the number of hot dogs you wish to boil with room.
Fill the pan with water and bring to a rolling boil.
Add the hot dogs and boil for 6 minutes. Drain.
Want to crisp the outside of the boiled hot dog? Quickly pan fry in oil or butter to crisp the outer surface and add more flavor.
NEW!! Instant Pot Hot Dogs
The Instant Pot gives another way to quickly cook hot dogs in bulk. You can cook 20-30 hot dogs with a 1-minute cooking time.
It takes aproximately 15 minutes for the pressure to build so less than 20 minutes for a large batch of hot dogs.
In a 6-quart Instant Pot use 1 cup water OR 1 cup Beer Or 1/2 cup of each water and beer.
For more details check out this post on How to Cook Instant Pot Hot Dogs.
NEW!! Air Fryer Hot Dogs
If you have jumped on the Air Fryer bandwagon you'll probably love this post about how to cook hot dogs in an air fryer!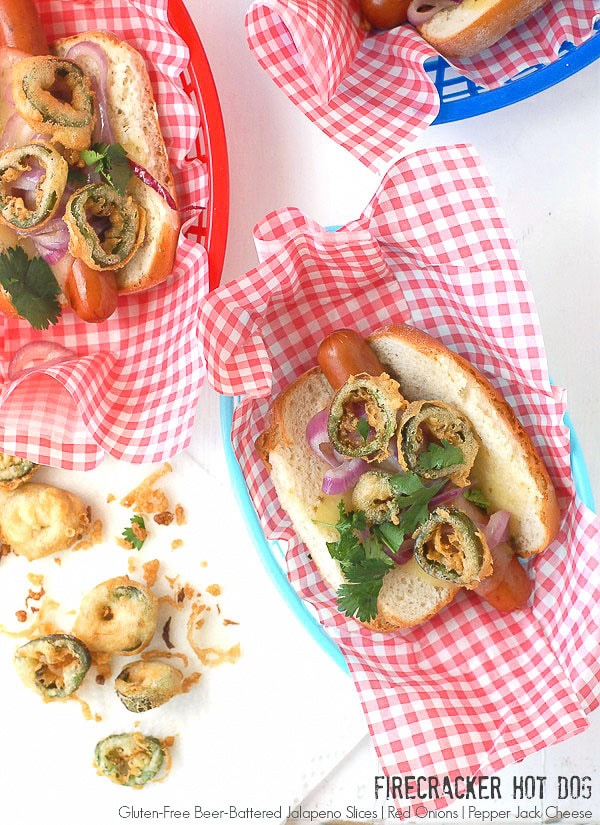 Firecracker Hot Dog – Spicy Heat, Great Textures and Flavors
This dog will become your favorite if you love some heat, spicy goodness and a crunchy texture. The key of course if selecting good quality hot dogs.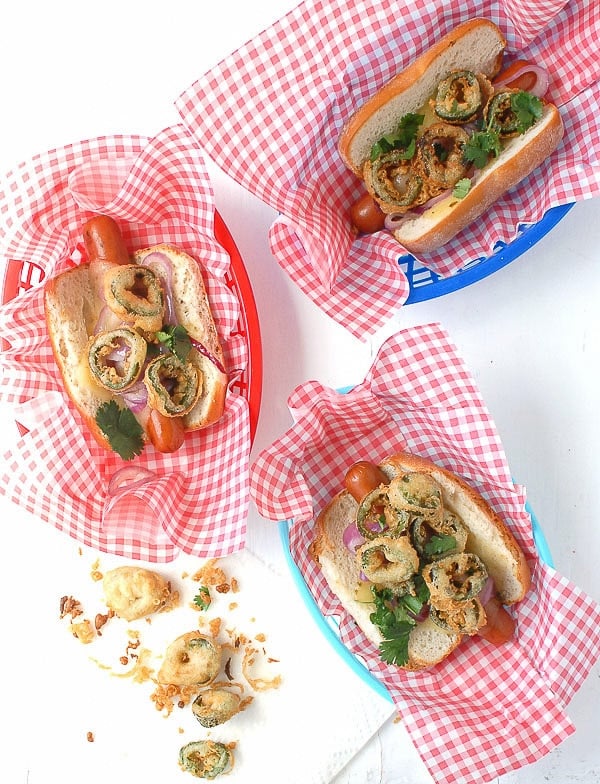 Reading the ingredients is always crucial to ensure you are buying something which will star with flavor.
What's in a Firecracker Hot Dog?
The Firecracker Hot Dog features:
a melted slice of Pepper Jack cheese
grilled or sautéed red onion slices
topped with crispy, gluten-free or regular beer-battered deep-fried jalapeno peppers for a kick
all on a perfectly cooked hot dog with a bun
Each bite is indescribably delicious!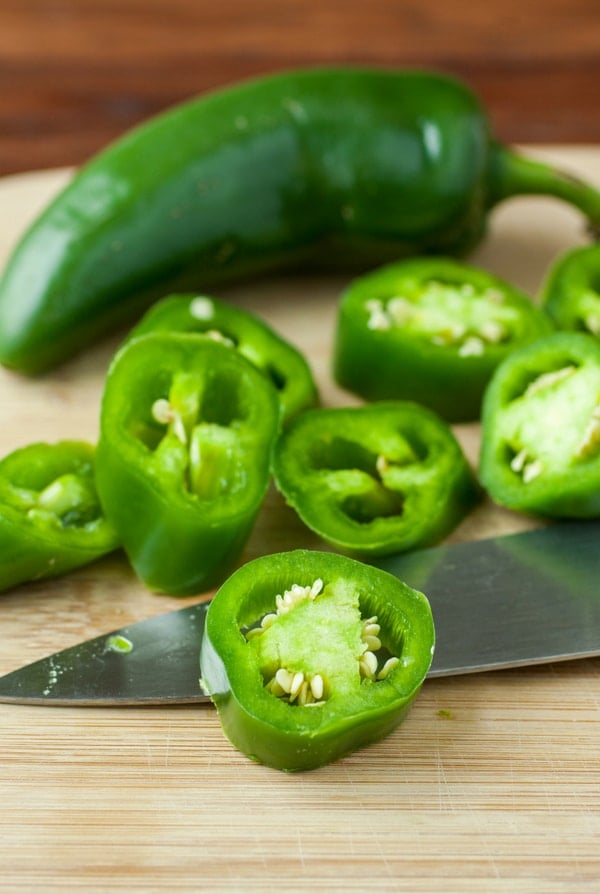 A Note on Chile Peppers
One thing when working with chile peppers is that the heat level can vary incredibly. In this case, once fried, the jalapenos almost taste sweet without much heat.
The opposite can be true as well. Always best to taste before serving to gauge the spicy-factors for your diners.
TIP when working with chile peppers: Consider using food safe vinyl gloves. Also wash your hands diligently, avoiding touching any mucus membranes after handling chile peppers.
More Hot Dog Recipes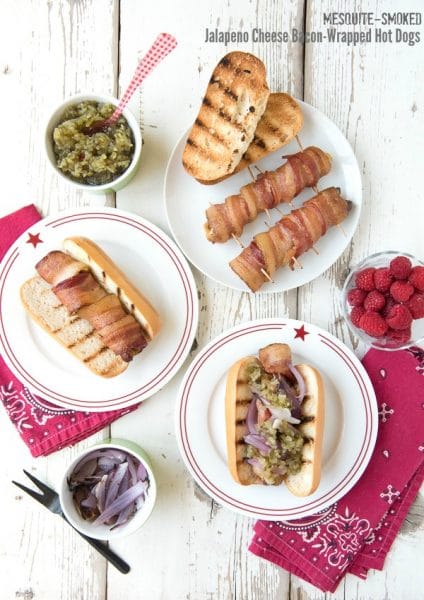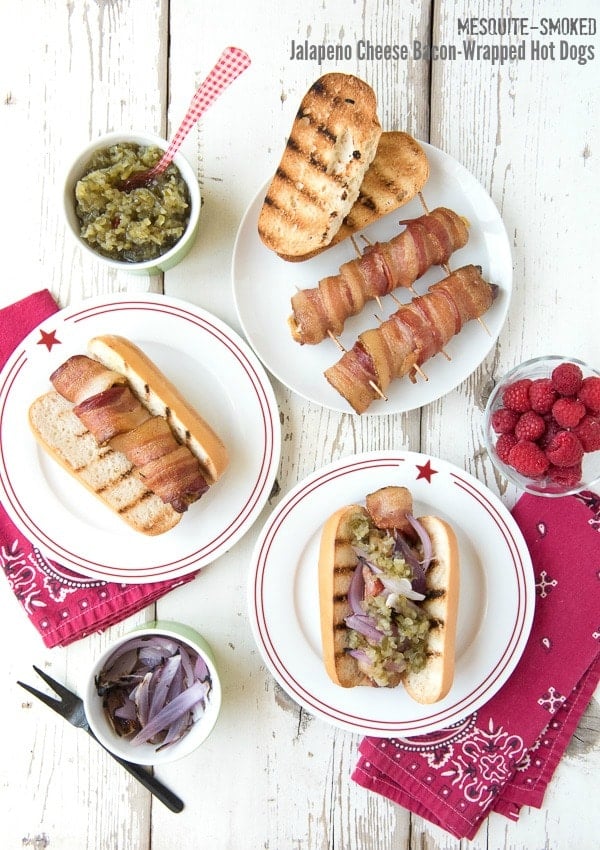 Mesquite-Smoked Jalapeno Cheese Bacon-Wrapped Hot Dogs
Smoky, cheesy, spicy hot dogs smoked easily on the grill on indirect heat. These are the ultimate and are easy to make! The recipe may be made larger by maintaining the ingredient proportions listed in the recipe.
Check out this recipe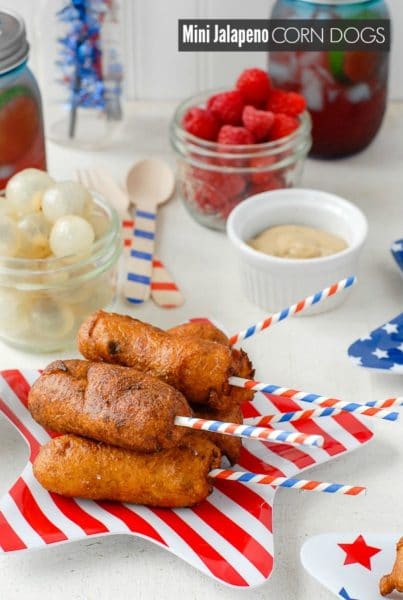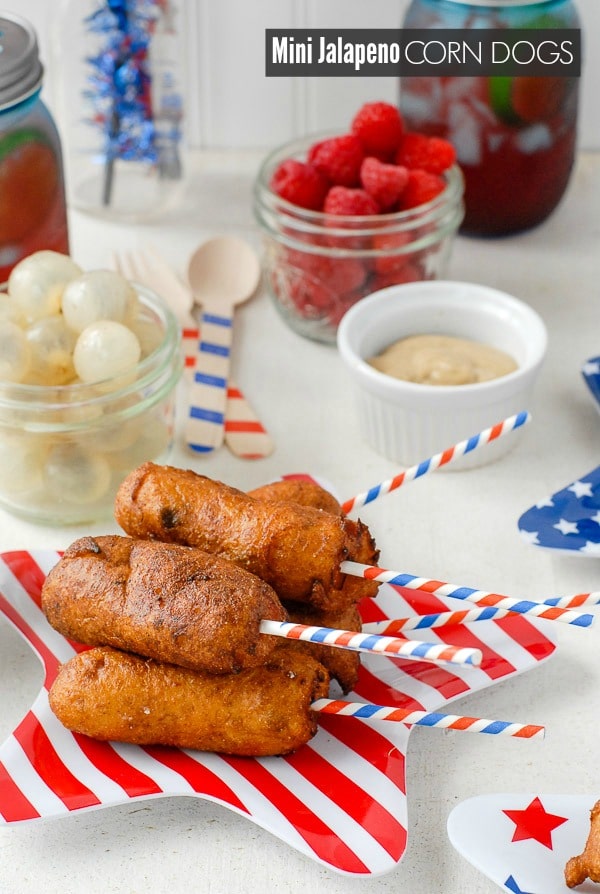 Mini Jalapeno Corn Dogs and Corn Dog Bites
A spicy spin on the icon Corn Dog with some roasted Jalapeno chile, as well as making it mini with half-size corn dogs or corn dog 'bites'. A fun addition to any meal!
Check out this recipe
Complete a Grilled Hot Dog meal with…
Grilled Chicken Caesar Salad with Creamy Light Dressing
Grilled Cheesy Sausage Pineapple Skewers
Grilled Thai Shrimp-Pineapple Skewers and BBQU with Steven Raichlen
Grill-Smoked Creamy Potato Salad with Bacon
Ultimate Burger Grill Guide: How to Grill the Perfect Burger
Easy Grilling Recipes to Get Your Summer Going
Did you make it? Please RATE THE RECIPE below!
Please
SUBSCRIBE
and
FOLLOW ME
on
FACEBOOK
,
TWITTER
,
INSTAGRAM
and
PINTEREST
!
Recipe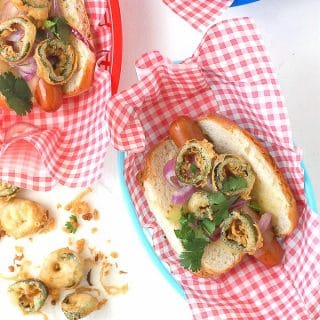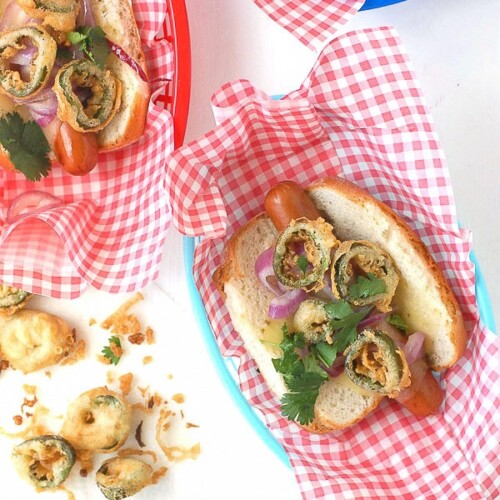 Firecracker Hot Dog
Spark up a regular hot dogs with some spicy Pepper Jack cheese, sweet sauteed onions and crunchy, deep fried Jalapeno Chiles. The battered jalapenos may be prepared with gluten-free or regular flour.
SERVING SIZE NOTE: Recipe is based on 1 hot dog and can be multiplied for the number of Firecracker Hot Dogs being prepared.
Print
Save Recipe
Recipe Saved!
Pin
Rate
Servings:
1
(additional servings
Ingredients
1

Hot Dog

1

Hot Dog Bun

(gluten-free or with gluten depending on preference)

1

deli slice Pepper Jack cheese per hot dog

(hand sliced equivalent amount may be substituted)

1

large

Jalapeno chile pepper per serving

1

large

slice Red Onion per serving: 1/4 inch thick

, sliced to form rings

Fresh Cilantro leaves for garnish
Ingredients for Beer Batter and jalapeno deep frying:*
Vegetable

, Canola or Sunflower oil for deep frying

1

cup

All Purpose Flour: regular or gluten-free

(I used King Arthur's Gluten-Free Flour blend)

6

ounces

(1/2 bottle) Lager-style Gluten-Free Beer

2

teaspoons

Cornstarch

1

teaspoon

Kosher Salt

1

teaspoon

Black Pepper

, freshly ground
Instructions
Instructions for Beer Battered Deep Fried Jalapeno peppers:
To prepare jalapeno peppers: Slice off the stem of the jalapeno. Using a paring knife, gently cut out the inner membrane and seeds of the pepper, leaving the outside of the pepper intact. Tip: I keep a pair of long needle-nose pliers in my kitchen tool drawer specifically for cooking projects and they work perfectly for this step.

Slice the jalapeno(s) into rings approximately 1/4 inch thick.

Pour 2-3 inches of oil into a medium size heavy pan or pot. Position a cooking thermometer in the oil but not touching the bottom of the pan. Over medium to medium-high heat, heat the oil to 375 degrees.

Set paper towels on a plate of baking sheet to drain the fried jalapenos.

In a bowl combine all the dry ingredients for the beer-batter. Slowly pour in some of the beer and whisk to combine allowing the foam to subside. Pour in the remaining beer and whisk to combine. The batter will be thin.

Using heatproof tongs, dip jalapeno slices individually into the batter, allowing them to be coated fully. Lift coated sliced above the batter and allow to drain slightly.

Place battered jalapeno slices into the heated oil and cook for a few minutes until they begin to turn golden brown. Remove and place on prepared paper towels. Repeat for all slices.
Instruction for cooking onion slices:
Grilling: brush each side of the onion slice with oil and allow to grill a few minutes per side until grill marks are present and the onion softens becoming slightly translucent. Separate onion into rings when removed from grill.

Pan sauteing; Pour a small amount of oil into a heavy skillet. Cook onion slices over medium-high heat, stirred periodically to separate onion slice into rings, allowing them to cook until soft and translucent.
Preparing the Firecracker Hot Dogs:
Cook hot dogs by desired preparation method (grilling or pan frying preferred). On the grill or in a skillet, place a slice of Pepper Jack cheese on a hot dog and allow it to being to melt.

Place hot dog in a bun on serving plate. Top with the sauteed onions, fried Jalapeno slices and cilantro leaves; serve.
Notes
*any leftover batter may be used to batter and fry other vegetables.
Nutrition
Calories:
382
kcal
|
Carbohydrates:
51
g
|
Protein:
11
g
|
Fat:
9
g
|
Saturated Fat:
2
g
|
Cholesterol:
21
mg
|
Sodium:
2938
mg
|
Potassium:
111
mg
|
Fiber:
1
g
|
Sugar:
4
g
|
Vitamin C:
1.2
mg
|
Calcium:
11
mg
|
Iron:
11.9
mg
Originally published: June 19, 2018