Easy Mozzarella Chicken is an Italian chicken recipe bursting with big flavors. Italian spices, marinara sauce, gooey melted mozzarella cheese with tender, juicy chicken. It may be the fastest, most delicious dinner recipe you've made. On the table in just 30 minutes!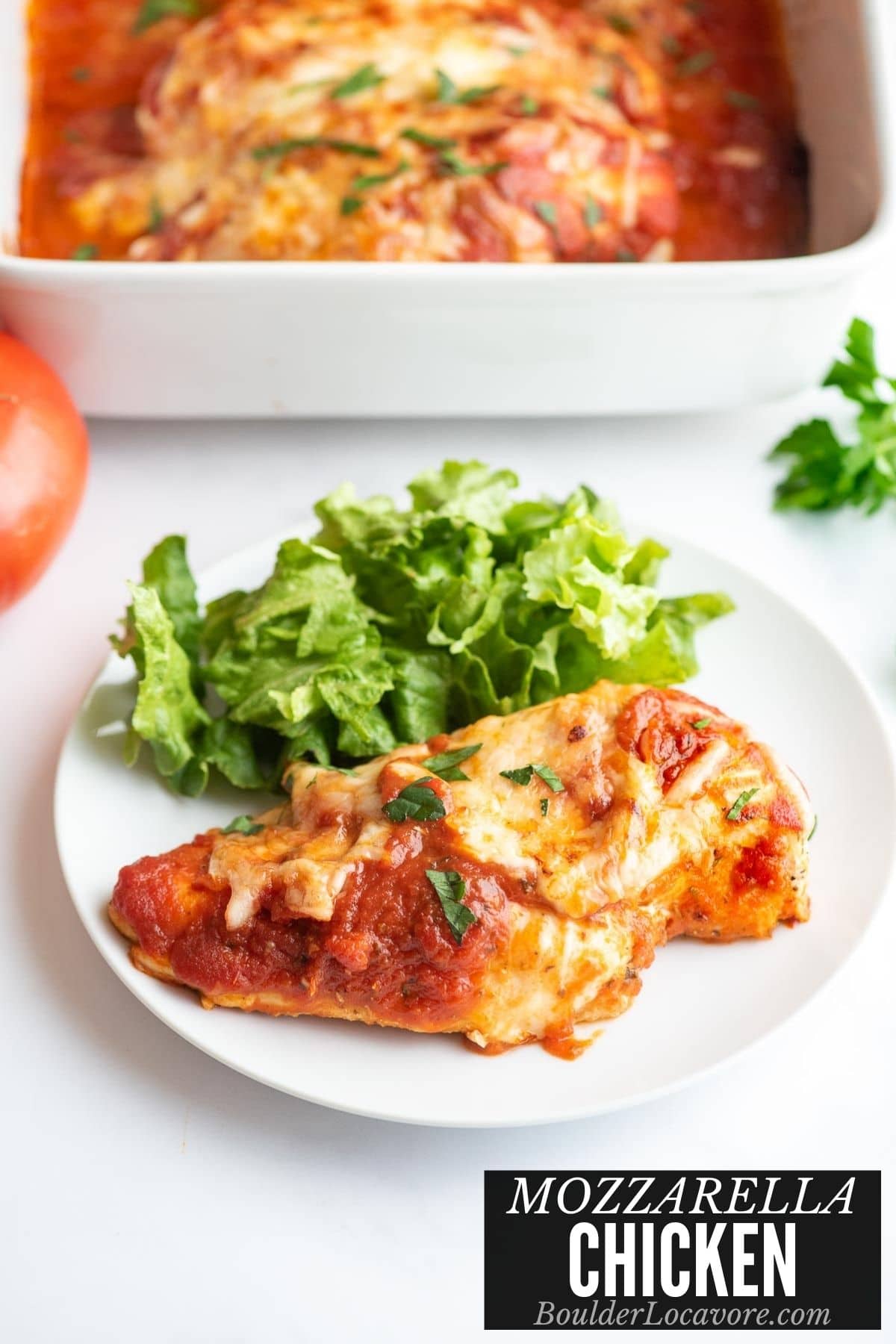 Italian food is always a favorite. It's nourishing to the stomach and the senses.
Whether you are an Italian meatballs fan or love satisfying comfort foods like Zuppa Toscana Soup or Pasta e Fagioli, you'll love this recipe too.
This easy baked Mozzarella Chicken is a winner. For the flavors and how easy and fast it is to make.
Jump to:
Bye bye boring weeknight dinner recipes thanks to this Mozzarella chicken!
Main dish recipes really don't get easier than this one pan recipe.
Boneless chicken breasts are seasoned with classic spices of garlic, thyme, basil, oregano, sage, rosemary and marjoram.
The good news? All but one of those spices is found in Italian seasoning; one spice blend. Easy to find at the store or make your own.
This makes a fast way to pump up the flavors.
Marinara sauce is poured over the chicken and finished with mozzarella cheese. It all bakes in 25 minutes for a flavor-packed dish that all ages will love.
This is one of those gold-star recipes you'll use when you want to impress or are too tired to do anything for dinner.
But no one will guess that it took you 5 minutes to prepare!
Recipes don't need to be time consuming or difficult to be fantastic. This recipe proves that.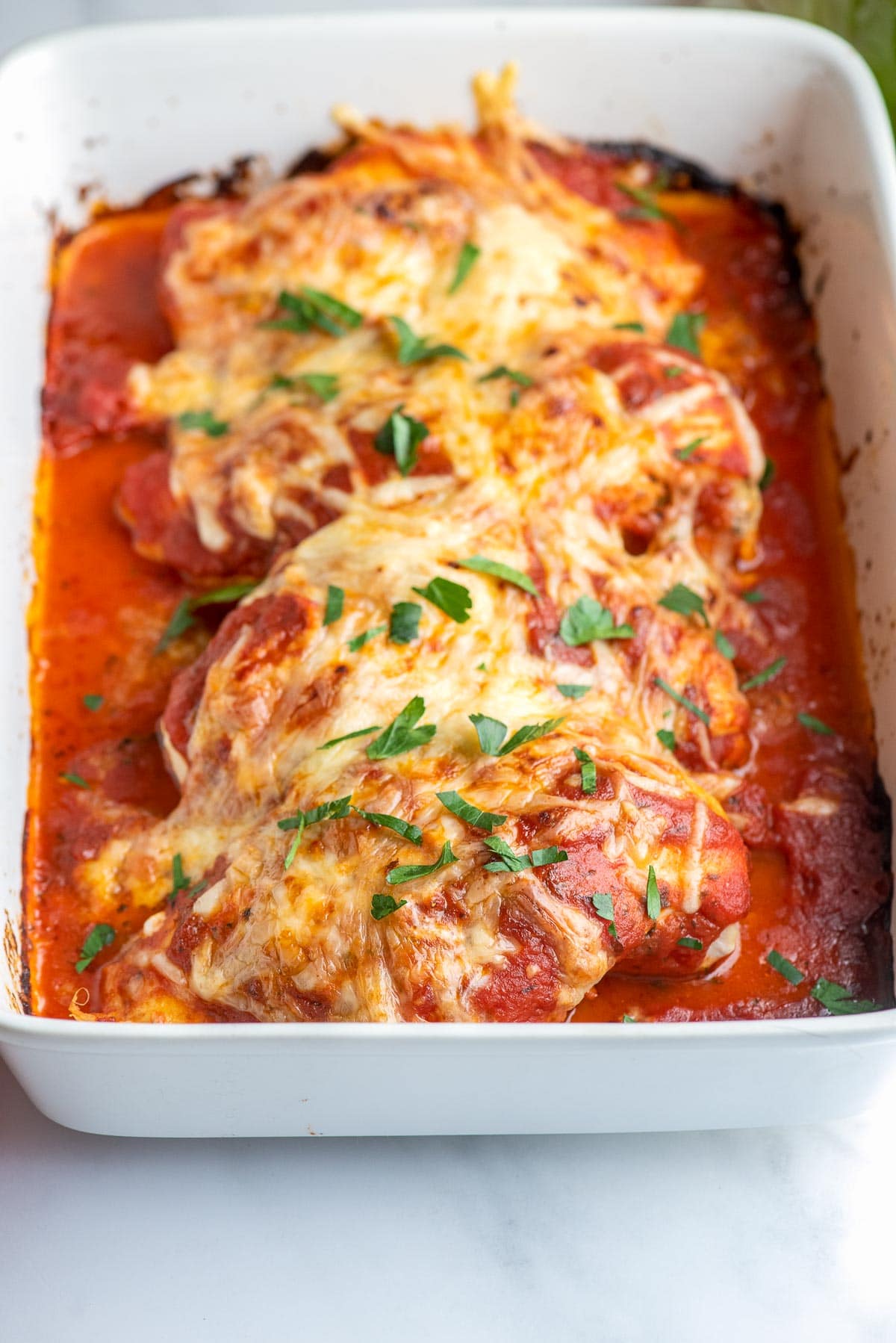 Recipe Ingredients + Notes
Boneless skinless Chicken breasts. Select chicken breasts that are similar size. The cooking time is based on an 8-10 ounce chicken breast size.
Olive oil. Will be brushed over the chicken before starting. Keeps it moist which cooking and adds more Mediterranean flavor.
Spices: garlic powder, Italian seasonings, black pepper. Italian Seasoning is an all-in-one spice blend available at all grocery stores. It's a fast, easy way to work in all the classic Italian spices at once.
Marinara sauce. This variety of tomato sauce is made up of just a few choice ingredients. It differs from spaghetti sauce which usually has many more ingredients. Store bought or homemade tomato sauce can be used.
Mozzarella cheese. Buy a block of cheese and shred this yourself. The pre-shredded cheese that is bagged in the grocery store includes an anti-caking agent. It prevents cheese from melting into that gooey velvety texture we love.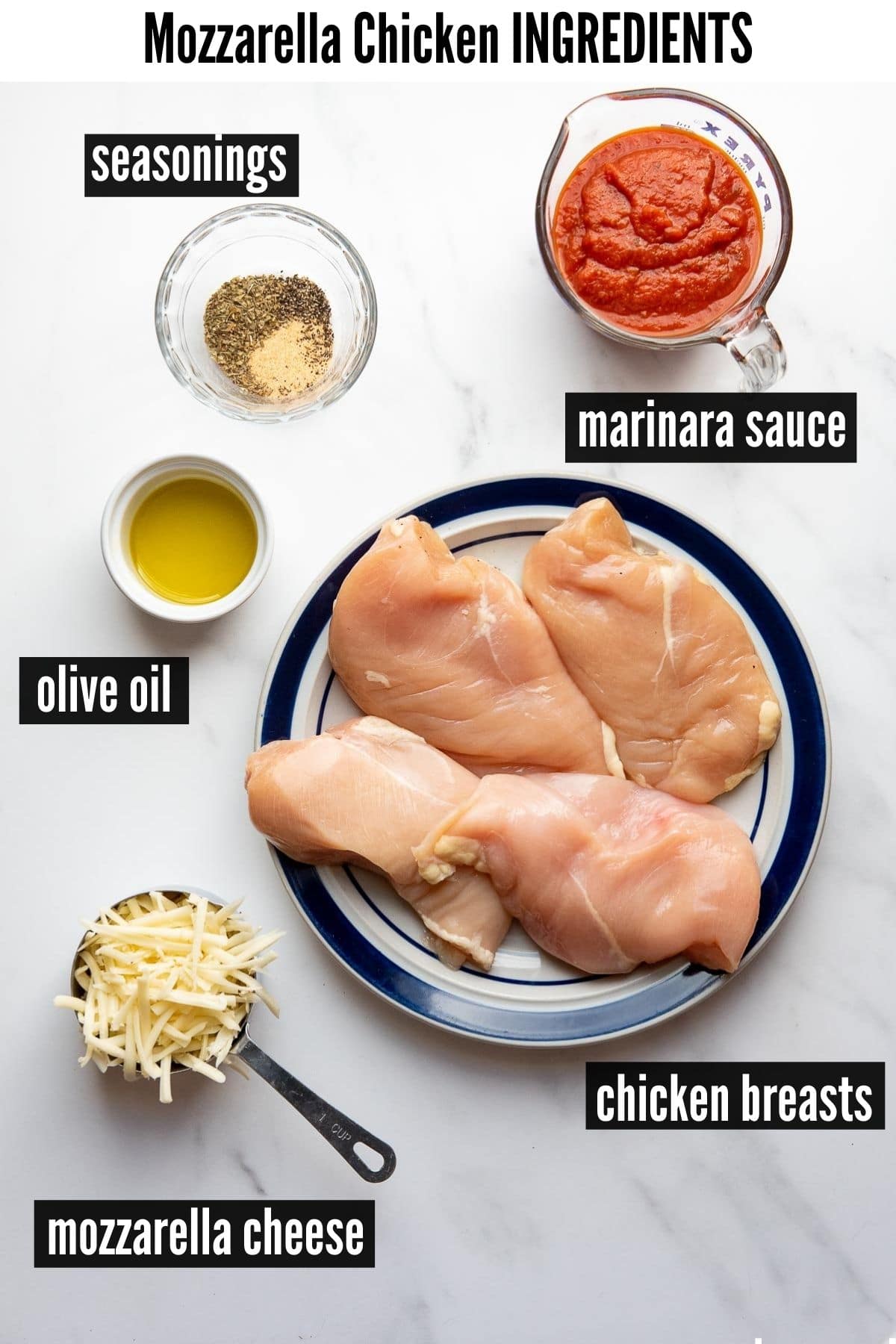 Variations
Use boneless chicken thighs. Chicken thighs have loads of flavor being darker meat. Skinless chicken does not add extra fat to the recipe which we love.
The cooking time may need to be adjusted. Always check for doneness with an instant read thermometer.
Add some pesto. Homemade or store bought pesto are a delicious flavor switch up. Try regular basil pesto or sundried tomato pesto. Add with the marinara sauce.
Change up the spices. Add some red pepper flakes for some spicy heat. Or some smoked paprika for a smoky earthy flavor.
Use crushed tomatoes. If you love some texture use crushed tomatoes instead of the marinara sauce. Pick some that have Italian spices included for a shortcut and pop of more flavor.
Add some mushrooms. Stir a half cup of sliced mushrooms in with the sauce. Our favorite are Baby Bella mushrooms. These young portabella mushrooms have loads of meaty flavor.
Switch up the cheese. Though this is 'mozzarella chicken' you can change up the cheese for a different flavor. Try Parmesan or Pecorino Romano. These don't melt in the same way so combining them with some mozzarella will give the best of both.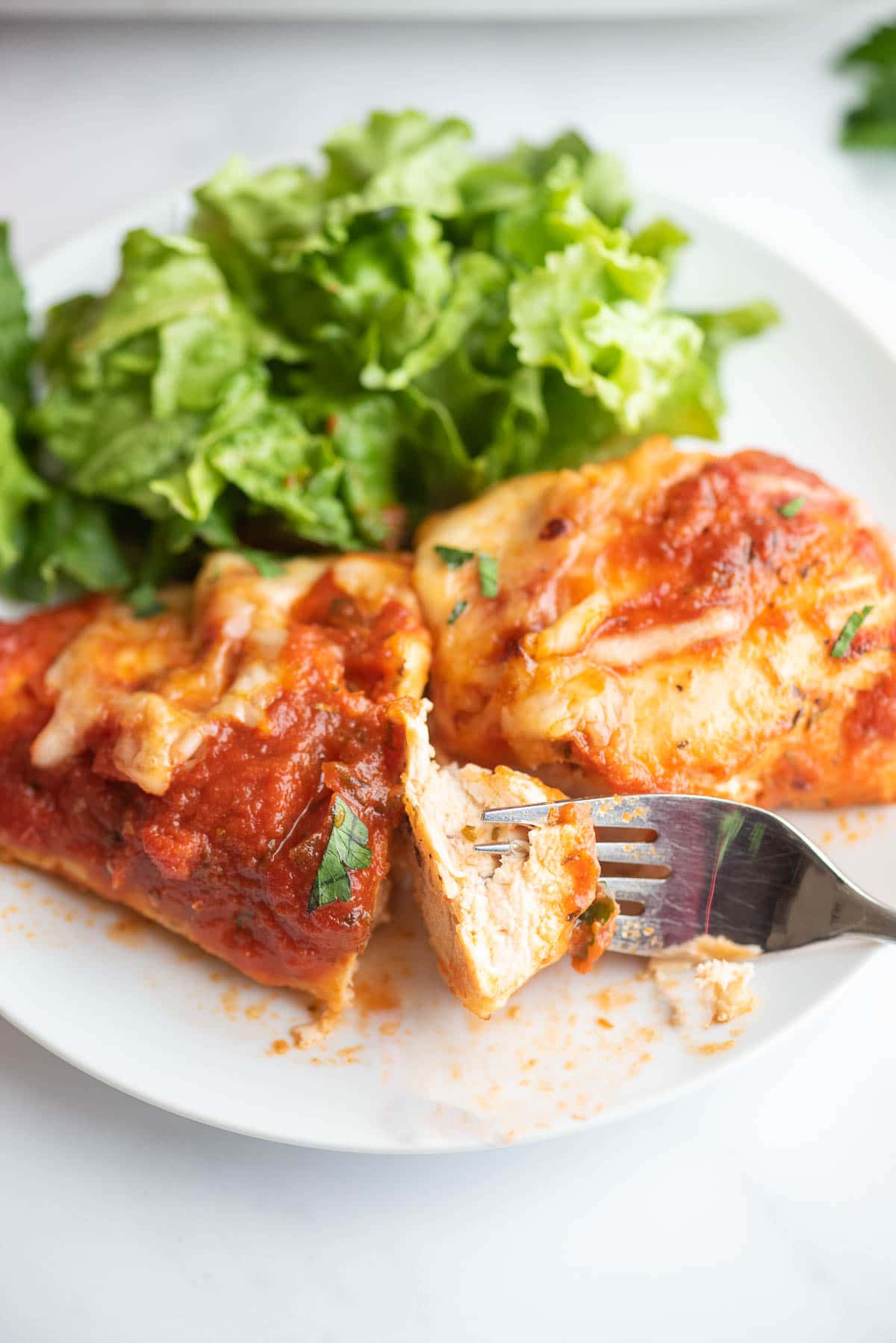 How to Make it – Step-by-Step
STEP 1. Preparation
Preheat the oven to 400 degrees F. Combine the spices together in a bowl and mix to combine.
STEP 2. Prepare the chicken
Add the chicken in a 9-inch by 11-inch baking pan. Brush both sides with the olive oil (photo 1).
Season the chicken with the spice mix on both sides (photo 2). Brush with the marinara sauce (photo 3) and top each chicken breast with the shredded mozzarella (photo 4).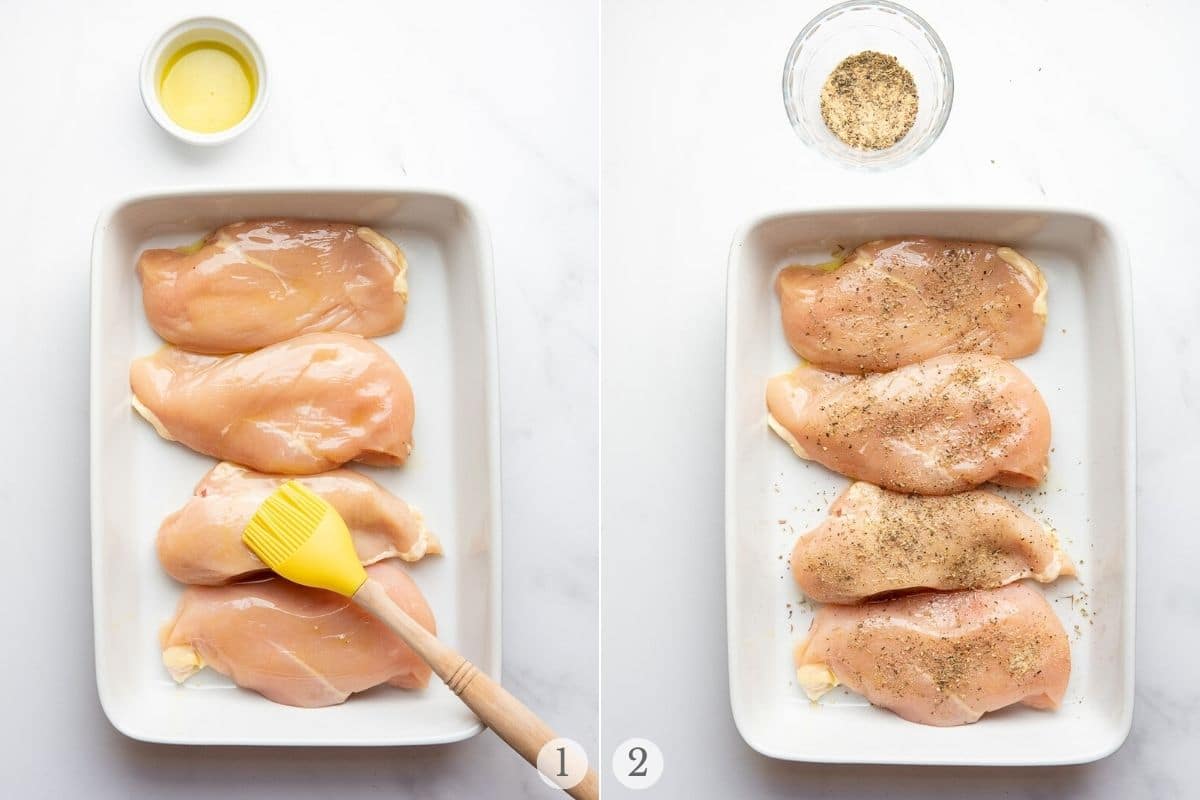 STEP 3. Cook the chicken
Cook for 25 minutes or until the cheese is melted and the internal temperature of the chicken reaches almost 165 degrees F (photo 5).
The temperature will continue to rise slightly when removed from the oven. Final temperature should be 165 degrees.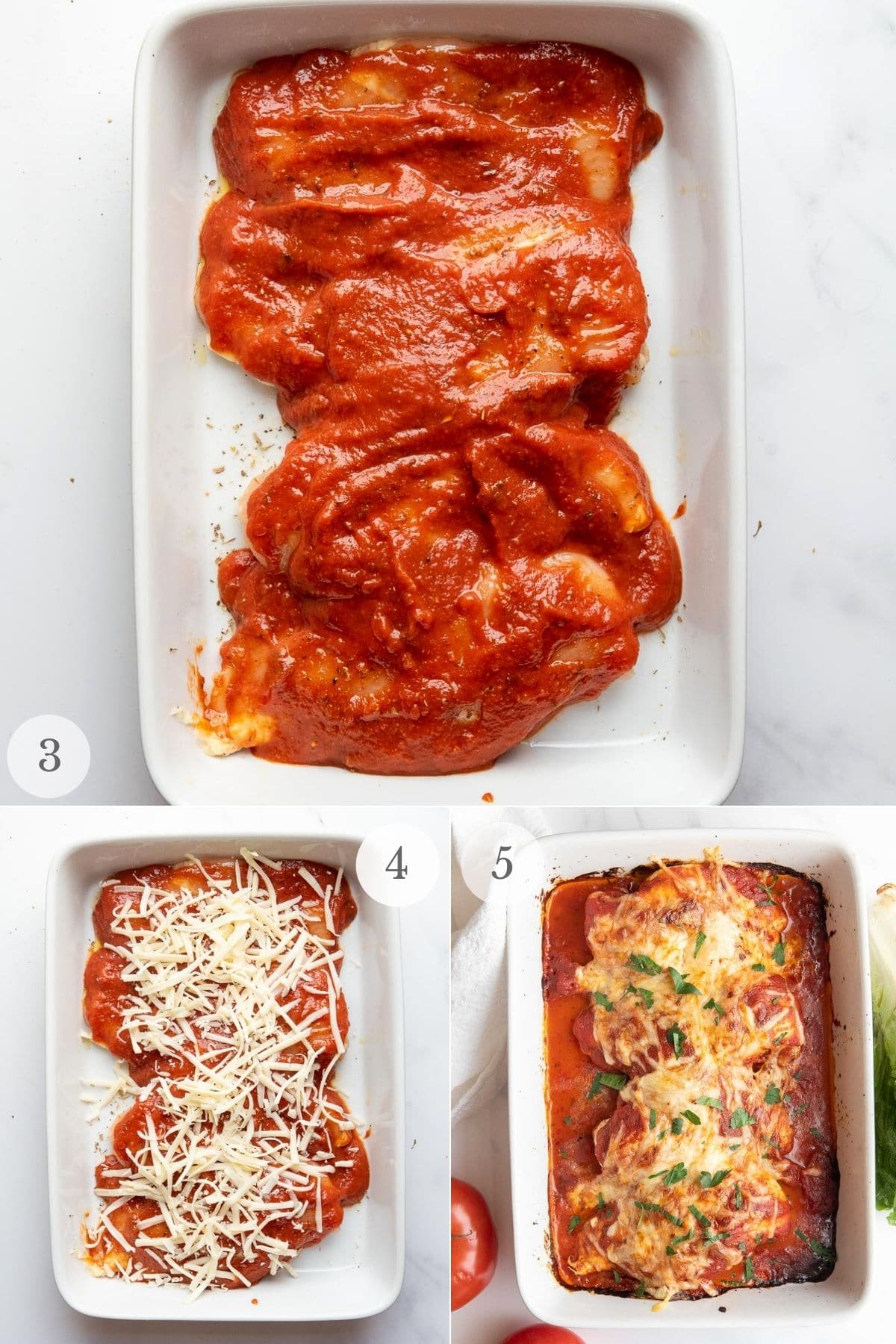 Pro Tips
Select chicken breasts that are the same size so they will cook evenly in the same amount of time.
Adjust cooking time per size of chicken breasts used. Larger chicken breasts may need to cook longer than 25 minutes. Very small chicken breasts may be done in 20 minutes.
Chicken is cooked when it reaches 165 degrees internal temperature. This is easiest to measure with an Instant Read food thermometer.
FAQs
How to tell if the chicken is cooked?
To determine if chicken is fully cooked measuring the internal temperature is required. Chicken is done when the internal temperature reaches 165 degrees F. The best and fastest way to do this is using an Instant Read food thermometer. It calculates the temperature in minutes so the chicken doesn't begin to cool as you take the temperature.
What to serve with Mozzarella Chicken
The chicken it's a great choice to serve over pasta, rice or (my favorite) mashed potatoes. Be sure to spoon on some of the delicious pan sauce.
Here are some side dishes other recipes that are delicious served with the Italian chicken: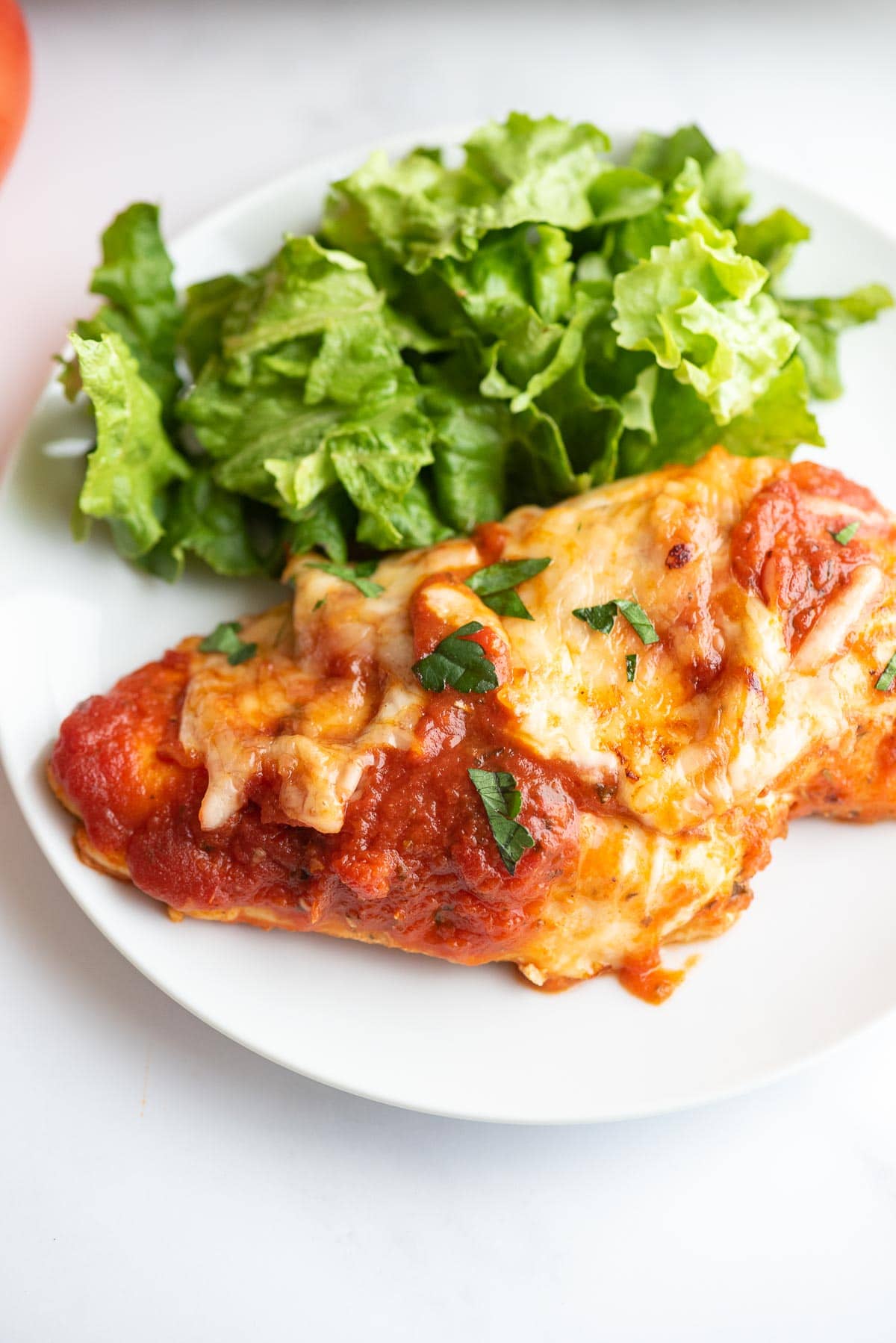 More Recipes You'll Love!
Did you make it? Please RATE THE RECIPE below!
Please
SUBSCRIBE
and
FOLLOW ME
on
FACEBOOK
,
TWITTER
,
INSTAGRAM
and
PINTEREST
!
Recipe