Pasta e Fagioli is a classic Italian recipe that's packed with delicious wholesome ingredients. This version is easy and fast in the Instant Pot. It's a great recipe that your family will love!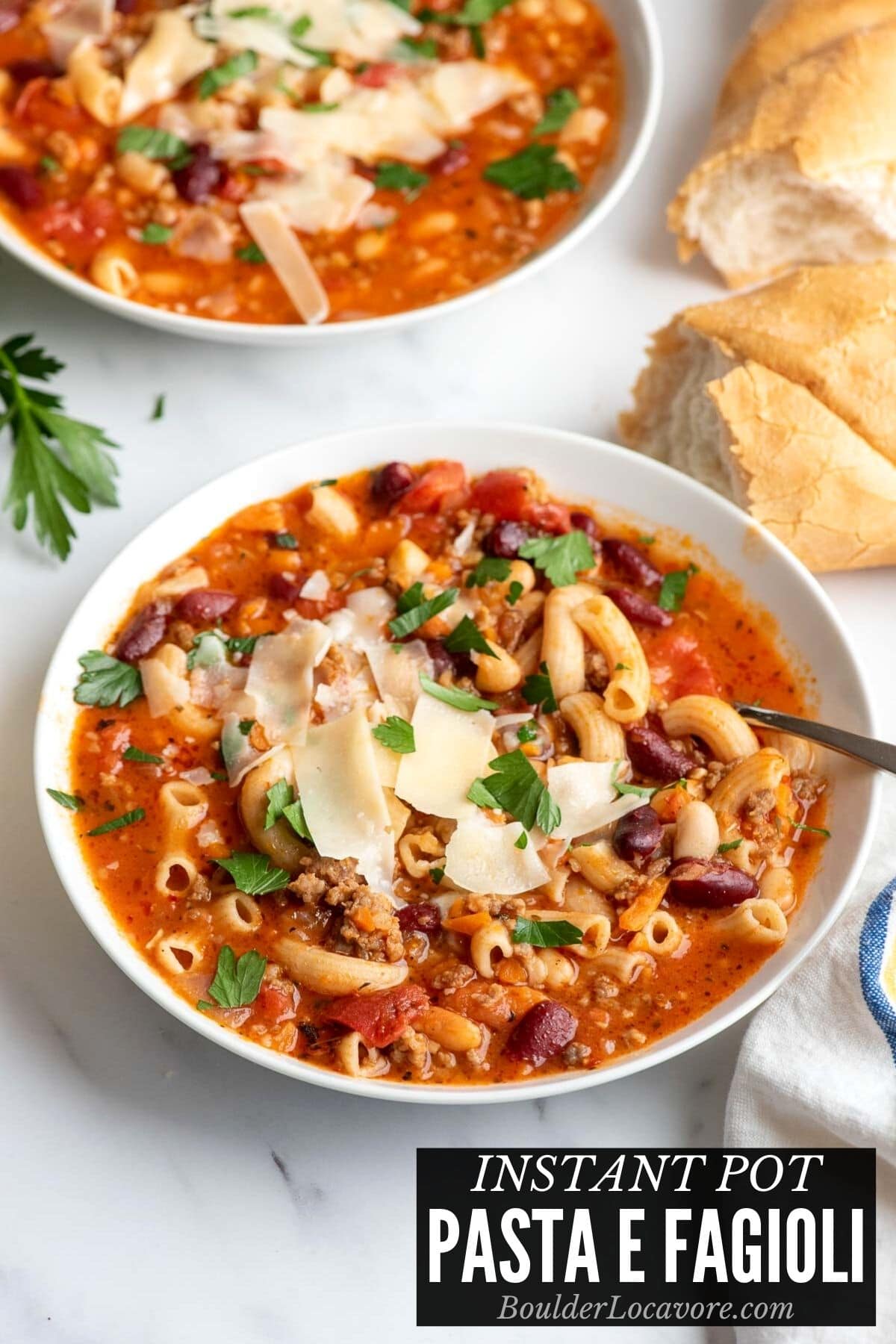 What is Pasta e Fagioli?
Translated from Italian as 'pasta and beans' it's a classic Italian soup. In the U.S. it's also called 'pasta fasul' (from the Italian 'pasta e fasule').
Originally as with many peasant dishes it was comprised of inexpensive and easily found ingredients. It's a combination of meat, beans, pasta and other ingredients to create a flavor-packed hearty soup.
It's a satisfying soul-warming absolutely delicious soup recipe that's fast and easy in the Instant Pot.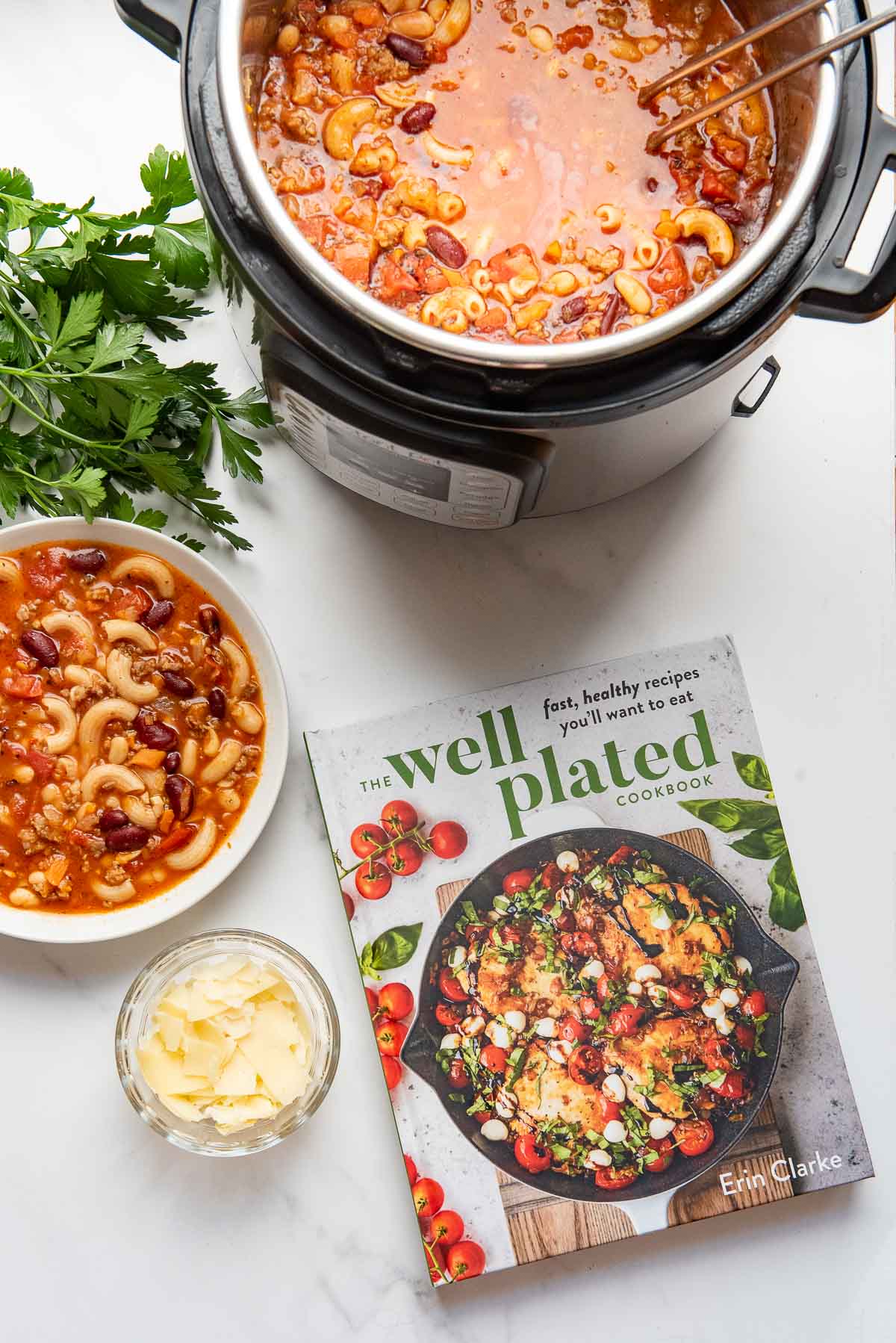 A Fast Healthy Recipe
This easy, delicious recipe is featured from a newly released The Well Plated Cookbook by Erin Clarke. Erin's wildly popular food blog 'Well Plated' has been serving up easy healthy recipes for years.
This cookbook is full of delicious recipes and kitchen instruction for every meal of the day. They are full of flavor and wholesome ingredients you'll love.
This Pasta e Fagioli recipe is just a taste!
Recipe Ingredients + Notes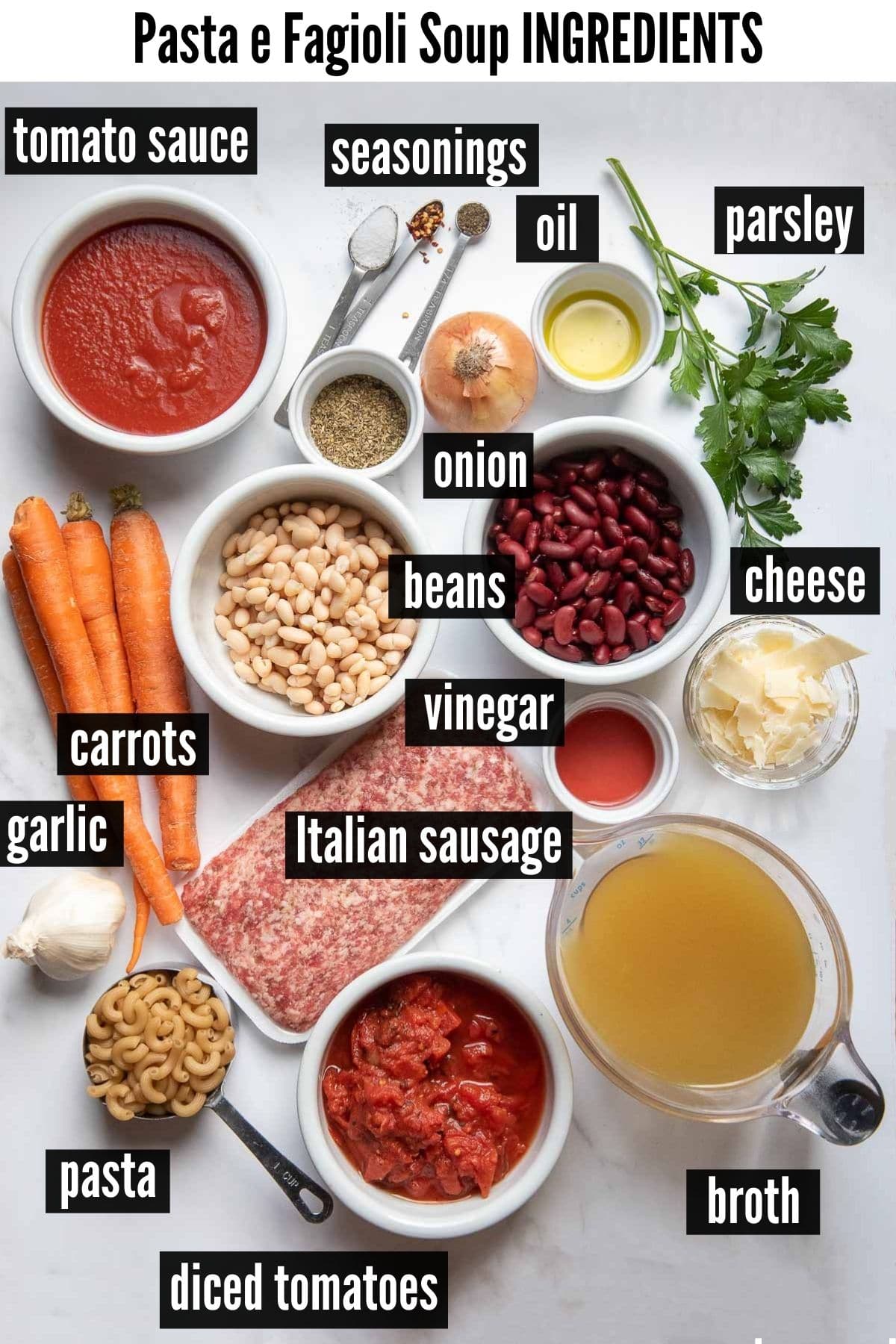 Italian Sausage – mild or spicy ground (or 'bulk') sausage may be used. I recommend mild unless you really like spicy foods. The seasonings in the sausage make the soup exceptional (vs using ground beef).
Carrots, Onions and Garlic – this trio offers great natural flavor to the broth of the soup. Sauteing with the sausage helps create a delicious base for the soup.
Chicken Stock or Broth – use low sodium chicken broth and season with salt at the end if needed. The salt in the sausage usually is enough.
Beans – light or dark kidney beans can be used. Choose your favorite white bean from great Northern beans, cannellini or navy beans. Canned beans are used to make the recipe easy and fast.
Pasta – smaller sized pasta works best for this soup recipe. Ditalini pasta, small shells or elbow pasta work great. Regular or gluten-free pasta may be used.
Tomato Sauce and Fire Roasted Diced Tomatoes – a classic ingredient in the recipe is tomato flavor. This winning pair offer just the right touch.
Seasonings – Italian seasoning, red pepper flakes, black pepper and red wine vinegar all add perfect flavors to the soup.
Healthy Variations
The original recipe included low-sodium options (no salt Tomato Sauce and low sodium canned beans) as well as chicken or turkey Italian sausage.
I was unable to find these specific ingredients and made the recipe with regular versions of all ingredients. The recipe is delicious!
To follow a lower sodium path or lower fat, substitute:
No Salt Tomato Sauce
Reduced Sodium Kidney Beans and white beans
Turkey or Chicken Italian Sausage
Whole wheat pasta (not an option for those gluten-free)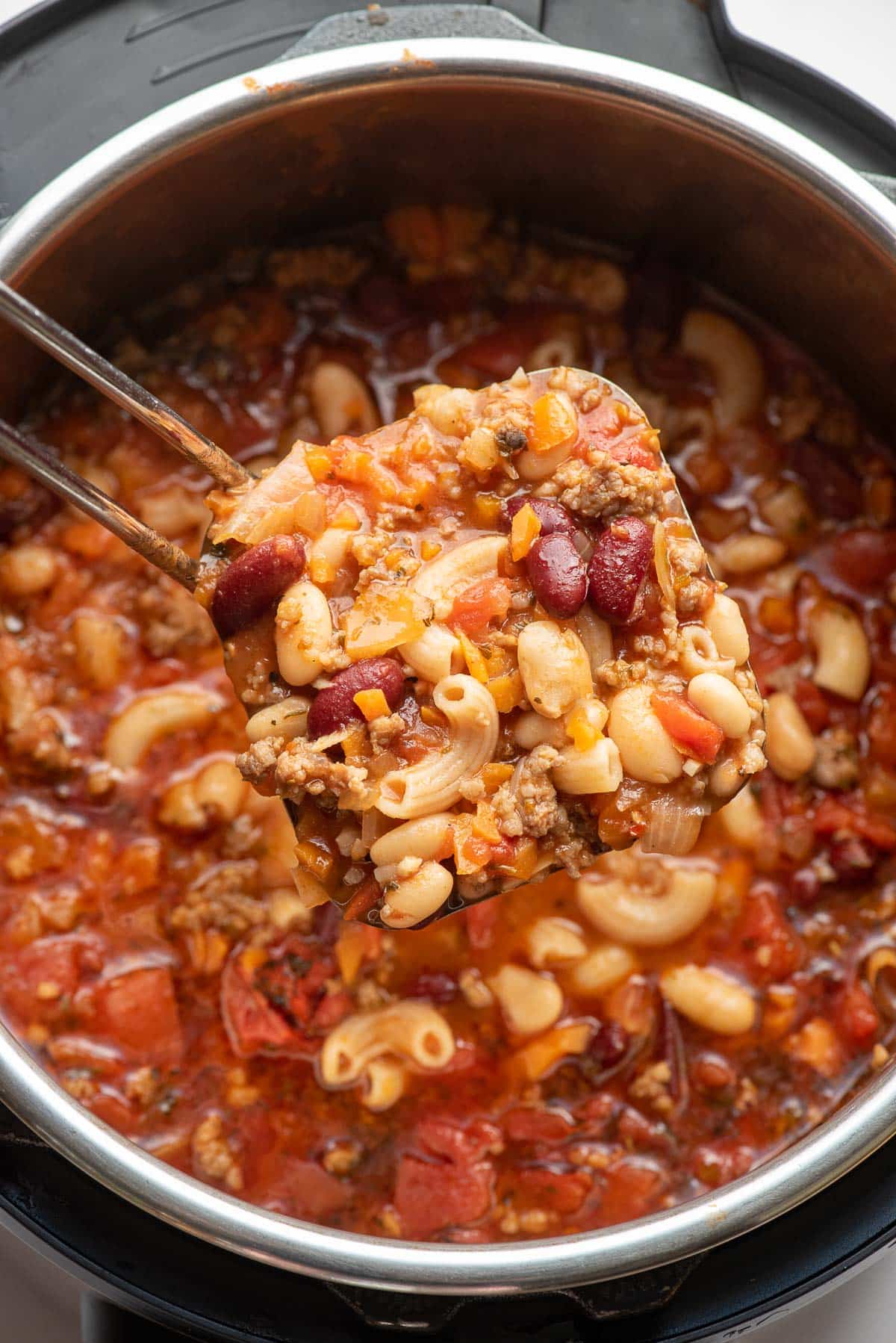 How to Make it – Step-by-Step
STEP 1: Set Instant Pot on SAUTE and add the olive oil (photo 1). When oil is hot add the Italian sausage (photo 2). Cook stirring to break apart the meat until no more pink is present; 5-7 minutes (photo 3).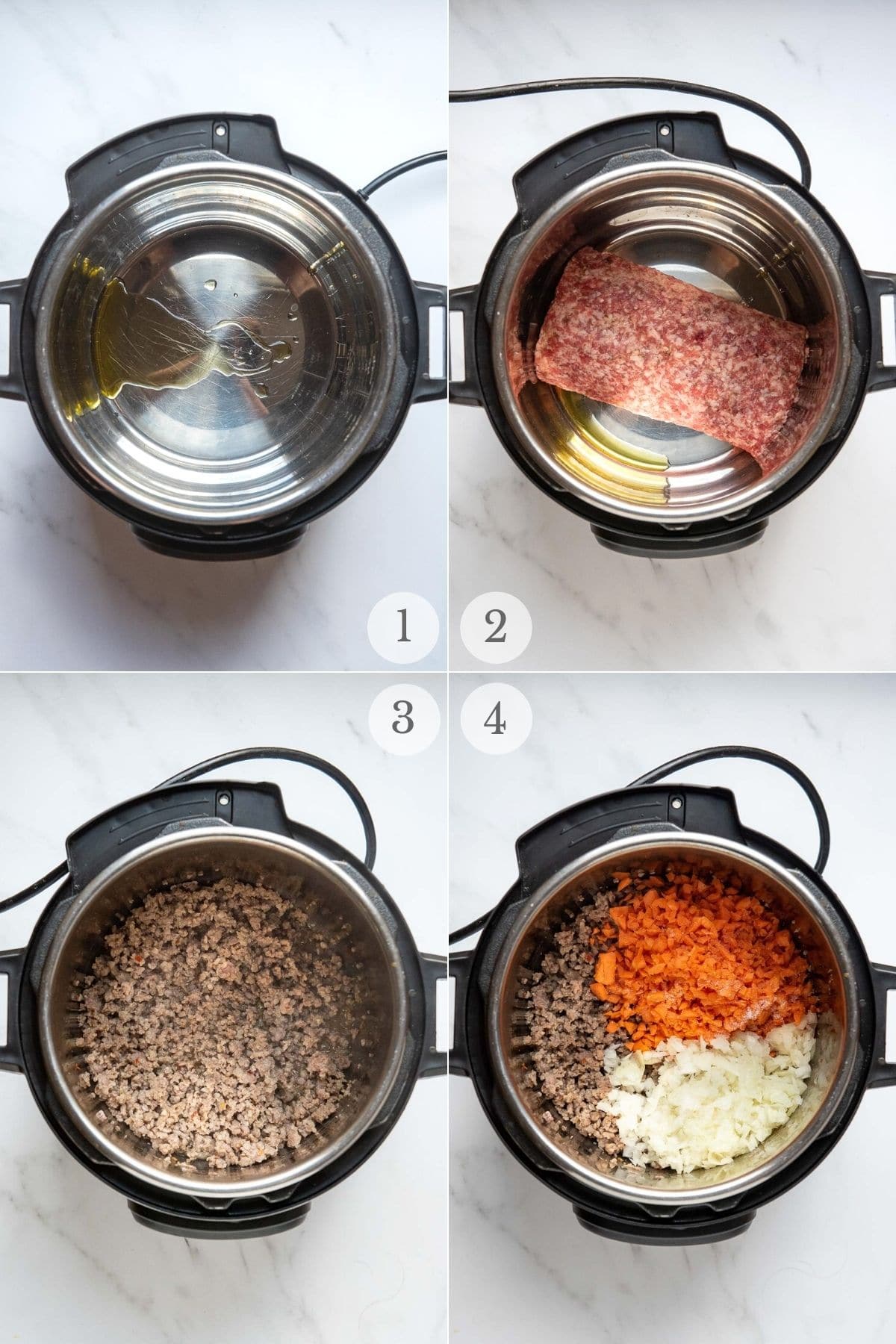 STEP 2: Add the carrots, onion and salt (photo 4). Cook until the onions are translucent (aproximately 4 minutes).
STEP 3: Add garlic and cook for 1 minute (photo 5).
STEP 4: Pour 1/2 cup of the broth into the Instant Pot and scrape off any browned bits sticking to the bottom of Instant Pot (photo 6). Turn off the SAUTE function.
NOTE: this step is important to avoid a BURN warning during the pressure cooking cycle.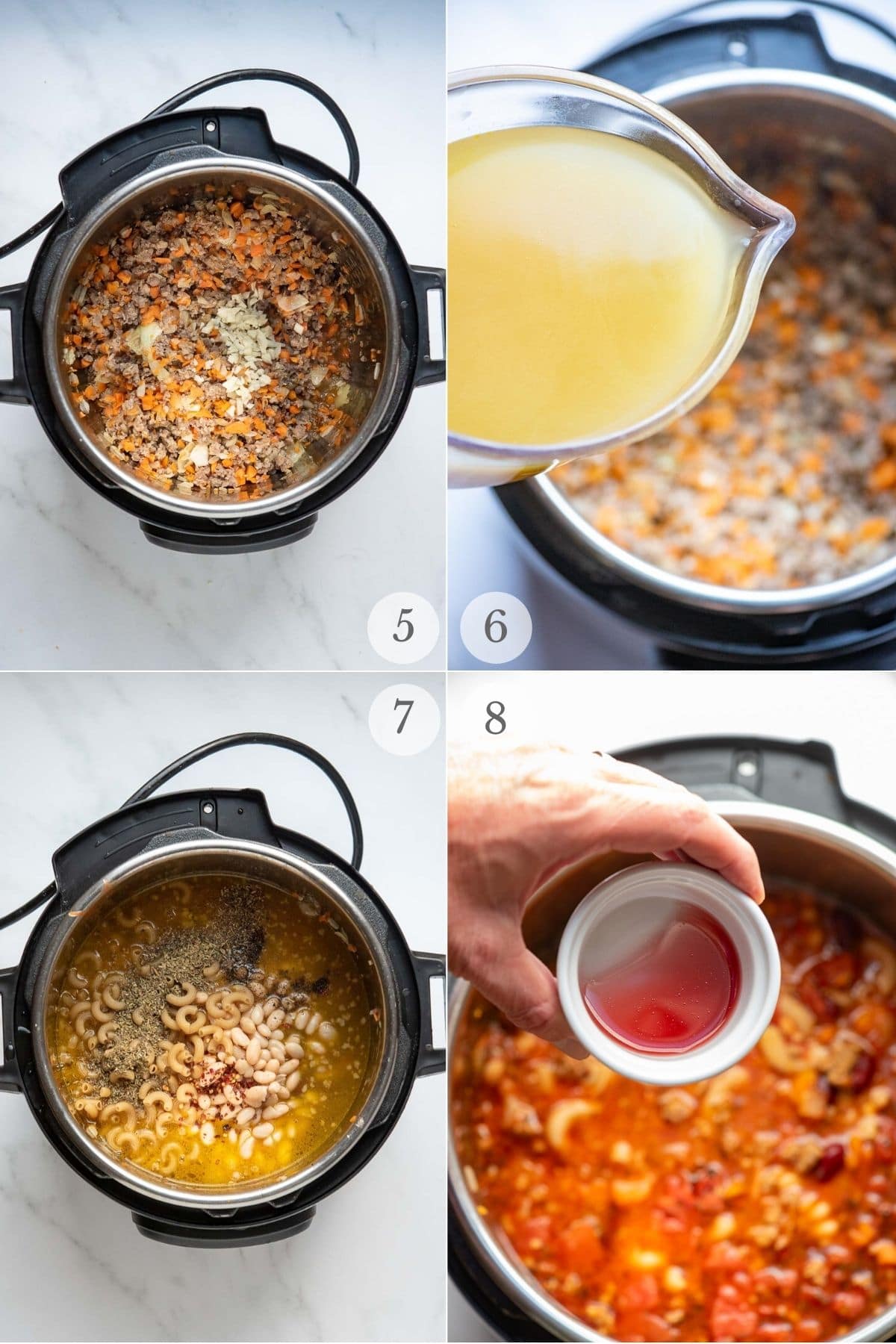 STEP 5: Add the rest of the broth, beans, pasta, tomato sauce, tomatoes, seasonings (photo 7). Stir to combine.
STEP 6: Seal the Instant Pot and cook on HIGH PRESSURE (Manual function) for 3 minutes. Follow with a 10 minute NATURAL RELEASE. Manually release any remaining pressure.
STEP 7: Remove the lid and stir in the vinegar (photo 8). Serve hot topped with Parmesan cheese and chopped basil or Italian parsley.
Pro Tips
Adding a Parmesan rind. This step is optional but adds great flavor (make sure to add some Parmesan on the top when serving too). A tip from the cookbook: freeze Parmesan rinds when you have them. Then add to the soup whenever you make it!
Soup flavor will continue to develop. For days after making the soup the flavors will deepen.
Letting soup sit in the Instant Pot. If the soup sits on WARM in the Instant Pot for a long period of time, the pasta can soak up more of the broth. This makes a stew consistency rather than brothy soup.
If you prefer the soupy texture do not leave in the Instant Pot after cooking for an extended time.
How to Store it
Refrigerate leftovers for up to 5 days in a sealed container.
Freeze in a freezer-safe container for up to 3 months.
Let thaw overnight in the refrigerator. Rewarm gently in the microwave or on the stove top.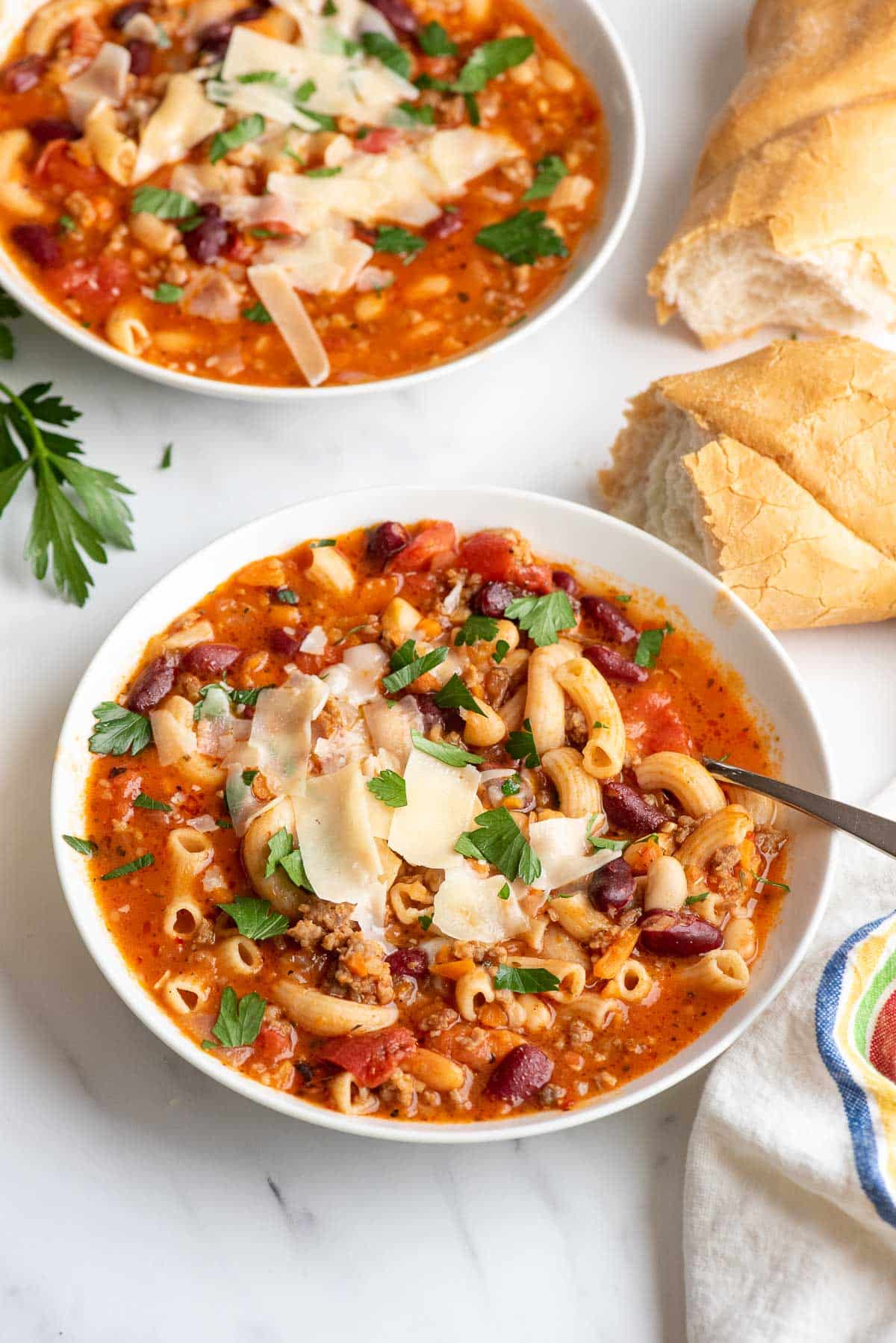 More Recipes You'll Love!
Did you make it? Please RATE THE RECIPE below!
Please SUBSCRIBE and FOLLOW ME on FACEBOOK , TWITTER , INSTAGRAM and PINTEREST !
Disclosure: I was provided a copy of this cookbook for the purposes of review.