Latte's aren't just for coffee fans anymore. Tea Lattes are a delicious way to enjoy your favorite coffee-house tea drink at home. Hot or cold. We are spilling 'all the tea' on how to make them.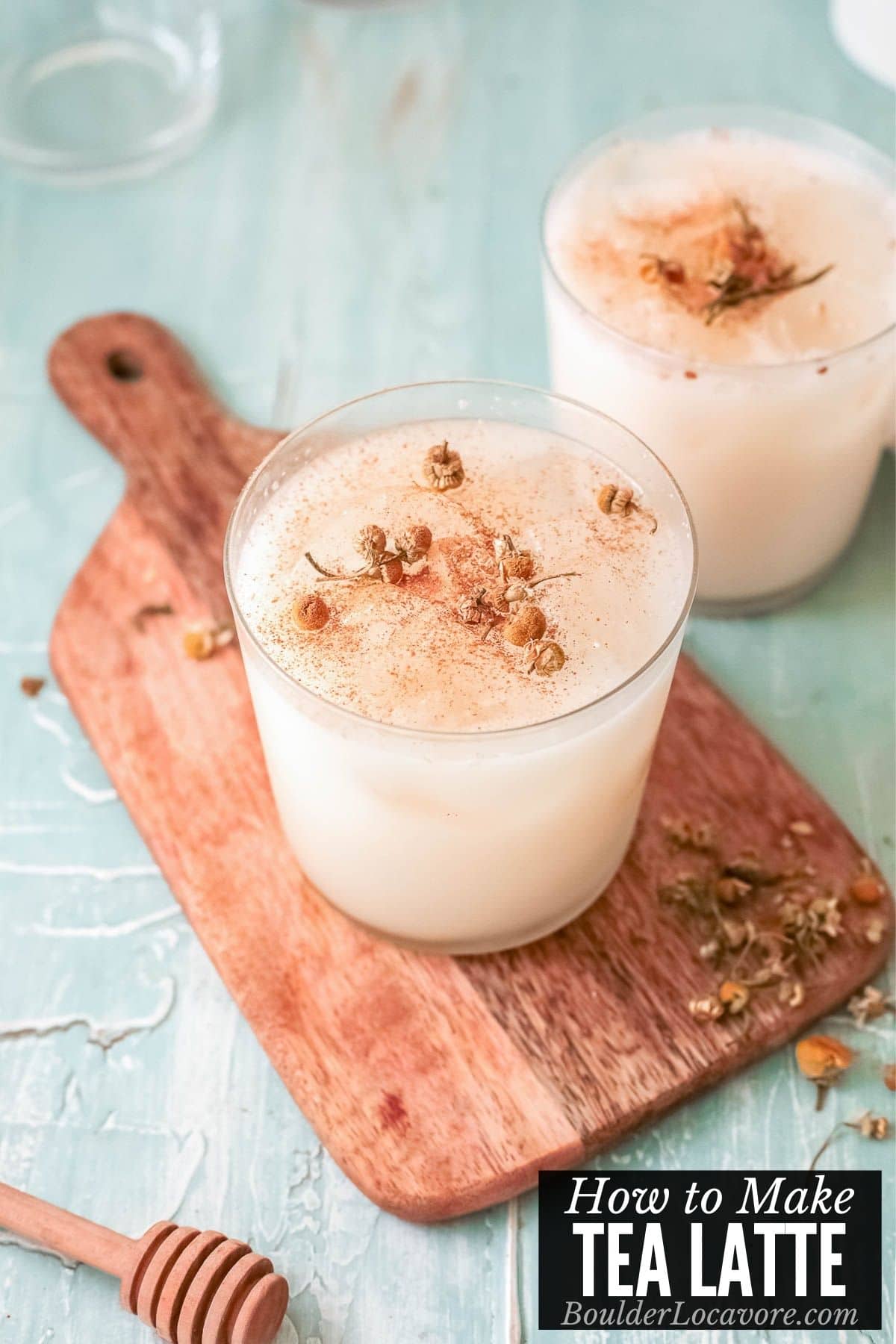 Whether you aren't a coffee drinker or just like to change up your drink routine Tea Lattes are a great choice.
They can be made with any tea so the number of different flavor choices is unlimited.
Change up the milk, use different sweeteners, add flavorings.
You get the picture. Lots of delicious options.
Jump to:
What is Tea Latte?
They are the tea version of a coffee latte. Steeped tea combined with milk and a usually a sweetener.
Hot tea lattes have frothed milk for a light, airy touch. Cold versions have the milk poured on top and are served over ice.
What's the Difference between Tea Latte and Milk Tea?
Traditional Milk Tea is strongly steeped black tea combined with sweetened milk or regular milk. It's generally served cold only.
Tea Latte can use any tea, often is served hot with frothed milk, usually a sweetener and sometimes an additional flavor agent (like vanilla extract for instance).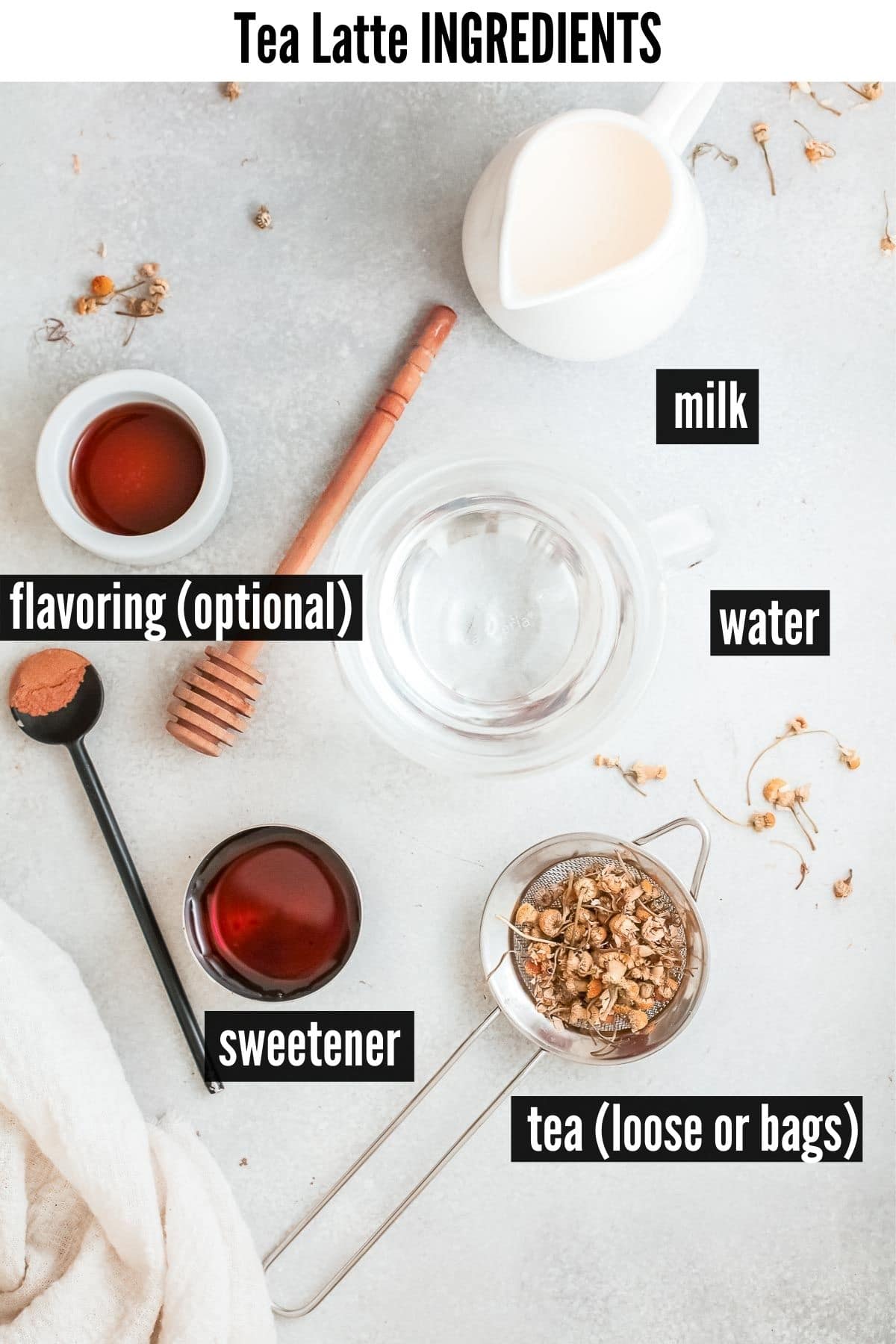 Recipe Ingredients Notes
There are three things you'll need to make tea lattes:
Prepared (brewed) tea. Any tea will work. Brew to the instructions for the tea being used.
Milk. If you'll be frothing the milk using whole dairy milk works best but any milk, dairy or plant milk will taste great.
Sweetener. Honey, agave syrup, granulated sugar or simple syrup (regular or flavored) can be used. Each has a different flavor so select what you enjoy for the type of tea you'll use.
What is the best tea to use for Tea Lattes?
Any tea can be used. Matcha lattes and Chai Lattes are very popular. The strong, distinct flavor of the tea combines well with the milk.
If you want something without caffeine try a Chamomile latte (shown in the How to Make it process steps).
Just like coffee lattes, tea lattes are delicious hot or cold.
How to froth milk for Lattes
Higher fat content milk froths best. Whole milk will create the best result due to the fat content. Any milk will work some just may not get as frothy.
Use the right tool. There are multiple ways to get milk to froth. Here are some to try:
Milk Frother. There are multiple types ranging from more high end dedicated machines to handheld wands that are very affordable. They are great especially if you want to make lattes at home.
A steamer on a home espresso machine. If you have an espresso machine with the steamer to frother milk, use that.
French Press. These are used to make coffee but hot milk can also be added the the plunger used to froth the milk. Pump the plunger a few times to get the milk to froth.
Whisk. This takes some 'elbow grease' but will work.
A jar. Put the hot milk in a jar, add the lid and shake it vigorously. Or try this method from The Kitchn of adding cold milk to a jar, shaking then microwaving to stabilize the foam.
Try an immersion blender (stick blender). Add the heated milk to a deep container to minimize splattering.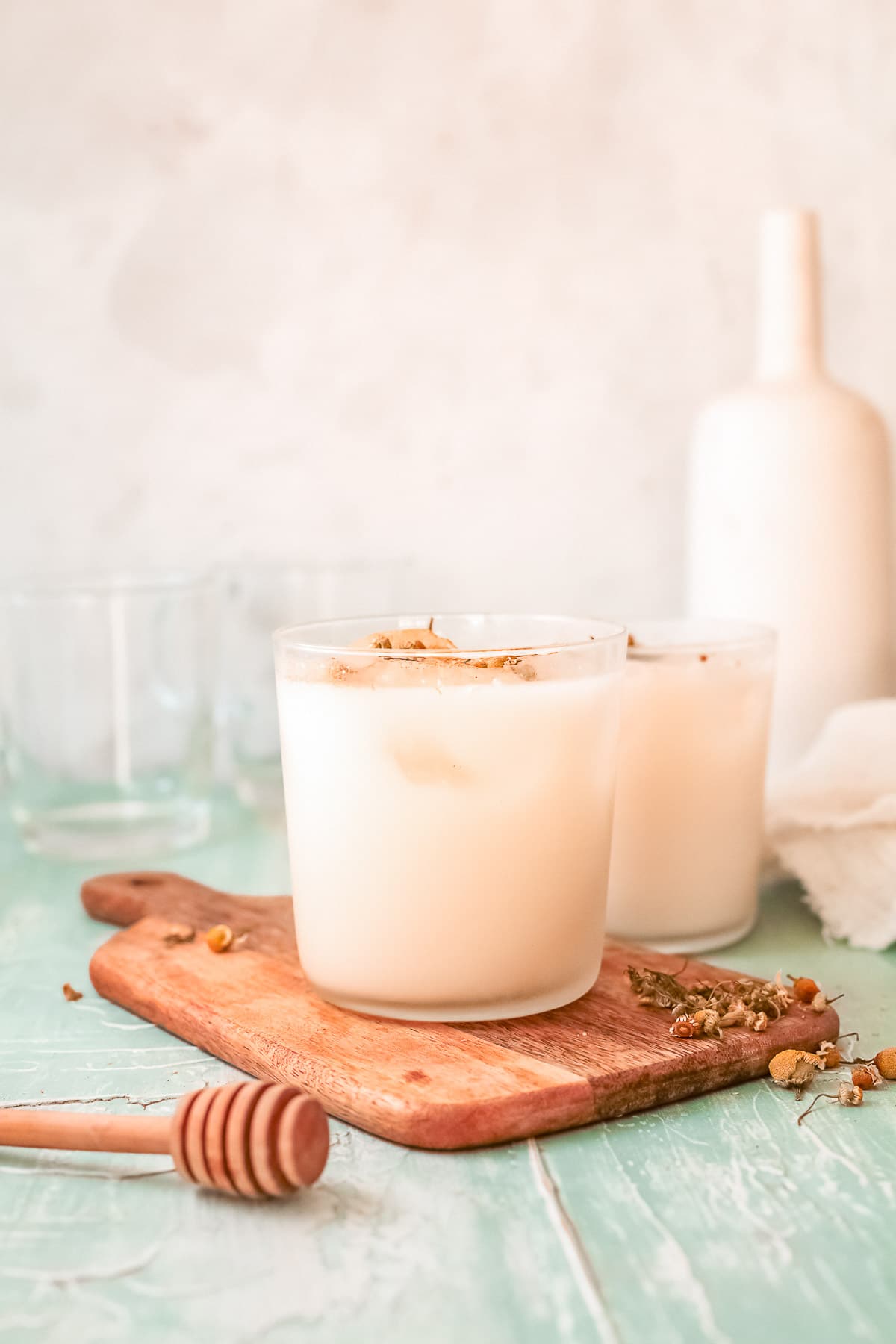 Basic Tea Latte formula
2 teaspoons loose tea (fine texture) OR 2 tablespoons if coarse (e.g. dried chamomile flowers) OR 2 tea bags
6 ounces water (3/4 cup)
1/3 cup milk
Hot tea lattes have frothed milk and iced tea lattes use cold milk.
Steep for the time suggested by the tea maker. If using bulk tea (no package) consult this guide tea steeping details and times.
This basic formula doubles the tea amount for the same amount of water to make stronger tea.
Making the tea stronger better delivers the tea flavor once it's combined with the milk.
Do not steep the tea longer as it can become bitter.
Steep the tea 2-3 times stronger than in a regular cup of tea. This allows the tea flavor to come through when the milk is added.
Having said all of this when you are making them at home you can find the ratios that you enjoy most.
If you use Starbucks as an example, they use approximately 50% tea concentrate and 50% milk for their tea lattes (I asked).
How to Make it – Step-by-Step
STEP 1. Brew the tea
Use loose tea (shown below) or tea bags. Brew for the tea makers recommended time. Photos 1-2.
If making iced tea latte still steep it hot and let it chill before making the latte.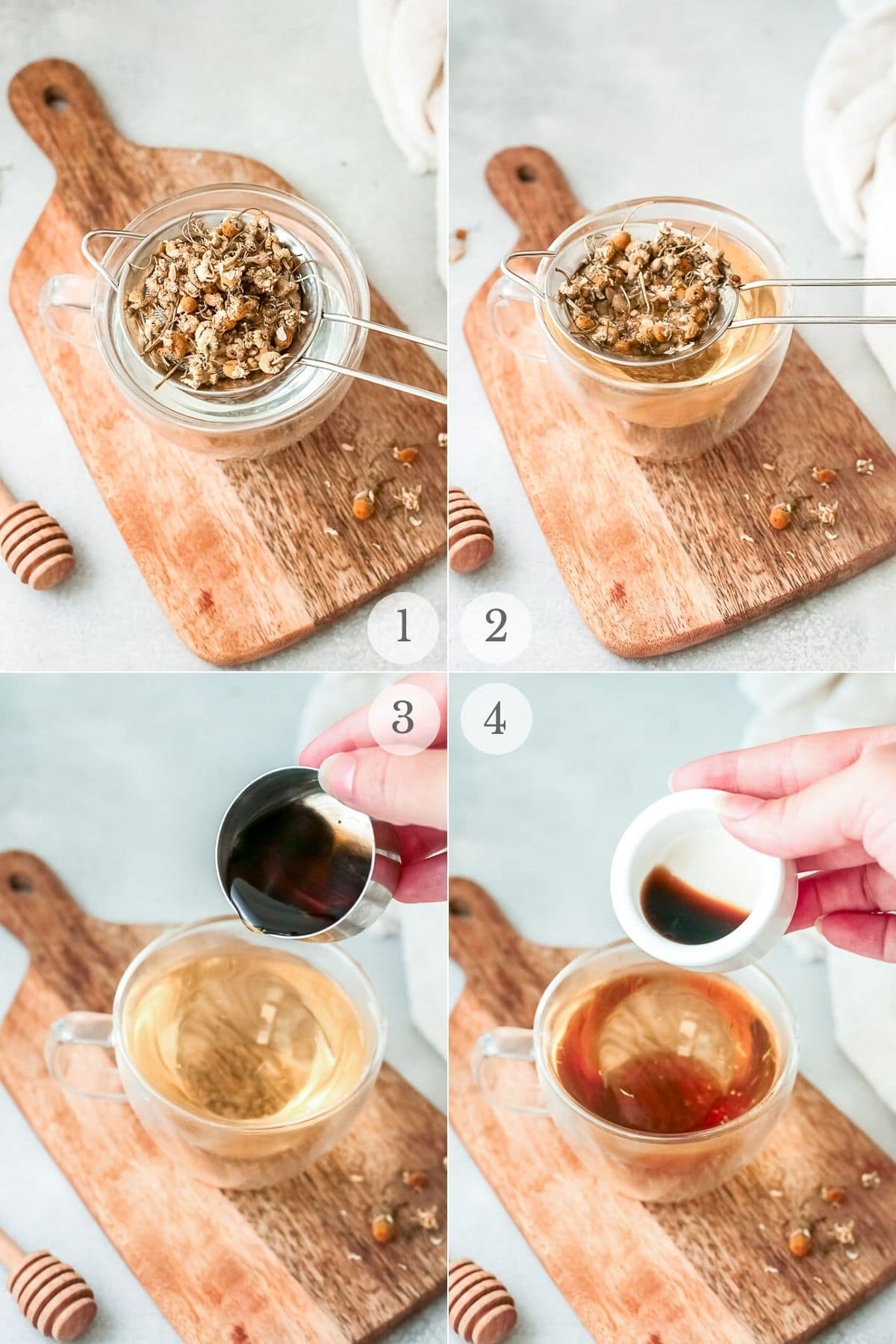 STEP 2. Add sweetener
Add the sweetener of choice (photo 3). Also if using an additional flavoring it now. Photo 4 is adding vanilla extract for the Chamomile Iced Tea Latte.
STEP 3. Add milk
For iced latte: Pour the tea into a glass with ice (photo 5). Pour in the chilled milk of choice (photo 6).
For hot latte: Pour the tea into a tall glass or large mug. Froth the milk and spoon it into the mug.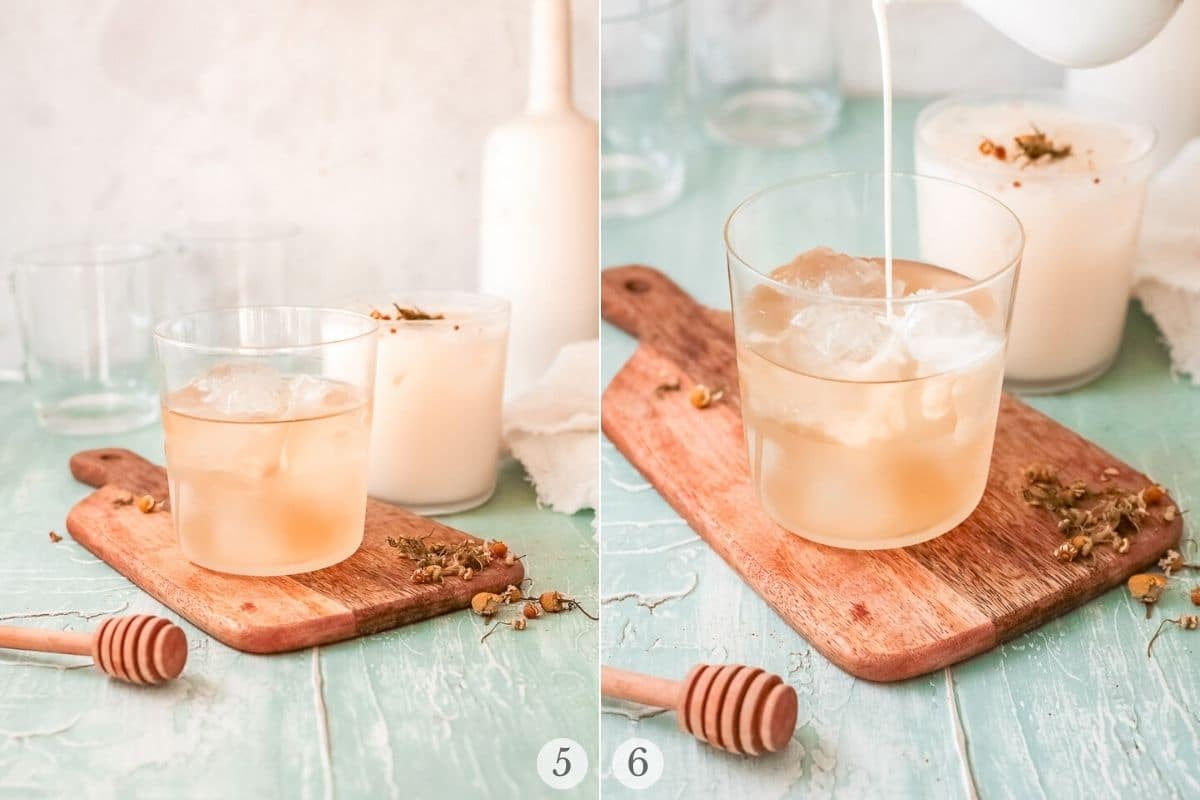 Pro Tips
Don't steep the tea longer. To make the tea stronger, we've doubled the tea for the same amount of water. Steeping it longer can make the tea bitter.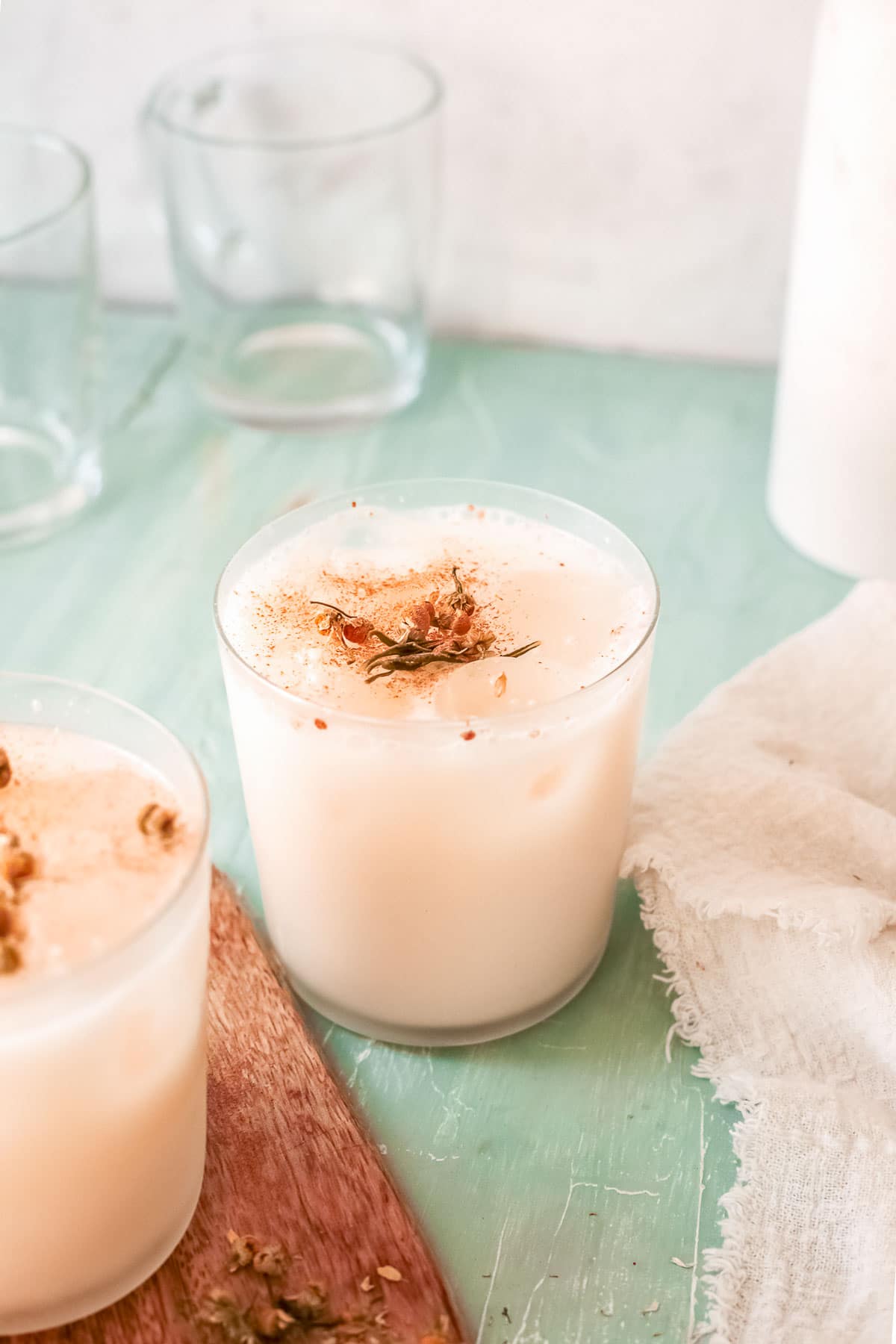 Some Tea Latte Recipes to try
Did you make it? Please RATE THE RECIPE below!
Please
SUBSCRIBE
and
FOLLOW ME
on
FACEBOOK
,
TWITTER
,
INSTAGRAM
and
PINTEREST
!
Recipe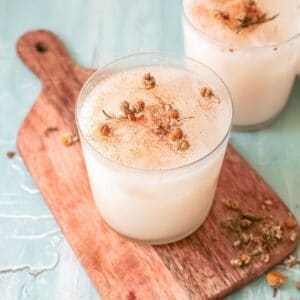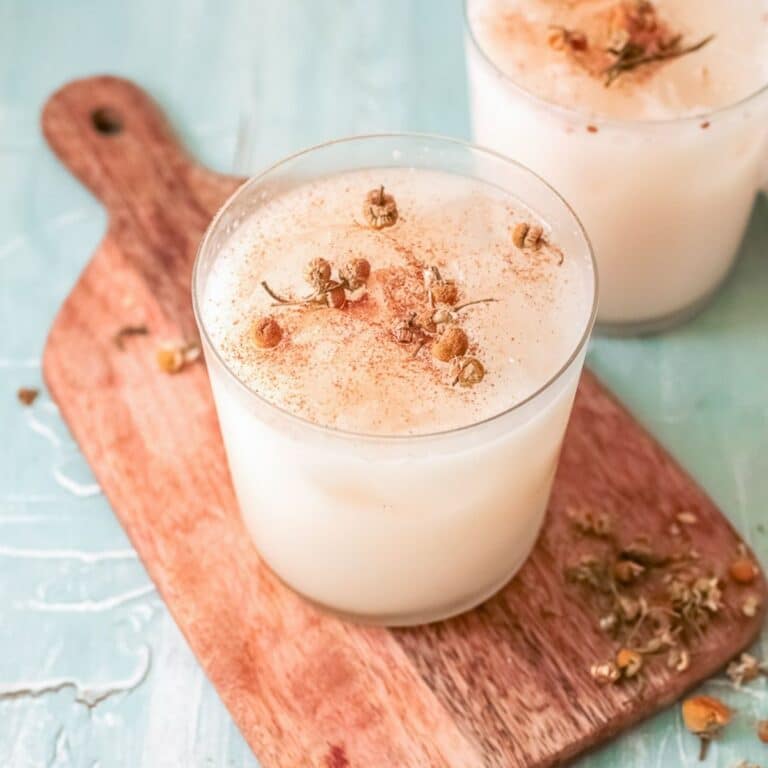 Tea Latte recipe
Any type of tea can be used with this general tea latte recipe to create a delicious hot or cold tea drink you'll love. The amounts can be increased keeping the proportions the same for more servings.
Print
Save Recipe
Recipe Saved!
Pin
Rate
Ingredients
Tea (choose one)
2

teaspoons

fine texture loose tea

most black or green teas

2

tablespoons

coarse texture loose tea

example: chamomile flowers

2

tea bags
Other ingredients
3/4

cup

water

1/3

cup

milk

sweetener

as desired
Instructions
Select either 2 teaspoons loose tea (fine texture) OR 2 tablespoons loose tea (coarse texture) OR 2 tea bags.

Heat the water and steep the tea to manufacturers suggested time.
Hot Tea Latte
Heat the milk. Froth the milk via one of the method in the NOTES.

Spoon into the glass or mug on top of the prepared tea.
Iced Tea Latte
Chill the prepared tea. Once cold add to a glass with ice. Add sweetener if desired and pour in the milk.
Notes
Nutritional information only a guide. Will depend on ingredients being used.
Basics
Use only ONE of the three tea options.
Follow the tea makers guide for steeping the tea being used (for length of time and water temperature).
Do not steep tea longer than recommended. It can become bitter.
Heat the milk and froth it for hot tea latte.
Chill the milk for iced tea latte.
Ingredient Notes
Tea
Any type of tea can be used. Loose tea or tea bags can be used.
Coarser tea (like chamomile flowers) will require more than finely ground tea.
Milk
Any type of milk may be used, dairy or plant milk.
If frothing the milk whole dairy milk will froth best due to the higher fat content.
Sweeteners
Sugar, simple syrup, maple syrup, honey or agave syrup can be used. Sweeten to taste.
Flavorings
Extracts, spices or flavored simple syrups can be added as desired.
Options for Frothing Milk (hot tea latte)
A steamer on a home espresso machine. I
French Press. Pump the plunger a few times to get the milk to froth.
Whisk.
A jar. Put the hot milk in a jar, add the lid and shake it vigorously.
An immersion blender (stick blender)
Nutrition
Calories:
50
kcal
|
Carbohydrates:
4
g
|
Protein:
3
g
|
Fat:
3
g
|
Saturated Fat:
2
g
|
Cholesterol:
8
mg
|
Sodium:
44
mg
|
Potassium:
107
mg
|
Sugar:
4
g
|
Vitamin A:
132
IU
|
Calcium:
97
mg
|
Iron:
1
mg