Bring a taste of Tuscany to your crock pot! Zuppa Toscana is made with flavorful Italian Sausage, bacon, kale and a touch of cream. This favorite soup cooks in the slow cooker for a hearty, satisfying meal that's easy and absolutely delicious.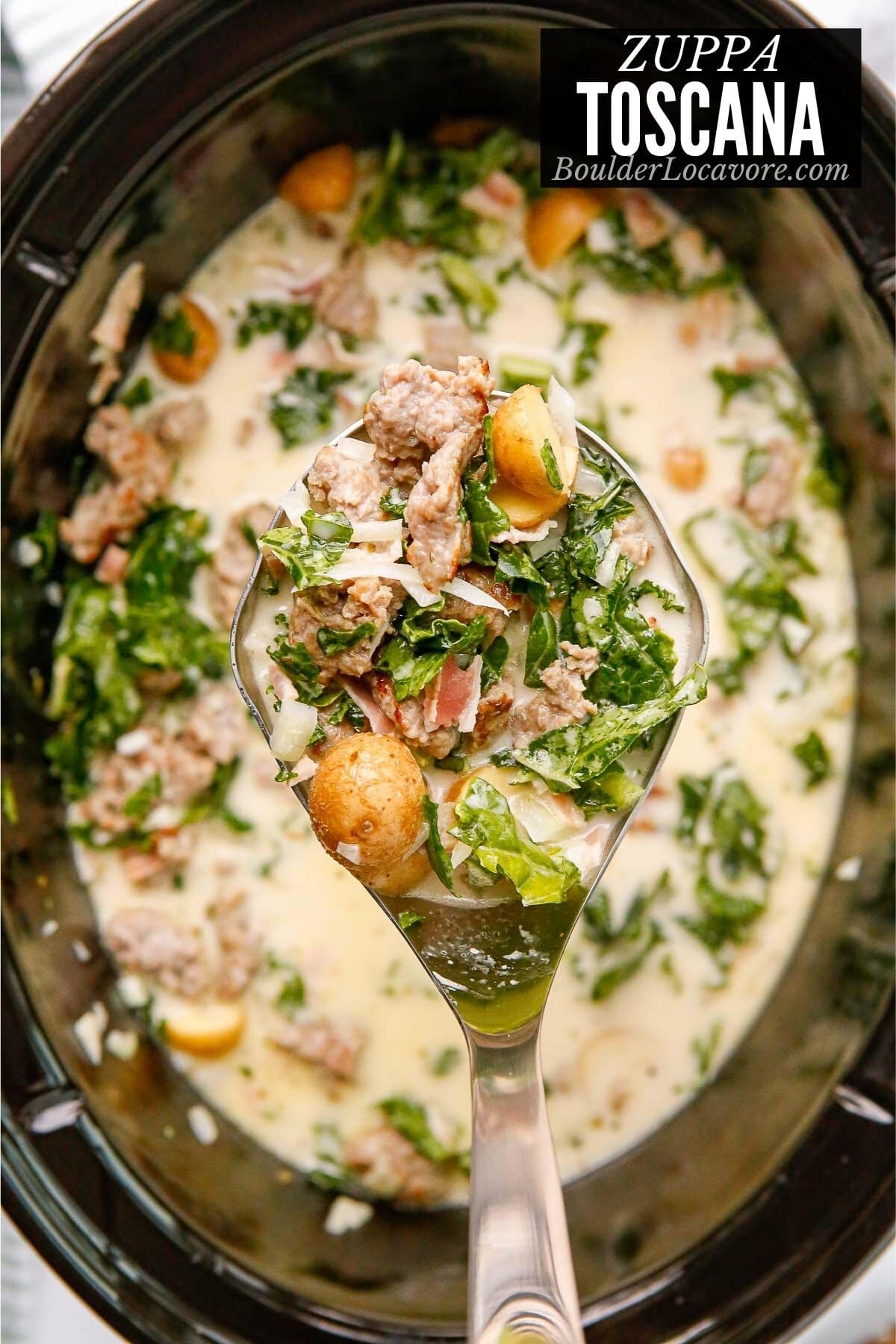 There is nothing better than a flavor-packed, filling soup recipe brimming with loads of great texture.
This is one of those family loved great recipes that's easy to make any time.
It's perfect as a main dish or a starter recipe. It's naturally gluten-free and irresistibly good!
Add some Spaghetti Aglio e Olio, Homemade Garlic Bread or Breadsticks or Creamy Tuscan Chicken for a complete Italian feast.
What is Zuppa Toscana?
Zuppa Toscana translates directly as "Tuscan Soup." In Italy, this often refers to a brothy white bean soup with bacon, vegetables and toasted bread.
Thanks to Olive Garden, most of us are more familiar with the American spin on Zuppa Toscana.
It's a cream based soup that's filled with bacon, lots of Italian sausage, kale and potatoes too.
This copycat Zuppa Toscana recipe tastes just as good as the Olive Garden version.
Plus, you can toss it together in your slow cooker and let it simmer all day long!
It will fill your kitchen with the tantalizing aroma of garlic and Italian herbs!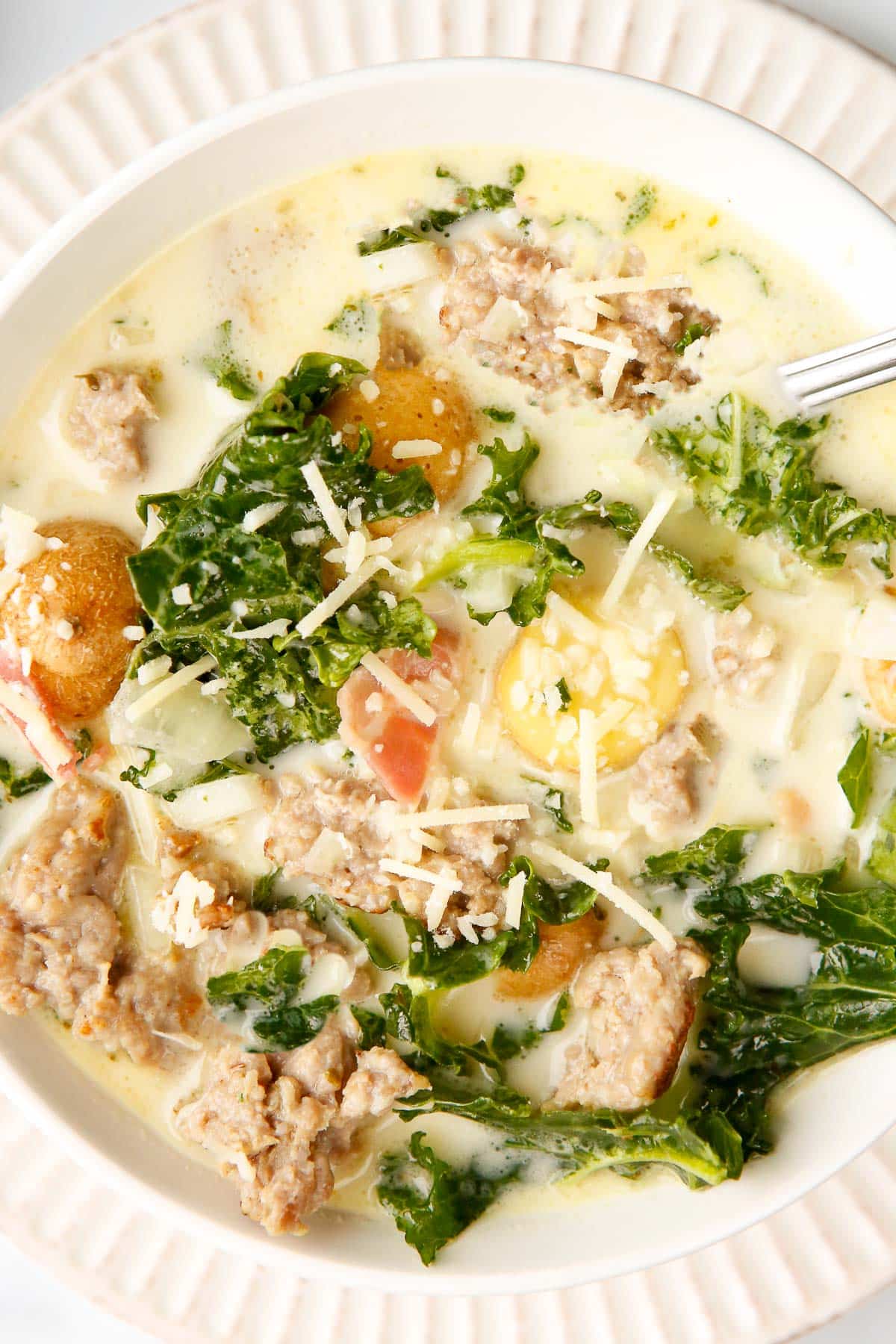 Recipe Ingredients + Notes
Here's what you need to make the best ever crock pot Zuppa Toscana recipe:
Italian Sausage. Use mild ground (also called 'bulk') Italian sausage. Do not use sausage in casings.
Yellow Onion. Chopped onion adds wonderful flavor to the soup.
Bacon. The bacon should be cooked on the stove top before starting the soup recipe. When cooking the bacon is should be fully cooked but not crisp.
Drain on paper towels and cut it into pieces before adding to the crock pot.
Potatoes. We recommend using Yukon Gold potatoes. They are a dense potato that holds their shape through cooking.
Yukon Gold potatoes are thin skinned so peeling is optional. They can be scrubbed and cut into bite-size pieces (this recipe does not used sliced potatoes).
Broth. Use low sodium chicken or vegetable broth.
Seasonings: Garlic powder, oregano, ground black pepper and salt.
Kale. Torn kale leaves will be used. Be sure to remove the center stems before using.
Heavy cream. Just a bit is added at the end to give the soup a creamy texture.
Parmesan cheese. This is optional to add to the top of the soup when serving. Shaved parmesan cheese gives a delicious boost of flavor.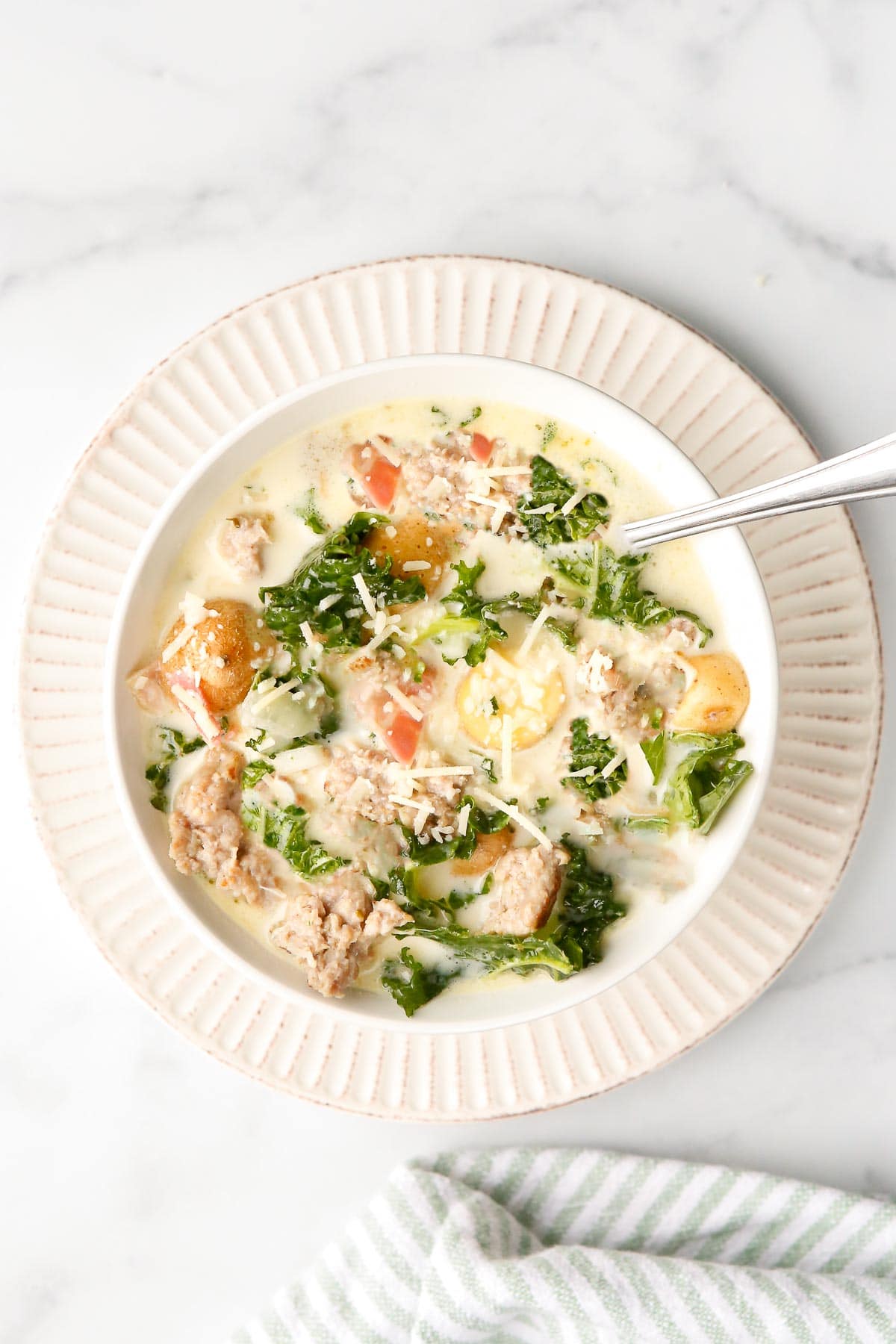 Variations + Time Saving Tips
Kale. Purchase prepared, washed torn kale bagged in the produce section of the grocery store.
The stems are usually still intact so cut that out. This saves alot of prep time!
Onion. Buy already chopped onion OR use a mini chopper to quickly chop the onion. I personally use a mini chopper for all prep chopping and it saves so much time!
Bacon. Use 'real bacon bits'. This is cooked bacon that is chopped and sold in resealable bags in the chilled section of the grocery store.
Unlike hard little bacon bits it IS real bacon. Because it's going into the slow cooker it does not need to be warmed before using.
Lower carb (and calorie) substitution for potatoes? Use cauliflower instead! Cut up the florets into bite -size pieces.
You can even buy cut cauliflower florets to save time.
Lower fat substitute for the Italian sausage? Use chicken Italian sausage or turkey Italian sausage instead.
The ground version can be hard to find. If so buy the fresh version in link form, cut open the casings and use the ground sausage from inside!
How to Make it – Step-by-Step
STEP 1. Brown the sausage
Cook the sausage on the stove top in a skillet over medium high heat.
Drain the excess fat and place the cooked sausage at the bottom of the slow cooker (photo 1).
STEP 2. Slow Cook
Add the potatoes, onion, broth, seasonings and bacon to the slow cooker (photos 2 and 3).
Cook on LOW for 5 – 6 hours or on HIGH for 3 -4 hours (photo 4). Stir occasionally during cooking.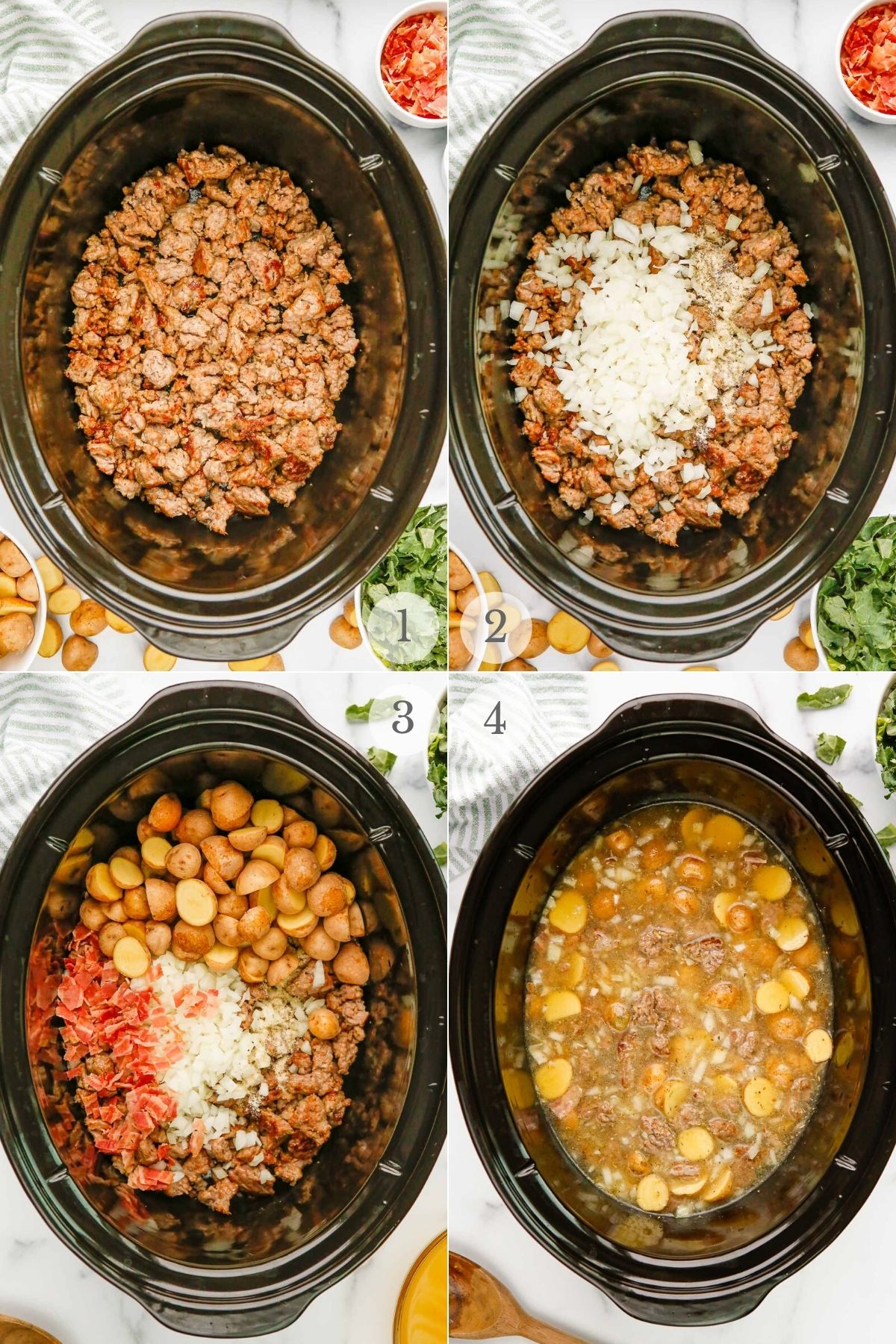 STEP 3. Add kale and cream
Five minutes before the end of cooking time, stir in the chopped kale (photo 5).
When the kale is wilted (photo 6), turn off the crock pot (or turn to "keep warm"). Stir in the heavy cream (photo 7).
STEP 4. Serve
Ladle Zuppa Toscana into bowls and top with freshly grated Parmesan, if desired.
Serve with a side of crusty bread or breadsticks and enjoy!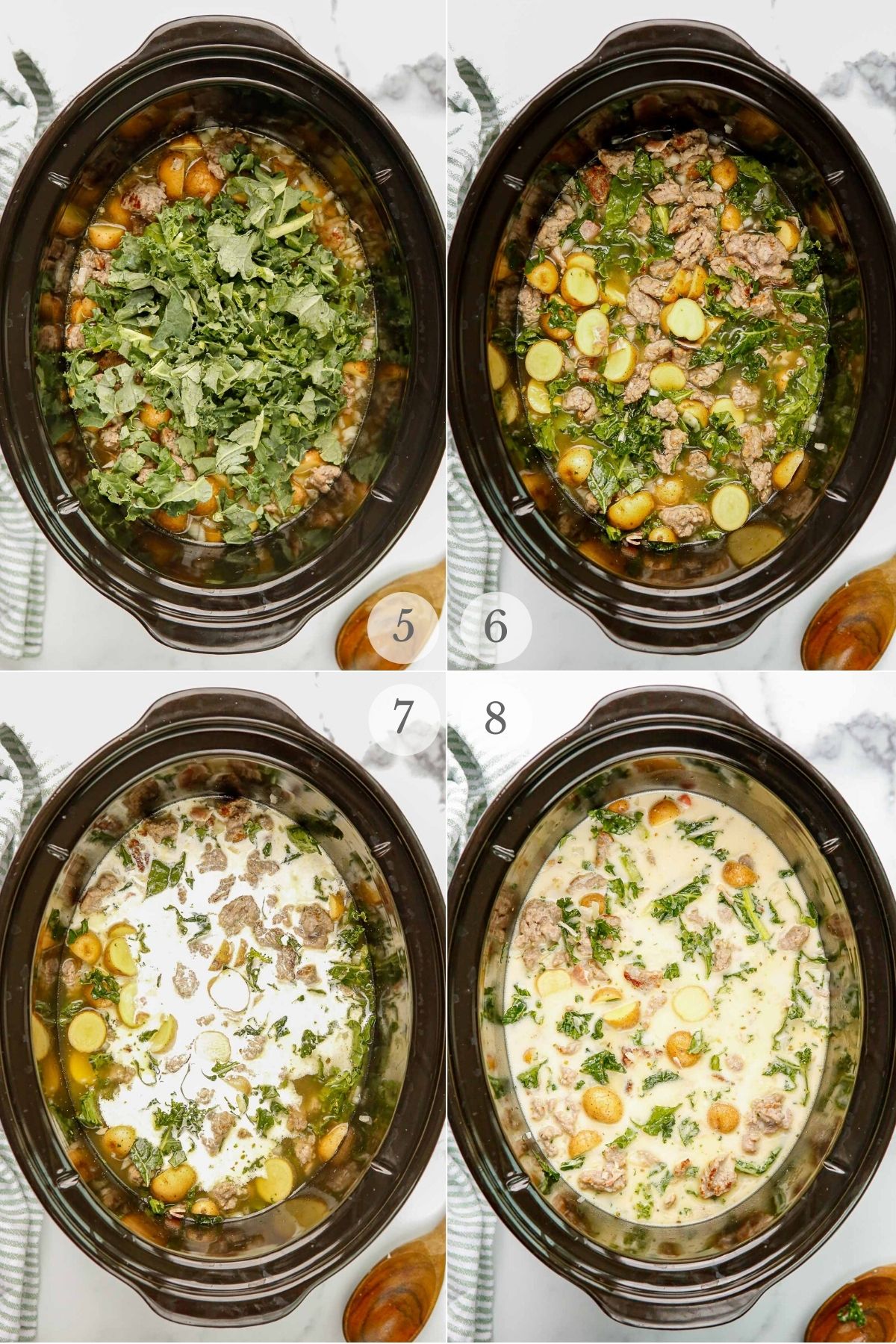 Recipe FAQs + Pro-Tips
What kind of sausage to use for Zuppa Toscana?
For this Zuppa Toscana crock pot soup recipe, use mild Italian sausage.
If you like a spicier soup, swap it out for medium or hot Italian sausage!
Make sure to choose a ground sausage without casing.
Can you use milk or half and half instead of heavy cream?
I don't recommend substituting a lower fat dairy for the heavy cream.
The soup won't be as rich and will lose some of the flavor that makes Olive Garden Zuppa Toscana so delicious.
However if for dietary reasons substituting Half and Half or whole milk is necessary, do it!
Use the cornstarch thickening trick below for more substance in the broth.
What can I substitute for the potatoes?
Substitute cauliflower florets for a lower carb option. Cut the florets in even bite-size pieces so they cook evenly.
How can I thicken the soup?
This recipe does not make a thick broth. If you would prefer it thickened:
Stir 2 tablespoons of cornstarch into the heavy cream.
Whisk to fully blend in.
Pour into the slow cooker and stir to mix in.
Allow it to warm for a few minutes before serving.
Can you make this on the stove top?
Yes. You can make the Zuppa Toscana soup recipe on the stove instead of using a slow cooker!
Brown the sausage in a large stock pot.
Drain the fat, then add all the ingredients except the kale and cream to the pot.
Bring to a boil and simmer until the potatoes are tender (about 30 minutes).
Stir in the kale and cook another few minutes before removing from heat and adding the heavy cream.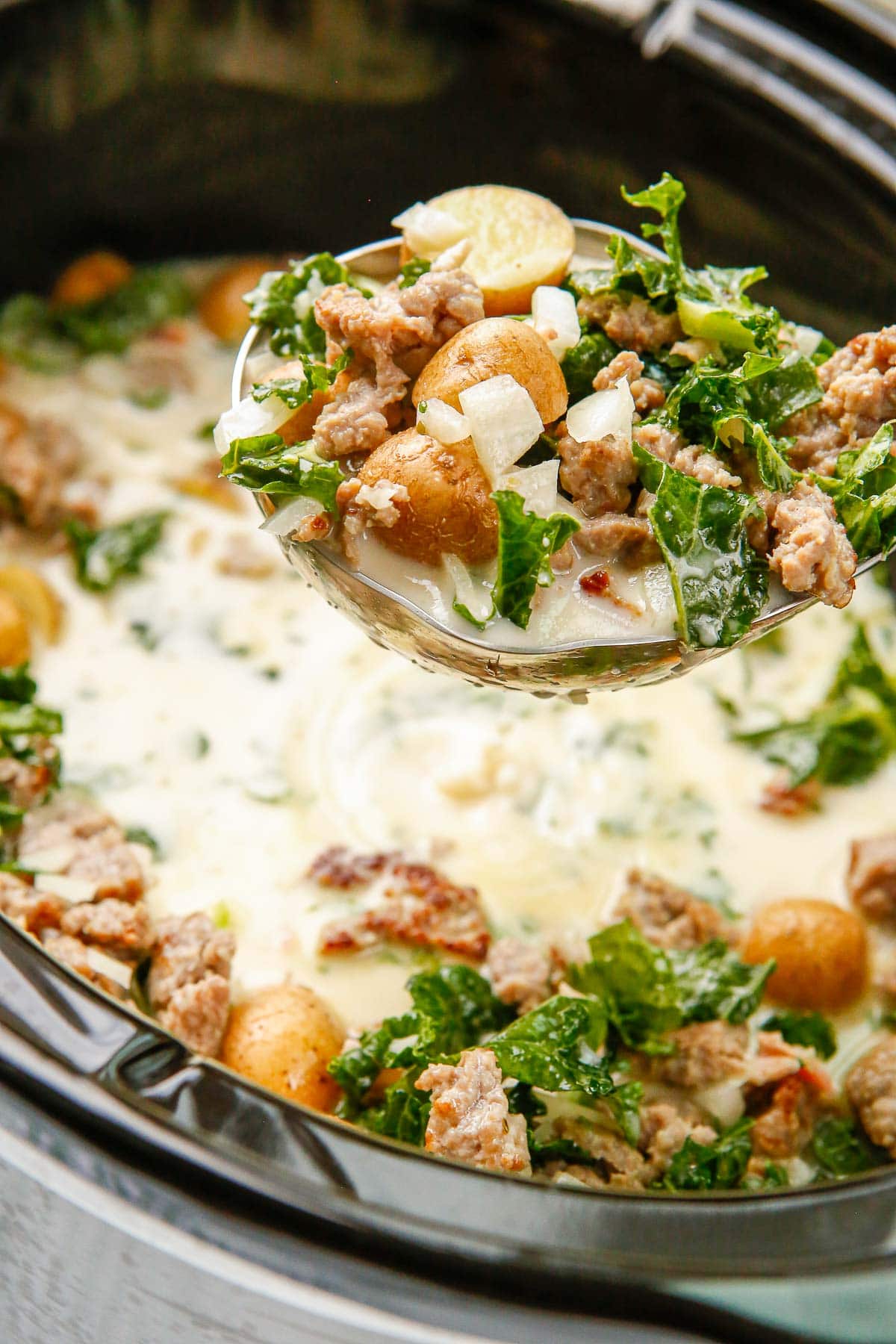 Storing Leftovers
There are two ways Zuppa Toscana soup for later:
Refrigerator
When the soup is cooled transfer to an airtight container and place in the fridge. Enjoy within 3 days.
It reheats beautifully in the microwave or warmed in a pot on the stove.
Freezer
Transfer fully cooled soup to heavy freezer bags or containers. Freeze for up to 3 months.
When ready to heat, let the soup thaw in the refrigerator overnight.
Reheat in the microwave or on the stove top and enjoy.
Freezing cream-based soups can be tricky. They often will separate when thawed.
However because this Zuppa Toscana has mostly stock it should be fine.
Be sure to stir it well when reheating to blend the cream back if there is any separation.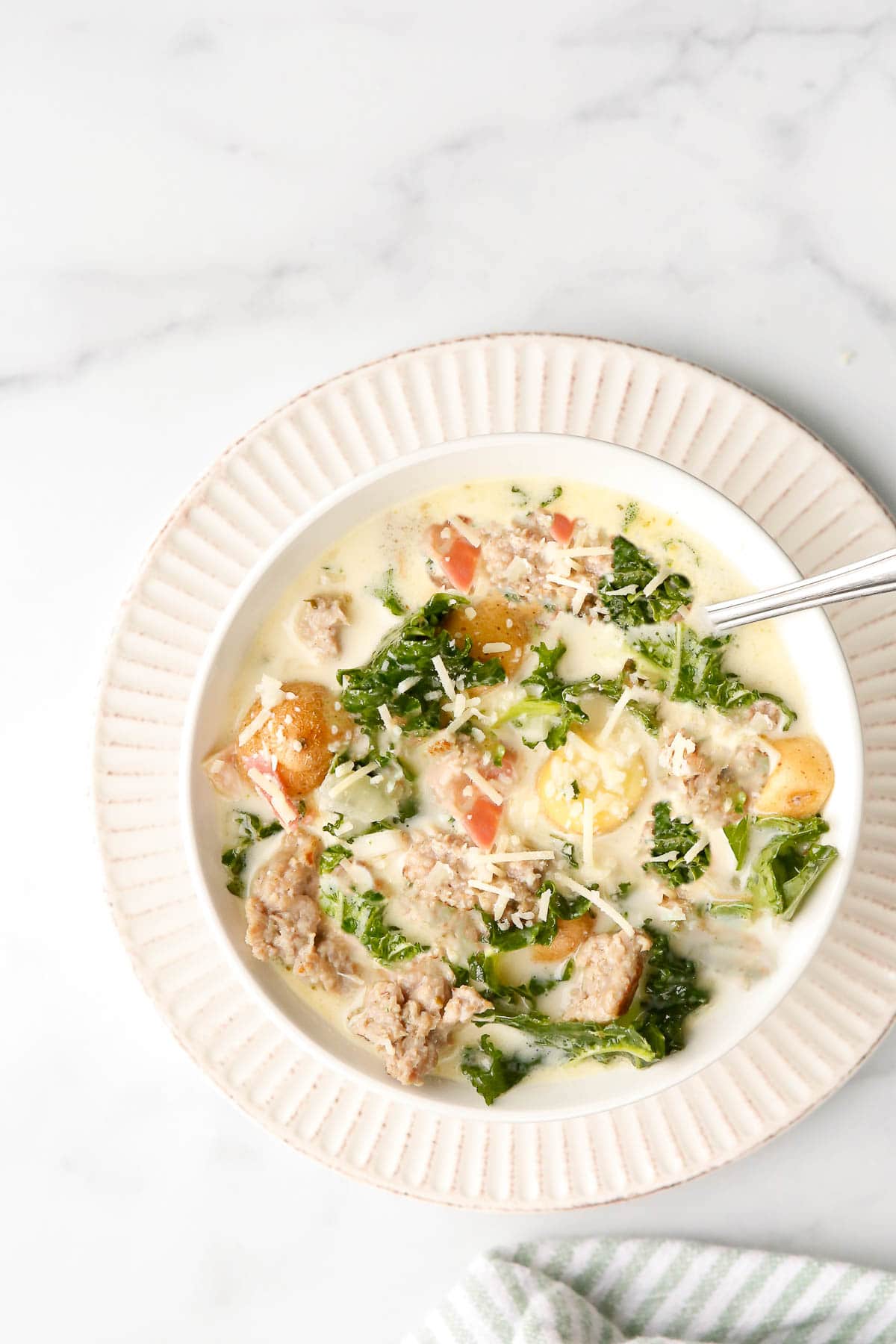 More Recipes You'll Love!
Did you make it? Please RATE THE RECIPE below!
Please SUBSCRIBE and FOLLOW ME on FACEBOOK , TWITTER , INSTAGRAM and PINTEREST !
Everyone loves this Italian sausage soup with bacon, kales and herbs. Say good bye to boring soup recipes and make way for a creamy, hearty bowl of Zuppa Toscana!