Baked Italian Meatballs are made with two types of ground meat and Italian seasoning for big flavor! It's an easy recipe that cooks in 20 minutes. Loads of ways to use them and freeze them too!

You'll love this easy baked meatballs recipe.
They are moist and delicious. Add them to marinara sauce or tomato sauce with pasta and dinner is ready.
This great recipe will become a family favorite.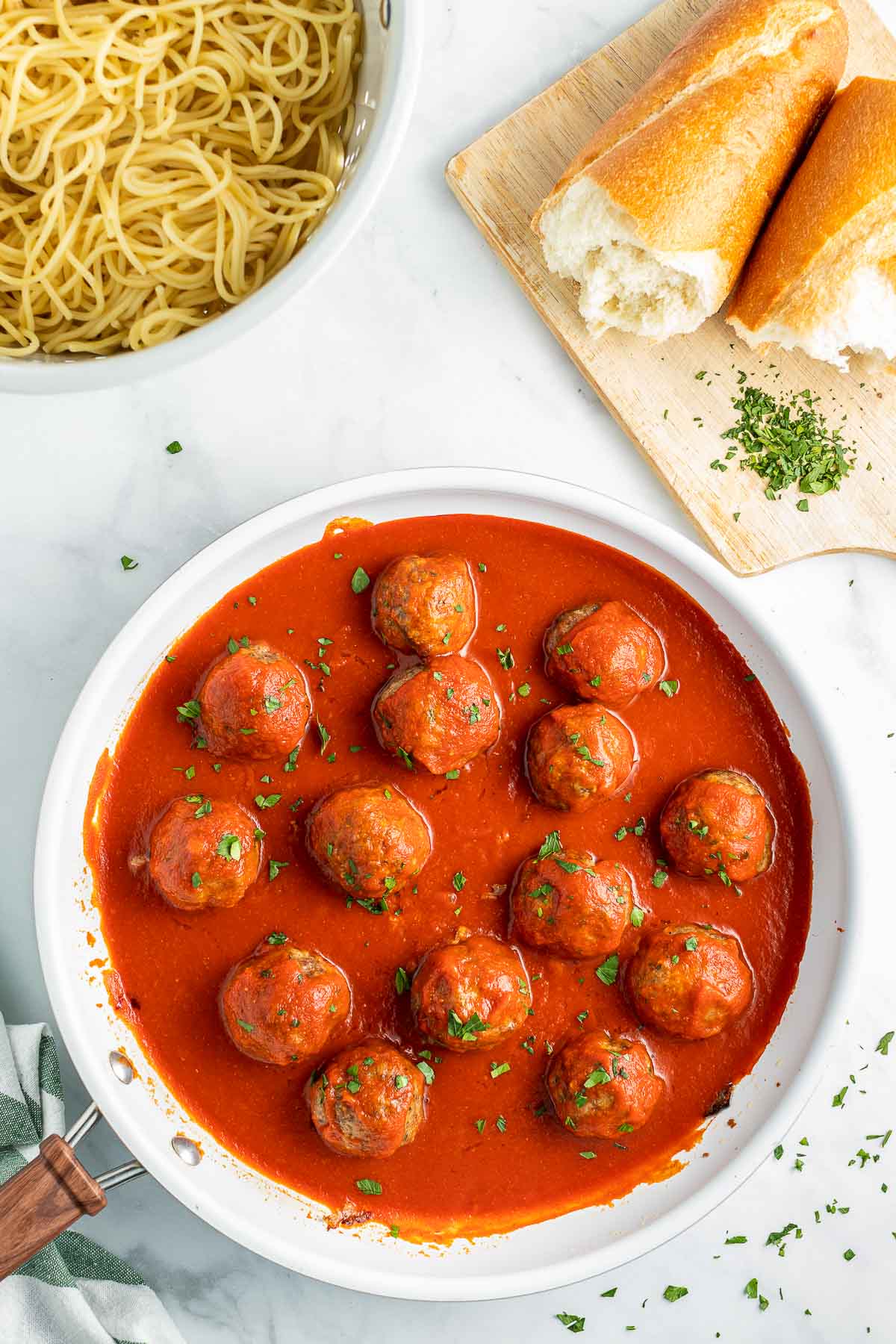 Recipe Ingredients + Notes
Ground Beef – use 80% lean ground beef. Fat equals flavor and helps keep the meatballs from drying out. This isn't the time to use ultra lean ground. AND if you are concerned about fat, use cooking method 1 so the fat renders and drains away.
Bulk Mild Italian Sausage – adding Italian sausage gives these meatballs so much more flavor and keeps them moist.
Use ground or 'bulk' sausage, not slicing sausage. If you cannot buy the sausage in bulk, buy uncooked Italian sausages and removed the casings to use the meat.
Bread crumbs – breadcrumbs along with the eggs bind the meat mixture together. Store bought or homemade breadcrumbs may be used. Regular OR gluten-free breadcrumbs can be used.
Milk – I recommend whole milk.
Eggs
Grated Parmesan Cheese – use fresh shredded Parmesan cheese found in the dairy department versus the finely grated powdery consistency cheese.
Italian Parsley
Garlic Cloves
Italian Seasoning – all the favorite Italian spices in one blend. Try our homemade Italian Seasoning blend!
Crushed Red Pepper Flakes – this gives a little boost to the flavor without making the meatballs spicy.
Salt – I use Kosher Salt which is a less salty tasting salt.

How to make Baked Meatballs – Step-by-Step
It's so easy to make these meatballs in the oven!
STEP 1: Preheat the oven to 400 degrees F. Prepare a rimmed baking sheet. Fit it with a wire rack (method 1) or lined with parchment paper (method 2).
STEP 2: Combine all ingredients in a large bowl (photos 1-3). Using a mixing spoon or clean hands, mix everything together (photo 4).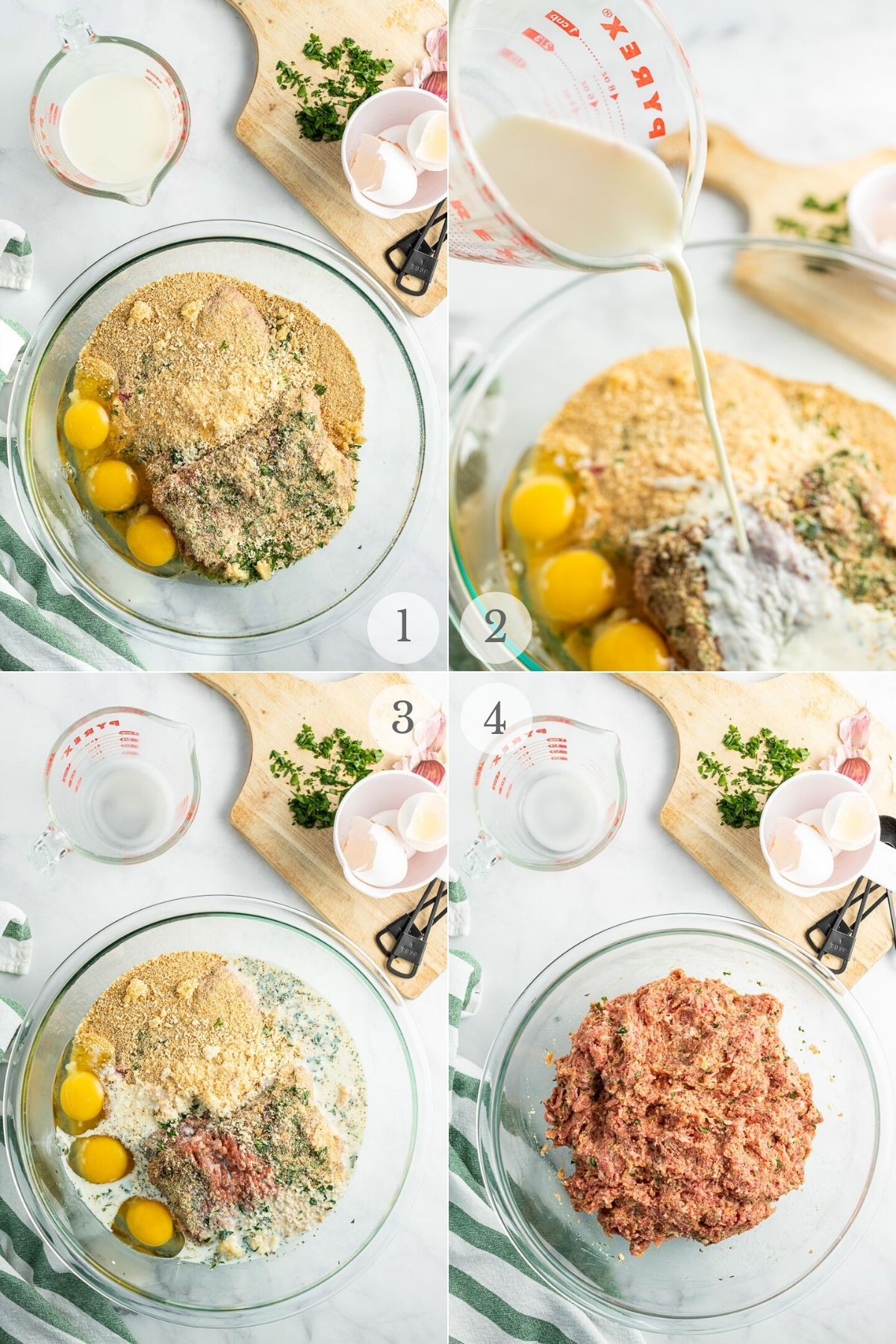 STEP 3: Roll mixture into 2-inch diameter meatballs (photo 5). PRO TIP: use a cookie scoop to make this step faster. All the meatballs will be the same size (better for even cooking).
STEP 4: Bake the meatballs for 20 minutes or until the internal temperature reaches 160 degrees F (photo 6).
Refer to the Two Ways to Cook Them section below. Cooking method 2 shown below.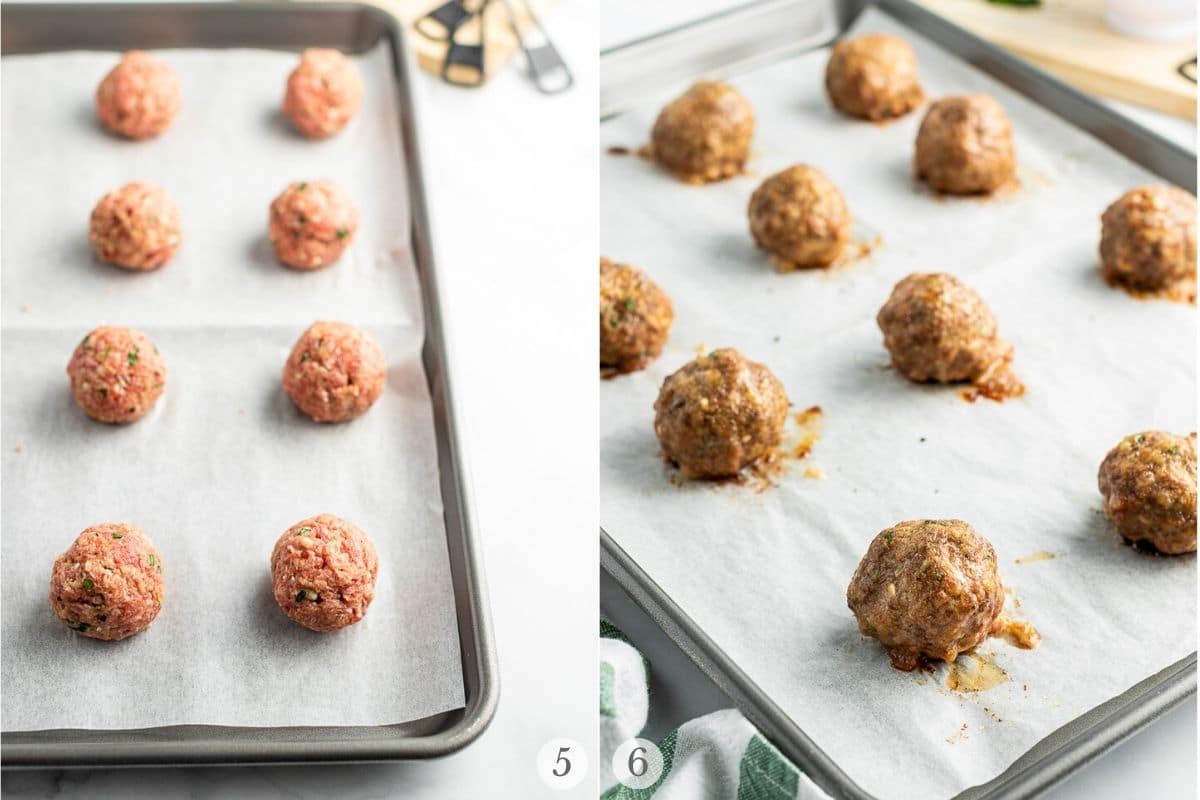 Two Ways to Cook Italian Meatballs
There are two ways to bake meatballs.
Method 1: RECOMMENDED. Fit a rimmed baking sheet with a wire rack sprayed with non-stick spray.
This allows air to circulate all around the meatball as it cooks. Any rendered fat will drip into the baking sheet below and the meatball will not sit in it.
Lining the baking sheet with foil makes for fast, easy clean-up too!
Method 2: They can be baked on a parchment paper lined rimmed baking sheet. This works well too however the meatballs will bake in any rendered fat.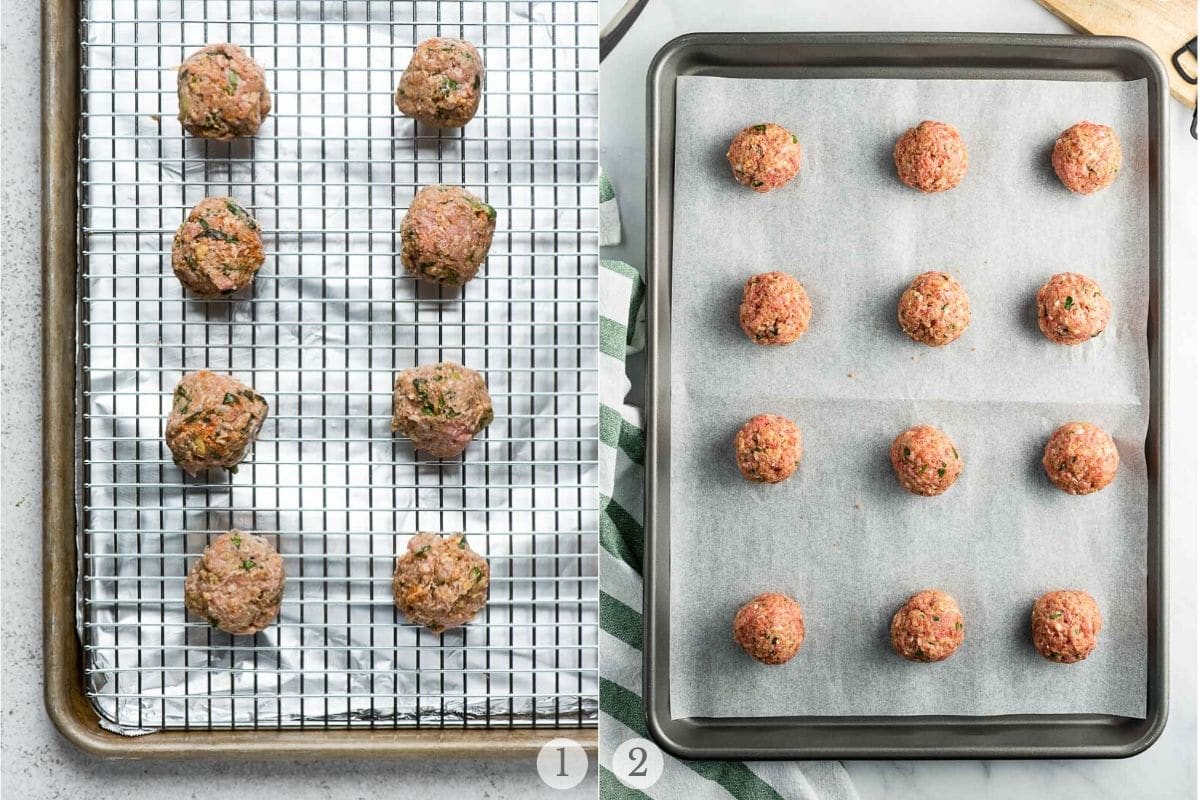 How to Use Baked Meatballs
In spaghetti sauce with cooked pasta
In sandwiches on a bun with some sauce
On top of Mashed Potatoes
What to Serve with Them
How to Store
Store in a sealed container in the refrigerator for up to 4 days.
See below for freezing options.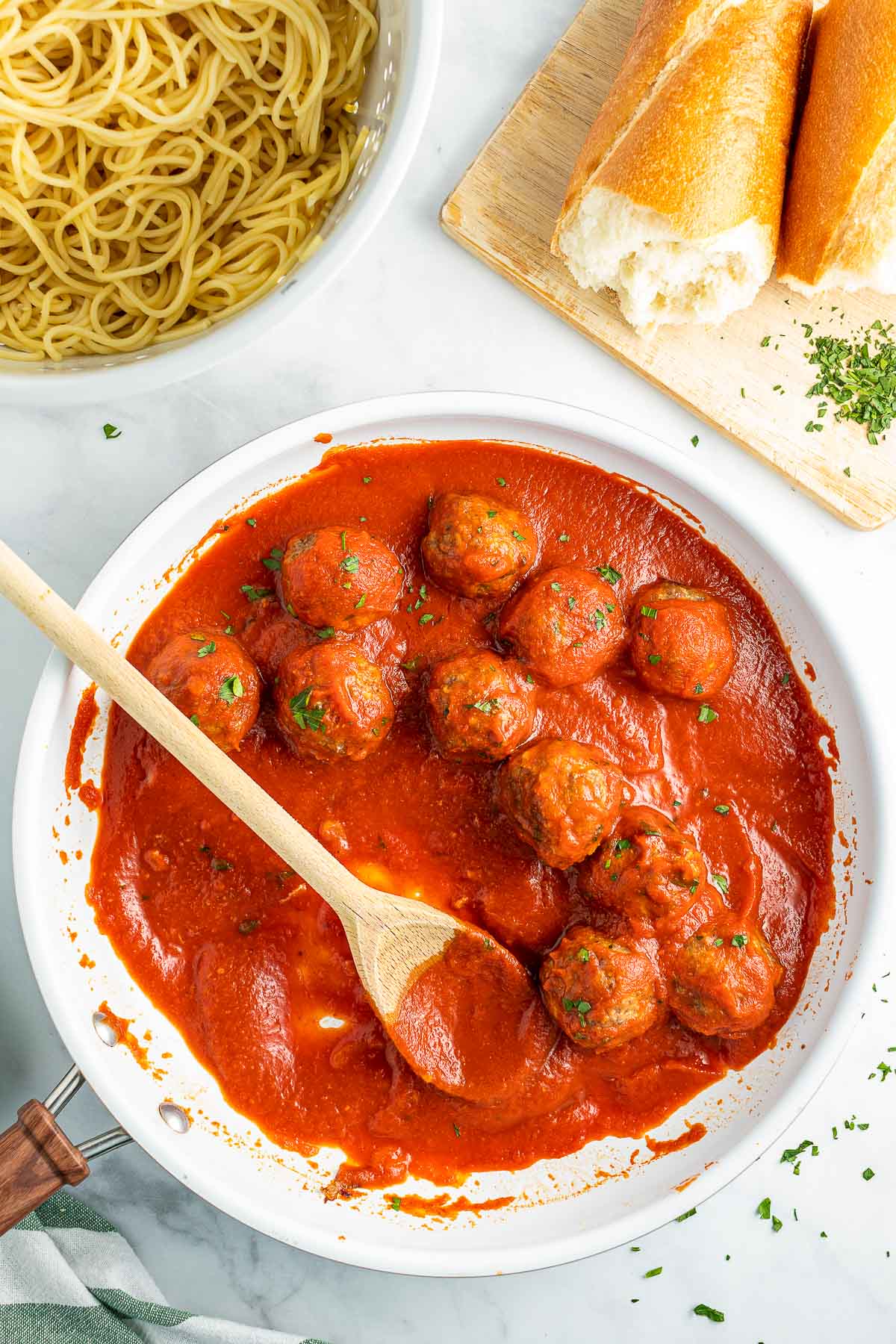 How to Freeze the Meatballs
A big convenience is making these meatballs for future use. They can be cooked then frozen. OR frozen before cooking too!
Freezing Cooked Meatballs
Prepare meatballs as directed and allow to fully cool after cooking.
Place meatballs on a parchment lined rimmed baking sheet with an inch minimum in between each one.
Place in the freeze to freeze until firm; aproximately 2 hours.
Put the frozen meatballs into a freezer-safe plastic bag marked with the date.
Reheating Frozen Cooked Meatballs
Remove as needed and mircowave for 1-2 minutes until heated through.
Freezing Meatballs BEFORE Cooking
Prepare the meatballs but do not cook.
Place on a parchment lined rimmed baking sheet with one inch in between each one.
Place in the freezer until firm; approximately 1-2 hours.
Put the frozen meatballs in a freezer-safe container or plastic bag marked with the date. Put back in the freezer until using.
Cooking Frozen (Uncooked) Meatballs
Preheat the oven to 400 degrees F.
Prepare a baking sheet with parchment paper or with a rack as described in the recipe card. Add frozen uncooked meatballs.
Bake the meatballs for 30 minutes or until the inside if no longer pink and temperature reaches 160 degrees F.

How Long Can Meatballs be Frozen?
Up to 4 months.
More Recipes You'll Love!
Did you make it? Please RATE THE RECIPE below!
Please SUBSCRIBE and FOLLOW ME on FACEBOOK , TWITTER , INSTAGRAM and PINTEREST !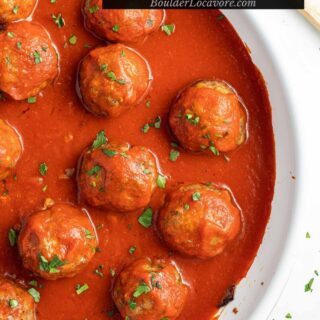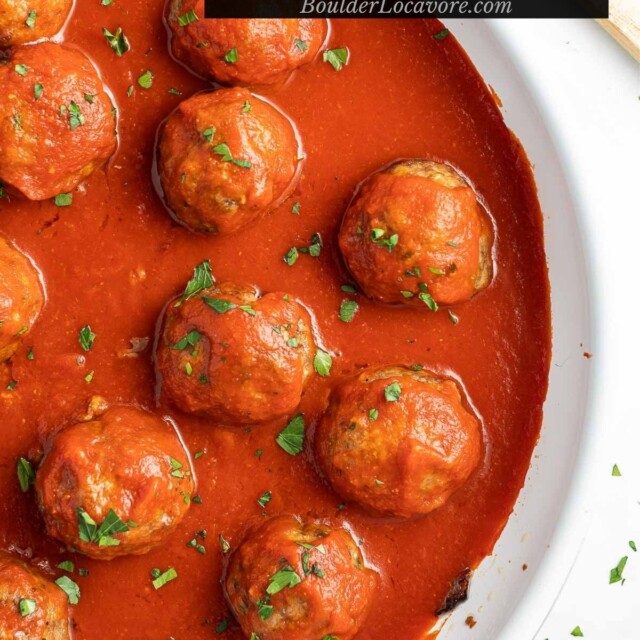 Baked Italian Meatballs
Italian Baked Meatballs are easy to make, full of delicious flavor, moist and perfect for use in anything from pasta to sandwiches and more. Easy to freeze for future use too.
Print
Save Recipe
Recipe Saved!
Pin
Rate
Servings:
30
2-inch diameter meatballs
Ingredients
1 ½

pounds

ground Beef

1

pound

ground mild Italian Sausage

bulk or casings removed

1

cup

Breadcrumbs (regular or gluten-free)

½

cup

Milk

3

Eggs

½

cup

fresh shredded Parmesan Cheese

¼

cup

chopped Italian Parsley

2

cloves

minced Garlic

1

tablespoon

Italian seasoning

½

teaspoon

Salt

¼

teaspoon

Red Pepper Flakes
Instructions
In a large bowl combine all ingredients. Mix thoroughly together using clean hands or a mixing spoon.

Shape into 2-inch diameter meatballs. TIP: using a 2 tablespoon scoop makes it go very quickly.

Use one of these two methods:1. Recommended: Place a baking/cooling rack into a rimmed baking sheet (or two). Spray lightly with non-stick spray. Place the formed meatballs on the rack for baking. NOTE: the baking sheet can be lined with foil for easy clean up.

2. Line a rimmed baking sheet (or two) with parchment paper. Place the formed meatballs onto the parchment paper for baking.

Cook at 400 degrees for 20 minutes or until internal temperature measures 160 degrees.
Nutrition
Calories:
141
kcal
|
Carbohydrates:
3
g
|
Protein:
8
g
|
Fat:
11
g
|
Saturated Fat:
4
g
|
Cholesterol:
46
mg
|
Sodium:
225
mg
|
Potassium:
125
mg
|
Fiber:
1
g
|
Sugar:
1
g
|
Vitamin A:
95
IU
|
Vitamin C:
1
mg
|
Calcium:
43
mg
|
Iron:
1
mg