Homemade Spaghetti Sauce is easy to make and simmers into a soul-warming sauce. This pasta sauce recipe comes from my Grandmother's recipe box and is very easy to change up!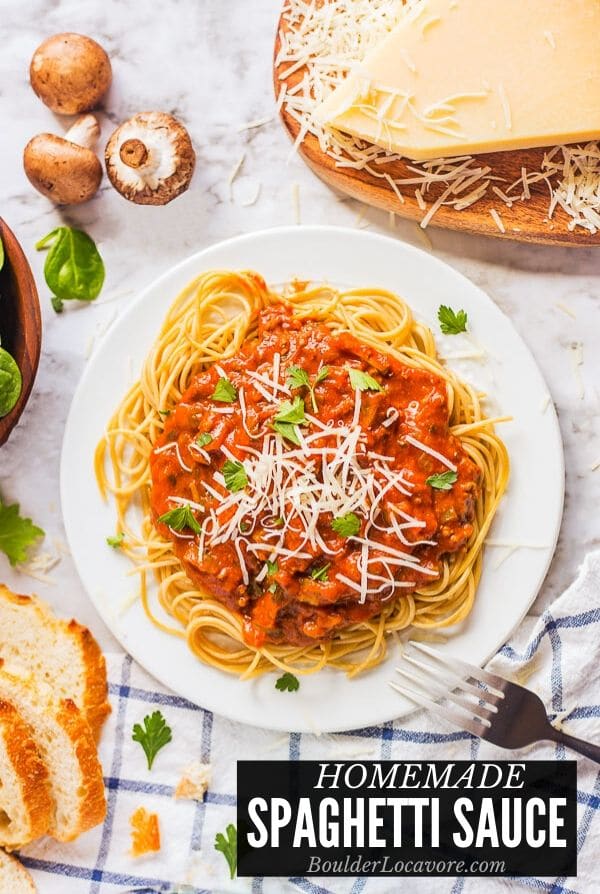 Homemade pasta sauce is always delicious!
It fills the house with comforting aromas that brings everyone to the kitchen!
This tomato-lovers meat sauce uses simple, wholesome ingredients for a hearty filling sauce.
It's easy to put together and simmers for 2 hours into a thick, delicious spaghetti sauce.
Great over any type of pasta OR in recipes calling for pasta sauce.
Ingredients
The ingredients in this pasta sauce recipe are basic and easy to find at the grocery store.
Substitution ideas are also included to change it up for what you have on hand.
Substitution Ideas
Can't get one (or more) of the ingredients? Here's how to change it up!
Olive Oil – use Vegetable Oil or Canola Oil.
Yellow Onion – use White Onion, Red/Spanish onion or Shallots.
Green Bell Pepper – use Red Bell Pepper. Yellow or Orange Bell Peppers will work too but have a milder flavor.
Ground Beef – use Ground Bison or Ground Pork. Ground pork will yield more fat when cooked so drain any excess fat before adding the tomato sauce, parsley and mushrooms.
Ground Turkey or Ground Chicken can also be used. Ground poultry has very mild flavor so will not be easy to taste BUT the protein will still be there to make it a filling sauce!
Spices – these spices and herbs are a winning combination but you can also substitute YOUR Italian favorites! Thyme, Italian Seasoning, Basil, even a bit of Red Chile Pepper!
Fresh Italian Parsley – use Dried Parsley. The rule of thumb when substituting dried herbs for fresh herbs is to use 1/3 the amount of dried herbs in place of the measurement of the fresh herbs.
In this case you would use 1/3 cup of dried parsley.
Baby Bella or Cremini Mushrooms – use White/Button Mushrooms. They do not has as much flavor as the other mushrooms but will still be delicious!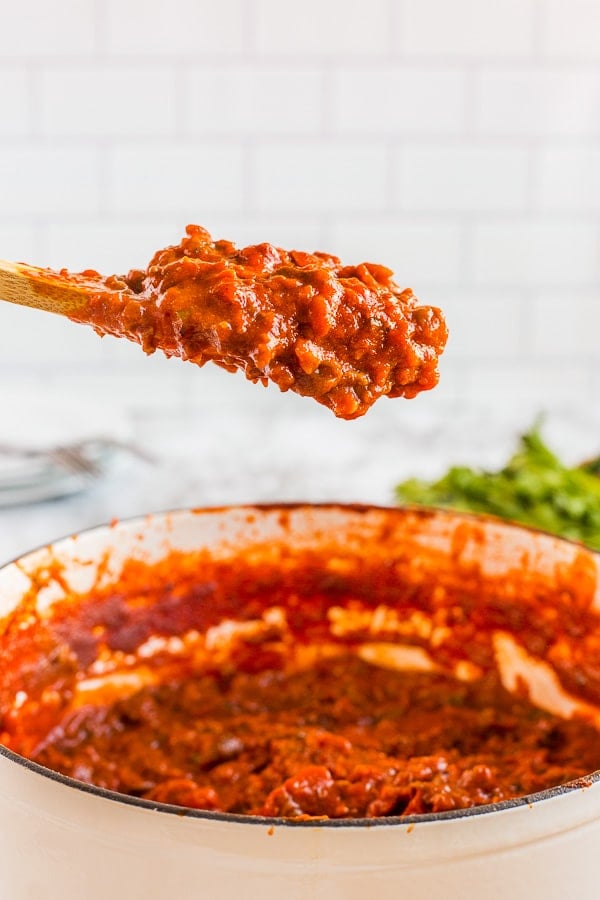 How to Make Tomato Sauce less Acidic
There are tomato lovers and those who don't like tomato sauce to taste so, well, tomato-ey.
To take the edge off the strong tomato flavor, after the pasta sauce has cooked add 1/4 teaspoon of granulated sugar.
Taste and add more sugar 1/4 teaspoon at a time until the desired flavor is reached.
This trick really doesn't change the acidity of the tomato sauce but it tricks your taste buds into thinking they don't taste as acidic.
How to Make Homemade Spaghetti Sauce – Step-by-Step
STEP 1: In a large Dutch Oven heat the olive oil over medium-high heat (photos 1-2).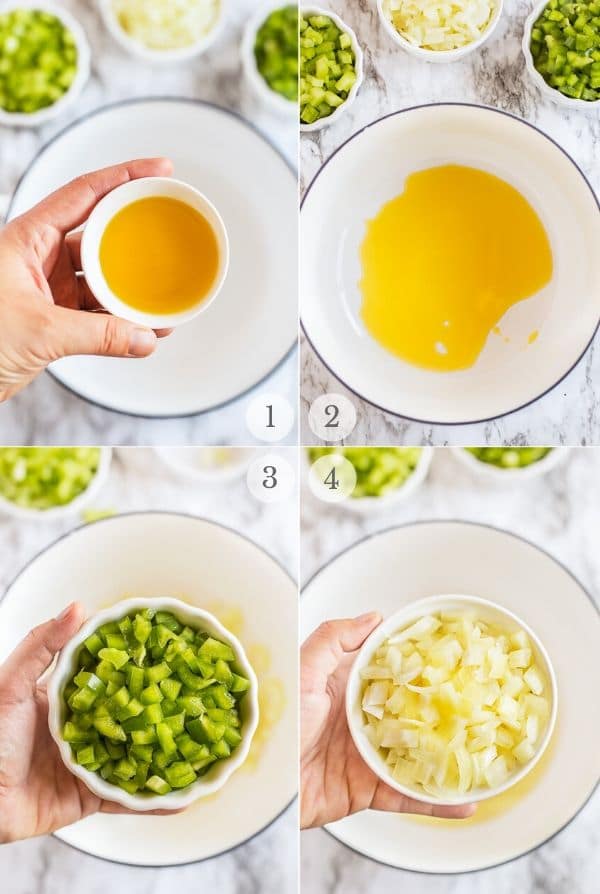 STEP 2: Add the green pepper, onions and celery (photos 2-5). Sauté until the onions start to soften and turn translucent (5-10 minutes); photo 6.
STEP 3: Add the ground beef cook using a spatula to break the meat into small pieces (photo 7). There should be no pink color (photo 8).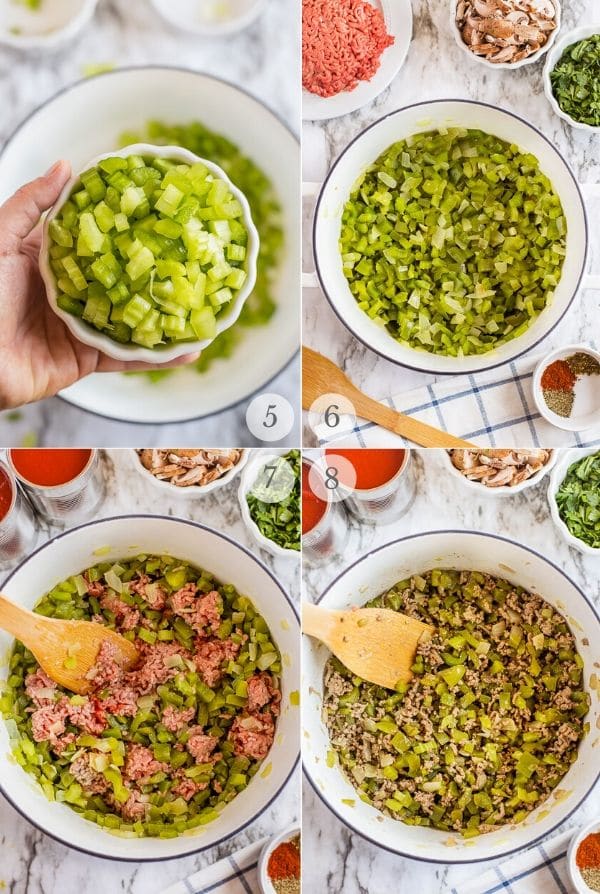 STEP 4: Add the chili powder, salt, pepper, dried oregano (photo 9); stir to combine.
STEP 5: Pour in the tomato sauce, Italian parsley (photo 10) and mushrooms (photo 11). Stir to combine.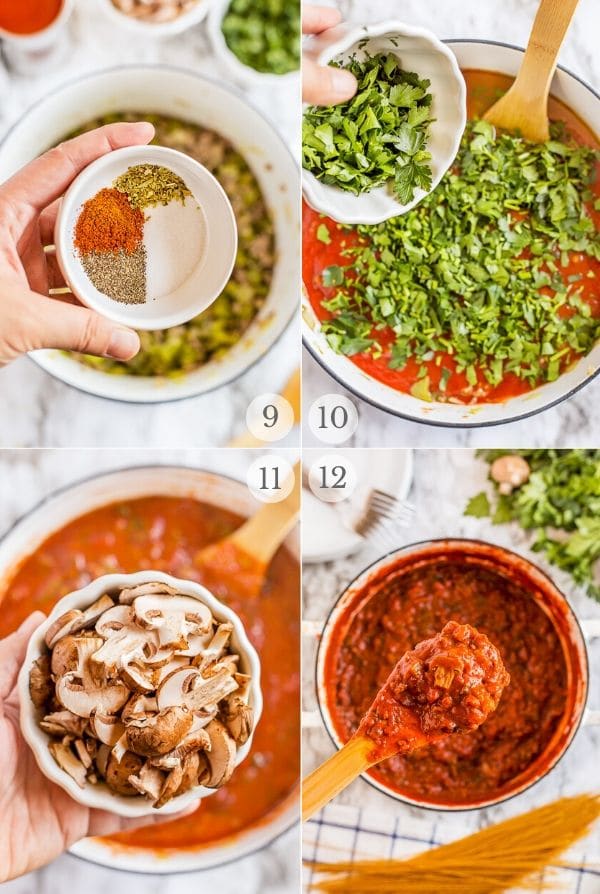 STEP 6: Bring to a simmer, partially covered (this will help with splattering). Stir every 30 minutes to ensure no sticking to the bottom of the pan.
The spaghetti sauce will thicken (photo 12) and reduce to 8 cups.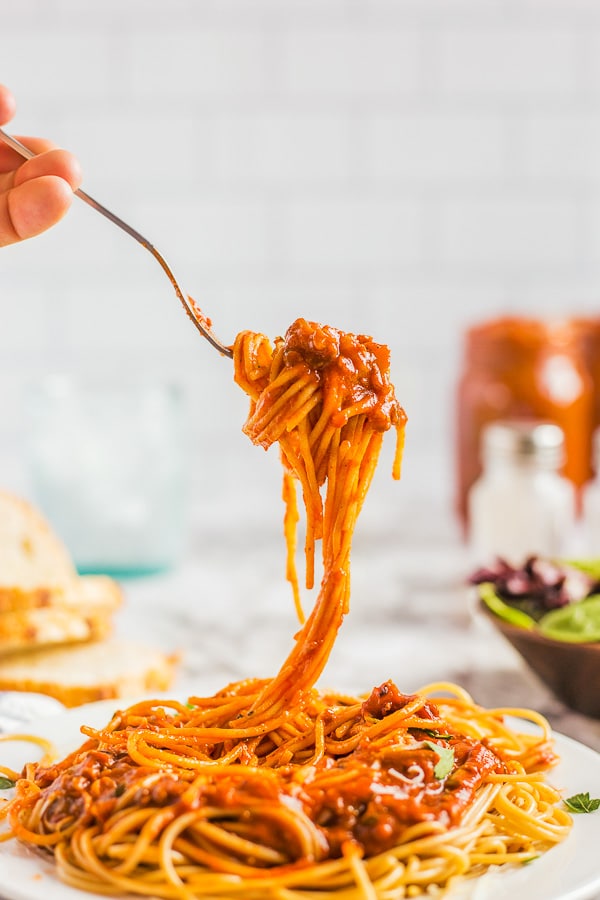 How to Use Homemade Spaghetti Sauce
Homemade pasta sauce is a flexible staple recipe. It can be used in many ways!
How to Store
In the Refrigerator
Store in a sealed jar in the refrigerator for up to 4 days.
In the Freezer
Once the sauce has cooled place it into freezer safe containers allowing 1-inch 'head space' (room between the surface of the sauce and the top of the container). This allows room for expansion when it freezes.
Seal and freeze for up to 6 months for best flavor results. Thaw in the refrigerator.
I use these freezer containers for soups and sauces. They can be used in the refrigerator too.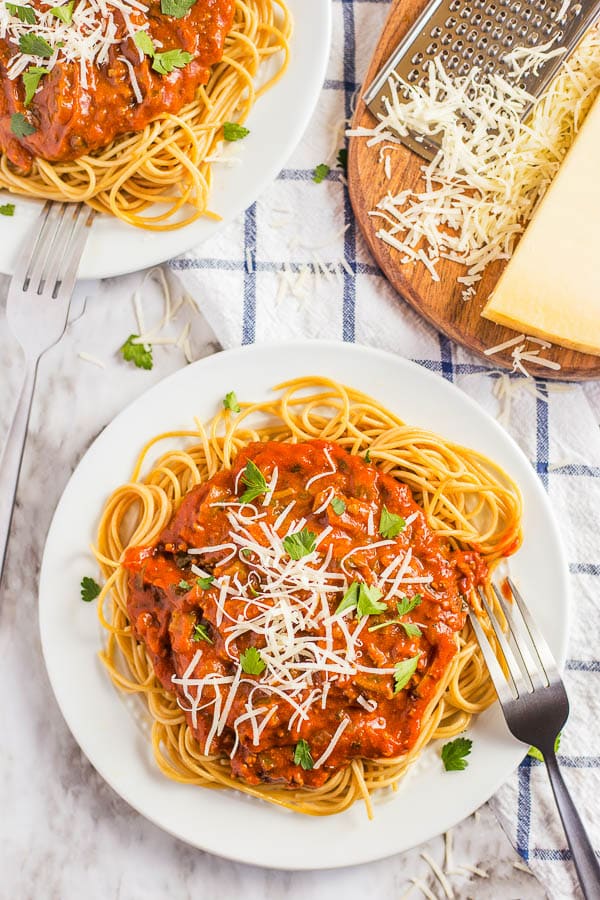 These recipes were specially selected due to the ingredients they use. They should be easy to find and don't use many ingredients.
Did you make it? Please RATE THE RECIPE below!
Please SUBSCRIBE and FOLLOW ME on FACEBOOK , TWITTER , INSTAGRAM and PINTEREST !