Grilled pizzas are a fantastic way to express your creativity with fresh, seasonal ingredients without heating up the kitchen! Grilled Caprese Pizza boasts fresh ripe tomatoes, buffalo mozzarella and basil ribbons topped with a homemade balsamic reduction on a prepared pizza crust. It could not be easier or more delicious!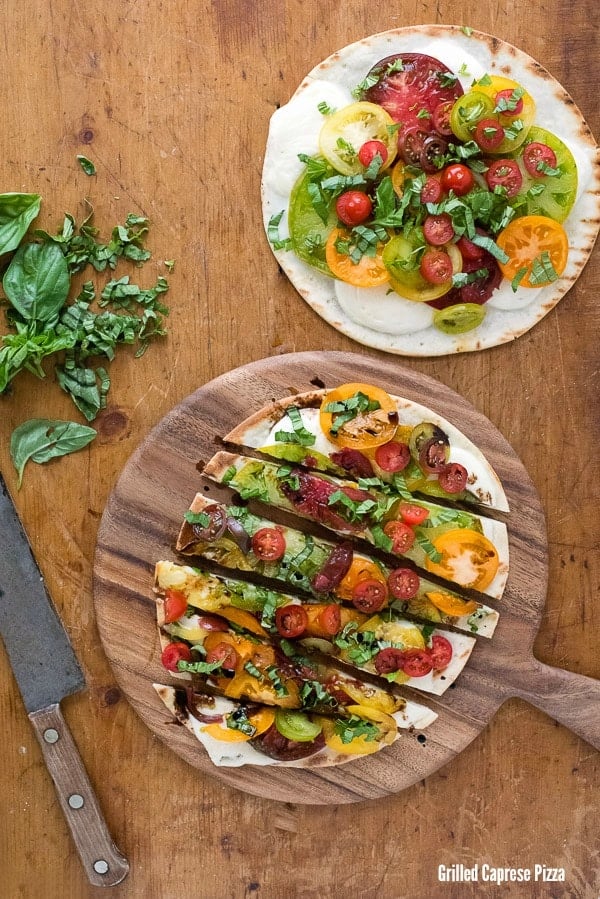 We have entered the last true month of summer, before Labor Day starts the direct path to fall. School is already in session in many places in the U.S. and my kids will be starting up in the next two weeks. The combination of available fresh summer produce, not wanting to heat up the kitchen or take a long time to whip up a great meal has lead me to start grilling pizzas. Today I'll be sharing a pizza riff on my favorite summer salad: Grilled Caprese Pizza.
If you scan the internet, you'll find loads of tantalizing grilled pizza recipes made with fresh dough. I'm sure they are delicious but candidly I'm taking the ease of preparation up a notch and using a prepared pizza crust. They are available from many manufacturer's in varied thicknesses.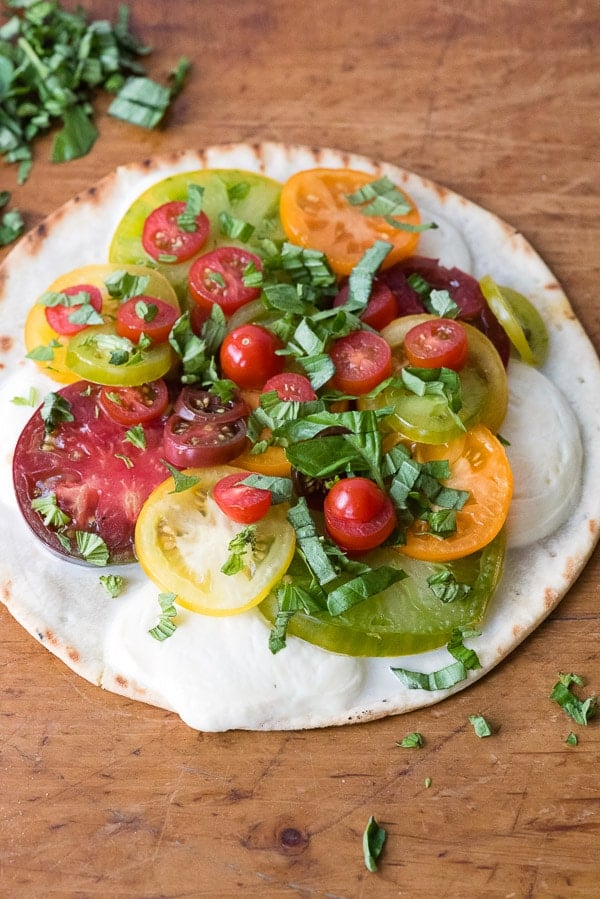 I keep pizza crusts in the freezer, ready to top and cook quickly. I like a crisp pizza crust to load on fresh toppings so the toppings really are the star of the pizza.
The cool thing about making your own pizza is the topping is completely up to your inspiration and taste. Preparing the pizza on the grill gives a great pizza oven type flavor, as well as allows fresh ingredients to cook quickly, still retaining their natural flavors.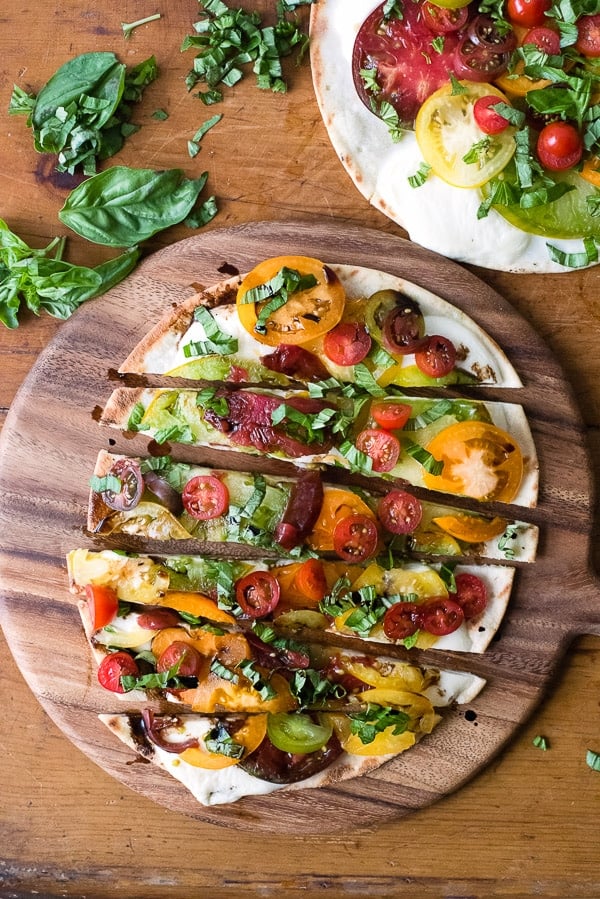 In the spirit of Insalata Caprese this pizza is topped with thick slices of fresh buffalo mozzarella cheese, slices of colorful heirloom tomatoes, fresh basil and a drizzle of homemade balsamic vinegar reduction. The pizza is fresh with beautiful flavors.
Enjoying fresh tomatoes from the home garden or Farmer's Market is a must at this time of year. Their flavor is fantastic and the options available expand past the usual red varieties found in grocery stores year round.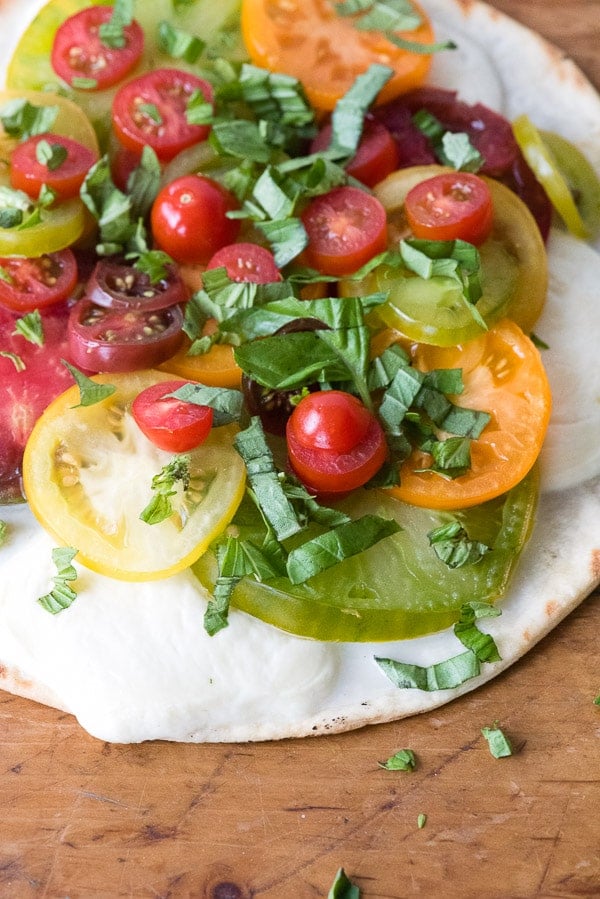 I prefer to grill thin crust pizza via the indirect method, meaning the heat is not directly underneath the pizza. This allows for a quick grill on crust without risk of burning. Once flipped over and topped, the pizza can stay out way of the flame while the buffalo mozzarella relaxes.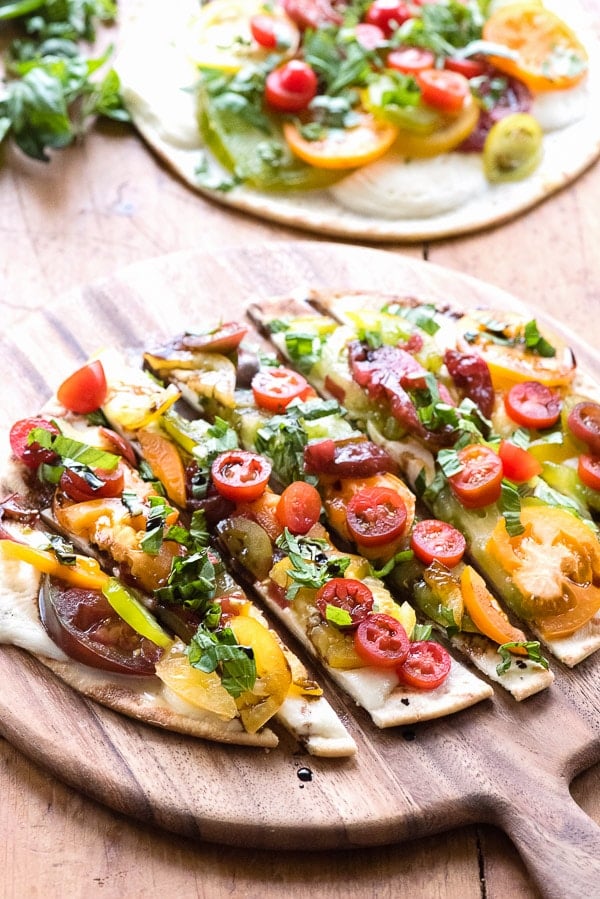 While grilling the tomatoes and mozzarella will release liquid. There are a few tips in the recipe to reduce the impact of this. Gluten-free crusts can vary in their ability of absorb moisture. The Udi's crusts are perfect for this recipe both for their slightly sweet flavor but also that they stay sturdy when grilled and with any moisture coming from the toppings. Traditional gluten crusts should not be impacted by this.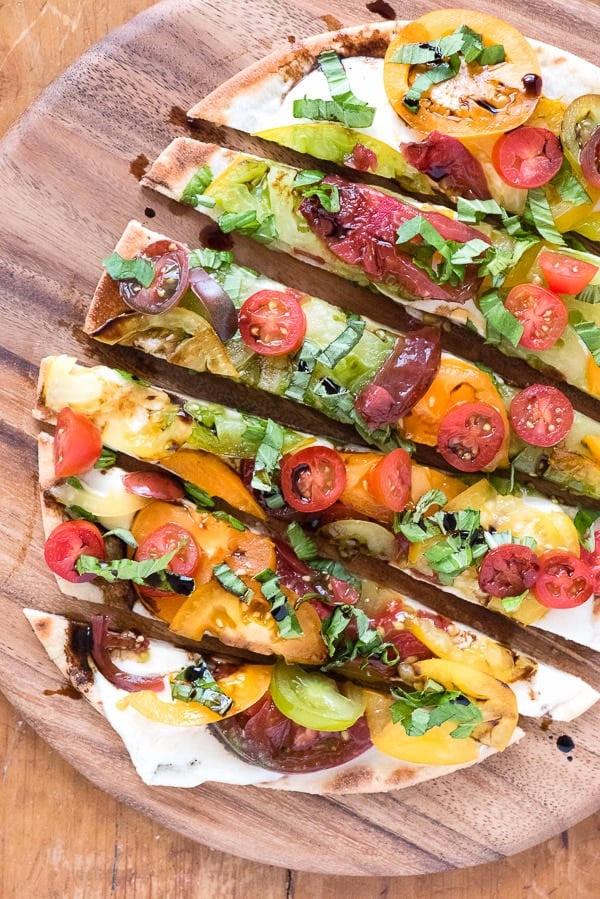 Learn more about living gluten free! Visit http://udisglutenfree.com/community
This is a sponsored conversation written by me on behalf of Udi's Gluten Free. The opinions and text are all mine.