Italian Pasta Salad is a cold summer salad perfect for picnics, potlucks or grilling dinners. Full of fresh vegetables and herbs, salami, mozzarella cheese, tossed in an easy homemade Italian dressing. It's easy and delicious!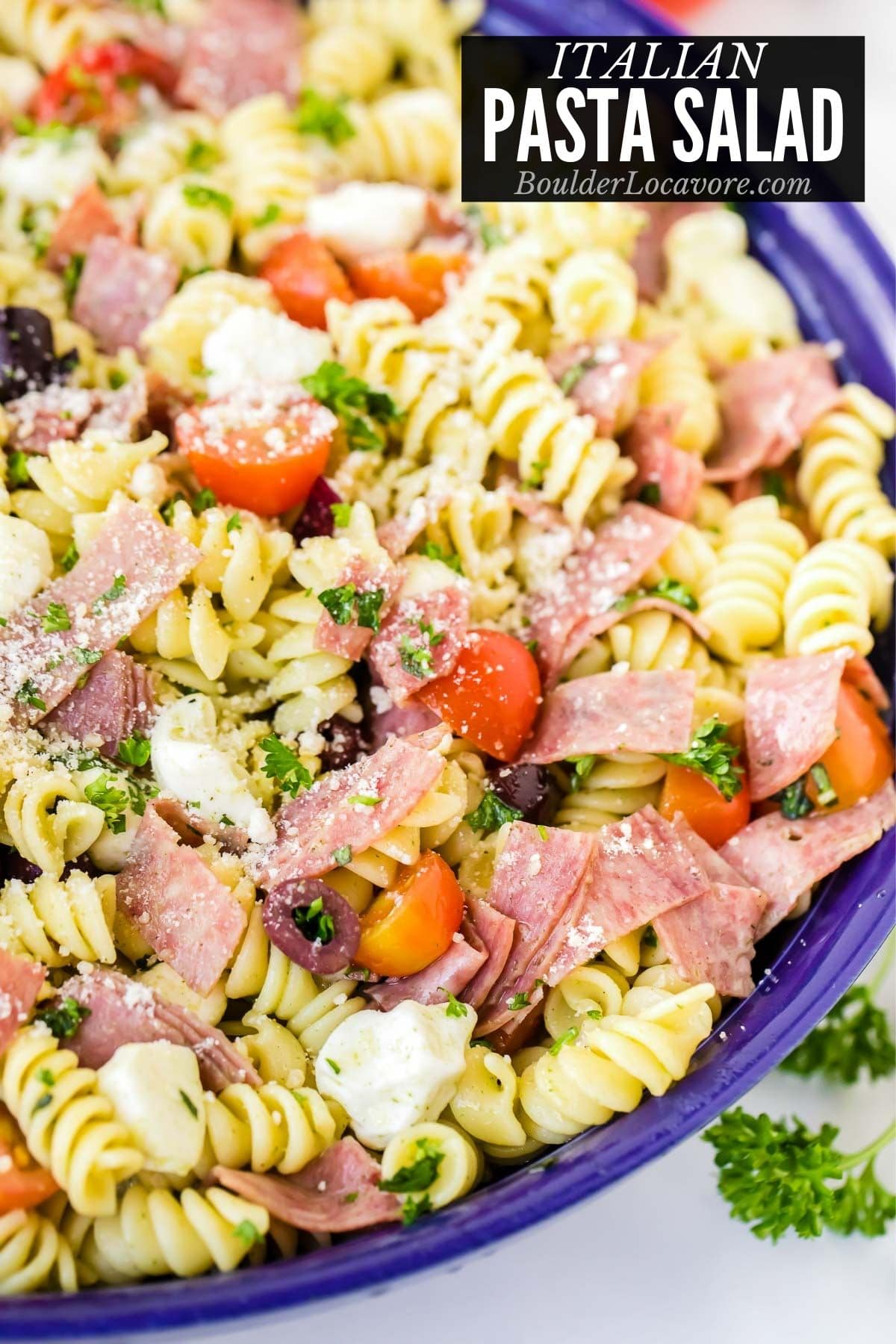 Easy Pasta Salad Recipe
This flavor packed salad is always a favorite.
It's fast to prepare (about 20 minutes) and tastes even better the day after it is made.
It's a great 'make ahead' recipe for a side dish. Or a refreshing chilled main dish during the hot summer months.
It's always a favorite for potlucks!
Rotini (or other favorite bite-size pasta)
Cherry Tomatoes
mini Mozzarella Balls
Salami slices
Black Olives
Red Onions
Italian Parsley
Basil
Parmesan Cheese

Change it Up!
This recipe is very versatile! If you love another vegetable, add it!
Something you don't love, take it out.
Here are some ideas:
Bell Peppers (red, yellow, orange or green)
Cucumbers
broccoli florets (cut small)
sliced zucchini or summer squash
marinated artichoke hearts
sun dried tomatoes
Summer Sausage
Feta Cheese
Make it Vegetarian by leaving out the salami.

Italian Dressing
The dressing for this salad recipe is fast and simple to make!
It's a homemade Italian dressing. Perfect for this salad or to use on tossed green salads too.
Olive Oil
Red Wine Vinegar
fresh Garlic Cloves
Granulated Sugar (just a touch!)
Italian Seasoning
fresh Basil
Salt and Pepper
Everything goes into the blender for a smooth, tangy dressing!
The Color of the Dressing
The color of the dressing will be related to the color of the olive oil.
Olive oil can be green, yellow or almost without color.
Depending on which color is used, the dressing may be green as shown in these photos or more of a golden brown.
How Much Dressing does it Make?
The total volume of the dressing recipe yields just under 1 1/4 cups dressing.
There is plenty of dressing to add as much or little as preferred.
If you prefer a more lightly dressed salad, save the rest to toss on before serving leftover portions to perk them up if needed.
OR use it on other salads.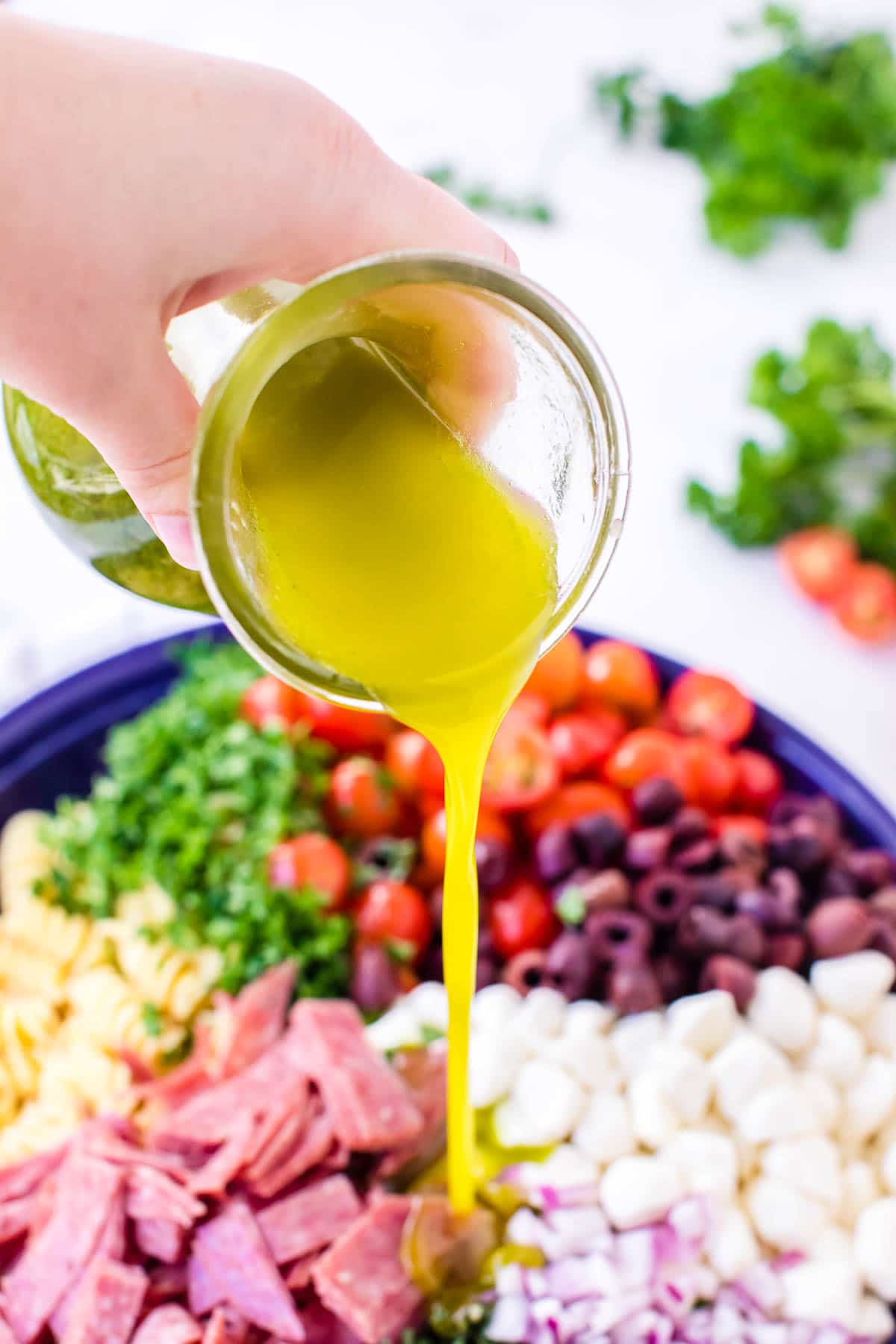 What Type of Pasta to Use?
Bite-size pasta works best for this recipe.
Any type with ridges, curls, or little openings are perfect. The dressing and herbs get into all of the nooks and crannies!
Rotini (spiral shaped) is a favorite type because of all of the ridges.
Other great choices include:
farfalle (bowtie or butterfly)
cellentani (curly tubular with ridged outside)
penne (short cylinder with diagonally cut ends)

Make it Gluten-Free!
To make this recipe gluten-free, swap in a gluten-free bite-size pasta.
I love Tinkyada brand for the texture and flavor. It comes in multiple shapes too.
NOTE: Gluten-free pasta is not as sturdy as traditional wheat varieties.
Be sure to toss the salad ingredients together gently to ensure the pasta holds its shape.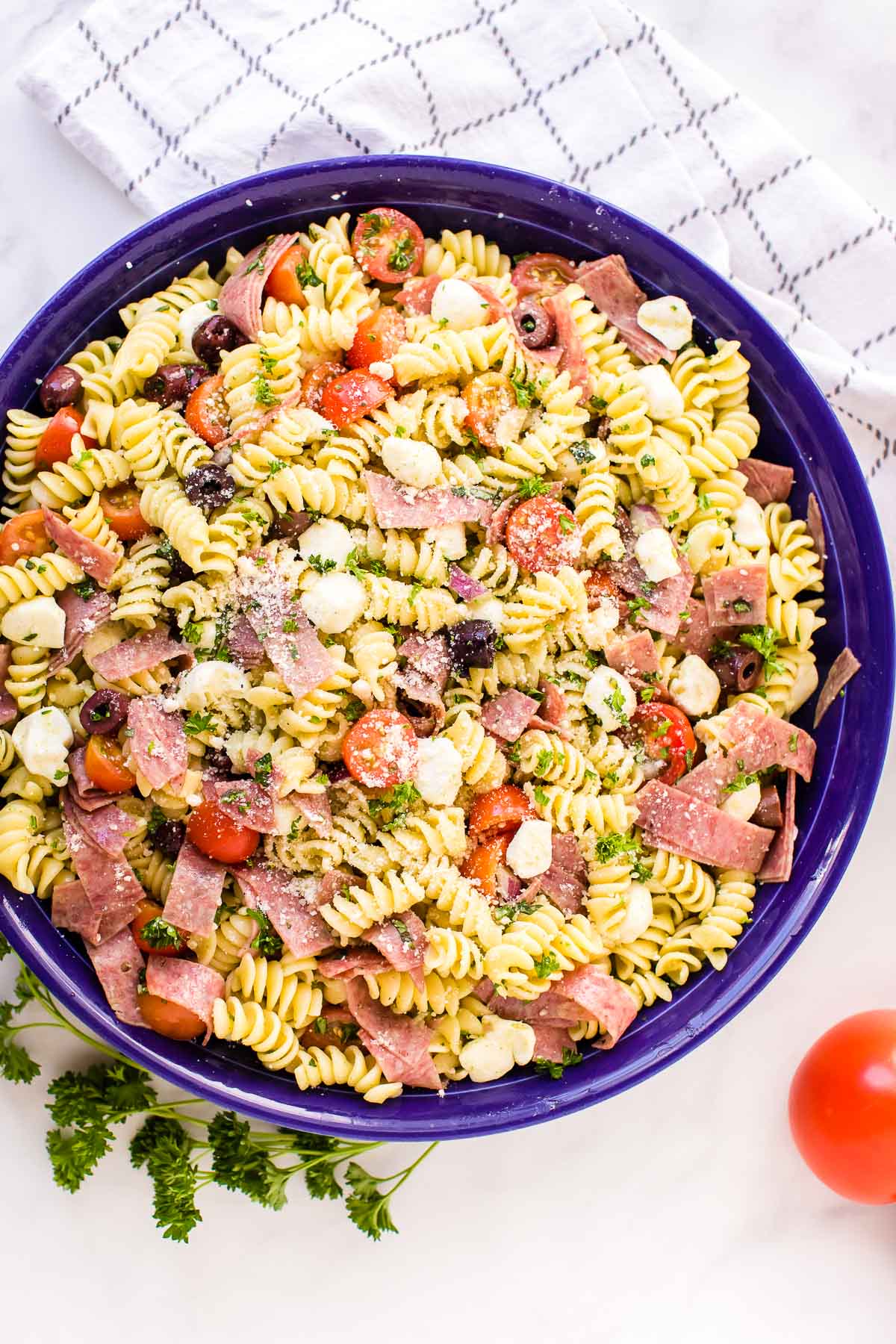 Pro Tips for Making Italian Pasta Salad
Do Not Overcook the Pasta
The pasta needs to be cooked 'al dente' and not overcooked.
This will give the best texture for the pasta salad.
The Pasta Needs to be Cold
This is for a few reasons.
If it's warm it will absorb the dressing. We want the dressing to coat the salad ingredients, not absorb INTO the pasta.
If it's cold it won't be sticky which is a better texture for the salad.
In addition to rinsing the pasta with cold water after cooking it, I recommend shocking it by placing it briefly into an ice water bath.
Instructions are included in the recipe card below.
Make all the Ingredients the Same Size
If the ingredients in the salad are the same size it's easier to serve and eat.
That's why the tomatoes are halved and other ingredients are cut into specific sizes.
If substituting other ingredients cut them to be similar size to the rest of the salad ingredients.
Chill the Salad
Mix and chill the pasta salad at least 30 minutes before serving. This lets the flavors combine for best results.
This pasta salad is even better the following day!
Adding the Dressing
To keep the salad fresh and flavorful, 3/4's of the dressing (slightly less than 3/4 cup) is added before the salad chills.
Add enough to fully coat the ingredients.
The remaining 1/4 of the dressing may tossed in right before serving if needed.
If not refrigerate it to freshen up leftover servings if the salad ingredients has absorbed the dressing.
OR use it on tossed green salads.
Storing Leftovers
Keep in an sealed airtight container in the refrigerator for 3-4 days.
Do not freeze this salad.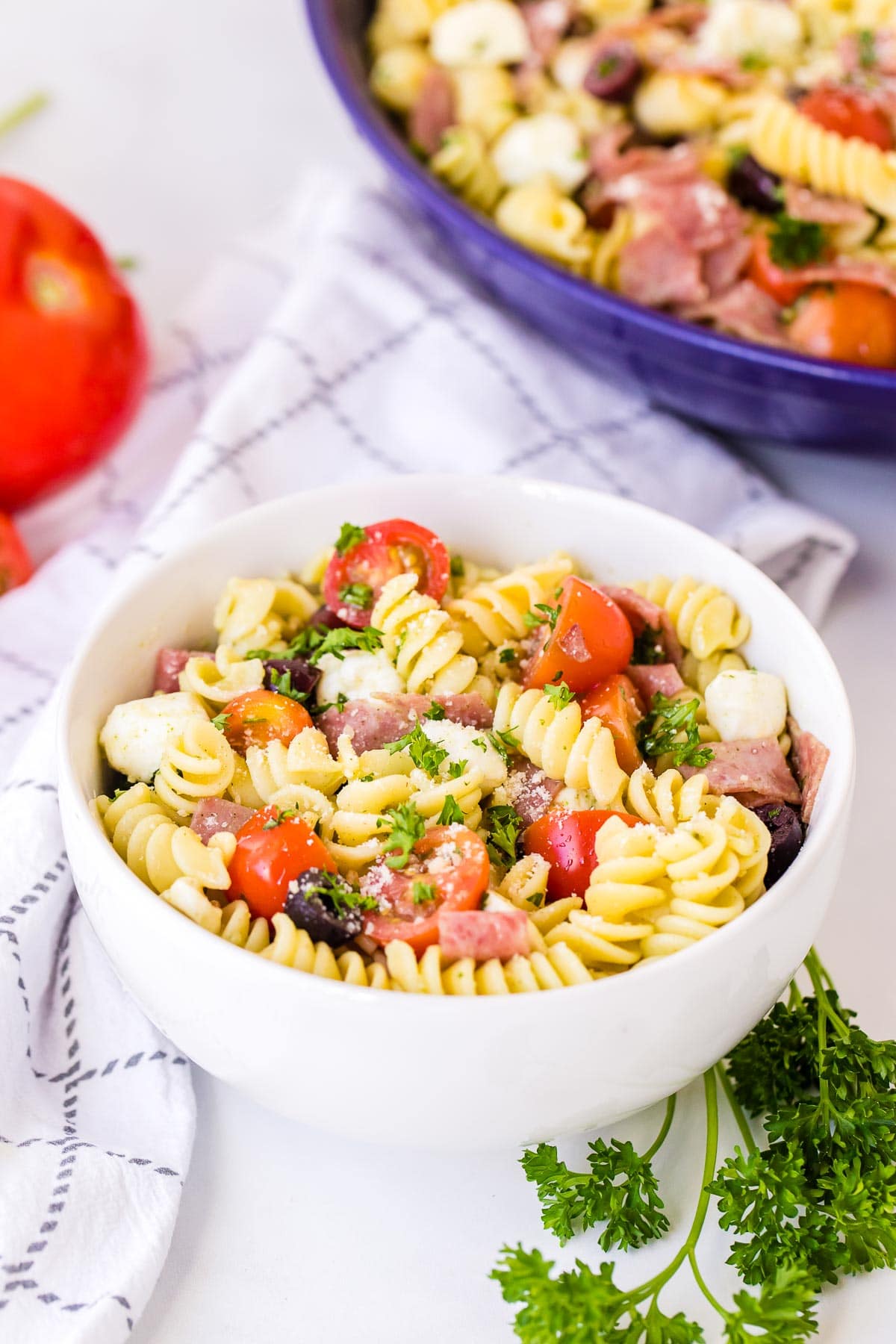 Did you make it? Please RATE THE RECIPE below!
Please SUBSCRIBE and FOLLOW ME on FACEBOOK , TWITTER , INSTAGRAM and PINTEREST !