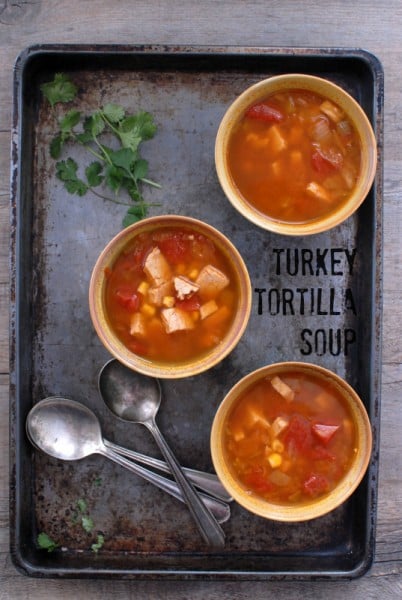 It's funny where some of our family favorite recipes have originated. In the case of this Turkey Tortilla Soup, the source was particularly humorous, and fortuitous I'd say as it has become one of our cold weather favorites.
When my youngest tot was in second grade he bounded into my car after school on a particular day and instead of sharing the usual day's debrief of learning highlights, odd facts about the respiratory system, playground drama, etcetera, it was all about lunch. Someone else's lunch. He happened to be sitting next to one of his soccer chums, Steve-the-Night-Owl (an alias selected by him to protect his lunchroom street cred) who had brought the most marvelous soup in a tiny thermos for lunch. One would not imagine a 7 year old to have so many adjectives for a mere soup as did my son, let alone stars in his eyes.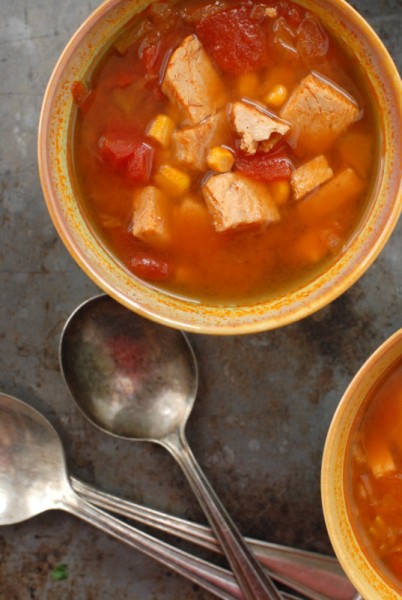 After school the next day, Steve-the-Night Owl's mother, who hails from Dallas with an accent that makes one feel as though they've been drenched in sunshine after a long cold spell, approached my car in the pick-up lane. She seemed a bit tentative, not usual for the friendliest person one has ever met. I lowered the passenger side window. Nervously she said 'Steve seems to think you want a copy of our Turkey Tortilla soup recipe?'; I'm sure she did not want to be presumptuous and probably found it as random as I did that little boys were spending the lunch hour extolling the virtues of soup rather than talking about gross things they could be doing with the food in their lunch, as boys will do. The culinary matchmaking at the hands of our boys was admirable albeit unusual. I was thrilled to both have the recipe and that Steve took the initiative to 'recipe share' at his tender age.
Once learning I was in possession of the recipe there was no question what we'd be having for dinner, in my son's mind, and what would be in his lunch the following day. A great thing about this recipe is that it's fast to put together. You can use healthy, prepared ingredients or make it as 'from scratch' as you choose. We happened to have leftover turkey on hand and all reveled in the aroma enveloping our house when making it, as well as the ease of preparation and the captivating, full spicy flavor.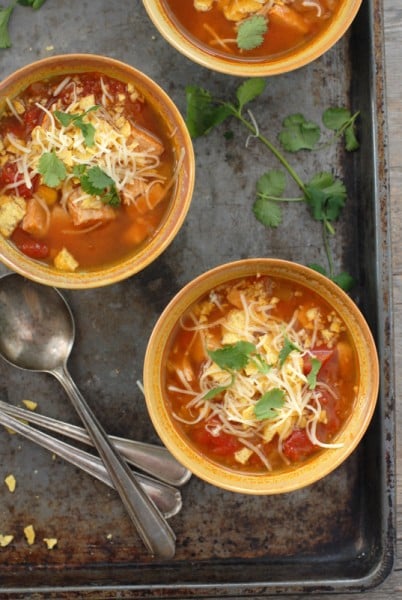 The next day I volunteered in the boys' classroom. At one point Steve sidled up to me, discretely, while I was correcting papers in the back of the room, turned his paper in and whispering 'So! You liked the soup?' I looked both ways not wanting to get either of us in trouble and whispered an enthusiastic 'Yes! Thank you!' He went on 'I noticed it was in your son's lunch today. It smelled so good.' Somewhere in this mix I learned it originates with Steve's aunt who formerly had a catering business in the Dallas area. No doubt if this is an example, she was unimaginably successful!
Eating Organic. My personal belief is that everyone needs to decide for themselves what their eating practices will be. I would never want to exclude people from my recipes by mandating brands or food qualities if not essential to the end result. Having said that, my personal choice is to eat organic as much as is available and local whenever possible. I just don't want chemicals in my food.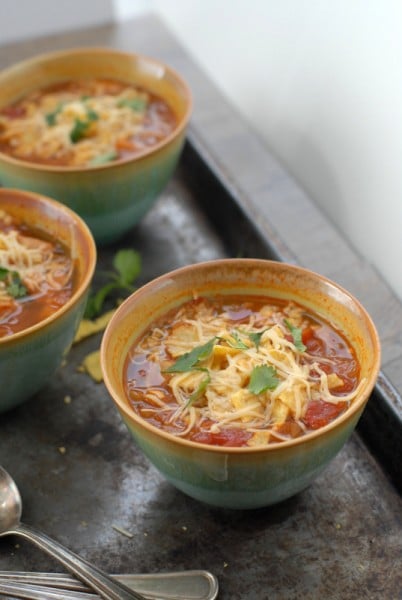 I have prepared this recipe to be 100% natural or organic. You can buy canned goods which are organic. I used a Southwestern Taco seasoning from Simply Organic. For anyone who shies away from recipes that use canned ingredients my point is you can still make a delicious meal honoring your desire to eat organically with this recipe. You can also swap out the same quantity of fresh ingredients or leftover home prepared turkey. The recipe is very forgiving.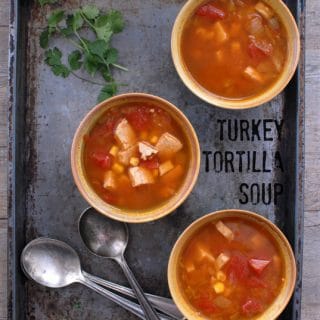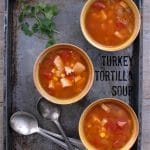 Chicken Tortilla Soup
Chicken Tortilla Soup is a perfect cold weather recipe with robust, spicy flavors, simple and quick to prepare. Using canned ingredients makes the preparation go quickly. If desired you can swap for the fresh equivalent of any of the canned ingredients. Swap leftover turkey for the chicken to make a perfect holiday leftovers recipes!
Servings
6
1 1/2 cup servings (total recipe yield: 9 1/2 cups soup)
Ingredients
2

teaspoons

Olive Oil

1

cup

Yellow Onion

chopped

1

4-ounce can

Diced Green Chilies

mild or hot

1

package

Taco Seasoning Mix

1

15-ounce can

Diced Tomatoes

do not drain

6

cups

low sodium Chicken Broth/Stock

(turkey broth may be substituted)

2

cups

cooked Chicken or Turkey

cut into ½ inch cubes (rotisserie chicken works great)

1 1/2

cups

Corn Kernels

fresh, frozen/thawed or 1 15-ounce can drained

1/3

cup

fresh Cilantro

chopped

½

cup

crushed Tortilla Chips

½

cup

Monterey Jack Cheese

grated
Instructions
In a large stock pot over medium heat, heat olive oil. Add onions and sauté for 3-4 minutes.

Add diced green chilies and taco seasoning mix. Stir to combine and cook 1 minute.

Add tomatoes and their liquid, and broth or stock. Increase heat to bring to a boil.

Add corn kernels and the chicken (or turkey). Reduce heat to low and simmer for 30 minutes.

Serve topped with crushed tortilla chips, grated cheese and chopped cilantro.
Recipe Notes
This soup can be made with either chicken or turkey. It's a great holiday leftover idea with turkey.
If Using Turkey
Cut into ½ inch cubes. Leftover holiday turkey can be used. Or purchase from a deli counter three slices cut ½ inch thick generally equates required amount.
Grated Cheese topping
Finely grated Colby and Monterey Jack cheese blend, or Mexican cheese blend sold prepared in the dairy section are substitutes that are delicious and save time grating.
Using Turkey Stock or Broth
Homemade Turkey Stock can be substituted if making this as a Turkey Tortilla soup.
Nutrition Facts
Chicken Tortilla Soup
Amount Per Serving
Calories 229
Calories from Fat 81
% Daily Value*
Fat 9g14%
Cholesterol 32mg11%
Sodium 1222mg51%
Potassium 433mg12%
Carbohydrates 24g8%
Protein 13g26%
Vitamin A 200IU4%
Vitamin C 22.7mg28%
Calcium 114mg11%
Iron 1.5mg8%
* Percent Daily Values are based on a 2000 calorie diet.
Are you Gluten Free and looking for great winter soup recipes? Check out the rest of Boulder Locavore's Soups!