Chicken Tortilla Soup is a classic Mexican restaurant soup that is brimming with soul-warming flavors and loads of wholesome ingredients. It's SO easy to make at home in less than 30 minutes!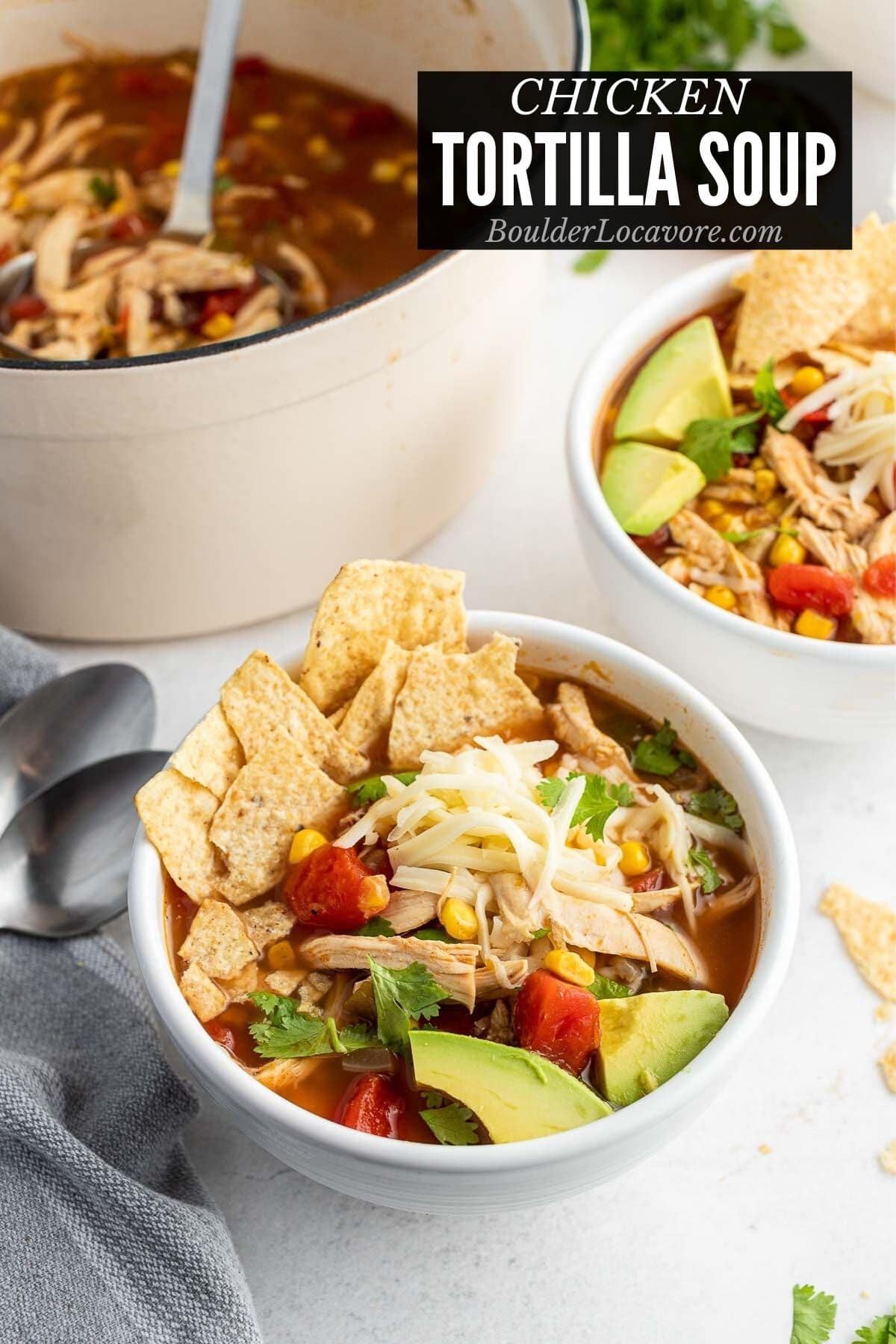 This soup recipe is a favorite all year round. It's definitely a perfect fit for the winter months especially.
The recipe was originally given to me by a friend years ago who loved to make it with leftover holiday turkey after Thanksgiving.
It's delicious and too good not to enjoy the rest of the year too.
It's a flexible recipe for adding other favorite ingredients you love!
Easy Chicken Tortilla Soup recipe
If you haven't tried this soup you are in for a treat! It's often served at Mexican restaurants as a spicy first course.
A light chicken broth full of Mexican flavors, shredded chicken, corn, tomatoes, chilies with tortillas in or on top of the soup.
It's hearty and filling as is and fun to load toppings on for a special finishing touch.
It's VERY easy to make at home. Using some canned ingredients speeds the preparation along with great flavor results.
Recipe Ingredients + Notes
Olive Oil – used for sauteing the onions.
Yellow Onion – chopped and sauteed to give the soup great flavor!
Diced Green Chilies – the recipe used canned diced green chilies. Mild chilies are recommended unless you know you want the soup really spicy.
Taco Seasoning – I recommend homemade taco seasoning. It's easy to make and great for many recipes. I recommend it because it has less salt so the spice flavors really shine.
Store bought taco seasoning can also be used.
Canned Diced Tomatoes – the tomatoes and the liquid are both used. I personally prefer 'petite diced tomatoes' which have smaller pieces of tomatoes but any diced tomatoes can be used.
Chicken Broth or Stock – use low sodium Chicken Stock or Broth. Season to taste with salt at the end.
Cooked Chicken – cubed or shredded chicken can be used. Typically chicken breast is used but any chicken works well.
This is my favoriteshredded chicken recipe. Using a rotisserie chicken is an easy choice too. You can shred or cube it.
Corn Kernels – use fresh, canned (drained) or frozen. I've added the kernels frozen and they work great!
Tortilla Chips – these will be crushed and used on top of the soup.
fresh Cilantro – for garnish and added flavor!
Monterey Jack Cheese – another delicious topping! If you love a different type of cheese (Colby for instance) feel free to substitute it!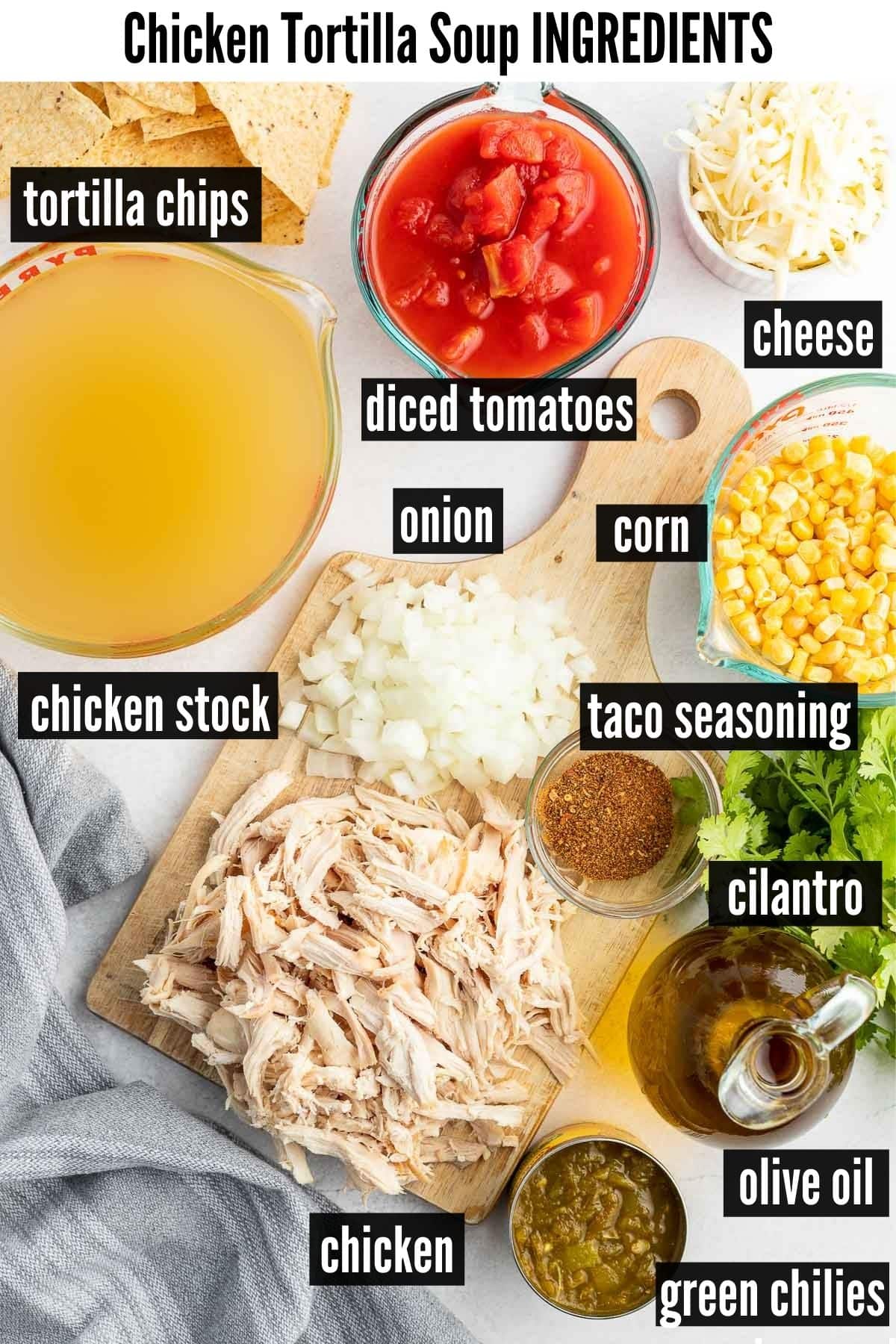 Other Variations
Add some black beans for more flavor, protein and fiber. Use drained, rinsed canned black beans. Add them with the corn and chicken.
Love bell peppers? Chop some and saute with the onions.
Want some more smoldering heat? Add an extra 1/2 to 1 teaspoon of chili powder.
A teaspoon of lime juice will perk up the flavors with some tang!
Serve with some soft corn tortillas to dip in the soup.
A dollop of sour cream on top adds a cream touch to the soup. Also if it's too spicy, the sour cream will tame the heat.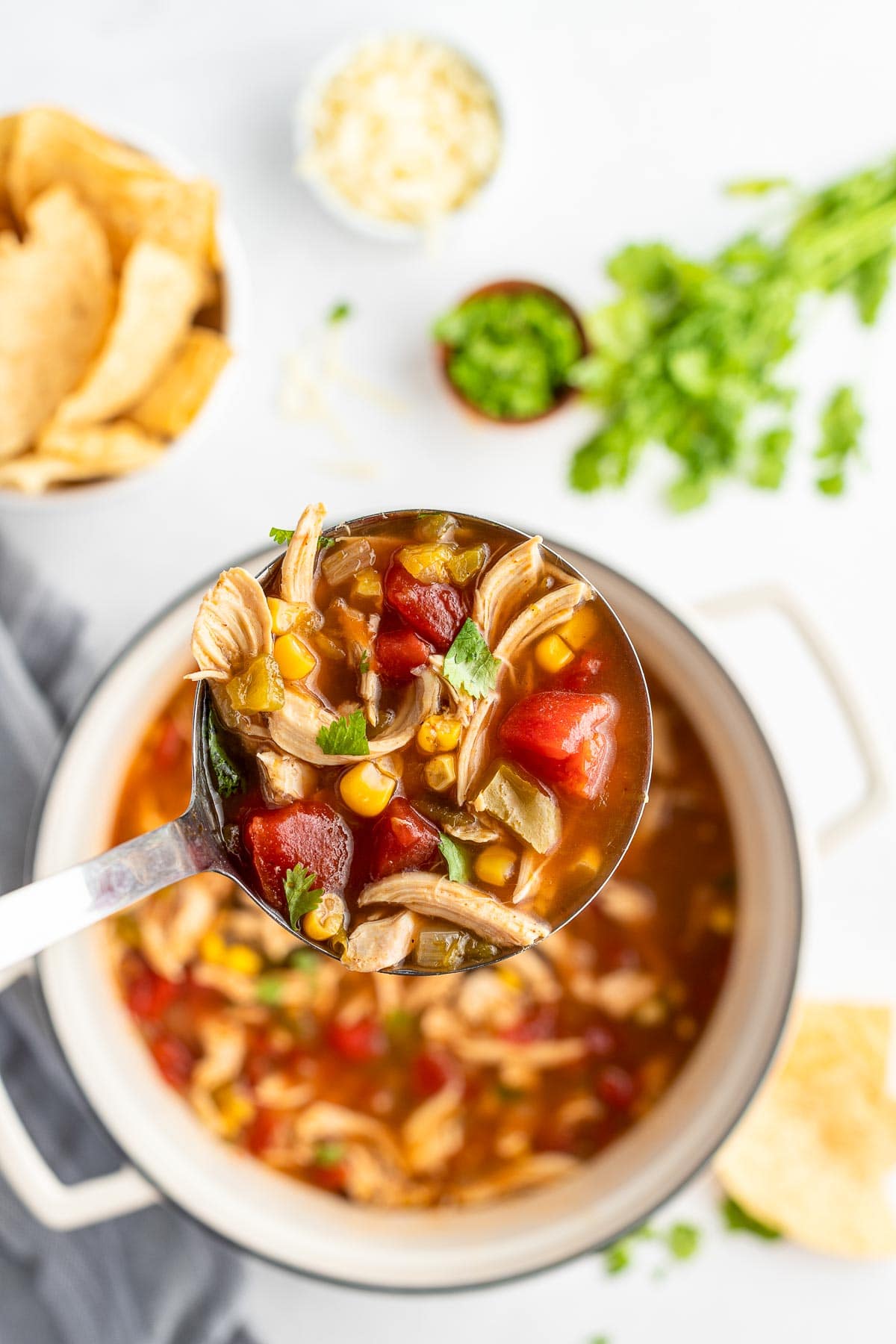 A Great Turkey Leftovers Recipe!
This recipe is fantastic with turkey too. It's a perfect way to use up holiday turkey.
Just substitute turkey in for the chicken.
How to Make it With Turkey
Want to want to make it with turkey and don't have leftover turkey to use?
Ask the deli counter at your grocery store for three slices of turkey cut ½ inch thick. This generally equates to the required amount.
How to Make it – Step-by-Step
STEP 1: In a large stock pot or Dutch oven heat the olive oil over medium high heat. Add the onions and saute for 3-4 minutes (photo 1).
STEP 2: Add the diced chilies and taco seasoning. Cook 1 minutes (photo 2).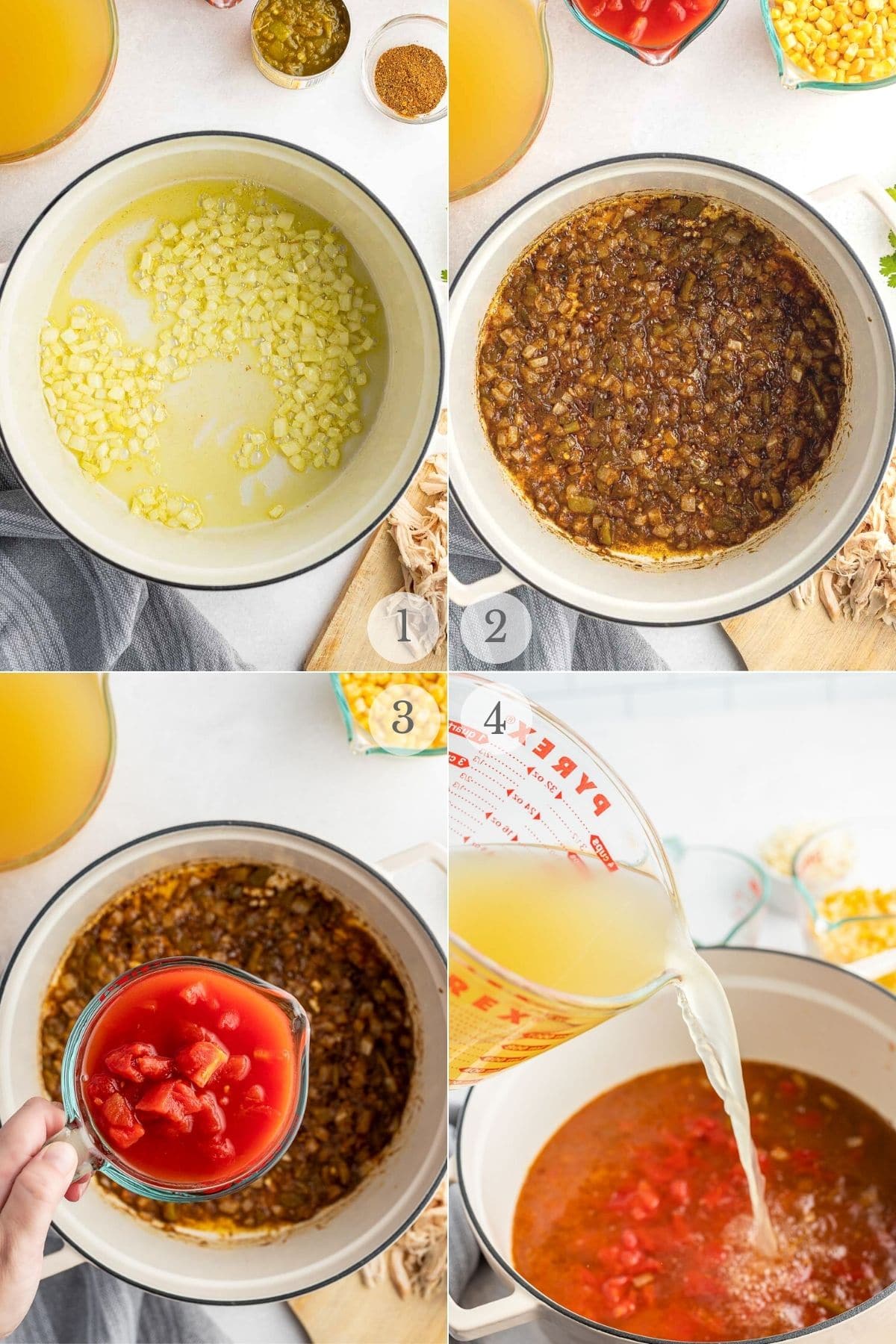 STEP 3: Add the diced tomatoes with liquid and chicken stock (photos 3-4). Bring to a boil.
STEP 4: Add the chicken and corn (photo 5), lower heat and simmer for 30 minutes (photo 6).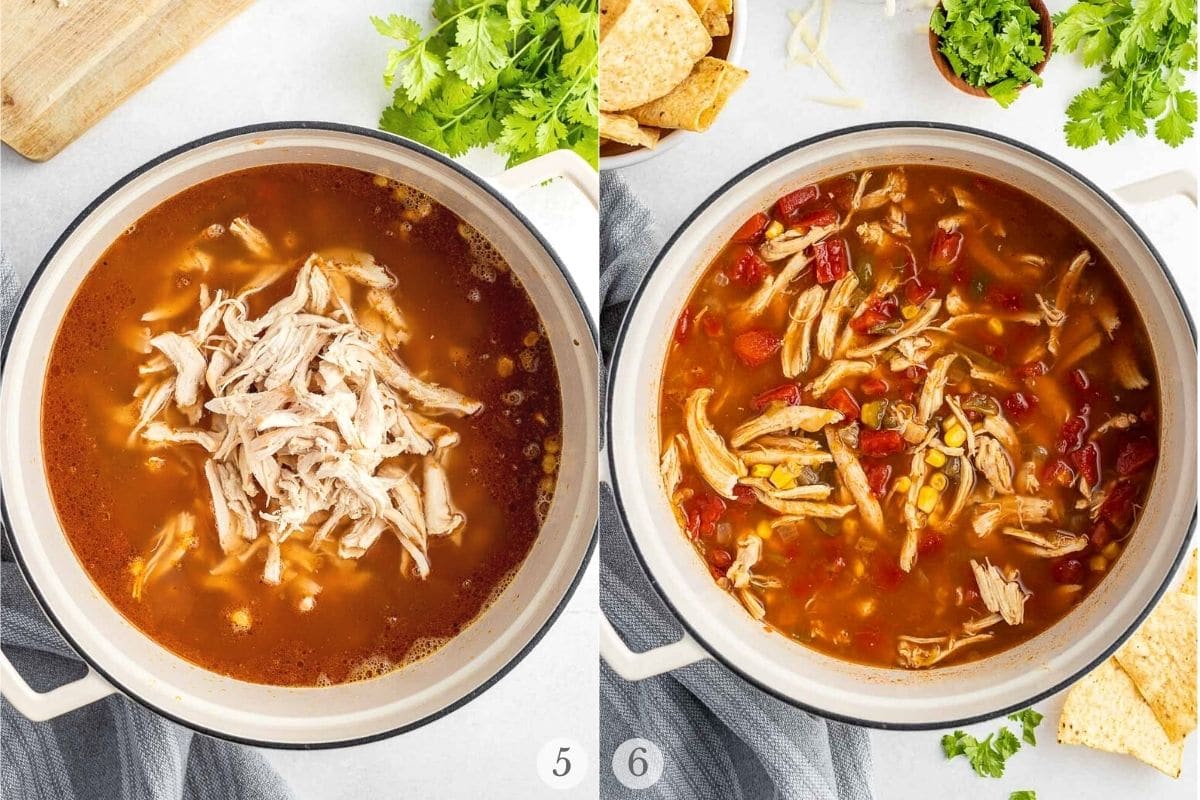 Serve topped with shredded Monterey Jack cheese, crushed tortilla chips and torn cilantro.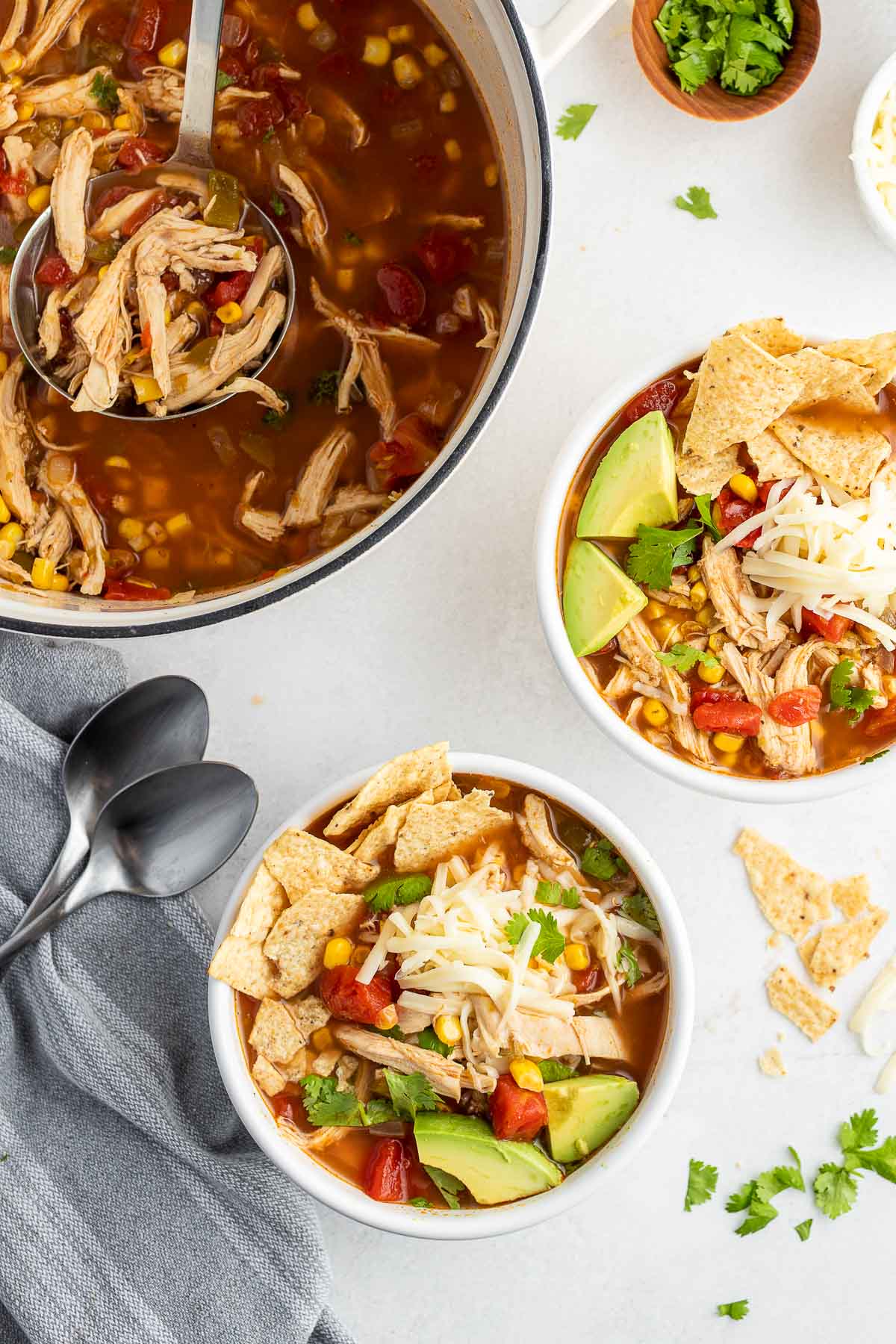 Storing Leftovers
Keep any leftovers in a sealed container in the refrigerator for up to 4 days. Reheat on the stove or in the microwave.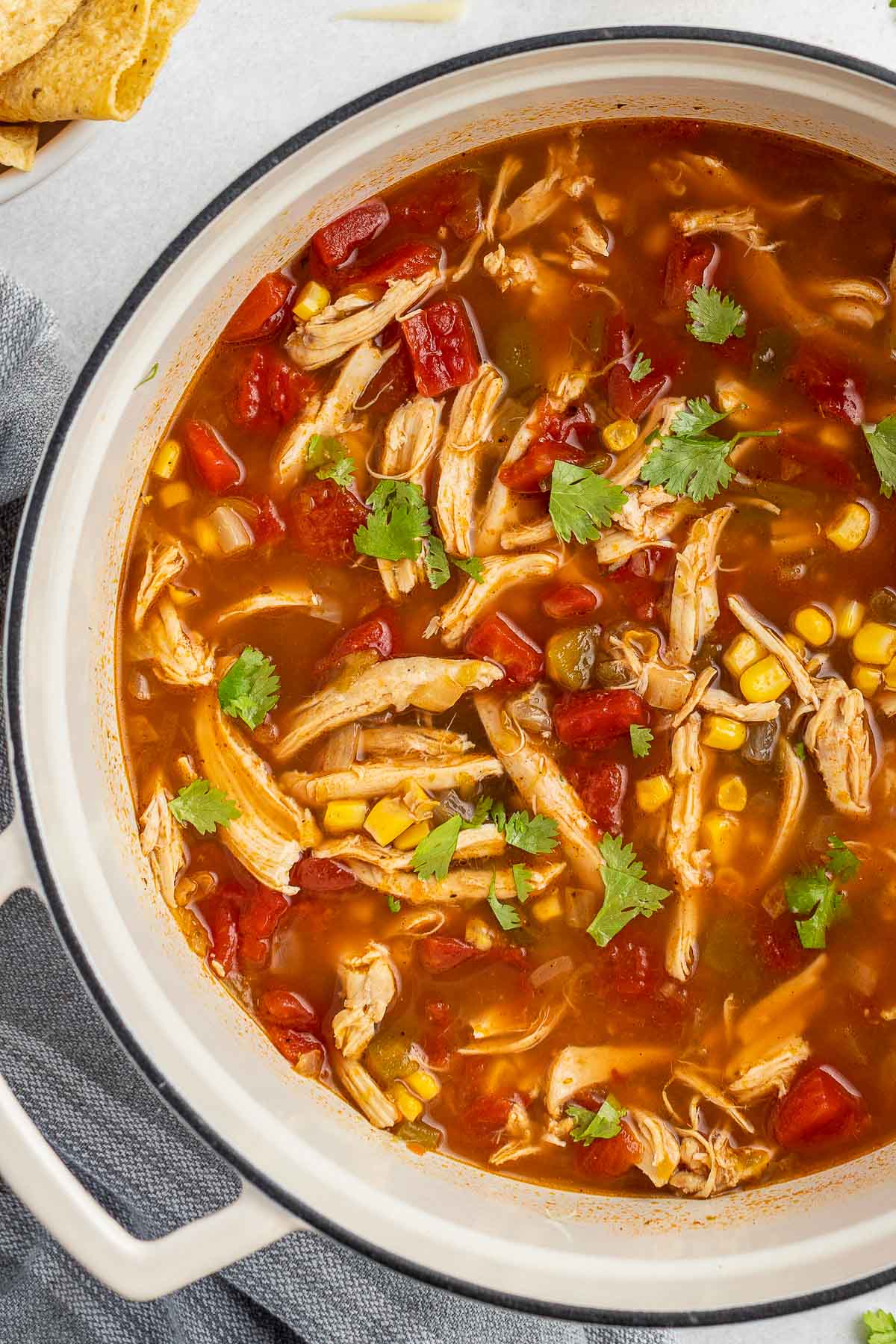 Try these Mexican-inspired Recipes too!
Did you make it? Please RATE THE RECIPE below!
Please SUBSCRIBE and FOLLOW ME on FACEBOOK , TWITTER , INSTAGRAM and PINTEREST !
Originally published: January 16, 2013