Tomatillo Salsa (aka Salsa Verde) uses tomatillos, serrano and jalapeno chilies all roasted for a full, robust flavor. A great recipe any time of the year!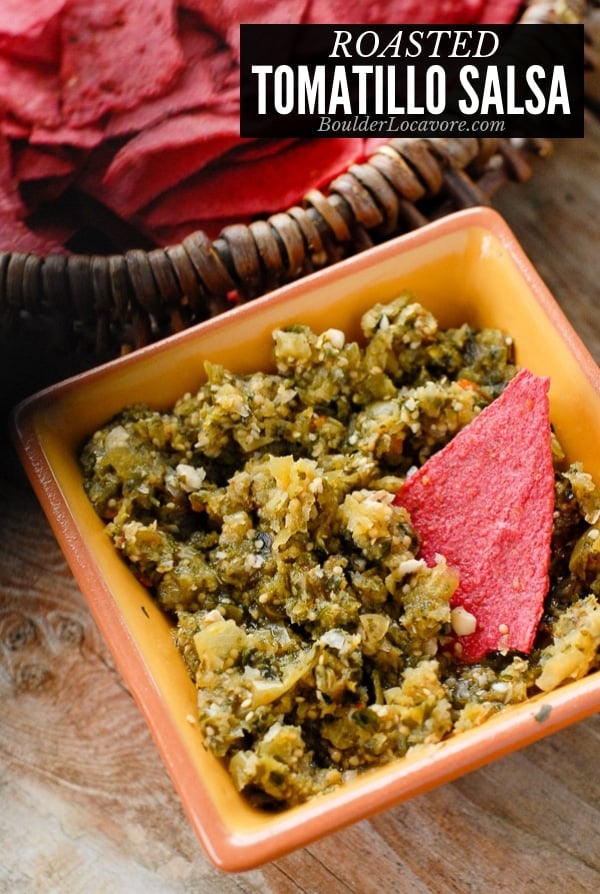 Tomatillos are probably one of those things in the produce department you walk by and maybe take a sideways glance at. There is nothing intuitive about them.
However, Tomatillo Salsa is another matter.
You've probably had it at a restaurant and lapped it up with some chips having no idea what it was (other than delicious).
After today's recipe you'll be hunting the funny little husked vegetables down!
What is a Tomatillo?
At first glance tomatillos appear to be green tomatoes but they aren't.
Also known as 'Mexican husk tomatoes', tomatillos are a member of the nightshade family along with potatoes, eggplant, pepper and tomatoes.
Despite the similar appearance, tomatillos and tomatoes are from different plants.
Tomatillos are small green or purple fruits (though they are treated like vegetables like tomatoes) best recognized from the dry husk that drapes over the fruit.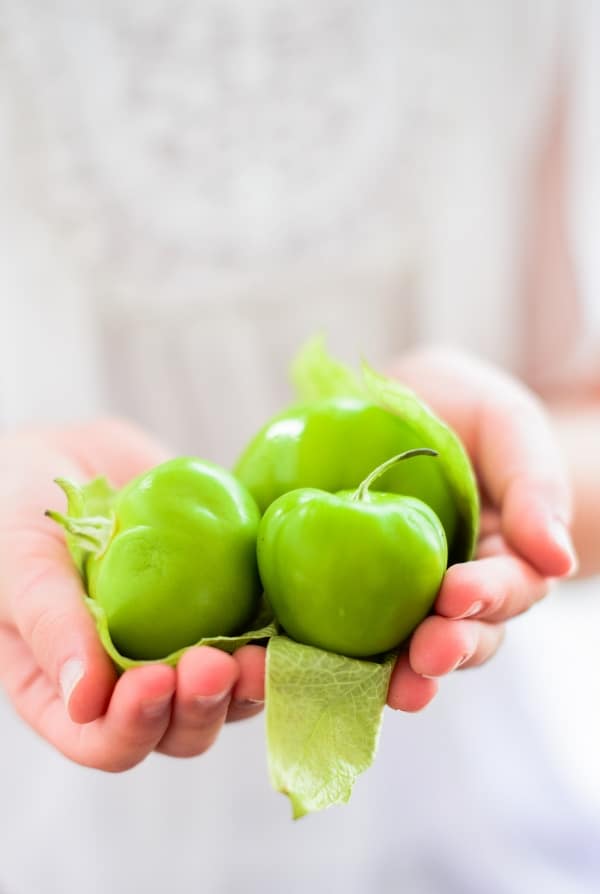 What does a Tomatillo taste like?
Tomatillos are most commonly eaten cooked in Salsa Verde ('green salsa'), though they can be eaten raw.
They have a slightly fruity, tangy flavor that is a bit herb-y as well.
Ingredients in Roasted Tomatillo Salsa
Tomatillo Salsa is spicy and slightly sweet as well. The heat can be adjusted by the number of chile peppers used.
The recipe suggests a quantity of jalapeno and serrano chile pepper. Feel free to adjust up or down as desired. Also see the note about Spiciness below!
Tomatillos
Yellow Onion
Serrano Peppers
Jalapeno Chilies
Garlic Cloves
Kosher Salt
fresh Cilantro
Optional: 1-2 small red sweet peppers (not bell peppers)
A Note on Spiciness of this Salsa Verde recipe
I've found with salsa there is a lot of experimenting to your taste.
Three serrano chilies might be mild to me, but to you might feel like it's going to make steam come out of your ears.
I've also noted the flavor intensity of a given ingredient can vary each time I buy it.
Do keep that in mind and taste as you go when making any salsa.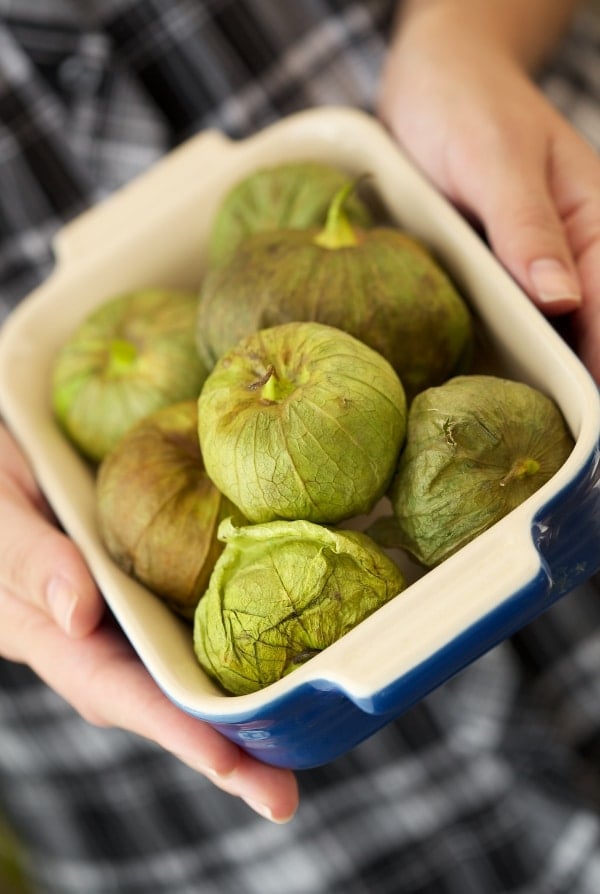 Why Make this Tomatillo Salsa?
Tomatillo Salsa is a nice change up from traditional tomato-based salsas and Pico de Gallo.
What I love about this Roasted Tomatillo Salsa recipe is:
It's FAST to make
There is no chopping of ingredients
The flavor is sweet and spicy
How to Make Tomatillo Salsa – Step by Step
Refer to the recipe card at the end of the post for detailed (printable) instructions.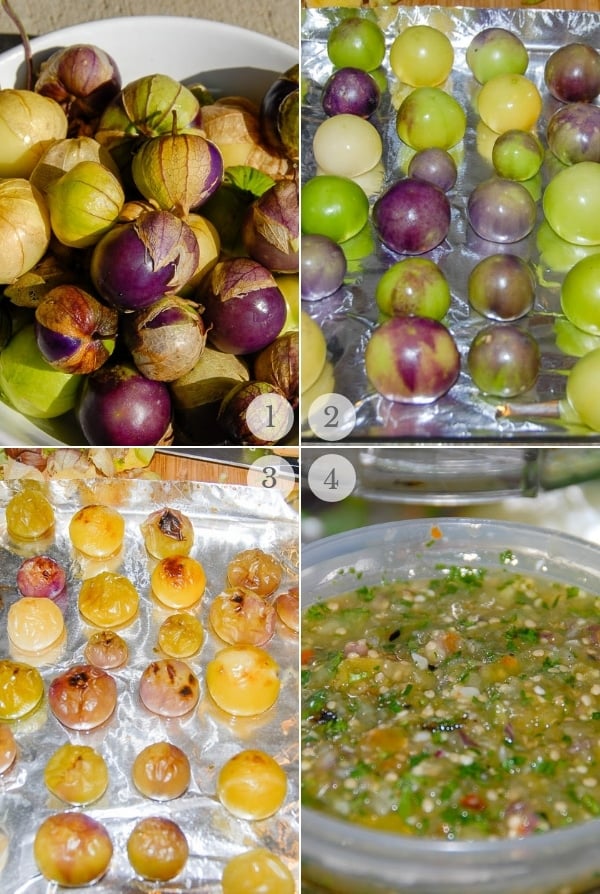 Preheat the oven broiler.
Line two rimmed baking sheets with foil (or use one pan twice).
Husk the tomatillos (photo 1 before husking), rinse them and place on prepared baking sheet with the chilies and the unpeeled garlic cloves (photo 2).
Place the baking sheet(s) under the broiler checking them every few minutes until the tomatillos and chilies char (photo 3).
Place the onions a food processor.
After broiling let the roasted vegetables rest until you can handle them (a few minutes) and add them to the food processor.
Squeeze the roasted garlic out of the skin into the food processor. Discard the skin.
Remove the stems, seeds and inner membrane from the chilies and add them to the food processor (my favorite trick for this is here)
Add the cilantro and salt to the food processor.
Pulse the food processor to pulverize ingredients into a liquid salsa consistency.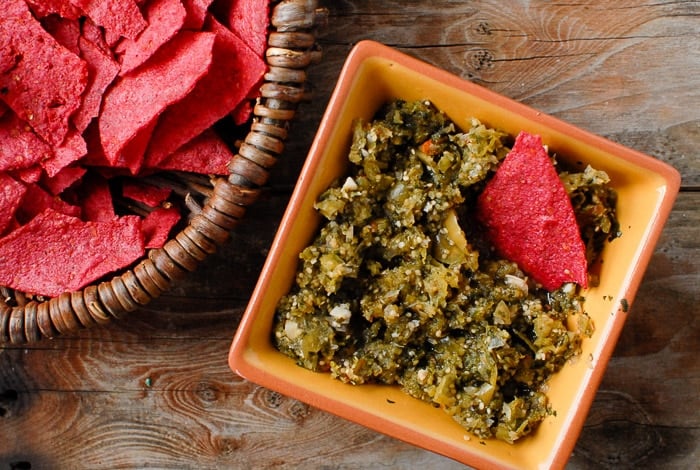 Did you make it? Please RATE THE RECIPE below!
Please SUBSCRIBE and FOLLOW ME on FACEBOOK , TWITTER , INSTAGRAM and PINTEREST !
Originally published: October 4, 2010