Baked Ziti is classic comfort food that's filling and satisfying. Loaded with tomato sauce, creamy ricotta and mozzarella cheeses, fresh basil and noodle pasta.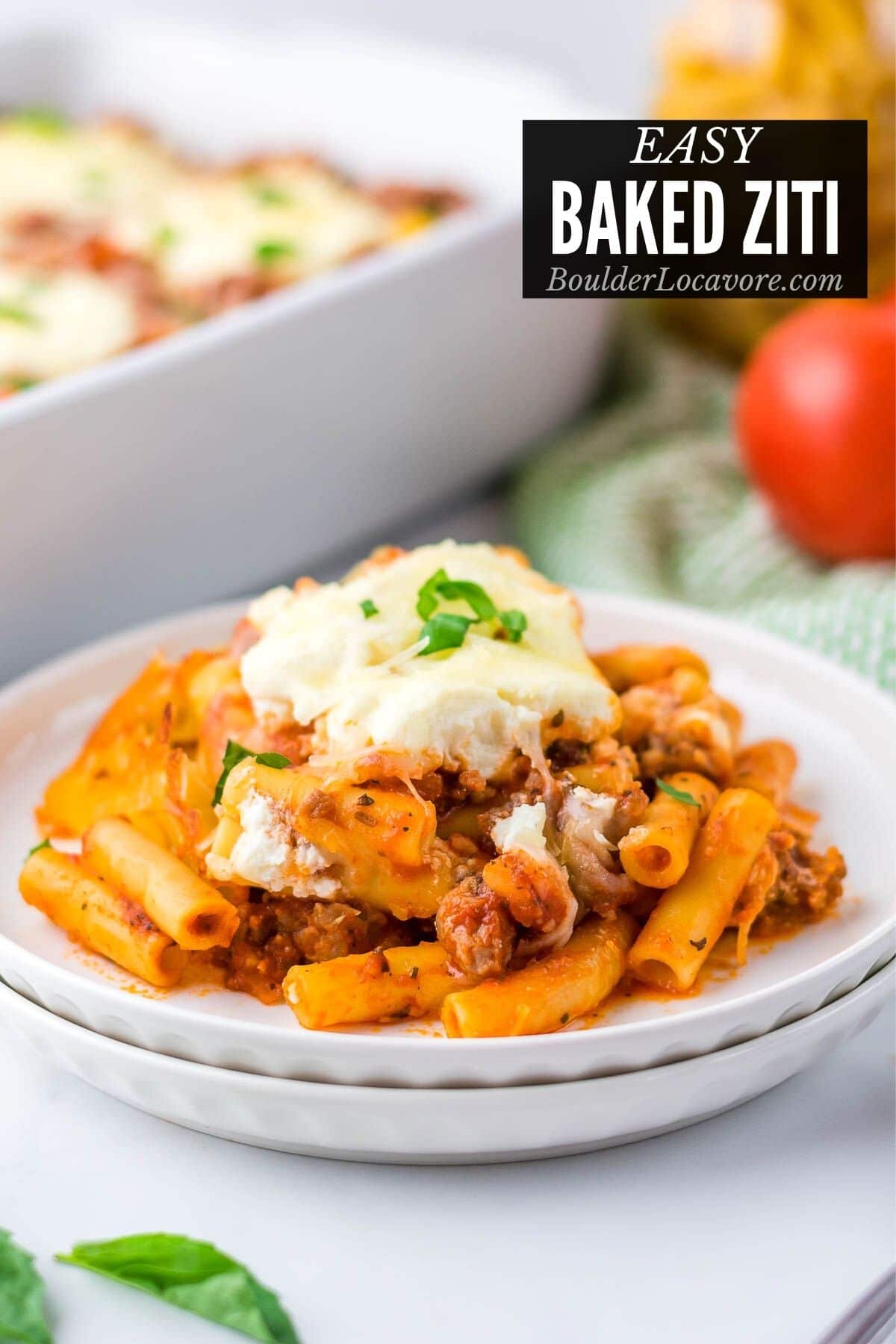 If you love easy one dish meals and big Italian flavors, this recipe is for you!
It's the type of recipe that brings people together. It's the best kind of comfort food!
If you love lasagna, you'll love Baked Ziti.
Jump to:
What is Baked Ziti?
It's is an Italian-American casserole that most closely resembles lasagna just using ziti pasta instead of lasagna noodles.
A meat-tomato sauce is layered between cooked pasta along with ricotta cheese and other cheeses.
After it bakes it is easy cut into servings.
A Great Freezer Meal
Baked Ziti can be made and cooked immediately, or made and frozen.
This makes it a great choice for a freezer meal.
For best results assemble it then freeze the casserole. Do not bake then freeze.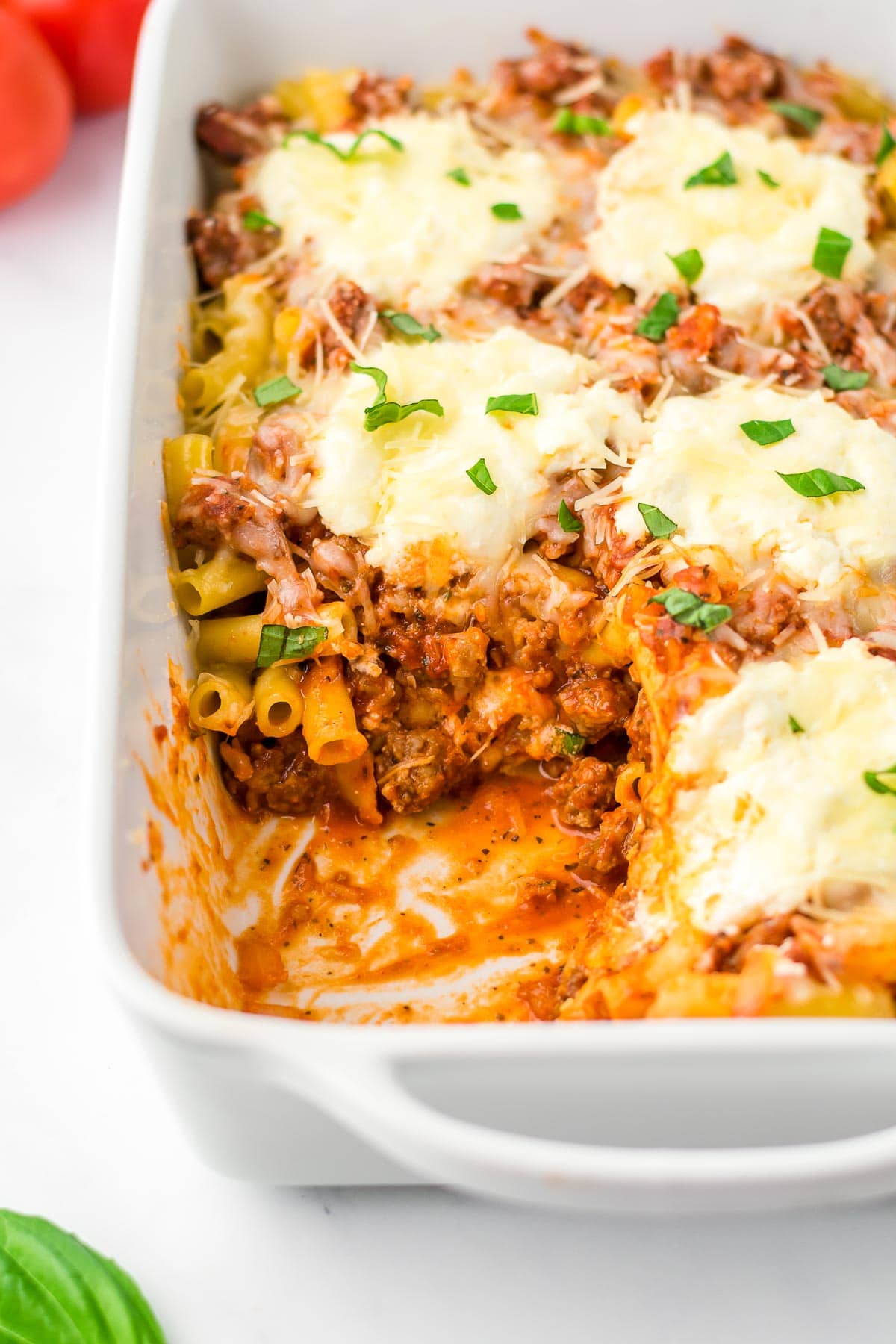 Recipe Ingredients + Notes
Ziti noodles – this pasta is a tubular pasta about 1 1/2 inches long. It's great for picking up lots of sauce. It is cut straight at the ends. Penne pasta can also be substituted.
Olive oil
Italian sausage – use ground (also called bulk or loose) sausage; not links. It will be browned as part of the sauce. Mild Italian sausage is suggested over hot.
Yellow onion
Italian seasoning – the perfect blend of classic Italian spices in one seasoning mix for easy use.
Pasta sauce – a 25-ounce jar of pasta sauce can be used or substitute the same amount of your favorite homemade spaghetti sauce.
Cheese – ricotta, mozzarella and Parmesan are all used to give this a creamy, cheesy touch.
fresh Basil – used in the recipe and to garnish on top.
Make it Regular or Gluten-Free!
This recipe has been tested with regular wheat pasta and gluten-free pasta with great results.
My recommended gluten-free pasta if ziti is not available is Tinkyada Brown Rice Penne. It holds its shape and is delicious.
A note on package size. Gluten-free pasta does not always come in 1 pound size (amount needed for the recipe).
And additional package (or partial package) may be needed.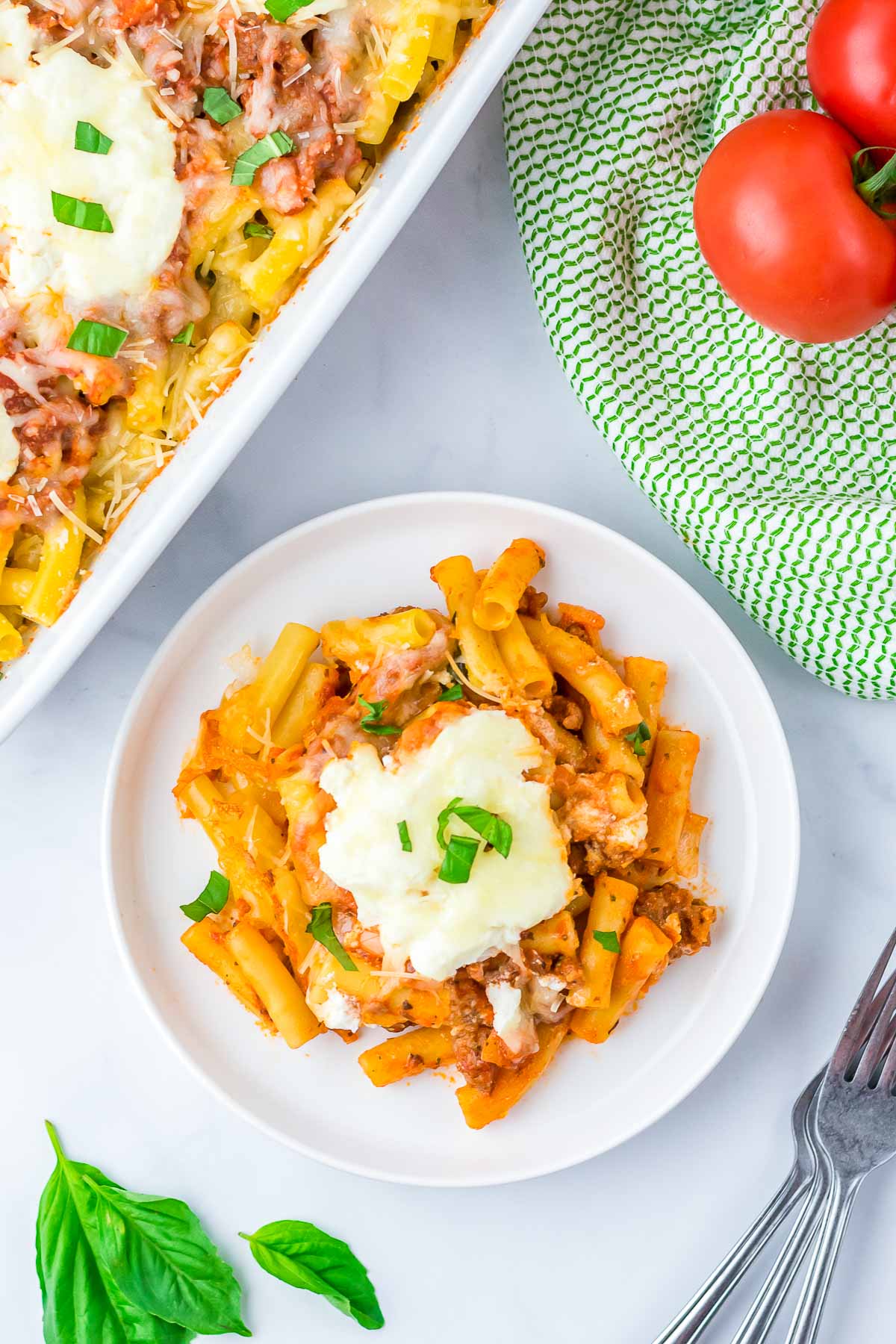 How to Make it – Step-by-Step
STEP 1: Preheat the oven to 350 degrees F. Cook the pasta as noted on the package to be 'al dente'.
Drain (photo 1), rinse if instructed and return to the pot. Drizzle with 1 tablespoon olive oil and stir (this prevents the pasta from sticking together).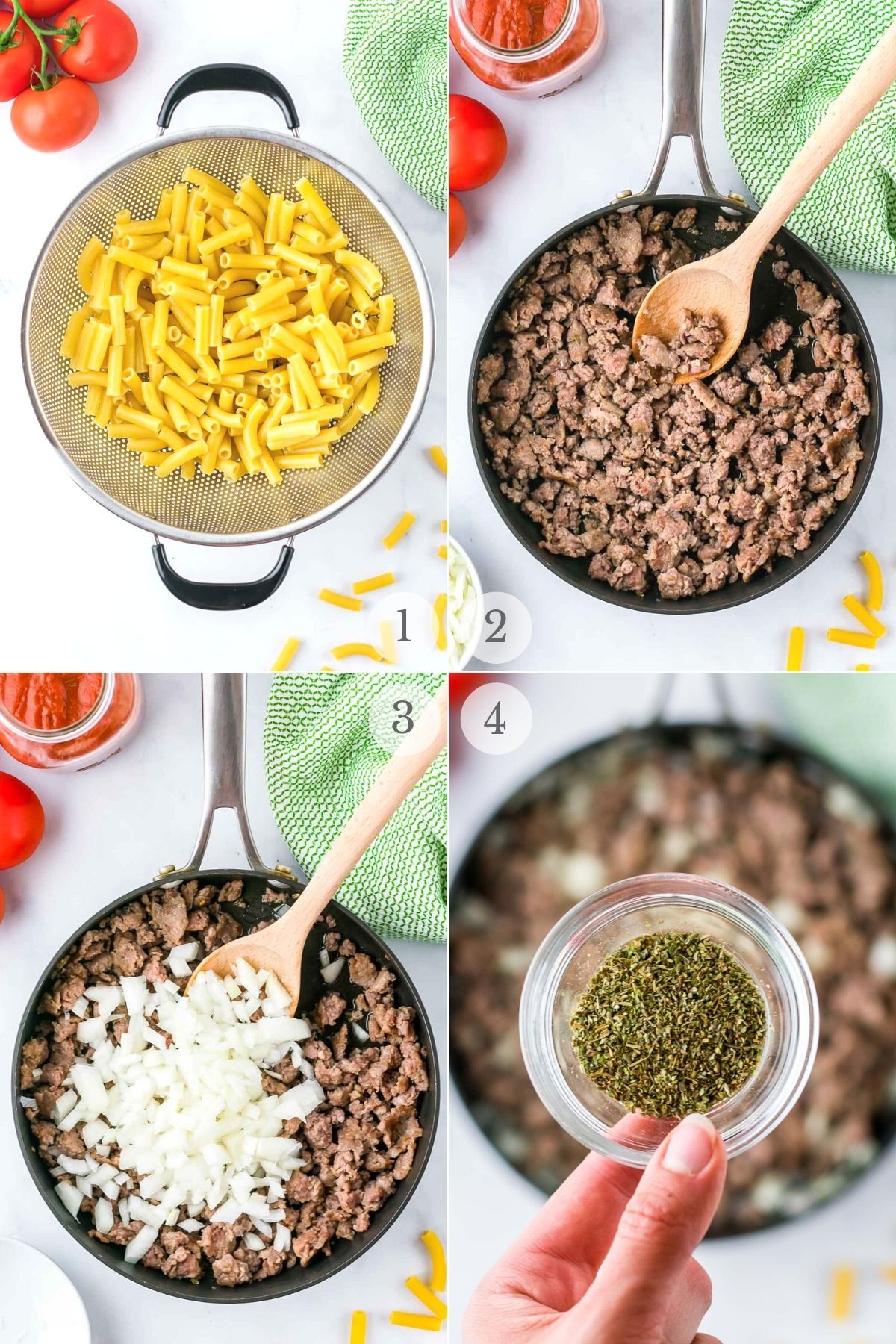 STEP 2: In a large skillet heat 1 tablespoon of olive oil over medium high heat. Add the sausage and brown, breaking into small pieces as it cooks, aproximately 5-6 minutes (photo 2)
STEP 3: Add the onions (photo 3)and cook 3-4 additional minutes. Stir in the Italian seasoning and cook 1 minutes (photos 3-5).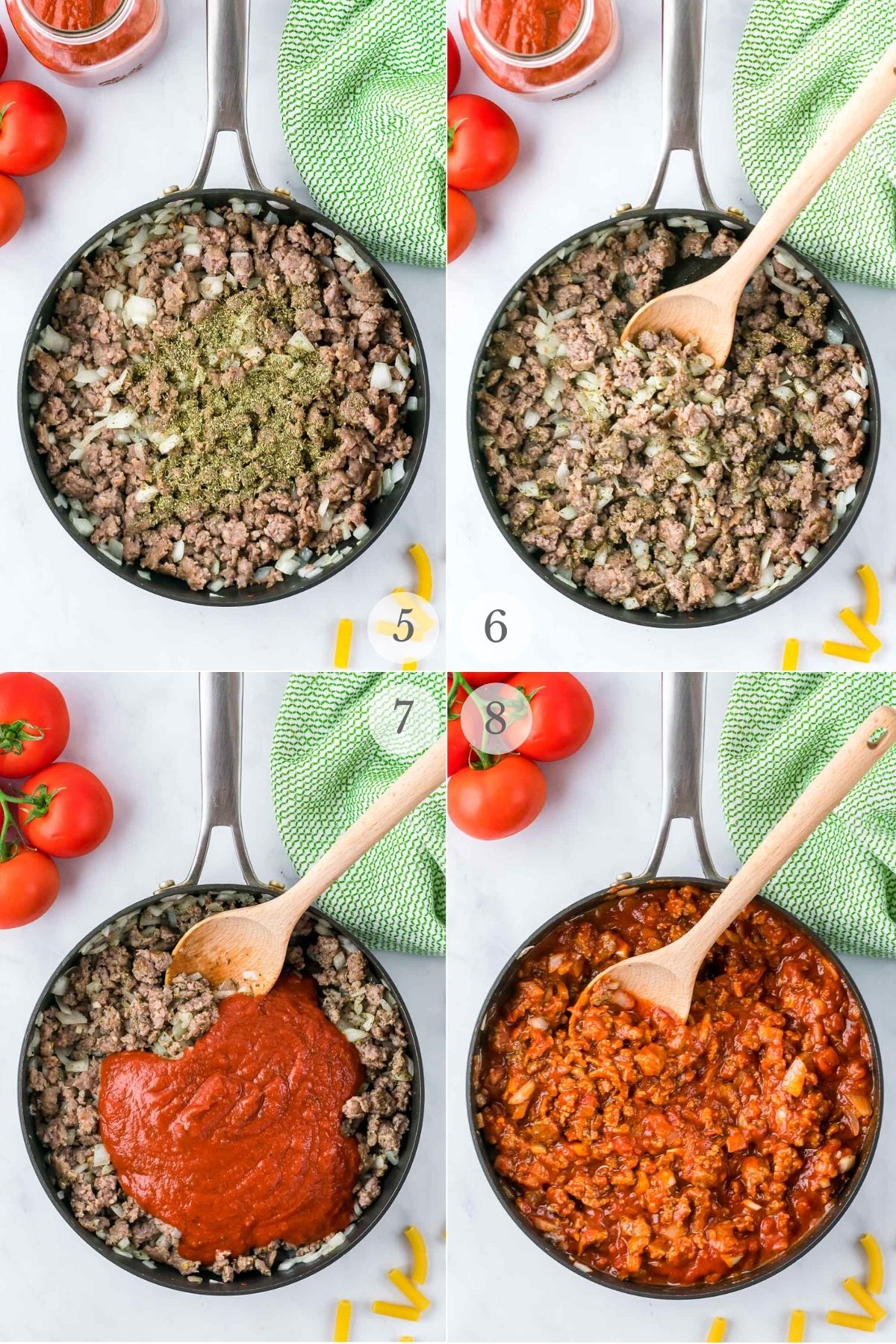 STEP 4: Add the tomato sauce. Stir to combine and bring to a simmer (photos 7-8).
Layering the Baked Ziti
STEP 5: Spray a 9-inch by 13-inch baking dish with non-stick cooking spray.
1. Add a small amount of the sauce to the bottom of the pan and spread (photo 9).
2. Add half the pasta (photo 10) followed by half of the remaining sauce (photo 11).
3. Add half the ricotta cheese in large spoonfuls (photo 12). Spread with the back of a spoon.
NOTE: for these photos we did not spread the ricotta cheese so the layering would be visible. For best results do spread the ricotta out.
4. Sprinkle on half the mozzarella cheese and chopped basil (photos 13-14).
REPEAT the same layering a second time.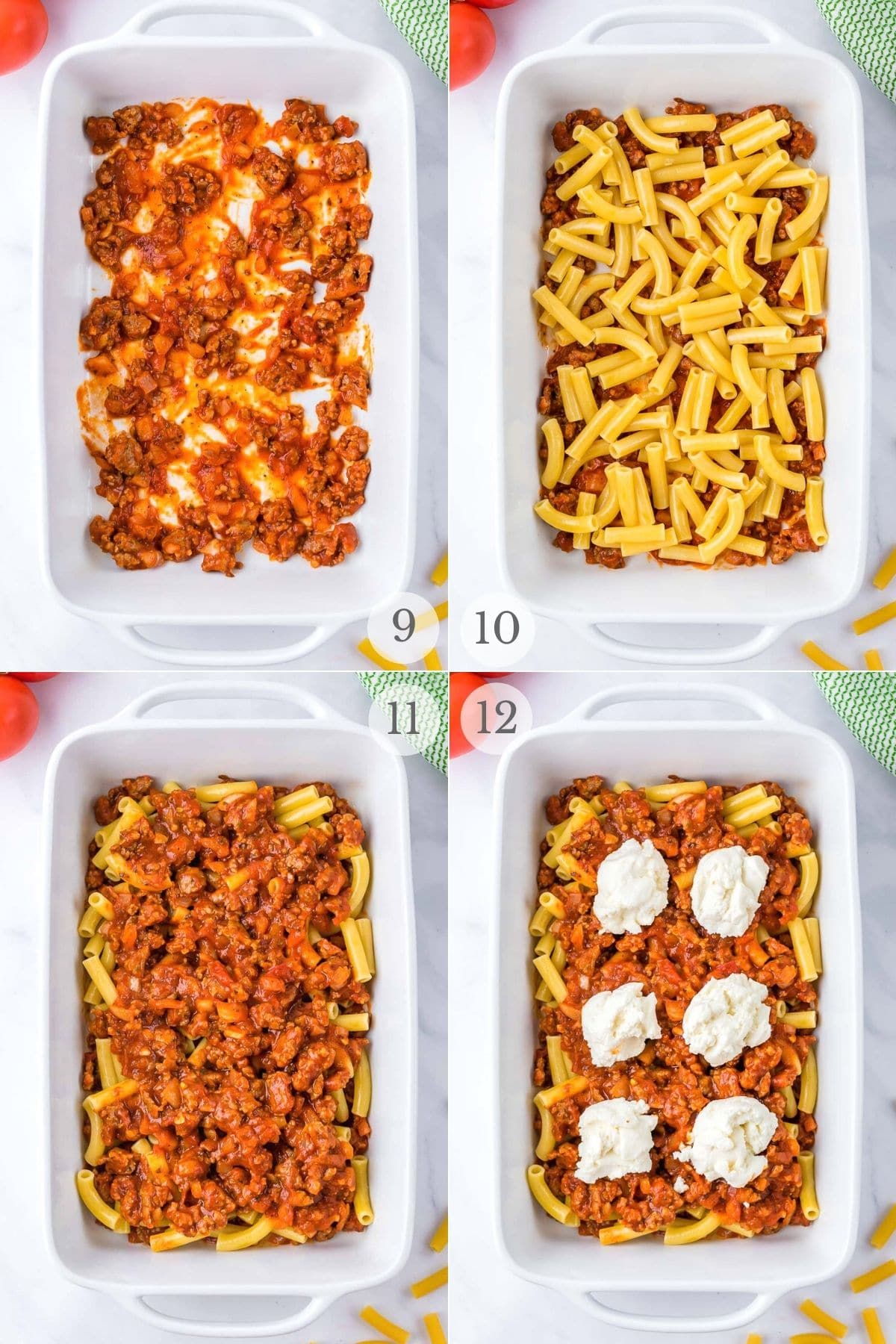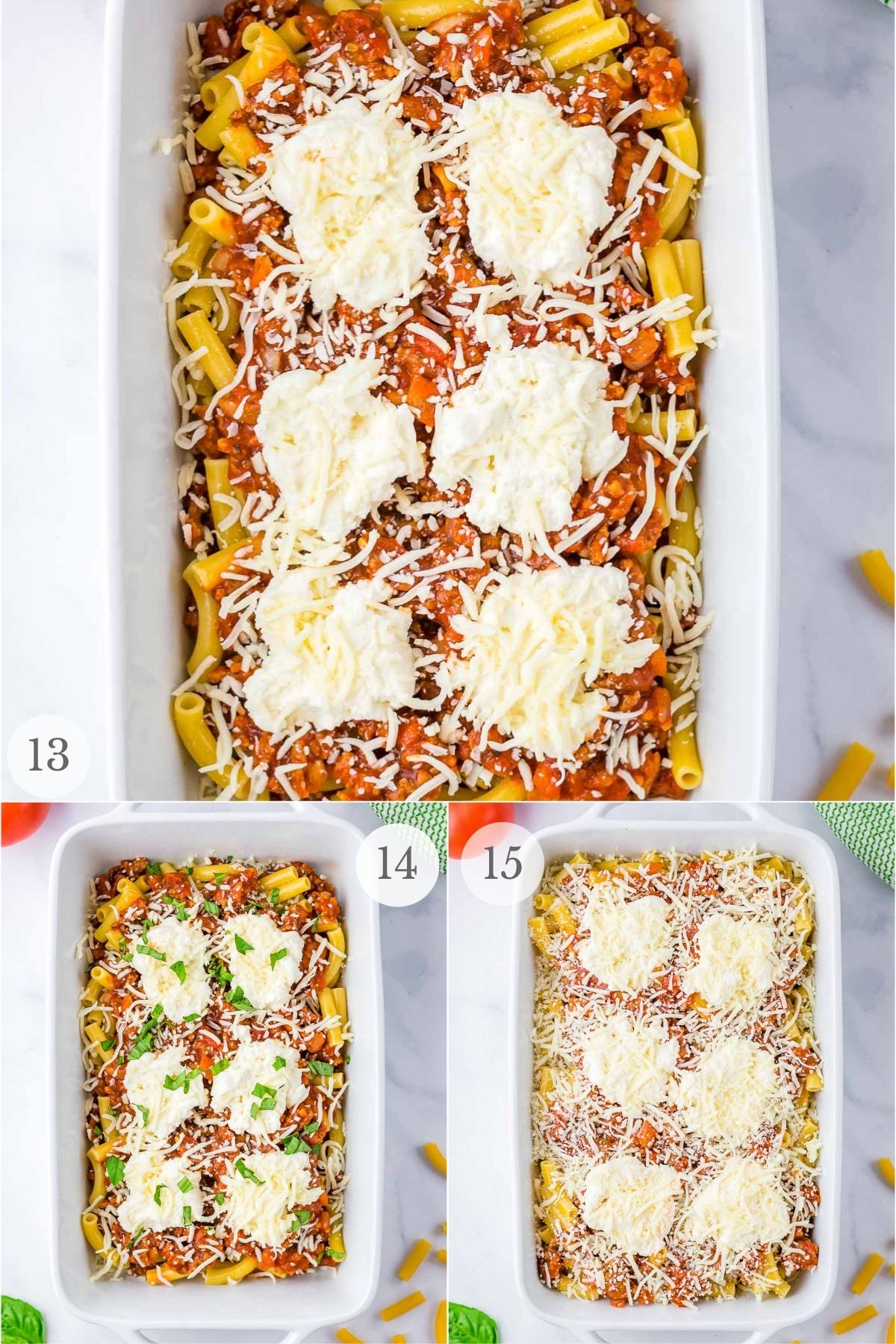 STEP 6: Bake for 15 minutes, sprinkle with the Parmesan cheese and bake 5-10 additional minutes (20-25 minutes total). The top should be lightly golden brown and the cheese will begin to bubble.
Allow to cool a few minute, and serve hot with fresh basil to garnish (if desired).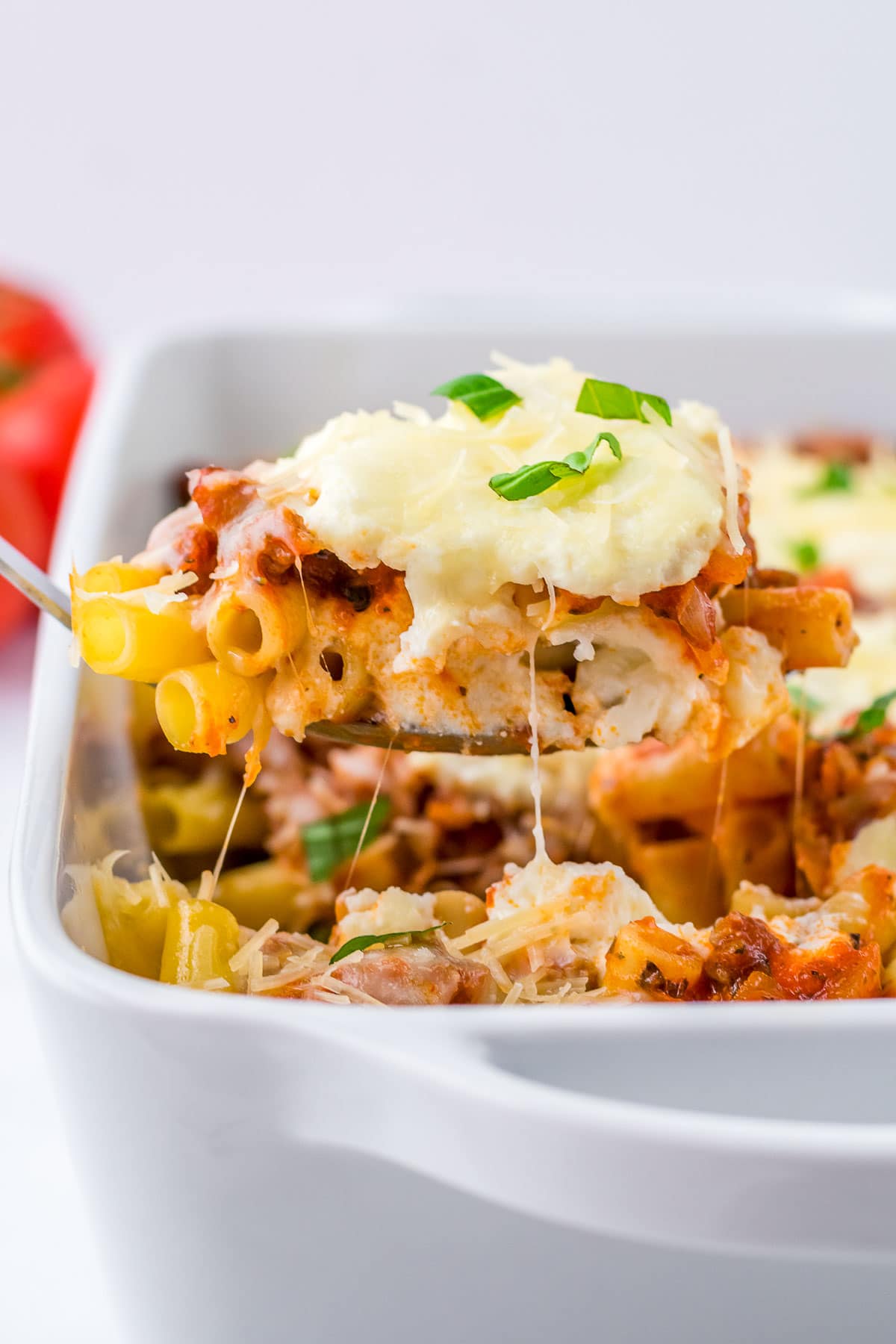 Recipe Frequently Asked Questions
What does cooking pasta 'Al Dente' mean?
In Italian it means 'to the tooth'. It means cooking pasta so it's cooked but still firm.
For a recipe when the pasta is cooked then will be baked, this ensures it will still have a pleasing texture, shape but will be soft to eat when done baking.
What if I can't find Ziti pasta? Can I use another pasta?
Yes! Penne pasta is very close to ziti and is available in both regular and gluten-free forms.
Elbow pasta or any medium noodle pasta can be substituted.
Can I use different meat?
Yes! You can use any ground meat such as beef or bison. Or do a combination.
Ground chicken or turkey could also be used but has a very light flavor that would become overwhelmed by the pasta sauce.
Is it better to freeze Baked Ziti before or after cooking it?
Before cooking it. See instructions below in the Storing Leftovers section.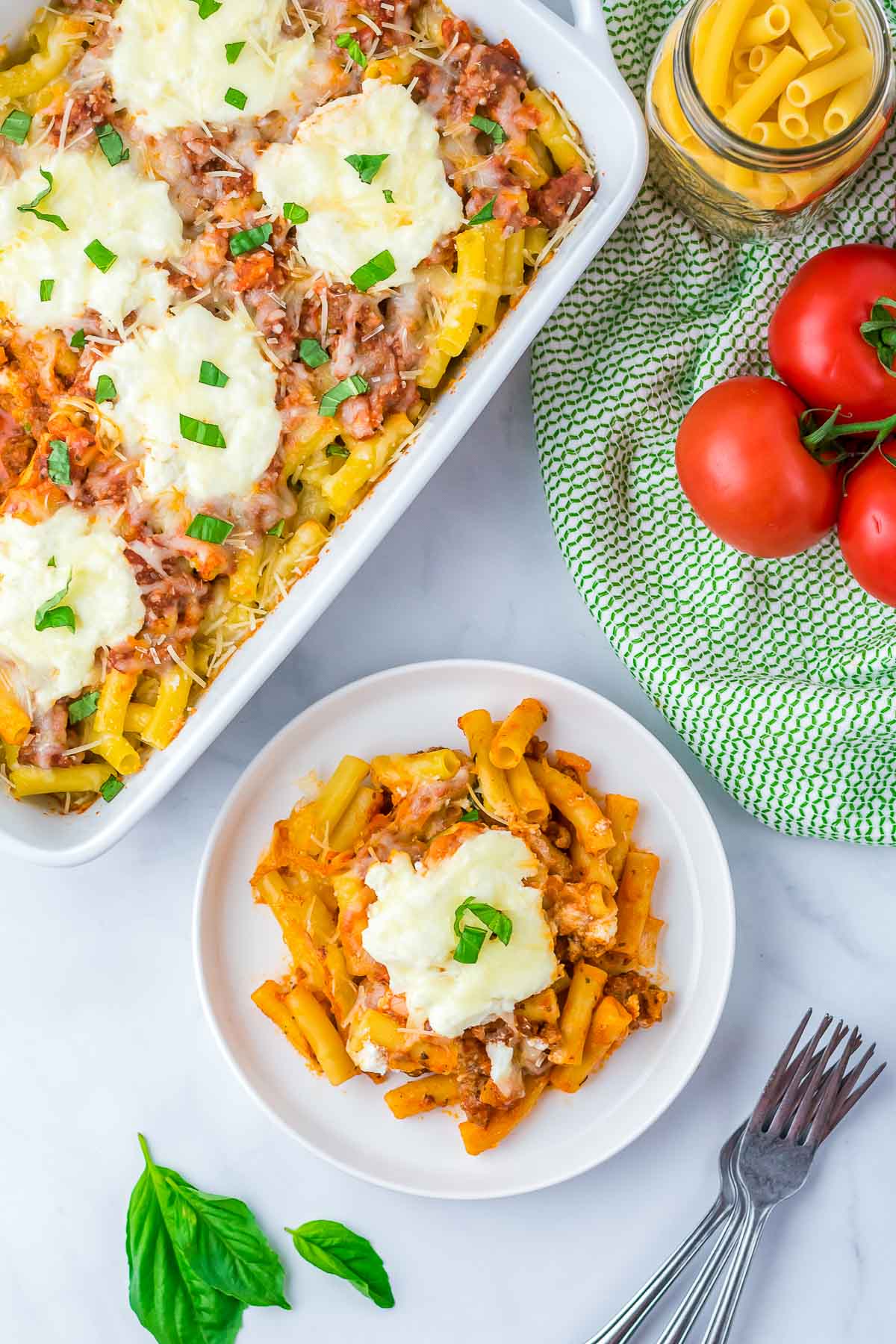 Storing Leftovers
Store well sealed in the refrigerator for up to 4 days.
Reheat servings in the microwave for fastest results.
How to Freeze Baked Ziti
Assemble the casserole including the Parmesan cheese. Allow it to cool to room temperature.
Cover snugly with a piece of plastic wrap when a piece of heavy duty aluminum foil.
Freeze up to 3 months.
To Bake it:
To bake, remove from the freezer and heat the oven to 350 degrees.
Remove the layer of plastic wrap and replace the foil on top.
Bake for 60 minutes, remove the foil and bake an additional 20 minutes until the casserole is cooked through and the cheese is bubbling.
More Recipes You'll Love!
Did you make it? Please RATE THE RECIPE below!
Please
SUBSCRIBE
and
FOLLOW ME
on
FACEBOOK
,
TWITTER
,
INSTAGRAM
and
PINTEREST
!
Recipe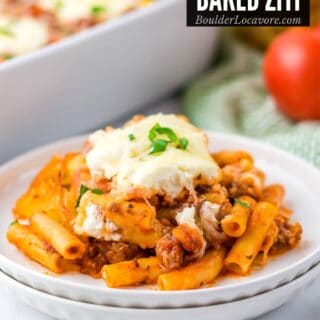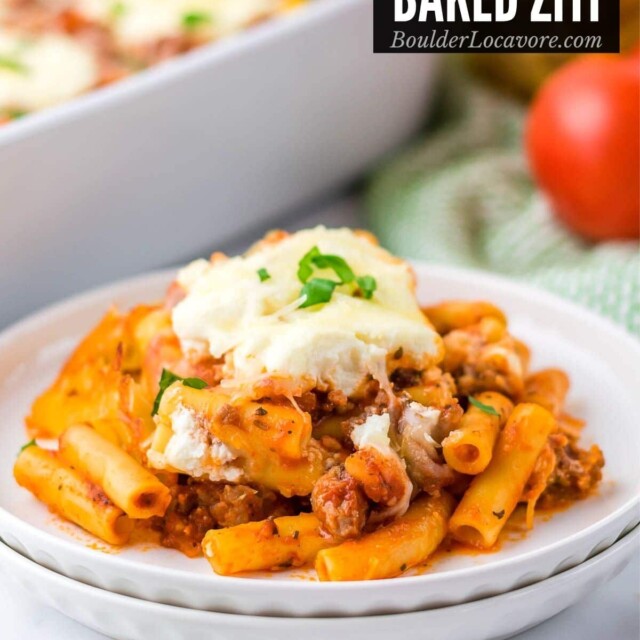 Ingredients
1

pound

ziti noodles (regular or gluten-free)

penne may be substituted

2

tablespoons

olive oil

1

pound

italian sausage

loose or bulk (not links)

1

medium

yellow onion

chopped

1

tablespoon

Italian seasoning

1

25-ounce jar

pasta sauce

16

ounces

ricotta cheese

1

cup

mozzarella cheese

shredded

1/4

cup

grated parmesan

1/4

cup

fresh basil

chopped
Instructions
Preheat the oven to 350 degrees.

Cook the pasta according to package instructions until al dente. Drain (and rinse depending on package instructions). Toss the noodles with a drizzle of olive oil (to prevent them from sticking together).

As the pasta cooks, add 1 tablespoon of olive oil to a large skillet over medium high heat. Add the sausage and cook breaking the sausage into small pieces until lightly browned, cooking for about 5 – 6 minutes.

Add the onion to the skillet and stir. Cook for 3 – 4 minutes, until the onion is translucent.

Stir the Italian seasoning into the sausage and onion mixture. Cook for 1 minute more.

Pour in the tomato sauce, stir to combine and bring the skillet to a simmer.

Spray a 9-inch by 13-inch baking dish with nonstick cooking spray.

Add a thin layer of the sauce mixture to the bottom of the dish.

LAYER 1:

1. Add half of the pasta noodles into the bottom of the baking pan.

2. Top with half of the remaining sauce.

3. Add half of the ricotta in large spoonful-sized dollops. Spread lightly with the back of a spoon.

4. Sprinkle with half of the mozzarella cheese and half of the chopped basil.

LAYER 2:

Repeat the layering steps from Layer 1.

Bake in the oven, uncovered, for 15 minutes.

Sprinkle the Parmesan cheese over the top and continue to bake 5-10 minutes longer until the top is lightly golden brown and the cheese begins to bubble.

Serve hot with additional fresh basil for garnish.
Notes
Tips For The Recipe
● Substitute penne pasta: if you're having trouble tracking down ziti pasta, you can substitute penne pasta. Any medium-sized noodle pasta would also work.
● Substitute ground beef: another popular substitution is ground beef in place of sausage. This is a tasty switch that you can make if you prefer.
● Cook the noodles al dente: be sure to cook your noodles al dente (so that they still have some firmness). This will prevent them from overcooking when they go into the oven.
Nutrition
Calories:
599
kcal
|
Carbohydrates:
47
g
|
Protein:
26
g
|
Fat:
34
g
|
Saturated Fat:
14
g
|
Cholesterol:
86
mg
|
Sodium:
603
mg
|
Potassium:
368
mg
|
Fiber:
2
g
|
Sugar:
2
g
|
Vitamin A:
424
IU
|
Vitamin C:
2
mg
|
Calcium:
259
mg
|
Iron:
2
mg