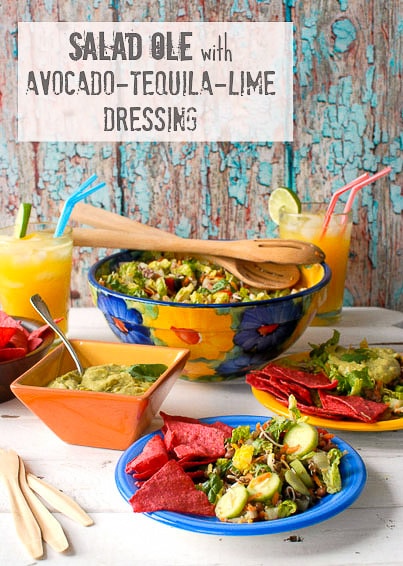 It's a mistaken fact that Cinco de Mayo ('the fifth of May') signifies  Mexican Indepence Day.  Not so.  On May 5, 1862 at the battle of Puebla, Mexico overpowered the French army who were considered the worldwide dominating army of the time.  To commemorate this event the Mexican-Americans living in the American West called for celebration on May 5, hence founding the festivities we  know today.
With Mexican culture being rooted in almost every region of the United States, the civic celebrations today will be numerous and vibrant.  There are many parades, dancing with colorful costume and of course the fantastic flavors of food and drink.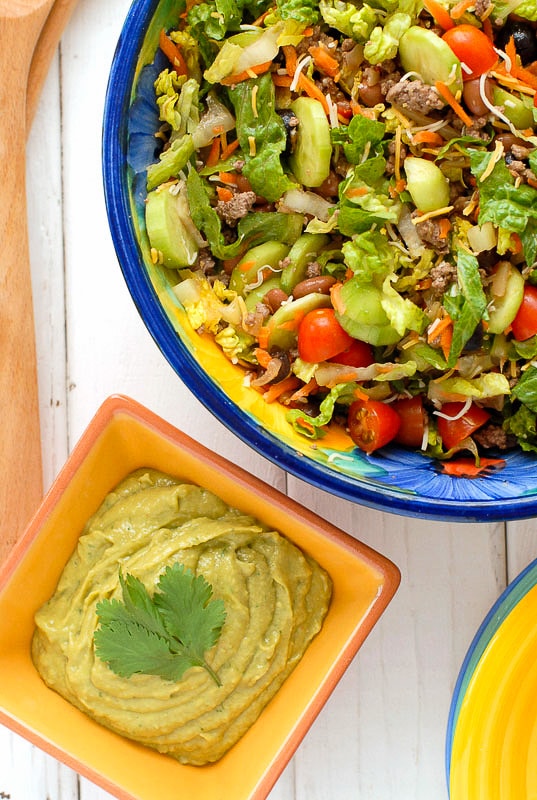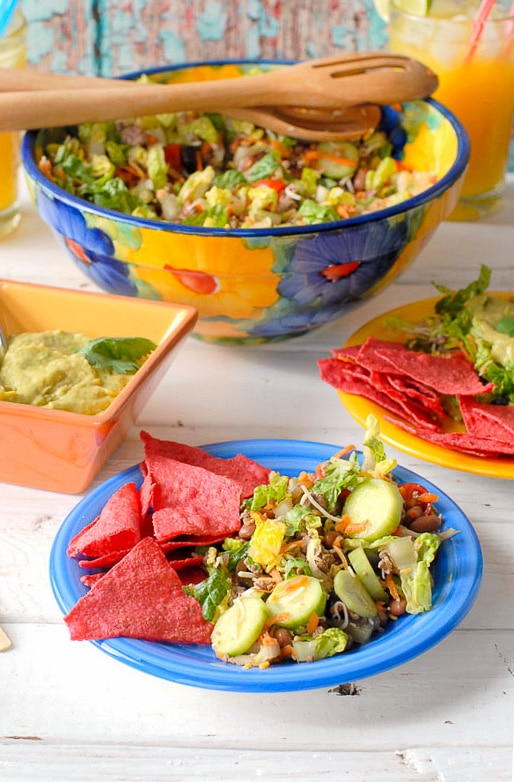 As the weather warms I cannot get enough of salads.  My refrigerator is packed full with colorful vegetables and fruit edging out denser, carb-y comfort foods of the cold season.  Being in a festive mood for Cinco de Mayo I wanted to share one more recipe for a Mexican inspired salad that I dug out of the multi-generational family recipe archives and spruced up a bit.  At its core Salad Ole is a deconstructed Taco with a guacamole-esque dressing.  It bears all the flavors we love in fresh Mexican food in a lighter form providing a perfect complement to any Mexican fiesta!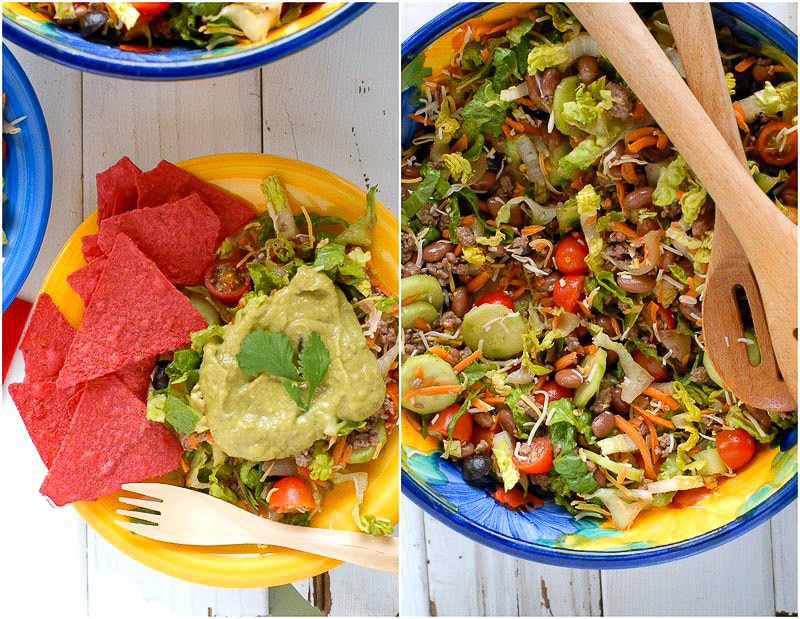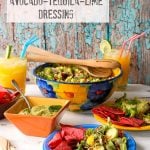 Salad Ole with Avocado-Tequila-Lime Dressing
Ingredients
Ingredients for Salad Ole
¾

pound

lean Ground Beef OR half lean Ground Beef and half ground Chorizo

(the latter adding more spice)

¾

cup

chopped Yellow Onion

1 ½

teaspoon

Olive Oil

4

cups

shredded Romaine Heart

(lettuce) or Iceberg lettuce

1

small can

(2 ¼ ounces) sliced Black Olives, drained

1

medium or 4 mini Cucumbers

, peeled and sliced

20

Grape Tomatoes or 12 Cherry Tomatoes

, halved

1

cup

shredded Carrots

1-14.5

ounce

Pinto Beans

, drained and rinsed

1

cup

grated Mexican Blend cheese

(combination of Colby, Monterey Jack and Cheddar pre-grated; or one of those cheeses grated)

Serve with: Tortilla chips and small corn and/or flour tortilla
Ingredients for Avocado Tequila Lime Dressing
I large ripe Avocado

1-4

ounce

can diced Green Chiles

(mild or hot to your heat preference)

1 ½

teaspoon

Garlic Salt

½

teaspoon

Cumin

, ground

1/8

teaspoon

Cayenne Pepper

1

large clove Garlic

, peeled and rough chopped

2

tablespoons

Tequila

(I used Silver)

4-5

tablespoons

Lime Juice

, freshly squeezed (amount based on desired thinness of dressing)

2

tablespoons

Cilantro

, rough chopped

1

tablespoon

Lemon Juice

, freshly squeeze

Pinch Smoked Alderwood Salt

(optional but it finished the dressing perfectly!)
Instructions
Instruction for Salad Ole
In a large bowl combine the lettuce, olives, cucumber, carrot and pinto beans. Cover and refrigerate until fully chilled around 2 hours or longer. Note: chilling time can be lessened if all ingredients are chilled before combining.

In a large frying pan over medium heat, heat the olive oil and add the chopped onions. Sauté until translucent, about 4-5 minutes. Add the ground beef (or beef/chorizo mix) and sauté until fully browned. Drain any excess fat.

Add the grated cheese and meat/onion mixture to the chilled salad; toss. Garnish with tomatoes and serve immediately with dressing on the side for guests to spoon on salad or a dollop of dressing on top of individual servings.
Instructions for Avocado Tequila Lime Dressing
Scoop avocado into the bowl of a food processor. Add all other ingredients, and process until fully combined and smooth. Cover in a fully sealed container (otherwise the avocado will begin to brown leaving a less palatable visual appearance even though the dressing is fine) and chill in the refrigerator until serving.