Taco Salad Ole with Avocado Tequila Lime Dressing is a family favorite that's great as a main dish or side salad. Think 'deconstructed taco', loaded with flavor. Perfect for Cinco de Mayo celebrating!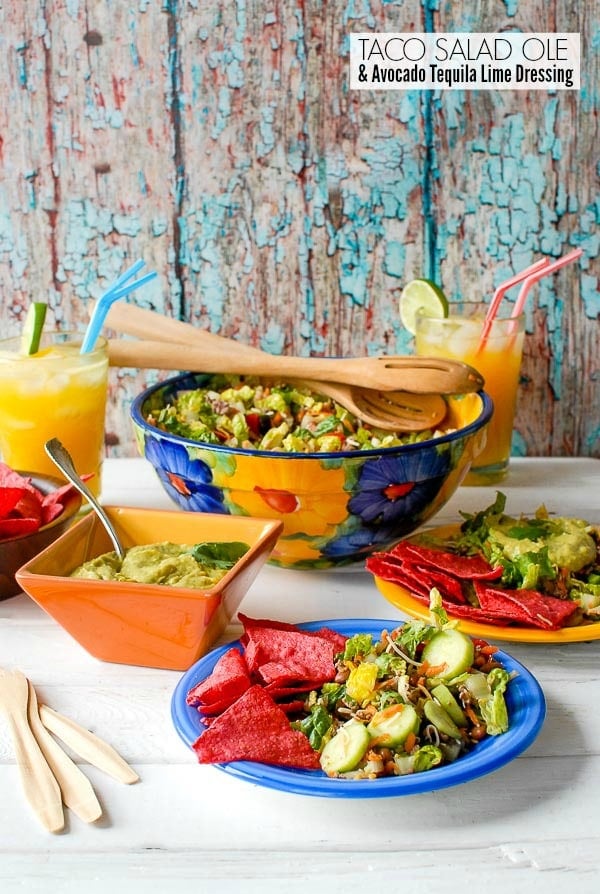 This recipe was originally published in May 2013 and has been updated in April 2018.
As Cinco de Mayo approaches party plans get underway with favorite Mexican recipes and margaritas featured. I'm all over it too with a recipe section dedicated to Cinco de Mayo Mexican recipes!
Today's recipe is a redo of a family favorite. I'm not sure whose recipe box I fished it out of when first posting it on Boulder Locavore but it has been dusted off and updated a smidge.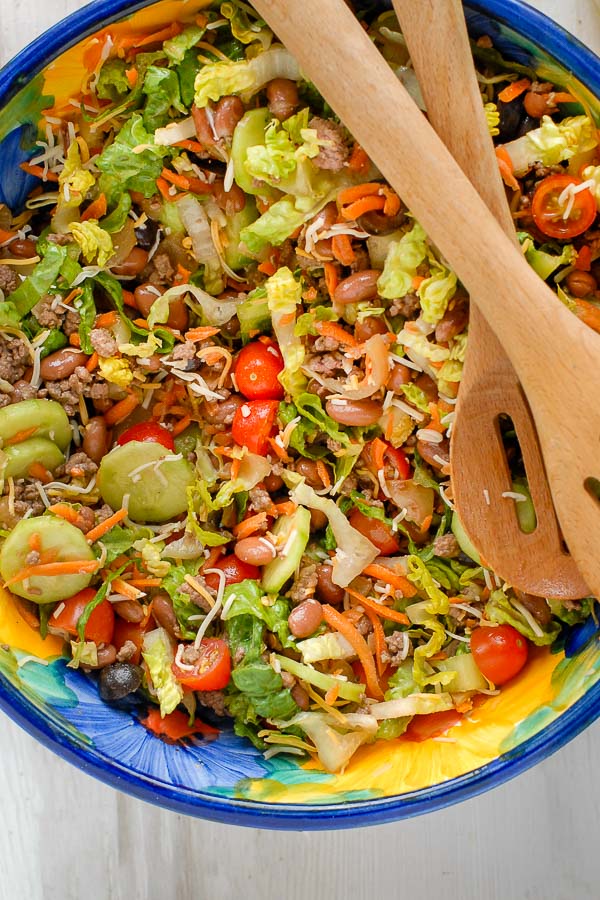 What is Taco Salad Ole?
Originally called just 'Salad Ole' as I began to develop my own recipes I realized it was a festive name for a taco salad (and the name has been updated as such).
A taco salad is a deconstructed taco really, having the ground meat, shredded lettuce, tomatoes and cheese with corn chips or tortillas for serving.
In the case of this Taco Salad Ole, the ground meat is a combination of beef and Mexican chorizo from more depth of flavor and spice.
The salad is dressed with an exciting homemade avocado dressing featuring garlic salt, cumin and cayenne spices along with lime juice, cilantro, tequila and more! It adds a creamy touch to the crunchy salad.
One thing I love about this salad is the temperature contrast between the chilled vegetables and the freshly cooked ground meat and onions. Tossed with grated Mexican cheese blend, it's a satisfying combination of flavors, textures and temperatures.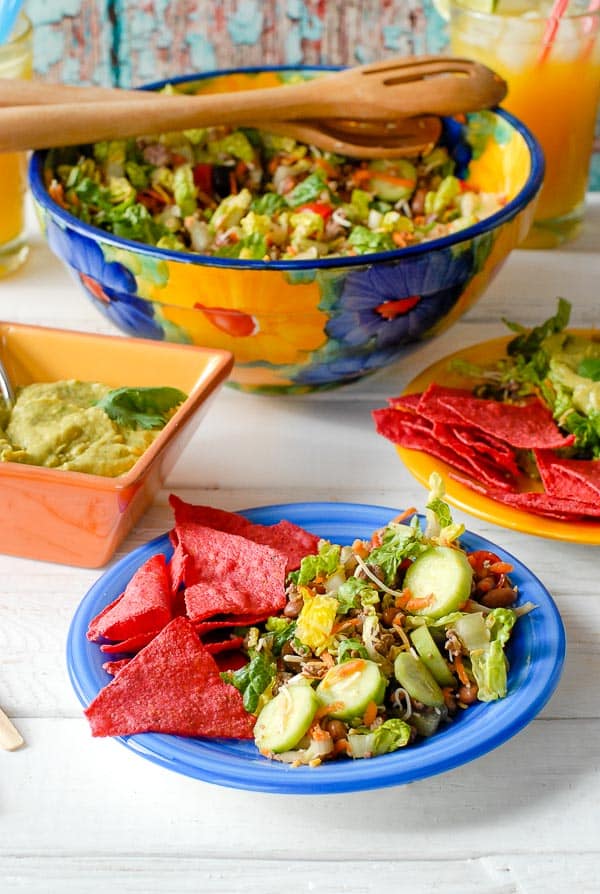 Taco Salad Ole – Main Salad or Side Salad
Depending on the rest of your meal or if you are having a Mexican buffet, Taco Salad Ole with Avocado Tequila Lime Dressing can be served as a main dish or side salad.
The substance from the protein in the meat and pinto beans is filling enough for a main dish. The spicy flavors also compliment other main dishes like Pineapple Citrus Slow Cooker Carnitas Tacos or Easy Slow Cooker Mole Chicken Thighs (a cooling compliment!).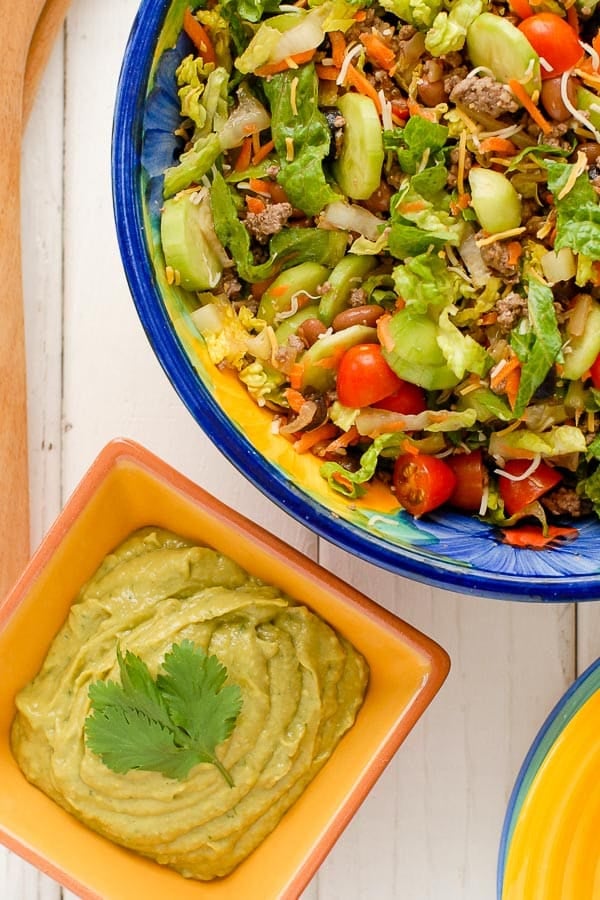 A Tip about Dressing Taco Salad Ole
For any green salad, if you don't think you'll eat the whole recipe in one sitting, serve the dressing on the side. Undressed greens can be packed up for another meal and still have a great texture. If the dressing has been added, the lettuce and vegetables won't be quite as crisp (though with this salad they still have a bite even if stored overnight with the dressing on).
Because this is an avocado-based dressing, it should be used immediately or covered and chilled until use to prevent the avocado from oxidizing and turning brown.
RECIPE PREP TIP: I suggest making the dressing while the meat cooks so it's all done at once.
PRO TIP: I use my mini chopper to make the dressing. It's the perfect size and is easier clean up than the full-size food processor or blender (though they work perfectly too).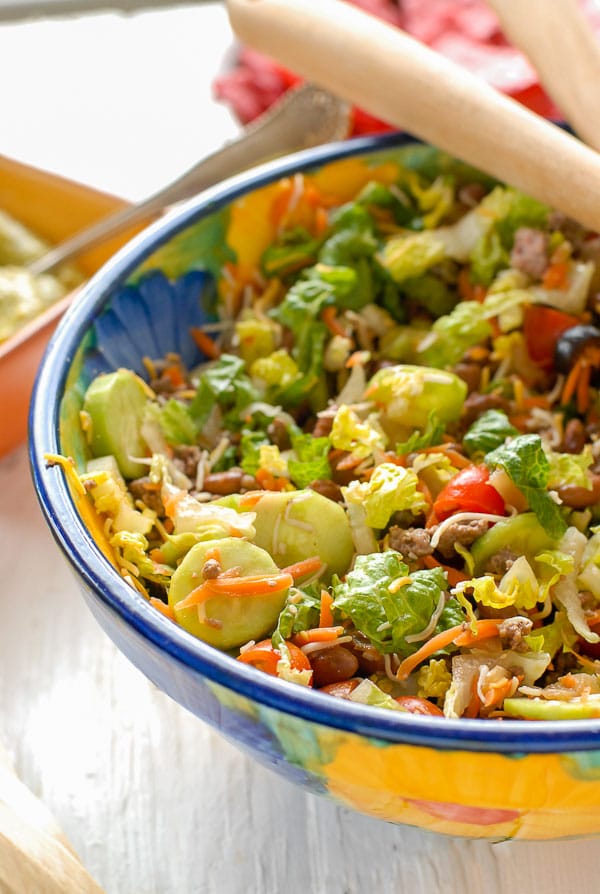 If you've tried this Taco Salad Ole with Avocado Tequila Lime Dressing recipe or any other recipe on BoulderLocavore.com please don't forget to RATE THE RECIPE and let me know where you found it in the comments below, I love hearing from you!
Please SUBSCRIBE and FOLLOW ME on FACEBOOK, TWITTER, INSTAGRAM and PINTERST to see more delicious food, travel and what I'm up to!
How to make Taco Salad Ole with Avocado Tequila Lime Dressing – Step by Step: