Taco lovers and Mexican food fans you'll want this Homemade Taco Seasoning mix to be in your pantry at all times! It takes 5 minutes to make, delivers big flavor to any Mexican themed meals that would usually use a taco seasoning packet from the store (hint: this is so much better)!

Homemade tacos are one of the easiest and most delicious dinner recipes to make.
No matter what kind you make, you need a packet of taco seasoning mix.
No more! Make your own!
It's easy and fast to whip up. Keep it in your spice collection ready to use any time.
It's not just for tacos either. Use it in any Mexican themed recipes calling for taco seasoning!
It's naturally gluten-free too.
Recipe Ingredients
Chili Powder
Onion Powder
Cumin
Kosher Salt – Kosher Salt has better flavor and is a less salty tasting salt! It sprinkles well due to the granule size too distributing into food more evenly.
Oregano
Garlic Powder
ground Red Pepper – Cayenne Pepper may be substituted if desired.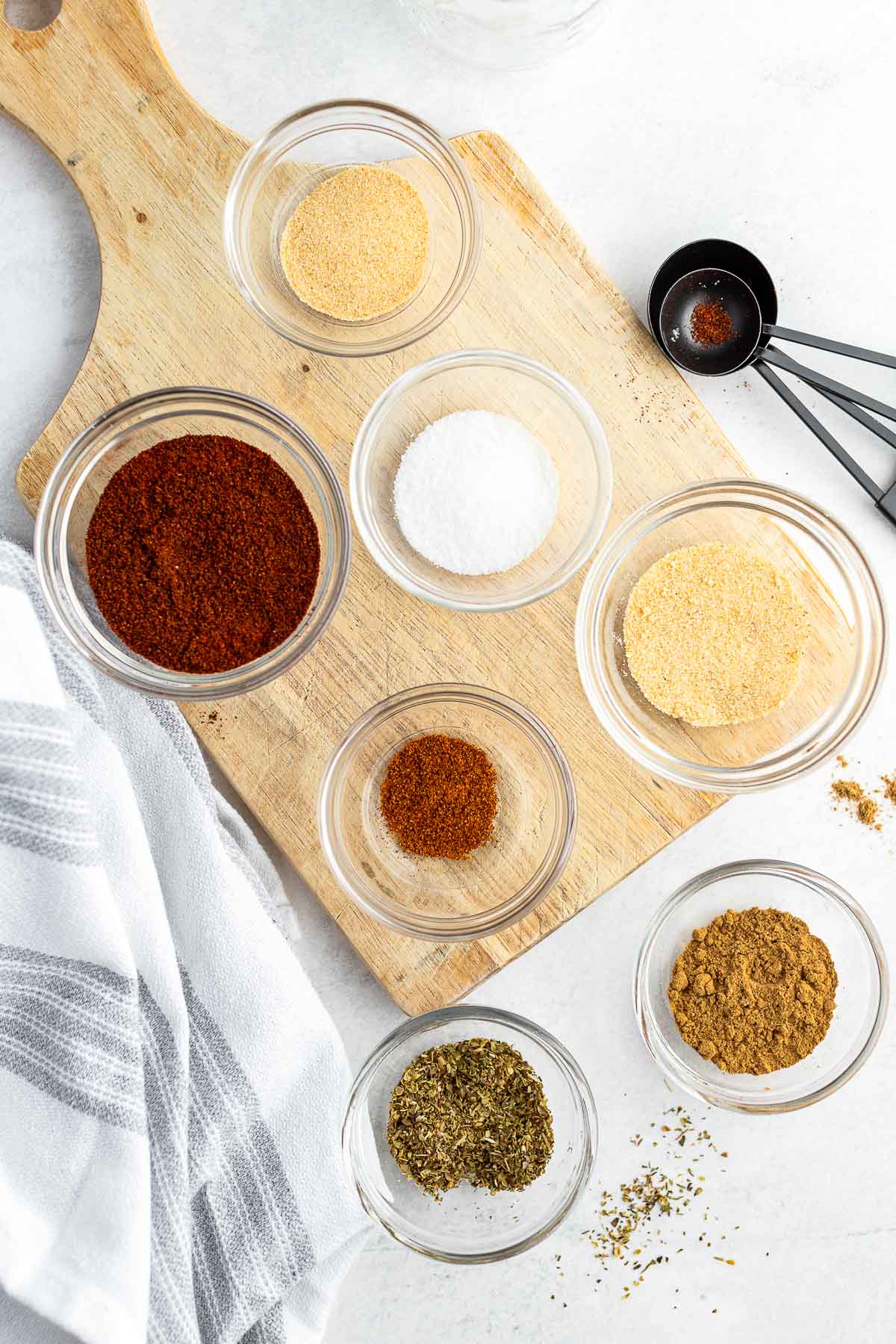 Why Make Taco Seasoning?
It's an affordable option if you make Mexican dishes often.
You'll always have it in your pantry and don't have to remember to buy it.
It's fast and easy to make.
It's less salty than store-bought seasoning mix. Often a high amount of sodium is added to processed foods to heighten the flavors. Store-bought taco seasoning is always too salty for me. This blend allows the true spice flavors to come out. If you want more salt, add it to the dish you are making not the mix.
It can be customized. Want more or less of a certain spice flavor? OR want to add something more like smoked paprika? You can adjust the spice mix to make it perfect to your preferences.
It makes a great gift idea.
How to Make Taco Seasoning
Combine all the ingredients into a small bowl and mix well.
Alternatively it can be mixed the the jar to be used to store it.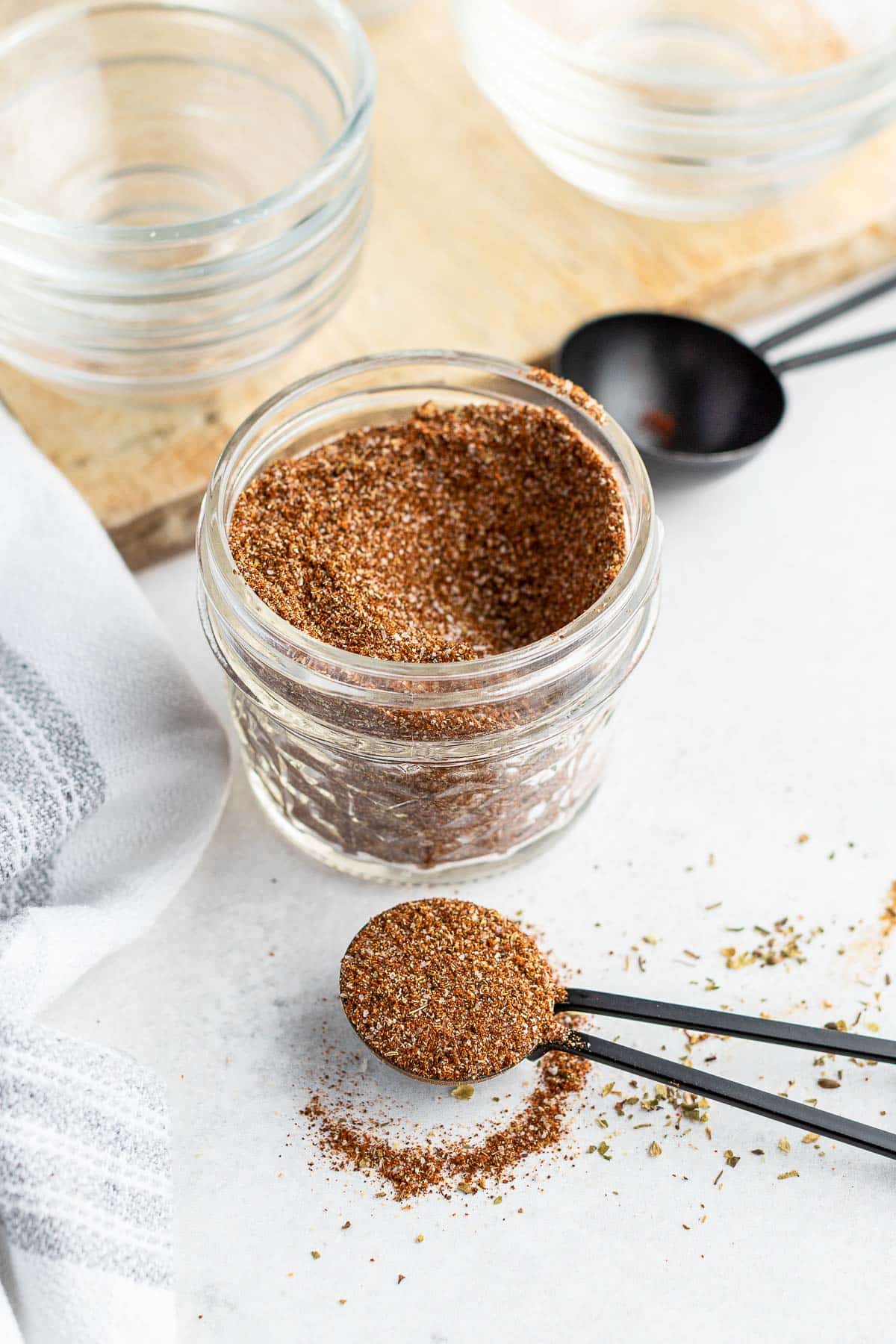 How Much to Use?
1 tablespoon is roughly equal to the flavor amount in 1 packet of store bought taco seasoning.
Start with that amount and increase it if the recipe you are making needs more.
You can also add more salt into your recipe if it's needed.
How to Use it
There are so many great recipes to use this homemade mix!
Add a tablespoon to shredded chicken or a pound of meat (ground) for tacos (see the Easy Beef Taco recipe below).
Or try one of these recipe:

Easy Beef Tacos recipe
The easiest way to use the seasoning mix is IN tacos! Here is a fast and easy recipe.
Add 1 pound of ground beef to a large non-stick skillet over medium-high heat.
Saute, breaking the beef into small pieces, until no pink remains in the ground beef.
Drain and discard any excess fat from the skillet.
Add 1 tablespoon of the taco seasoning mix, 1/4 cup of tomato sauce and 1/2 cup of water to the beef mixture. Simmer until the liquid has evaporated and the beef has thickened into a sauce.
Serve with hard taco shells or soft corn tortillas, grated Mexican blend cheese, chopped tomatoes and shredded lettuce.
Makes 6-8 tacos.
Storing It
Store sealed in a small glass Mason jar in a cool, dark location. Will stay fresh for up to a year.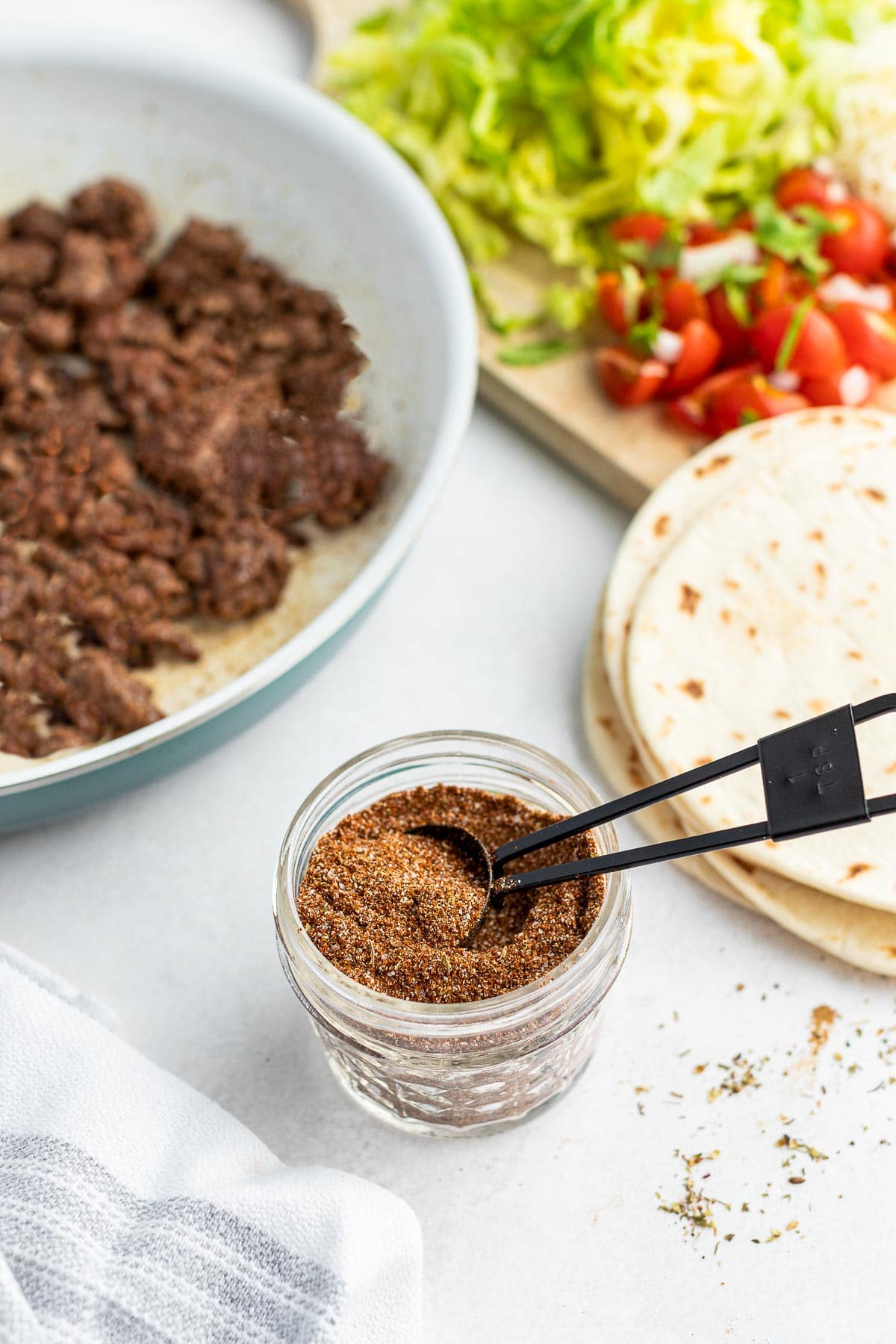 More Recipes you'll Love!
Did you make it? Please RATE THE RECIPE below!
Please SUBSCRIBE and FOLLOW ME on FACEBOOK , TWITTER , INSTAGRAM and PINTEREST !