If you love eating artichokes you know the Dipping Sauces for Artichokes are a must have! These easy dipping sauce recipes will be new favorites all artichoke season.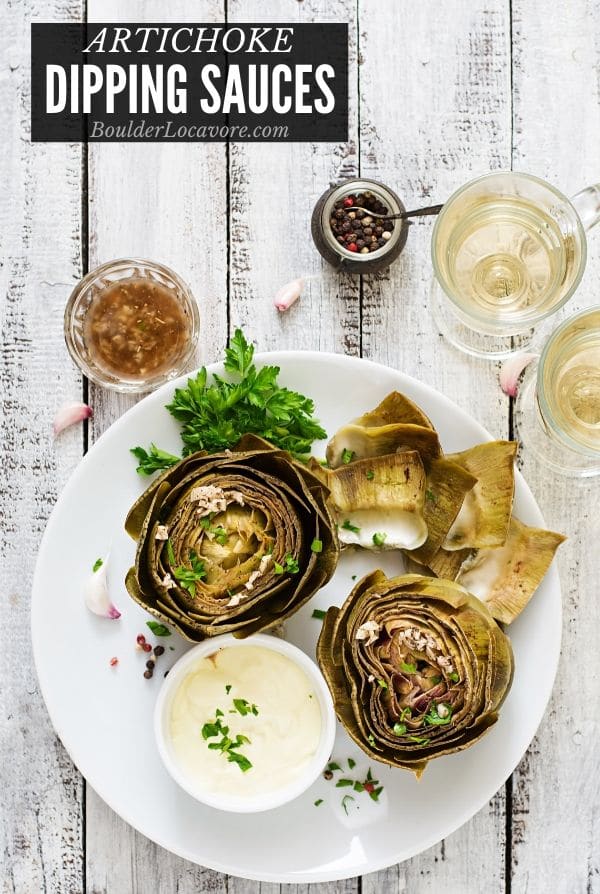 Anyone who has tried freshly cooked artichokes will tell you these exotic vegetables are worth the trouble!
Proper preparation and cooking produce soft fleshy leaves with a meaty texture that are delicious.
The well-hidden artichoke heart is the prize of any chef. It's also not so hard to find and devour!
Maybe you've seen artichokes at the store or on a restaurant menu and have no idea how to eat them.
That's completely understandable.
This tutorial on How to Cook and Eat Artichokes will answer every question about artichokes (how to select them too).
There are lots of photos and graphics to make you an artichoke pro!
Once you have cooked them, you'll need something to dip the leaves in for the perfect bite.
I'm sharing some personal favorite dipping sauces for artichokes that are easy to make and delicious.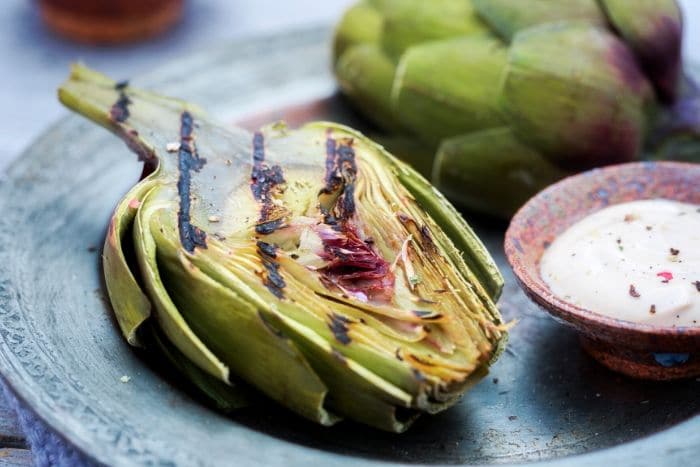 Why Use Dipping Sauces for Artichokes?
Classic dipping sauces for artichokes contain a high amount of fat, usually butter or mayonnaise.
Fat=Flavor.
These dipping sauces add a complementary texture and flavor to the meat of the artichoke leaves.
They also do not overtaking the delicate flavor of the artichoke.
The right dipping sauce can turn the sweet subtle artichoke flavor into something out of this world!
How to Dip Artichoke Leaves (and Eat them)
If you haven't done it before, eating artichokes can be intimidating.
A 'look around the table to see how everyone else is doing it' kind of thing.
Basically, you'll be scraping the fleshy portion of each lower leaf against your teeth.
Sounds primitive but it's how it's done.
The 'meat' is on the inside bottom portion of the artichoke leaf. Here's how to get it:
Dip the bottom of the leaf into a dipping sauce.
Place the bottom of the leaf between your teeth. Gently close your teeth around the leaf at about the halfway point of the leaf.
Pull the leaf out of your teeth leaving the delicious artichoke flesh.
PRO TIP: if you bite down too hard, you'll rip the leaf, especially the softer inner leaves.
It's often easier to get more of the flesh by having the inside of the leaf against your bottom teeth. Turn the leaf upside down then you scrape it.
If you'll be having artichokes on a first date with someone you want to impress; practice at home first!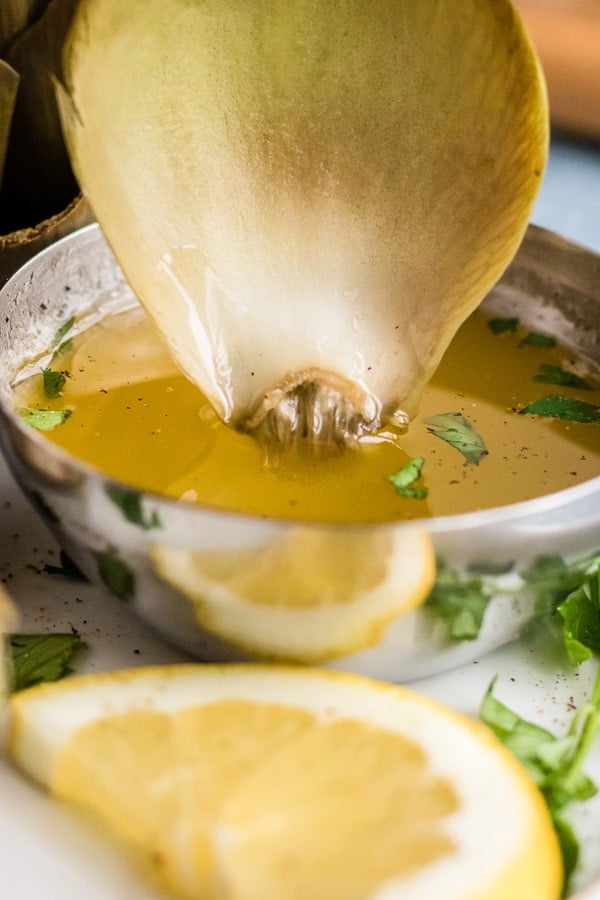 Artichoke Dipping Sauces
The printable recipe card below has four favorite artichoke dipping sauces:
Tarragon-Chive Dipping Sauce
Melted Herb Butter
Balsamic Mayo Dip
Melted Lemon Garlic Butter
Each has a different flavor profile and all are fantastic with artichokes.
Try this Chipotle Mayo Dipping Sauce too. I serve with grilled Baby Artichokes (and lots of other things too).
Serving Dipping Sauces
These dipping sauces can be served communal style where everyone shares a dipping bowl.
Alternatively having some small ramekins or even jelly jars work well to give every guest their own portion of dipping sauce.
You can just serve one or serve a selection to choose from.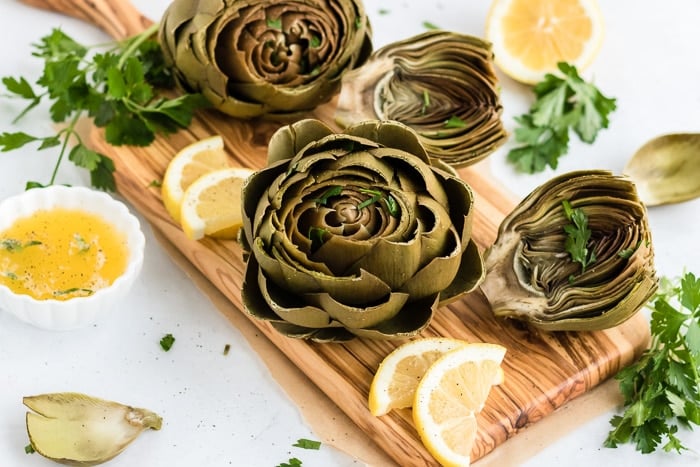 Try these Recipes Too!
Did you make it? Please RATE THE RECIPE below!
Please SUBSCRIBE and FOLLOW ME on FACEBOOK , TWITTER , INSTAGRAM and PINTEREST !
Artichoke Dipping Sauces make a perfect pair with cooked artichokes!