This Easy Coleslaw Recipe is a pre-requisite to summer dining! Put together in 5 minutes (seriously) and will be a favorite all year long.

Summer just isn't complete without some great homemade coleslaw.
Served chilled it's a refreshing recipe to take the heat out of the day.
The flavors are light and delicious paired with grilled meats, on sandwiches or by itself!
Everyone needs an easy coleslaw recipe in their collection!
What is Coleslaw?
Coleslaw is a classic side dish or salad. Also known as cole slaw or just slaw.
It's made with finely shredded cabbage, green and/or red, mixed with a creamy mayonnaise-based dressing or a vinaigrette dressing.
Sometimes shredded cabbage and carrots are mixed together for the slaw.
It's a refreshing side dish or salad for summer in particular.
Coleslaw can be served on its own or on top of pulled pork sandwiches for a cooling balance to the hot and spicy meat.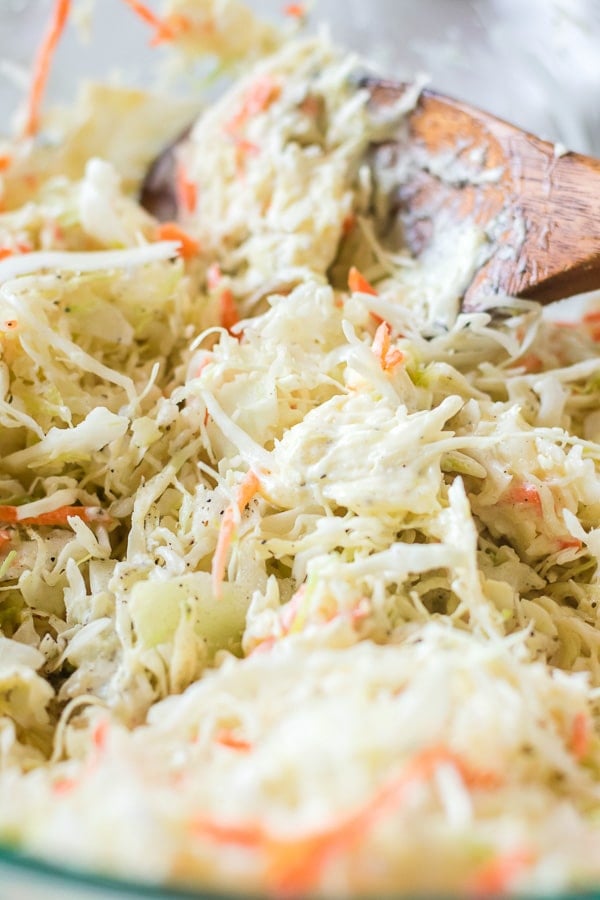 Ingredients in Easy Coleslaw
This easy coleslaw recipe has only a handful of ingredients:
fresh Coleslaw mix (green cabbage, red cabbage or a mix)
Mayonnaise
Apple Cider Vinegar
Granulated Sugar
Kosher Salt
Celery Seeds
Additional Salt and Pepper to taste
Coleslaw Dressing Recipe
Coleslaw dressing can be changed up in many ways.
This coleslaw dressing recipe is a classic.
Creamy, sweet, slightly tangy and full of flavor.
It takes less than 5 minutes to make!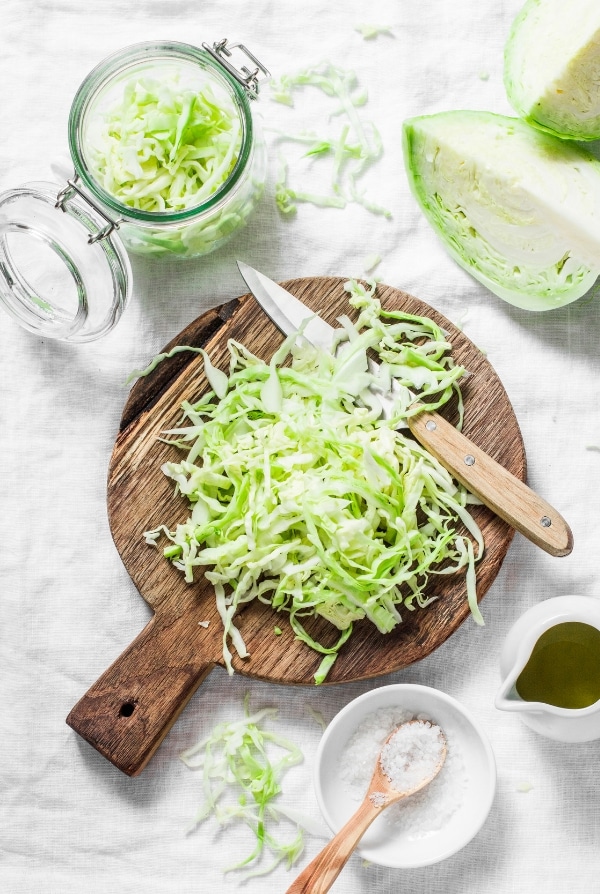 Use Prepared Coleslaw mix
This easy coleslaw recipe takes advantage of prepackaged coleslaw mix.
It's available fresh in the produce section at the grocery store along with bagged lettuce.
Because it's pre shredded, using prepared slaw mix is a huge time saver when making coleslaw.
If you prefer to shred your own cabbage, check the notes of the recipe for amounts to substitute.
How to Make this Easy Coleslaw Recipe – Step by Step
It will probably take longer to look at the photos of how to make this easy coleslaw recipe than it will to actually make it!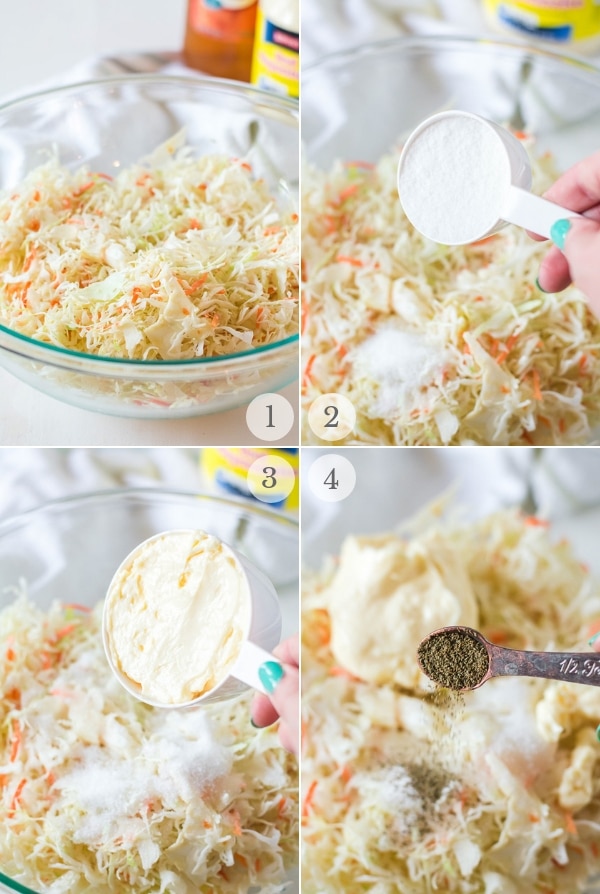 Place the coleslaw mix in a large bowl (photo 1).
Add the granulated sugar (photo 2) mayonnaise (photo 3), apple cider vinegar, salt, celery seeds (photo 4).
Stir to fully combine and coat the shredded cabbage.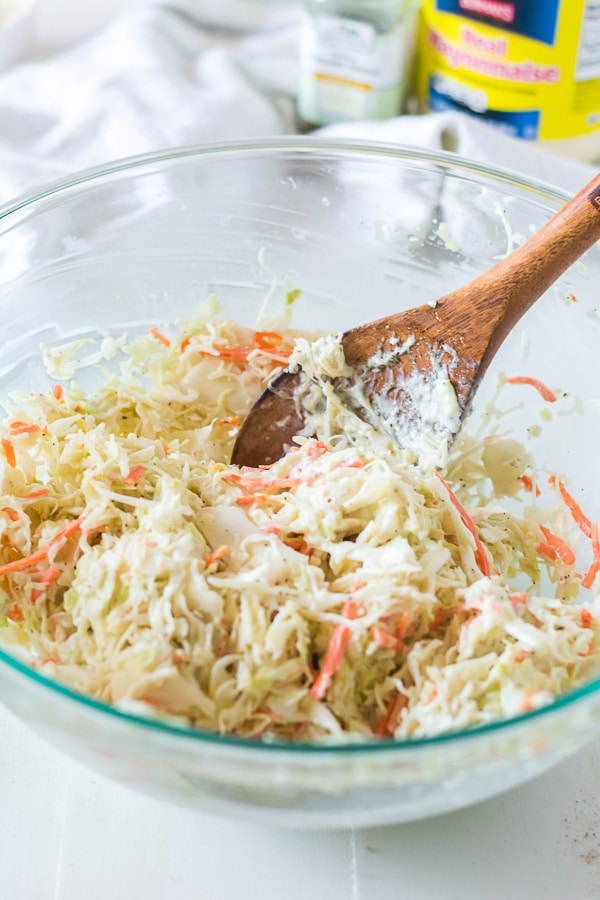 Better the Next Day
The great thing about this coleslaw recipe is that:
It takes about 5 minutes to make.
It's better LATER!
Make it in the morning to eat at dinner time. OR make it the day before.
Letting it chill in the refrigerator softens the cabbage slightly and allows the flavors of the creamy coleslaw dressing soak in.
Variations
There are many variations on the classic coleslaw recipe to change it up. Options include:
Using different shredded greens such as broccoli or radish. Check the produce section in your favorite store for prepared shredded produce to change it up.
Add fruits to heighten the sweetness: apple chunks, plumped raisins, pear pieces, dried sweetened cranberries
Add some crunchy texture with chopped nuts or seeds: almonds, sunflower seeds, walnuts, poppyseeds.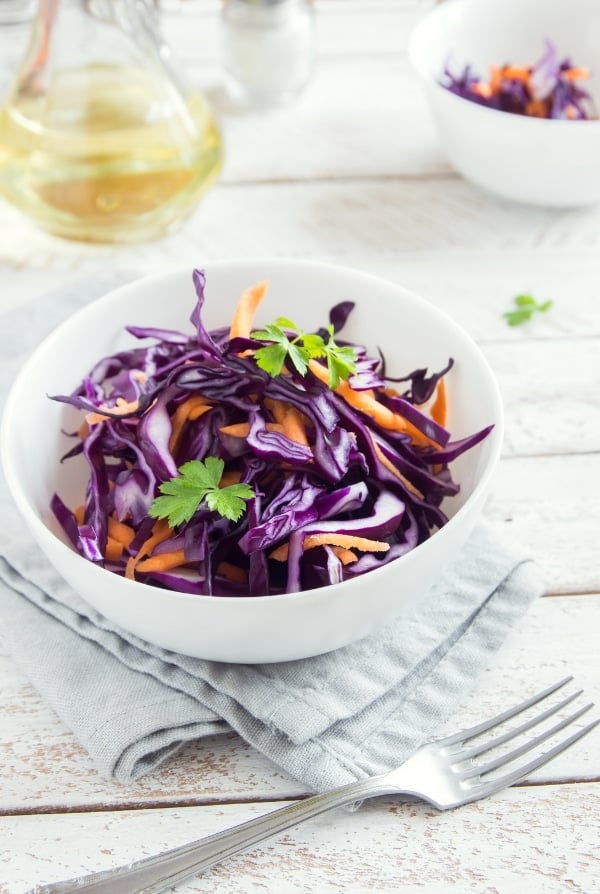 Coleslaw Recipes
There are a number of slaw recipes on Boulder Locavore. Some such as the Lazy Girl's Cole Slaw (even easier than this recipe) and the version on the sandwich, are a spin on classic coleslaw.
Others use different shredded vegetables and even fruit to change it up!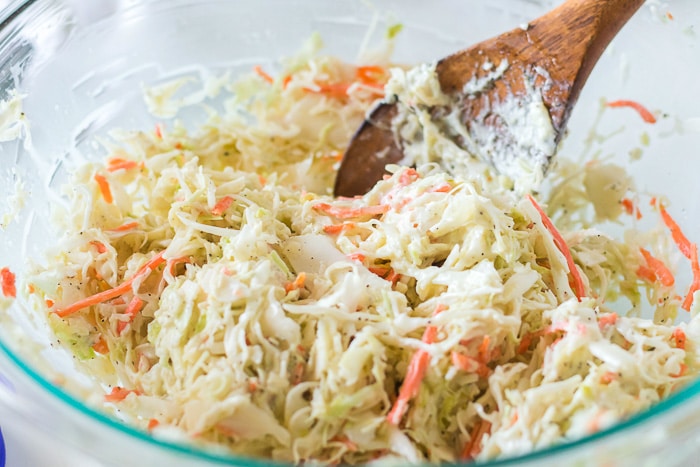 Did you make it? Please RATE THE RECIPE below!