Colcannon is a traditional Irish mashed potato recipe with kale and scallions. It's irresistibly delicious and perfect for St. Patrick's Day too.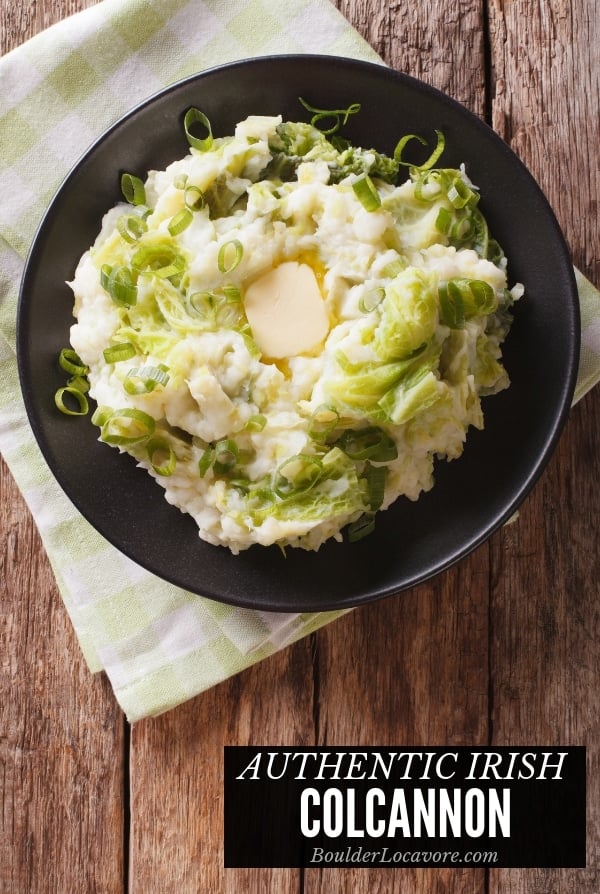 Colcannon is a traditional Irish mashed potato recipe, perfect for St. Patrick's Day.
Try it once and you'll be hooked!
With only five ingredients this dish is easy to whip up and a great authentic Irish dish.
It's a familiar cousin to the iconic American comfort food, mashed potatoes.
What is Colcannon?
Colcannon is a traditional Irish recipe of mashed potatoes with kale or cabbage, scallions and butter.
Some recipes include milk or cream; some do not (this does not).
It also can contain other ingredients in the onion family such as leeks or chives.
Like many traditional recipes, there are family or regional variations, such as including boiled ham or bacon.
It's a hearty, affordable recipe that is particularly satisfying in the cold weather months.
Colcannon Fun Fact
Colcannon is traditionally served in Ireland on Halloween with charms hidden in it!
The charms are simple but with significant meanings foretelling future events!
How to Pronounce 'Colcannon'?
Coal-can-in.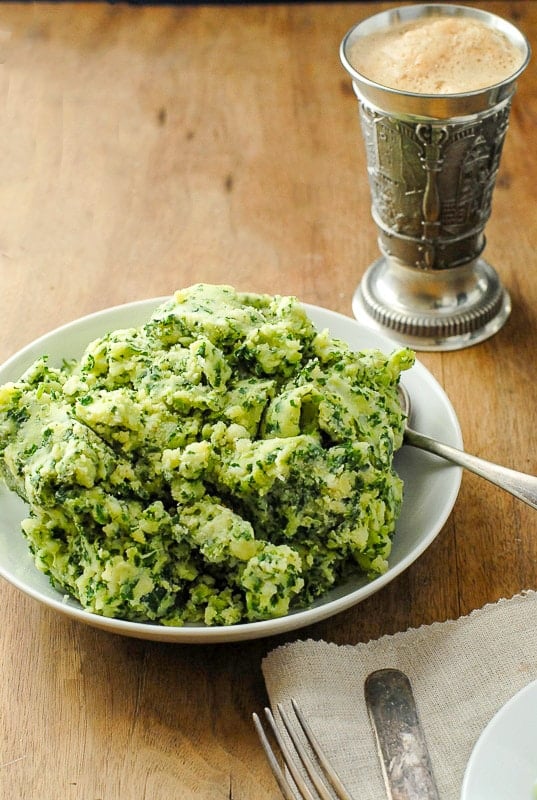 Ingredients in Colcannon
The ingredients are simple. This Colcannon recipe includes:
Yukon Gold Potatoes
Curly Kale leaves
Scallions
Unsalted butter
Salt and pepper to taste
That's it!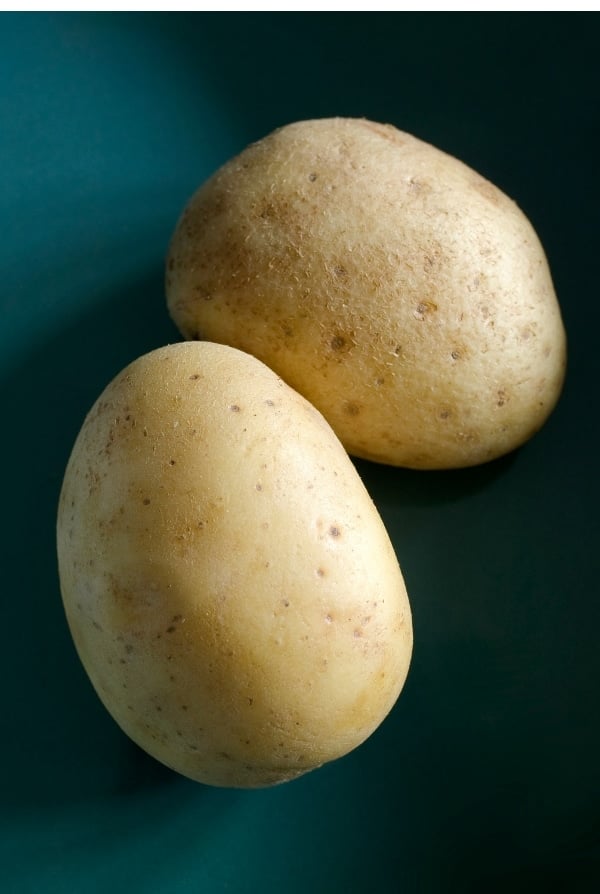 What Type of Potatoes to Use for Colcannon?
In a traditional Irish Colcannon recipe, 'floury' potatoes would be used.
The closest in the United States would be a russet potato.
Though Yukon Gold potatoes may not be an indigenous Irish potato variety, their creamy nature makes this traditional Colcannon recipe perfection.
Colcannon is perfect traditional dish for celebrating St. Patrick's Day.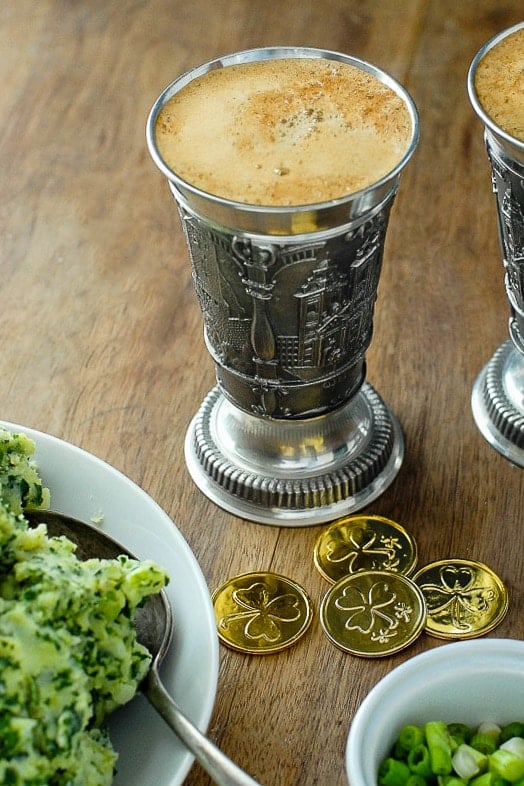 What Does Colcannon Taste Like?
If you have not enjoyed it before you may imagine a strong taste of kale making it seem like more of a "green vegetable" dish.
It is not!
The curly kale is lightly blanched and processed with the scallions before incorporating into the buttery potatoes.
The heady aroma of the kale and onion when freshly diced coming out of the food processor is truly divine; light, fresh and singing of springtime.
This Colcannon recipe is truly irresistible.
Tip for Removing Kale Stems
There is a trick that makes removing kale leaves from the kale stem a breeze:
Hold the end of the kale stalk (the stem) in one hand.
With the other hand, place the thumb and forefinger at the base of the leaves on the stalk.
Pull the stalk with the first hand (the hand holding the stem), holding the other thumb and forefinger firmly in place.
Leaves will peel off the stalk easily and are ready for chopping.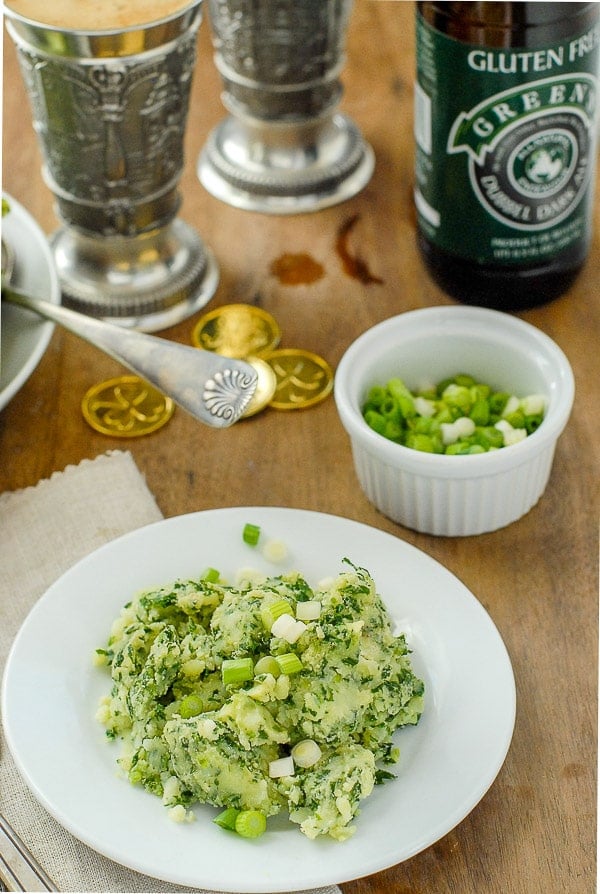 How to Make Colcannon – Step by Step:
Colcannon is very easy to make. There are four basic steps:
STEP 1: Boiling the potatoes
STEP 2: Blanching the kale (blanching = quickly adding the kale to boiling water then an ice bath to barely cook it)
STEP 3: Processing the kale and scallions in a food processor
STEP 4: Making the Colcannon
Specific recipe instructions are in the printable recipe card at the bottom of the post.
STEP 1: Fill a large pot with enough water to cover the potatoes by at least an inch (the potatoes should have plenty of room) and bring to a boil.
STEP 2: Add a large pinch of salt.
STEP 3: Place the potatoes into the boiling water until done (about 20 minutes). Drain and return to the pot.
STEP 4: While the potatoes are cooking….bring a second pot of water to a boil (for blanching the kale).
STEP 5: Set up a large mixing bowl of cold water and ice.
STEP 6: Place the kale into the boiling water for 2 minutes; remove with a slotted spoon and place in the ice water for 2 minutes.
STEP 7: Combine the blanched kale and scallions in a food processor. Pulse until the mixture is finely diced.
STEP 8: Add the butter to the potatoes and allow it to melt.
STEP 9: Mash the potatoes and stir in the kale and scallions.
Recommended Tool: Potato Ricer
The Colcannon may be mashed with a traditional potato masher or a potato ricer,which is my preferred method.
If you have not used a potato ricer, it makes quick work of mashing potatoes and gives them a wonderful texture.
Potato Ricers come with a few disks with different sized holes which are fitted into the end of the cylinder.
How Does a Potato Ricer Work?
Add potatoes to the main cavity fitted with disk.
Pull the handles together which depresses a solid metal piece forcing the cooked potatoes through the perforated disk.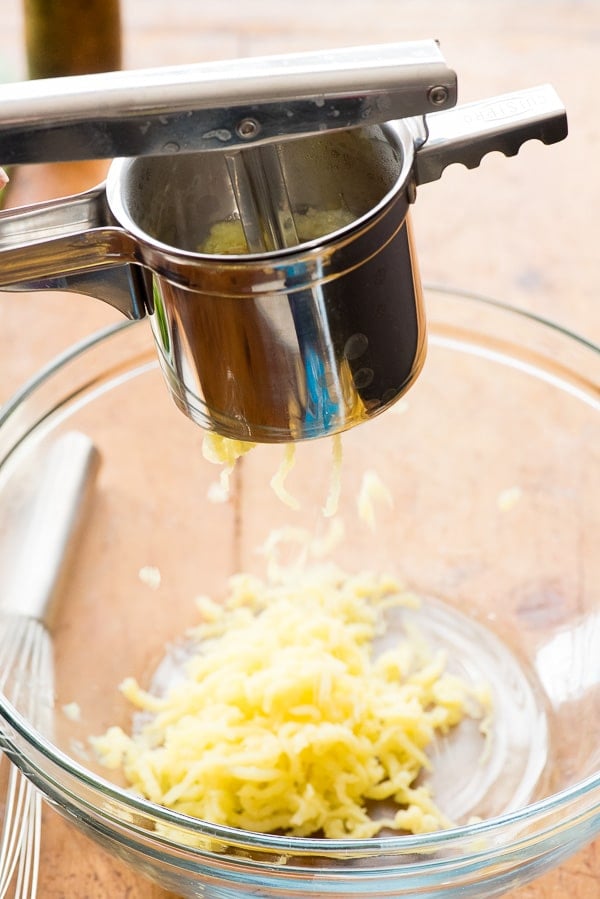 Adding Milk
Milk (or cream in some cases) is another variable ingredient in Colcannon.
The type of potatoes used may affect how moist the Colcannon recipe turns out.
If desired to make a lighter, creamier Colcannon, feel free to add a bit of warm milk in the last step.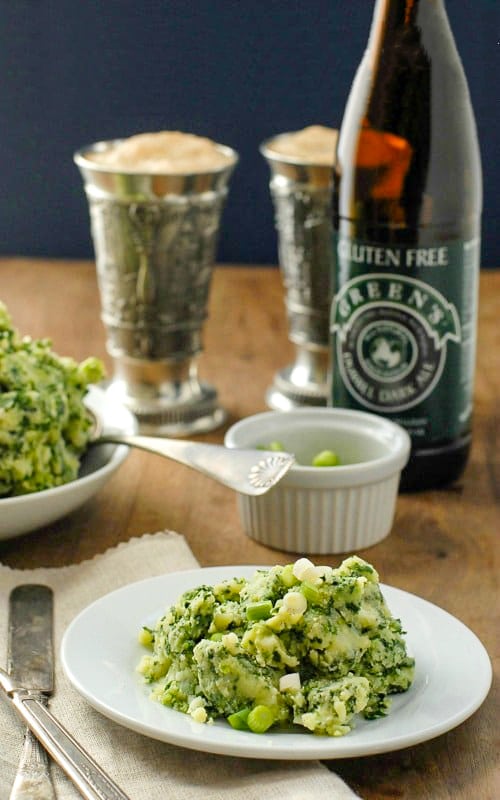 Did you make it? Please RATE THE RECIPE below!
Please SUBSCRIBE and FOLLOW ME on FACEBOOK , TWITTER , INSTAGRAM and PINTEREST !
Originally published March 8, 2013