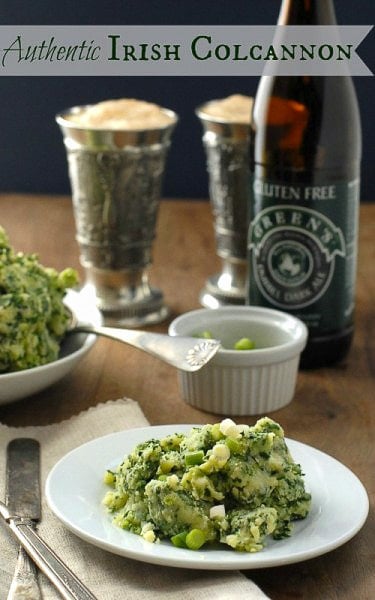 Since I was a child I've loved St. Patrick's Day. Being unaware of the religious origins it was all about the whimsy of leprechauns, pots of gold and other unexpected folly of the day; claiming that one's undergarments were green when forgetting to wear the pinch-avoiding color visibly. Having Irish heritage woven in my extended family, as well as the good fortune to travel to the Emerald Isle often for both work and pleasure, the holiday has a much more full meaning for me as an adult. And of course so much of that focuses on the food.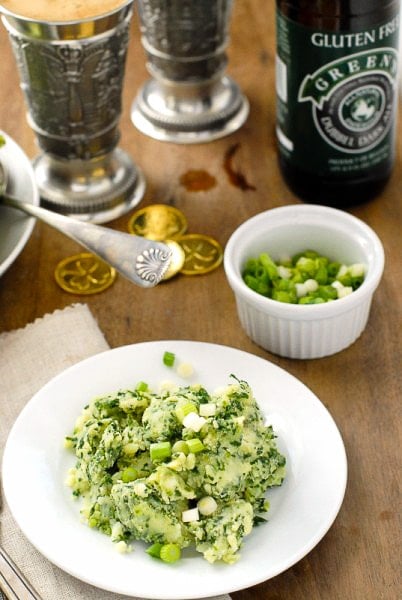 For a number of years my husband (who also is of Irish descent on his father's side) and I would watch the movie 'The Commitments', make corned beef and cabbage and drink Guinness on St. Patty's day. So often the holiday fell  on a work night so we'd avoid the scene at local American Irish pubs. As our children have grown up (and we've learned corned beef and cabbage really is not traditional fare for the holiday) we have evolved a rogue leprechaun who visits our house turning the milk and toilet water green, randomly stacking as many chairs as possible striving to touch the ceiling and other naughty things. In our hearts is our love for all things Irish, and for friends and family there.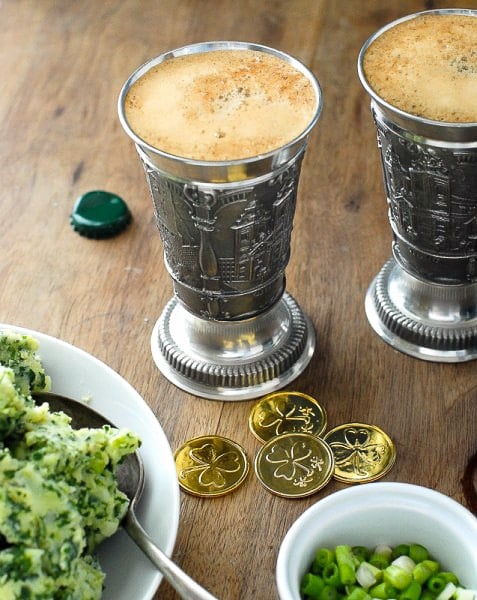 One of my favorite things about being in Ireland is the pub scene. More than a bar or a restaurant it truly is the social center of the culture. Hours upon hours are spent commiserating with friends and laughing up a storm. The food is rustic and flavorful and the beer of course superb. My favorite Irish recipes are all very simple. Made with whole ingredients, they are not time consuming but are certainly soul-warming. Colcannon is a traditional mashed potato dish woven through with kale and scallions. If you have not enjoyed it before you may imagine a strong taste of kale making it seem like more of a green vegetable dish. This it is not. The curly kale is lightly blanched and processed with the scallions before incorporating into the buttery potatoes. The heady aroma of the kale and onion when freshly diced coming out of the food processor is truly sublime; light, fresh and singing of springtime. With only five ingredients this dish is easy to whip up, a great traditional Irish dish and a familiar cousin to the iconic American comfort food, mashed potatoes.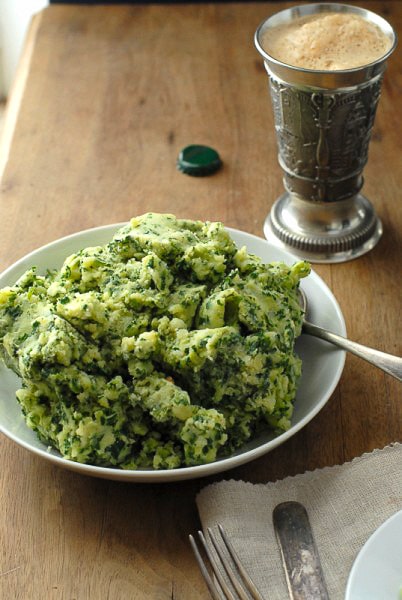 A Tip for removing Kale Stems:  Hold the end of the kale stalk in one hand (the stem). With the other hand place the thumb and forefinger at the base of the leaves on the stock. Pull the stalk with the first hand, holding the other thumb and forefinger firmly in place. Leaves will peel off the stock easily.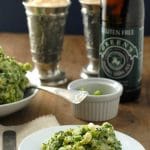 Authentic Irish Colcannon
Though Yukon Gold potatoes may not be an indigenous Irish potato variety, their creamy nature makes this traditional Colcannon recipe perfection. Colcannon is a traditional dish for St. Patrick's Day, combining the beloved potato, kale, scallions and butter. Try it once and you'll be hooked!
Servings
6
ample side servings
Ingredients
1

pound

8 ounces of Yukon Gold Potatoes

, peeled

Pinch of Kosher Salt

4

ounces

de-stemmed Curly Kale leaves

(about 6 ½ ounces with stem)

½

cup

Scallions

, trimmed, white and lower green of stalk rough chopped

1

stick unsalted butter

, cut into 4 pieces

Salt and pepper to taste

Garnish with scallion slices

(about ¼ cup needed for whole recipe)
Instructions
Put a pot of water on the stove to boil that will hold the volume of potatoes with plenty of room. Add a large pinch of salt.

Slice potatoes horizontally into ¾ inch-1 inch thick slices. Cut each slice into 4 to 6 pieces. Place potatoes in boiling water until done (about 20 minutes; poke a fork in them to ensure they are no longer hard and are cooked through). Drain and return to cooking pot.

While potatoes are boiling, bring a second pot of water to boil for the kale blanching and fill a large mixing bowl of ice and water. Place the kale leaves into the boiling water for two minutes, stirring occasionally to ensure they all become submerged. Remove, and place immediately into ice water bath. Allow them to remain there for another two minutes then place them in the bowl of a food processor.

Add the rough chopped scallions to the bowl of the food processor. Pulse for 10-15 seconds until kale and onions form a finely diced mixture.

Add the stick of butter to the potatoes, mix together to allow butter to melt. Once melted, mash the potatoes with a masher or potato ricer. Add the diced kale and scallion and stir to fully combine. Serve hot garnished with scallion slices.
Nutrition Facts
Authentic Irish Colcannon
Amount Per Serving
Calories 56
% Daily Value*
Total Fat 0g 0%
Cholesterol 0mg 0%
Sodium 16mg 1%
Potassium 428mg 12%
Total Carbohydrates 11g 4%
Protein 2g 4%
* Percent Daily Values are based on a 2000 calorie diet.
Irish and St. Patrick's Day posts You Might Enjoy:
Dublin Coddle and Irish Soda Bread (gluten-free)
The Straight Scoop on St. Patrick's Day from The Daily Spud {Guest Post}
Guinness Milk Chocolate Ice Cream Shake