This ultimate guide will help you with Everything You Need to Know about Artichokes! How to Cook, Buy and Eat them.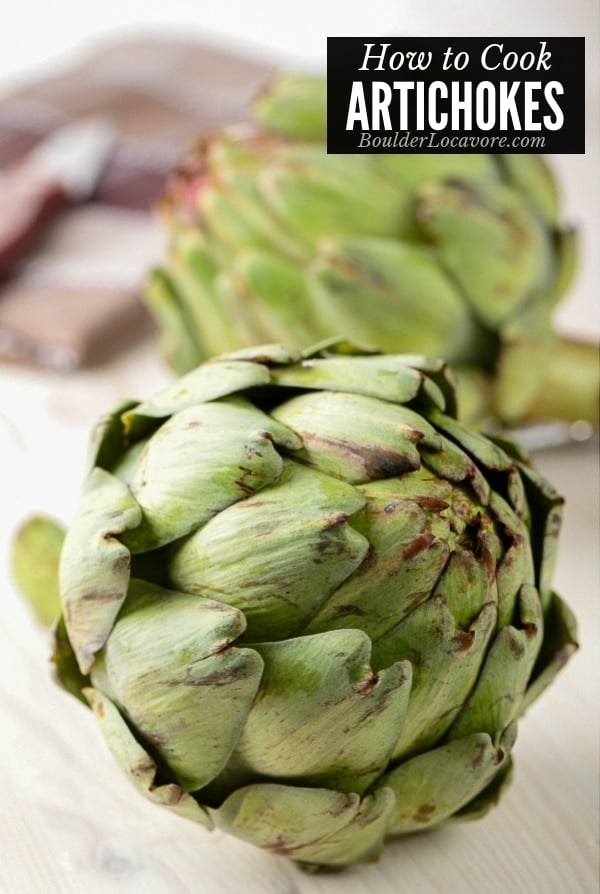 There is absolutely nothing intuitive about fresh artichokes. How to pick them, cook them and certainly how to eat them can be a little intimidating.
I was fortunate to grow up with Grandparents in Northern California where we'd drive through artichoke country often.
I spent years driving by the prehistoric looking spiky artichoke plants with one whole artichoke spouting above the plant.
And fortunately was taught young how to tackle an artichoke, as well as the delicious end result when they are well prepared.
Once the puzzle of how to cook artichokes and how to eat them is solved, they may become your new favorite spring vegetable!
Jump to:
What is an Artichoke?
There is no clue when looking at an artichoke that it should be eaten!
They are a large member of the thistle family and are considered a vegetable.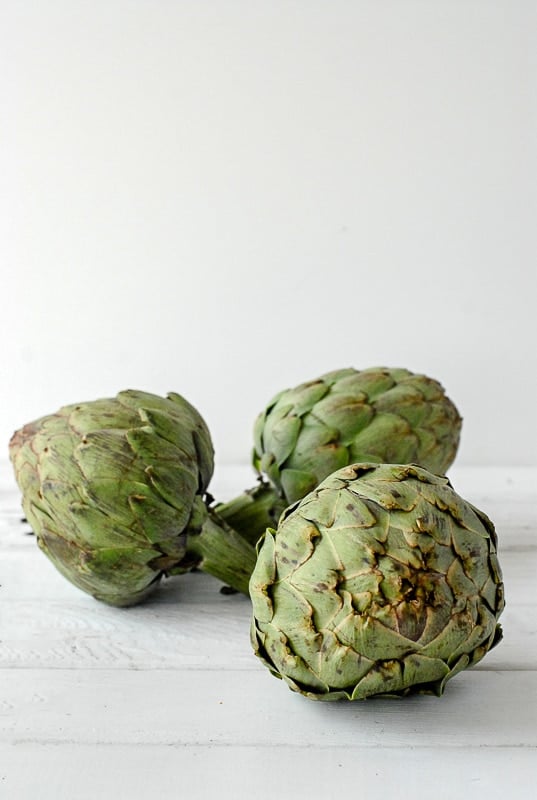 What Part of the Artichoke Can be Eaten?
When cooked, the underside of the prickly leaves reveals soft flesh that is delicious.
The favorite part however is buried deep inside the outer leaves: the artichoke heart.
They are sold in marinated in jars.
However, when you eat a fresh artichoke, the heart is the reward for all your efforts with a lightly sweet flavor and creamy texture.
When are Artichokes in Season?
Peak season lasts from March until June.
A second smaller crop is grown for a fall harvest as well.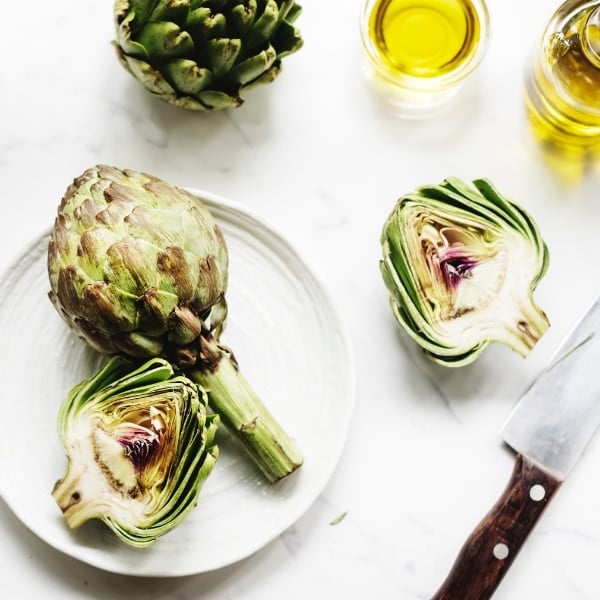 Where to Find Artichokes?
If artichokes are not local to you, check grocery stores with more extensive produce departments (Whole Foods for instance). Your local Farmers Market may sell them too.
How to Select them
When purchasing select artichokes with leaves that are tightly closed, forming a bit of a baseball looking appearance (for larger globe artichokes; small artichoke varieties will appear more oblong).
You'll note those in my photos look a bit scarred.
I'm not concerned with that as it could be from a frost or other natural circumstances.
They are tight and looked very healthy once I began to trim them.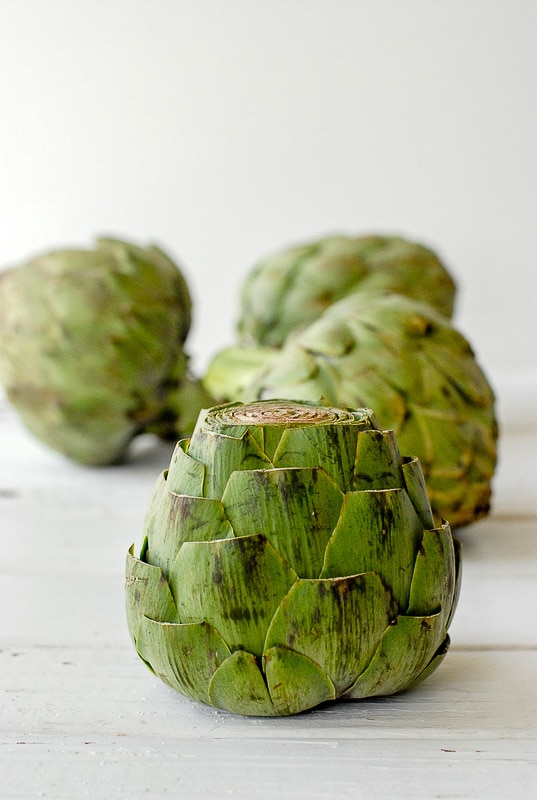 How to Trim Artichokes
Being a thistle, artichokes have natural protective aspects like a thorn on the end of each leaf.
To prepare them for cooking:
The photo below will guide on the steps for trimming.
Cut the artichoke stems flush with the base of the artichoke
Remove the small leaves by the stem
Make a straight cut using a pair of kitchen shears below the thorn on the tips of the leaves and cut off any split in the leaves
Cut the leaves uniformly for visual appeal
Cut off ½-inch of the top of the artichoke, making a straight cut, leaving the leaves available for pulling and eating once they are cooked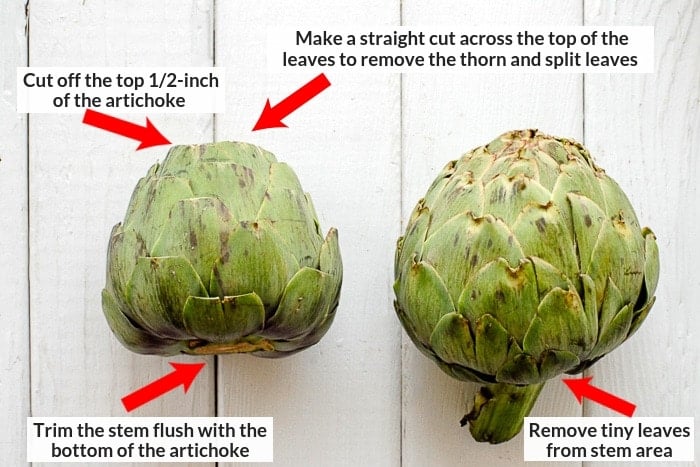 How to Cook them
They can be cooked in a variety of ways. These are the popular cooking methods:
Steaming or Boiling
Artichokes are typically steamed or boiled (the easiest way). Either method takes about the same amount of time; 25-30 minutes.
I prefer steamed artichoke. This method to cooks them well and retains more flavor.
My preferred method: I use an in between method of putting the artichokes in about 2-3 inches of water or liquid (I mix white wine and water with some sliced garlic cloves for flavor).
A steaming basket can also be used if preferred. The cut side or base of the artichoke faces down when cooking.
Pressure Cooking
They can also be cooked in an Instant Pot by pressure cooking.
How To Check Artichokes Are Cooked
Check for doneness by pulling on the leaves of the lower outer part of the artichoke; if they can be removed easily the artichoke is done. If not add a bit more cooking time.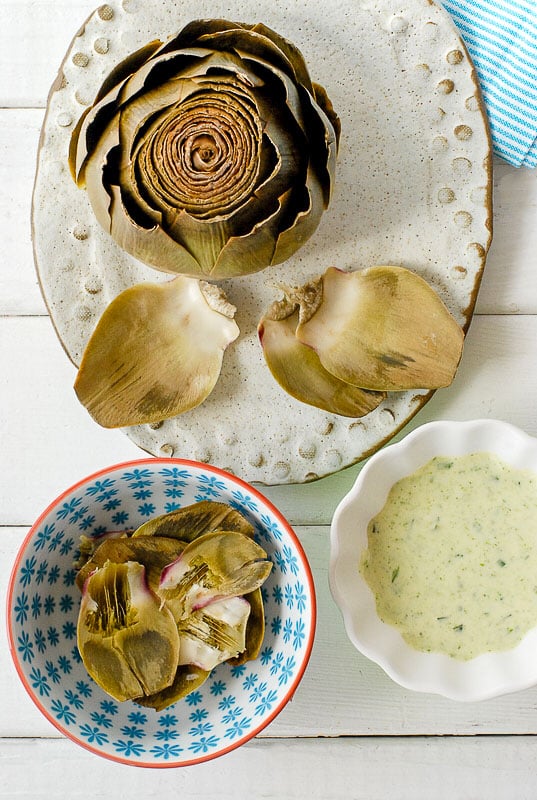 How to Eat an Artichoke
I cannot think of any other food that requires such an unconventional consumption method!
But once you are in on the secret you'll be an instant pro.
How to Eat the Leaves
When the artichoke is cool enough to handle, pull off the dark green leaves and scrape them along your teeth to remove the softened 'meat' of the inner leaf.
The Outer Leaves – Scrape them on Your Teeth
This is the only vegetable eaten this way to my knowledge. Once you figure it out the first time, it's like being in a secret club!
Hold the end of the leaf where the thorn was removed
Place the leaf between your teeth and
Gently bite down close to the thorn end, or where you sense the inside of the leaf has softened.
As you bite down, pull the leaf out of your mouth leaving the soft artichoke flesh to swallow.
A Pro Tip: If you bite too hard you will not be able to pull the leaf out, scraping the artichoke into your mouth.
The outer leaves of the artichoke are tougher than those toward the center.
You'll note the leaves look aggressively eaten.
Normally the inside of the artichoke leaf is soft and yielding, releasing the sweet meat of the leaf readily.
The Inner Leaves
The leaves become softer toward the center. They tender inner leaves become soft enough that they can be eaten with no scraping.
The innermost leaves in the very center are paper thin. Remove the paper thin leaves to get to the heart.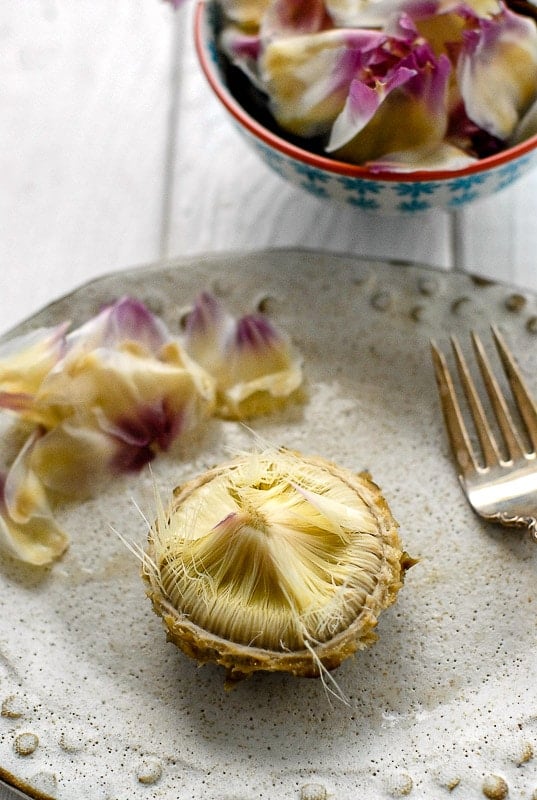 The Choke and the Heart
As if this could be any stranger to eat, once you have eaten or removed all the leaves you will arrive here: the choke.
Beneath the soft fuzzy center choke is the most delicious part of the artichoke: the heart.
How to Prepare the Artichoke Heart
Run a sharp knife underneath the hairy choke (just underneath it so as to not remove any of the heart) in a circular pattern to remove it.
Underneath will be the heart; the sweetest part of the artichoke.
It has a fantastic thick, dense almost custard-like consistency.
Slice it up and enjoy it; it's worth the work of getting there.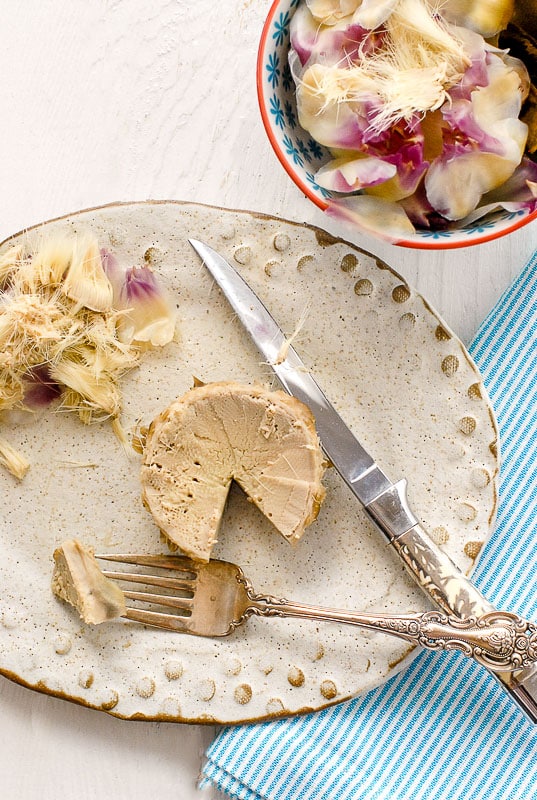 Sauces for Dipping Artichokes
Artichokes are often are paired with flavors of lemon and butter for dipping.
They have a subtle but distinct flavor that is even better with some fat.
An aioli, mayonnaise, hollandaise sauce or just plain melted butter are delicious options.
Dip the leaves prior to scraping for a delicious bite.
Here are four delicious artichoke dipping Sauce recipes to try!
More Recipes You'll Love!
Recipe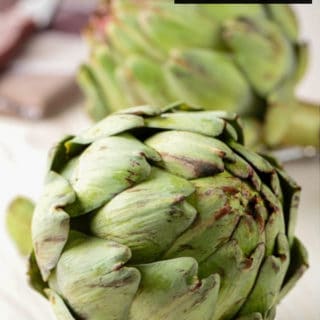 How to Cook Artichokes
Cooking artichokes is very easy and only takes around 30 minutes. The subtle flavor of this spring vegetable shouldn't be missed.
Print
Save Recipe
Recipe Saved!
Pin
Rate
Ingredients
Artichokes

, trimmed* (any number you wish to cook)

1

cup

White Wine

1

cloves

Garlic

, peeled and cut into 1/8-inch lengthwise slices
Instructions
In a large pot (large enough to fit all artichokes you are preparing sitting flat on the bottom next to each other) pour in wine and fill with water to 2-3 inches deep.

Add garlic cloves.

Bring to a boil reduce to medium heat (still a low boil or high simmer), cover and cook 25-30 minutes or until the lower leaves pull off with ease.

Drain and allow artichokes to sit a few minutes before serving. Pair with one or more dipping sauces when serving.
Notes
*refer to main blog post for trimming instructions.
Nutrition
Calories:
50
kcal
|
Carbohydrates:
2
g
|
Protein:
1
g
|
Fat:
1
g
|
Sodium:
3
mg
|
Potassium:
43
mg
|
Sugar:
1
g
|
Vitamin C:
1
mg
|
Calcium:
5
mg
|
Iron:
1
mg
Originally published: April 19, 2013