Homemade Oat Milk is a delicious dairy-free milk that's easy to make at home. No fancy equipment is needed. No soaking of the oats is required. It's a great ingredient in breakfast recipes, a tall glass of cold brew coffee and so much more!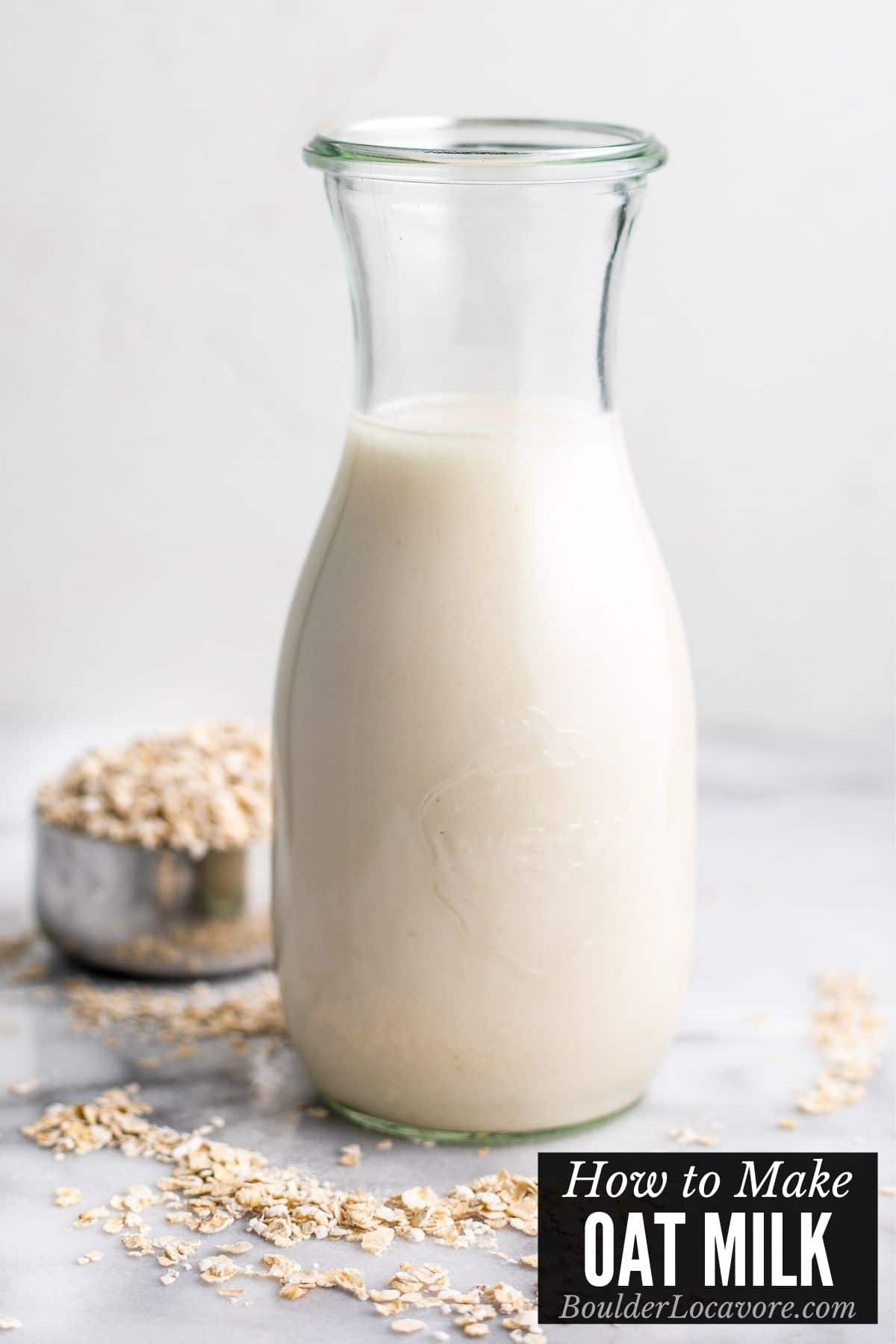 If you are on the hunt for a dairy-free milk alternative, you'll love this recipe!
It can be made at home very affordably.
This delicious oat milk recipe is quick and easy to make.
It doesn't take much planning.
It will last about 5 days in the fridge.
This gives you plenty of time to enjoy it in granola, in baked breakfast recipes or over ice by itself.
What is Oat Milk?
It's a dairy-free milk option made using oats. It's easy to make at home and has the wholesome flavor of oats.
It's vegan
It's allergy-friendly (use certified gluten-free oats for those gluten-free)
It's less expensive to make than other plant based milks such as almond milk or cashew milk
It's faster and easier to make than most other non-dairy milk
It's filling
It has a mild flavor compared to some other milks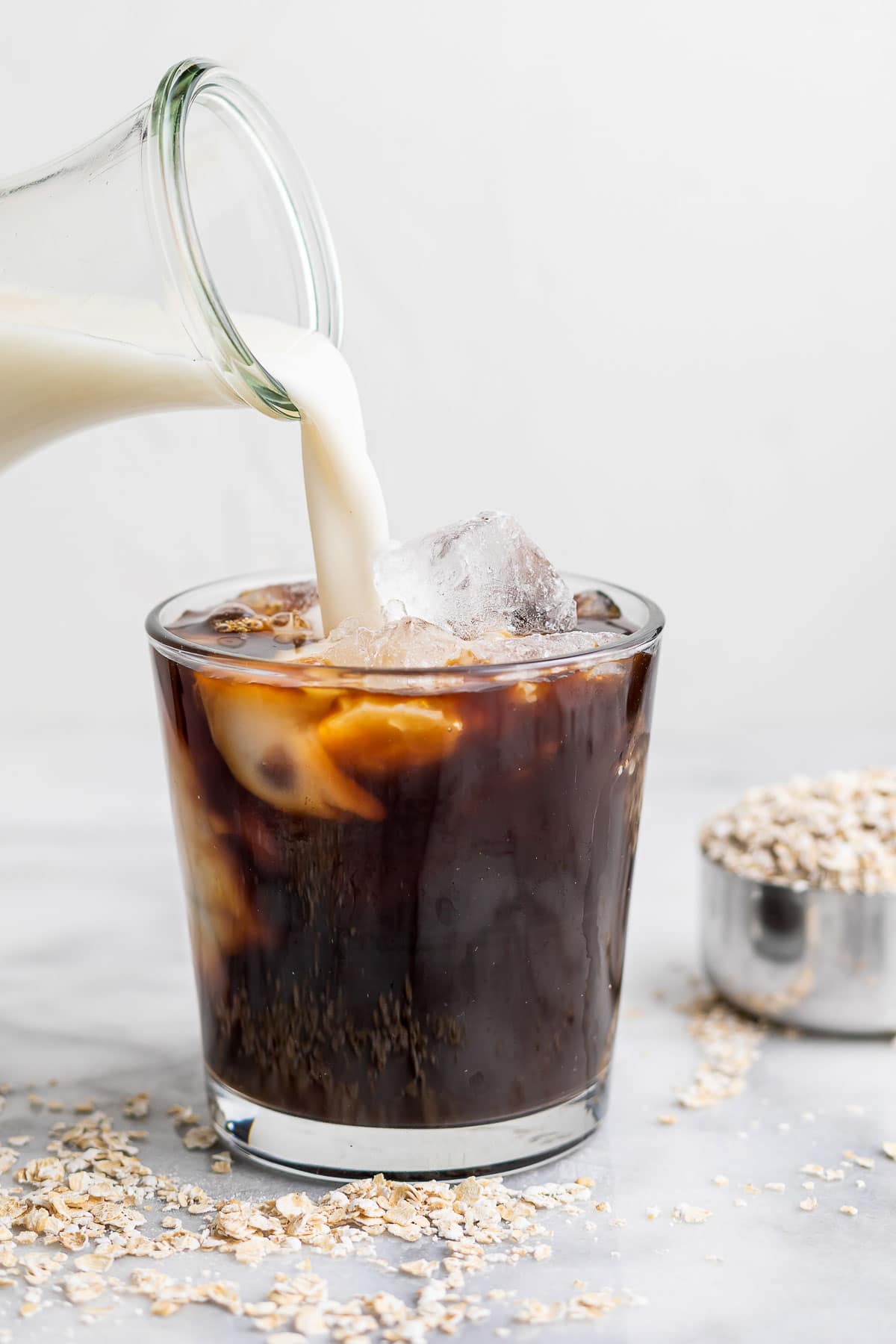 Recipe Ingredients
Rolled Oats
Cold Filtered Water
Sea Salt
What Type of Oats to Use?
Rolled oats which are also called Old Fashioned Oats are the best choice for making oat milk.
They are whole unprocessed oats and work well for this recipe. Either regular or gluten-free rolled oats may be used.
Steel Cut Oats do not make a very creamy milk.
Instant Oats or Quick Oats are processed and also do not make a very good milk.
Making Flavored Oat Milk
To make it sweet choose an option:
1-2 pitted dates, or
1-2 tablespoons maple syrup
For flavor variations choose an option(s):
1 teaspoon vanilla bean seeds
½ teaspoon vanilla extract
3 tablespoons cacao powder
1 tablespoon pistachio paste
¼ cup berries
How to Make it – Step-by-Step
Pour 1 cup of rolled oats into a blender.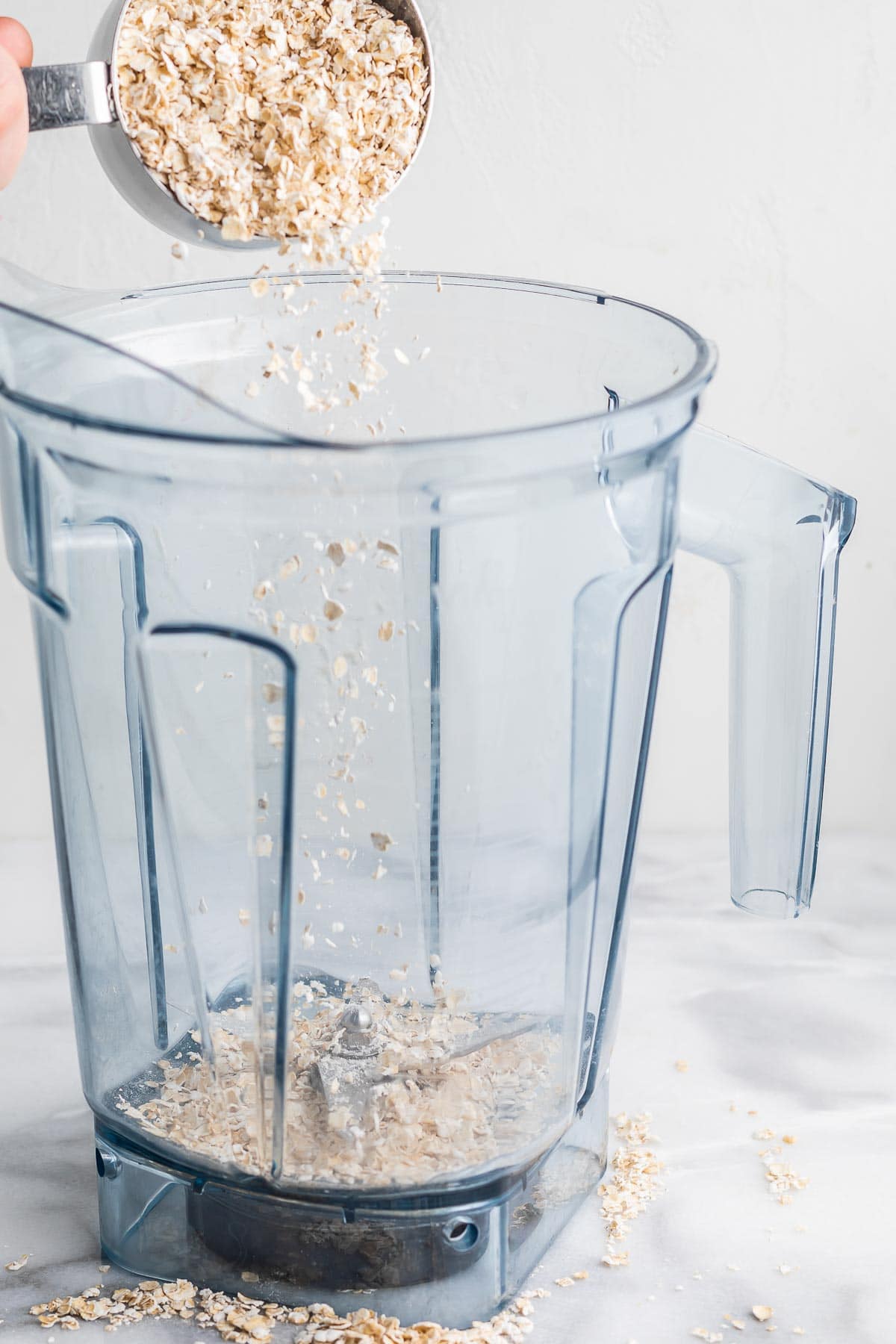 Add 4 cups of cold filtered water. Also add the pinch of salt and any optional ingredients for flavor at this step.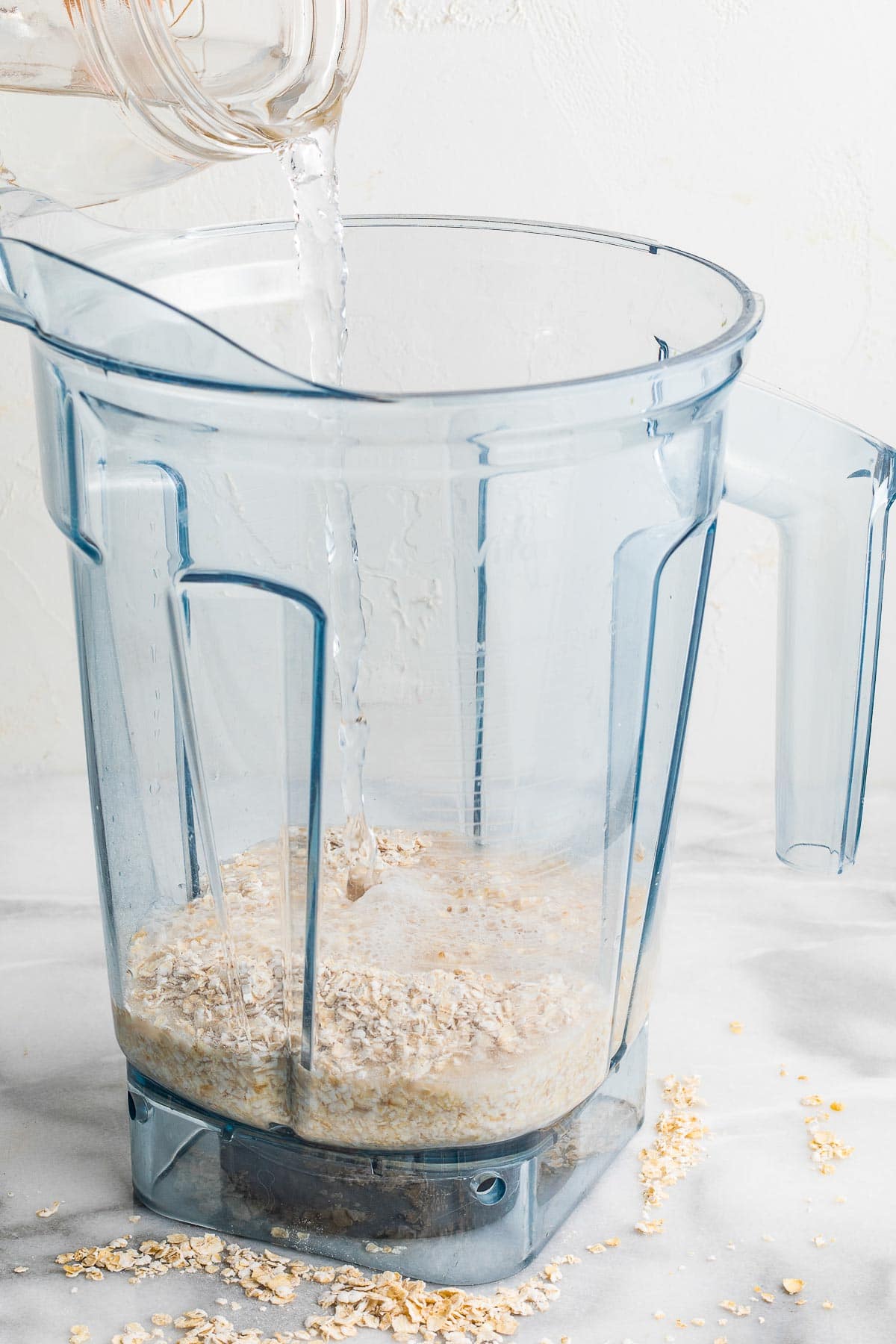 BLEND IT – 30-45 seconds is all you need. DO NOT OVER BLEND! It should look white and creamy.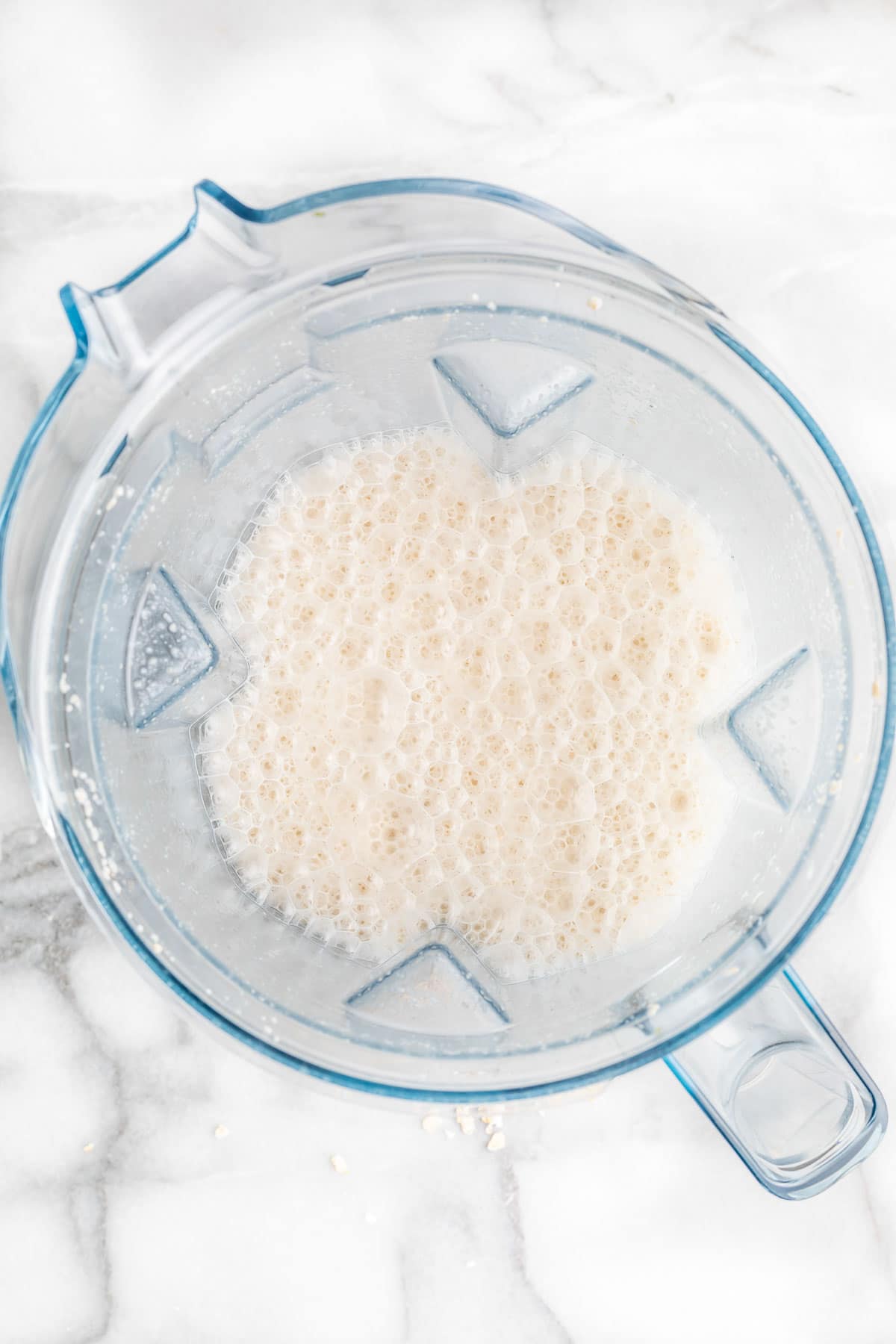 STRAIN THE MILK – Pour the milk into a nut milk bag, clean fine-weave kitchen towel or a fine mesh strainer lined with a clean cloth.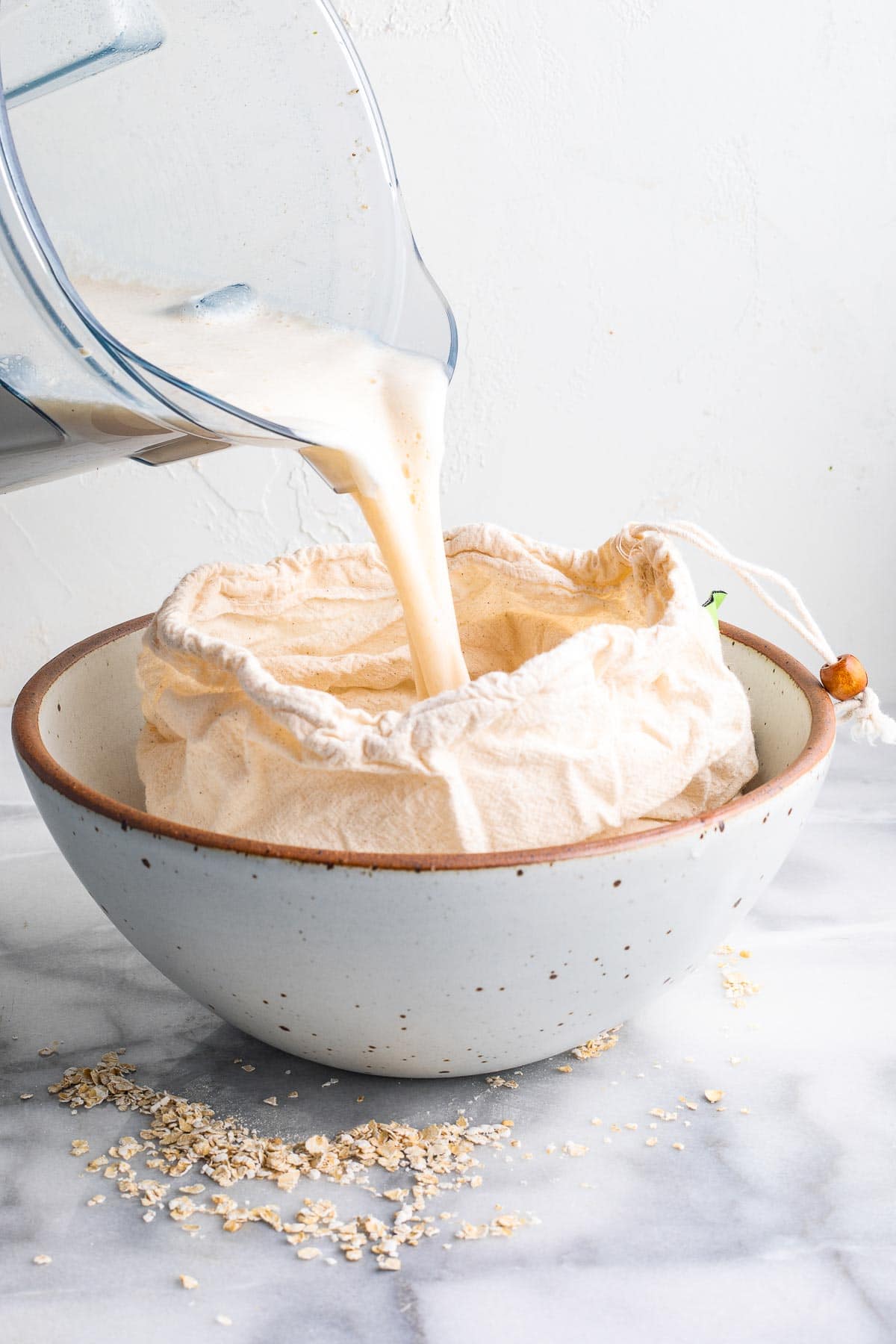 DO NOT squeeze the nut bag or cloth to wring extra liquid out. This can contribute to the milk becoming slimy.
Straining a second time creates an extra creamy result.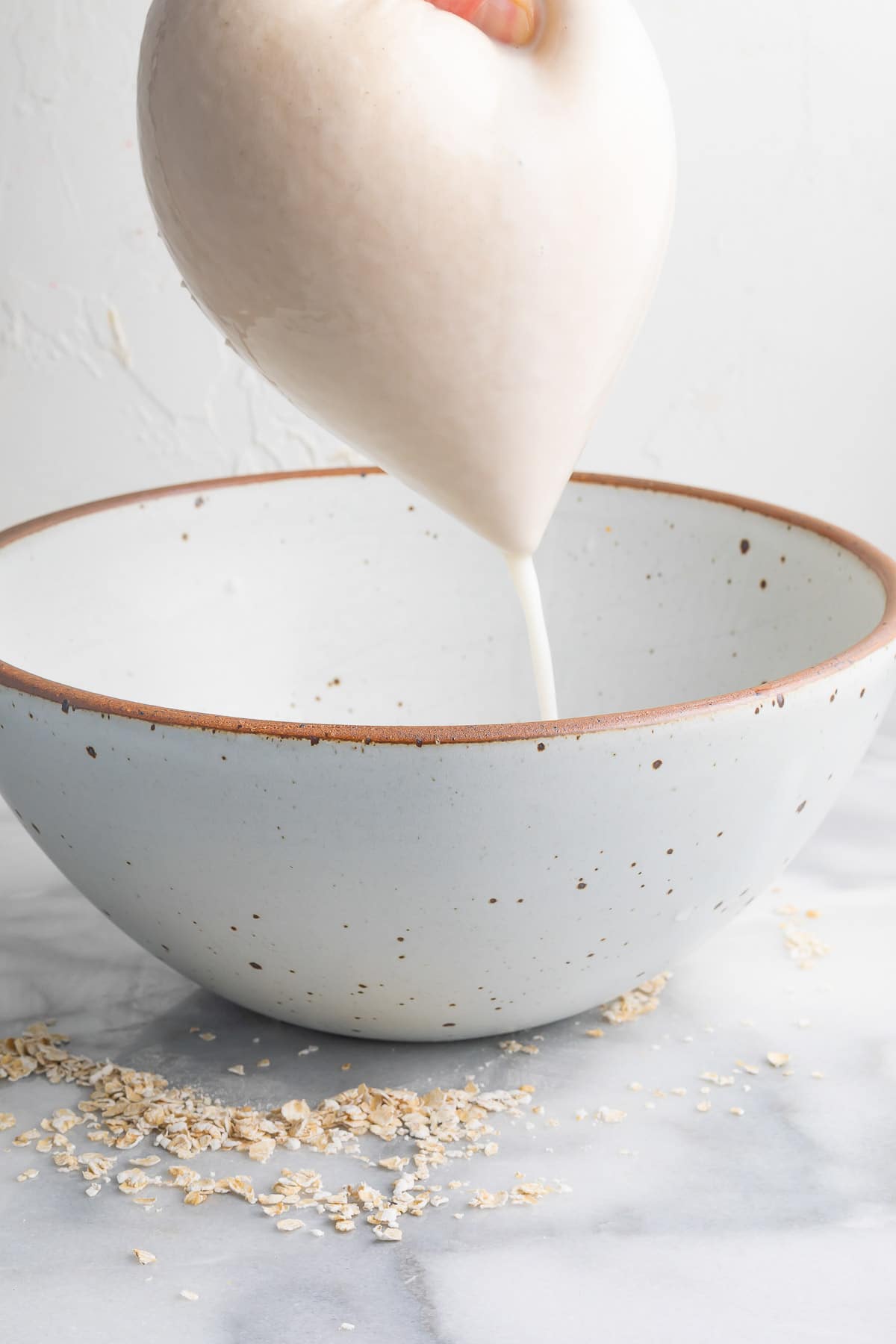 Chill in the refrigerator before using for best flavor.
The strained oat pulp may be discarded or used in oatmeal cookies, muffins, or quick bread recipes.
How to Make Oat Milk Creamer
For a creamer version, use 2-3 cups of water, 1 cup rolled oats and add a few tablespoons of a sweetener.
Proceed with the recipe as described.
How to Use it
Because of the oat flavor it works best in sweeter recipes.
Baked Oatmeal, Oatmeal Pudding and Overnight Oats recipes are a perfect match.
Smoothie recipes, Smoothie Bowls
Using it in baking recipes like Little Apple Oat Cakes
Roasted Banana Chia Pudding Breakfast Bowl or Overnight Quinoa-Chia Chocolate Breakfast Pudding
Try it in non-savory recipes that call for milk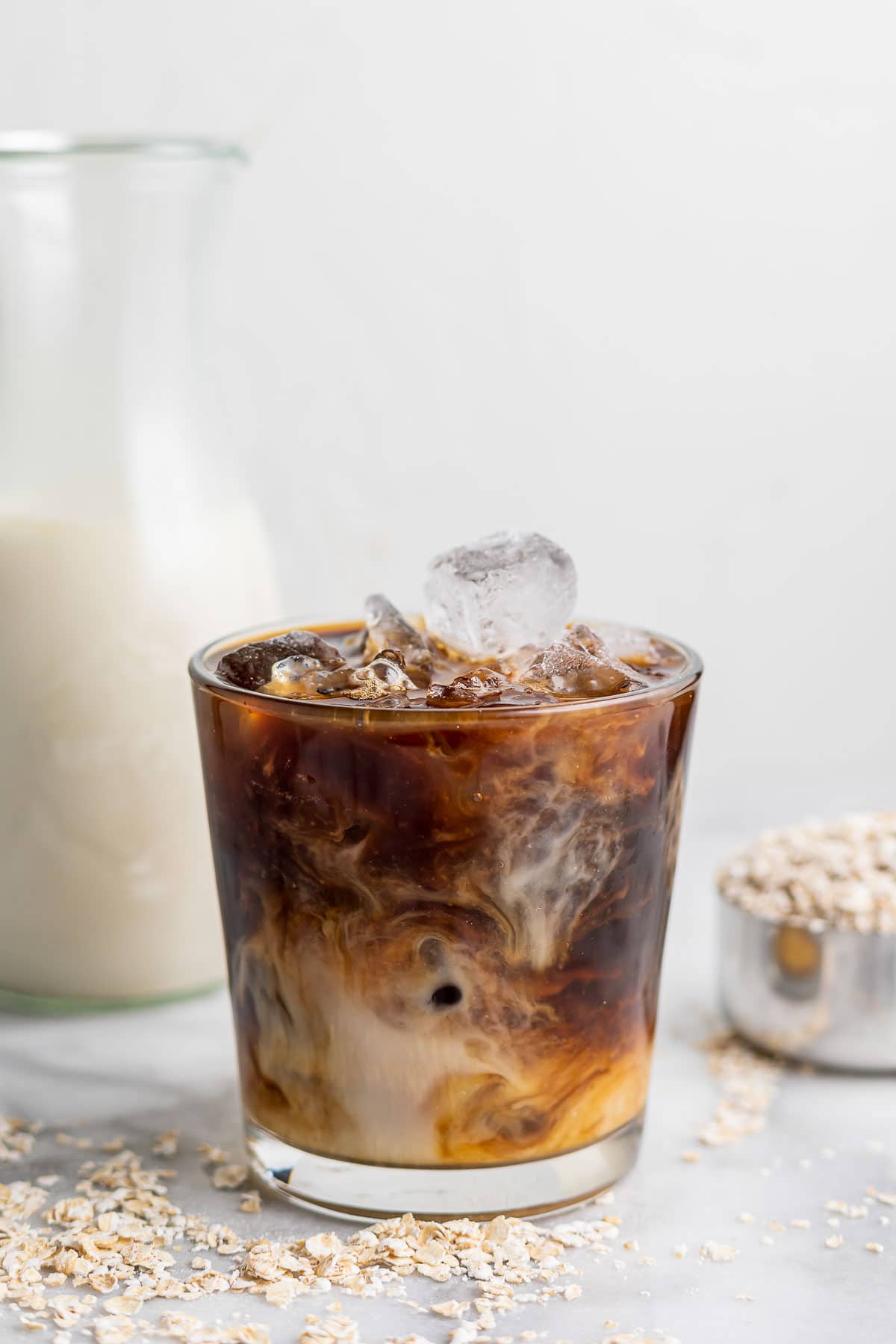 Recipe FAQs
Why can Oat Milk get 'Slimy'?
'Slimy' is never a description of milk we want. When oats soak too long in the water the end result can be a thickening or more gelatinous texture as you experience when making oatmeal for instance.
They absorb the water and the texture changes. Avoid this by only quickly blending as noted in the recipe.
The Milk Separated in the Refrigerator!
This is normal. Shake it up or stir it before using.
What Special Equipment is Required to Make it?
You can use a nut bag OR a clean tightly woven cloth, like a thin kitchen towel (flour bag towels are great).
A blender is required for this recipe. If you have a powerful blender like a Vitamix that's great! A regular blender will work too.
Can it be Heated?
Heating oat milk is not recommended. Due to the thickening behavior in oats, it can develop an unpleasant texture.
Pro Tips – Make it Perfectly Every time!
Use newly purchased Oats. The milk will take on the flavor of the oats. So if the oats are old, you'll taste it!
Do not presoak the oats.
Do not over blend! This can cause the slimy texture in oat milk. Blend 30-45 seconds only.
If using a nut milk bag don't squeeze, wring or press hard on the pulp to release more milk. This also can contribute to a slimy texture.
Strain it twice for the creamiest consistency.
How to Store it
Store it in a glass jar or container in the refrigerator for up to 5 days.
Stir as needed (if it separates).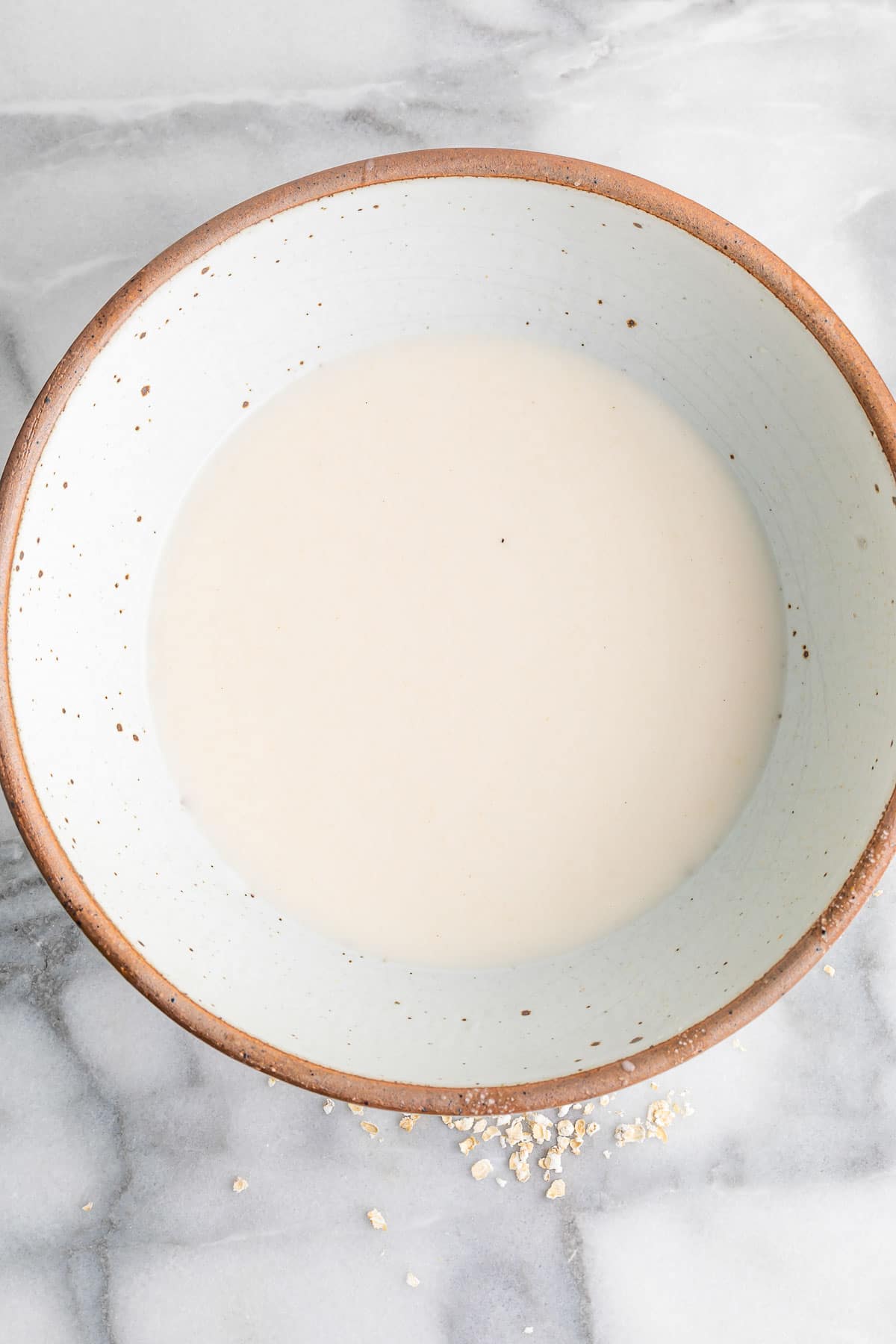 More Recipes to Try!
Did you make it? Please RATE THE RECIPE below!
Please SUBSCRIBE and FOLLOW ME on FACEBOOK , TWITTER , INSTAGRAM and PINTEREST !
Recipe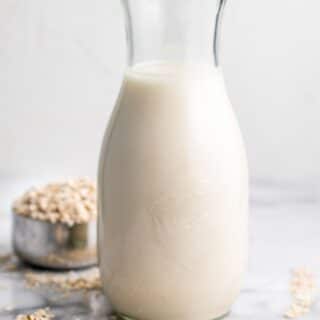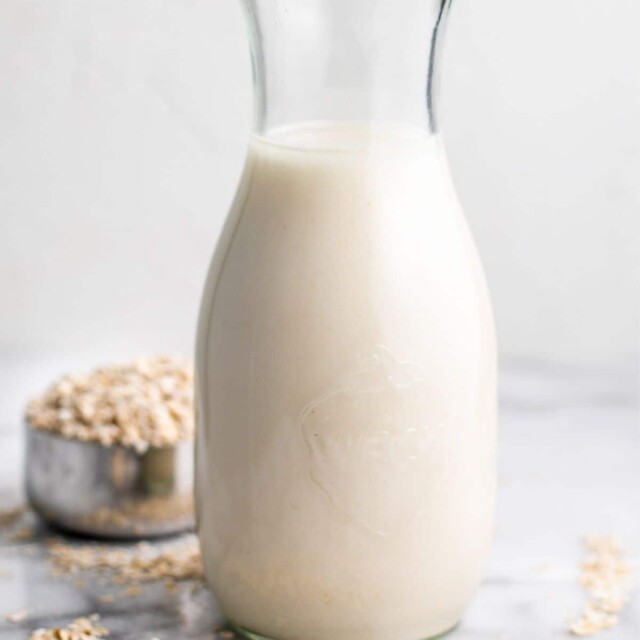 Homemade Oat Milk
Easy Oat Milk can be whipped up in a flash! No soaking of the oats required. Use it in cereal, smoothies, iced coffee and baking recipes!
Print
Save Recipe
Recipe Saved!
Pin
Rate
Servings:
8
1/2-cup servings (total yield 4 cups)
Ingredients
1

cup

rolled oats

regular or gluten-free

4

cups

cold filtered water

⅛

teaspoon

sea salt
Instructions
Place the oats, water, and any chosen optional ingredients (see notes below) into a high speed blender.

Place the lid on the blender and blend for 30-45 seconds on high. NOTE: do not over blend for best results.

Using a nut milk bag or clean tea towel, strain the oat milk into a large bowl. You may wish to double strain the mixture depending on your consistency preference.

Transfer the oat milk to a container with a lid and store refrigerated for up to 5 days.
Notes
Optional Variations
To make it sweet choose an option:
● 1-2 pitted dates
● 1-2 tablespoons maple syrup
For flavor variations choose an option(s):
● 1 teaspoon vanilla bean seeds
● ½ teaspoon vanilla extract
● 3 tablespoons cacao powder
● 1 tablespoon pistachio paste
● ¼ cup berries
To make Oat Milk Creamer:
Use fresh rolled oats (not instant or quick oats, or steel cut oats)
Reduce filtered water from 4 cups to 2-3 cups.
Use 1 cup of rolled oats.
Add a few tablespoons of a sweetener.
Proceed with the recipe as written.
Pro Tips
Do not over blend the milk. Blend 30-45 seconds max.
Do not wring or squeeze the nut milk bag or cloth when straining the milk.
Strain twice for a creamier consistency.
Do not pre-soak the oats. This can lead to a slimy consistency.
Nutrition
Calories:
38
kcal
|
Carbohydrates:
7
g
|
Protein:
1
g
|
Fat:
1
g
|
Saturated Fat:
1
g
|
Sodium:
43
mg
|
Potassium:
37
mg
|
Fiber:
1
g
|
Sugar:
1
g
|
Calcium:
9
mg
|
Iron:
1
mg