Fast, easy, delicious Chocolate Chip Muffins are always a favorite for breakfast or a snack. This recipe adds wholesome quick oats for great texture and a filling result!

Every time I make this Chocolate Chip Muffin recipe I remember why it's my favorite.
It's very easy to make.
It's very FAST to make.
They are delicious without being overly sweet.
And I often find a family member hovering at the oven door anxiously ready to help taste test.
These easy Chocolate Chip Muffins 'sell out' at my house very quickly.
BUT they are so easy to make, I can just make a second batch.
I hope you will love them as much as we do!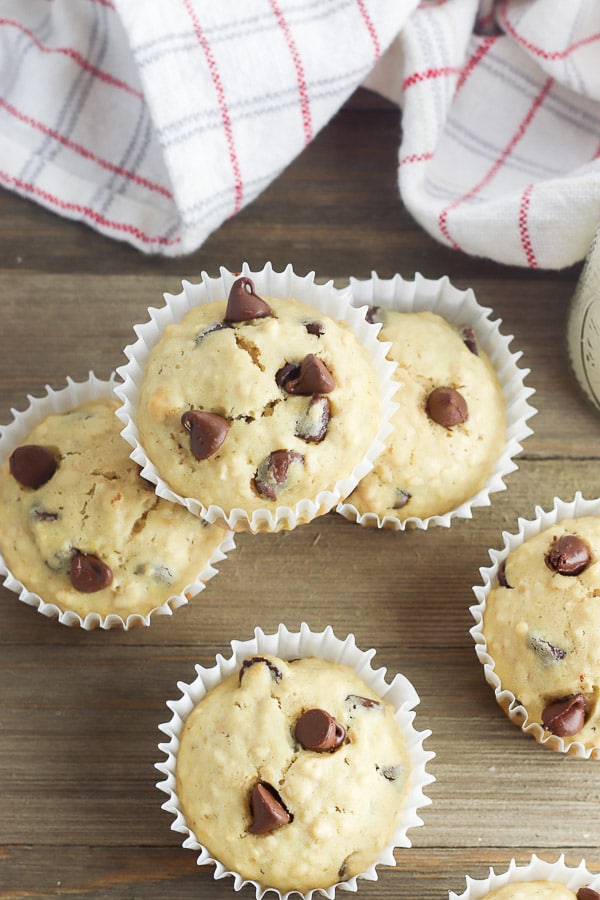 Chocolate Chip Muffins Ingredients
All-purpose flour – regular or gluten-free measure-for-measure GF blend
Quick cook oats – regular or gluten-free
Baking powder
Kosher salt
Milk
Vegetable oil
Light Brown sugar
Eggs
Vanilla extract
Semi-sweet chocolate chips
Ingredient Notes
Flour
Either regular All-Purpose Flour OR a measure-for-measure Gluten-Free flour blend may be used.
The recipe has been tested successfully with both!
Quick Oats
Adding oats to this recipe bulks up the muffins giving them great texture. They are more filling too!
Be sure to use Quick Oats NOT Rolled Oats. They cook differently.
Regular quick oats OR gluten-free quick oats may be used.
The recipe has been testing with both.
Milk
I used whole cow milk but any milk can be used.
Chocolate Chips
I recommend using semi-sweet chocolate chips for the chocolate chip muffins.
I have tested them with dark chocolate chips too and found the chocolate a bit too strong (my opinion).
Mini chocolate chips can also be used to pack the muffins with more chocolate!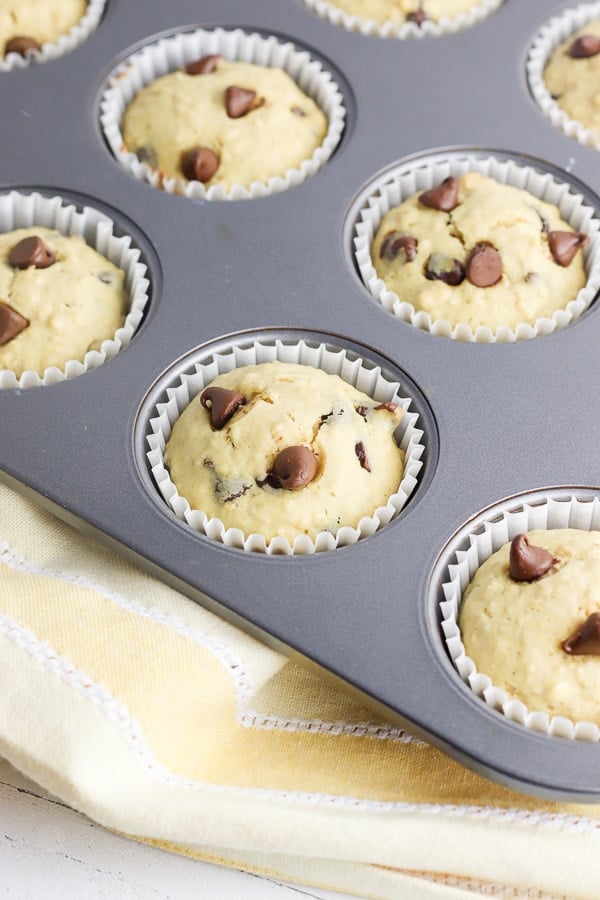 How to Make Chocolate Chip Muffins – Step-by-Step
STEP 1: Preheat the oven to 375 degrees. Prepare a muffin pan (or pans) by inserting liners or spraying with non-stick cooking spray.
STEP 2: In a medium mixing bowl, combine the flour, oats, baking powder and salt. Mix (photo 1).
STEP 3: In a large mixing bowl, whisk together the milk, vegetable oil, brown sugar, eggs and vanilla (photo 2).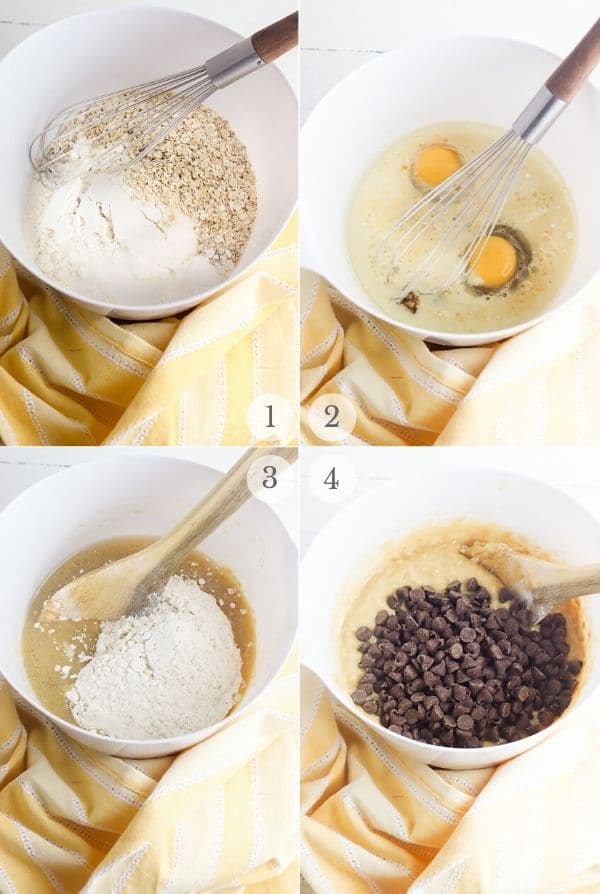 STEP 4: Slowly add the dry ingredients to the wet ingredients, one cup at a time. Mix together (photo 3).
STEP 5: Fold in the chocolate chips (photo 4).
STEP 6: Spoon the batter into the prepared muffin pan filling the cups 2/3's full (photo below).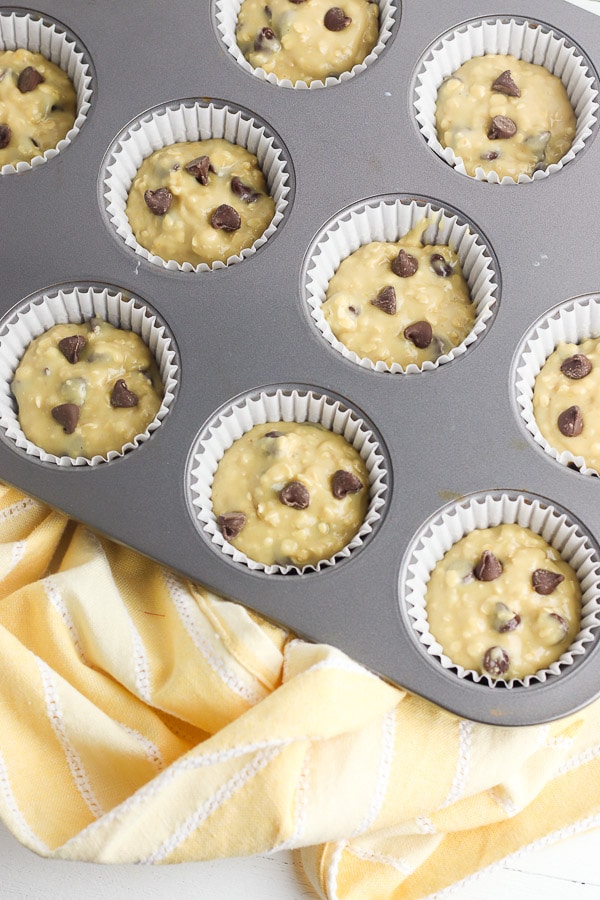 STEP 7: Bake for 22-25 minutes until a toothpick inserted into the muffins comes out clean.
STEP 8: Cool muffins in the pan for 5 minutes then transfer to a cooling rack to cool completely (photo below).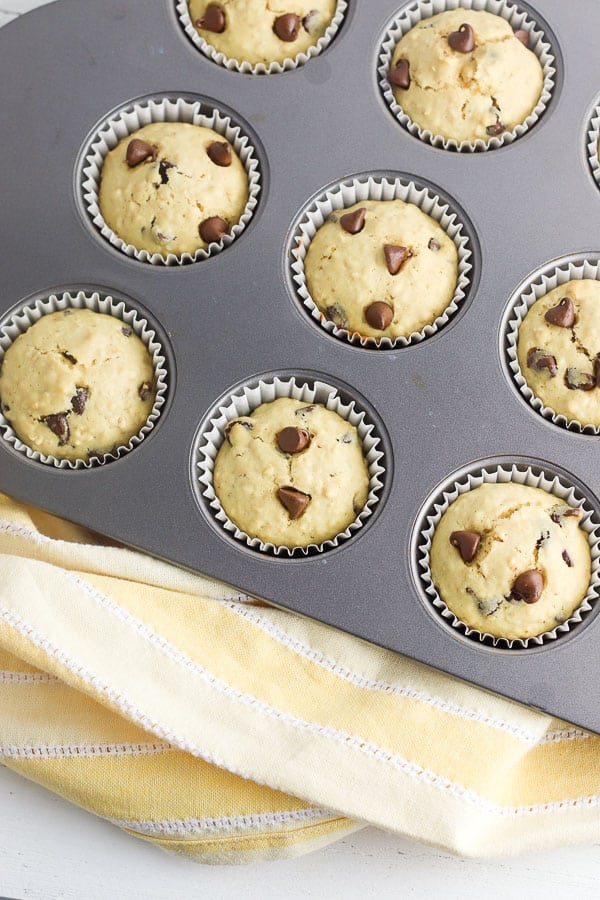 Recipe Testing Note
This recipe has been tested with regular all-purpose flour, with gluten-free measure-for-measure flour blend, at altitude (5,550 feet) and at sea level with fantastic results.
Make Mini Chocolate Chip Muffins
For mini muffins use a mini muffin pan.
Bake for 12 minutes (test for doneness around this time).
Makes aproximately 36 mini muffins.
For Extra Tall Muffins
If you love muffins bursting out of the top of the muffin liners, fill the liners 3/4 full of batter.
The yield will be fewer muffins (12-14) but you'll get bakery-style muffins.
PRO TIP: How to Keep the Muffin Liner Pretty
I always double line the muffin cavity in the pan.
Adding two liners together allows any soiling from the baking to remain unseen!
The outer liner stays as clean and pretty as before baking.
Storing homemade Chocolate Chip Muffins
Once the muffins have fully cooled, store them in an airtight container. This is particularly important for the refrigerator or freezer for best results.
Room Temperature: 2-3 days. NOTE: in hot or humid conditions store in the refrigerator to prevent the chocolate chips from softening or melting.
Refrigerator: up to 1 week.
Freezer: up to 6 months. Thaw in the refrigerator.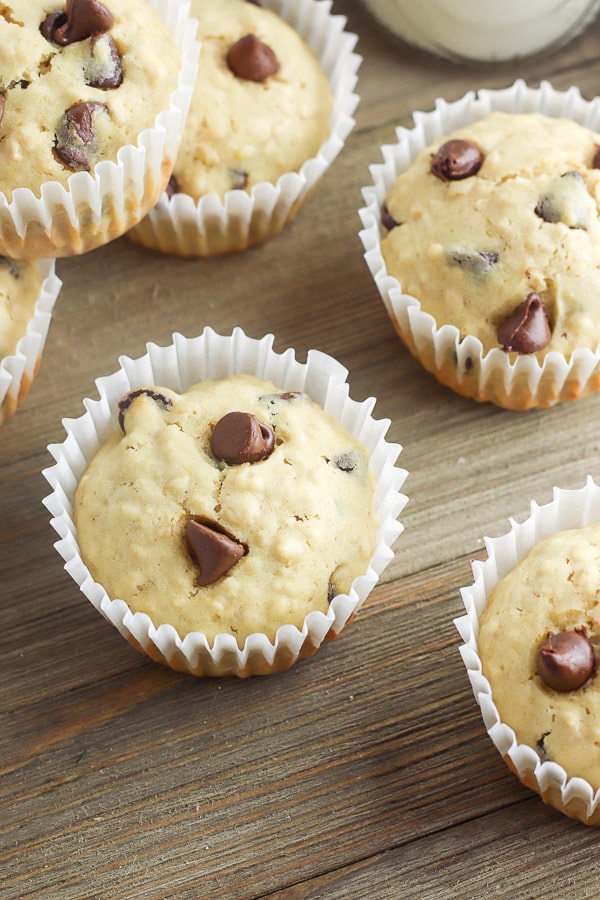 More Muffin Recipes You'll Love!
Did you make it? Please RATE THE RECIPE below!
Please SUBSCRIBE and FOLLOW ME on FACEBOOK , TWITTER , INSTAGRAM and PINTEREST !
Chocolate Chip Muffins are the perfect way to start the day!