Looking for a make-ahead breakfast (or dessert) option that's packed with protein?  This Creamy Overnight Oatmeal Pudding with Cherries is made with a mere handful of ingredients and is simple to make.  A great way to start your day right!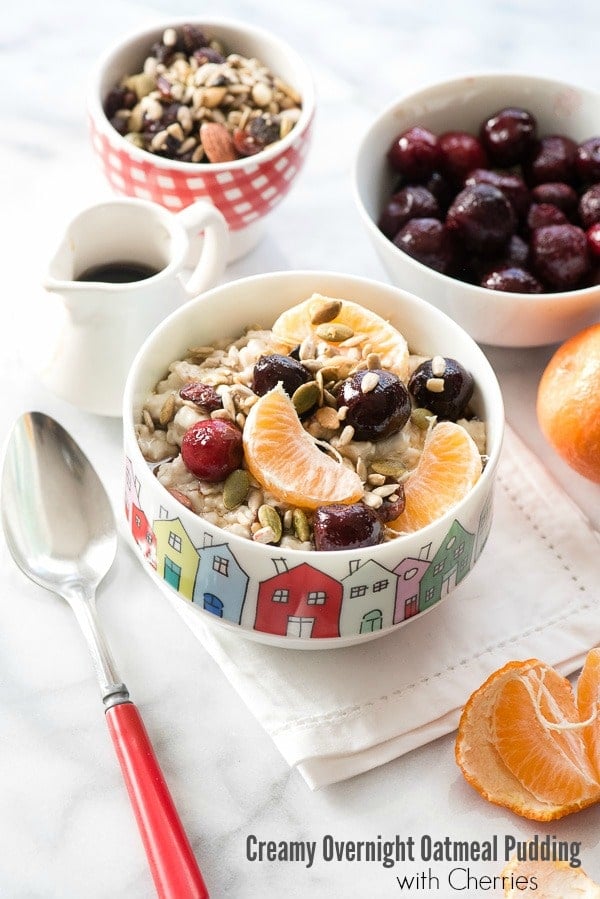 This post is sponsored by Silk.  All opinions are my own.
I am a victim of 'breakfast boredom'.  It can be a struggle to make breakfast interesting and it also needs to be fast.  My favorite smoothie recipes that I happily chug when the weather is warm are harder to drink when it's cold outside.  I usually run out of time after making my kids school lunches and have to grab something on the go (these Supersonic Peanut Butter Energy Bars are good for that).

When I was in college I used to love to make oatmeal for breakfast.  It was elevated to a poor student's art form more than a recipe really.  There was the oatmeal itself, a bit of milk or yogurt, fruit, and nuts.  I think somewhere in the compilation of it all we fancied ourselves as breakfast Bon Vivants for the chic of our earthy creation.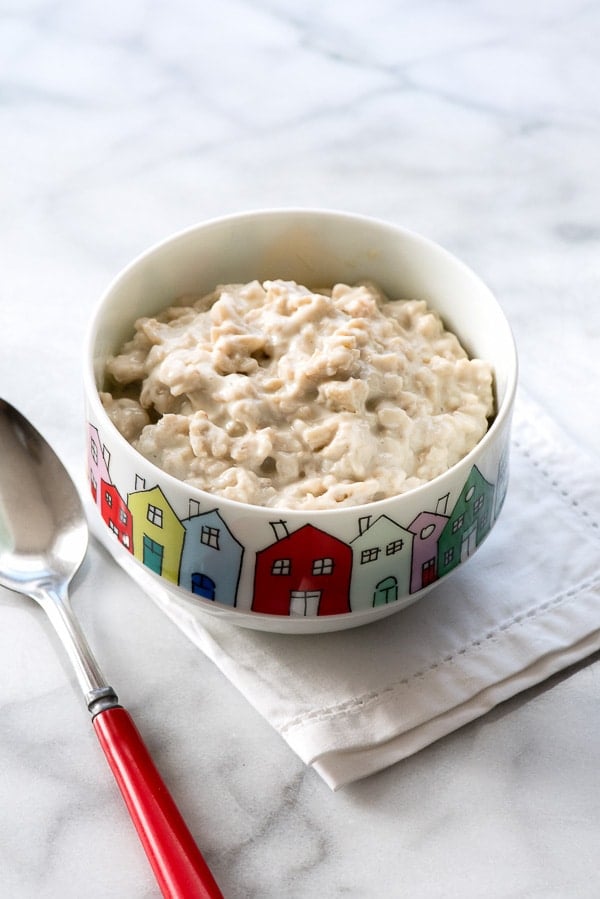 That came to a screeching halt when visiting a nutritionist to assess my diet and having him tell me to get more energy I needed to be eating tuna salad for breakfast.  That was a good news bad news type of deal in that it thrust me well passed my breakfast 'box'.  I only had a handful of foods I imagined appropriate for breakfast to that point.  The bad news is that is left oatmeal on the shelf as it did not deliver enough protein to keep me going until lunch.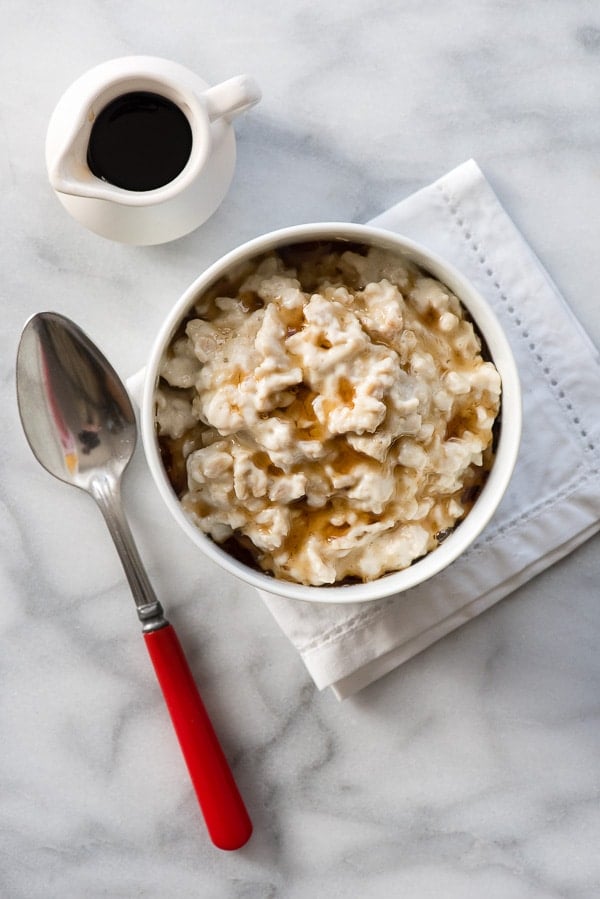 When my friends at Silk asked me to try a new Protein & Nutmilk they've developed that has 10 grams of protein in a cup, can you guess what the very first thing I thought about making was?  Oatmeal, you got it.  Silk's Protein & Nutmilk is made with almond and cashew milk along with pea protein.  Before you wrinkle your nose wondering what pea protein tastes like I'll tell you the milk tastes great.  The flavor reminds me of the milk left in the bowl after a serving of breakfast cereal; it's lightly sweet and well-flavored.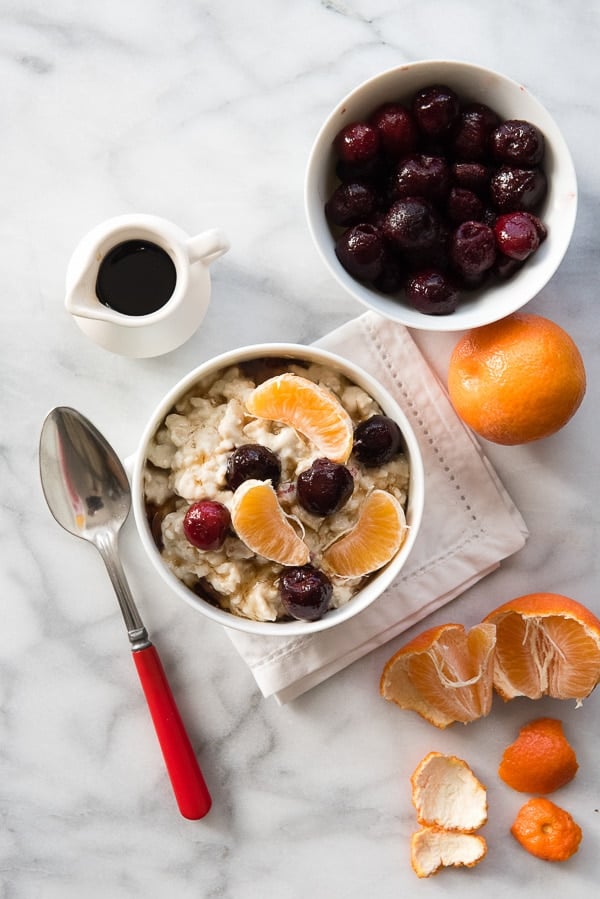 I do love anything I can prepare outside the hustle and bustle of a school morning so decided to make a Creamy Overnight Oatmeal Pudding with Cherries and trail mix (I guess I can't quit let that layering passion from college go).  The oatmeal is super creamy and chills overnight.  It can be eaten cool or gently warmed in the microwave to suit your mood.  A drizzle of maple syrup, some cherries (frozen and thawed or fresh), any other favorite fruit and some trail mix really make a perfect high protein breakfast to kick off your day!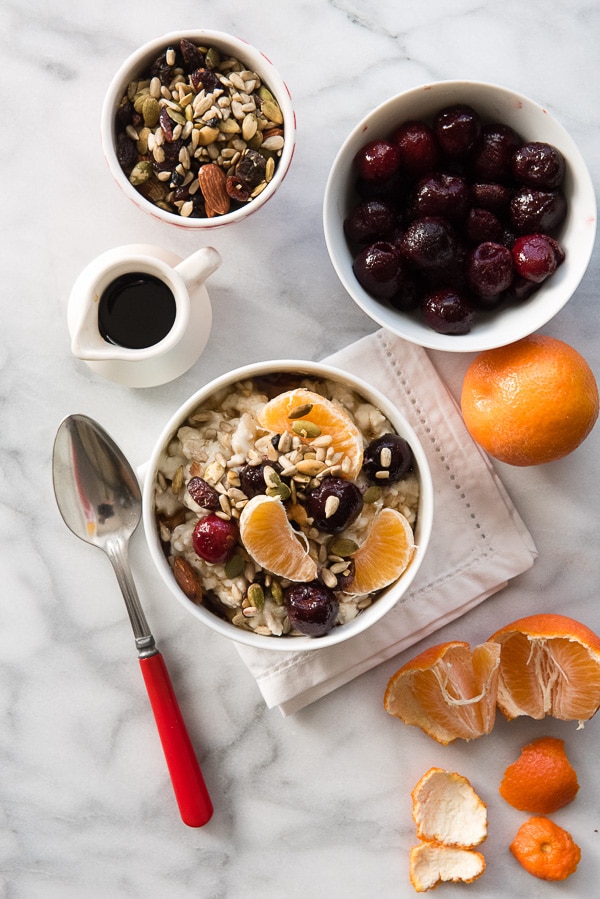 The texture and flavor also make it an option for a sweet treat or dessert too (think rice pudding)!

I want to connect with you! Leave a comment and follow me on Facebook, Twitter, Pinterest & Instagram!