No time to fix a healthy protein packed breakfast? Make it the night before: Overnight Quinoa-Chia Chocolate Breakfast Pudding!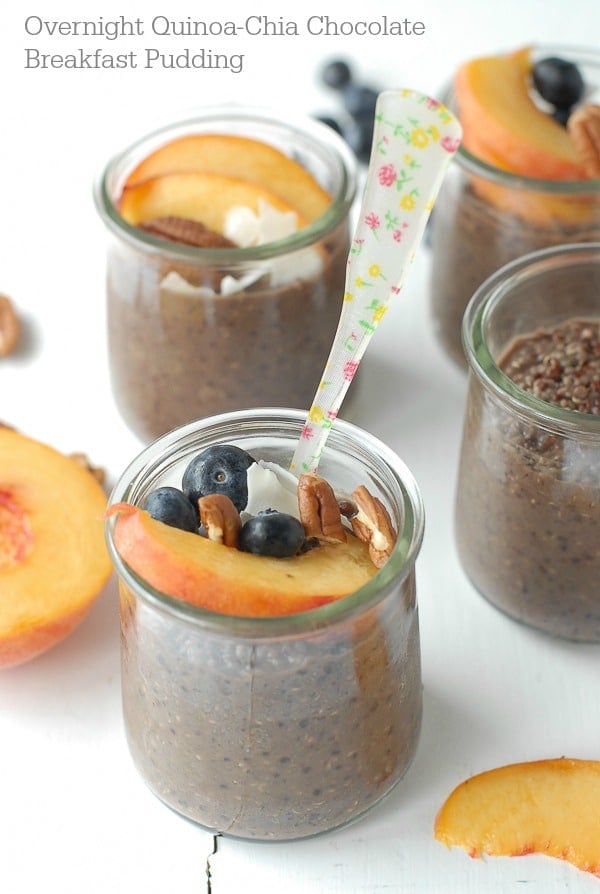 This post is shared as part of Boulder Locavore's ongoing partnership with Silk, exploring healthy lifestyles choices and exciting plant-based dietary options.
I will confess, the meal I struggle with most for inspiration is breakfast. 'The most important meal of the day'. No pressure. I've personally never been one that finds carbohydrate-based options particularly supportive to rev up my get-up-and-go energy. On school days I really want my kids to eat something nutritious, and filling but that has a decent amount of protein which will stabilize their energy until a mid-morning snack or lunch.
When I was in college at the University of California in Santa Cruz I had a part time job at the local beachside amusement park. I worked in the ticket booths and on the arcade floor amidst binging machines which became exhausting after a few hours. I prided myself on eating healthy breakfasts like oatmeal with fruit and yogurt, but found I really wasn't feeling as energetic as I wanted to be.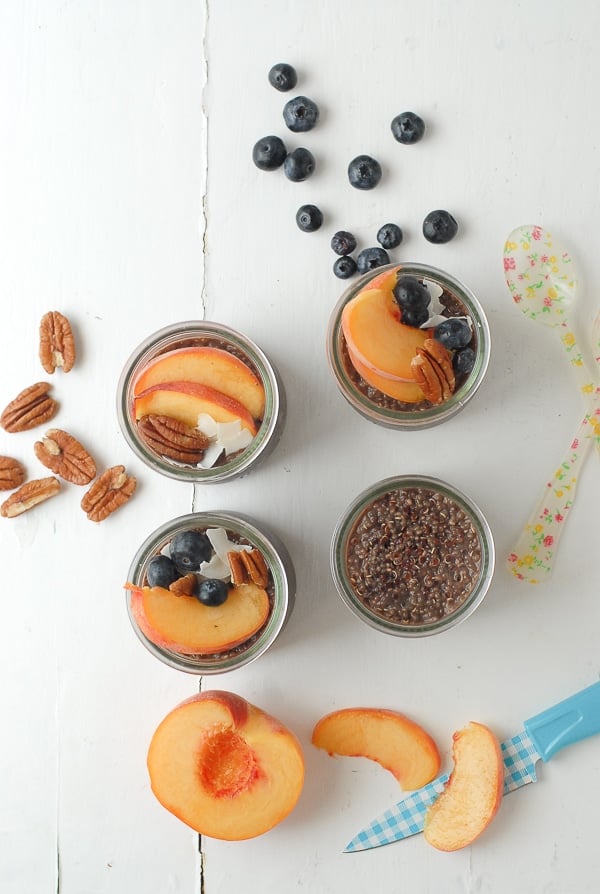 Eventually I went to see a nutritionist explaining my plight. I kept a food diary per his request and quickly he identified I was not getting enough protein for breakfast and mandated I begin to eat tuna fish instead of my prized oatmeal. As repulsive as that might seem I did it and felt a lot better. It was getting some protein in my diet that allowed my energy to rise and stay stable rather than increase, peak and decline when I wasn't able to snack on something to stay fueled.
I have a little hunch that if my kids rolled out of bed to a plate of tuna that they might run away from home. It's an intense, in-your-face way to begin the morning! Realistically I can't prepare eggs and bacon daily due to the time constraints and feeling it not to be the healthiest solution either. Instead I've turned to some plant-based options I use often, however only now harnessing them for breakfast.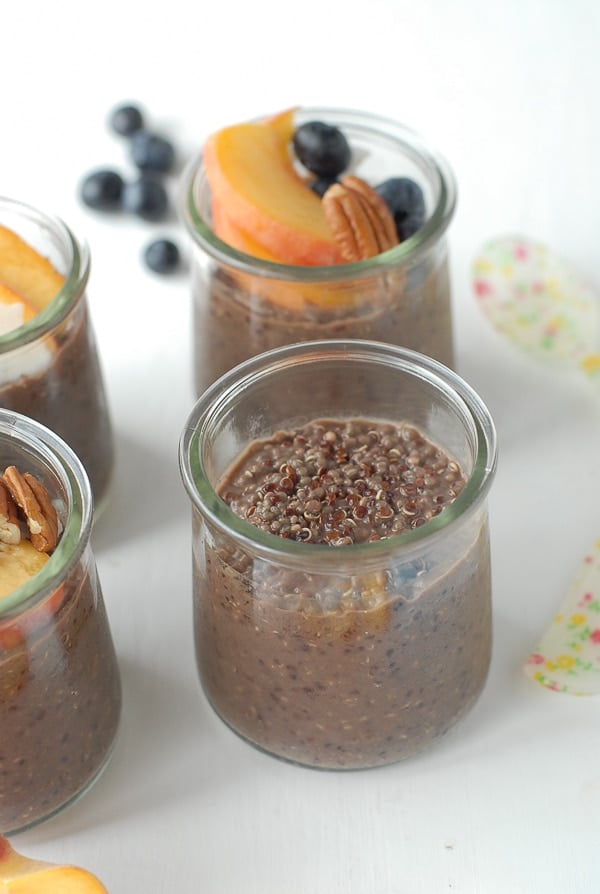 We in the Boulder Locavore household have loved chia seeds forever it seems; far before they rose to fame as a 'super food'. Protein packed teeny seeds, bearing essentially no flavor, they deliver fiber, antioxidants and great dose of protein. Quinoa, also heralded as a super food, is a 'complete protein' meaning it has all the amino acids to make up a protein which is untrue of most foods. Additionally it also is a great source of dietary fiber, high in phosphorus, magnesium and iron. It cooks in about 20 minutes, has a naturally nutty flavor and pleasant almost crunchy texture.
Chia seeds have an interesting property when they are combined with moisture; they form a moist, gelatinous coating around the seed. It is what allows them to be applied to a terracotta figure and begin to grow for a 'chia pet'. That trait has made them popular for puddings, recipes for which can be found abundantly on the internet. Imagining the texture to be similar to tapioca I felt the opportunity of adding my favorite chia and quinoa in a tasty milk as a breakfast pudding might be a great addition to our school day breakfast options (or candidly any time). AND it is made the night before!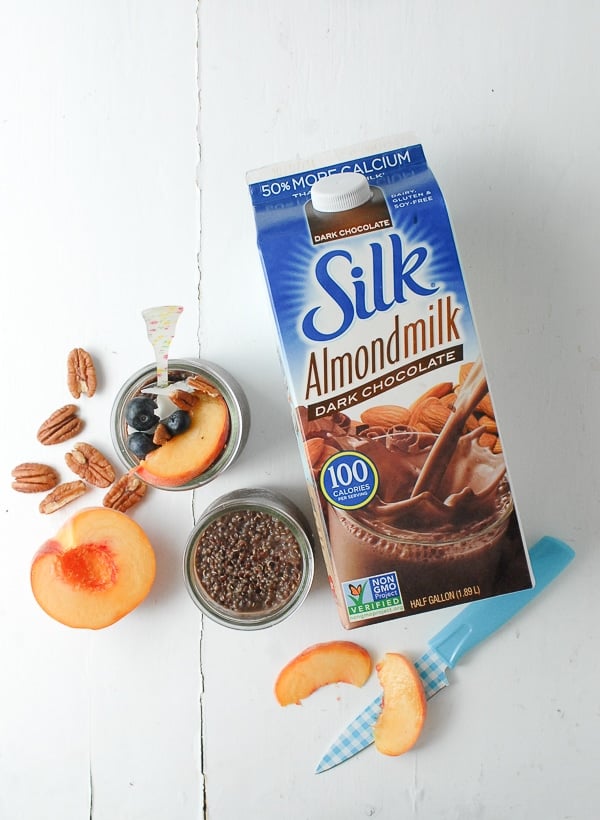 To make the recipe even more compelling I used Silk's Dark Chocolate Almond Milk. A product I love with 50% more calcium than dairy chocolate milk, great source of Vitamin E, no saturated fat or cholesterol, no artificial colors or flavors. And it tastes great. You decide: chocolate breakfast pudding (that is nutritious) or tuna fish?
The pudding could be made with a number of plant-derived milks to change up the flavors. In fact I went the grocery store with regular almond milk in mind and was delighted in looking through all of Silk's options to see the Dark Chocolate. The almond milk is sweet enough to leave the pudding lightly sweet, perfect for breakfast. It can be made sweeter still by topping it with in season fruit or a drizzle of honey.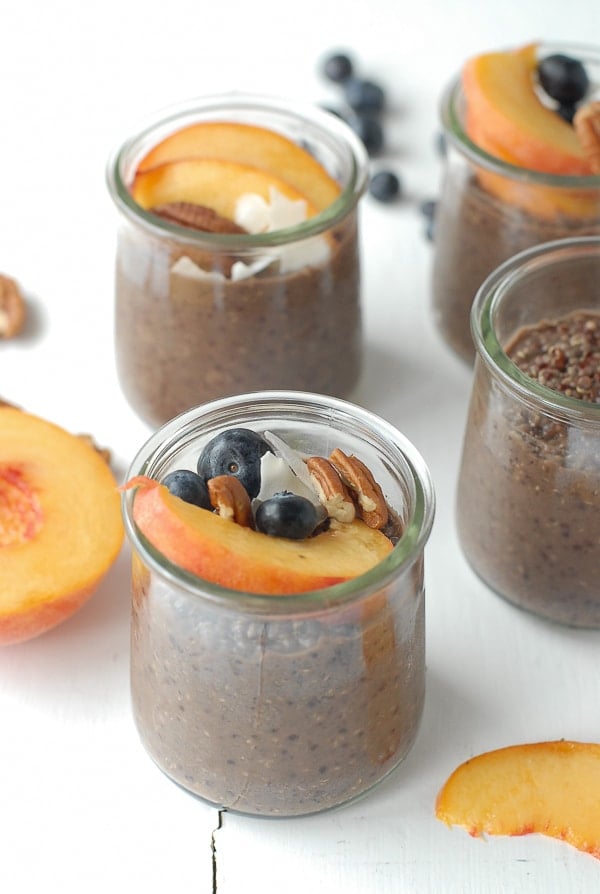 If you have not tried Silk you should! By registering HERE with Silk you will receive a coupon for a discount on a half-gallon of Silk as well as have the opportunity to be eligible monthly for prizes (this month is a tablet!). No obligation and it only takes a minute to register.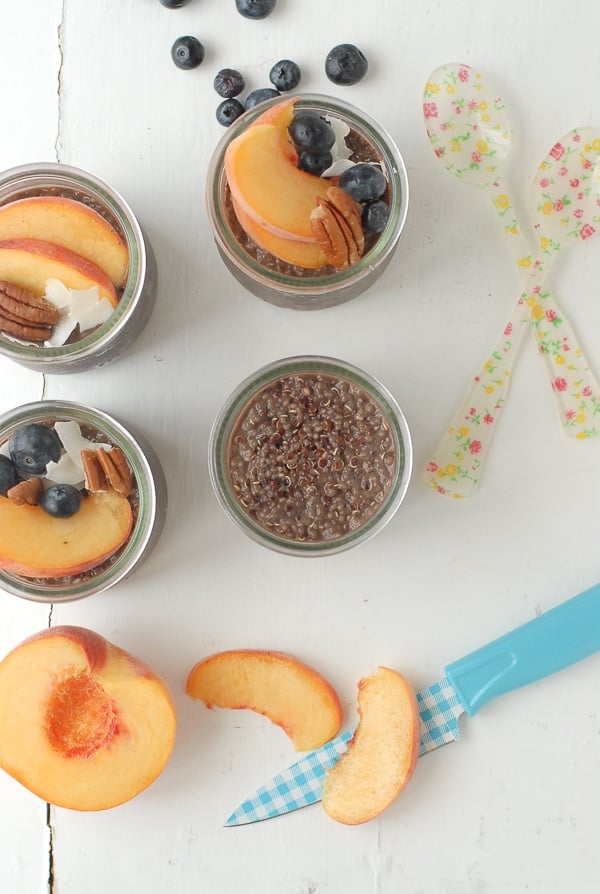 If you want a hot breakast option this Baked Blueberry Oatmeal sounds delicious!
Recipe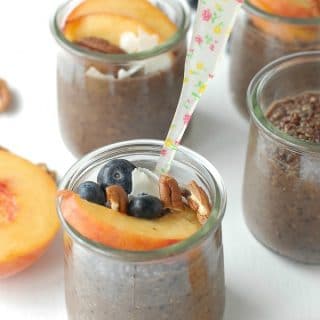 Overnight Quinoa-Chia Chocolate Breakfast Pudding
This breakfast recipe could not be more simple; mixing four ingredients and stashing it in the fridge to chill overnight. The flavor is lightly chocolaty without being overly sweet, with a nutty/crunchy texture, filling with a fragrant flavor of Chinese Five Spice. The pudding is packed with protein, fiber, and energy-boosting nutrition to start the day! Dairy-free and gluten-free. To add a seasonal touch or sweeten it further, consider sliced fruit, nuts, coconut and/or a drizzle of honey.
Print
Save Recipe
Recipe Saved!
Pin
Rate
Servings:
4
- 1/2 cup servings
Ingredients
1 ½

cup

cooked quinoa

¼

c

plus 2 tablespoons Chia Seeds

1 ½

cup

Silk Chocolate Almond Milk

¾

teaspoons

Chinese Five Spice
Instructions
In a medium bowl, stir together the quinoa and chia seeds.

Whisk the Chinese Five Spice into the almond milk and pour into the quinoa-chia mixture; stir to fully combine.

Pour/spoon evenly into four jars or containers. Seal and place in the refrigerator overnight.
Nutrition
Calories:
150
kcal
|
Carbohydrates:
20
g
|
Protein:
5
g
|
Fat:
5
g
|
Saturated Fat:
0
g
|
Cholesterol:
0
mg
|
Sodium:
128
mg
|
Potassium:
173
mg
|
Fiber:
5
g
|
Sugar:
0
g
|
Calcium:
196
mg
|
Iron:
2.1
mg
This conversation is sponsored by Silk. The opinions and text are all mine.