Peach Pie Overnight Oats are a combination of a few ingredients that make breakfast something special. Stirred together the night before and chilled, when breakfast rolls around it's ready and waiting! These are great for breakfast, a snack on the go or a light dessert too. Gluten-free or gluten depending on the rolled oats used.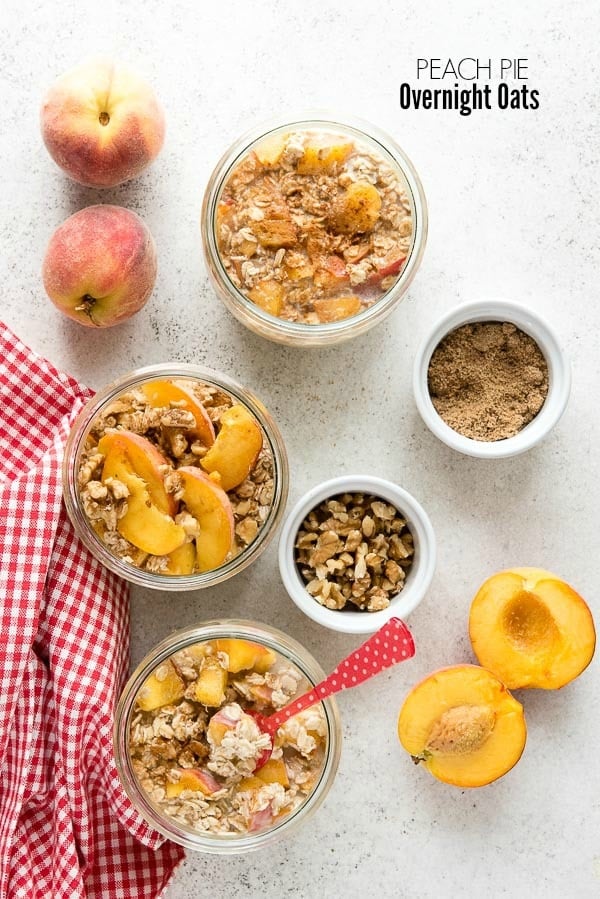 I'd love to say we've been very lazy lately but I'd be fibbing. This summer has been packed with deadlines and deliverables, leaving me to schedule fun activities as I would required doctor's appointments. It's not usually how I roll, preferring to pick up and go where the mood strikes in a given moment. This has rolled over into the kitchen however in the opposite way; I'm not cooking. Or thinking about food or PREparing food. However, the one exception is with Peach Pie Overnight Oats!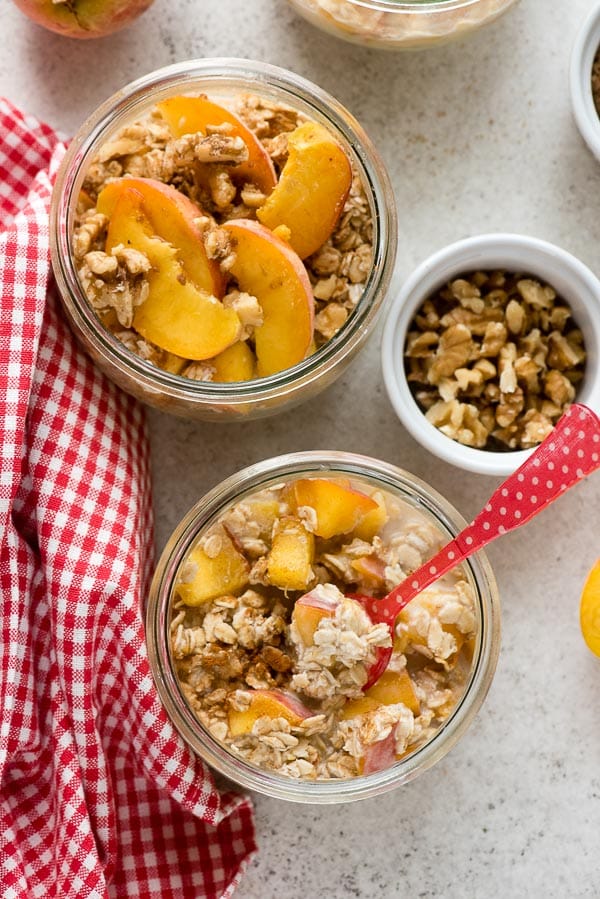 What are Overnight Oats?
If you haven't made overnight oats yet you don't know what you are missing. What are overnight oats? Rolled oats are soaked overnight with some liquid ingredient(s), usually something to sweeten them and other ingredients like fruits or nuts. When you wake up in the morning they have softened and are a completely delicious breakfast choice. We eat overnight oats cold but they can be warmed in the microwave. I make them in individual serving jars so we can easily grab them and go too.
Why Make Overnight Oats?
The ease of preparation with no cooking make overnight oats a great breakfast solution. The soaking of the oats softens them similiarly to cooking them, making them ready to eat in the morning with no time required which is great on a busy day. They can be topped with everything regular oatmeal is: fruit, nuts, seeds, sugar, milk/nut milk, etc. Toppings can add extra protein making it a filling and satisfying way to start the day.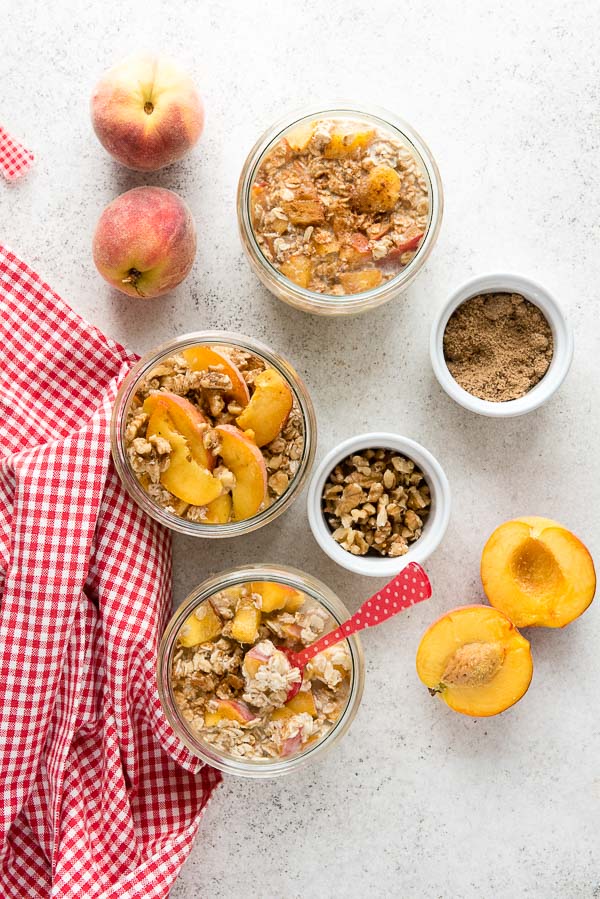 A few weeks ago, I created a recipe I shared on Instagram for Raspberry Mocha Overnight Oats. They are simple to make with 5 ingredients. They are vegan and gluten-free but frankly you'd never know it. The oats are a perfect combination of rich flavors but a light breakfast option that take about 5 minutes to put together (the night before, my favorite part); well, really more like three. It just requires pouring ingredients into a glass jar, stirring, sealing and sticking them in the fridge while you sleep.
These oats were inhaled by my family. For breakfast, snacks and a light dessert.
As I was admiring the aroma and rosy tones in our fresh summer peaches, it struck me the Peach Pie Overnight Oats would be a fantastic reprisal of the first oats recipe. They meet my current criteria for 'cooking' too; they have less than a handful of ingredients (4 to be exact), require no cooking and less than 5 minutes to whip together.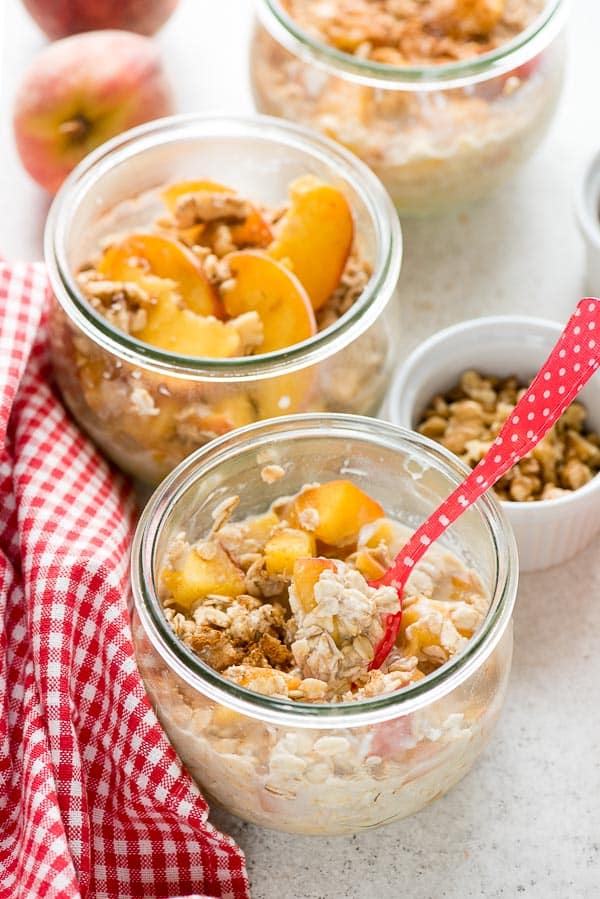 What I love about these oats is the sweetness from vanilla almond milk (which also adds some protein) and the sun-ripened peaches themselves are the only sweeteners added. Stirred into the oats (gluten-free rolled oats or regular rolled oats depending on your dietary needs). I did add a sprinkle of brown sugar and chopped walnuts on top when serving which really do make them taste like peach pie.
How to Make Peach Pie Overnight Oats
Recipe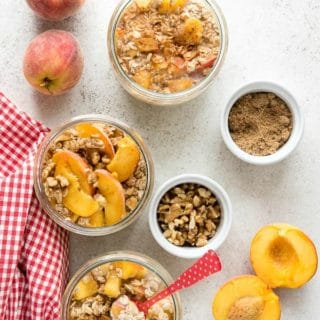 Peach Pie Overnight Oats
This summery recipe takes all of three minutes to put together and chilling overnight does the rest. Rolled oats (gluten-free or regular), vanilla almond milk, fresh peaches and a sprinkle of cinnamon bring dessert to the breakfast table in this easy recipe.
Nutrition label note: the nutrition information will vary depending on the brand of almond milk used. Toppings not included in the nutrition data calculation.
Print
Save Recipe
Recipe Saved!
Pin
Rate
Ingredients
1/2

cup

Rolled Oats (gluten-free or regular)

(do not use instant oats)

3/4

cup

Vanilla Almond Milk

1

medium

Peach

rinsed, pitted and chopped

Sprinkle

Ground Cinnamon

Optional topping suggestions: chopped peaches, brown sugar, chopped walnuts, chia seeds, hemp hulls
Instructions
In a 1 cup or larger glass jar, combine the rolled oats, almond milk and chopped peaches; stir to incorporate.

Sprinkle with cinnamon, seal and place in the refrigerator for at least 5 hours.

Top with more peaches, chopped nuts, a sprinkle of brown sugar if desired.
Nutrition
Calories:
238
kcal
|
Carbohydrates:
42
g
|
Protein:
7
g
|
Fat:
5
g
|
Sodium:
246
mg
|
Potassium:
431
mg
|
Fiber:
6
g
|
Sugar:
13
g
|
Vitamin A:
490
IU
|
Vitamin C:
9.9
mg
|
Calcium:
246
mg
|
Iron:
2.1
mg