Needing some fun breakfast or snack inspiration? This Tropical Bliss Smoothie Bowl is packed with fruity tropical flavors and topped with coconut, power-packed seeds and more fruit (and is dairy-free). And if you aren't quite sure what a smoothie bowl even is, I've got that covered too!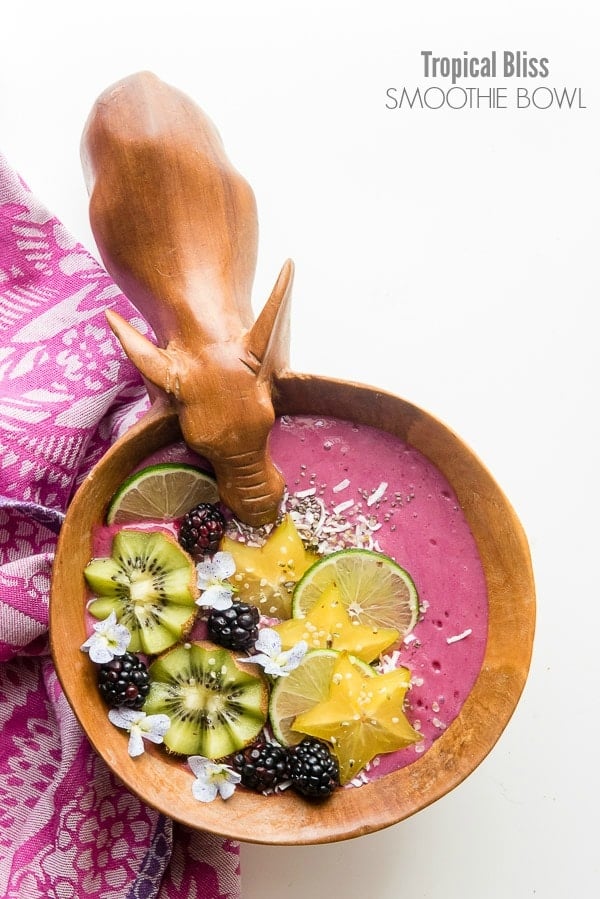 I'm wondering, am I the only one who struggles with breakfast inspiration? I don't know what it is about breakfast but I feel like there are about 3 things I eat on repeat. One challenge is how to make something delicious, nutritious and FAST on a weekday morning, right? Well I have an answer that is flexible and super fun to make too: Tropical Bliss Smoothie Bowl.
Ok I want to hit something straight out; who has no idea what a smoothie bowl is (you don't have to raise your hand publicly)? I've seen them all over Pinterest, in popular magazines, on Instagram, but still secretly didn't understand them. Are they a smoothie in a bowl (and if so why would I want THAT)? Are they a cold soup? WHAT ARE THEY???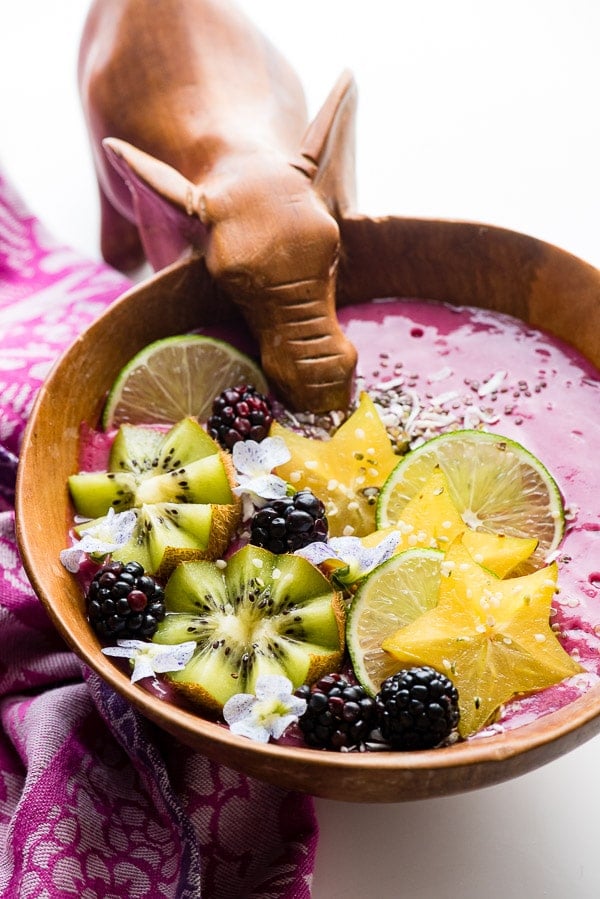 I'll give you the scoop. Smoothie bowls are a thicker version of a smoothie that replaces cold cereal and milk. And the toppings? They aren't decorative fluff, they are a key part of the whole dish. They remind me of when I was in college and had a food-obsessed roommate who'd layer her oatmeal like an art form. We'd go to an on-campus restaurant and she'd order plain oatmeal with yogurt, bananas, nuts and granola on top. Say what?! It was life changing for me.
My Tropical Bliss Smoothie Bowl is packed with tropical flavors and it's dairy-free! Banana, pineapple, ginger, lime juice and Silk Peach Mango yogurt (and blackberries for the luscious color). For my toppings I used chia seeds, hemp seeds, dried coconut flakes, sliced star fruit, fresh blackberries, kiwi fruit and lime slices (which are more for decoration but may be squeezed over the smoothie bowl for extra tang).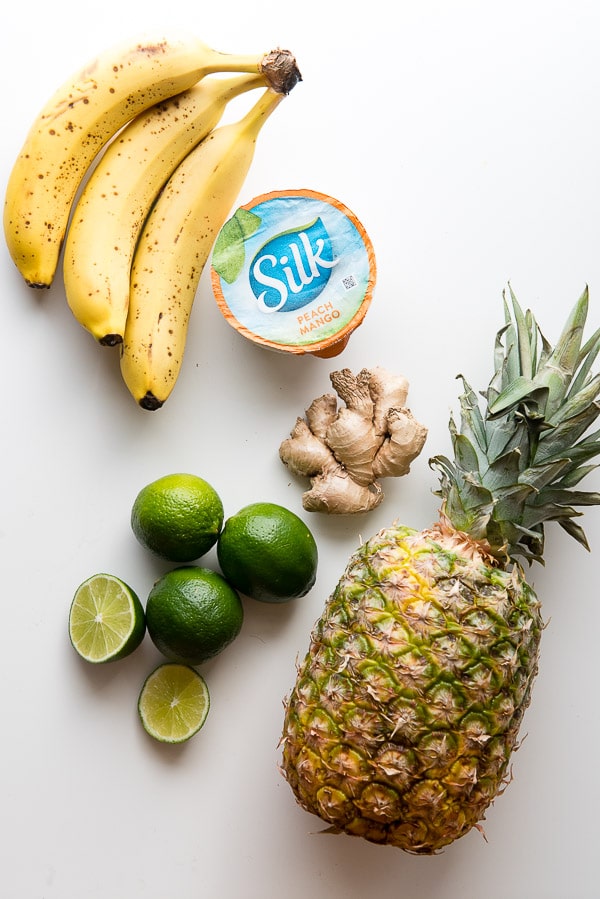 I have a secret to share too: I don't like thickening smoothies or smoothie bowls with ice. Instead I use ripened bananas which I peel and freeze. When added to the blender they make the smoothie bowl thick and creamy with no ice so there is no dilution of the flavors and the texture is divine. Their natural sweetness combined with the Silk Peach Mango yogurt provides no additional sweetener need be added.
I use bananas when they've just begun to develop brown spots but are still firm (refer to photo above).
Best Method to Freeze Whole Bananas:
I freeze bananas whole individually wrapped in plastic wrap then combined in a gallon zipper plastic bag (if freezing multiple bananas). This prevents them freezing to each other.
Best Method to Freeze Banana Slices:
If you want to freeze them in slices, line a baking sheet with parchment paper and place ¾-inch slices in a single layer. Place the baking sheet in the freezer until the slices are fully frozen. When combine them in a plastic zipper bag or freezer container. This allows easy use of any amount you need (and they won't stick together).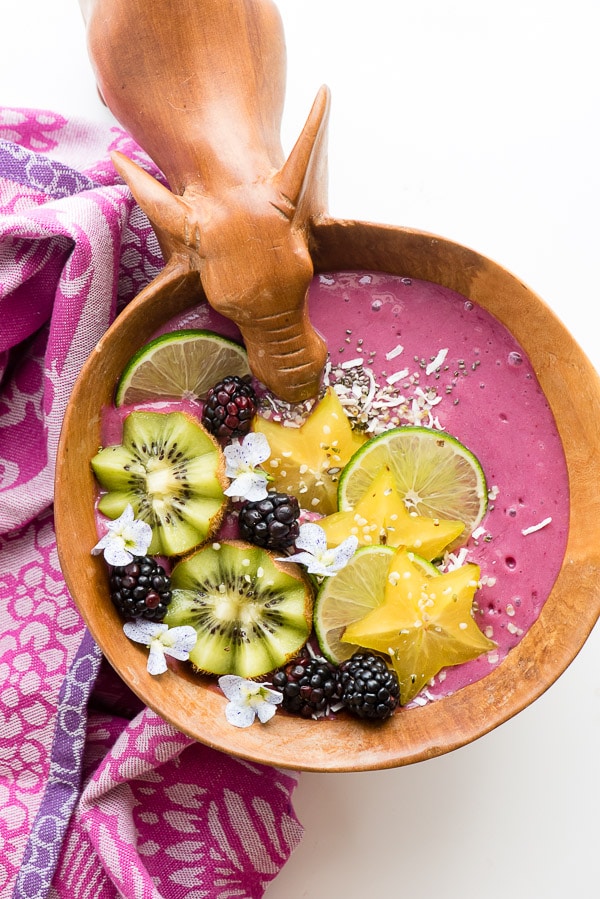 The fun thing about smoothie bowls (that plays well to my fickle Gemini sensibilities) is that you can change them up every time.
This Tropical Bliss Smoothie Bowl is great for a snack and light meals during the hotter months when you don't really want to eat anything heavy! It offers good plant-based protein, fiber and great nutrients.
HOW TO MAKE A TROPICAL SMOOTHIE BOWL: