Summer screams for good grilling and I have some fantastic Easy Grilling Recipes to get your summer going! Included are tips and tricks for grilling the perfect steaks (beef and mushroom), burgers, how to make a bacon weave, easy shish kabobs and even fun dessert recipes for the grill.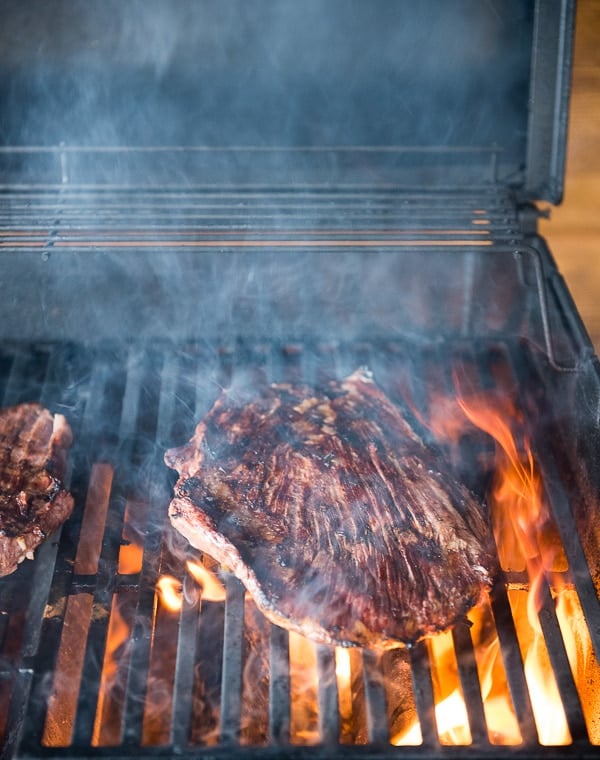 The title of this blog post is a bit of wishful thinking at the moment. As we approach Memorial Day and Father's Day, of COURSE we'll be grilling. However, we in Colorado have just enjoyed an unexpected snow storm dropping up to 20 inches in the mountains and 8 inches of snow in Boulder. The idea that lazy summer heat could wash over me anytime soon seems unbelievable!
I used to be afraid of grilling. It's a completely different way to cook and for many of us seems like a man's domain, mainly because our fathers were the family grillers. It's a quick way to put fantastic flavor into meats, vegetables AND fruit and I have some fun, easy grilling recipes to help you get your summer grill on! A full collection of recipes may be found in the Grilling section of Boulder Locavore.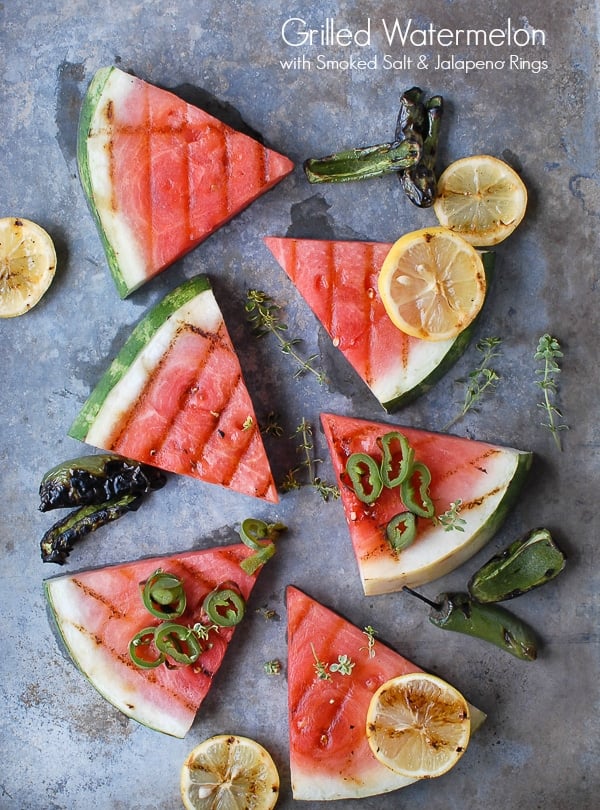 Grilled Watermelon with Smoked Salt and Jalapeno Rings is not the way most would be serving up the watermelon at a summer cook out! What I love about this recipe is that grilling the watermelon completely changes the flavor making it taste savory like a vegetable.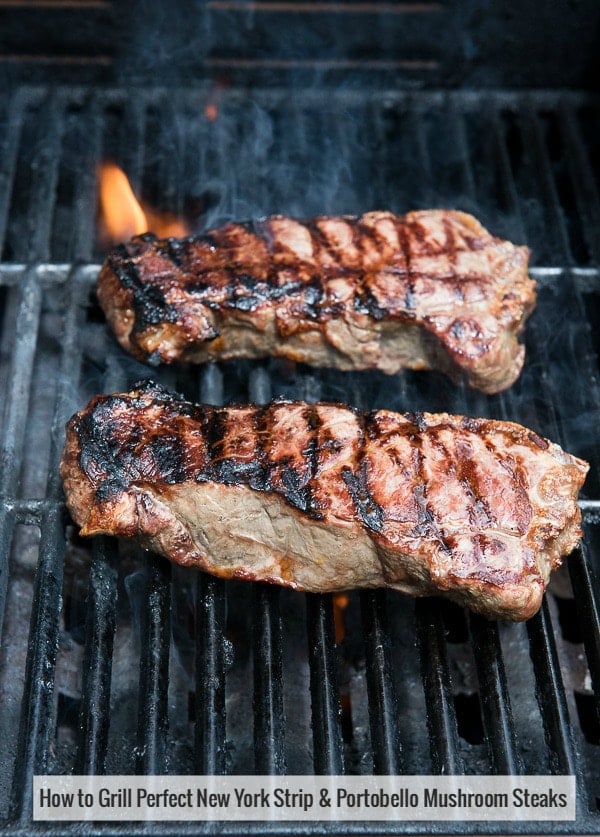 If you have a steak-grilling phobia, How to Grill Perfect New York Strip and Portabella Mushroom Steaks is something you'll want to read. With a step-by-step tutorial for each the beef steaks and the mushroom steaks (which incidentally have a wonderful meaty texture and flavor while being vegetarian), you'll be able to make them perfect every time with some easy tricks.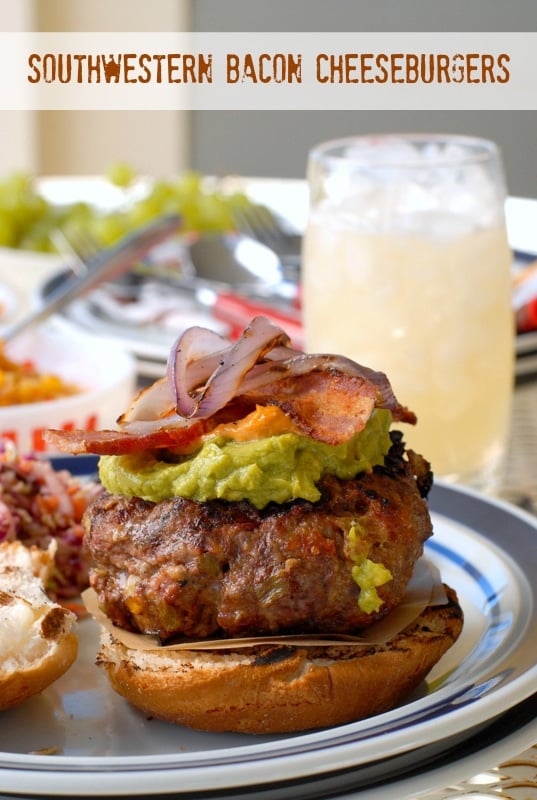 Southwestern Bacon Cheeseburgers always get my mouth watering especially after I mastered Tips for Grilling the Best Burgers. I feel like burgers so often get overcooked and it's doing things we always thought were the way to grill, like pushing down on the burger, that leave them dry and tasteless. If you follow these tips you'll get the best burgers every time!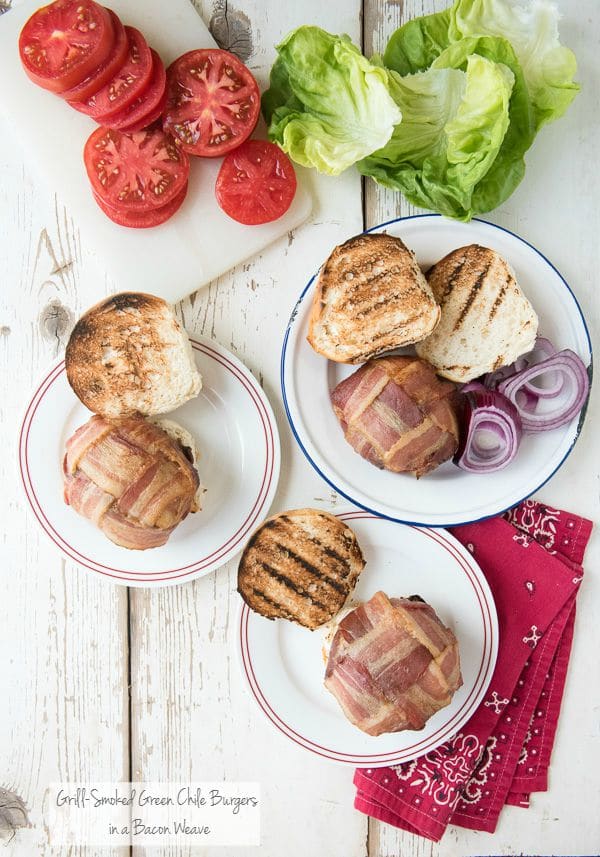 When you are ready to step up your burger game, you'll want to make these Grill-Smoked Green Chile Burgers in a Bacon Weave. They look super cool and will give you a chance to do a simple smoking on the grill too (there is a very easy way to do this without any special equipment). There is a step-by-step photo tutorial on how to make a bacon weave too. Much simpler than you'd guess (but your guests will never imagine that).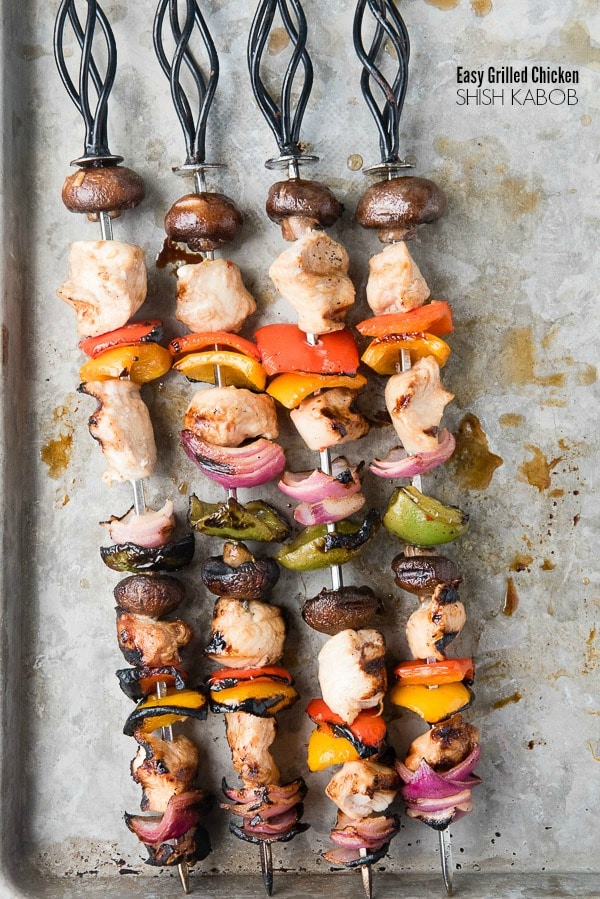 A very popular recipe right now is Easy Chicken Shish Kabobs. All the ingredients marinate together and are threaded onto shish kabob skewers to quick grill for a colorful main dish with those earthy, smoky grilled flavors we love. Pair it with coconut rice (or Instant Pot Lime Jasmine Rice) for a full meal.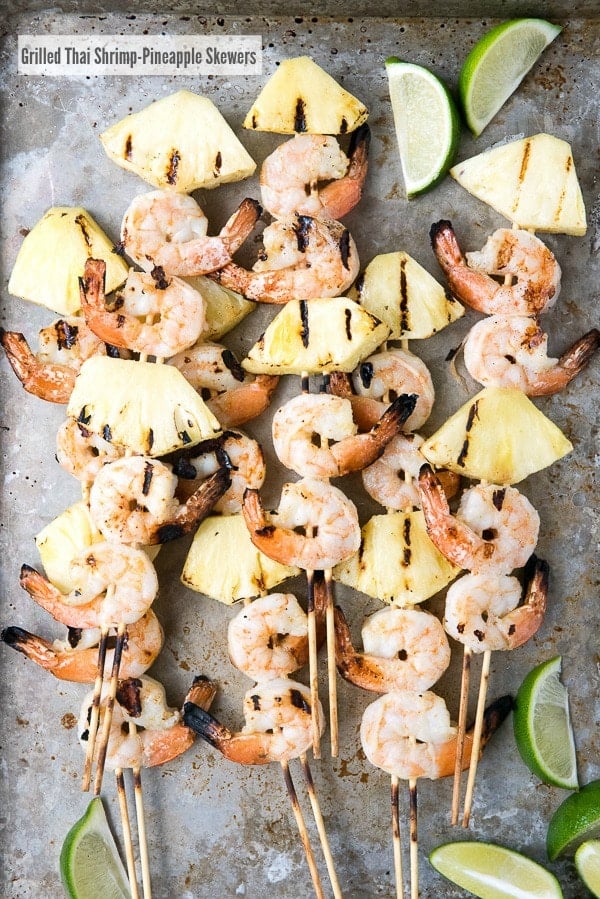 I learned a few fantastic tricks when attending Barbecue University a few years ago with grilling luminary Steven Raichlen. You'll find them used in this recipe for Grilled Thai Shrimp and Pineapple Skewers and trust me, though simple they are life changers!
Have you tried your hand at cedar plank grilling? Charred Cedar Plank Salmon with Lemon and Dill is a great place to start. This is hand's down my favorite way to grill salmon. I use a charring method that eliminates the need to soak the plank first. Also, did you know the planks are reusable? I learned that after hanging out with a man smoking salmon for a Lobster Dinner in …..The planks can be used until they become overly charred.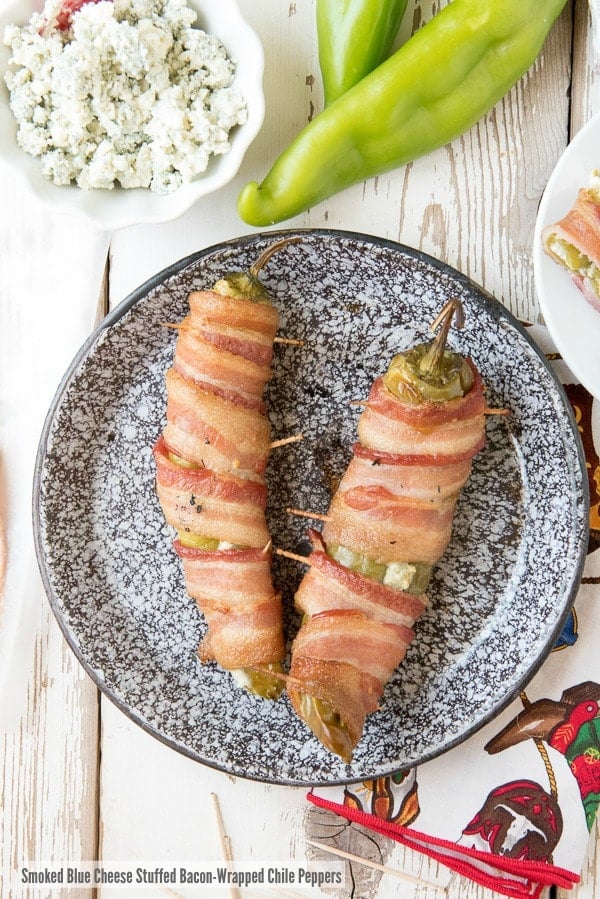 Did you know you can easily grill and entire meal? My all-time favorite appetizer is these Smoked Blue Cheese Stuffed Bacon-Wrapped Chile Peppers. Every time I've taken them to a party they disappear with lots of oooo'ing and ah'ing. They use the same simple smoking method and you'll love once you try it.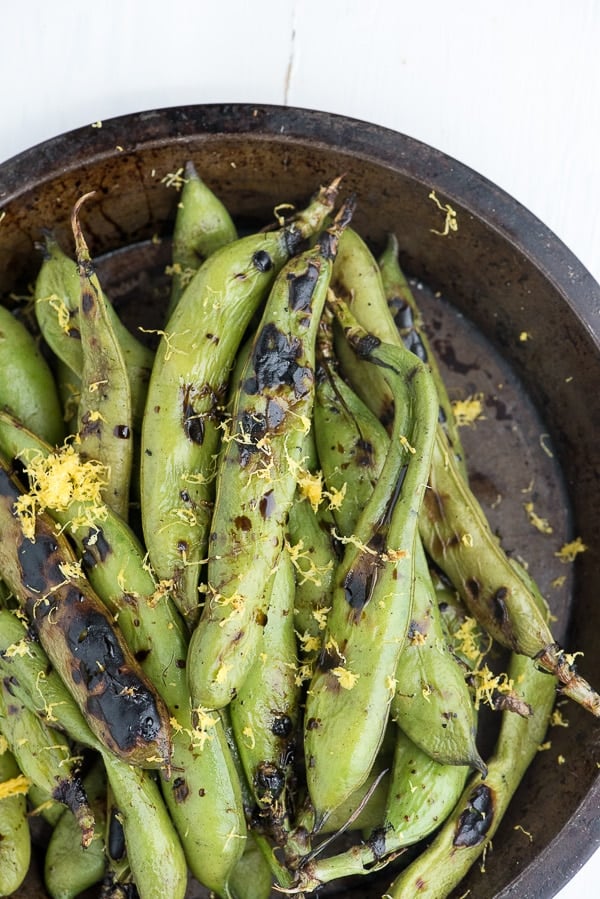 Grilling unexpected vegetables have been some of my best grill triumphs. I love Grilled Fairytale Eggplant. It's a tiny thin-skinned eggplant that does not need to be salted. Look for them at your local Farmer's Market this summer. Also, Grilled Fava Beans with Balsamic Vinegar or if you can rustle up some Wild Asparagus, you'll love them grilled.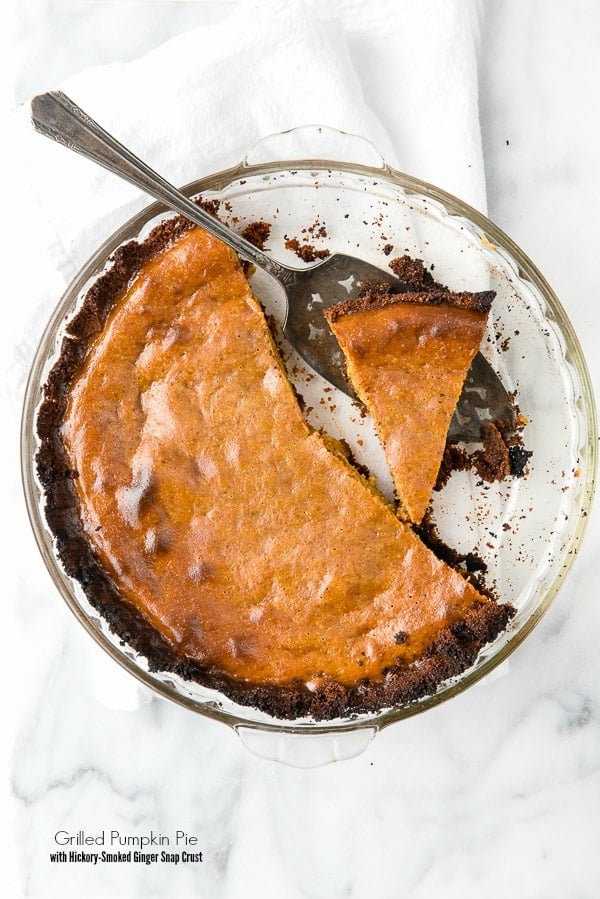 Even dessert can be made on the grill. Grilled Pumpkin Pie with Hickory-Smoked Ginger Snap Crust will remind you pumpkin is not just for Thanksgiving! Years ago, I made a Strawberry Tart on the Grill which is a fun end to a meal (although Peanut Butter Cup S'mores ain't so bad either!). The recipe uses a pre-made pie crust (gluten-free or with gluten) so there is no slaving in the kitchen.
I hope you'll agree these easy grilling recipes are a great way to get motivated for many fun outside dining opportunities to make the summer special.