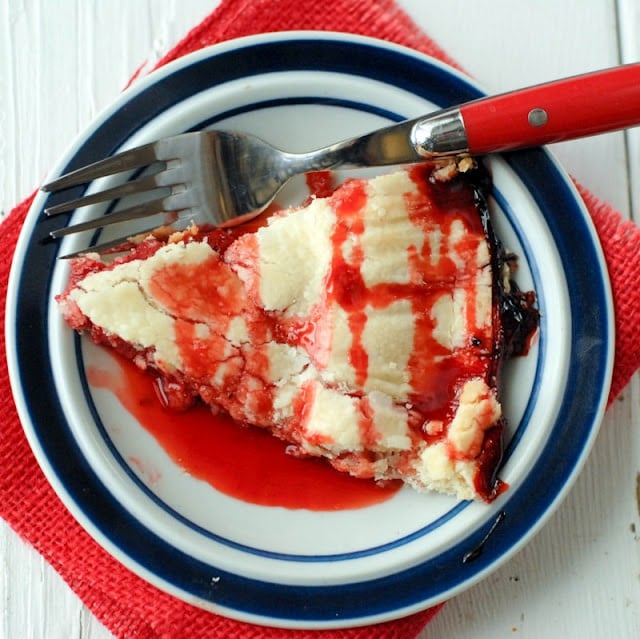 When receiving this month's Vintage Redo/Swap Recipe for Jelly Cake, I was a bit stumped about how I wanted to reinterpret this recipe.

 

It's been hot in Colorado and my interest in cooking has fled for the season.

 

I'm happy to grill, compile, to blend and occasionally sauté, though any other culinary descriptors are out of my repertoire for the moment.

 

This realization gave way to a madcap idea to try:

 

Strawberry Tart on the Grill.

 

I will say it worked, was delicious, with faint tones of pop tarts from my youth.

I've mentioned that we have a beautiful organic farm in Brighton Colorado (about 45 minutes from Boulder) that has several 'pick your own' items during the growing season.

 

I trekked out there about 10 days ago for the end of the early strawberry season, emerging with 18 pints of perfectly ripe berries.

 

There is nothing that tastes like a ripe handpicked strawberry and tasting them reminds me that despite the appearance in stores, store bought berries are just not the same.

 

I knew I wanted to feature that in my swap recipe.
The recipe development journey was humorous and I'll share the recipe with some 'notes from the test kitchen' experience.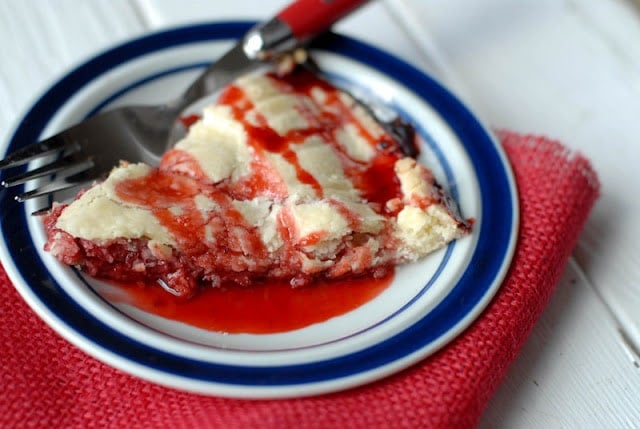 STRAWBERRY TART ON THE GRILL
·

        
2 pie crusts, homemade or store bought (I used gluten free pie crusts from Whole Foods)
·

        
4 cups strawberries, hulled and cut in half (or quarters if extra large)
·

        
2 teaspoons arrowroot starch (or cornstarch; it is for thickening)
1.
 

Heat the gas grill to medium and allow to heat to around 300-350 degrees.

 

This will cook with the indirect method, using only the outer burners.
2.
Prepare heavy duty aluminum foil by making a double thick square (can fold or use two sheets) with about 5 extra inches on each side past the edge of the pie crust (there may be filling seepage and this allow you to bend up the edges so it won't run into your grill).

 

Lightly butter the foil where the pie crust will be.
3.
In a small bowl combine the arrowroot starch and sugar.

 

In a second bowl, place the strawberries.

 

Pour the sugar/starch mixture over the berries and toss to combine and coat the berries.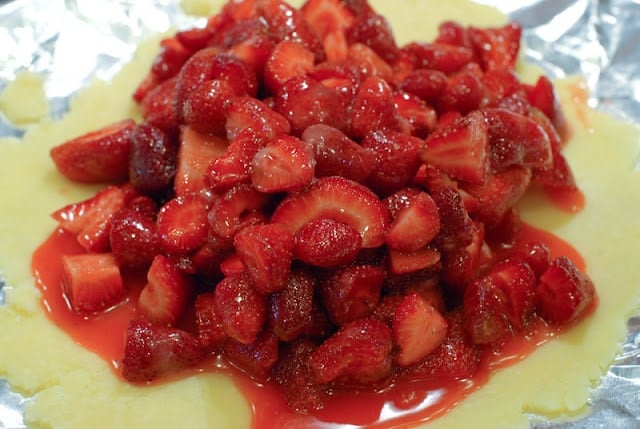 4.
Roll out pie crusts to each be approximately 12 inches in diameter and about ¼ inch thick.

 

Place the first crust on the buttered foil.

 

Place the berries in the middle of the pie crust allowing about 1 inch of space on the edges to seal the two crusts.

 

Add the second crust on top, pinch together the edges.

 

Gently prick a fork around the top crust to allow steam to escape.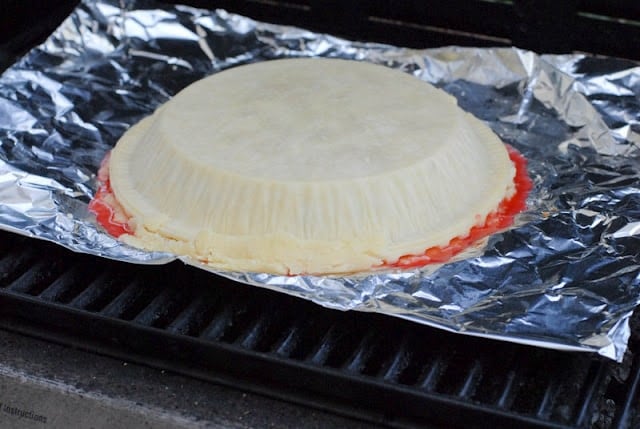 This was a 'test kitchen' photo of my impromptu addition of the frozen pie shell to the top.
Though it all worked applying a non-frozen pie shell works much better!
5.
Place in the center of the heated grill and close the lid.

 

Watch the temperature to stay close to 300-350 degrees.

 

Check the tart periodically.

 

It should cook in about 35 to 45 minutes and begin to slightly brown on the top.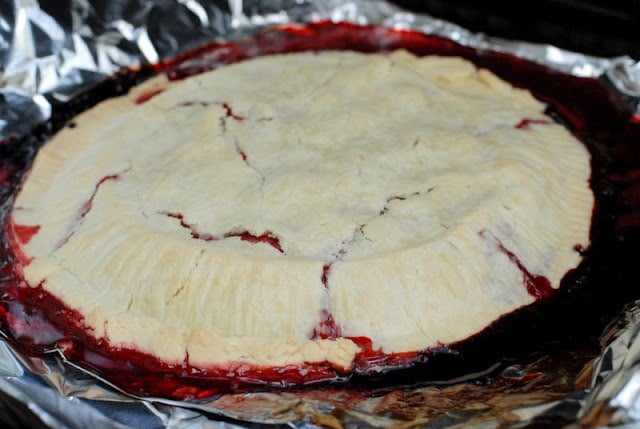 Pricking the top crust will allow the steam to escape and avoid cracking as happened in my 'test tart'!
6.
Remove from grill (I turned off the grill and slid a pizza pan underneath mine to support it).

 

Allow to cool, cut and serve!

 

I felt the flavor was best with around room temperature.

 

Would be great with vanilla ice cream.
This turned out delicious and has been enjoyed both as dessert and breakfast!
Always pairing with a cocktail I made some Strawberry Infused Vodka and whipped up this Strawberry Ginger Vodka Cooler.

 

It's refreshing, seasonal and great with the grilled tart.

 

I'll be sharing the vodka infusion preparation in my next blog post with additional cocktail recipes, so please pop back by, but will share the cocktail recipe now!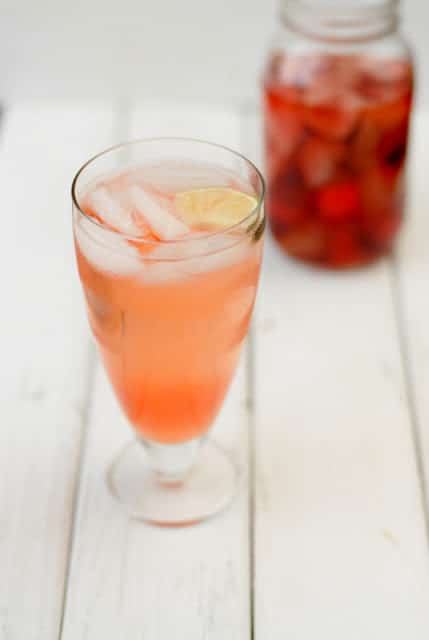 STRAWBERRY VODKA GINGER COOLER
·

        
1 ½ ounces strawberry-infused vodka
·

        
1 ½ ounces ginger ale
Fill a tall 16 ounce glass with ice.

 

Add strawberry-infused vodka and ginger ale to the glass.

 

Fill with seltzer water.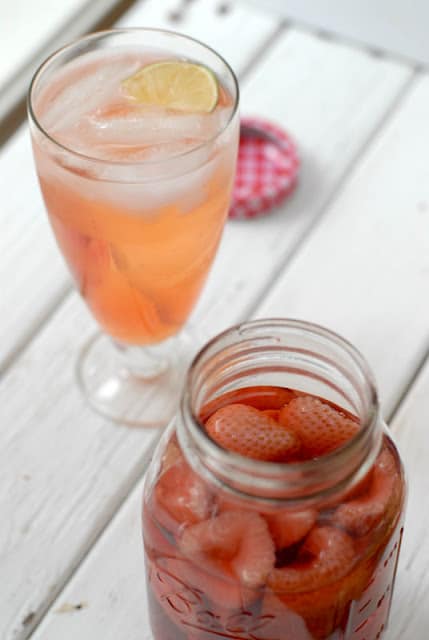 As background, this recipe redo/swap idea was brought to life by Christiana of

Burwell General

Store

upon finding a cool vintage hymnal/recipe book at a swap meet in Arizona. She had the vision of bringing those recipes back to life with a twist. We redo/swappers must change at least three things to make it our own and stay true to the intent of the recipe (I took a bit of artistic license on this aspect).

 

There is a growing group of international talent wielding their monthly vision in our recipe swap.

 

Please click here to check them out; you will not be disappointed!