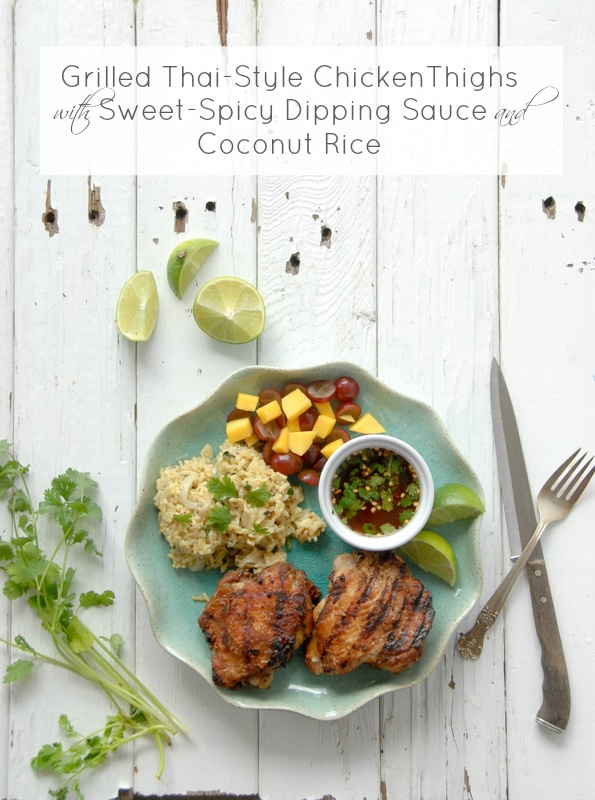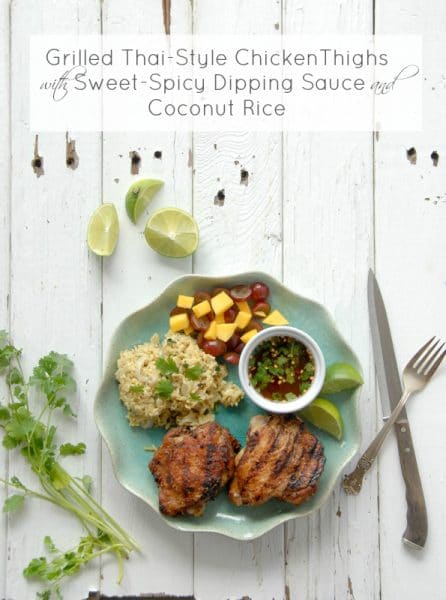 Sometimes as a food blogger, you just have a great recipe to share. There is no deep-and-meaningful story behind it. No tie to an impactful personal experience or a deep cache of wisdom surrounding it; you just have some great food begging for others to have the chance to be excited and elevated by it.
Grilled Thai-Style Chicken Thighs with Dipping Sauce and Coconut Rice is one of those great recipes. I could extol the virtues of chicken thighs as essentially nutritionally equivalent to chicken breasts, and ponder why when sporting so much more flavor and moistness they are so left out of the summer grilling scene. I could remind that the affordability of chicken thighs is much greater than the coveted chicken breast (especially in its boneless skinless form) making it further a perfect choice for summer grilling.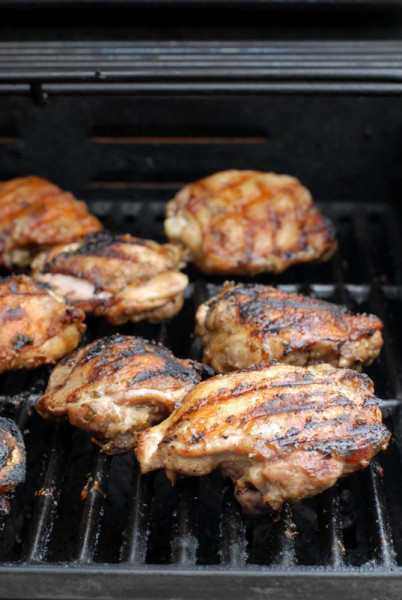 I could share that grilling doesn't have to be Plain Jane and can be jazzed up with ease to represent the notion of world cuisine, bursting with flavor, easily prepared in the fashion of the season. Or that I'd coaxed my husband who allowed me to trail him around the holidays documenting his fabulous Lobster Risotto with Saffron and Haricot Vert for Boulder Locavore readers, agreed to once again allow me to document his every move as he dreamed up what I'm convinced is now my all time favorite grilled dish. And that I never imagined I'd have Thai food off my grill with the most mouth-watering sweet, tangy, spicy dipping sauce that even as I write this my taste buds remember every drop and wish (desperately) there was some left with which to dip (almost anything) in.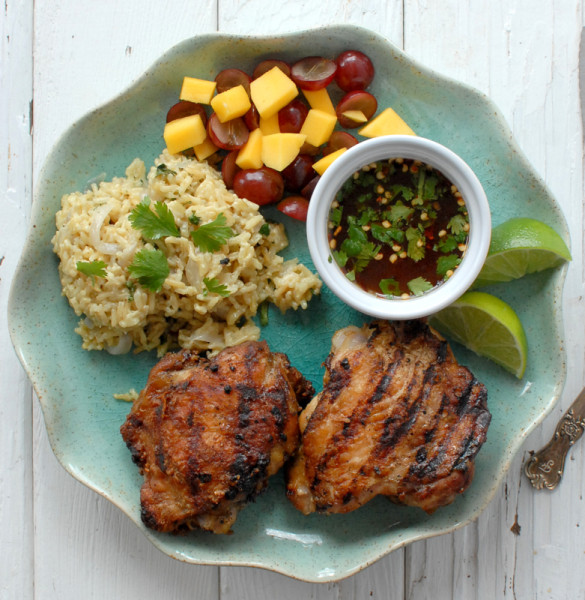 I could tell you my children went nuts for this dish (as they do for their Dad's Pad Thai), begging for more. That I felt his recipe for grilling raised the caliber of the summer outdoor meal tenfold with simplicity and ease that any home cook can replicate.
But instead of all that, I think I'll just share the recipe for this great meal and tell you I know, for a fact, you will L-O-V-E this. Promise.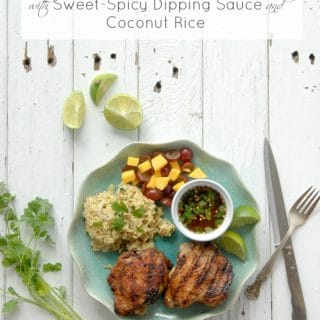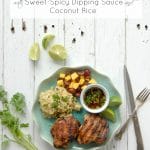 Grilled Thai-Style Chicken Thighs with Sweet-Spicy Dipping Sauce and Coconut Rice
Delicious, moist Thai-Style Grilled Chicken Thighs are sure to elevate your outdoor meals with the taste of world cuisine. Bright flavors of lemongrass, ginger, chile flakes and coconut milk highlight this delicious summer meal paired with coconut rice and a sweet-spicy dipping sauce.
Ingredients
Ingredients for Thai-Style Chicken Thighs:
6

cloves

Garlic

, pressed

1

large Jalapenos

(3 inches long), seeded and diced

1

2-inch

piece of fresh Ginger root

, unpeeled and thinly sliced

¼

cup

Safflower Oil

½

teaspoon

Kosher Salt

½

teaspoon

ground Black Pepper

2

teaspoon

Lemongrass Powder

8

Chicken Thighs

(2 ½-3 pounds), bone in and skin on
Ingredients for Coconut Rice:
1

cup

Jasmine Brown Rice

1

can

(13.6 ounce) unsweetened coconut milk

¼

teaspoon

ground Turmeric

½

medium Red Onion

, sliced very thinly

1/2

teaspoon

Kosher Salt

(plus salt to taste)

1

tablespoon

Cilantro

, diced
Ingredients for Dipping Sauce:
¾

cup

White Vinegar

¾

cup

Turbinado Sugar

(granulated sugar can be substituted if needed)

1-

inch

fresh Ginger

, peeled and diced (approximately 2 teaspoons)

1

teaspoon

Red Pepper flakes

1

tablespoon

Cilantro

, diced
Instructions
Instructions for the Grilled Thai-Style Chicken Thighs:
In a large bowl, mix together the garlic, jalapenos, ginger, safflower oil, kosher salt, black pepper and lemongrass powder. Add chicken thighs, turning to coat fully. Cover and allow to sit, refrigerated for 2-3 hours (or overnight).

Preheat gas grill to high. Place chicken thighs, skin side down on heated grill for two minutes to sear them.

Turn off the side of the grill where the chicken breasts are cooking. Turn on the other side of the grill to high heat (this assumes working with a gas grill that has two sides allowing one side to remain off and the other on to cook on an indirect method). Close the grill and cook for 45-50 minutes, turning occasionally, until thighs are done (when pressed on the liquid coming from them is clear, or when cutting into one to inspect color for doneness)+.
Instructions for the Coconut Rice:
Pour coconut milk into a 2 cup wet ingredient measuring cup. Add water to bring total liquid amount to 1 ¾ cups.

In a heavy saucepan, combine rice, coconut milk/water, turmeric, onion and kosher salt. Bring to a boil, cover; reduce to a simmer over low heat. Cook 40-45 minutes or until liquid is absorbed and rice is soft (if using rice from a package consult cooking duration on package instructions). Salt to taste and mix in diced cilantro before serving.
Instructions for Sweet-Spicy Dipping Sauce:
In a small saucepan over medium heat, combine white vinegar, sugar and ginger. Cook until sugar dissolves approximately 5 minutes.

Add red pepper flakes and cilantro.
Recipe Notes
Total time includes 3 hours for marinating chicken thighs.
Nutrition Facts
Grilled Thai-Style Chicken Thighs with Sweet-Spicy Dipping Sauce and Coconut Rice
Amount Per Serving (1 g)
Calories 482
Calories from Fat 234
% Daily Value*
Fat 26g40%
Cholesterol 110mg37%
Sodium 384mg16%
Potassium 324mg9%
Carbohydrates 39g13%
Protein 20g40%
Vitamin A 180IU4%
Vitamin C 3.3mg4%
Calcium 26mg3%
Iron 1.4mg8%
* Percent Daily Values are based on a 2000 calorie diet.