Wild Asparagus is a delicious spring find! This guide will help you find it, pick it and prepare it for the most delicious treat!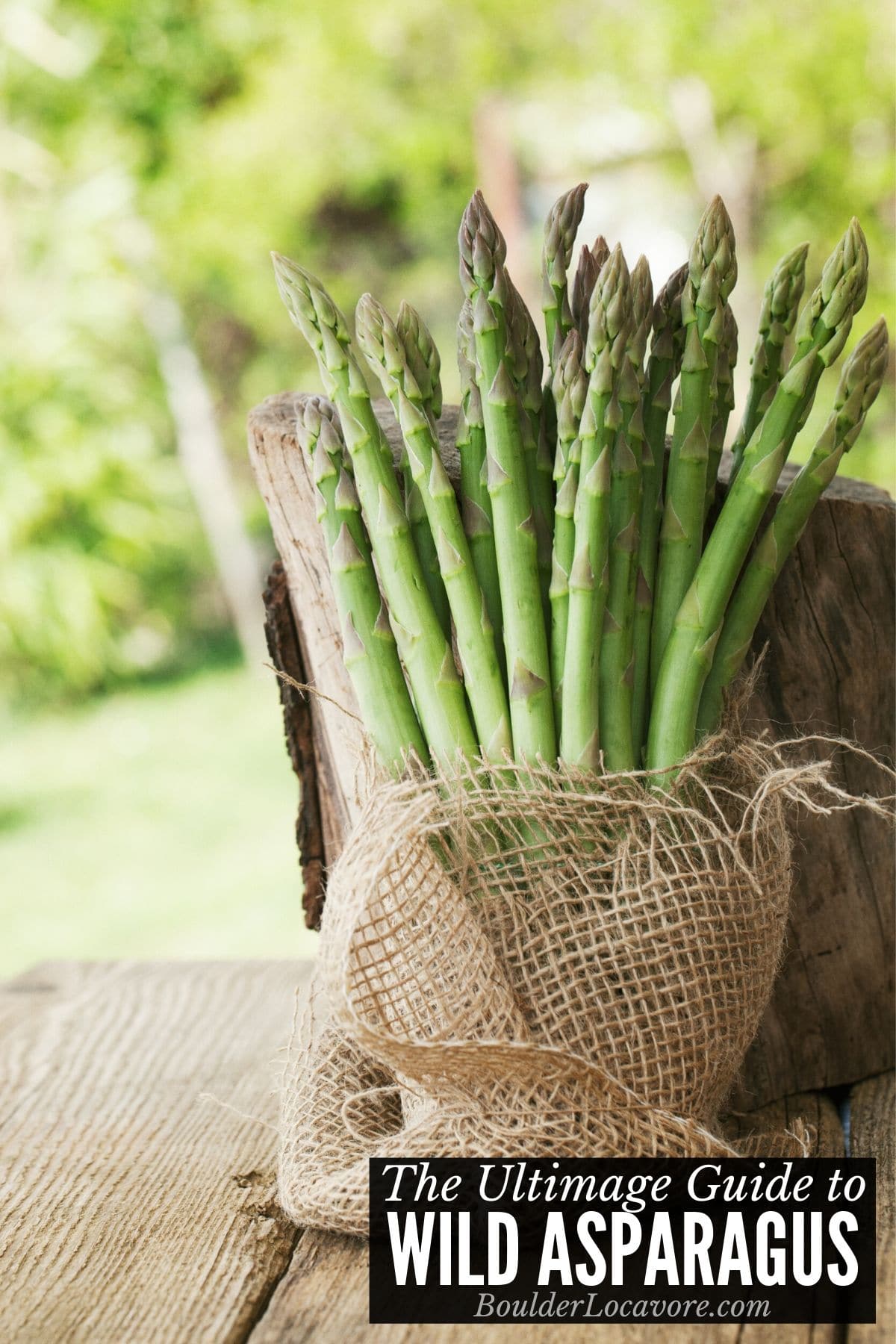 I remember as a child my mother going out to look for wild asparagus in the early spring.
She'd typically look along rural roadways where irrigation ran alongside.
The tender, sweet stalks were always a treat when we could find them.
Hunting for wild asparagus is fun and the reward of eating it is worth the effort!
This Ultimate Guide will answer all questions about Finding and Picking Wild Asparagus complete with how to cook it.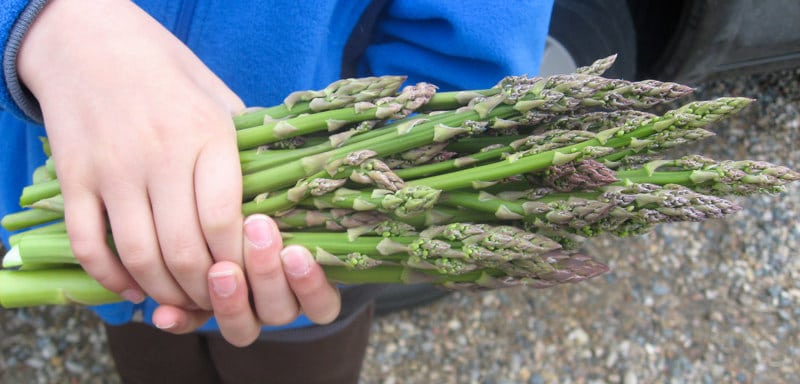 What Is Wild Asparagus?
Wild Asparagus is asparagus that grows on its own in the wild.
It regrows every year and the young shoots are used as a spring vegetable.
Wild asparagus is a creeping, evergreen plant that grows about 1 meter tall.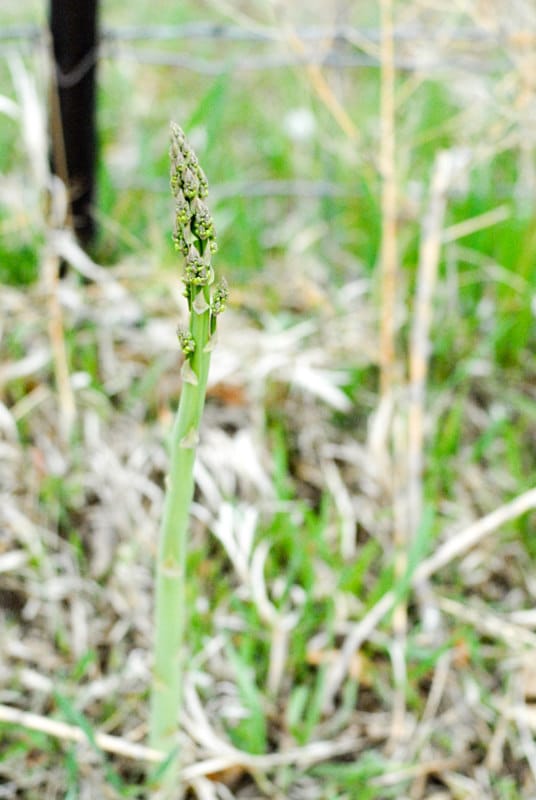 Where Does it Grow?
It grows around sources of water but not directly in water.
It likes looser soil with moisture.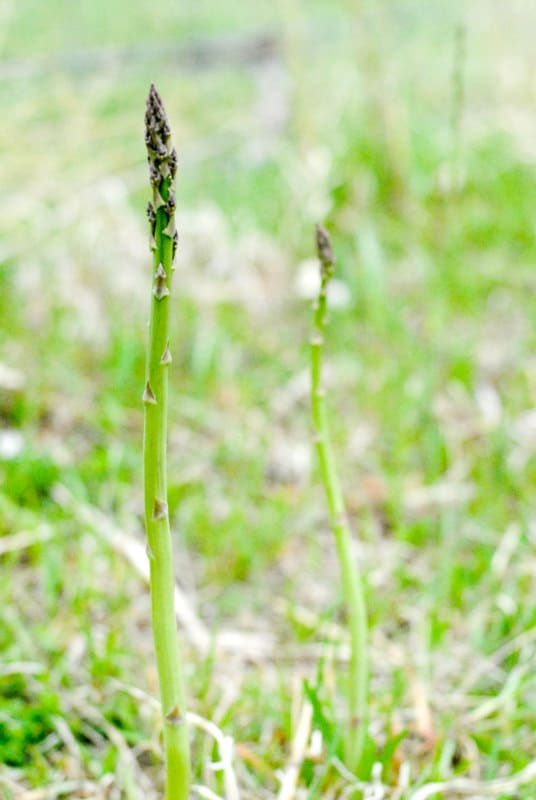 Where to Find It
Wild asparagus tends to grow in rural areas where there is water. Forage for wild asparagus around irrigation ditches in the countryside (those with and without water in them).
Avoid private property unless you are invited but it's very common to find the asparagus in ditches on the side of a road. Park and walk the ditch.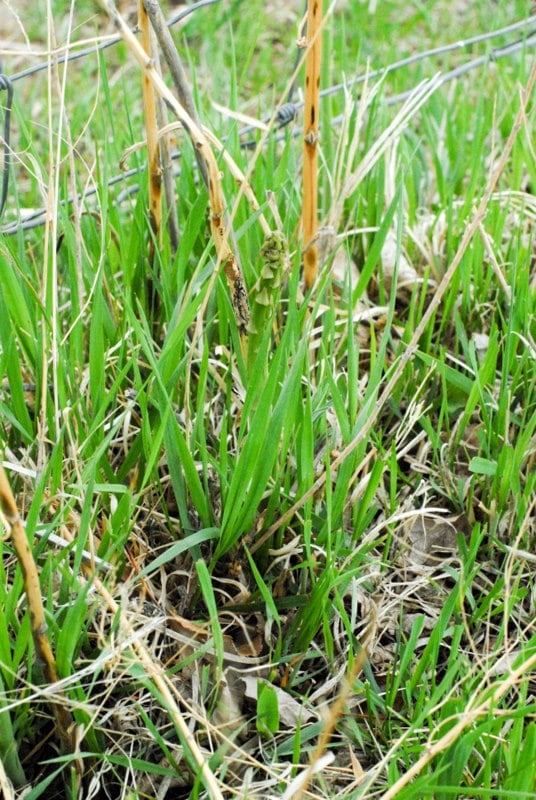 Asparagus will only live in full sun, or close to it.
Asparagus grows in every state in the United States and every province in Canada, as well as through much of Mexico.
Though it may not be available through all areas of these regions.
If there is a foraging guide or online forum in your area, check that to learn if it's been found in your area.
When to Find It
Wild asparagus is available during spring.
As early as February in California, as late as June in Canada.
It's tricky to find the asparagus exactly at the right time.
On our trip (May in Colorado) some had already gone to seed and some looked close; there were still more just starting.
Going regularly once spring sets in is the best chance to find the wild asparagus.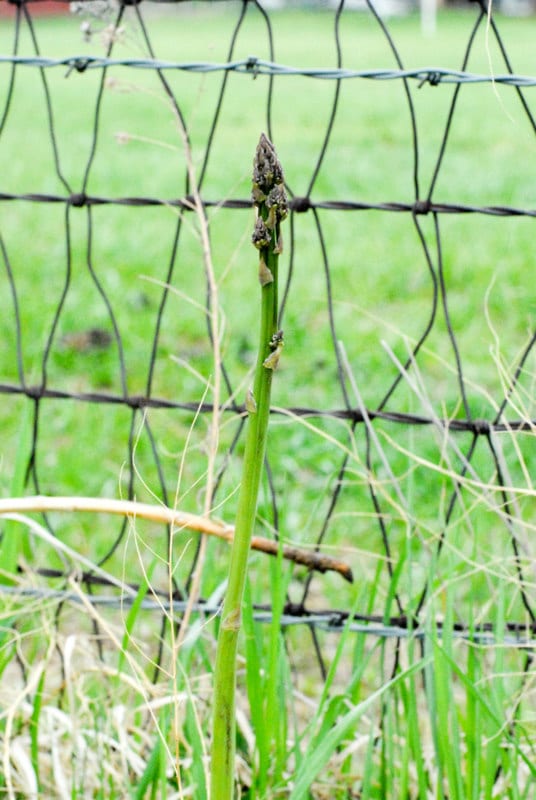 How to Spot Wild Asparagus
Look for Last Year's Plants
You'll note in the photos some dead, yellowish, tall, wispy plant material around the new asparagus growth.
This would be last year's plant and the source of the new growth.
On our walkabout I found myself scouting for these which once realizing what they are became easily identifiable.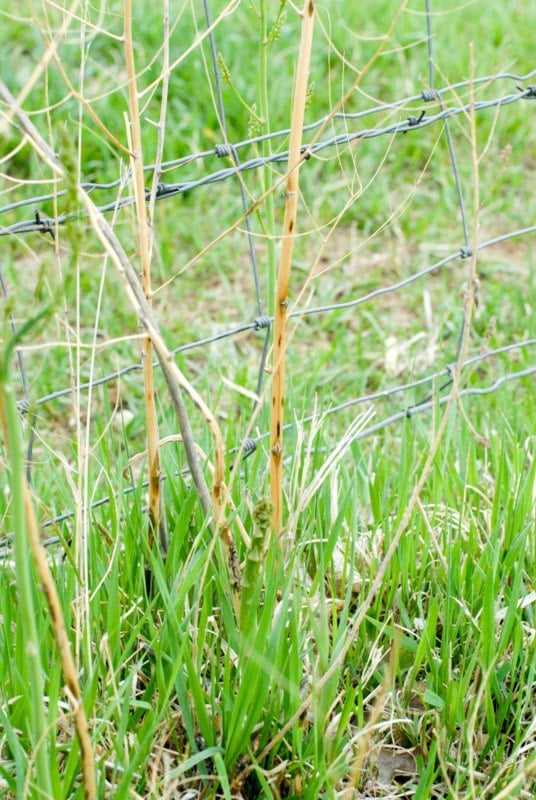 Look for New Stalks
Once at a spent plant, search the base for something new.
They are probably surrounded by higher weeds or grasses so it does take a persistent eye. We found one or two stalks at each plant site.
The photos illustrate what to look for.

Locating Plant Sites for the Following Year
It the fall the plants become a yellowish-orange color.
This is a great way to identify spots to check again in the following spring.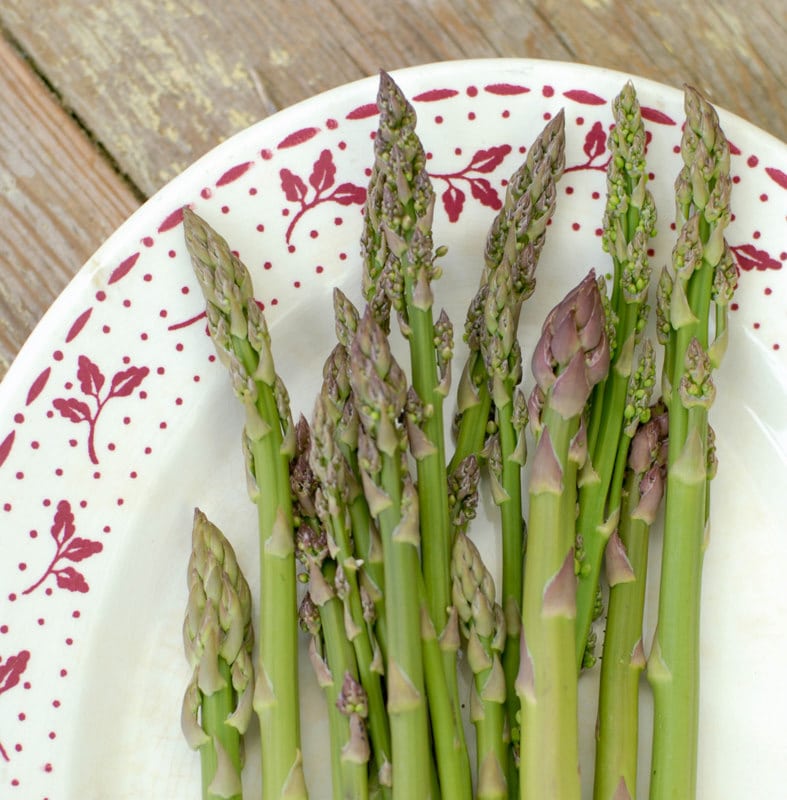 How to Harvest Wild Asparagus
As with store bought asparagus, once you find a stalk, follow it down the stalk until you find a pliable spot between where it is very supple and woody.
Snap it at a 90 degree angle.
A knife can also be used to cut the stalk at the base.
Harvest stalks that are the diameter of a pencil or thicker.
Check the patch again to harvest more before they go to seed.
Does Wild Asparagus Taste Different?
The wild asparagus we foraged was exceptional and notably different than the store-bought asparagus I've had.
It was sweet with a much more dense flavor. I savored every stalk, feeling so fortunate.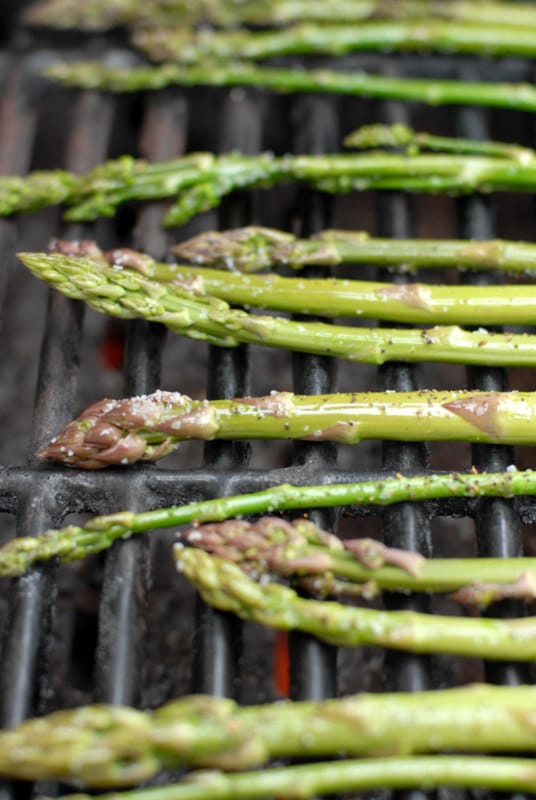 Cooking It
Wild asparagus can be cooked in all the same ways store-bought asparagus can.
My favorite way to prepare asparagus is to grill it.
Especially with something as special as this, I want to taste the asparagus solely and not a sauce.
This is a simple celebration of this fabulous wild food find!
This of course can be done with purchased asparagus as well.
Here's how to make Grilled Asparagus.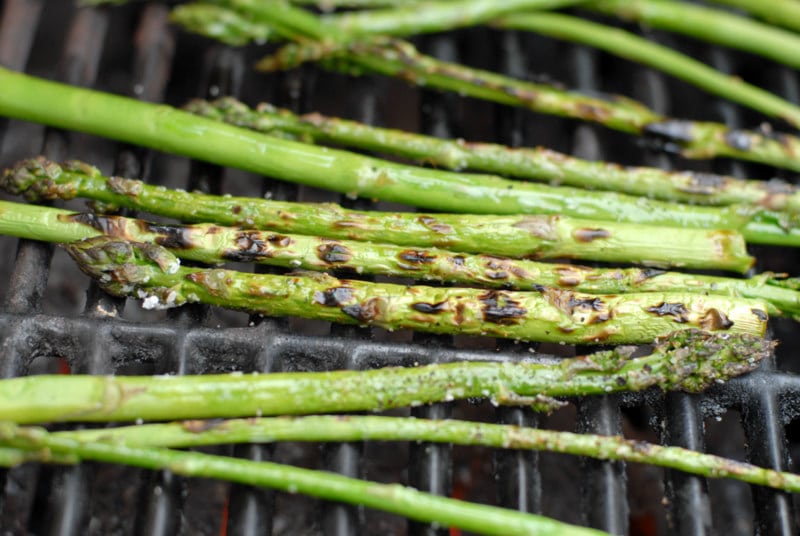 Frequently Asked Questions
Is it Safe to Eat Wild Asparagus?
Wild asparagus itself is safe to eat. The only question would be the area where it is found.
For example: If it's near a roadside that could have been sprayed with weed killer or a water source that is not known to be clean, precaution should be exercised.
As with any type of foraging, know the area where you are gathering food.
Wild asparagus can be prepared just as store bought asparagus is, by snapping off the bottoms at their natural breaking or bending point.
It also can be cooked in the same ways.
Asparagus, is at its best when the tips are tightly closed and the spears are about the size of your finger.
When the tops begin to open or go to seed (look for examples in the photos) it's still safe to eat but will not taste as good.
How Tall Does Asparagus Grow?
Wild asparagus grow to be knee high or taller.
What If I find Signs of Wild Asparagus But There's None?
If there are certain signs that a lot of asparagus grew in that spot last year but you cannot find any signs of any new growth, there are two most plausible possibilities:
It may not have emerged in that area yet. Even in the same county, some spots will have their first spears one to two weeks later than others.
Someone may have already harvested that site. If someone has harvested the fresh asparagus by cutting it below the ground, there are often no signs at all that there was ever fresh asparagus there. Foragers sometimes will also move the old asparagus plants and camouflage the new growth in order to protect the spot's location, too.
In either case, keep checking the same spots every couple of days to see if you can spot new growth.
It's a safe bet that if lots of asparagus was there last year, there will be lots this year, too.
What Equipment Do I Need?
Gloves: Since you'll be harvesting in areas that are wild, having study gloves is always a good idea.
Durable pants: The areas where you'll be looking may have tall grasses or require kneeling in muddy locations.
Waterproof shoes: Good walking shoes that can get dirty or muddy.
Knife: If the asparagus can't be snapped at the bottom of the stalk you'll need to cut it.
Storing It
Keep any type of asparagus, wild or store-bought, in the refrigerator.
There are two ways to store it:
Paper Towel method: store upright, with a damp paper towel wrapped around the stalk ends.
It's easiest to place the stalks with the paper towel in a jar or glass. Place a plastic bag over them.
Jar with water: trim the ends of the stalks. Place them in a jar with 1-2 inches of water. Cover with a plastic bag. With this method the asparagus can last for more than a week. See below for store-bought vs wild.
Store-bought: It's best to enjoy them soon — within 4 days of store purchase is the general recommendation.
Wild: With freshly picked asparagus I recommend preparing them the same day as picking them.
Asparagus can also be blanched and frozen.
Can I Transplant Wild Asparagus?
Yes! If you've found some wild asparagus and you want to cultivate it in your own garden. You can transplant asparagus.
Dig widely around the plant. Asparagus has a large and complicated root system. It has a complex tangle of tentacle-y roots that take up a good deal of space underground. You'll need to preserve most of it for the plant to take.
Dig a deep hole at the new site. You'll need to fit that whole root system.
Layer some compost and fertilizer in the hole. Asparagus is a hungry plant, so spread a generous amount of food at the bottom of the hole.
Gently lay the plant in the hole.
Make a large mound of soil around the plant.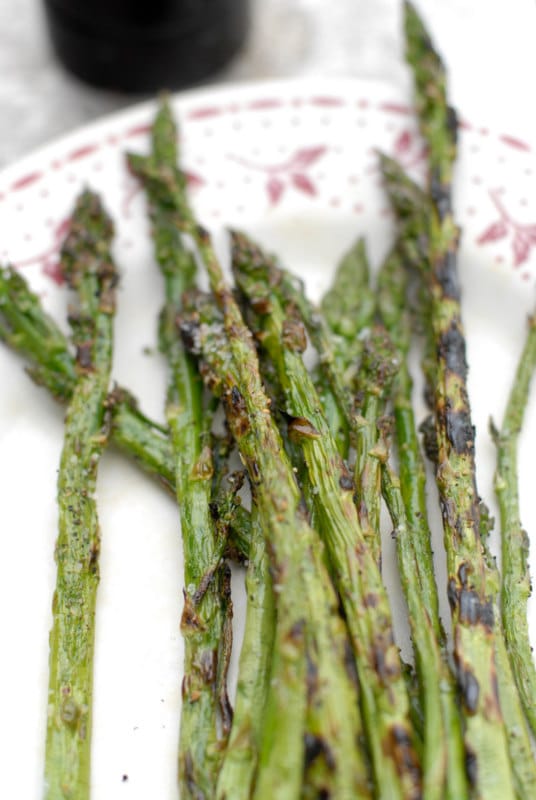 Try these Asparagus Recipes too!
More Guides You'll Love
Please SUBSCRIBE and FOLLOW ME on FACEBOOK , TWITTER , INSTAGRAM and PINTEREST !
Originally published: May 16, 2011
[ratemypost]