Spring vegetables are popping up in gardens and produce sections of the grocery store, so we've put together this great collection of spring vegetable recipes for you! Delicious and easy recipes using asparagus, artichokes, sunchokes, peas, garlic scapes, dandelion greens and more! Gluten-free.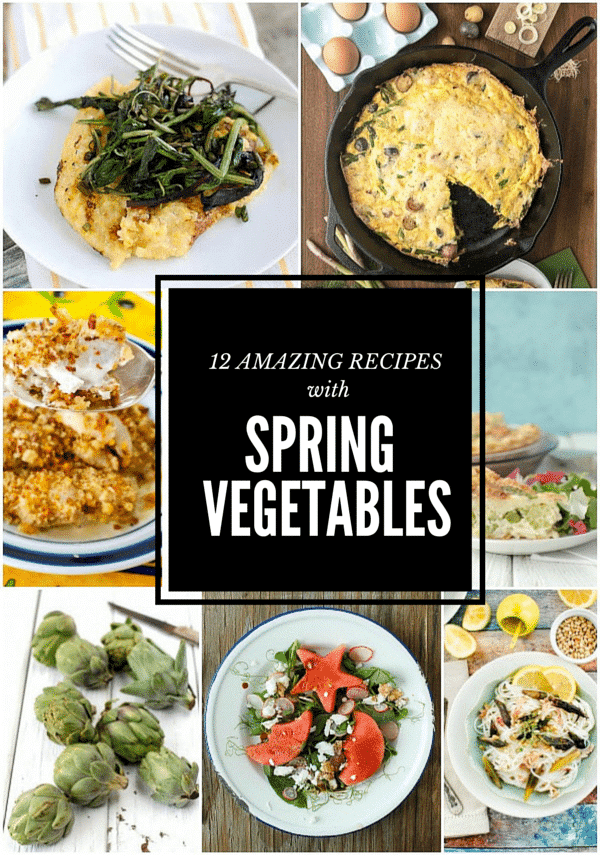 I find when living in a distinctly seasonal area, what constitutes a seasonal vegetable can vary greatly. When I lived in California, spring vegetables meant one thing. Here in Colorado, often a stereotypical spring vegetable is pushed to early summer and with an availability window that is short and sweet.
With Easter coming, finding some fresh spring options to add to the meal is always uplifting I think. It signals the rebirth of the growing season with the promise of all that will bring! It is the time to put in home gardens, farms begin to share an early bounty and flavors are fresh and new again after months of root vegetables.
I took a really cool urban foraging class a few years ago and found it fascinating to learn about plants I'd feverishly struggled to ban from my garden and how they are a delicacy really to eat. Many culture relish the early, bitter spring greens as a natural detoxification from the more stagnant-feeling winter months. Clearly the buying public embrace that as you'll find dandelion greens in the super markets. I feel spring is much like waking from a long winter's sleep; our palates are jolted to life and we crave the fresh product to come.
I've rounded up a collection of some of my favorite recipes using spring vegetables. For those in cooler climates like Colorado, you'll have to wait a bit for things like peas, but they'll be here before you know it! All colors of asparagus are available now as are artichokes and sunchokes (something if you have not tried you must; my kids can't wait to see them in the produce aisle) too.
So here's my hat off to springtime, whether it has arrived or will soon!
Recipes with Spring Vegetables
Colorful Roasted Spiralized Carrots with Mint and Dill: This recipe is fresh and fun with carrot ringlets and fresh herbs. I love use a variety of carrots in this dish both for flavor and for color.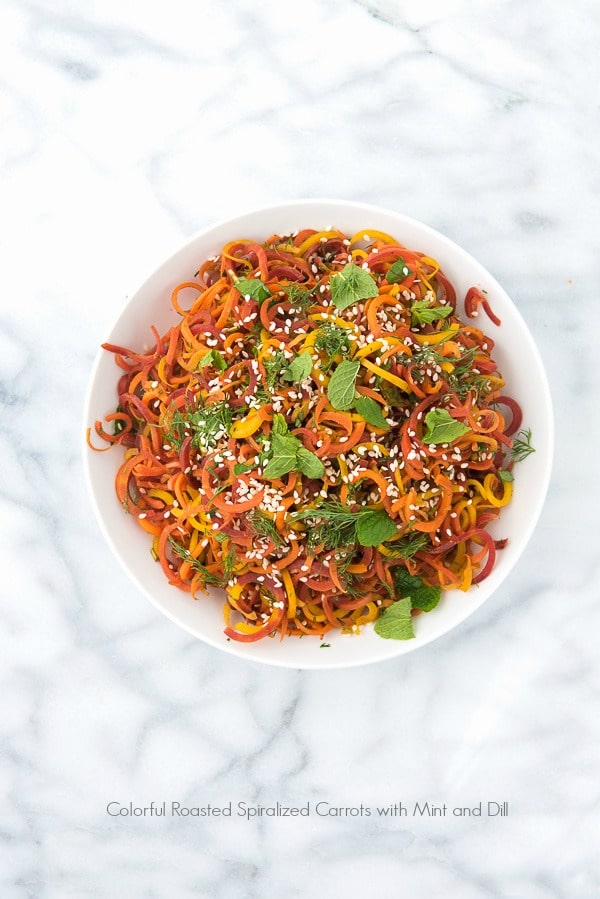 Asparagus Leek New Potato Frittata: There truly is not an easier or more satisfying dish than a frittata and this recipe is full of asparagus, leeks and new potatoes making a great choice for a spring brunch!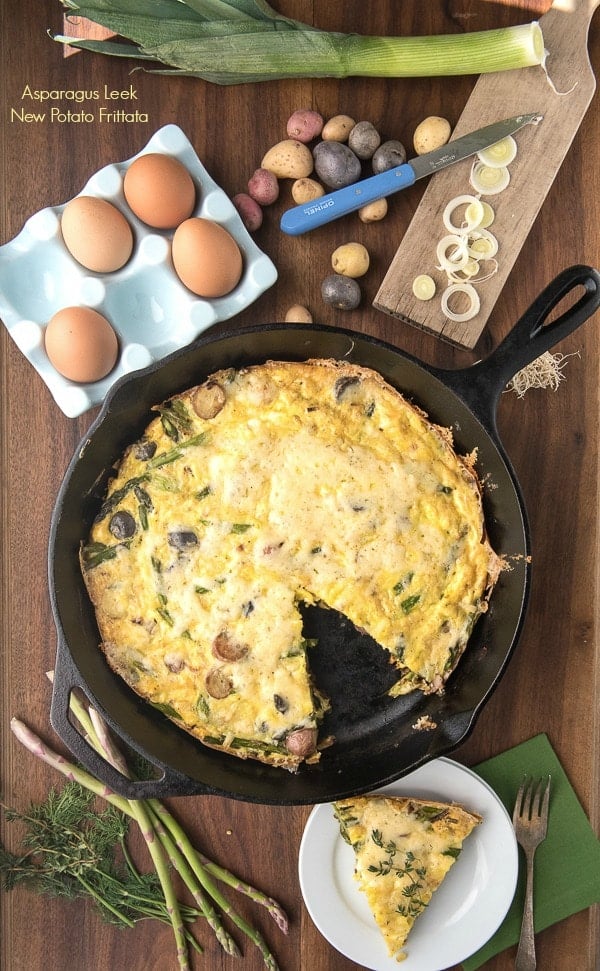 Creamy Scalloped Ginger Sunchokes: This may be our family favorite spring recipe (though it's very hard to choose)! My kids love this recipe for sunchokes (or Jerusalem artichokes). They have a wonderful crunchy texture and the bright ginger flavor in a creamy sauce renders them irresistible!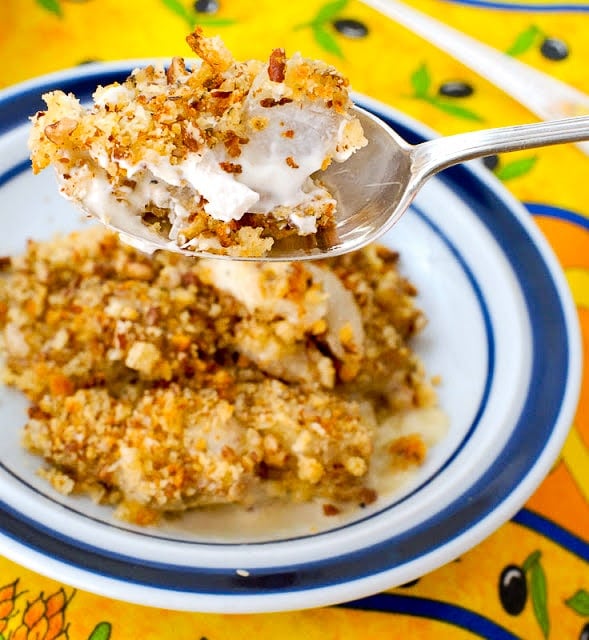 Lemony Purple Asparagus Pancetta Pasta: I am always so excited to see white, purple AND green asparagus in the store. We even have wild asparagus which can be foraged in our area! The combination of purple asparagus with lemony pancetta pasta is fresh and filling!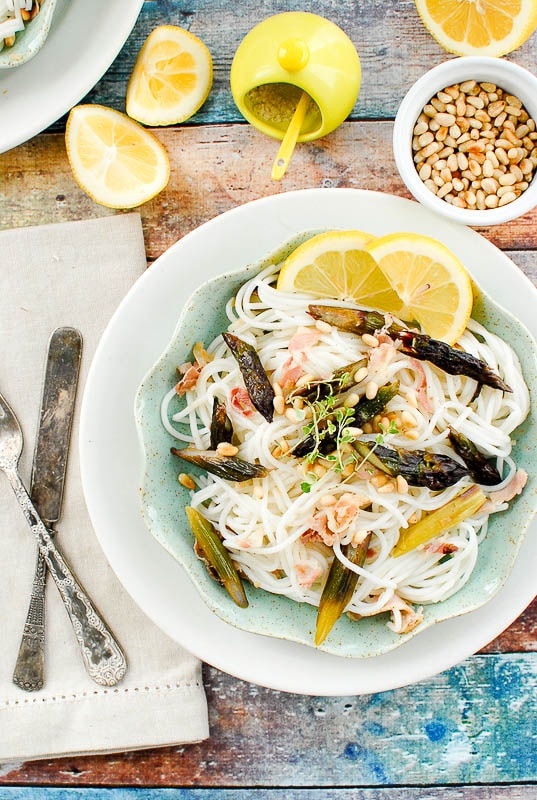 How to Select, Cook and Eat Artichokes and Tarragon-Chive Dipping Sauce (recipe): I was fortunate to have grandparents in California when I was growing up so leaned the art of the artichoke at a young age. It didn't strike me until I'd moved there as an adult, watching out of state college friends stare at them like an outer space artifact that there is nothing intuitive about how to approach eating them! This like spills it all from how to select, trim, cook and eat them, along with a delicious herb dipping sauce.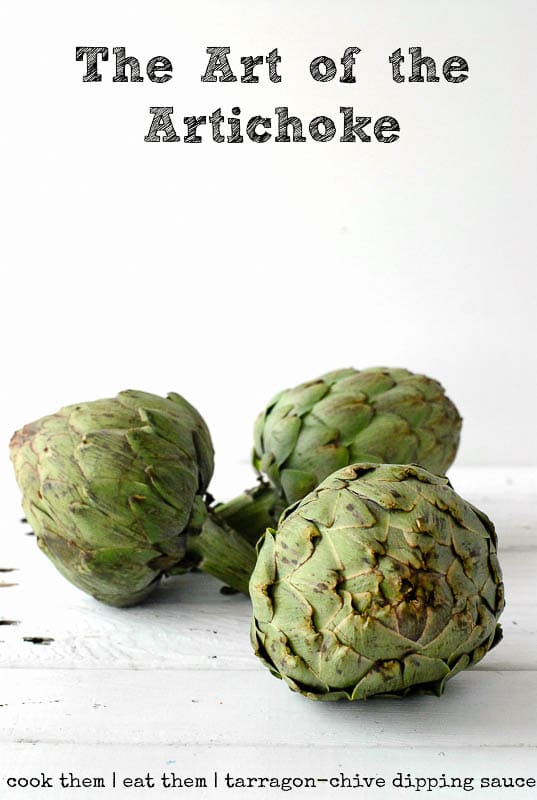 White Asparagus Arugula Spring Salad with Meyer Lemon White Balsamic Dressing: The first time I had white asparagus I was traveling for business in Germany. We arrived for meetings to learn it was during the festival of white asparagus. The tender shoots, shielded from the sun during growing, were only available for a few weeks a year and they are truly treasured. I think you'll feel the same after trying this salad.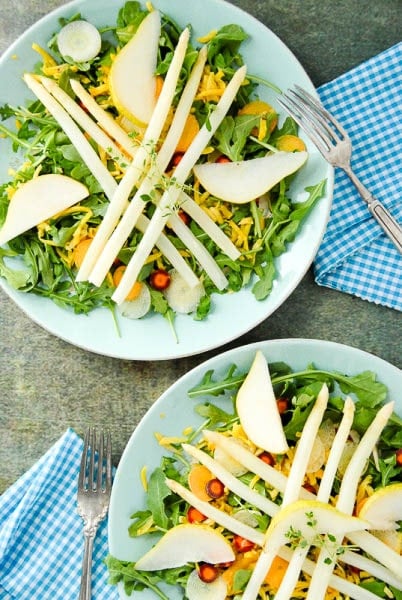 Roasted Balsamic Asparagus with Goat Cheese and Toasted Walnuts: This is a recipe that could not be more simple or delicious. It's on our Easter menu every year!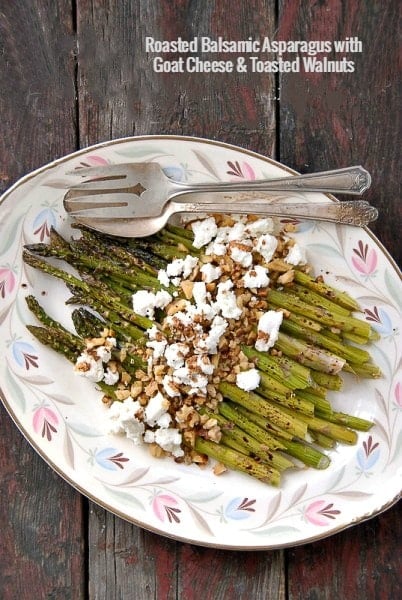 Pan Browned Polenta with Sautéed Braising Greens and Garlic Scapes: If you can find garlic scapes at your local store or Farmer's Market, snatch them up. They are the early part of the above ground garlic plant and are tender with a faint flavor of garlic. We love adding them to scrambled eggs in the spring.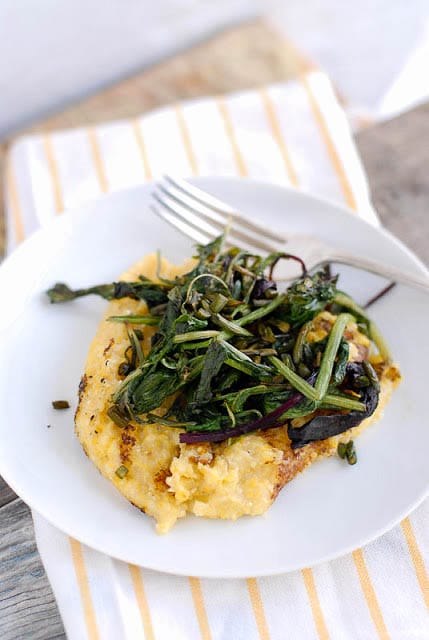 Pea Shoot Watermelon Goat Cheese salad with Balsamic Drizzle: Another fun spring find are pea shoots. Tendrils of messy shoots are tender and flavorful to eat. This unexpected salad is a wonderful mixture of textures and flavors! Cutting out the watermelon with cookie cutters adds a bit of whimsy too.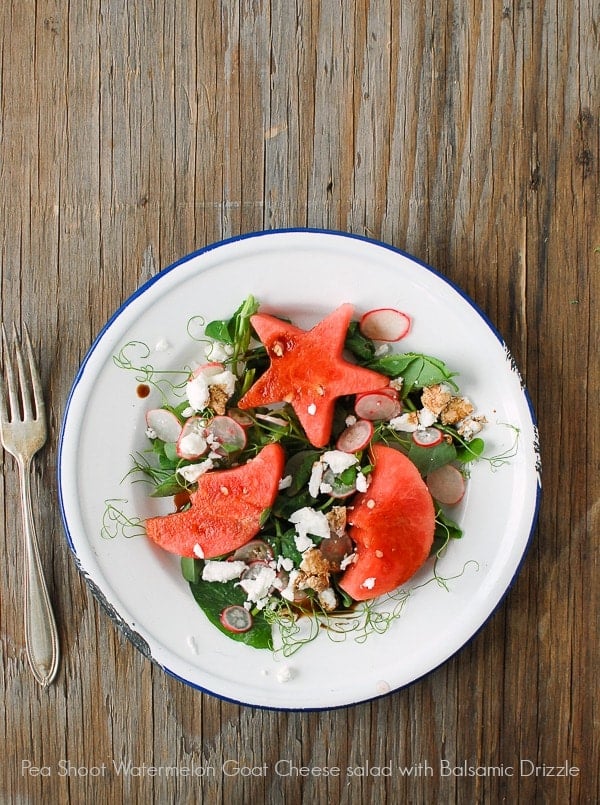 Summer Pea and Pancetta Salad: This is an example of what is a spring vegetable most places is a natural summer vegetable in mountainous regions. I wait every year with great anticipation for the crop of local English peas. They are so sweet and delicious, making them worth every minute of shelling them. The sweet and salty contrast of this salad will make it a favorite for you too!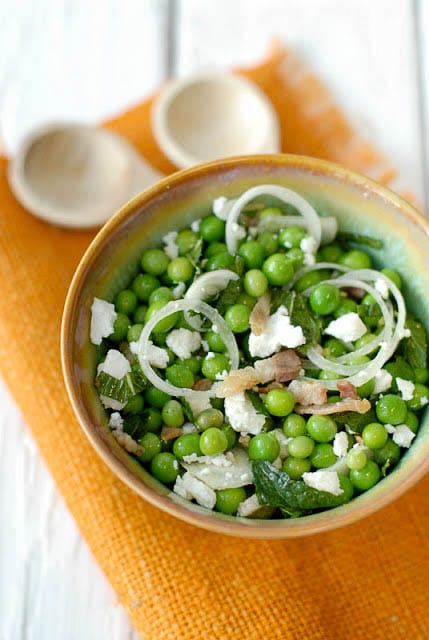 Warm Dandelion and Bacon Salad: This salad will have you embracing any outbreak of dandelions in your backyard. I don't suggest foraging them from your yard unless you are sure about use of any weed killer, animal activity, etc. You can buy them at the store and try this fantastic warm salad. A wonderful melange of flavors you won't soon forget.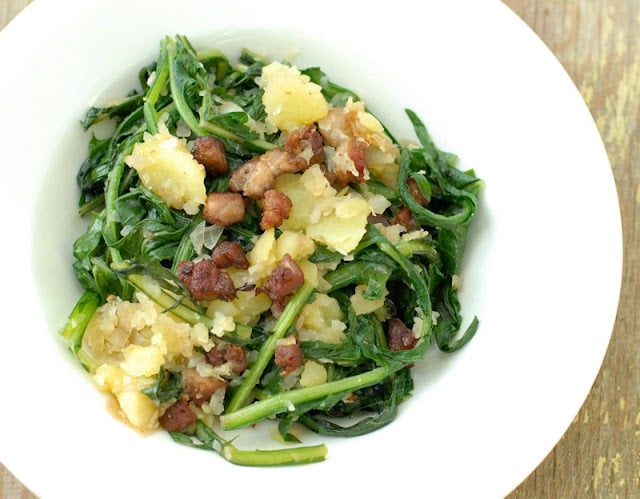 Springtime Asparagus Leek Romenesco Quiche: An easy, springtime dish great for any meal. Easy to make and full of asparagus, leek and Romanesco (a favorite of mine), it's a fun way to usher in springtime.