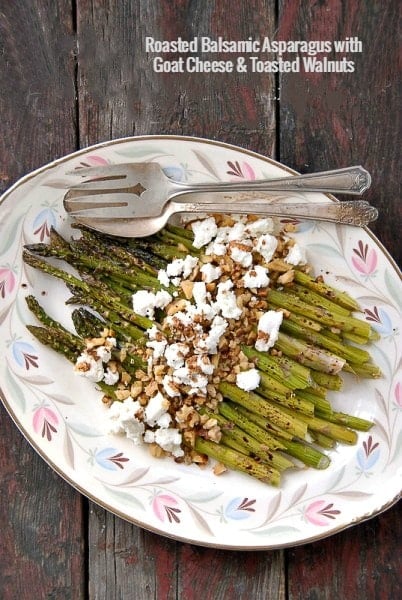 As Easter approaches and menu planning begins, I find myself seeking fresh, spring vegetables to weave into our midday meal plan. Ham is our usual protein centerpiece, glazed with something citrusy and bright, hinting at the lighter seasonal flavors. Our day is usually fully of egg hunting (most always indoors due to our unpredictable snow storms), springy color and a rebirth of the new season.
One of my favorite vegetables of spring is asparagus. It begins to pop up about this time in stores and spring is the perfect time for seeking it in the wild. In Colorado its availability is a more likely in a few months but it's the time to start keeping an eye out in small irrigation ditches along the side of rural roads, especially when water runs through them. For more tips on spotting, harvesting and preparing wild asparagus, click here.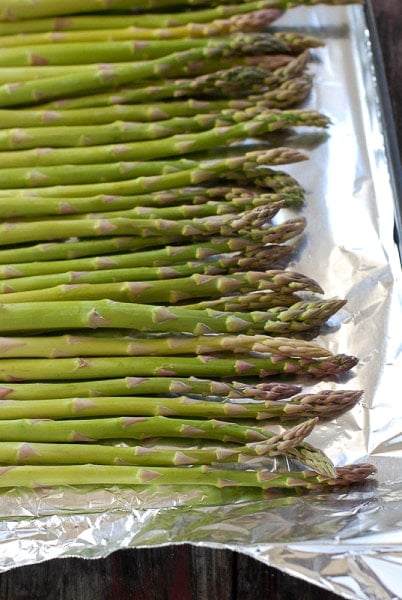 'Simple' always feels to be the best preparation for spring foods. They arrive full of natural flavors needing not much adornment. In this case adding a bit of tang with sweet Balsamic Vinegar, crumbled goat cheese from a local farm and some toasted walnuts proved a perfect pairing with roasted asparagus. Did I mention it's done in about 20 minutes? No joke.
What I love about roasting asparagus is that roasting at high heat for a short time cooks the asparagus but leaves a crunch. There's nothing worse than flaccid or stringy asparagus. The roasting renders the sweet flavor of the asparagus too.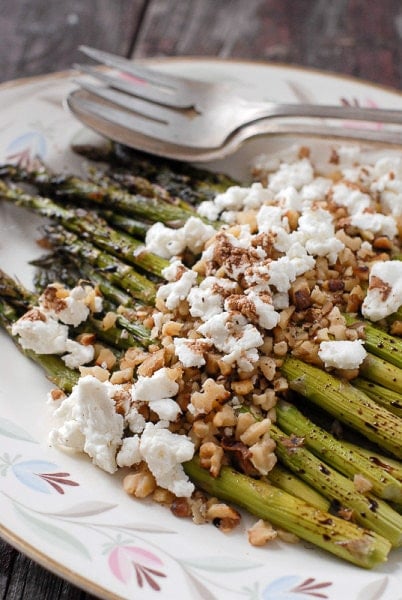 Generally the early spring stalks of nubile asparagus are finer in size. I find the lower stalks do not seem as apt to have the tough, thick white portion that should be removed before cooking. There is a natural break point between the tender, ripe stalk and the white, unripe portion. You can visually detect and cut off that lower portion. Or you can firmly hold the end of the stalk (the cut end) with one hand and with the other hand gently bend the stalk forward until it snaps off. If you feel resistance, work the hand not holding the end of the stalk up toward the top until you locate the natural break point. I have found when I break the asparagus this way I never end up with the unripe end that is tough and really inedible.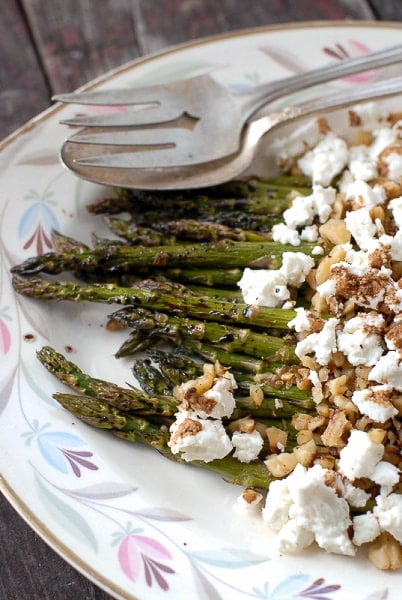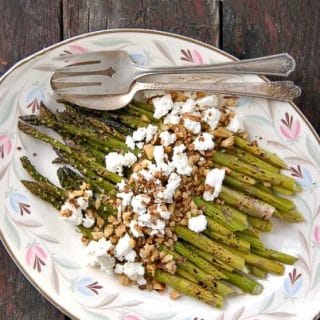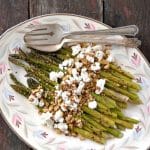 Roasted Balsamic Asparagus with Goat Cheese and Toasted Walnuts
This simple, quick dish celebrates the asparagus of spring and early summer by roasting and pairing it with goat cheese and toasted walnuts. Did I mention it's done in 20 minutes, start to finish?
Ingredients
1

bunch

(about 1 pound) Asparagus

2

tablespoons

Olive Oil

2

tablespoons

Balsamic Vinegar

2

ounces

Goat Cheese

, crumbled

1/3

cup

Walnut pieces

(preferably halves or larger pieces)

Salt and pepper
Instructions
Preheat oven to 400 degrees

Cover a baking sheet with foil (shiny side up). Rinse asparagus and break or cut the bottom of the stalk.

Place the asparagus on the baking sheet in a single layer. Brush the asparagus with the olive oil, salt and pepper lightly and place in the heated oven for 10 minutes.

While the asparagus cooks, place the walnuts in a small dry skillet over medium-high heat and stir constantly for 2-3 minutes until the walnuts being to brown. Remove from heat.

Allow the walnuts to cool until they can be handled and then chop them into small pieces. Set aside.

Remove asparagus from oven and allow it to sit for about 5 minutes. Place the asparagus on a serving platter and brush with the balsamic vinegar. Place crumbled goat cheese and toasted walnuts on top of the asparagus and serve warm.
Nutrition Facts
Roasted Balsamic Asparagus with Goat Cheese and Toasted Walnuts
Amount Per Serving
Calories 170
Calories from Fat 144
% Daily Value*
Fat 16g25%
Cholesterol 6mg2%
Sodium 54mg2%
Potassium 51mg1%
Carbohydrates 2g1%
Protein 4g8%
Vitamin A 175IU4%
Vitamin C 0.2mg0%
Calcium 29mg3%
Iron 0.7mg4%
* Percent Daily Values are based on a 2000 calorie diet.