Roasted asparagus has never been better than this 20 minute recipe. Coated with sweet balsamic vinegar, topped with pan-toasted walnuts and tangy goat cheese crumbles for a recipe everyone loves.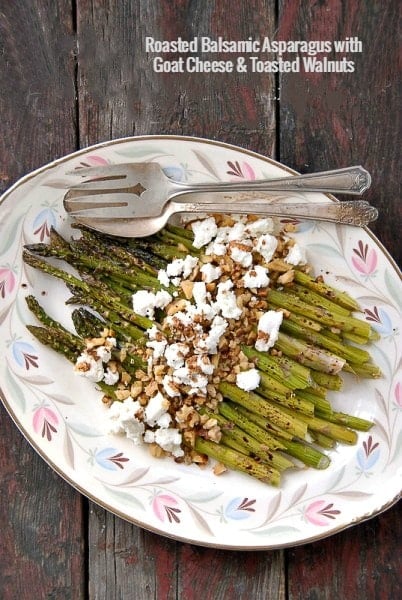 Asparagus is a favorite spring vegetable but is usually easy to find all year long.
If you are lucky you might even find wild asparagus to pick!
If you love asparagus you'll love this recipe!
This dish is very fast and easy to make. Great as an Easter side dish or with roasted meats any time.
Sometimes its the easiest recipes that are the best. The right combination of ingredients prove delicious food doesn't need to take a long time or be complicated!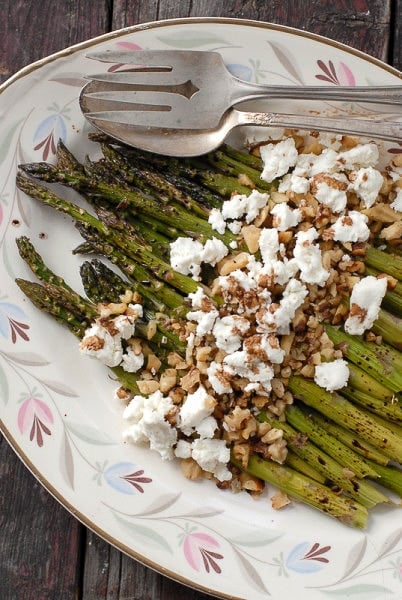 Easy Roasted Asparagus Recipe
Roasting or grilling asparagus are easy and delicious ways to make asparagus.
What I love about roasting asparagus is that roasting at high heat for a short time cooks the asparagus but leaves a crunch. There's nothing worse than flaccid or stringy asparagus.
The roasting renders the sweet flavor of the asparagus too.
Brushed with olive oil, the asparagus roasts at 400 degrees F for just 10 minutes.
It has a wonderful texture without becoming limp.
After roasting it is brushed with sweet-tangy balsamic vinegar then topped with goat cheese and toasted walnuts.
The combination of flavors and textures is exciting and unexpected. And so easy!
Recipe Ingredients Notes
Asparagus. You'll need one bunch of asparagus, about 1 pound. Select slender asparagus spears if possible and spears similar in size.
Olive oil. Used to brush the asparagus before roasting it in the oven.
Balsamic Vinegar. This favorite sweet-tangy vinegar adds a perfect flavor brushed onto the cooked asparagus.
Goat Cheese. Either buy goat cheese and hand crumble it or to save time buy goat cheese crumbles.
Walnuts. Use walnut halves for easier pan toasted. They can be chopped after they are toasted.
Salt and Black pepper. This is all the seasoning you'll need.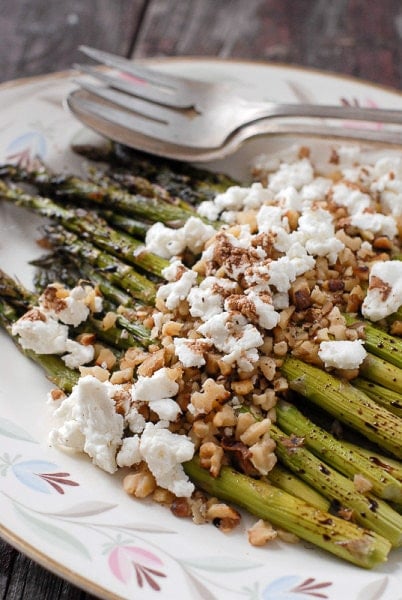 Tips for selecting and preparing Asparagus
The tips of the asparagus are the most tender and the favorite part to eat.
The lower stalks can be woody or tough to eat.
Generally the early spring stalks of asparagus are finer in size. The lower stalks do not seem as apt to have the tough, thick white portion that should be removed before cooking.
There is a natural break point between the tender, ripe stalk and the white, unripe portion. You can visually detect and cut off that lower portion.
Or you can firmly hold the end of the stalk (the cut end) with one hand and with the other hand gently bend the stalk forward until it snaps off.
If you feel resistance, work the hand not holding the end of the stalk up toward the top until you locate the natural break point.
I have found when I break the asparagus this way I never end up with the unripe end that is tough and really inedible.
How to Make it – Step-by-Step
STEP 1. Preparation
Preheat the oven to 400 degrees F.
Line a large rimmed baking sheet with foil, shiny side up. Parchment paper can also be used.
Rinse and remove any woody sections of the lower asparagus spears.
STEP 2. Cook the asparagus
Arrange the asparagus in a single layer on the prepared pan. Brush asparagus with the olive oil and season with salt and pepper.
Bake asparagus in the oven for 10 minutes.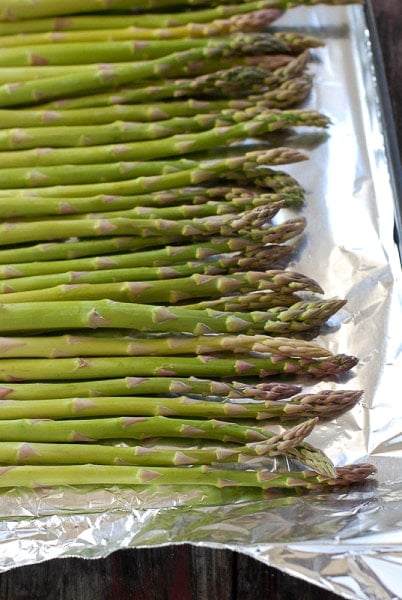 STEP 3. Toast the walnuts
While the asparagus cooks, place the walnuts in a small, dry skillet over medium-high heat to toast them.
Move them constantly with a spatula until they become golden in color and fragrant (a deep nutty aroma).
Remove from heat and allow to cool.
STEP 4. Finish the dish
When the aspargus is done cooking, brush with the balsamic vinegar to coat the asparagus.
Serve topped with the toasted walnuts and goat cheese crumbles.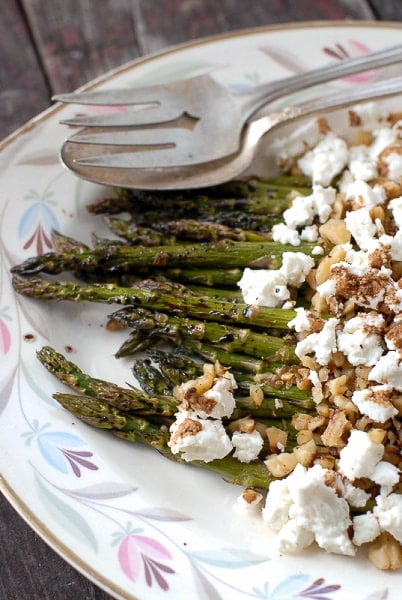 More Recipes You'll Love!
Did you make it? Please RATE THE RECIPE below!
Please
SUBSCRIBE
and
FOLLOW ME
on
FACEBOOK
,
TWITTER
,
INSTAGRAM
and
PINTEREST
!
Recipe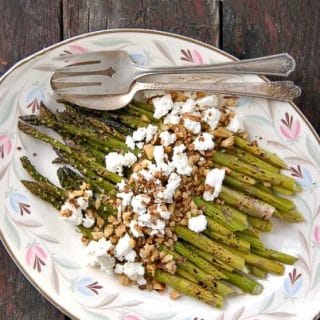 Roasted Balsamic Asparagus with Goat Cheese and Toasted Walnuts
This simple, quick dish celebrates the asparagus of spring and early summer by roasting and pairing it with goat cheese and toasted walnuts. Did I mention it's done in 20 minutes, start to finish?
Print
Save Recipe
Recipe Saved!
Pin
Rate
Ingredients
1

bunch

(about 1 pound) Asparagus

2

tablespoons

Olive Oil

2

tablespoons

Balsamic Vinegar

2

ounces

Goat Cheese

, crumbled

1/3

cup

Walnut pieces

(preferably halves or larger pieces)

Salt and pepper
Instructions
Preheat oven to 400 degrees

Cover a baking sheet with foil (shiny side up). Rinse asparagus and break or cut the bottom of the stalk.

Place the asparagus on the baking sheet in a single layer. Brush the asparagus with the olive oil, salt and pepper lightly and place in the heated oven for 10 minutes.

While the asparagus cooks, place the walnuts in a small dry skillet over medium-high heat and stir constantly for 2-3 minutes until the walnuts being to brown. Remove from heat.

Allow the walnuts to cool until they can be handled and then chop them into small pieces. Set aside.

Remove asparagus from oven and allow it to sit for about 5 minutes. Place the asparagus on a serving platter and brush with the balsamic vinegar. Place crumbled goat cheese and toasted walnuts on top of the asparagus and serve warm.
Nutrition
Calories:
170
kcal
|
Carbohydrates:
2
g
|
Protein:
4
g
|
Fat:
16
g
|
Saturated Fat:
3
g
|
Cholesterol:
6
mg
|
Sodium:
54
mg
|
Potassium:
51
mg
|
Fiber:
0
g
|
Sugar:
1
g
|
Vitamin A:
175
IU
|
Vitamin C:
0.2
mg
|
Calcium:
29
mg
|
Iron:
0.7
mg
Originally published: March 20, 2013